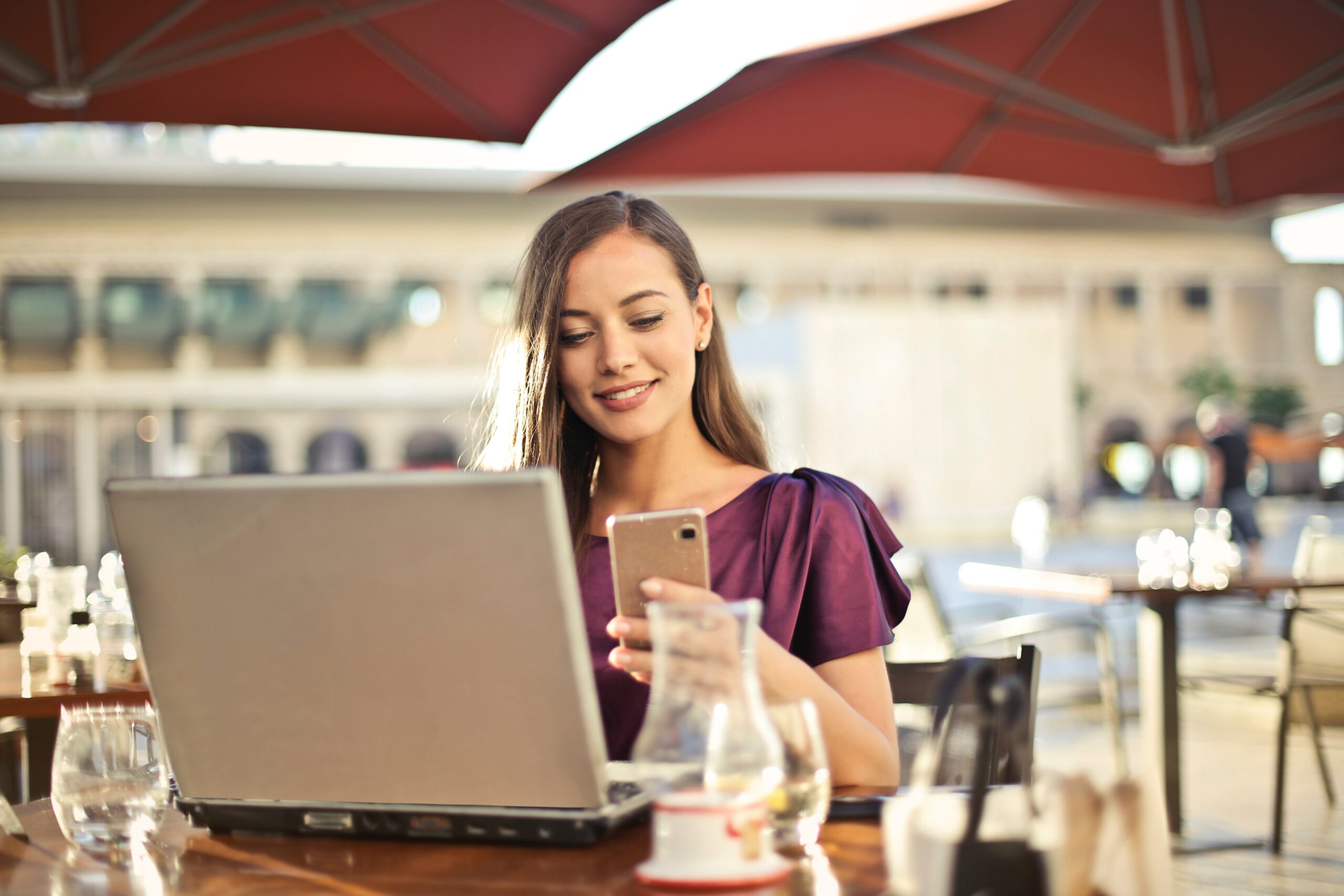 7 Ways To Get Clients To Book Appointments Online
Online appointment scheduling is a boon both for businesses and for consumers. Clients enjoy the convenience of making reservations at any time of the day (even at midnight or dawn) from their phone or computer.
Meanwhile, businesses can run more efficiently and enjoy higher levels of productivity. When customers can book appointments online, that saves you and your staff from the task of handling telephone requests for reservations, leaving you more time to focus on other aspects of the business.
Yes, online scheduling can be a big time and money saver, which is why it makes sense to encourage clients to reserve their appointments through your web portal. How exactly can you do that? Follow the tips and examples below, and you'll be well on your way to more online bookings.
1. Ensure that your booking buttons are always visible on your website
Placing a "Book Now" button on the first page of your website is one of the easiest, quickest, and most effective ways to get clients to book their appointments online. Make it clearly visible on your homepage, and also place the button throughout your site — everywhere from your "services" to "contact" pages. If possible, consider adding a booking link on your menu.
The more visible your "Book Now" button is, the more opportunities there are for people to schedule an appointment.
The Sacramento-based barber Antione Dunn is doing this well. He has a large "Book an Appointment" button on his homepage, giving potential customers a clear call to action of what to do next.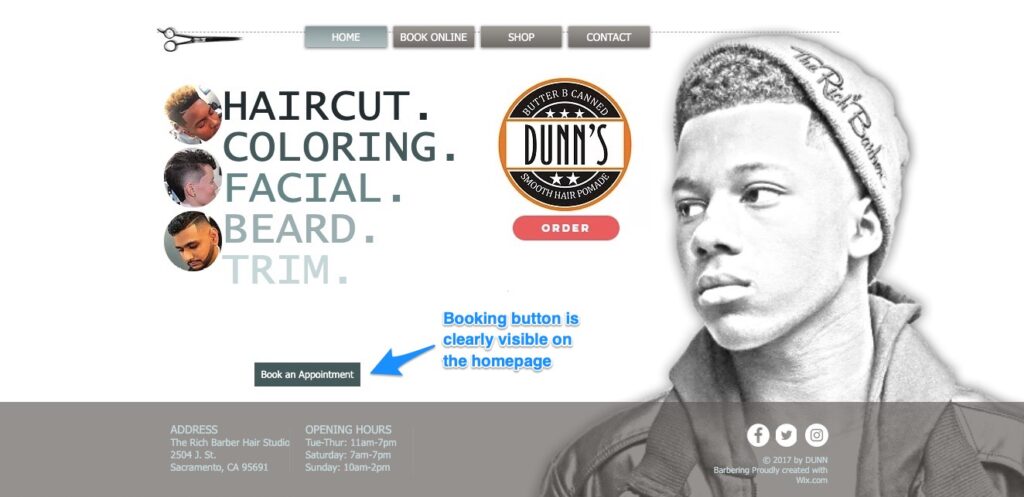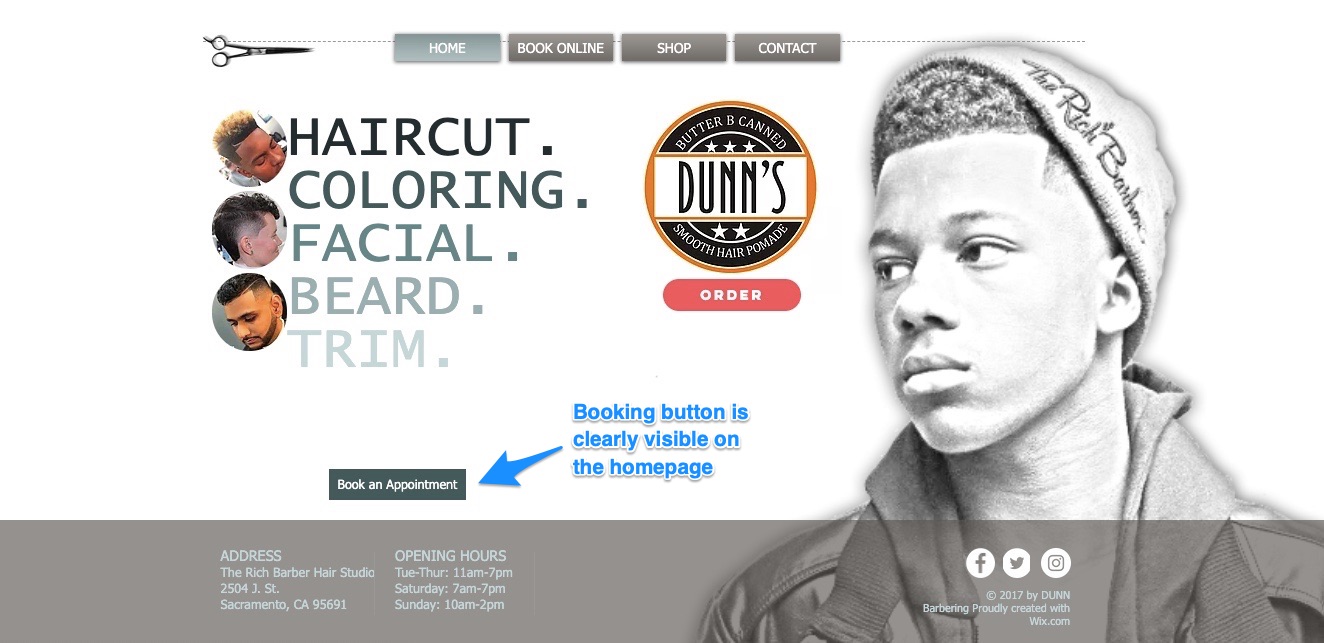 But Antione doesn't stop there. He also has a  "Book Online" link on the menu of his website, so the button is visible on every page. This ensures that his booking process is always just a click away, no matter where a customer is on his website.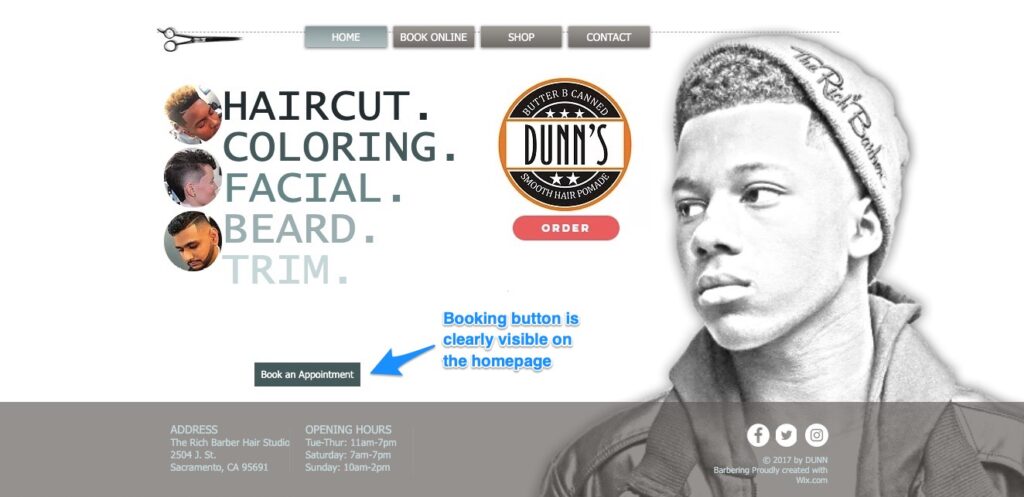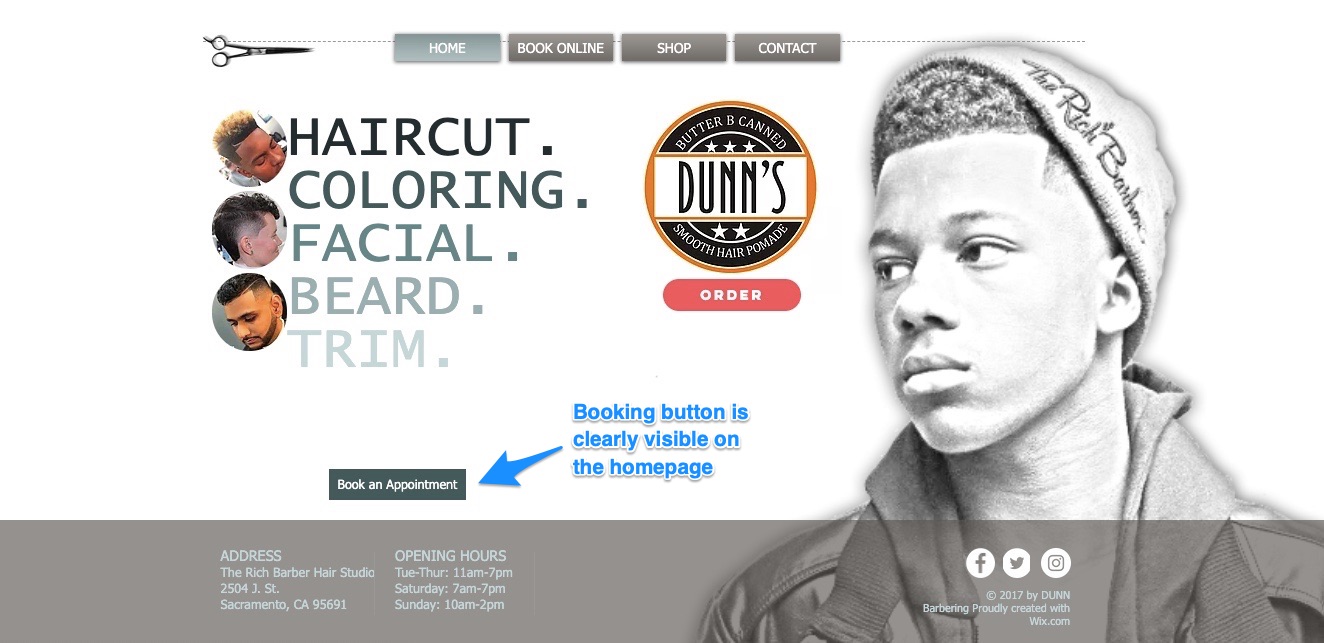 2. Tell your email subscribers to book appointments online
The number of consumer and business emails sent per day in 2018 was estimated to be more than 281 billion, and experts are projecting that figure to grow to more than 333 billion by 2022. Your goal is to make sure that your email is one of those 281 billion that actually gets read — and gets action.
You're probably already emailing your customers with announcements, newsletters, and reminders that aim to keep your biz top-of-mind. That's why email is an ideal platform to let clients know that they can book an appointment online.
Consider what Orangetheory Fitness (OTF) is doing. OTF regularly emails clients with company news and events, and nearly all of their messages contain an image promoting OTF's online booking capabilities.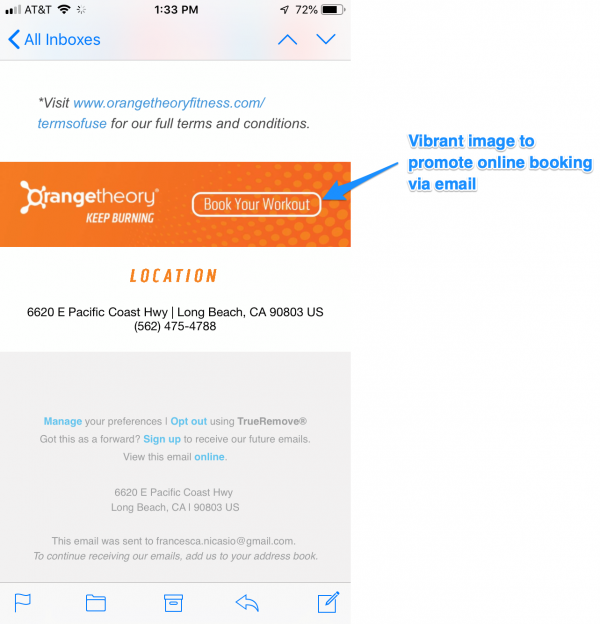 Do something similar with your email messages. Most email marketing platforms enable you to add a signature to all messages. Use that as an opportunity to promote your booking portal.
For best results, create an attractive image that draws the reader's attention and entices them to click.
3. Use text messages to promote your scheduling links
As with email, include your "book now" link when sending out promotional messages or appointment reminders to your existing customers. Since your customers can book an appointment straight from the conversation, it makes scheduling an online appointment extremely easy. Be sure to use an URL shortener! You want the text to be succinct and easy to read.
Here's an example from Twist Salon. The company sent a quick promotional message telling patrons about their newly remodeled salon. What's cool about the effort is they used that message as an opportunity to gain more bookings.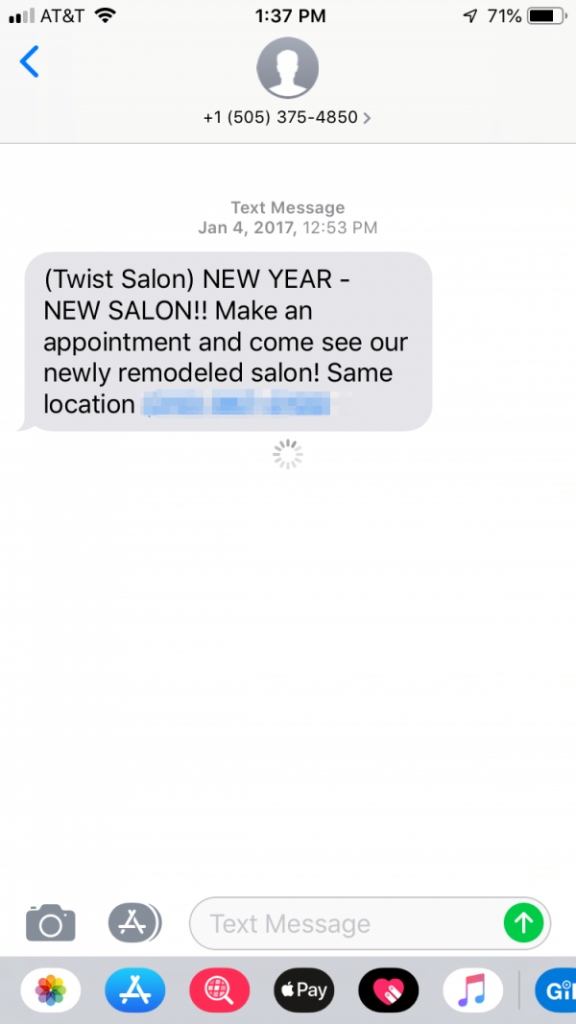 4. Leverage social media channels to spread the word about online booking
Take advantage of your social media channels to increase web-based reservations. You'll want to find opportunities to tweet and post updates promoting the fact that customers can book appointments online.
Use native "Book Now" buttons if they're available
For starters, take advantage of the native booking features of different social networks.  If you're on Facebook, you can add a "Book Now" button at the top of your profile, where customers can quickly find it.
Sabrina Brooklyn, of Brows by Brooklyn, does just that on her Facebook page. Check out the screenshot below: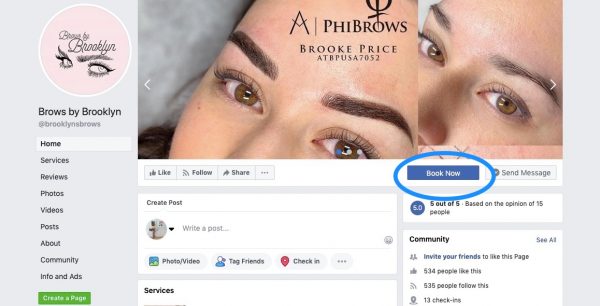 Similarly, Instagram has a "Book" button that you can easily configure by connecting it to your scheduling software.
One example of a business taking advantage of this feature is Chrissy's Massage Studio in TX, which as a "Book" button that lets customers reserve appointments straight from Instagram.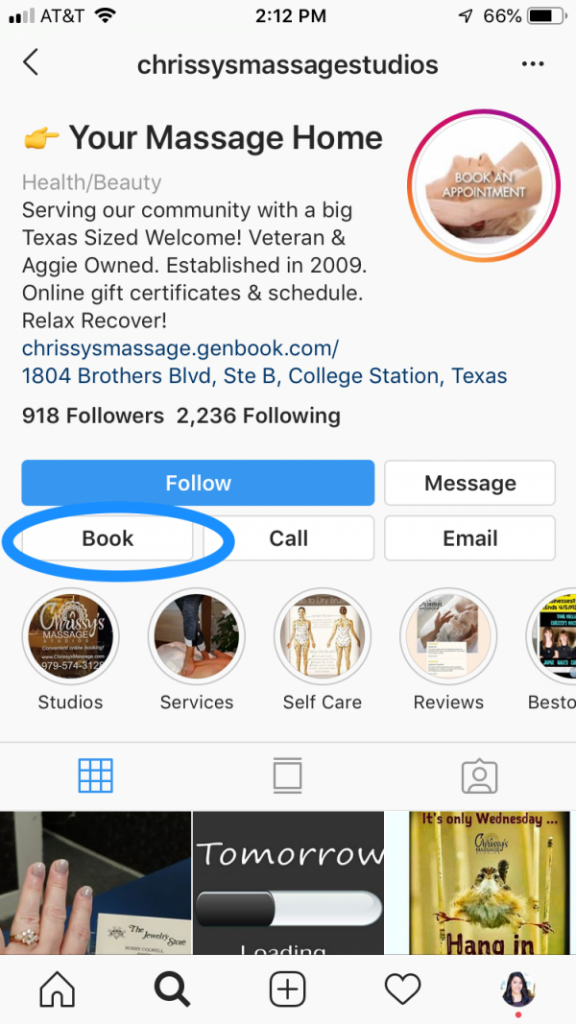 Create content promoting your booking link
Another way to promote online appointment scheduling? Regularly come up with fresh content for your fans and customers. They're already following you and (hopefully) seeing your posts, so it makes sense to remind them of your booking service.
To make it effective, you need to actively post your booking page URL, but make sure to change things up. Whenever you post your booking page, use a new image, new copy, and/or do something to give the post a sense of purpose —  like advertising last-minute openings. The point is that you don't want to keep posting the same promotional message again and again.
The folks at Chrissy's Massage Studio understand this strategy and have come up with different ways to promote online booking on Instagram.
Some days, the business publishes last-minute openings along with their Genbook scheduling URL: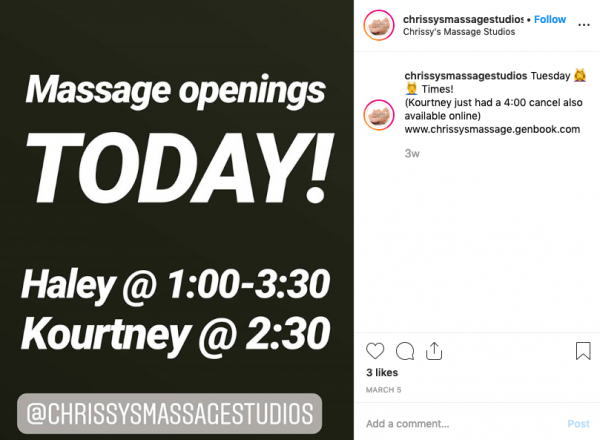 Other times, the team posts massage-centric images and quotes and uses them to promote their online booking link.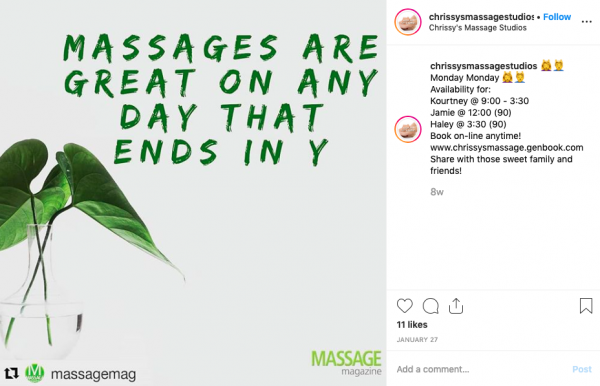 5. Include booking information in outgoing voicemail messages
If customers are used to calling your location to book an appointment, there's a good chance they're going to call after hours and be greeted by your voicemail message. That's actually a good thing because now you have the opportunity to let them know that they can make an online appointment at any time, from anywhere.
In addition to information about booking online, be sure that your greeting:
Is as short as possible, all while staying upbeat and personable

Includes your name, location, and normal business hours

Gives them a certain time frame in which you'll call them back.
6. Promote the service to clients in person
It sounds obvious, but most people forget that they can remind customers about online booking options when they interact with them in person. The next time they're physically in your business, remind your clients to go online to book their next appointment.
Instruct your team to bring up online appointment scheduling as they're wrapping up their existing appointment. They can say something along the lines of… "Hope to see you again soon! If it makes things easier, you can book an appointment online or from our Instagram account."
To hammer that point home even more, take advantage of business cards. Yes, Wi-Fi and smartphones are everywhere, but so is in-person networking. Make sure your business card lists all the pertinent information — including phone, email, and your booking page URL — and hand them out to customers when they visit your location or to potential customers when you're out networking.
7. Add QR codes to your promotional toolkit
Quick Response Codes, commonly known as QR codes, have picked up steam among the smartphone-browsing crowd. But they're an ideal way for mobile users to quickly access your availability.
Include these QR codes in marketing materials like business cards, posters, and anything else you're using to promote your business. Within the barcode, there's a link to your booking page, and so when a customer wants to book an appointment, all they have to do is scan the barcode with their phone and be directed to your site.
The bottom line
Getting your customers used to the idea of booking online can take a little bit of time if they're used to calling your business and talking to employees, but it usually only takes a couple of months for a successful switch over if you do it the right way.
By making sure your online booking is a positive experience, you find that customers — old and new — will most likely prefer it, too, which is a total win-win! And if you need help, try our 30-day free trial to experience what your clients will do when booking online.