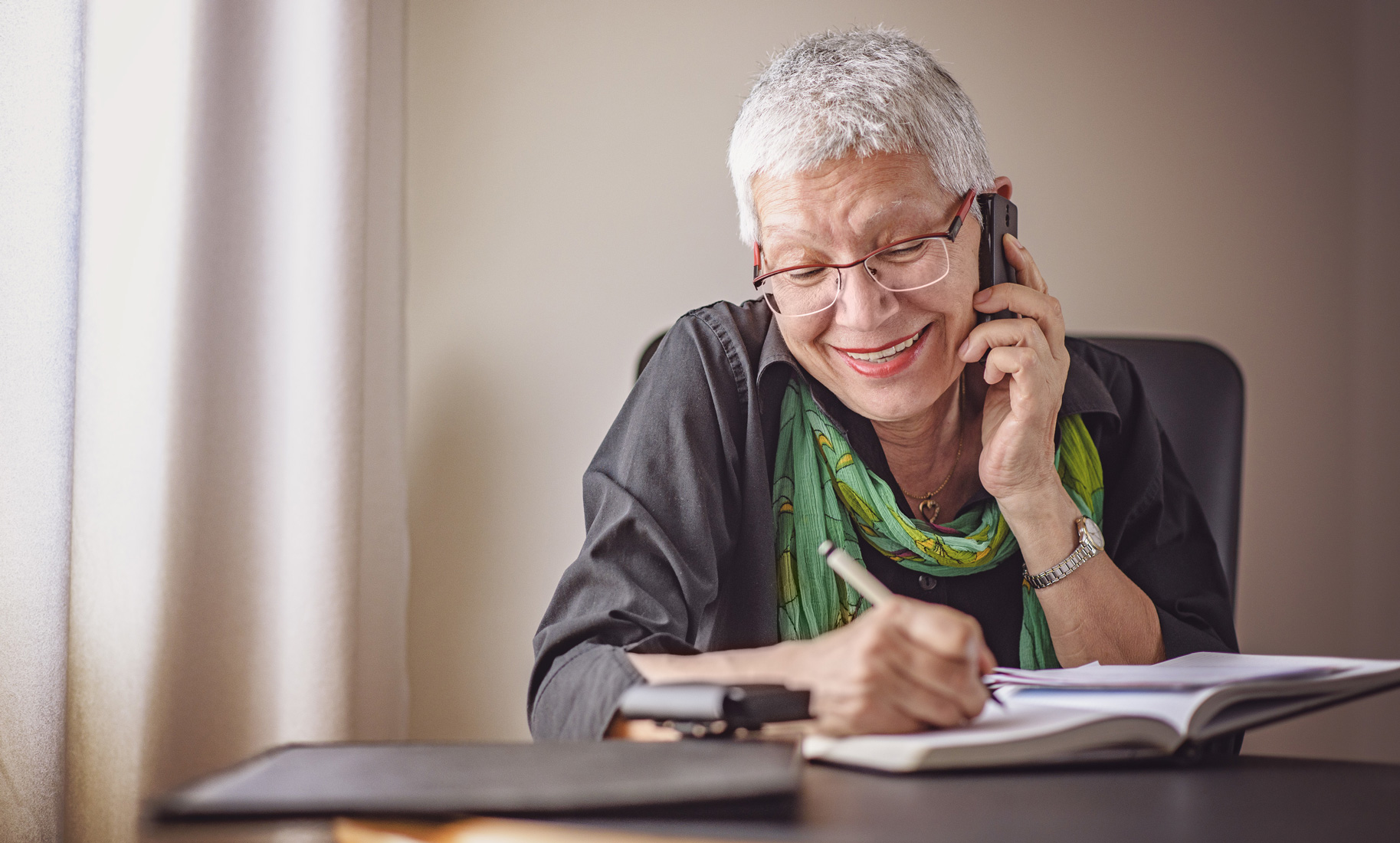 How to Send Appointment Confirmations and Reminders [FREE TEMPLATES]
FACT: your clients are busy. Between work, family, and the ups and downs of life, people have a myriad of responsibilities on their plates, so it's all too easy for things like health and lifestyle appointments to slip through the cracks.  
A study by Genbook found that 28.4% of consumers have forgotten an appointment, and at one occasion or another, 10.7% of them forgot to cancel their bookings. If you run a service-based business, you've likely seen this firsthand in the form of no-shows and missed appointments.


We know how frustrating these situations can be, but the good news is there are a number of tools that can mitigate them. Email and text confirmations and reminders are increasingly more common across industries, and customers have accepted them with open arms. 
Our research found that when it comes to appointment confirmations and reminders, 70% of consumers prefer to be contacted by either email or SMS.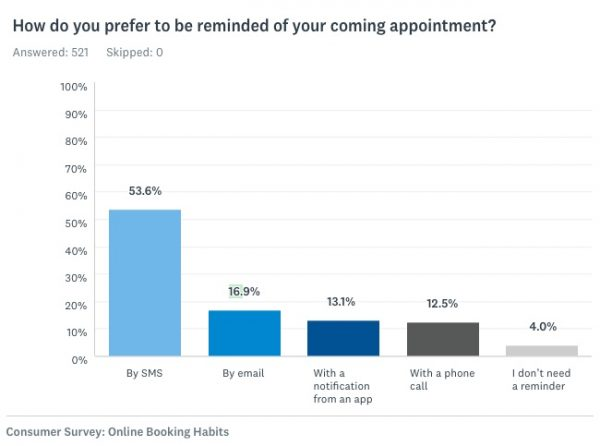 As with all business tools, appointment software can be easily implemented. In this post, we'll shed light on everything you need to know to effectively send confirmations and reminders to your clients. 
Automate the process
The first rule of sending appointment confirmations and reminders? Automate them. 
One of the key advantages of utilizing online scheduling software is it relieves you and your team from manual tasks like typing up messages or following up over the phone. This, in turn, frees up time that you can use to serve customers better and grow your business. 
Another benefit? Automated messages sent via SMS or email are more effective in getting people to show up to their appointments. 
In a study conducted on a clinic in Cleveland, OH, it was found that SMS reminders reduced no-shows by 38 percent more than standard phone messages left by the staff. Clearly, automation not only relieves precious time, but it gets far better results than manual processes.
That's why if you're still using manual methods to manage your bookings, it's high time to upgrade your system. Switch to a modern appointment scheduling software with automated features that can take care of customer outreach on your behalf. 
Genbook, for example, enables you to generate and send appointment reminders for clients. Simply select the communication platform on which to relay your messages (i.e., SMS, email, or both) and then specify the reminder lead time.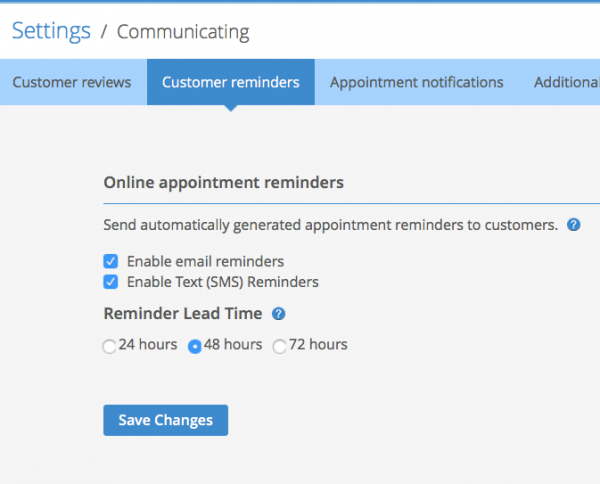 Once you've set this up, you can continue running your business and have peace of mind knowing that your system is taking care of your appointments in the background. 
Get the timing right
Timing may not be everything, but it matters a great deal in the realm of appointment scheduling. To maximize the chances of your clients following through with their bookings, you need to send your messages at the right time. 
Let's start with appointment confirmations.
When should you send an appointment confirmation? 
The short answer: do it immediately.
An email or text should be sent shortly after the appointment is booked. This message must contain the client's appointment date and time, and it should also provide your contact details so your customers can quickly get in touch if they need to. 
Appointment confirmation templates
Keep your appointment confirmations brief. Unless there are forms that customers need to complete prior to the booking, your message should be short and succinct. You simply want to cover the booking time, date, and contact details to change it. 
Here are some quick examples of appointment confirmation messages that you can use in your business.
Email confirmation template: 
Subject: Appointment confirmation
[CUSTOMER NAME], your appointment is confirmed:
Mid-Day Massage (30 Min.) – $50.00 with Cornelia 
Thursday, August 18 at 1:00 PM (PDT) 
<link to manage their appointment>
See you there!
[BUSINESS NAME]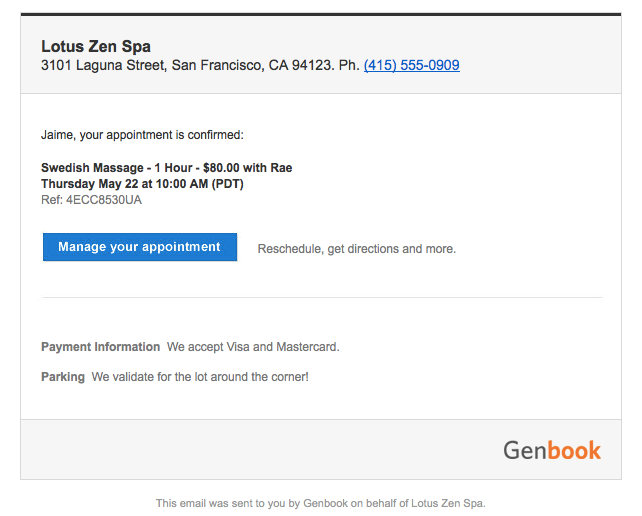 Once you've confirmed the client's appointment upfront, you'll need to schedule reminders prior to their booking. 
When should you send appointment reminders?
Appointment reminders should go out within 24 to 72 hours prior to the appointment. If you have an official no show or cancellation policy that penalizes clients for missing their bookings, be sure to send a reminder prior to the cancellation window. You want to give your clients a reasonable amount of time to make changes to their schedule.
The right approach depends on your business. Consider testing the different methods to see which one works best for your clients.
Appointment reminder templates 
Email reminder template: 
Subject: Appointment reminder
[CUSTOMER NAME], this is a reminder of your upcoming appointment: 
Mid-Day Massage (30 Min.) – $50.00 with Cornelia 
Thursday, August 18 at 1:00 PM (PDT) 
<link to manage their appointment>
[BUSINESS NAME]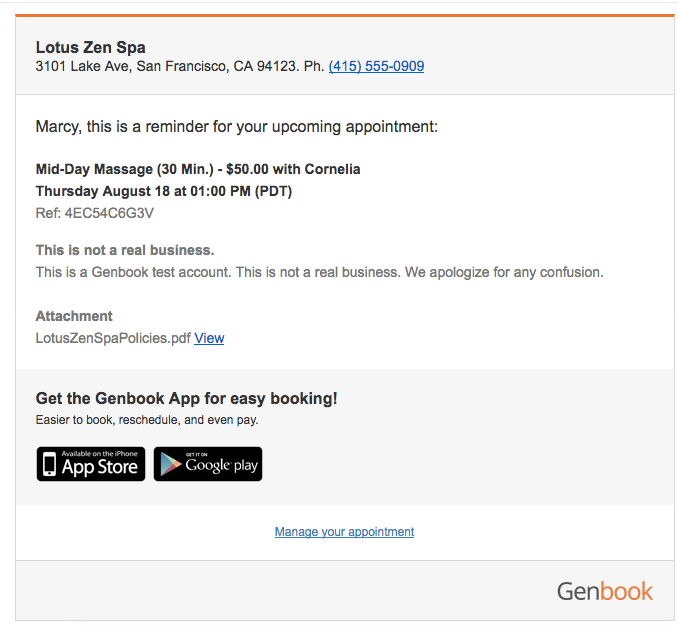 Appointment reminder SMS  template: 
REMINDER: Appointment with [INSERT BUSINESS NAME] on Saturday, October 11 at 10:30 am. Please do not reply.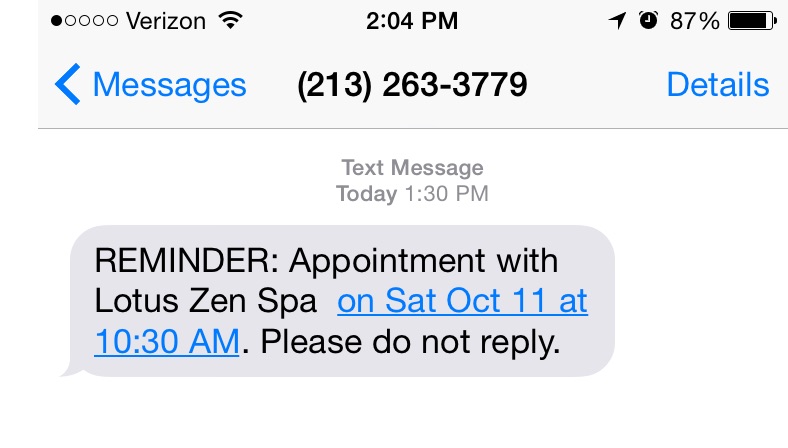 As you can see, appointment reminder texts and emails should be short, clear, and straightforward. The goal is to remind the customer and to prompt them to re-schedule in the event they can no longer make it. 
Appointment confirmations and reminders are a must!
Implementing a system to confirm appointments and schedule reminders not only helps your customers remember their bookings, but it also allows you to stay on top of your calendar with ease.
Creating improved, automated communication with clients helps to build relationships, while also keeping bookings up and running efficiently, giving you more clarity over your schedule and therefore more opportunities to fill empty appointment slots. 
Genbook's online scheduling software is a complete solution for all types of services businesses that operate by scheduling bookings — including spas, salons, barbershops, and more.
Thanks to Genbook, businesses have been able to increase their booking rates, decrease their no-shows, and gain far better insights into how customers book time with their company. 
Like what you're reading? Join thousands of small business owners who read our stuff. No fluff, only actionable takeaways. Subscribe now.