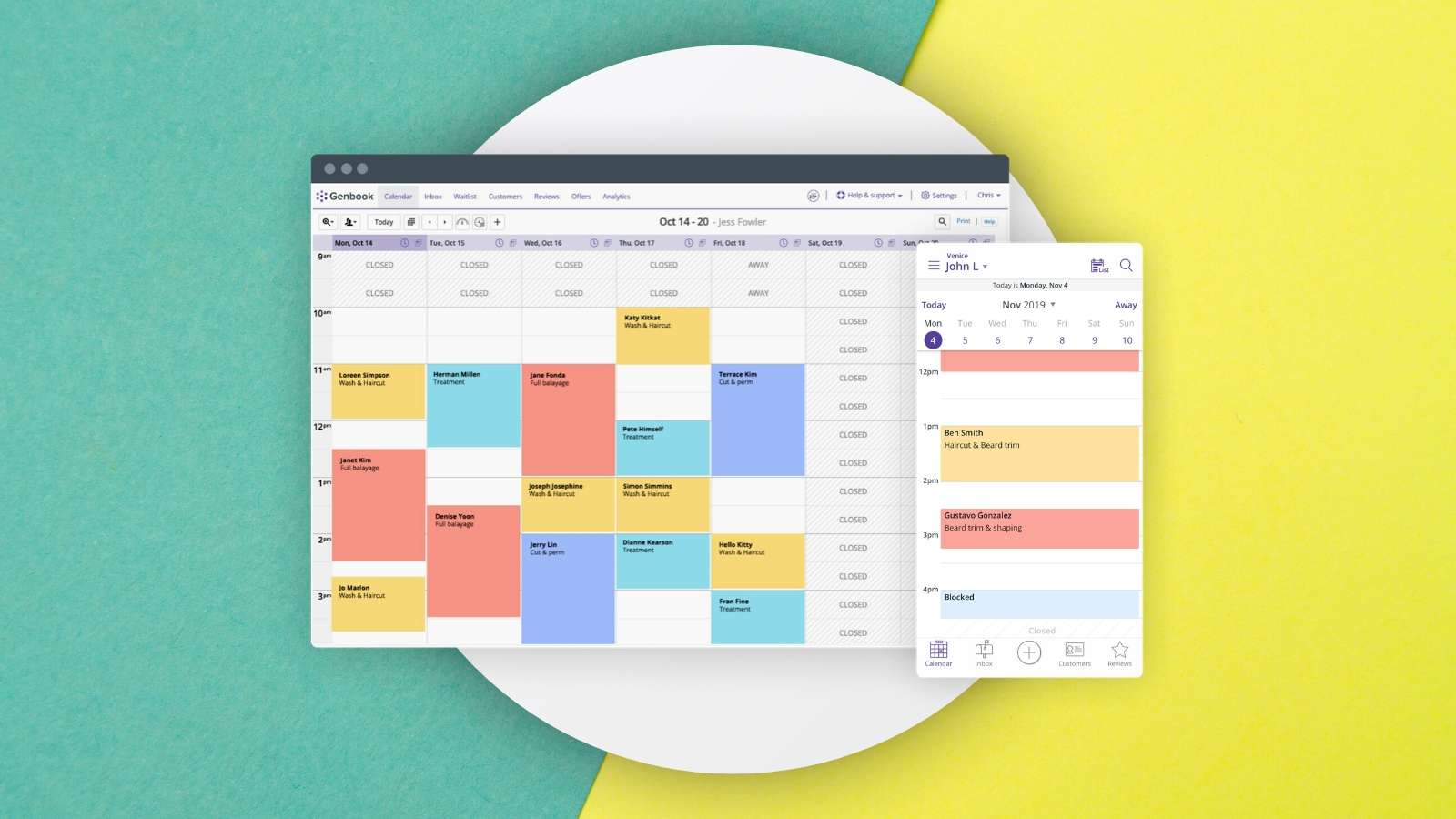 Appointment Scheduling Software: A Definitive Guide (With Examples And Audio Tutorials)
"Focus on being productive instead of being busy", says Tim Ferris. This quote applies perfectly to entrepreneurs like yourself. As a business-owner-slash-service-provider, you have more than enough to-dos — including finding clients, managing your team, staying on top of your finances… With all these things on your plate, the last thing you want is to get lost in the admin side of things. This is where having an appointment scheduling software comes in.
With the right solution, you can free yourself from having to manually pencil in appointments. An online booking app can automate all the steps in the process including managing your schedule, sending reminders and syncing your calendar.
This way, you can focus less on the time-consuming admin work, and instead devote more time and energy to serving your customers and growing your business. In other words, an appointment scheduling software will allow you to take your company to new heights!
This guide will walk you through the ins and outs of appointment scheduling software. For your ease, each chapter accompanies an audio version of the content as well. We will cover:
Whether you are still shopping for a solution, or already have an appointment scheduling software in place, you will find some actionable tips and tools in this resource.
Let's get started.
Chapter 1: What you need to know about appointment scheduling software
Appointment scheduling software is exactly what it sounds like — it is a program or app that handles the process of booking appointments in your business. Online schedulers (sometimes referred to as online booking software or apps) give your clients the ability to reserve appointments on the web, eliminating the need to call.
When a client or customer books an appointment online, their reservation is automatically added to your business' calendar. Most online schedulers also have the ability to automatically send reminders and notifications to clients, ensuring they don't miss their appointment.
More advanced scheduling platforms have additional functionality, such as payment processing, social media integrations, customer contact management, and more.
Who uses online appointment schedulers?
Any business that relies on client bookings will benefit from using appointment scheduling software. The most common verticals include:
Beauty and wellness (e.g., salons, spas, barbers)

Fitness and recreation (e.g., gyms, yoga studios, personal trainers)

Health and medical services (e.g., doctors, dentists, chiropractors)

Professional services (e.g., accountants, consultants)

Field services (e.g., housekeepers, plumbers, pest control)

Travel and leisure (e.g., restaurants, tours)

Auto maintenance (e.g., mechanics, car washes)
The importance of having an online appointment system
Online booking platforms have gone from being "nice to have" to table stakes for small businesses. It is no secret that consumers are increasingly using the web and mobile apps for various tasks, and booking appointments are no exception.
A survey by Genbook found that online booking is the preferred scheduling method of respondents, with 44.1% saying that if all booking options were available, they would prefer to book appointments with service providers online. Only 29% said they would rather book over the phone.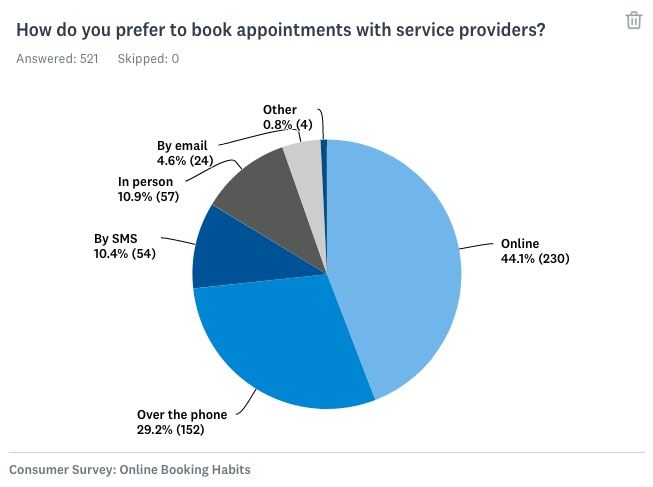 The numbers are even more pronounced among 18-34 year olds, with 52.9% saying that they prefer booking appointments online, and 22.8% saying they would choose phone scheduling.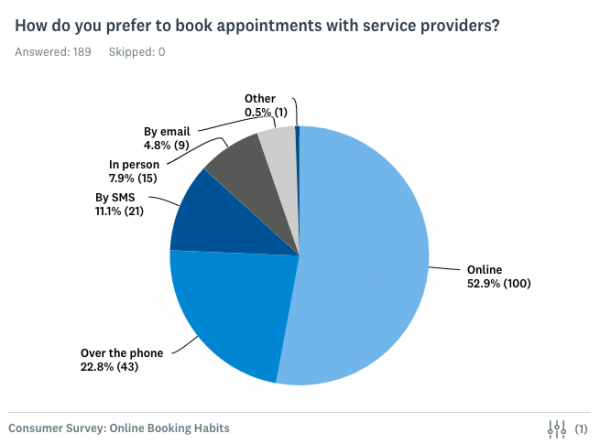 Online scheduling also eliminates the top pain points that consumers have with booking appointments. Genbook's research found that for 28.6% of respondents, having to book during business hours is the biggest pain point of consumers. A close second is waiting on the phone (21.7%).



Having an online scheduling software eliminates both these pain points because it can:
Get rid of wait times over the phone

– Since clients don't have to hop on the phone at all, the need to be put on hold becomes non-existent.

Enable customers to book appointments anytime

– Your clients can schedule a service at all hours, so even if your business isn't open yet or if you can't come to the phone, you won't miss your chance to get people on your chair.
It's not just about consumer pain points, though. Online booking apps also give you access to features that will make your life much easier. A small business survey from Software Advice revealed that the most valuable features of online appointment scheduling software include:
Calendar management (36%)

Shift scheduling (24%)

Automatic alerts (21%)

Resource scheduling (20%)
The benefits of appointment scheduler for small business
Features like calendar management and automatic reminders are great, but how exactly do they translate to real benefits? Here are some of the key advantages you can get by automating your scheduling processes:
More time savings
According to Software Advice, 35% of small businesses find appointment scheduling easier and quicker when using an online booking app.
This shouldn't come as a big surprise, as an appointment scheduling software eliminates tasks like manual data entry, reminders, and calendar management. With all those cumbersome steps out of the way, businesses naturally have more time on their hands.
Fewer no-shows
Thanks to automated text reminders, clients can keep their appointments top of mind, thereby reducing no-shows. A study on pediatric clinic appointment adherence found that no-shows were reduced by 38% when SMS reminders were used, instead of standard phone messages.
This is likely due to the fact that the majority of people tend to read their text messages. Research from Esendex found that the global average open rate for SMS is a whopping 94%. Meanwhile, only 33% of consumers listen to voice mails from business contacts, and just 18% listen to messages from numbers they don't recognize.
More opportunities to fill empty appointment slots
If you do end up with no-shows or cancellations, your appointment scheduling software can help fill those empty slots. Some providers let you put clients on waitlists, so they can quickly come in if an appointment opens up.
Reduction in human errors
Since web-based booking platforms eliminate the need for manual intervention — particularly around things like penciling in appointments and writing down customer details — you and your team will have fewer tedious tasks on your plate. This, in turn, reduces room for errors.
In fact, Software Advice's survey found that 26% of SMBs have seen fewer scheduling mistakes thanks to their appointment scheduling software.
Better collaboration
Appointment scheduling software can also pave the way for better collaboration with team members. It keeps everyone on the same page, thus allowing you and your employees to efficiently coordinate shifts and schedules.
Increased visibility
The beauty of cloud-based scheduling is that it can give you real-time visibility into your calendar. Having up-to-the-minute calendar data will help you plan your day better and ensure that you're making the best use of your time.
How much do scheduling apps cost?
Now that we have established the value of web-based booking apps, let's talk about your budget: how much should you spend on an appointment scheduling software?
According to industry data, the price range of online booking apps range from free to $150 USD per month.
The factors that determine your costs include:
The number of staff members using the software

The number of appointments booked through the platform

The range of features and functionalities

The level of customer support that you require
The "right" price will depend on your needs and provider. To give you a better idea, Genbook's pricing starts at $29 per month for one staff member and goes up to $59 per month for 2-5 users. Businesses that have 6-12 staff members would be under the $99 per month plan, while those that have bigger teams and requirements will get custom pricing plans.
Want to learn more about Genbook appointment scheduling software? Get in touch to learn more about our features and offerings.
Chapter 2: How an appointment scheduling software can grow your business and increase revenue
Can your appointment scheduling software increase sales? The short answer is yes. The right booking solution can help you attract customers, delight existing clients, and generate more awareness for your business.
Online booking systems can also improve your bottom line by increasing business productivity and enabling you and your team to save time and focus more on revenue-generating activities.
This chapter will shed light on the specific ways an appointment scheduling software can put more money in your pocket.
Higher booking rates
We've already established that many of your clients prefer scheduling appointments online, so giving them the ability to do so will naturally lead to more bookings.
Web-based reservations also give you the ability to take appointment bookings outside of your usual business hours. And since 50.7% of reservations take place after hours or on the weekend, you're giving your business more appointment opportunities simply by letting customers do it online.


Upselling and cross-selling opportunities
Upselling and cross-selling are tried-and-tested tactics for increasing revenues. If you format your booking page correctly, your scheduling portal can actually do some of the selling for you.
Putting your full menu on display lets clients to view and book complementary services together.
For example, the online booking portal of Diamond Cuts Barber Studio, in Riverdale, GA lists individual services as well as service packages, making it easy for clients to schedule multiple services at once.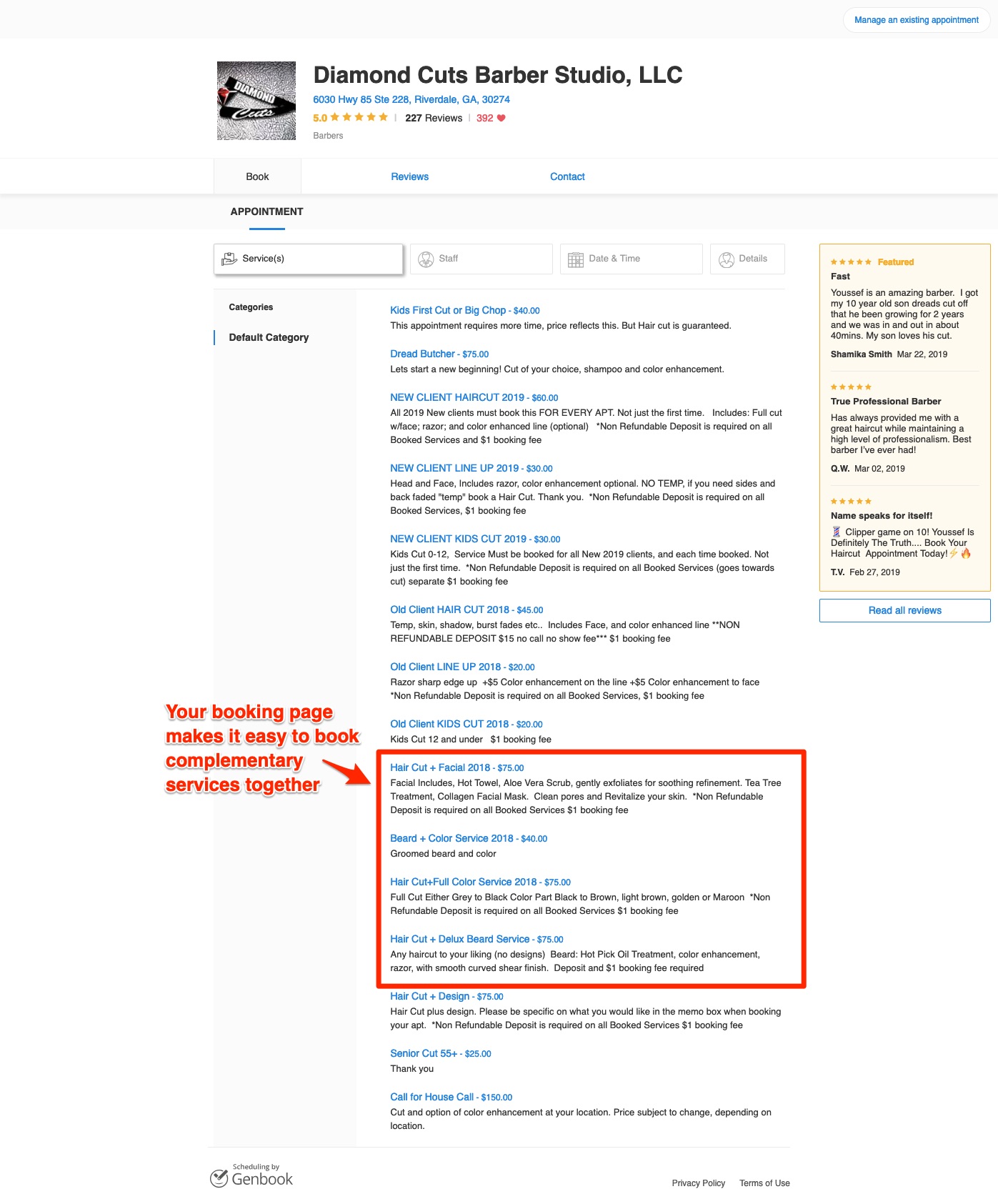 You can also use your online scheduling page to increase add-on sales. If you offer gift certificates, for example, you can give people the option to buy them through your booking portal.
That is what 640RX, a massage and alternative medicine company, is doing. 640RX added a gift certificates tab on its booking page for clients wishing to spoil their love ones. All they have to do is indicate the value of the certificate, enter their payment details, and they can complete their purchase on the spot.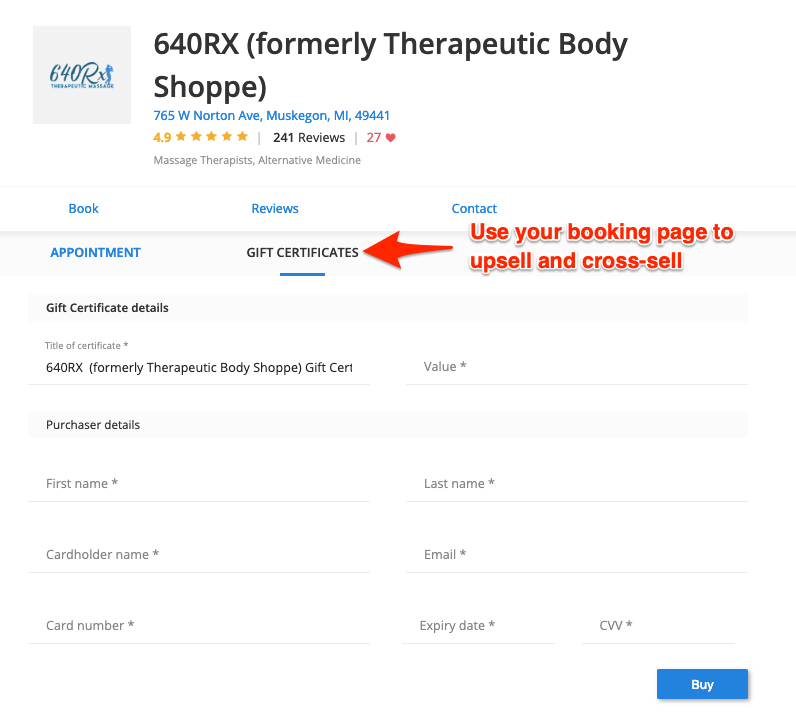 Featured reviews
Another way that your booking page can "sell" on your behalf is through featured testimonials. Social proof has become a deciding factor when it comes to people's purchase decisions. The vast majority of consumers will read online reviews prior to visiting a business. Genbook's research found that 93.9% of consumers will check out Google and Yelp reviews when looking at a new service provider, while 85.2% look at social media reviews.



That is why it is important that you showcase business reviews in various places online. Provide amazing services, and encourage your clients to leave comments on review websites like Google. Let potential customers read what other clients have to say about your services. Doing so will give them confidence in their purchase decision, which will ultimately lead to more successful bookings.
Diamond Cuts, once again, does an excellent job here. Youssef's Google listing and Facebook page are filled with glowing reviews from happy clients.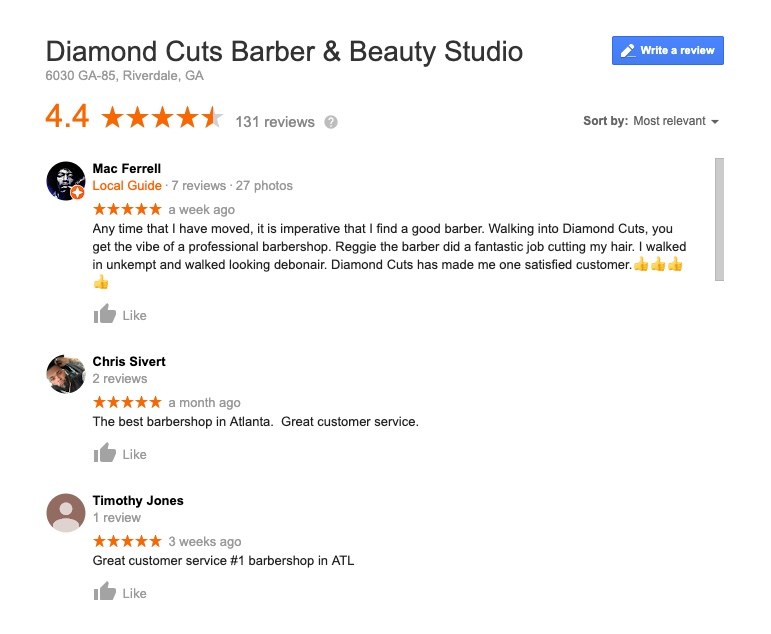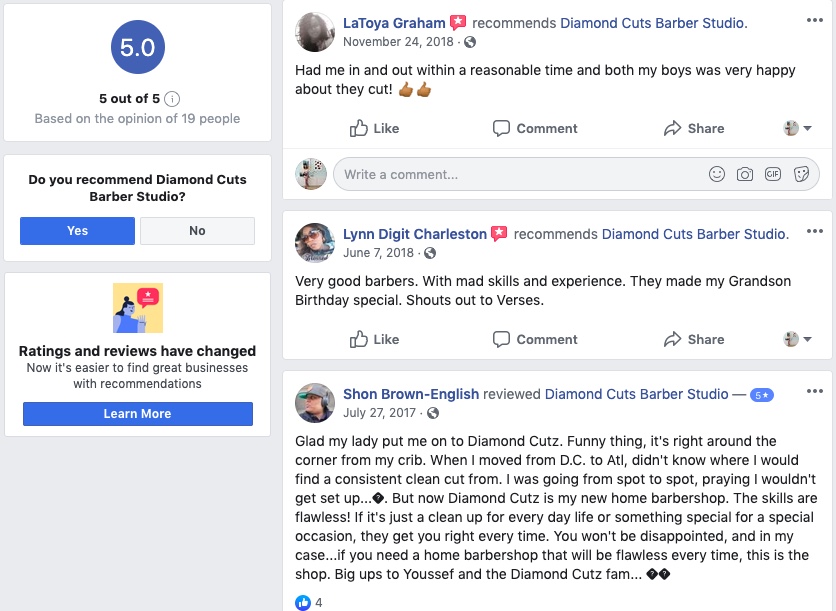 It doesn't stop there. The scheduling portal of Diamond Cuts has a featured reviews panel that shows a few select reviews from clients, as well as a "Reviews" tab that showcases more client testimonials.
Even better, the testimonials featured on the page are verified reviews from clients who have booked their service on the platform, so potential customers can be sure that the reviews are authentic.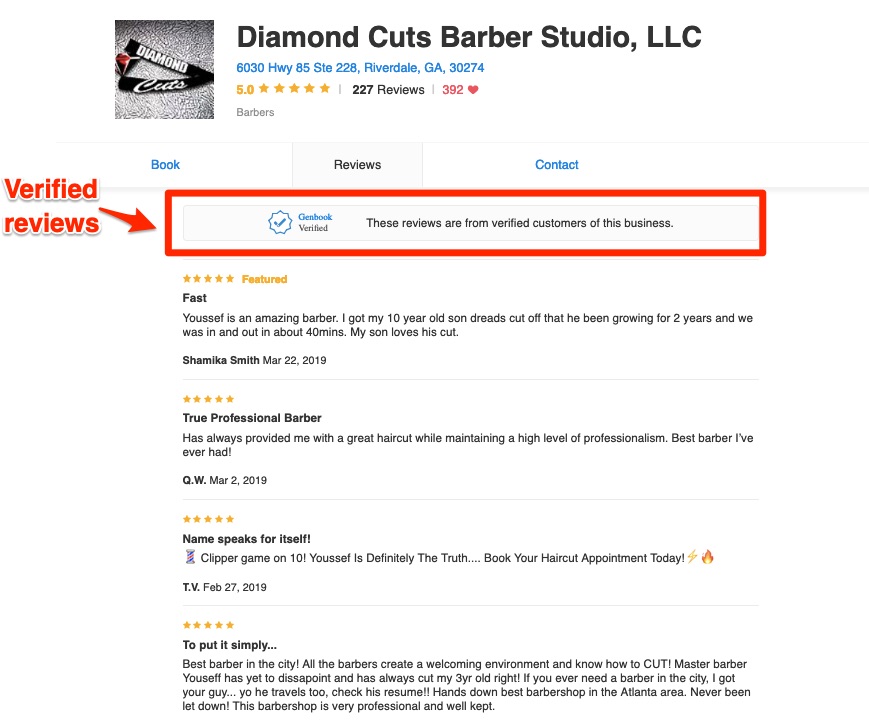 More promotional channels
The right appointment scheduling software can also open up promotional channels, so you can have more opportunities to get in front of potential customers. These channels include:
Having an online scheduling page boosts your visibility in online and mobile search. This is important because consumers are mainly using search engines to find businesses in their neighborhood. In fact, Google's data shows that "near me" queries have increased by 500% in 2017.
By optimizing your booking page for local searches and by incorporating it in your online business listing, you will give your business the best chance of getting found by people searching for relevant services in their vicinity.
Consider Manly and Sons Barber Co, a barbershop in Venice, CA. Manly and Sons have a fully-optimized listing that contains the location's address, phone number, and business hours. Because of this, their business is one of the first to come up when you search for barber company within Venice's zip code.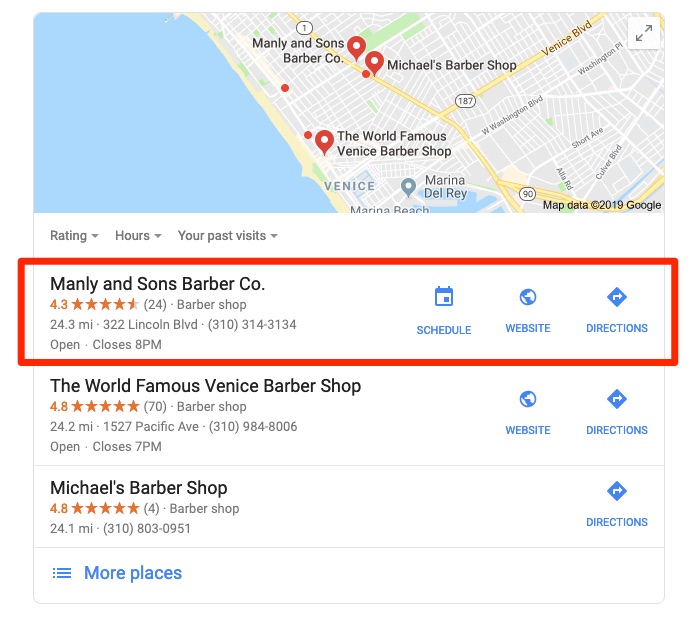 Even better, because Many and Sons integrated their appointment scheduling software (Genbook) with Reserve with Google, clients can book appointments with them straight from the search results page.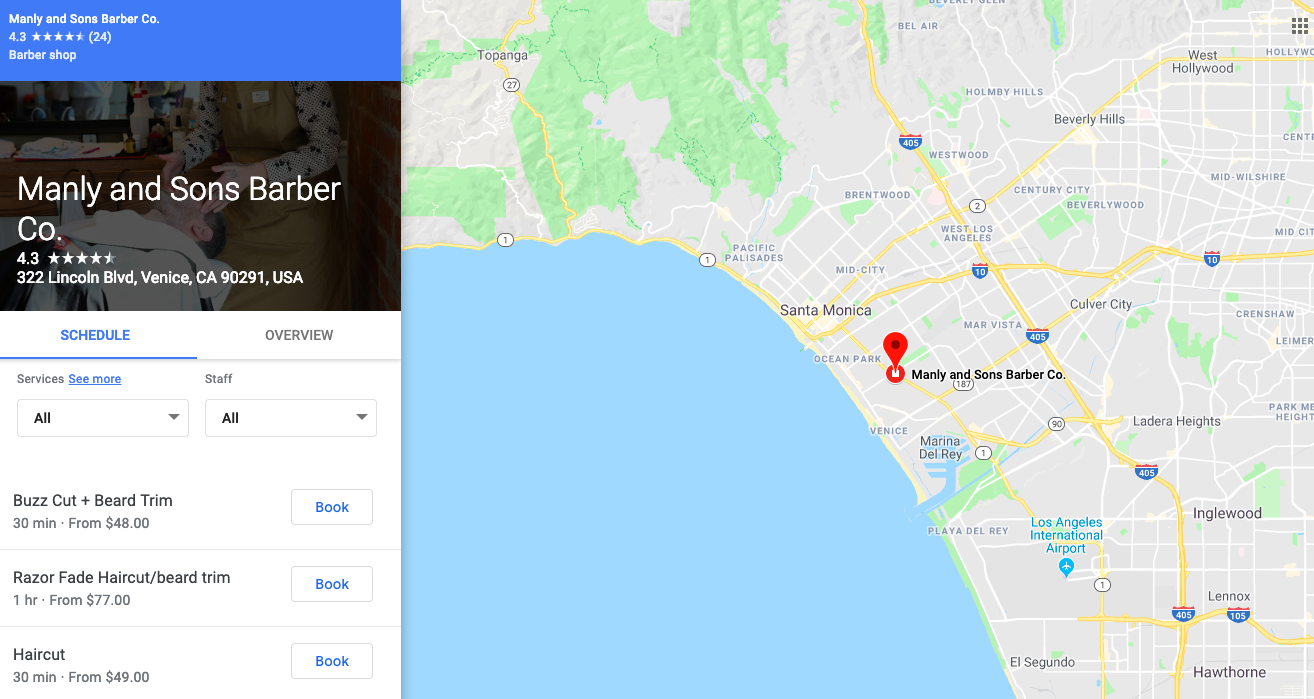 Social media
Online appointment scheduling software can help you turn social media into a booking engine. Two of the most popular social networks on the web — Facebook and Instagram — allow you to add a "Book" button to your profile, so you can use your presence on these networks to gain additional appoints.
Let's look at a couple of examples of social media booking in action:
GG Brow & Beauty in Atlanta, GA , has a "Book" button on their Instagram page, which leads to GG's online booking portal.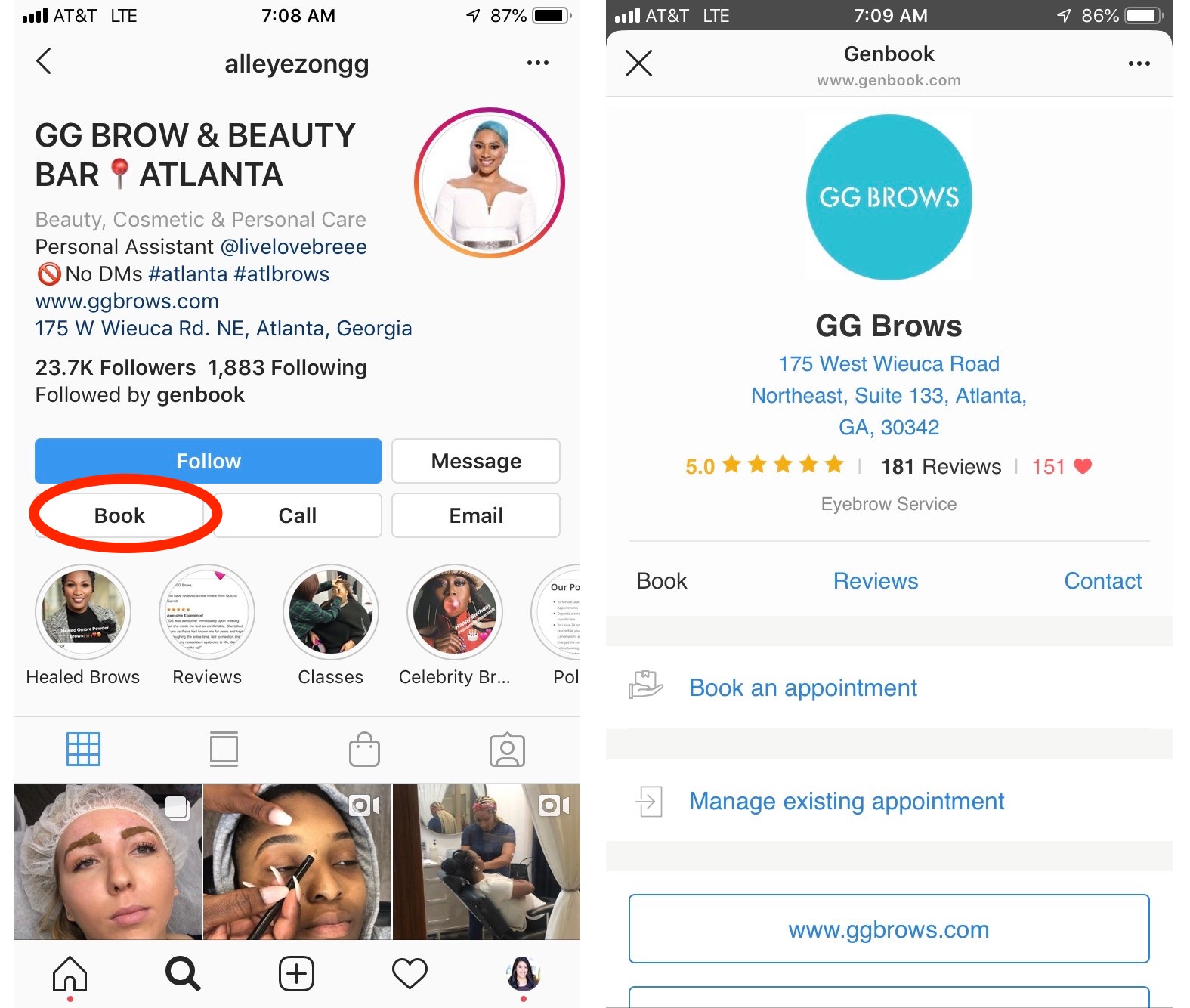 GG also has a booking button on Facebook, to enable her clients to schedule an appointment right from the salon's Facebook page.


Reduced no-shows
An appointment scheduling software that sends automatic reminders and makes it easy for customers to cancel or re-book their appointments can significantly reduce the number of missed appointments in your business.
And when you run the numbers, a reduction in no-shows could literally mean thousands of dollars more in revenue.
Let's say you're currently losing $250 a week because of no-shows. That amount adds up $13,000 a year. If you reduce your no-show rate by 50% and get more people to show up, you could potentially put $6,500 back into your pocket.
Better insights into your business
An appointment scheduling software (a good one, anyway) can help you learn more about your business and customers. It can provide insights into who your clients are, which services are more popular, and the members in your team who are bringing the most revenue.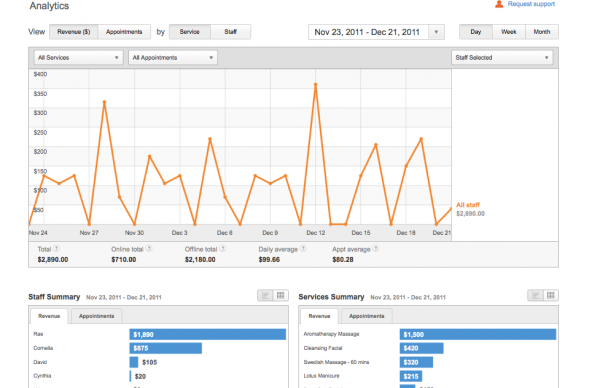 Armed with that information, you can make data-backed decisions to drive even more revenue and profits.
Let's say you discover that clients love booking your signature facial service. A potential action step could be to hire more employees who can do facials, so you can better handle the volume of appointments. Or, let's say that you have a handful of team members who aren't doing as well as the rest. One thing you could do is introduce staff incentives or competitions to drive performance.
Whatever the case, you can't make informed decisions without the right data, which is why it is important to choose an appointment scheduling software with analytics capabilities.
Chapter 3: How to choose an online appointment scheduling software
We have covered the importance of having an appointment scheduling software and how it can improve your bottom line. Now it is time to figure out how to choose the best system for your business.
The following steps will help you clarify your requirements and narrow down your choices.
Determine your needs
There is no such thing as a one-size-fits-all appointment scheduling software. The needs of a multi-location medical office will be vastly different from the requirements of a one-man barbershop.
So before going "out there" to search for a solution, it is best to do a bit of internal evaluation to take stock of your people, processes, and technologies. Doing so will allow you to determine your current and future business needs.
Staffing requirements
Who is going to be performing the services in your business? Is it just you or do you have a team on board? If it is the latter, do you need separate logins for each staff member or are you all working from a shared calendar?
The answers to these questions will help point you in the right direction. For instance, if you have several employees who will be using the software, then you will know to look for an appointment scheduler that offers multi-user support.
It is also important to consider your staffing needs for the future. You may be a one-person show for now, but if you have plans to grow your team, then be sure to look for an online appointment scheduling software that will grow with you.
Booking process
Next, you will want to think about the appointment booking process that you would like to provide, as well as the nature of the appointments that you offer. Think about:
The length of each service

Booking cut-off times

Your follow-up process

Your cancellation policies
Getting clear on the above will help you figure out what you need in your booking app. If you have a 24-hour cancellation policy, for example, then your online scheduler should be able to support that. Or if you require a credit card on file when scheduling services, then your platform must have the capabilities to securely store credit card information.
In any case, be sure to iron out your booking procedure so you can find a solution that will fit your needs.
Marketing
Your appointment scheduler should help support your marketing efforts and pave the way to more bookings. Have a think about your current marketing and promotional efforts, then find a solution that can work well with your initiatives.
Consider the following:
Social media – If you promote your products and services on social media (and if not, you totally should), then you will want a booking system that works well with the social networks and apps that you are using.
This means if you are on Instagram and/or Facebook, then your scheduling app should give you the ability to take appointments on these platforms.
Discounts and promotions – Running sales and promotions will be much easier if you can do it from your online scheduler. That is why if you are planning to offer discounts, bundles, or special pricing, opt for a solution that lets you do it with ease.
Product sales
Services may be your bread and butter, but if you also sell gift certificates or physical products in your location (very common among salons and spas), then set your sights on an appointment scheduler with point of sale and inventory management capabilities.
Enabling product purchases on your booking platform makes it easy for your clients to purchase complementary items, which in turn increases your revenue.
Reporting
As mentioned earlier, having the right data at your fingertips will help you make smarter business decisions. So, think about the scheduling metrics and reports that you want to track in your business. Do you need to break down revenues per service? What about having the ability to see who your best and employees are?
Get clear on the metrics you need, and then opt for a solution that can give you those insights.
Having the right data at your fingertips will help you make smarter business decisions.
Your tech stack
To maximize your efficiency, choose an appointment scheduler that can "play nice" with the solutions that you are already using in your business. For example, if you have an existing payment processor, then you will want your online scheduling app to integrate with it. Already have a website in place? Then choose a booking software that lets you add scheduling links on any web platform.
Once you have considered the above-mentioned factors, create a list of features you need in a scheduler. You may want to prioritize your list of features or at least separate the "must-have" capabilities from the ones that are just "nice to have".
There are a lot of scheduling apps in the market, so the clearer and more organized you are, the easier it will be to determine which solution is a good fit for your business.
Do your research
Already know what you need and want from your booking software? Great! Now it is time to evaluate the marketplace and find possible solutions for your business. Below are some of the research steps you should take when finding and evaluating online scheduling software:
Software review and comparison websites
There are a number of websites that were created specifically for business owners shopping for software. These sites contain in-depth commentaries, comparison charts, plus user ratings and comments, and the info you gather from these resources can be useful when researching different solutions.
Here are some of the top sites you should check it out:
Software Advice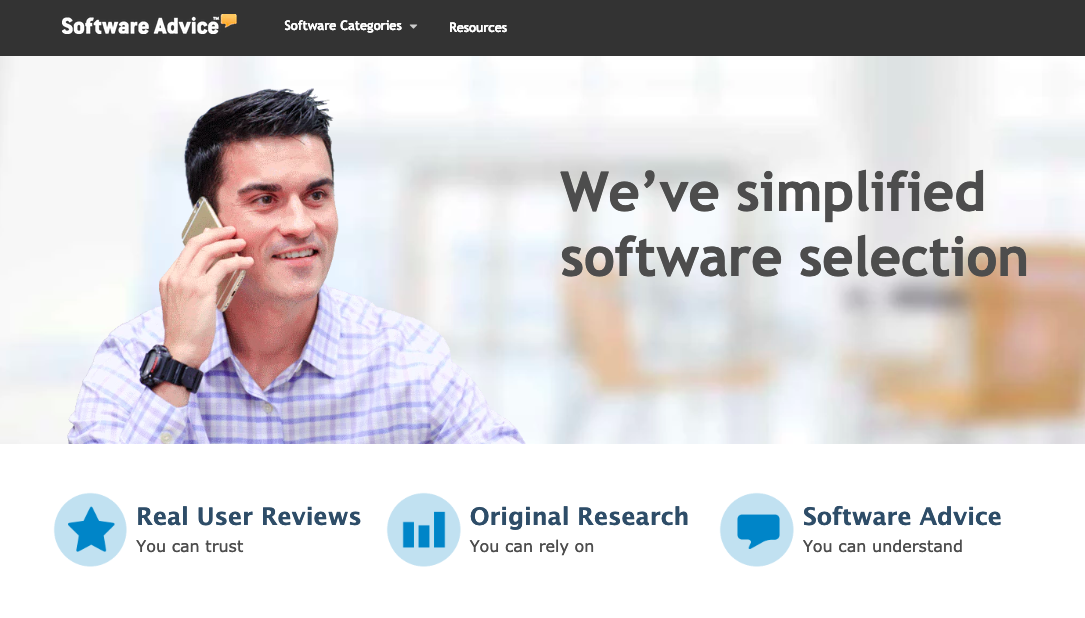 As the website's name clearly states, SoftwareAdvice.com is an online resource that makes software selection easier by offering expert advice, comparison pages, and more.
One of the things that makes Software Advice unique is that it allows you to connect with a software consultant to help you narrow down your search. You can hop on a call with one of the company's advisors, discuss your needs, and then receive a list of software choices tailored for your business.
The site also has more than 500 software guides to walk you through the process of selecting the solutions you need.
GetApp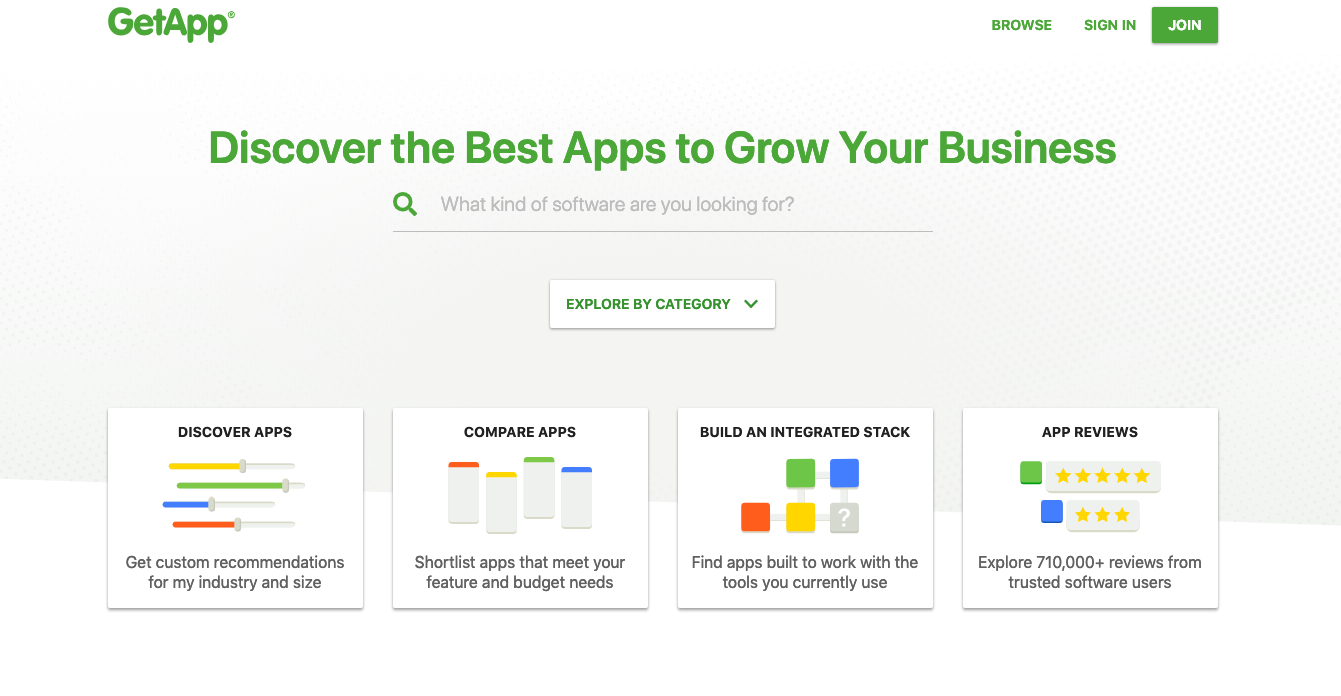 GetApp serves as an ecosystem and discovery platform for business apps and software. It has a host of interactive tools that allow you to compare different solutions side by side.
Just enter the software type that you are shopping for (in this case, that would be appointment scheduling software), and GetApp, will serve up a list of recommendations. If you are looking to get an at-a-glance comparison of different programs, just click the "Compare" button beside the solution, and GetApp will add it to your shortlist of vendors — you can compare upto 4 apps at once.
GetApp's comparison page is quite detailed, giving you the lowdown on:
The app's supported platforms

Typical users

Support offerings

Pricing

Star ratings

Features

Integrations
Capterra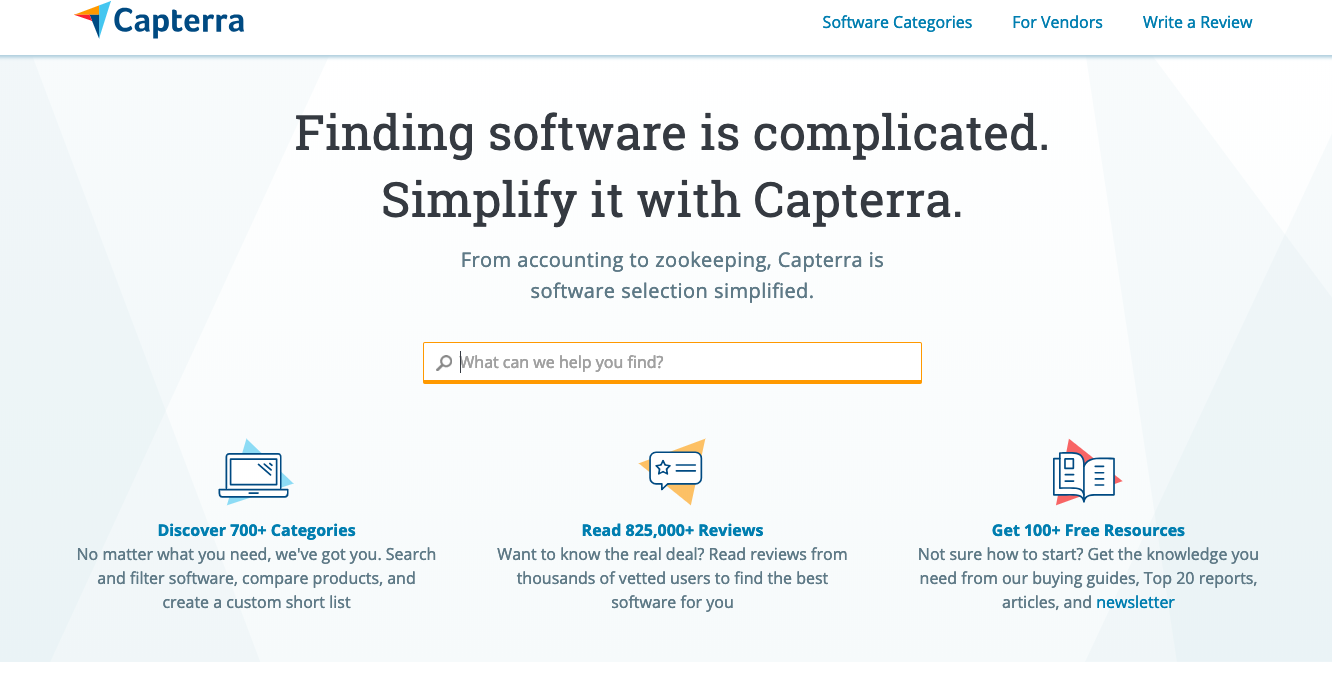 Similar to GetApp, Capterra aims to simplify software buying by letting users read reviews and get an at-a-glance view of what various solutions have to offer.
The site also has numerous research and in-depth guides to help software shoppers narrow down their search. And if you already have a few apps in mind, you can use Capterra's online comparison tool, which much like GetApp, lets you compare up to four solutions side-by-side.
Online communities
If you are looking to hear from other business owners, consider participating in online communities. There are several small biz-centric groups on Facebook and LinkedIn for people interested in advice, so consider checking them out if you need help with your search.
Not sure where to start? Run a search on Facebook and LinkedIn for groups in your industry. Facebook, for example, has the following groups for salon and spa business owners:
LinkedIn, on the other hand, has the following:
Once you are a group member, start a thread asking other members about the appointment scheduling software that they are using. Many of the people who are members of online communities are typically happy to help, so you're bound to get some useful input.
Visit other businesses
Another way to get input from business owners? Pay them a visit at their location. If you know anyone in your industry (e.g., other salon owners or fellow trainers and coaches), catch up with them in person and ask them about their scheduling platform of choice.
If possible, ask to see the software in action, so you can get a better idea of its features and functionalities.
Get in touch with vendors
After taking the above-mentioned steps, you should be able to create a shortlist of software solutions to use in your business. The next step is to get in touch with the different vendors. This is the part where you ask questions to help determine if they are the right fit for your business.
Be sure to ask the following:
Tell me about [key features]?
Remember the must-have and nice-to-have feature list that you created earlier? Discuss those points with the vendors that you are considering. Bring up your key features and requirements with the solution provider, and ask them how the software works.
For instance, if you need to manage multiple staff members and calendar, ask the vendor about their multi-user functionalities. If you are always on-the-go, talk about their app's mobile capabilities.
Your objective as this stage is to get an idea of which providers can deliver on the features and requirements that you need in your appointment scheduling software.
What are your customer service offerings?
Never underestimate the importance of customer support when it comes to software. You want your vendor to be there for you in case any app issues come up. You also want to work with a provider that offers the support level that you are comfortable with.
Let's say you prefer phone support over email. If this is the case, then see to it that the vendor can hop on the phone whenever necessary. It is also important to ask about the company's support hours. Do they offer customer service 24/7 or only during business hours? If it is the latter, what are their operating hours? (Be sure to clarify this, especially if you are in a different time zone!)
How do I set up your software?
What are the steps to get all set up? Will they help you get up and running with system? Depending on the size of your business and your current workflows, migrating to a new system can have some challenges, so you want to get a clear idea of what the process looks like.
How much do you charge?
While most providers publicly display their pricing on their websites, it is best to clarify costs with the vendor directly. For instance, do their pricing plans include tax? Are there any fees associated with setting up the system or getting additional customer support? Do they charge any cancellation fees?
Iron out these details with the provider and then factor in those costs into your budget.
Do you have any references?
It is always great to hear from other businesses firsthand, so if you're still on the fence about a solution provider, ask if they can connect you with references. Ideally, they would be able to refer you to individuals running businesses similar to yours.
Take a trial or demo
Once you have narrowed down your choices to two or three apps, take a free trial or demo of the software. A free trial is ideal, because it lets you play around with the software on your own. If that is not available, then ask the vendor for a demo.
The goal is to see the appointment scheduling software in action. You will want to experience the platform and interface yourself, so you can gauge how easy and intuitive it is. The duration of the trial is another consideration. The longer the trial period is, the better it is for you because you will have more time to gauge the software's compatibility with your business. Opt for a provider that has a demo period of two weeks or more.
You will want to get the most out of the trial or demo, so don't be afraid to explore the software and see how its features work with the specific needs and processes you have in your business.
Chapter 4: How to optimize appointment scheduling in your business
At this stage, you have already selected (or you are close to choosing) your scheduling software. In this chapter, we will talk about how you can create online appointment scheduling practices that drive more bookings in your business.
We'll cover how to deal with no-shows, how to increase your online bookings, and how to leverage social media in appointment scheduling.
How to reduce no-show appointments
No-shows are a big issue in appointment-based business. For starters, they are a major nuisance. Having no-shows can kill your momentum and cause stress, particularly if you are unable to fill the appointment.
Then there is the fact no-shows are costing you valuable sales and profits. As mentioned earlier, they can result in thousands of dollars of lost revenue per year. As any business owner will tell you, every bit of revenue counts. And if you're losing money because of people not showing up for their appointments, you need to take proactive steps to address the issue.
Here are some suggestions:
Implement a no-show policy
Start off by creating a policy that protects your business from no-shows. This policy should outline your rules for keeping appointments and it should communicate the penalties for not showing up. The specific terms of your policy will depend on your business, but generally, your no-show policy should have the following components:
Cut-off time for cancellations and appointment changes – Decide on a cancellation window for customer appointments. How much advance notice do you require for clients who need to change or cancel their booking? For many salons and spas, 24 to 48 hours seems to be a reasonable cut-off time.
Fees for not keeping appointments – Determine the penalty fees that you'll charge clients when they miss their appointment. Do you intend to charge them the full service amount or just a percentage? There are no hard and fast rules for this, so go with what makes the most sense for your business.
You will need the ability to charge the client's credit card when they are not present, so be sure to collect their payment information prior to confirming their booking. This can easily be done with the right appointment scheduling software.
Genbook, for example, lets you capture your clients' credit card information for future charges. The software also enables you to collect full payments or deposits upfront.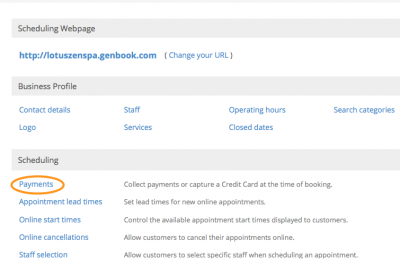 What's more, it can also help you enforce your cancellation policy. If you are a Genbook user, you can set a Cancellation Policy in the Payments section on the Settings page. This policy will be shown to your customers prior to booking, and it will capture their credit card details so you can process a cancellation fee if necessary.
Tolerance for no-shows – You could also establish a tolerance level for no-shows. Set a threshold for the number of times that a client can miss their appointment, and if they go beyond that, you could enforce a policy that prevents them from booking more appointments.
Communicate your policy
Already have your policy? Communicate those rules to all of your clients. Cover your bases and be sure to relay your no-show policies whenever someone schedules an appointment through any booking channel, including:
Online – Display your no-show guidelines on your appointment booking website. You'll want to make sure that people see and acknowledge your policies, so place them in a prominent location on the page. If possible, have users tick a checkbox to acknowledge that they've seen your policies.
And don't forget to set up your online payment system, so clients can enter and submit their payment details via your booking portal.
Over the phone – If someone calls to schedule a service, tell them about your policies prior to confirming their details. You will need to get their credit card details to hold their spot, so make sure your appointment scheduling software lets you securely collect and store your clients' payment information.
In-person – The same thing goes for appointments that are scheduled in-person. Notify the client about your policies and efficiently collect their payment details using your booking software. If you are scheduling a service for an existing client, let them know that you will be using their credit card on file.
Make the most out of your confirmation and reminder messages
More often than not, no-shows are an honest mistake. People can forget about their appointments or run into last-minute engagements. According to Genbook's survey, 28.4% of respondents said that forgetting their appointment is their top reason for now showing up, while 27.6% said that having a last-minute snag is their main reason for missing their booking. Meanwhile, 10.7% said that they don't show up because they forgot to cancel.



Your scheduling software can address all of the above through automatic sequences that remind your customers about their appointment 24 to 48 hours before their allotted time.
You should also use your confirmation message to remind clients of important details about their appointment. Specifically be sure to:
Confirm the appointment details – Reiterate the client's appointment details for good measure. Your message should contain the date and time of the booking, the service(s) booked, and if applicable, the staff member who will be providing the service.
Send reminders to help clients prepare for their appointment – Depending on the service, you may want to remind clients of the things they need to do prior to their appointment. Should they come in early if they are a new customer? Do they need to come in without makeup? Whatever the case, include those guidelines in your message.
Link to your cancellation policy – It also helps to add a link to your cancellation policies, so your clients know what will happen if they miss their appointment.
Link to your booking portal – Make it easy for clients to cancel or reschedule their booking by including a link to your scheduling page in your email — or even via text message if possible. In the event that someone needs to change or cancel their appointment, this saves time and removes the hassle of having to call in their appointment changes.
A great example of a company doing all of the above is Bronzed Sugar, a sugaring and spray tan business in Southern California. Their appointment confirmation email contains the client's appointment details, along with links to their booking website and cancellation policy.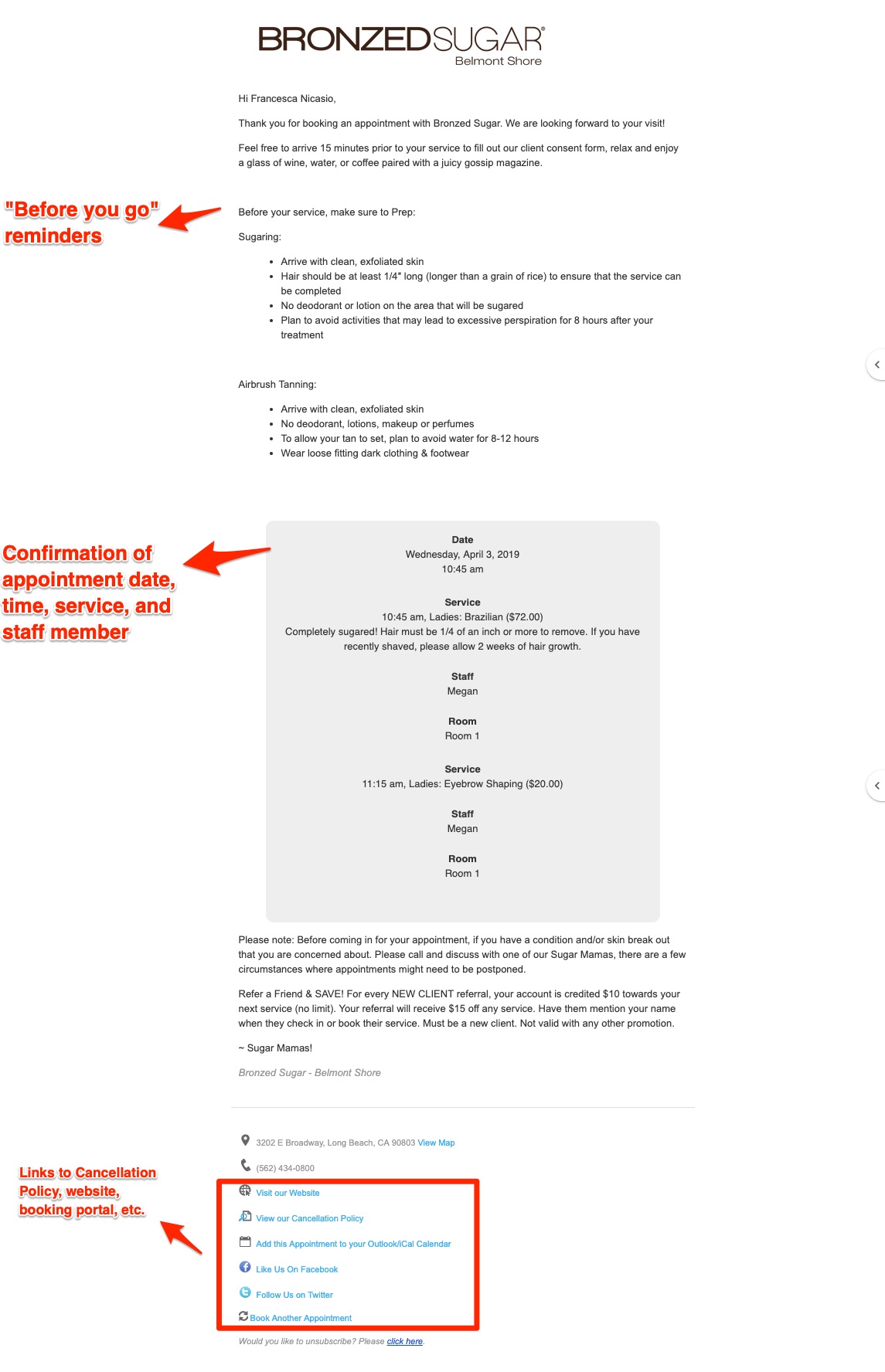 Utilize various channels
How should you confirm and remind clients about their appointments? That depends on your customers. SMS reminders seem to be favored by more people. Genbook's survey found that 53.6% of respondents prefer getting appointment reminders via SMS versus 16.9% who prefer email.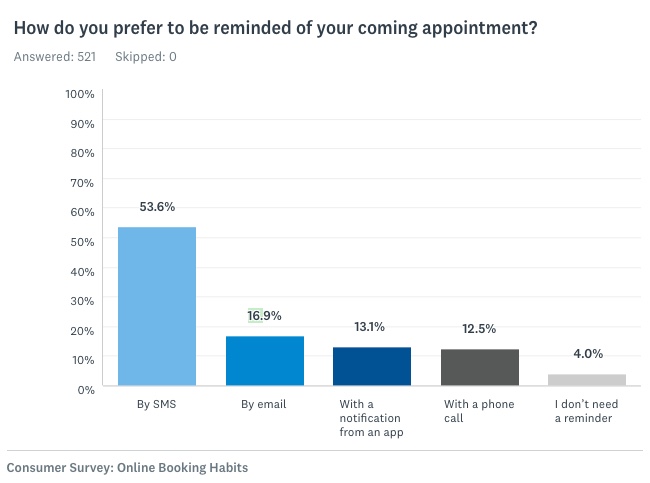 That being said, you don't want to solely focus on SMS if you still have customers who like getting reminders via email or over the phone. Get a feel for each client's preferences and go from there.
It may also help to study appointment reminder trends in your company. Do people tend to keep their appointments if they are reminded via text, email or over the phone? Look into the data to determine what works best for your business.
Whatever you decide, try to automate and systemize whenever you can. If you are sending email and text reminders, for example, set up your appointment scheduling program, so that it automatically sends those notifications. If you have clients who prefer getting reminders over the phone, see if your system can alert your staff when it is time to make the call.
Dealing with appointment changes
Last minute cancellations and rescheduling happen from time to time. When someone decides to call off or postpone their visit, be sure to send an appointment cancellation email to the customer and the employee in charge of providing the service.
You will also want to fill the client's empty slot as soon as possible, so you don't miss any revenue opportunities. You can do this through waitlists that put clients on standby in the case of no-shows, reschedules and cancellations.
Another way to fill those open slots is by using social media to promote your last-minute openings.
Take a leaf out of the playbook of Chrissy's Massage Studios in Texas, which actively posts about appointment openings on Instagram to encourage people to book.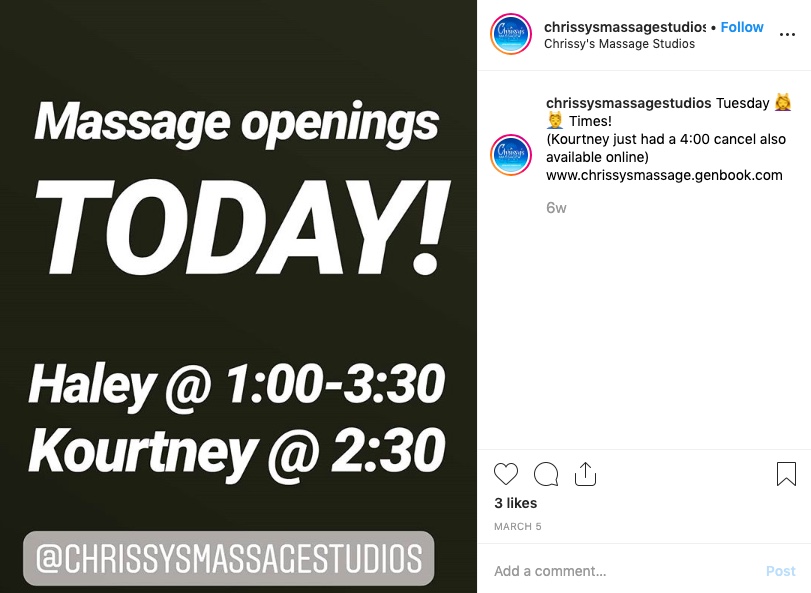 Now that we have discussed how to reduce and handle no-show appointments, let's move on to the ways that you can streamline the booking process and increase your appointments.
Implement online appointment scheduling on your website
If you have a website (and in this modern age, you totally should), leverage it for appointment booking. You have likely invested some time and resources building and marketing your site, so strive to get the most out of it.
Make it easy for your website visitors to schedule appointments online by having a clear "Book Now" button on multiple sections, including the homepage, about page, services menu, and contact page.
Depending on your online scheduling platform, doing this can be as simple as adding a piece of code onto your website. If you are using Genbook, all you need to do is copy and paste Genbook's HTML code into the source or code view of your site. Customizing your button is easy, as you can easily select the color and size that you want.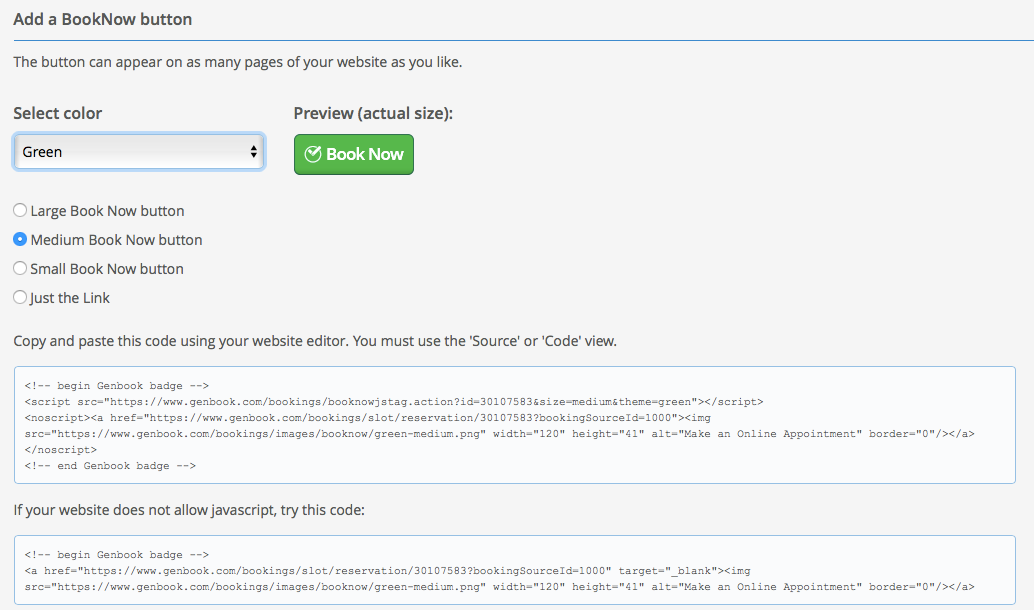 Reserve with Google: Why and how to set up bookings through Google & providers
Aside from your website, you can also leverage Google to increase your bookings. How? Three words: Reserve with Google.
Reserve with Google is a service that allows people to schedule appointments directly from Google's search results and Google Maps.
Here is how it works: when someone searches for a business on Google or on Google Maps — e.g., "salon near me," the search engine will serve up business listings relevant to the user's query. Any business that is part of the Reserve with Google program will have a schedule button or link on their listings. Clicking that lets consumers book a service, pick a time slot, and even choose a staff member right from Google's interface.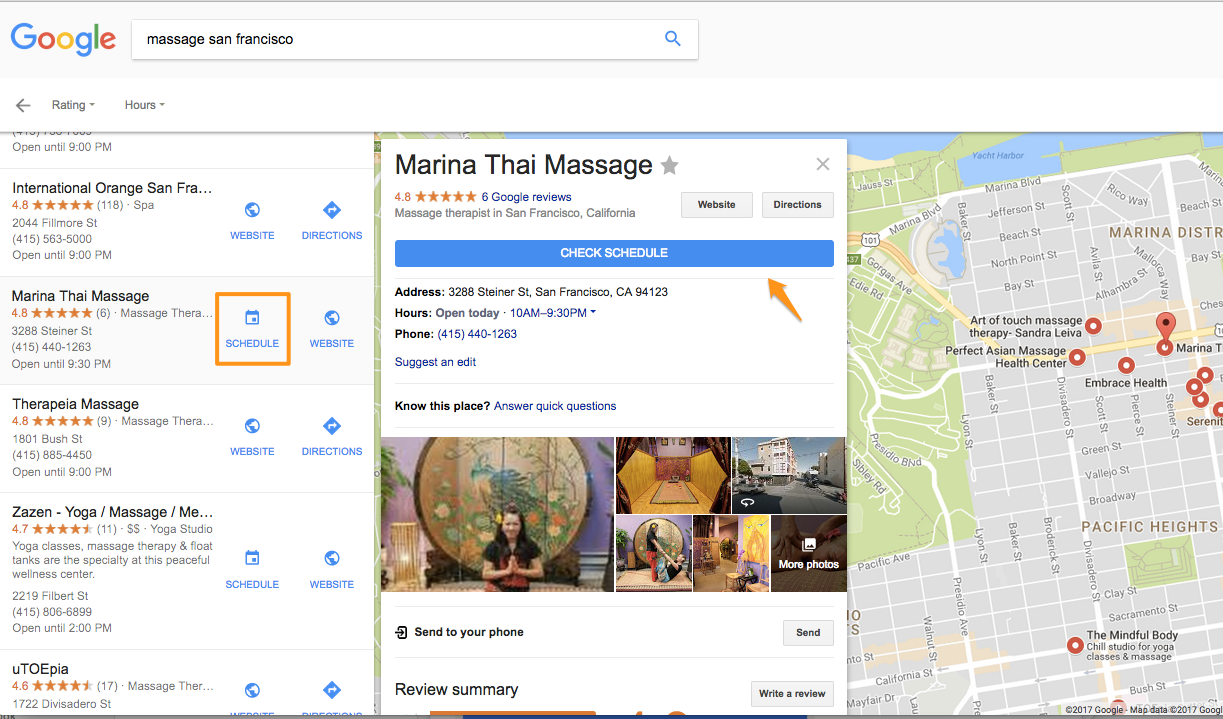 This makes the appointment scheduling process much more seamless because users don't have to leave Google to reserve their appointments.
So, how you can take advantage of Reserve with Google? The first step is making sure that you are using a scheduling service that has partnered with Google.
Google has a select group of scheduling partners (Genbook is one of them), so register an account with a provider that is part of the Reserve with Google program. Once you have your account, follow these steps to enable Google bookings for your business:
1. Claim your Google My Business listing. Doing so will validate your listing on Google, so you can match your business info with your service provider profile.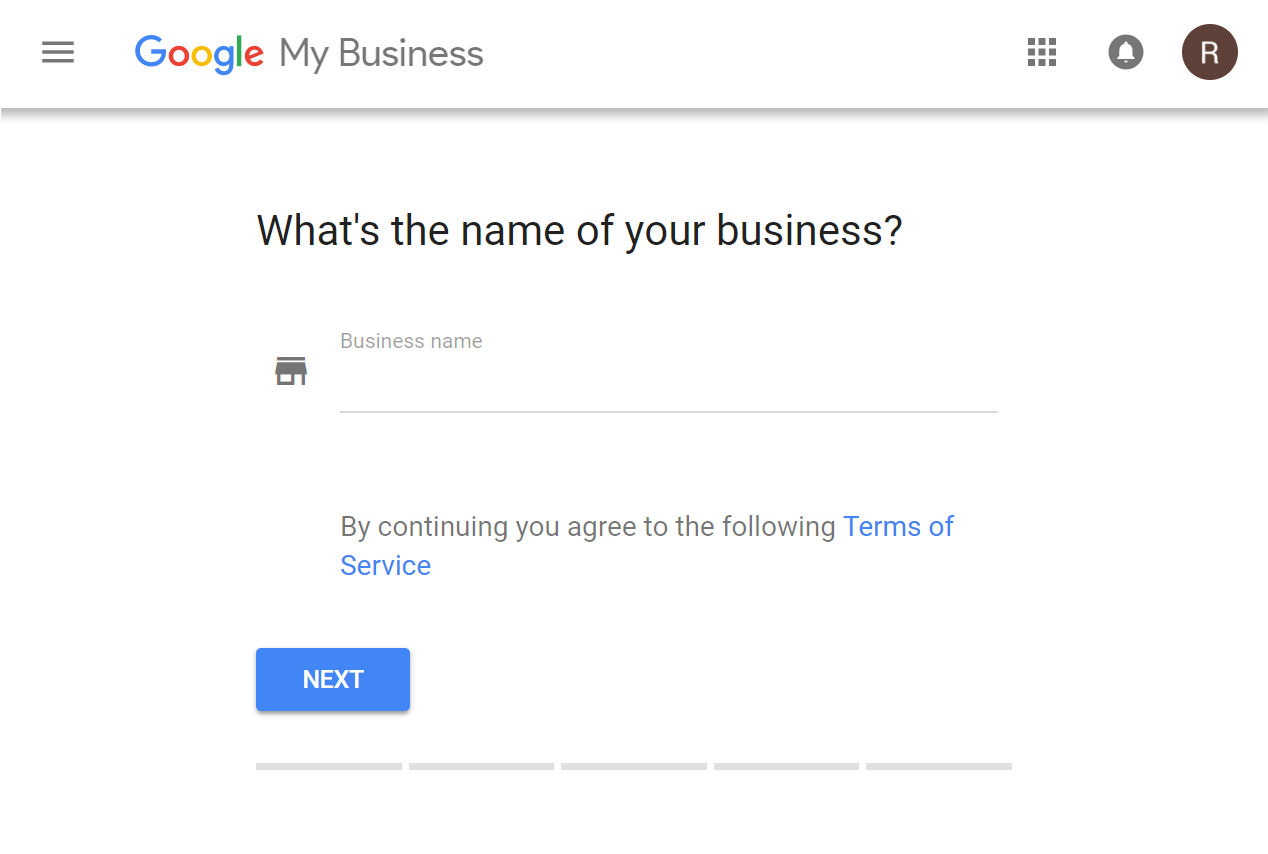 2. Review the business information that you've entered into your scheduling software, and ensure that the information is an exact match with your Google listing. To be specific, the following details need to be a match between Google and your appointment scheduling program:
Business name

Address

Phone number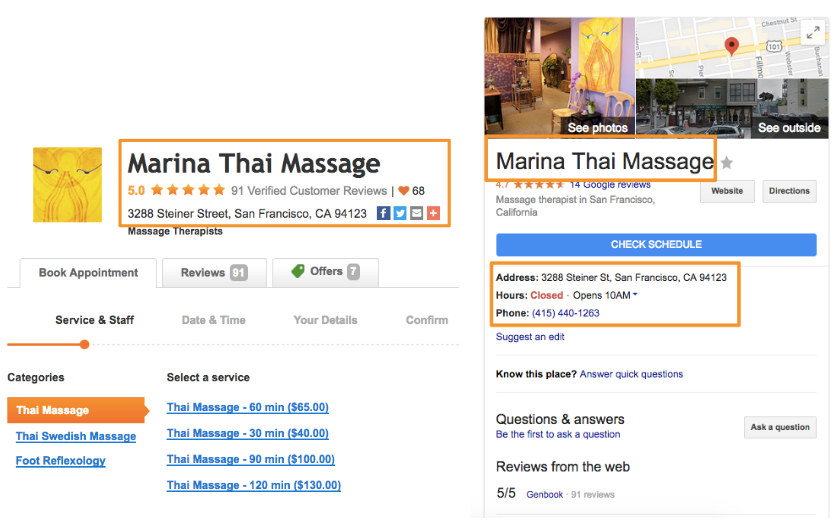 Take out any non-bookable details from your service categories and service names. For instance, if your cancellation policies or notes and messages to clients are listed under your services, you'll need to remove those. Otherwise, your business will not integrate with Google.
Using the Facebook Book Now button
Did you know that Facebook lets you add a native "Book Now" button on your business profile page? This is a valuable feature, especially if you're engaging with your clients on Facebook. What's more, Genbook's research found that 24.6% of consumers use Facebook to either get in touch or book an appointment with a service provider, so having a Book Now button on the site can help drive appointments from new clients.



How do you add a Facebook appointment button? The specifics may depend on your scheduling platform, but generally, the process involves:
1. Finding the link to your booking portal — for example, http://lotuszenspa.genbook.com.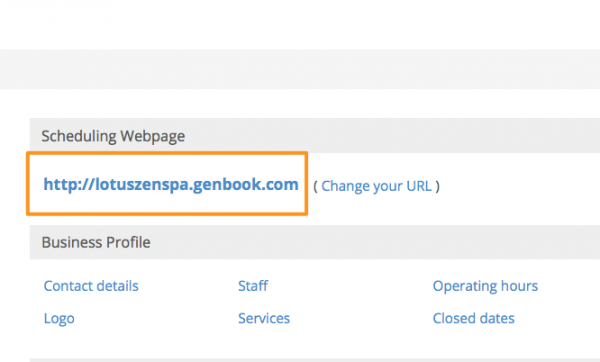 2. Click the "+ Add a Button" button on your Facebook Business Page.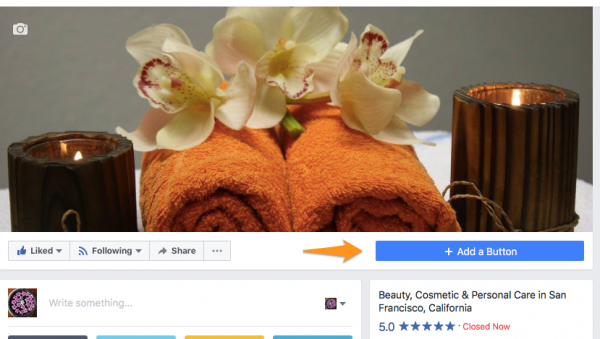 3. When Facebook asks which button you want people to see, click "Book with you" and select "Book Now". Click Next.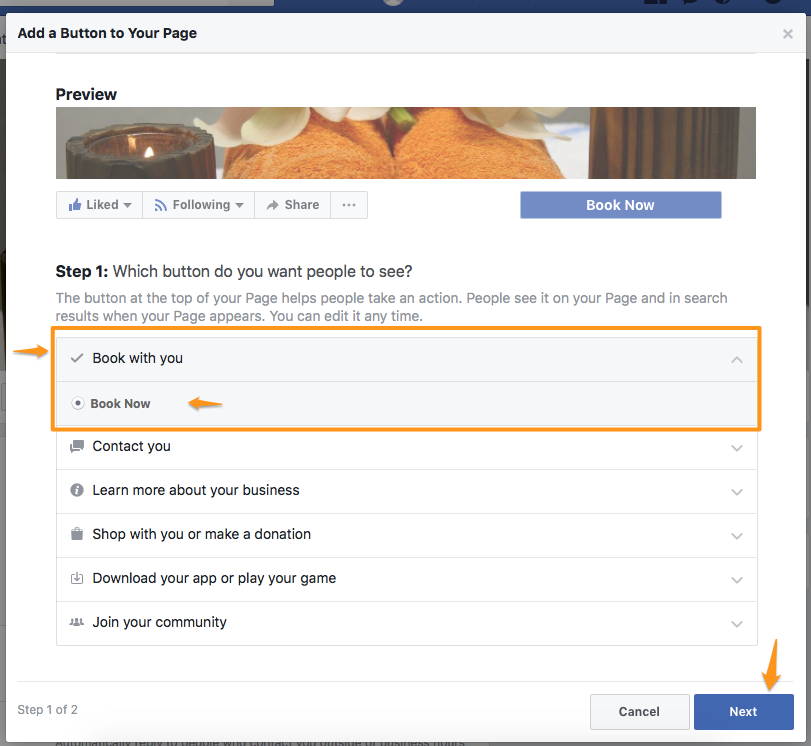 4. When Facebook asks where you'd like to send people when they click the button, select "Link to your website" then paste your scheduling URL.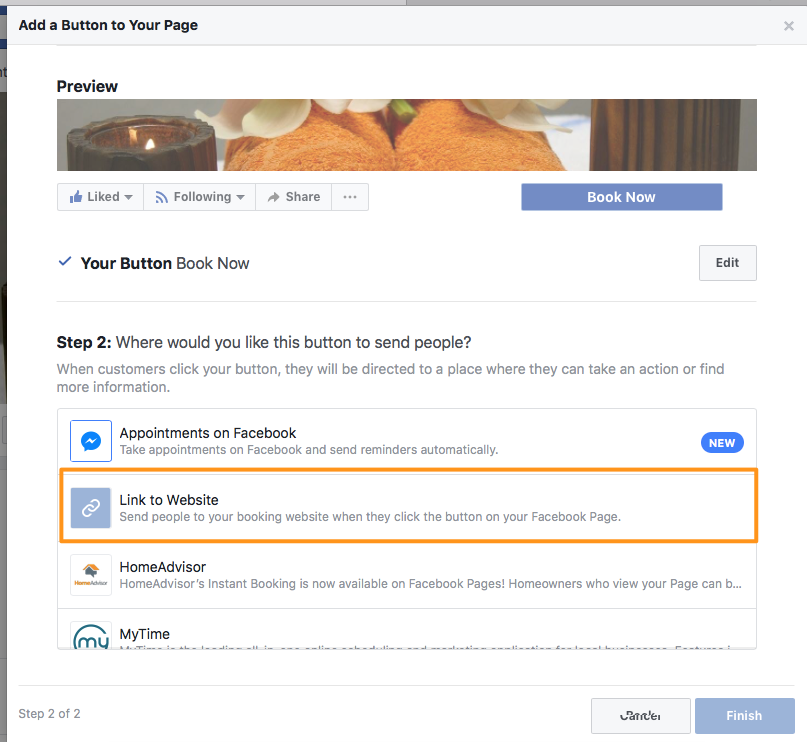 5. Double-check and confirm your details, then click "Add Button".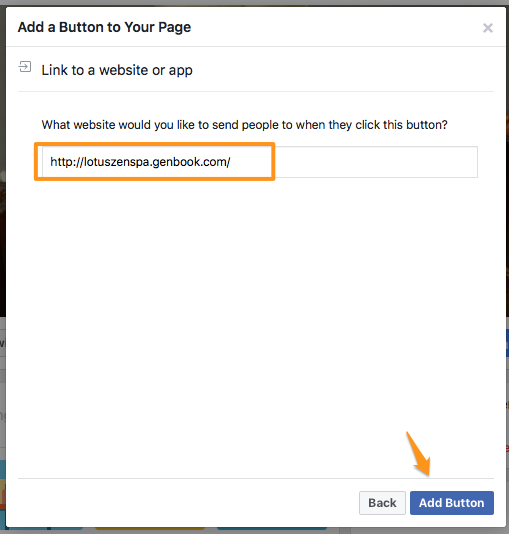 And that's it. Once you have completed the above steps, you should be able to see the "Book Now" button on your Facebook business page.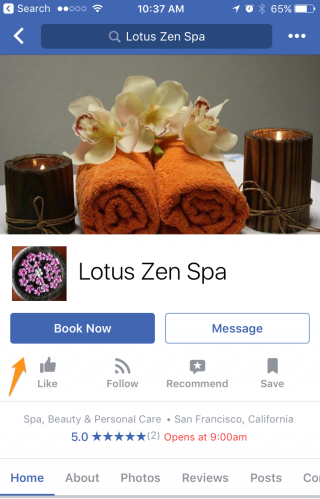 Lotus Zen Spa, as you can see above, has enabled Facebook appointment booking on their page. This ensures that users checking out their page (be it existing fans or otherwise) can easily schedule an appointment from Lotus' page.
Using the Instagram Book Now button
Now let's talk about Instagram. Just like with Facebook, you can add an appointment booking button on Instagram. Youssef's Diamond Cuts Barber Studio is a great example of a business leveraging the Instagram Book Now button.
If you view Youssef's Instagram account on the mobile app, you'll see a "Book" button right below the Follow button. Tapping that takes users directly to Diamond Cuts's online scheduling page, allowing clients to easily proceed with the booking process without leaving the Instagram app.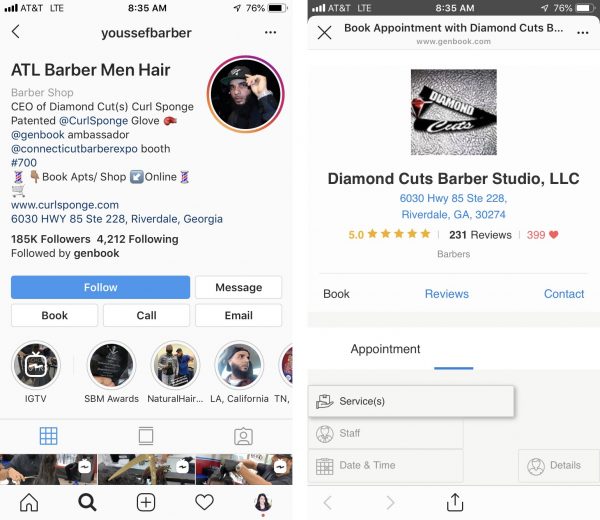 And just like with Facebook, the process of adding an Instagram "Book" button is fairly simple when you have the right appointment scheduling program.
Note: This feature is only available to businesses. If you're still using a personal Instagram account, learn how to convert it into a business profile here.
Already have an Instagram business profile? Great. Follow these steps to add a "Book" button to your account page:
1. On your profile page, tap the "Edit Profile" button.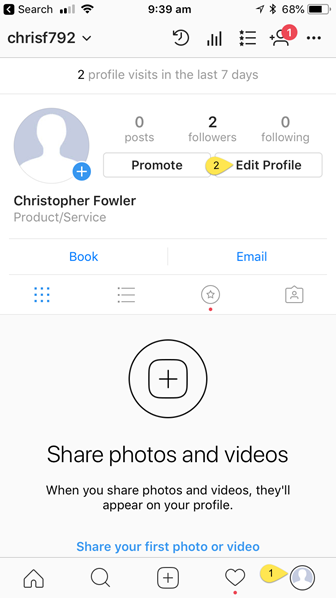 2. Tap the "Contact options" link under the Business Information section.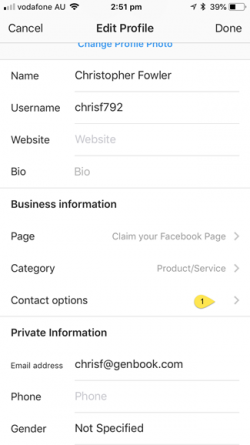 3. Select "Add an action button."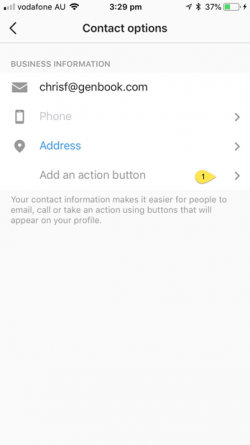 4. You'll be taken to a page on which you can connect your account with other online services. Find your appointment scheduling software from that list.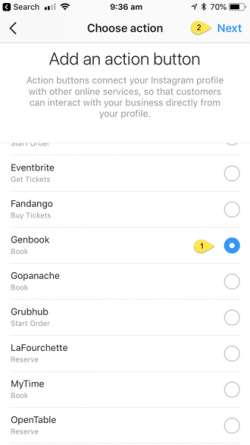 5. Add the URL to your appointment booking page, then tap "Done."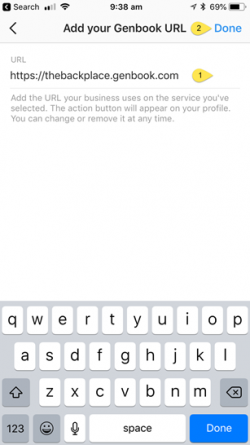 [Return to Table of Contents]
Chapter 5: How to promote online appointment scheduling to your clients
At this stage, you have set up your online booking tools and your clients can already schedule their appointments online. The next step is to promote online booking and encourage your customers to reserve using your appointment scheduling software.
The goal is to get as many clients booking their appointments online, as this will benefit you in a number of ways:
You will be more productive – Online appointment scheduling essentially removes you and your team from the booking process. Since your clients can book their services on their end, they won't require your help to secure a spot.
This means that you and your staff can spend more time serving customers and running the business. When your team isn't bogged down by menial tasks, productivity soars.
You will reduce human error, miscommunication, and no-shows – Automating the booking process also reduces human error and miscommunication. Since appointments are synced across your calendar, there is virtually zero risk of taking down the wrong names and appointment information.
And since your booking platform can send email and SMS reminders automatically, you can reduce no-shows and ensure that people make it to their appointments.
You will have a healthier business overall – Higher productivity levels, along with fewer errors and no shows, will lead to a healthier bottom line. You'll have more people keeping their appointments and your team will be much more productive — and happier.
So, how can you get more people booking their appointments over the web? Here are some suggestions:
Leverage your booking button as much as you can
See to it that your booking button is as visible as possible. Earlier, we talked about displaying the "Book Now" button on every page of your website. nouraesthetics, which offers skincare, lashes, and waxing services, serves as a great example of this practice in action.
In addition to having a prominent "Book Now" button on the homepage, nouraesthetics has another booking button that consistently appears on every page. This ensures that people see the button from anywhere on the site.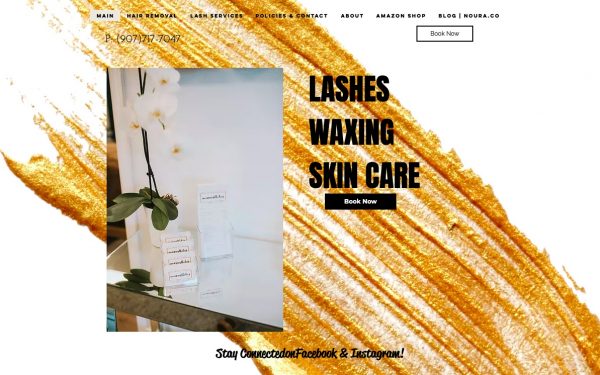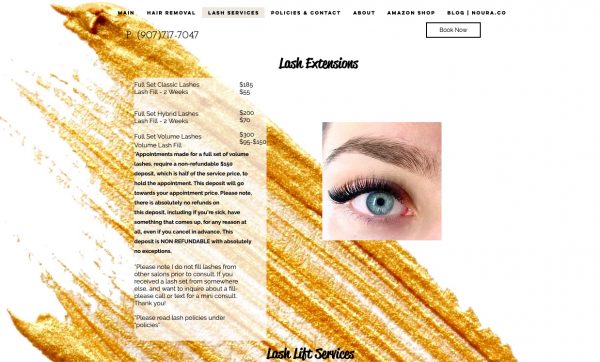 Aim for that level of visibility when your promoting your online booking link. Go through your site and see to it that the button is visible everywhere.
Create valuable social media content
Earlier you learned how to add booking buttons on Facebook and Instagram. To get the most out of social media booking, you need to increase your business' visibility on social networks. Afterall, what good are social media booking buttons, if you don't have fans and followers to see them?
The best way to boost your social media traffic and following is to create content that's worth liking and sharing. Obviously, the right social media content strategy depends on your business and audience, but here are some ideas to get you started:
Show yourself in action
Post photos or videos of yourself to give people a glimpse of what you do. So, if you're a nail artist, consider creating a video of you doing nail art. Do you cut and style hair? Get in front of the camera and do that. When people see how great your skills are, they'll be more likely to tap the "Book" button.
Youssef, the CEO of Diamond Cuts serves as a great example of a business owner who knows how to show off their skills on social media. Youssef regularly posts Instagram videos of himself styling his clients' hair.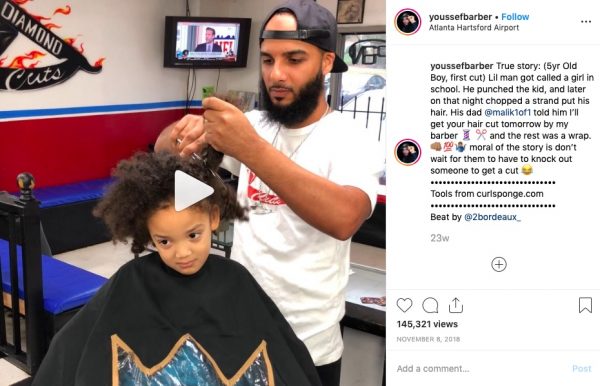 Tell your story
Authentic storytelling is one of the most powerful ways to connect with your audience. Research has shown that people remember and respond well to narratives, so find ways to tell your story. Talk about how you started your business or how you developed your passion. This will help you connect with your audience, which in turn will make you memorable.
Check out the following Instagram post from Tyler Dew of Barber Sign Productions. In it, Tyler shared his journey of going from $5 haircuts to a price point of $60 to $100. He also talked about building a platform of more than 180,000 followers and how he stepped out of his comfort zone.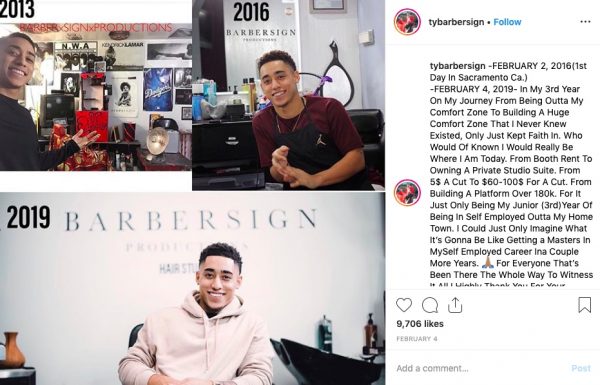 Show off your space
Give your fans and followers a look at your physical location by taking photos or videos of your space. In addition to generating more content, this practice offers people a glimpse of what they will experience in your salon, spa, or studio. And if they like what they see, they will be more inclined to schedule an appointment.
Here's a good example from Manly & Sons Barber Co.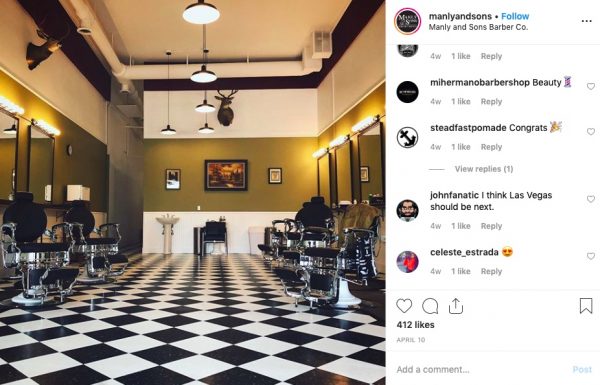 Let people see results
Have you gotten an excellent result for a client? Create content of it! Social proof is one of the most compelling things on social media. When people see others achieving the results they want, they are more likely to become customers.
Here is an example from Tans By Kait. In this photo, Kait talks about how spray tans can help emphasize muscle definition. She also talks about how much she loves seeing her clients become more confident after a good spray tan.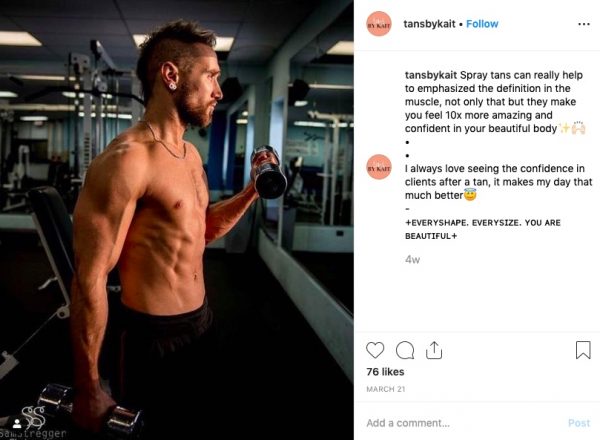 Seasonal content
See to it that your social media feeds are keeping up with seasonal events and holidays. Aside from staying relevant and top of mind, you can use seasonal posts as an opportunity to remind clients that you're open during certain holidays and events, and that you're taking online bookings.
Antione Dunn (@dunnthebarber), for example, makes it a point to keep up with the seasons and holidays by posting timely content on social media. Check out the post below, where he advertised a promotion for Thanksgiving.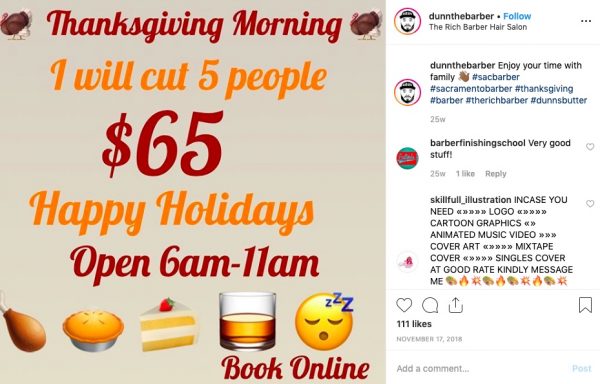 Post motivational content
Inspirational content tends to do well on social media, so sprinkle in some motivational quotes and images every now and then.
Champions Barbershop, again, does a great job here. While most of their posts are about their clients and business, they occasionally publish motivational content like the photo below.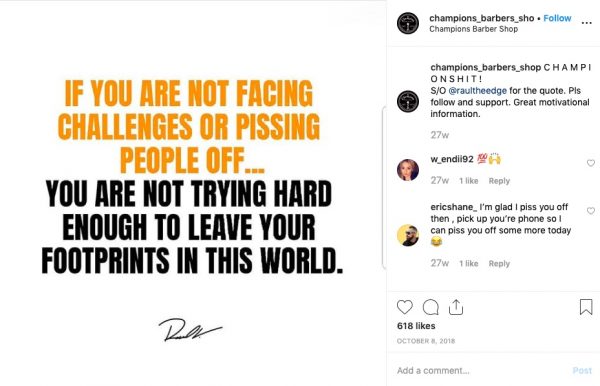 Educate your fans and followers
Provide value to your audience and position yourself as an authority in your niche by publishing educational content. Throw in some useful tips and tricks via photos and videos. If you are in skincare industry, for instance, you could start posting content on how to get glowing skin. Or if you are a hair salon, you could provide hair care tips.
Need some inspiration? Sabrina Brooklyn (@browsbybrooklyn) once ran a Q&A session via Instagram Stories and invited her followers to ask questions.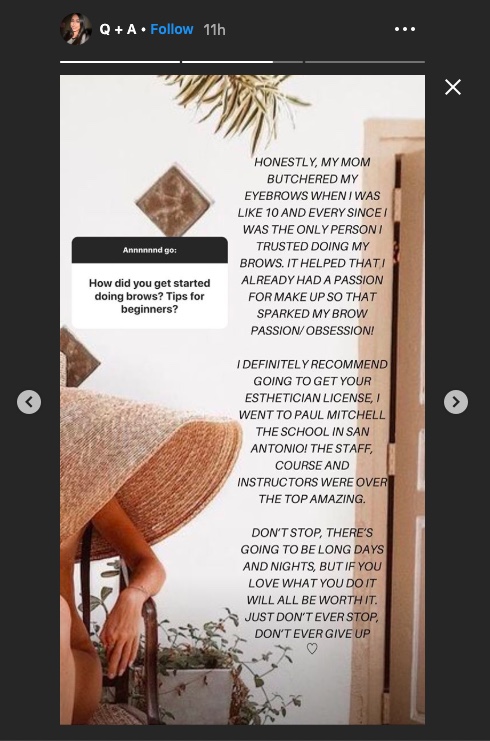 Use email marketing
Aside from social media marketing, you can also use email as a channel on which to promote your online bookings. If you send out newsletters, make sure you have a booking button or link in all your emails. The workout studio Orangetheory Fitness (OTF), for example, has an eye-catching graphic in their emails encouraging subscribers to book their workouts online.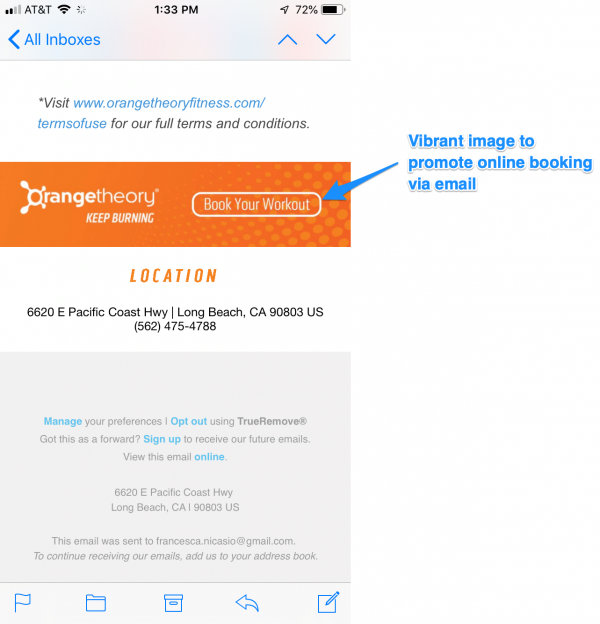 Another idea is to promote your online appointment scheduling on seasonal or birthday emails. That's what Bronzed Sugar does. The Bronzed Sugar team sends an email on the client's birthday, and that message contains a link to their online booking portal.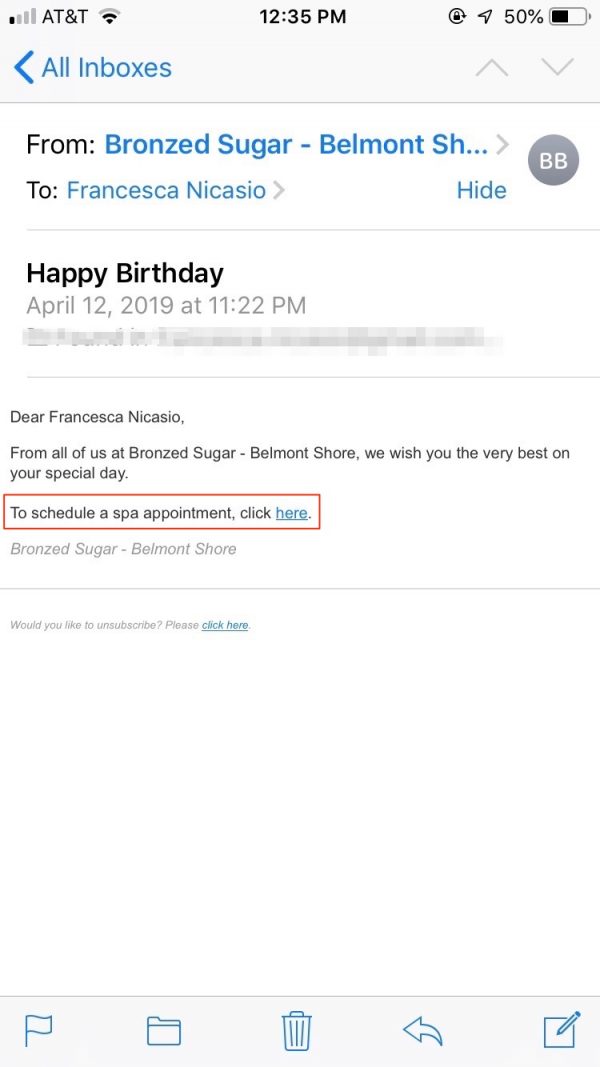 Consider paid promotions
If you have the budget for it, put some money behind Facebook, Instagram or Google ads. These ad networks have some great targeting capabilities that enable you to zero in on specific audiences based on their age, gender, location, interests, and more.
Explore your advertising options, test different ad copy and images, and then see what works. And for best results, use a compelling landing page or even use your booking URL in your ads, so people can book schedule directly. The key is to make booking as easy as possible.
Do some offline marketing
It may seem counter-intuitive, but you will also want to promote online booking in the offline world. You likely have a good chunk of customers who are booking their services over the phone or in-person. Doing a bit of offline marketing will help you transition them over to online appointment booking.
Here's how:
Put your booking link on your business cards – In addition to your basic business info, your business cards should also contain your scheduling URL. So, when you're giving out cards in your location or during events, your clients would know that they have the option to book online.
Mention online booking over the phone and in your voice mail – If you get phone calls from people inquiring about your services or business hours but aren't ready to book on the spot, tell them about your online booking portal.
You could say something along the lines of "Feel free to call back when you're ready to schedule an appointment! You can also book online at…"
And don't forget about your voice mail. Record an outgoing voice message telling callers about your online appointment scheduling portal. That way, even if you miss a call from a would-be customer, you have a chance to secure their booking if they go online.
Talk about it in person – Last but not least is talking up your online booking services face-to-face. If you're working with clients who aren't scheduling their appointments online, make it a point to mention it.
A casual statement like "Looking forward to seeing you next month! In case you didn't know, you can book your appointment online on our website…" would do the trick.
Final words
Whew! We just walked you through the ins and outs of online scheduling. You learned the benefits of having an online booking system, the key features to look for, and how to decide on the right appointment scheduler. You also wised up on how to promote internet scheduling and how to leverage tools like Google, Facebook, and Instagram to gain more business.
So, what is the next step? Action! Evaluate your current appointment scheduling practices and find ways to take things to the next level. This often involves upgrading your booking system.
Check out Genbook, an appointment scheduling software that has everything you need to manage your business and bookings. In addition to an easy to use scheduling page and booking button, Genbook connects to social networks like Facebook and Instagram.
Genbook is also a proud partner of Reserve with Google, so you can use the software to get more appointments through Google Search and Maps.
Get in touch today and learn how Genbook can take your business to the next level. This post was updated in August 2020 for comprehensivness and accuracy.