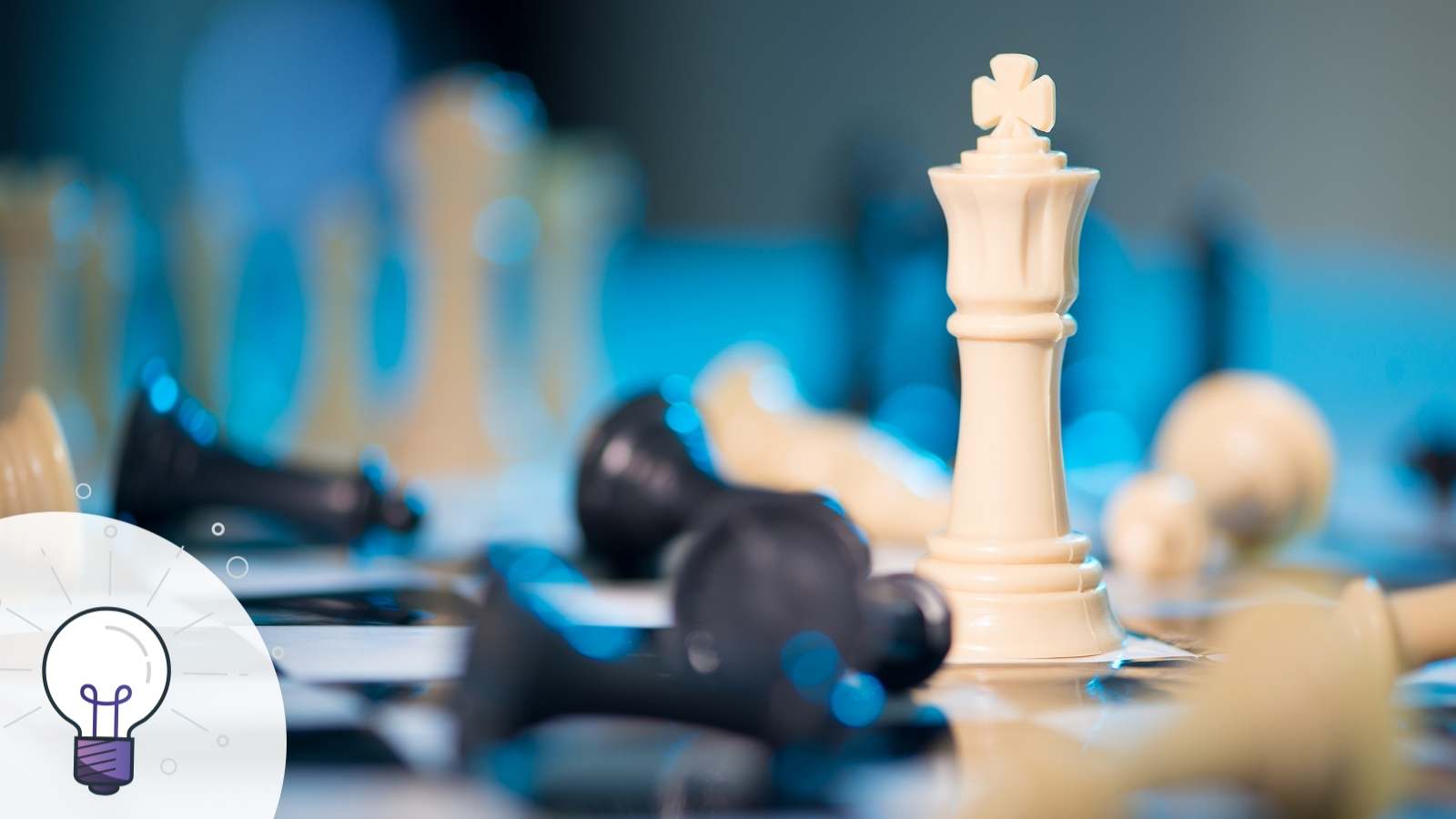 3 Research-Backed Techniques To Beat the Competition: A Straightforward Guide for Appointment Based Small Businesses
Many appointment-based small businesses rely on a good reputation to win over new customers. This is particularly true in today's market, where consumers make it a point to research businesses and service providers before signing up.
Research shows the majority of customers (53% according to a study by Google) always research online prior to making a purchasing decision to ensure that they're making the right choice.

Needless to say, the more credible you are and the better your reputation, the higher the likelihood that clients will choose to book with your business.
To that end, we've put together some stats, facts, and tips on improving your business reputation and helping you beat the competition. Check out the competitive marketing strategies below and start applying them to your business.
Specifically, you'll learn how to:
Improve your business' star rating
The star rating is usually the first thing that people see when they view your business profile, and it gives people an at-a-glance view of how clients rate your business.
Star ratings are expressed with a number ranging from 1 to 5, with 5 being the highest. The most prominent review websites (e.g., Yelp, Google, and Facebook) use the star rating system when ranking and recommending businesses.
While these sites don't publicly disclose how star ratings are calculated, they most likely use the weighted average method, where each rating is weighted against the number of votes it got. For example:
5 stars x 21 votes
4 stars x 9 votes
3 stars x 5 votes
2 stars x 2 votes
1 star x 2 votes
Average star rating = 4.15 stars
Star ratings have a major impact on people's choices of which businesses to support. Generally speaking, the higher the rating, the better your chances of conversion (to a certain extent). Research from Harvard Business School found that a one-star increase in a business' Yelp rating leads to a 5% to 9% rise in revenue.
That's massive, isn't it?
But, that being said, there's a limit to the benefits of high star ratings. A study by Spiegel Research Center at Northwestern University found that five starts may be "too good to be true" in the eyes of potential customers. Spiegel's findings indicate that "purchase likelihood typically peaks at ratings in the 4.0 – 4.7 range, and then begins to decrease as ratings approach 5.0."
The takeaway? Ratings clearly have a material effect on your business, so you should strive to increase them. Just don't be too "start-rating-happy" when collecting them. It's ok to be a few points below five stars. In fact, the data suggests that a perfect score may give off a "too good to be true" perception among clients.
To that end, here are a few tips on collecting — and getting the most out of — star ratings.
Identify the top rating websites and build a strong presence on those platforms
There are numerous small business ratings and review platforms out there, and while you want to have a high rating on all these websites, trying to manage every single profile is incredibly time consuming. So, focus your efforts on the platforms and business directories that count. The big three are Google, Facebook and Yelp.
Establish a strong presence on these websites by keeping your profile complete and updated at all times. Include details about what makes your business unique and throw in some photos. A fleshed out business profile coupled with a high star-rating is highly attractive to potential clients.
A great-looking profile could also encourage customers to submit ratings for your business. No one likes to browse and rate profiles that have tumbleweeds blowing through them, so it's worth keeping yours in top shape.
Encourage your customers to rate your business online
One of the best competitive marketing strategies you could implement is to increase the number of stars on your profile, by getting more happy customers to rate your business online.
There are a number of ways to do this. One is to chat with your clients in person. When you're finishing your appointment, ask the client if they're happy with the service they received, then encourage them to rate your business on the appropriate channels.
You could also automate this process by sending a follow-up message to clients a day or so after appointment, along with a link to the review platform.
Genbook makes it easy for you to implement this. Our software can automatically send your clients rating and review requests 24 hours after their appointment. You even have the option to send follow-up requests to ensure that customers are prodded to do so.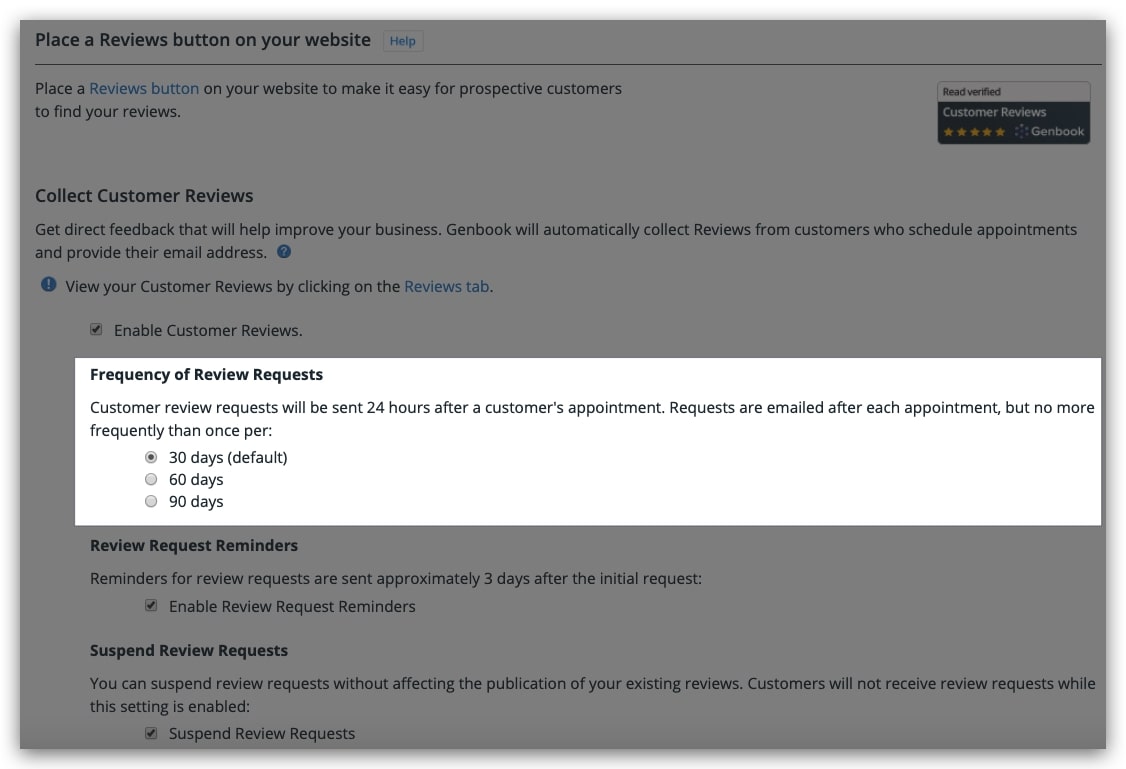 Genbook will then help you promote your rating by automatically displaying your average star rating on your profile. Your customers will see your star rating on the booking page itself as well as on Google, when your Genbook portal shows up on the search results page.
We can see this in action on Wisecuts Barbershop. Wisecuts has their star rating at the top of their booking page: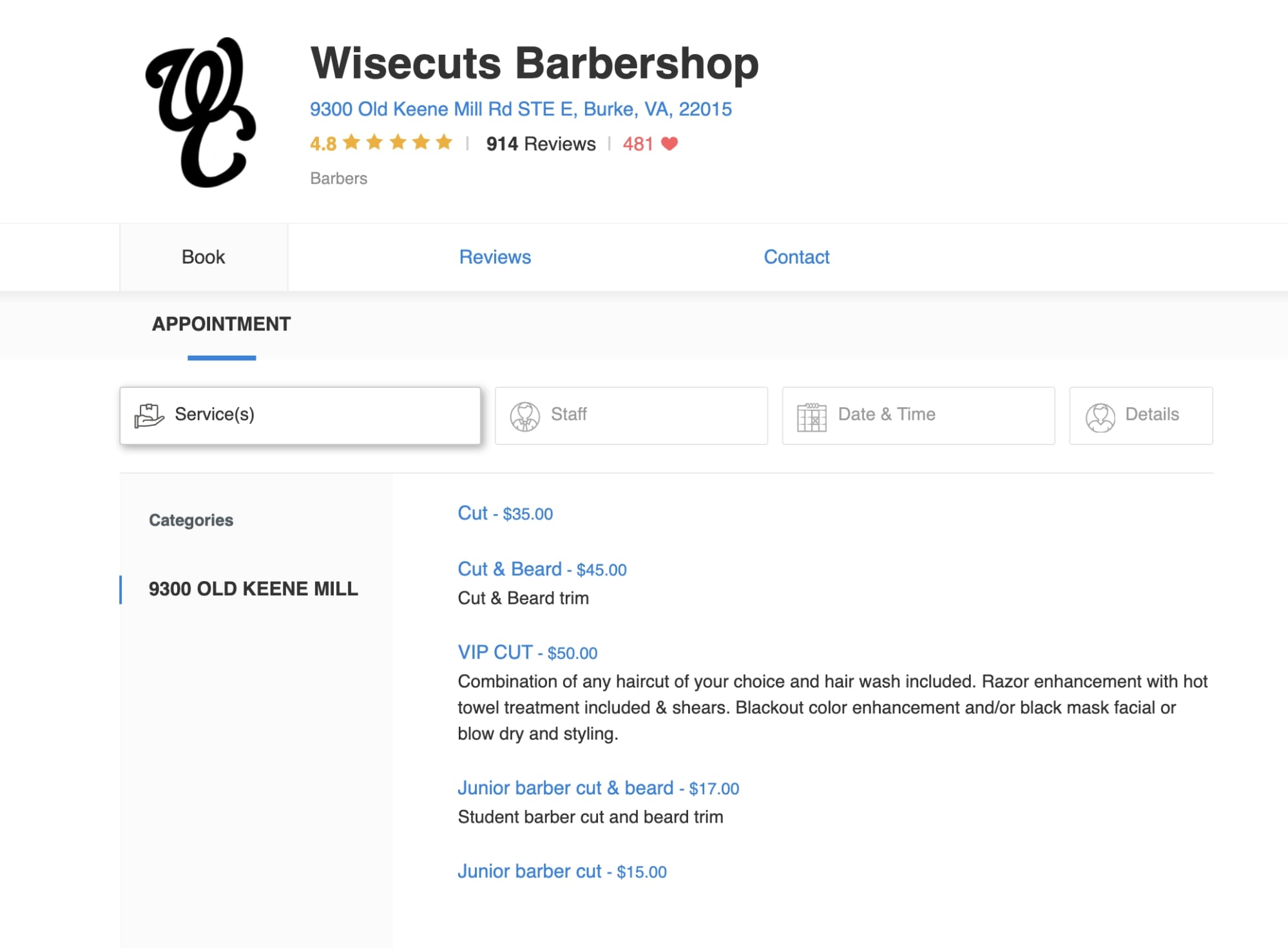 And when Wisecut's Genbook page appears on Google, the barbershop's star rating is prominently displayed as well:

Increase the visibility of your star ratings
Have a 4 or 5-star rating? Shout it out from the (virtual and figurative) rooftops. Publish posts on social media displaying your high ratings, and display a star rating badge on your site, so visitors immediately know how much your business is loved online.
Have a look at LS Barberhop's website, which has the Genbook Customer Reviews badge on the footer.

Also, see if you can grab some offline marketing materials. Yelp, for example, sends offline collateral to top-rated businesses, so if your profile has a stellar rating on the site, keep an eye out for "People Love Us on Yelp" window cling that you can show off in your location.
Increase your business' positive reviews
Now let's talk about reviews. If star ratings give people an overview of how people perceive your business online, reviews provide more in-depth information to customers who want to dig deeper.
Reviews are written by clients who want to share their experience with your business, and unlike star ratings which are quantitative, reviews offer qualitative insights. They provide context and details which help customers better understand your business.
When viewed together, ratings and reviews offer a clearer picture of how your business is doing in the eyes of your customers.
And make no mistake, reviews are an important component of your clients' path to purchase. According to BrightLocal, 91% of consumers agree that favorable reviews increase their likelihood of choosing a business.
Research also suggests that reviews are more important than ratings. In a survey by Fan & Fuel, 73% of respondents indicated that "written reviews make more of an impression on them than star/number ratings"
So, how do you get more positive reviews, and what are the best ways to leverage them? Consider the following:
Provide an experience worth writing about
Reviews are relatively more difficult to get, mainly because it takes more work on your client's part. Unlike star ratings, which can be submitted with just a few clicks, writing reviews requires more thought and effort.
As such, it's important that you offer services that are worth writing about. Create experiences that stand out. When you offer a memorable business experience, you're more likely to get vivid and compelling reviews.
Remind customers to share reviews
Just like with star-ratings, you can give your customers a nudge to write reviews. This request can come up naturally when you're speaking with a happy client. For instance, if you're finishing off a haircut and the customer tells you how much she loves your work, use that as an opening to request a review.
Perhaps say something along the lines of:
That's so sweet of you to say! I'm glad you love my work. If you have time this week, it would really help me out if you write about your experience.
And just like with star ratings, if your booking platform can automatically send reminders to clients to review your business, be sure to enable that feature so you can put the process on autopilot.
Craft tailored responses to customer feedback
When the reviews start coming in, make it a point to respond to them. Making the effort to do this benefits your business in a number of ways. If you are unsure of how to begin, our online review management checklist can come in handy.
For one thing, responding to positive reviews shows that you appreciate and value your clients' feedback. When customers see that you acknowledged their reviews, they'll feel appreciated and are more likely to return.
On the other hand, responding to negative feedback allows you to share your side of the story and could potentially turn a not-so-great client experience into a positive one.
Regardless of whether you're dealing with positive or negative comments, interacting with online reviewers shows potential clients that you and your team are responsive. This improves the perception they have about your business, and increases the likelihood that they'll book with you.
Show off your best reviews
Once you've collected glowing reviews, be sure to show them off. Place the best testimonials on your website. You could also take screenshots of select reviews and post them on social media.
Check out this example from Kristin Kincaid Salon: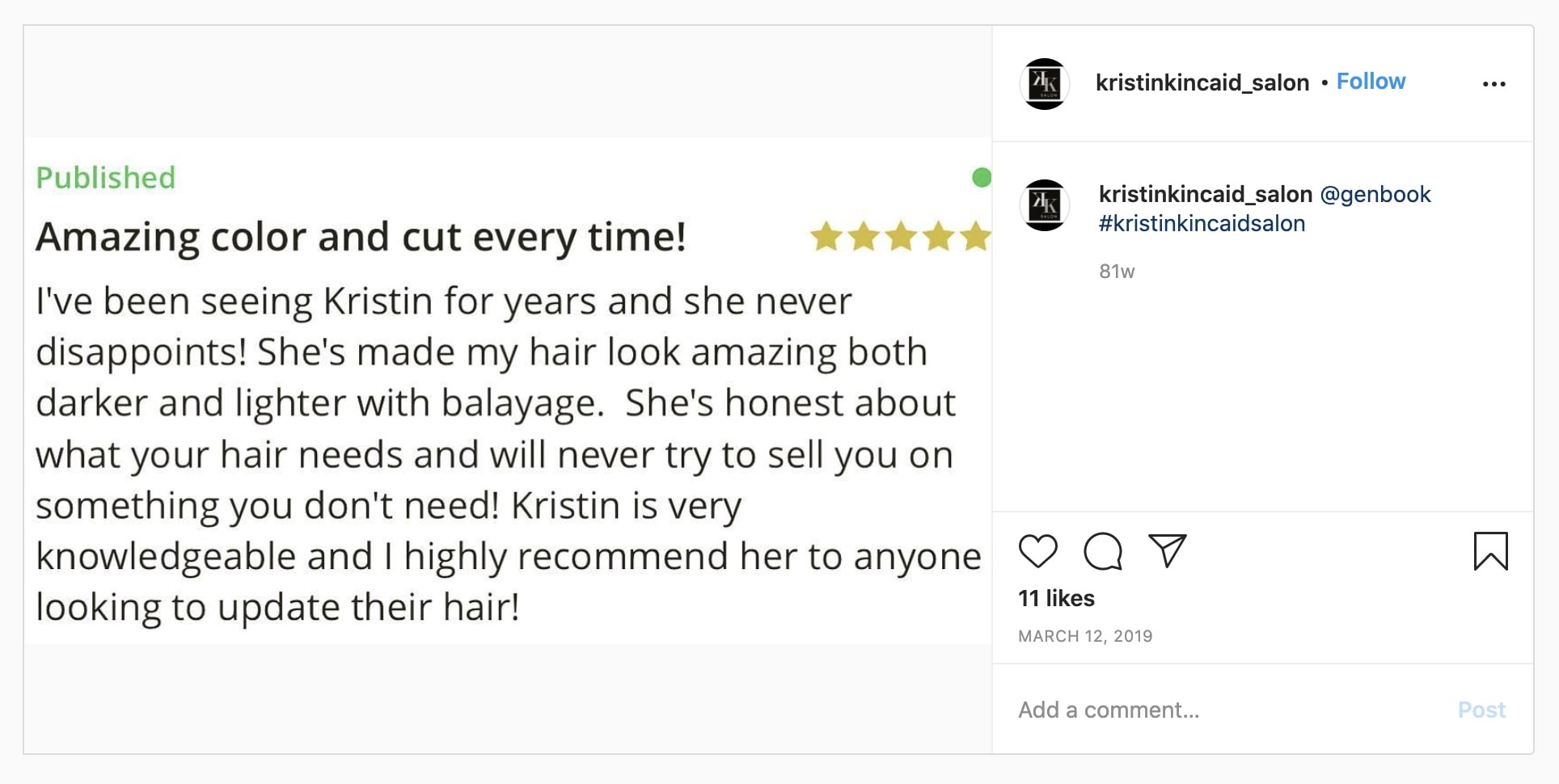 Win relevant awards
Winning awards improves your business in several ways. For starters, it can give you a massive reputation and promotional boost. Many awards are publicized by the organizations behind them, as well the sponsors and stakeholders of the awards. Entering — and winning — can put you in front of a wider audience.
Awards also boost your credibility. Having badges, trophies, and certificates send the message that your business is legit and recognized by industry players and organizations. All that can further encourage people to choose you, which can lead to more sales. Business.com cites research, which found that winners of corporate awards saw 37% more sales growth.
Finally, winning awards can raise employee morale and even help you attract talent. Raking in awards and recognition reminds your existing team that your business (and your employees by extension) are doing amazing work. This, in turn, could also attract high-caliber candidates, as top performers only want to work with the best.
So, how can you win more contests and awards? Follow these tips to increase your chances of success:
Identify the right contests and awards
First things first, identify the awards or contests that you want to enter. There a handful of ways to find awards for your business:
Check out local awards. There may be opportunities close to home. Maybe your city is recognizing the top small/local businesses in town. Perhaps your community is doing a "best of" roundup of businesses.
A good way to uncover opportunities is to actively search for them. Contact your Chamber of Commerce or get in touch with any local organizations to see if they're hosting awards and contests.
See if your vendors or business partners are hosting contests or awards. Many companies like to spotlight their clients or business partners so it's worth digging around to see if any of the companies you're doing business with has an award initiative going on.
Genbook, for instance, is currently running the Excellence in Experience Awards 2020, where we honor hair, beauty and wellness businesses that are offering superb client experiences. Winners are determined based on their ratings and reviews, and you can encourage your clients to vote for you by "favoriting" your business in the Genbook booking app.  

Look into trade groups and publications. Most industry organizations and publications run awards of their own.
For example, the trade publication Salon Today hosts the annual Salons of the Year award, which celebrates well-designed salons and spas.
Pay attention to each award's rules and guidelines
Every award or contest has its own sets of rules, so make sure you read up on what you have to do, and what it takes to win.
Some awards rely on a panel of judges who evaluate each business entry. In such cases, you may need to submit an application or entry where you tell the panel why your business deserves to win.
Other awards use votes to determine the winner. In these instances, you'll need to tap into your clients, fans, and community to gain their support. Promote your business entry by sharing the link to your audience and try to win as many votes possible.
Flaunt your awards when you win
When you do win those coveted awards, make sure you announce it to everyone, including your customers and employees. Most award presenters will give you a badge, certificate, or trophy. Put these things to good use.
If the award comes with physical assets like a certificate, frame it and display the award proudly in your location. On the digital site, be sure to display the badge on your site and social profiles.
Check out this example from Spa 131. The business was awarded as one the best massage places in 2019 by Wellness Council, and Spa 131 has a badge of honor on the footer of their site.
If you win a major accolade, it may even be worth producing a press release to garner media attention — and more publicity!
Top-notch ratings, reviews, and awards can help you beat the competition
Ratings, reviews, and awards aren't just vanity components. Multiple studies have shown that these things can have a massive impact on sales and revenue. They can be valuable tools that'll help you when competing in business.
So, take the necessary steps to move your business forward in these areas. Encourage your customers to rate and review your business, then promote their positive feedback.
It's also worth looking into competitions that you could win. One prime example? Genbook's Excellence in Experience Awards if you're a service provider in the beauty, hair, or wellness space, head to the EIE page to see if your business qualifies to enter. There are several prizes to be given out if you win — including free Genbook for a year, a trophy, award swag, and of course, bragging rights.
Learn more about the Excellence in Experience Awards 2020.
Loved what you just read? Sign up for the Genbook newsletter and get access to hundreds of articles on growing your small business.