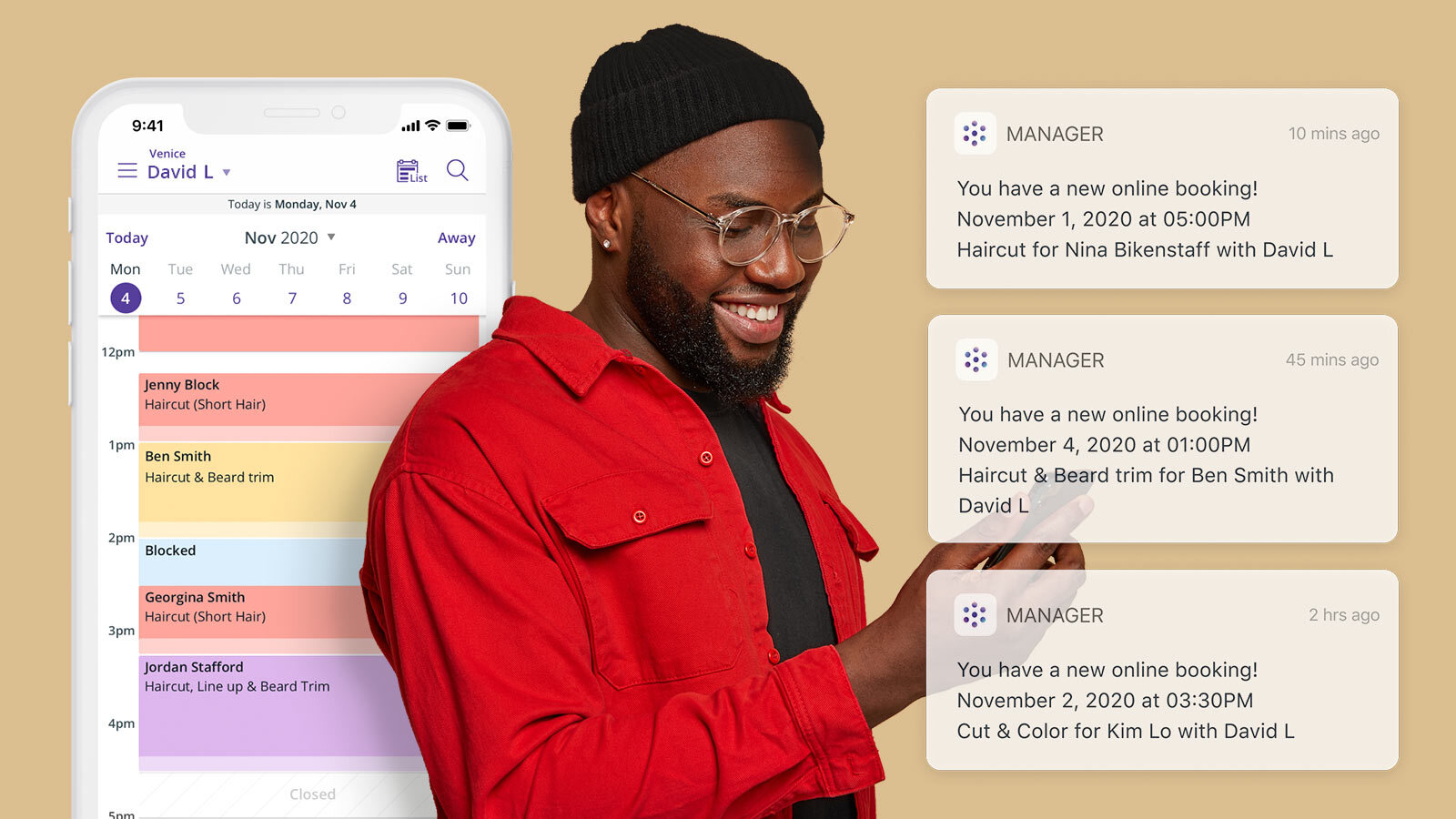 The Best Scheduling Apps in 2021: The Ultimate Features and Comparison Guide Voted By Clients [Hair+ Beauty Edition]
Service-based business owners and managers face unique challenges. For starters, you wear a lot of hats. You need to take care of your clients, manage staff, not to mention handle various day-to-day tasks.
A day in the life of an entrepreneur is fraught with distractions, and it's critical that you limit them, so you can set your business on the right growth trajectory. In doing so, you'll be able to hire more staff, expand your footprint, and reach more clients.
One of the ways to achieve that is by arming yourself with the best scheduling app for your spa, salon, barbershop, wellness or similar small businesses, which is what we'll discuss in this post.
You'll learn:
What is online scheduling & why it matters?
Before diving into the best appointment scheduling apps for a small business, let's back up a bit and discuss the importance of online booking or scheduling. As its name suggests, online scheduling takes the booking process to the web by letting clients set appointments through a digital portal.
Online scheduling has gained tremendous popularity and adoption among consumers. A 2019 survey by Genbook found that 44% of clients would choose online booking above other scheduling methods.
Not offering customers the ability to schedule appointments online can hurt your business. Genbook's 2020 Client Experience Report found that one of the primary reasons that clients felt they had a bad experience was because the provider didn't offer online booking.
What are the benefits of scheduling apps for you and your clients?
When it comes to appointment scheduling apps, the benefits they offer are plenty.
And while these benefits are great for your business, when choosing a provider, entrepreneurs should look at the benefits that extend to the clients as well.
Here are a few of them:
1. 24/7 booking capabilities. One of the primary advantages of online booking? Customers can book appointments anytime and they don't have to do it within your operating hours. With 40% of online bookings happening after hours, it's clear that clients want the convenience of scheduling appointments outside of the regular 9 to 5.
2. No-hassle appointment scheduling and rescheduling. There's no need to play phone tag since clients can schedule services using a self-serve platform.
3. Easy appointment management for clients. Speaking of self-service, rescheduling appointments is also a breeze for your clients, because they can do it on their end. This is particularly important today, when health and safety are a huge concern. If a client feels unwell, for instance, they can easily modify their appointment without having to pick up the phone.
4. Accommodate clients with waitlisting. Waitlisting is a handy feature that not only keeps your calendar booked, it also gives clients the opportunity to secure an appointment if a slot opens up. Customers can put themselves on your waitlist to ensure that they don't miss the chance to book a service.
5. Automatic client reminders. Send appointment confirmations and reminders to ensure that clients always have their appointment details handy. Automatic reminders, plus the ability with some scheduling platforms to take deposits and charge penalties in which minimizes no-shows.
6. Stronger Google presence. Scheduling apps like Genbook seamlessly integrate with Google, allowing you to take bookings straight from Google Search and Google Maps. Plus your online booking page is indexed by search engines. This also makes it easier for clients to find you!
7. Better business marketing. Having a booking link makes it simpler to promote your business on modern marketing channels such as digital ads and social media.
8. Access to data and insightful reports.. Modern appointment scheduling apps also offer reporting and analytics on clients, staff, and bookings. The right data helps you make better business decisions and sheds light on how you can serve clients better.
9. No more wasting time (and paper). With a digital solution, you can save time and eliminate paper calendars, post-its, and time sheets.
10. Booking capabilities on multiple channels. Online booking apps give your clients the flexibility to schedule appointments on your website, on Google, or even social media.
11. Fewer mistakes. Digital bookings eliminate the need to manually write stuff down. With automatic calendar sync, appointments are entered perfectly into your schedule.
12. More time and energy to grow. When you spend less time doing manual work, you can devote more energy and time to growing your biz and serving your clients.
What do the best client scheduling apps have in common? 7 criteria and features that you should look for before investing
Listed below are the top 7 considerations that you should keep in mind when selecting an appointment booking app. The following points should be considered carefully; not only do they affect your back-end operations, they also have a major impact on the experience of your clients.
For instance, if your software provider offers an unstable platform or has poor customer service, that could hinder your ability to properly serve your clients.
So, do your research and keep an eye on these criteria
Pricing. Find a solution that gives you more bang for your buck. Some providers charge extra for certain features and capabilities, so look at the fine print and ensure you're signing up for a plan that has the offerings you need at a price that's within your budget.
Features. Pay close attention to the capabilities of the platforms you're considering. Ensure the features fit in with your processes and initiatives.
Client experience. Evaluate each app from your clients' perspective. You want your clients to be satisfied, and that often starts with the appointment scheduling experience.
Brand reputation. Align yourself with a company that promotes strong values and has a reputation for taking care of customers. You want your vendor to have your back.
Customer support. Pay attention to the level of support that the provider offers. Ideally, the company should have a dedicated account manager to give you resources to help you improve your business.
Mobile capabilities. See to it that the platform has mobile-friendly features that enable you to stay on top of everything, even while on the go.
Integrations. If you're already using certain apps and tools, choose a platform that plays nice with the solutions you're using.
These are all critical factors to consider, which is why doing your research is a must. And one of the most important steps of this process is to read user reviews.
To that end, we've rounded up some of the best scheduling apps for businesses as rated by clients of small businesses in the personal services industry.
We took a look at two of the top software review platforms on the web — the App Store and Capterra — and compiled a list of the top-rated client scheduling apps to consider. We've also included user-backed comments on the pros and cons of different apps.
Check them out.

The 2021 Best Scheduling Apps That Drive More Bookings (As Rated by Clients!)
5 Best Scheduling Apps for Small Business Entrepreneurs & Business Owners on the App Store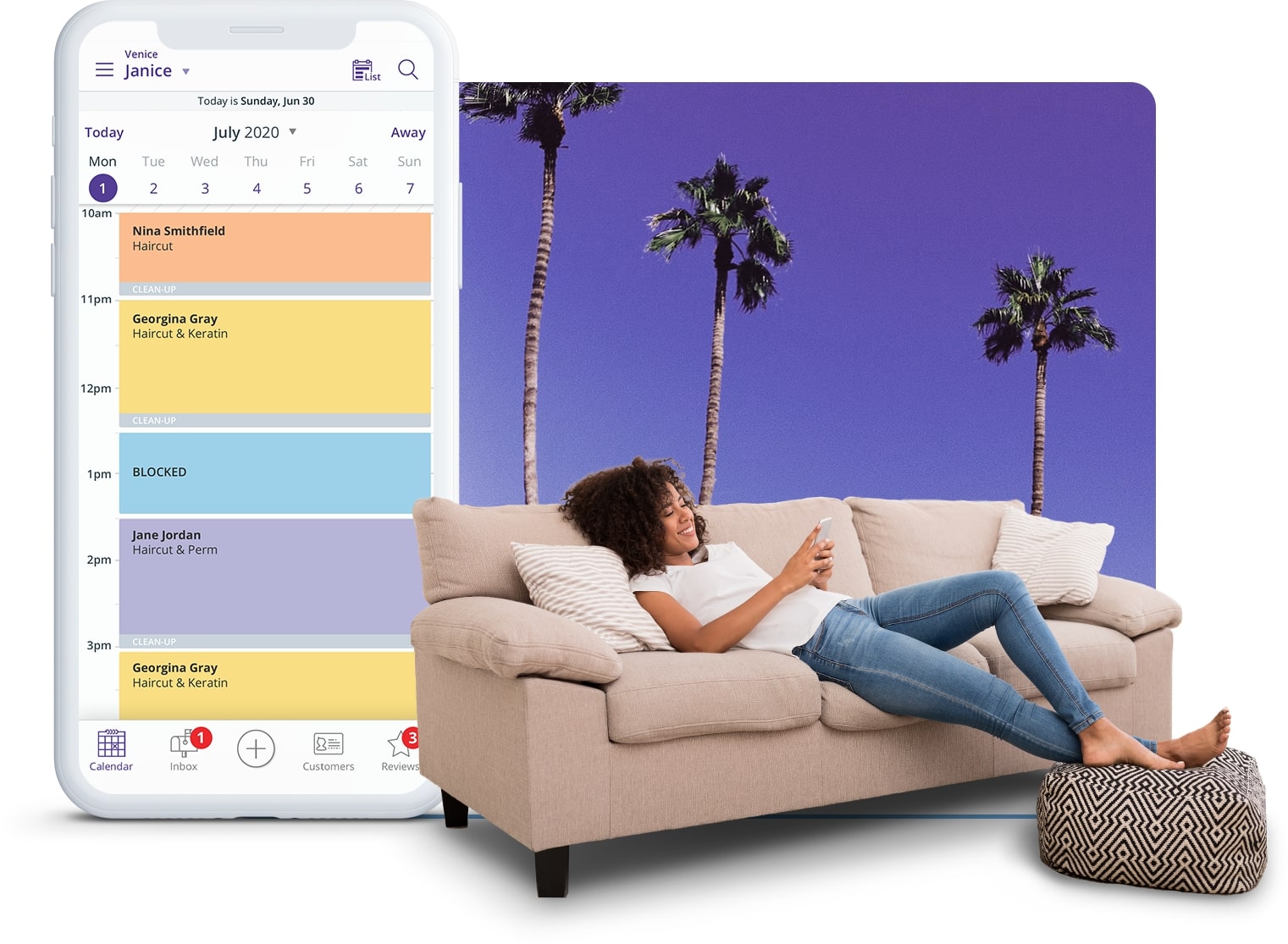 Genbook is one of the best appointment scheduling apps for small businesses. It enables you to stay on top of all your schedule and appointment management needs, right from your phone. View your calendar, create and update bookings, access your customer database, and monitor reviews all from one convenient platform.
Genbook also improves your business discoverability through a customer-facing mobile app. Aside from giving clients a convenient way to book appointments with you on their phone, the Genbook app also lets them find great service providers in their area, thus putting your business in front of potential clients in your vicinity.
Pricing
Genbook has a free 30-day trial. Beyond that, the following pricing tiers would apply (costs based on annual billing):
Solo – $25/mo
Team – $49/mo
Company – $83/mo
Rating on the App store
5 out of 5
Feature review screenshot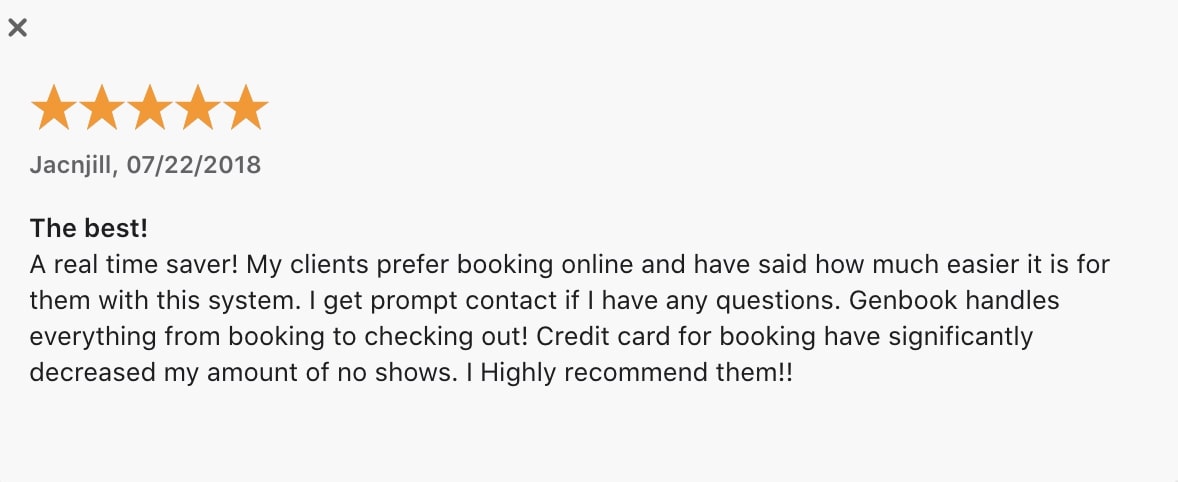 What we like
Most reviewers love Genbook's ease of use and efficiency. "It is super easy, simple and my customers love it," says one user.
The app helps business owners run and grow their businesses without the added stress. "No more double booking or forgetting to put clients in the books. I always get to see what's in front of me, and blocking out dates is a breeze all that equals FREEDOM to my company," adds another customer.
What can be improved:
Some users have encountered issues with the app sending too many notifications. "I really enjoy Genbook and have used it for years, but recently I've been receiving multiple notifications on my phone. They've been spread hours apart for the same client/appointment," says one user.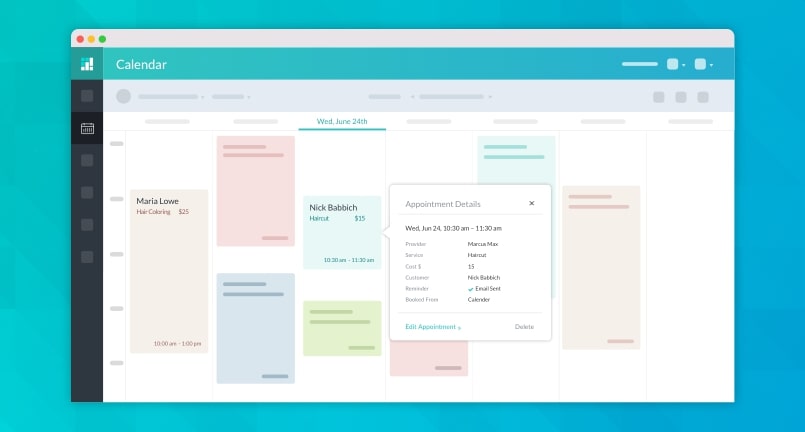 Setmore's iOS app enables you to manage your appointments, customer data, and staff calendars from your device. You can create an online booking page and share the link with your customers for easy online booking. Great for providers that offer virtual services, Setmore makes it easy to share meeting links with your clients.
Pricing
For solopreneurs and small teams, Setmore has a free account with limited functionality. Setmore Premium costs $25/mo.
Rating on the App store
4.7 out of 5
Feature review screenshot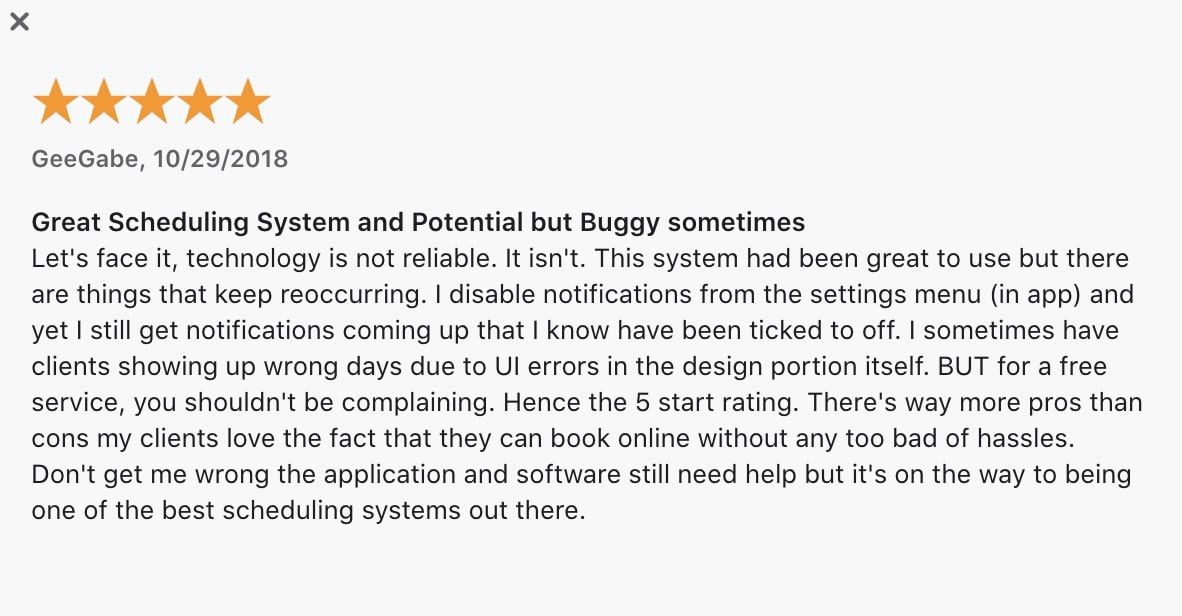 What we like
Customers praise Setmore's user-friendly features and easy setup. "I have a small service business. I had been booking all appointments via text and phone calls," writes one user. "Literally 30 minutes after setting up Setmore and adding a link to my web page I was ready to start accepting appointments."
What can be improved:
Other reviewers have complained about the app's poor design and lack of intuitive features. "This app is very poorly designed. When you click a date to schedule an appointment and fill out all the info, it defaults back to the current date," writes one user. "The calendar layout is awful. It's either 3 days or agenda but what it should be is a full 30 day calendar so you can see every appointment at a glance. Have used it for over a year hoping it would get better and never did."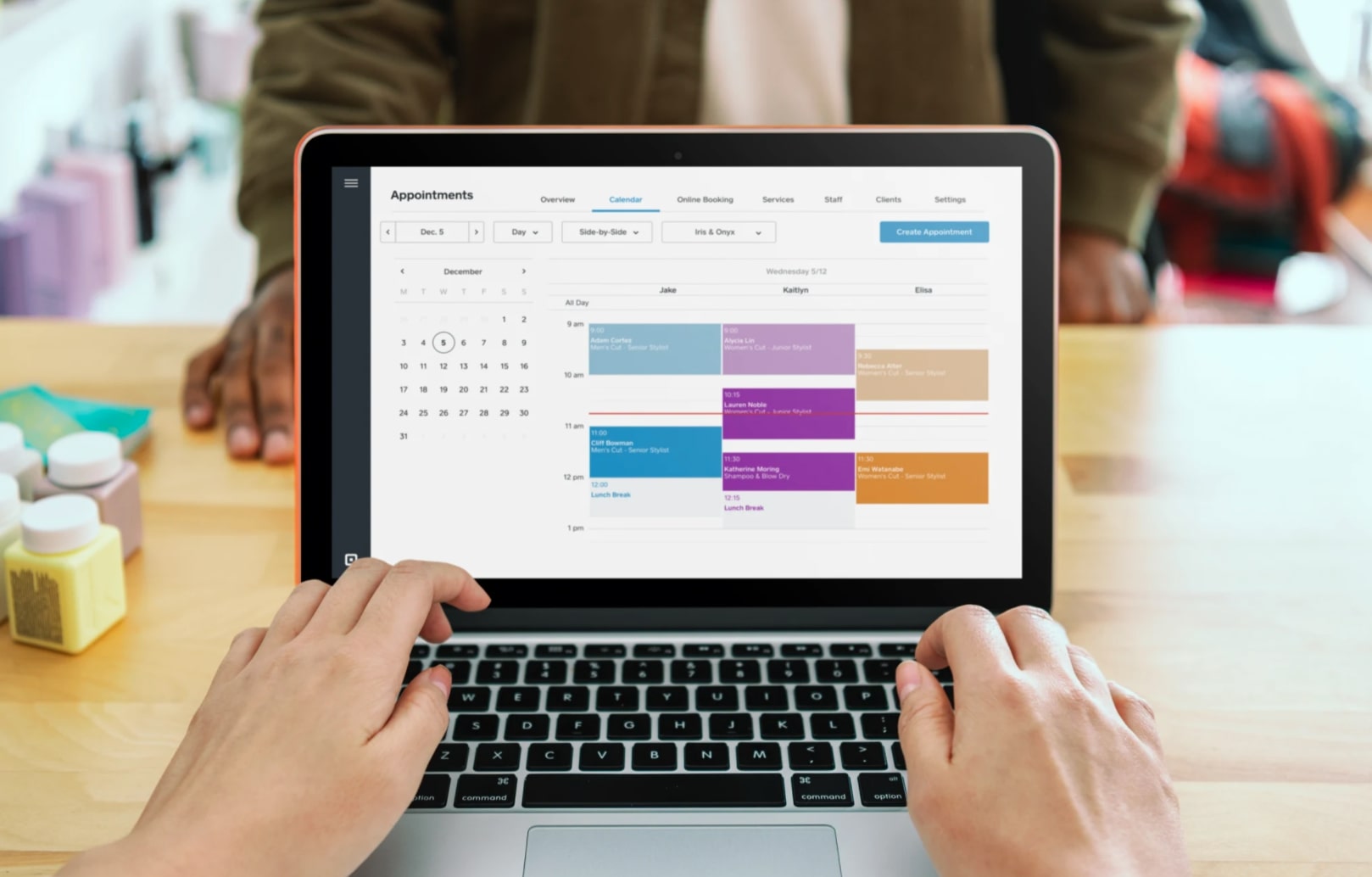 Developed by the payments company Square, this app gives you the ability to take bookings 24/7 thanks to online scheduling. Like most online booking apps, Square Appointments lets you set up a booking portal and send automatic client reminders. Bear in mind that you'll be required to use Square to accept payments and won't have the ability to use other merchant services providers.
Pricing
The app itself is free to use for individuals, though this comes with a slightly higher payment processing fee of 2.6% +10¢ per tap, dip, or swipe. Beyond that, here are Square's pricing tiers:
2-5 Employees – $50/mo and payment processing fees of 2.5% + 10¢ per tap, dip, or swipe
6-10 Employees $90/mo and payment processing fees of 2.5% + 10¢ per tap, dip, or swipe
Rating on the App Store
4.9 out of 5
Feature review screenshot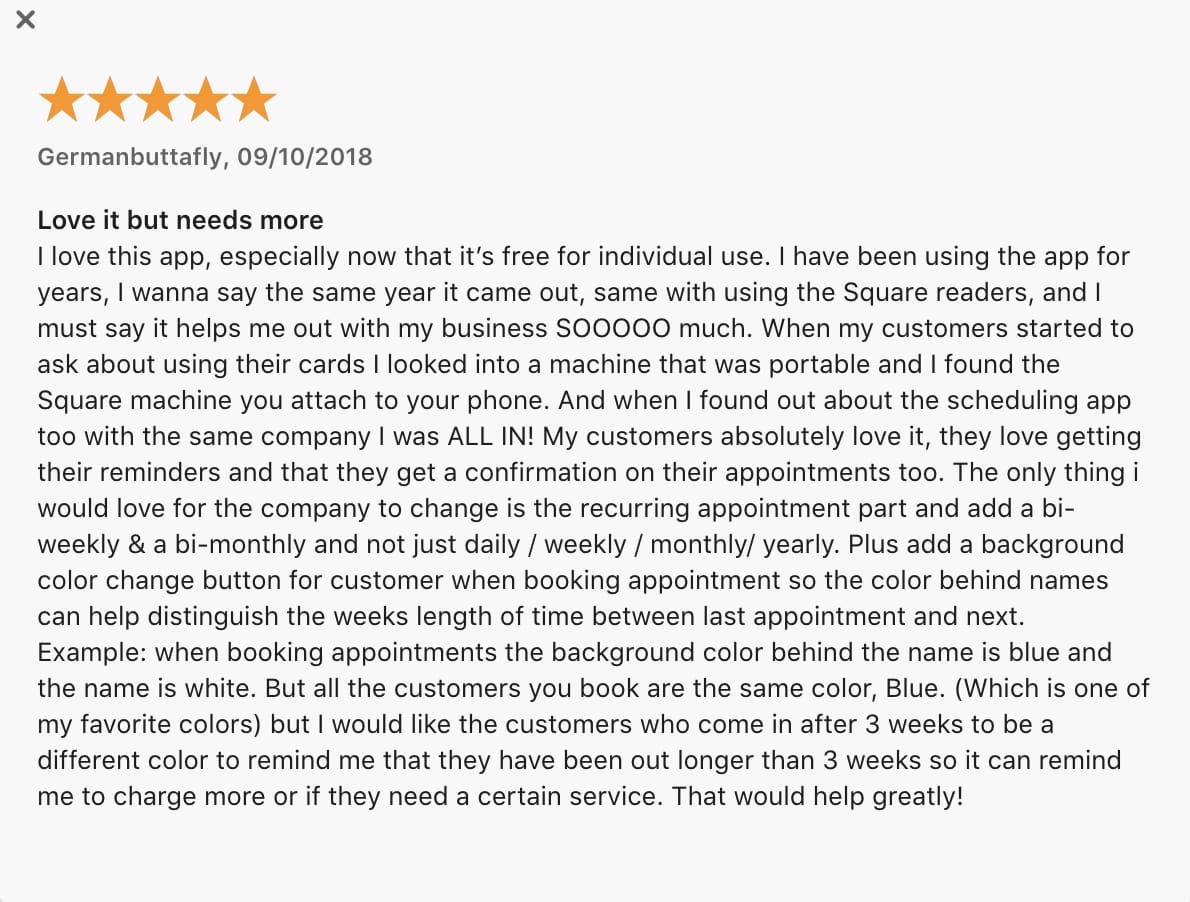 What we like
People love that Square simplifies appointment scheduling. Square also streamlines that payment process by sending automatic receipts. I "really like how Square sends my clients reminders and allows me to easily send the receipts after they pay for services. This makes my job so much easier. Additionally, when I provide remote support, having the ability for them to pay an invoice directly through Square is really great. Yes, there are some processing fees with that, but they are well worth it considering how much easier it makes things for me," writes one customer.
What can be improved
Aside from not having a client-facing app, a few people have trouble using Square to take deposits upfront or store customers' payment details. "I do have an issue with no-shows. I don't want to take complete prepayment because I believe payment comes after satisfaction, I also have people who do not want to keep their card 'on file.' Many carry cash or utilize cash apps as their method of payment," writes one reviewer. "What I would recommend is a deposit option that can be placed on specific services of my choosing and that I can change the amount of the deposit for each service."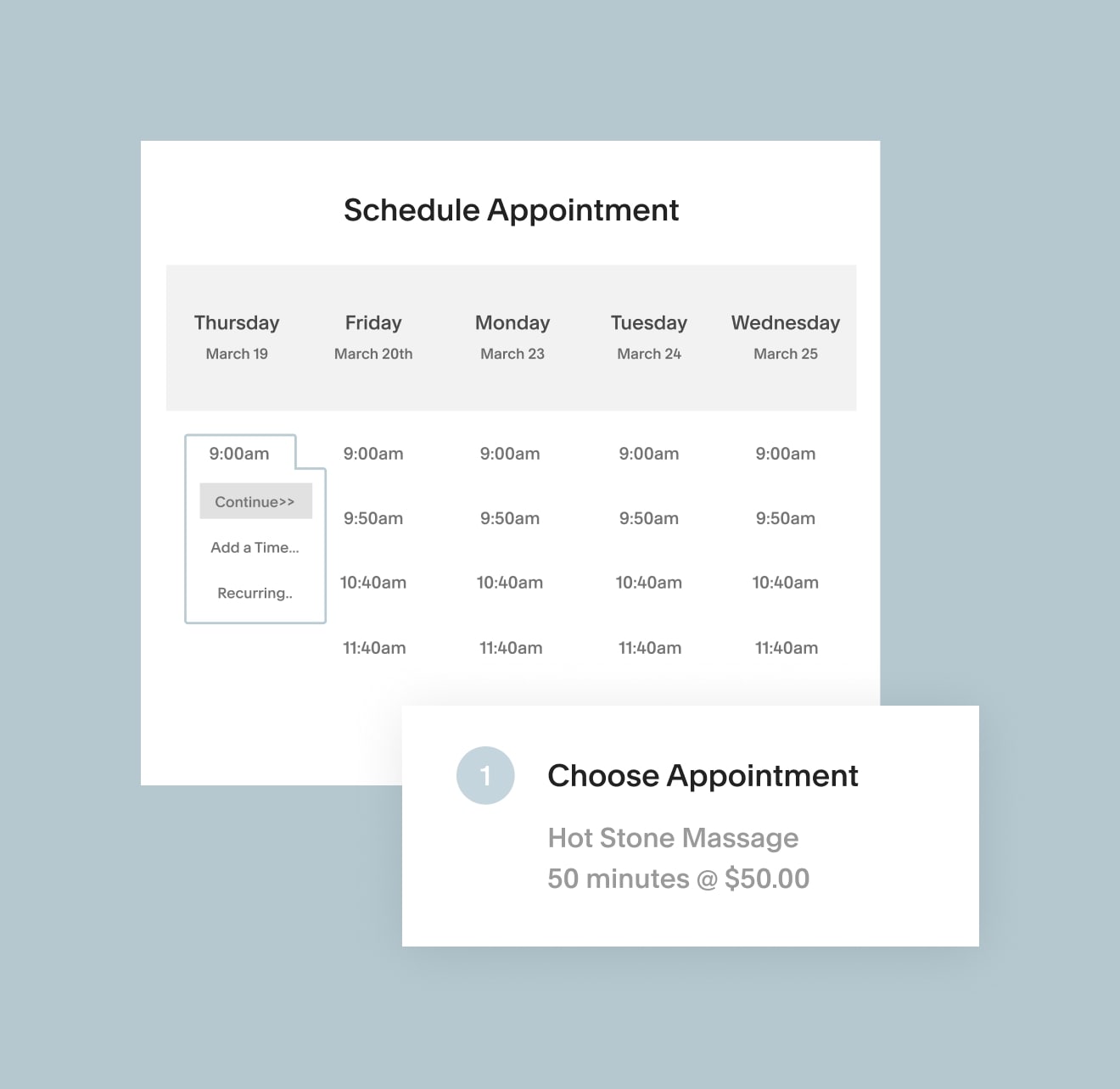 Sporting a clean and modern interface, Acuity Schedule Admin lets you manage your calendar from anywhere. Like other scheduling apps, Acuity makes it simple to create and share your booking page. One of the app's key features is the ability to login with Squarespace or Acuity.
Pricing
Acuity has a free account with limited functionality and can handle one user. Beyond that, here's a rundown of the company's pricing tiers:
Emerging – $14/mo
Growing – $23/mo
Powerhouse – $45/mo
Rating on the App Store
4.8 out of 5
Feature review screenshot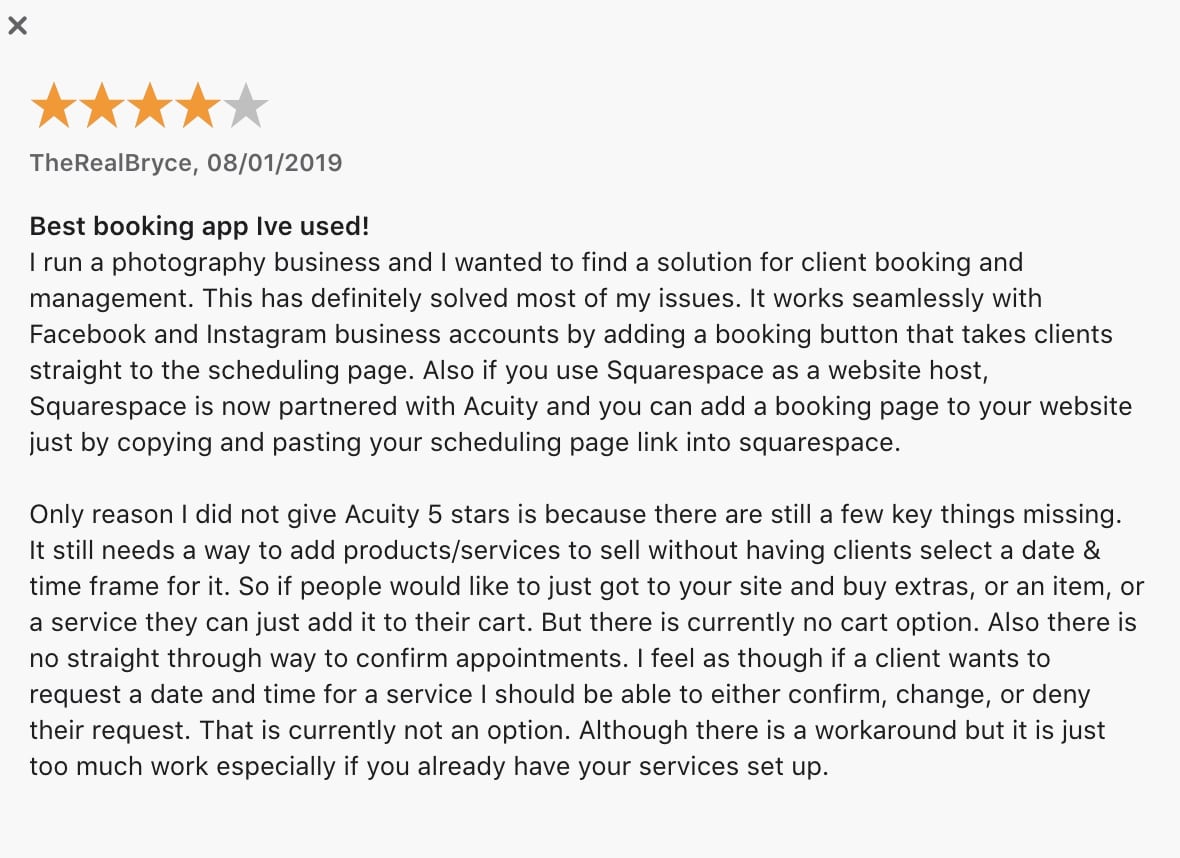 What we like
Acuity users love the platform's simplicity and rich booking insights. As one customer writes, "I love how I can see that my client opened the emails & at what time (in case of disputes). I love that you can have people check off your policies before booking or make people prefill consent forms. I also love that you can send individuals a custom link if you don't want it visible to everyone."
What can be improved
Some reviewers have mentioned that Acuity offers a poor and slow client interface. According to a recent review: "The biggest complaint I have is probably the display on the clients end. They always get confused, I think that should be updated; more font options and different set up (a more minimal look). It is slow when clients book and when it glitches that doesn't help.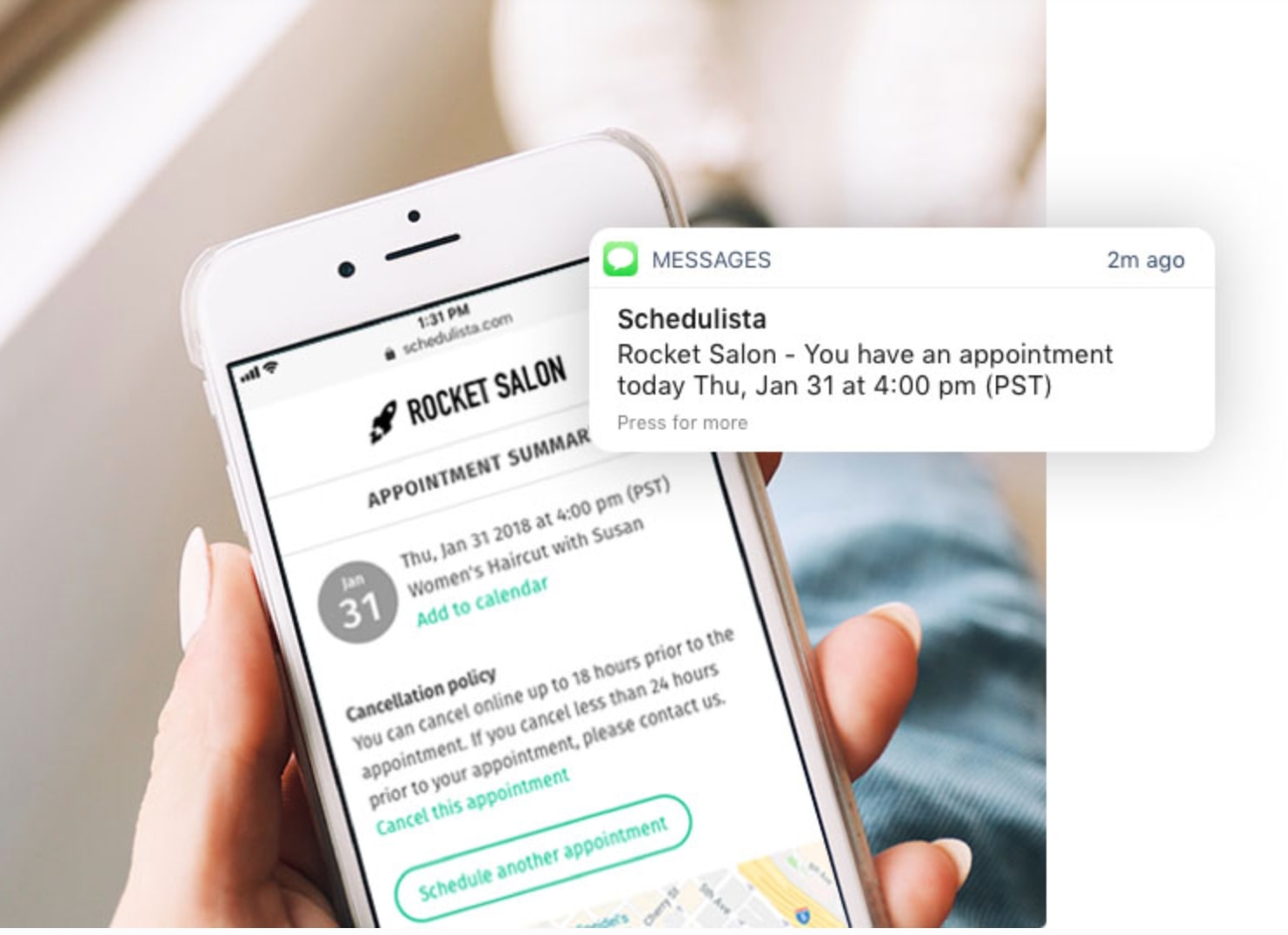 This appointment scheduling app serves as a "lightweight companion" to Schedulista's web product, which offers everything you can expect from an appointment booking app: 24/7 booking, a customizable scheduling page, and calendar management.
Pricing
Schedulista has 3 pricing tiers:
Just You – $19/mo
2-5 Staff – $39/mo
Enterprise – custom pricing
Rating on the App Store
4.7 out of 5
Feature review screenshot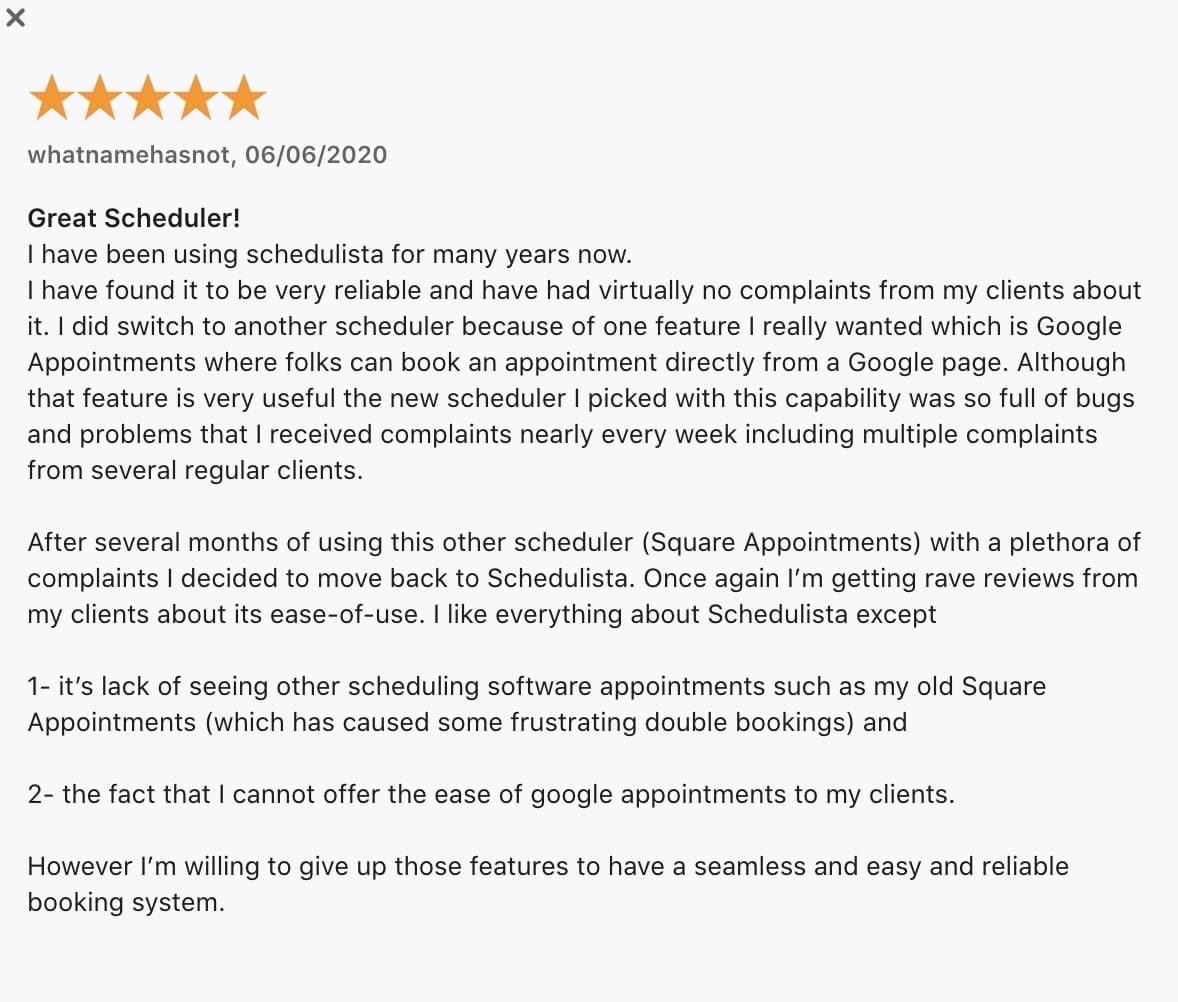 What we like
Users are happy with the app's ability to automate the booking process, and it saves them a ton of time. As one reviewer notes, "My clients can schedule, reschedule, or cancel their appointments themselves. The biggest plus is that I no longer spend an hour at the end of the day reminding people of their upcoming appointment bc Schedulista does it for me, which is a huge time saver." (Helsterb)
What can be improved
Some have noted a poor user interface and inconsistent appearance between the app and the website. "The app could be slightly more user friendly, but it's not too difficult to navigate. I do wish that the app were set up the same as the website. When I get in a hurry I forget they are set up to schedule slightly different," writes one customer. (3Moot)
5 Best Scheduling Apps for Small Business Entrepreneurs & Business Owners on the App Store [Recap]
| | |
| --- | --- |
| Genbook | 5/5 |
| Setmore | 4.7/5 |
| Square | 4.9/5 |
| Acuity | 4.8/5 |
| Schedulista | 4.7/5 |
5 Best Scheduling Apps for Small Business Entrepreneurs & Business Owners on Capterra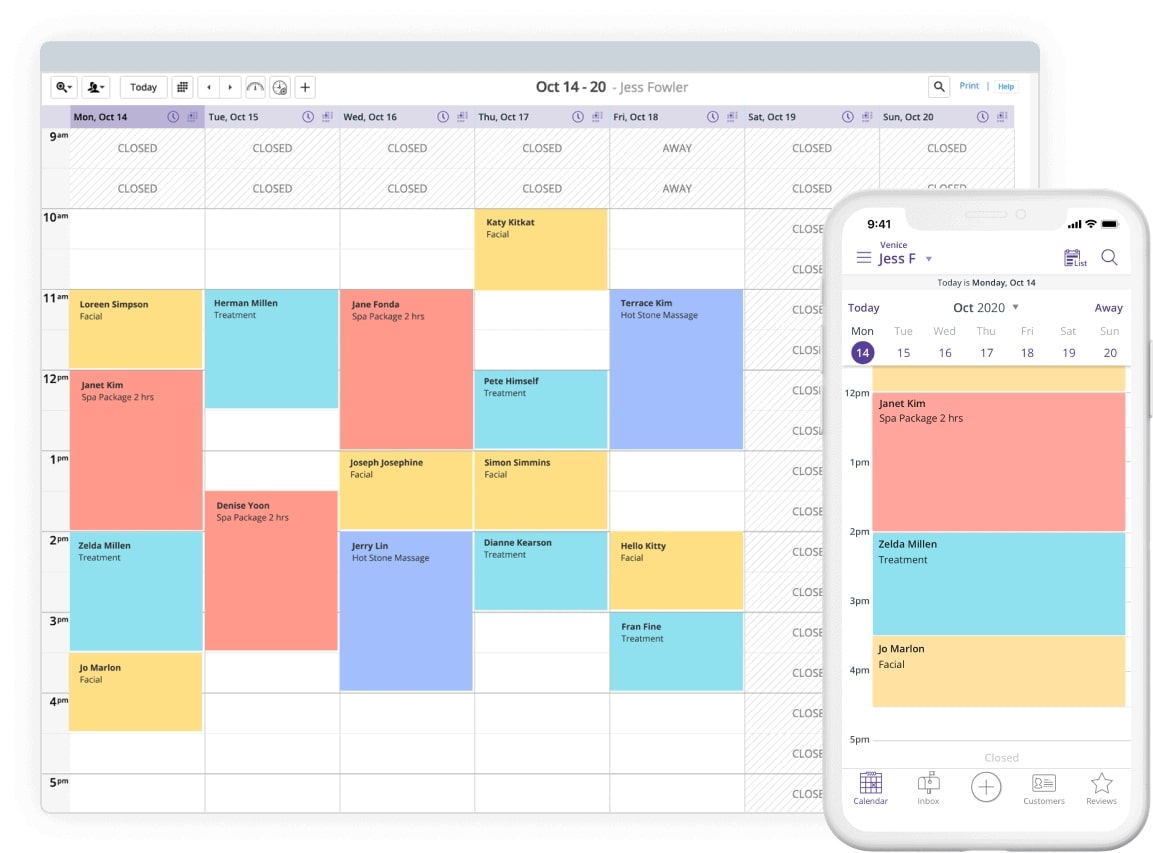 Genbook arms you with powerful online booking tools, including a customizable scheduling site, along with social media booking capabilities. The company is also a Google Partner, which means your clients can book an appointment directly from your Google Business Profile. In addition to sending automatic appointment confirmations and reminders, Genbook also lets you store client payment details as well as take deposits online.
Genbook has a free 30-day trial. Beyond that, the following pricing tiers would apply (costs based on annual billing):
Solo $25/mo
Team – $49/mo
Company – $83/mo
Rating on the Capterra
4.7/5
Feature review screenshot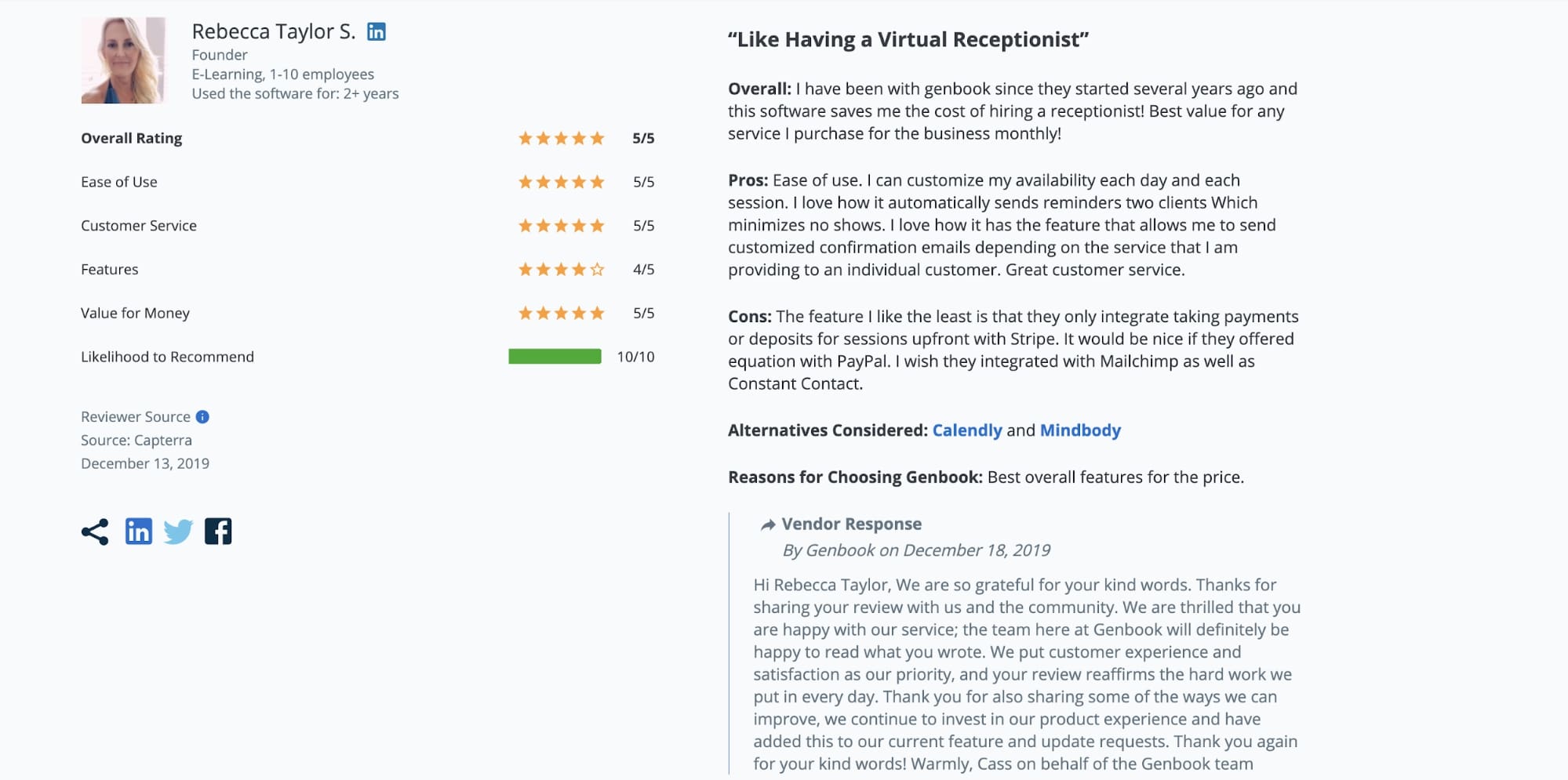 What we like
Genbook users praise the software's intuitive features and superb customer service. "I am a massage therapist with a near zero skill level when it comes to computer stuff but even I was able to figure this out. Several friends have switched to Genbook after witnessing me easily make changes to pricing, add or delete services or block off time to go on vacation without having to call the website dude'," writes Sonya B.
What can be improved
A few users have reported issues with managing client details. One customer, Danielle D., writes, "Sometimes there are glitches on the customer side. For instance, the appointments on the administrator side don't always match the customer side, which creates confusion. This is rare, however."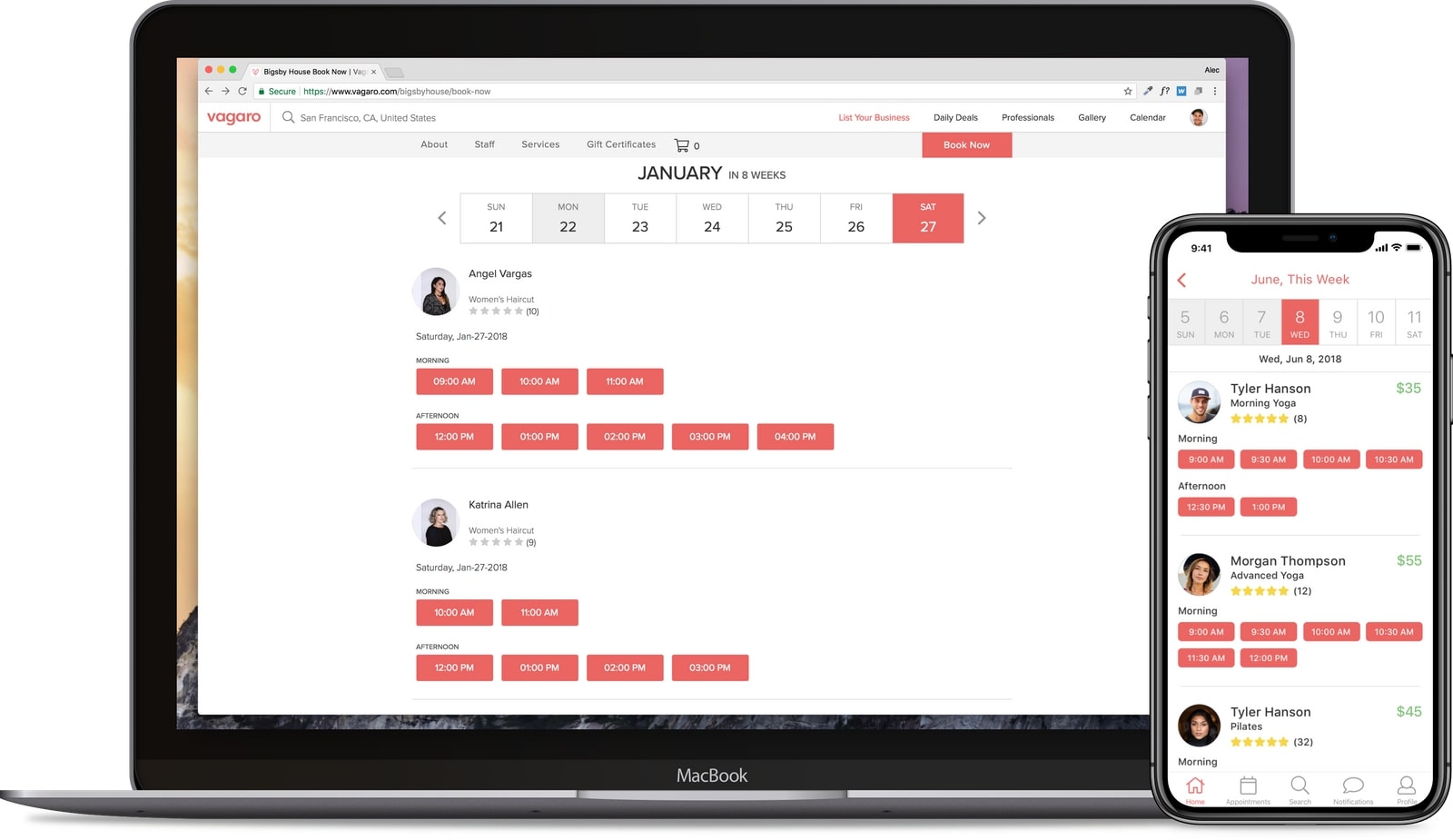 Vagaro comes with everything you'd expect from an online appointment scheduling app. It has calendar management, online booking, notifications, and more. Vagaro also integrates with Gusto to streamline payroll processing.
Pricing
Vagaro's pricing depends on the number of employees you have. The software's pricing starts at $25/mo for individual users, then increases by $10/mo for each additional employee. So if you have 2 employees, your cost will be $35/mo, if you have 3 users it'll be $45 a month, and so on. These costs are capped at $85/mo for 7+ users. The business also charges for additional features.
Rating on the Capterra
4.7/5
Feature review screenshot

What we like
Happy Vagaro customers report that the app is easy to use and set up. Customers appreciate the platform's efficiency and customizability. As reviewer Nashira G., writes, "the set up is easy and self explanatory that you don't really need to call into tech support."
What can be improved
Users who aren't too happy with Vagaro are disappointed that the app doesn't integrate well with third party sites like WordPress. As one verified reviewer points out, there are "no 3rd party integration plugins for popular website CMS platforms such as WordPress, no mobile responsive GUI for when online booking is integrated with salon websites outside of Vagaro. Vagaro forces you to build your website on their platform which is horrible compared to other solutions like WordPress."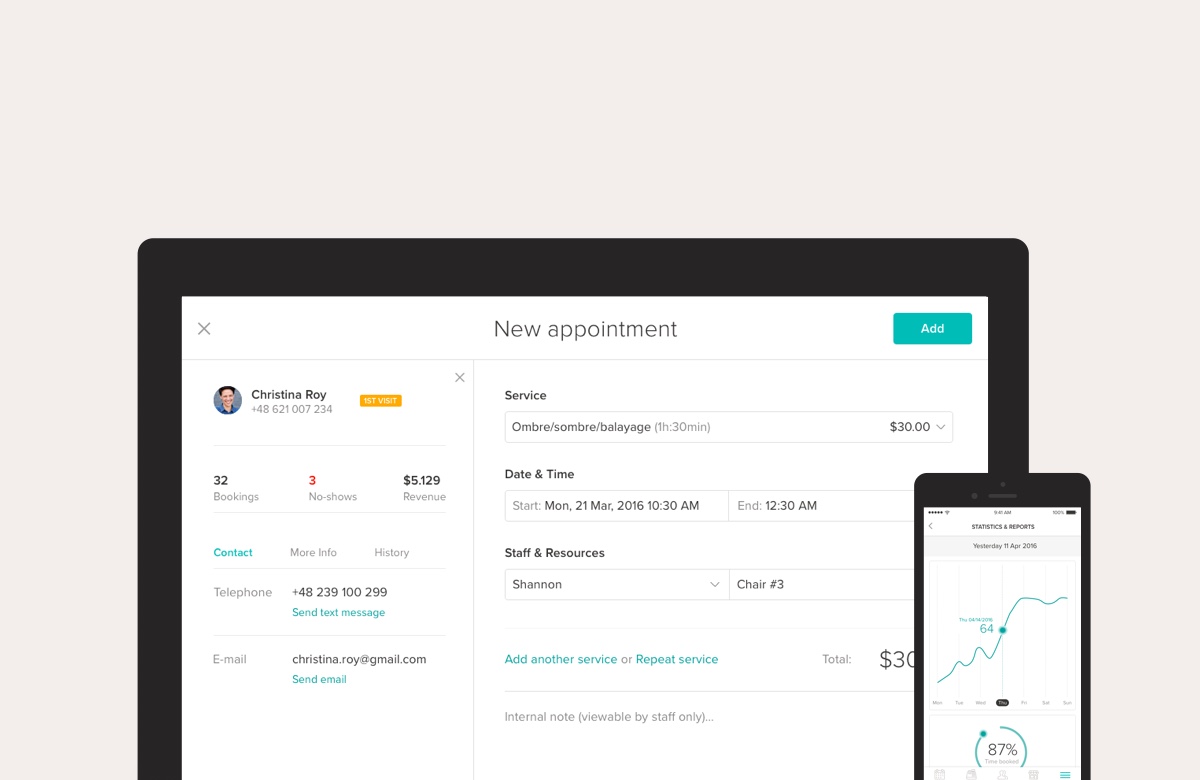 Booksy takes care of all your scheduling needs through online booking plus calendar and customer management. Booksy also has a web marketplace to boost your discoverability and the platform easily links to your online store so you can sell products online.
Pricing
Booksy's pricing starts at $29.99/mo. There is a $10/mo cost for each additional staffer, though this is capped at 9 users.
Rating on the Capterra
4.7 / 5
Feature review screenshot

What we like
Happy Booksy customers love the app's user-friendliness and marketing capabilities. "This is the most user friendly and useful booking app I've ever used," writes Kelsey W. "It makes it so easy to gain new clients while making your return clients feel just as special. With all of the customized emails and social media support, it makes my job easier knowing my clients can always find me on any platform."
What can be improved
There are a number of unhappy customers who've reported some stability issues with the app and customer support leaves a lot to be desired. Reginald H., a barber who used Booksy, wrote that the "app always goes down without notice and customer support never takes credit. Always says it's something I must've done when I've done nothing. And never been offered any type of compensation for appointments lost due to the app going down sometimes for an entire day. I've lost a lot of money with Booksy."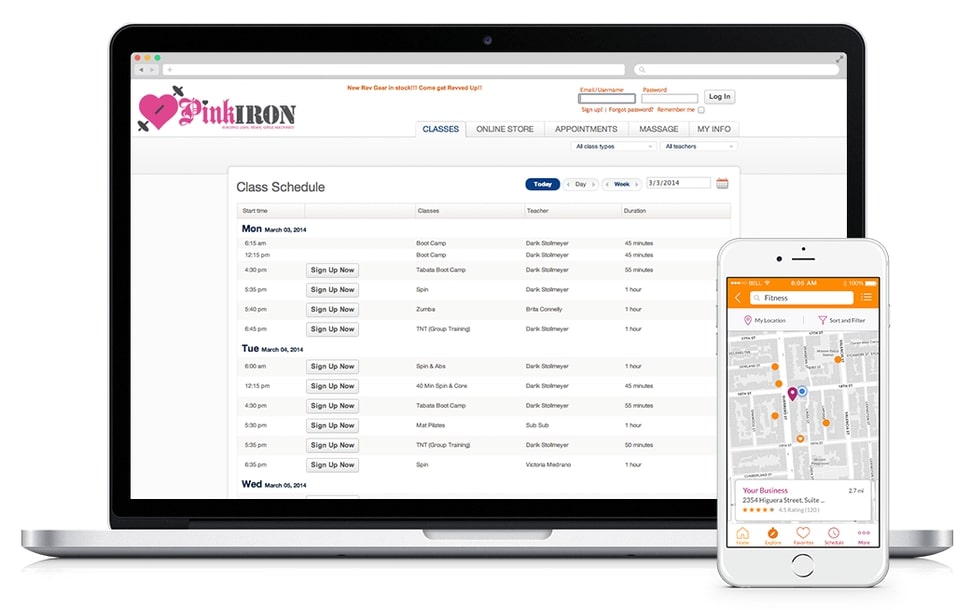 Mindbody provides an all-in-one platform for managing your business, including client scheduling, staffing and payroll, reporting, and more. Mindbody also has a video platform that lets fitness and wellness coaches hold virtual classes.
Pricing
Mindbody's pricing varies depending on your business type. For spas and salons, the platform's costs are as follows:
Starter – 129/mo
Accelerate – $269/mo
Ultimate – $429/mo
Meanwhile, fitness and integrative health businesses have the following plans:
Starter – 129/mo
Accelerate $259/mo
Ultimate – $399/mo
Ultimate Plus – $599/mo
Rating on Capterra
4/5
Feature review screenshot

What we like
Many customers appreciate Mindbody's capabilities to streamline multiple areas of the business, including class scheduling and management, inventory, and more. "MindBody allows me to schedule Personal Training Sessions and Group Training Sessions, deal with Point of Sale transactions and even track inventory. The software is flexible enough to handle multiple users and expand when needed. The software will also take into account independent contractors. Most functions are very user friendly and mistakes are easy to correct," writes Kurt V.
What can be improved
Several reviewers have pointed out that Mindbody is overpriced, with users ending up with features they don't need. According to Amy R., "They increased subscription rates by a huge margin (almost double, in some cases!), and justified it by shoe-horning in a bunch of extra features that we did not want or need, or which were not available to us outside of the US – yet we were still expected to pay for them!"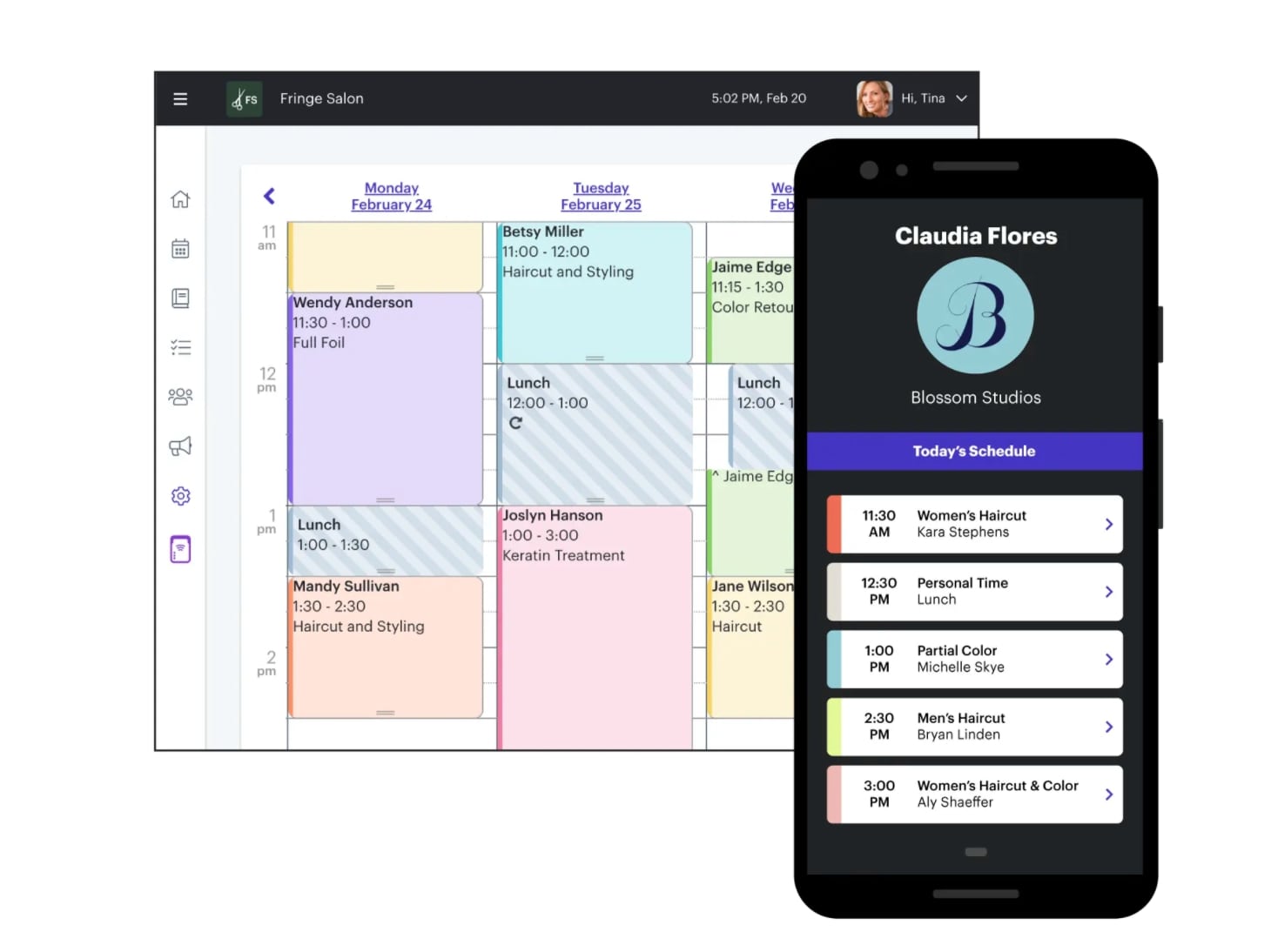 Schedulicity is a client scheduling app that arms your business with capabilities for staying on top of your appointments, calendars, and customers. Schedulicity also has built-in payment features plus a customer-facing marketplace to boost your business' exposure.
Pricing: Schedulicity has a free version that lets you book upto 10 appointments per month. Beyond that, the solution's pricing is based on the number of users plus the features you need.
The cost for 1 user is $20/mo plus the following add-on fees: $5 for text reminders, $5 for package management, $5 for automated billing, $5 for multiple locations, $5 for automated marketing, $5 for payment integrations.
The cost for 2-5 users is $30/mo plus the following add-on fees: $10 for text reminders, $10 for package management, $10 for automated billing, $5 for multiple locations, $25 for automated marketing, $10 for payment integrations.
The cost for 6-10 users is $40/mo plus the following add-on fees: $10 for text reminders, $10 for package management, $10 for automated billing, $5 for multiple locations, $50 for automated marketing, $10 for payment integrations.
The cost for 6-10 users is $50/mo plus the following add-on fees: $10 for text reminders, $10 for package management, $10 for automated billing, $5 for multiple locations, $50 for automated marketing, $10 for payment integrations.
Rating on the Capterra
4.4/5
Feature review screenshot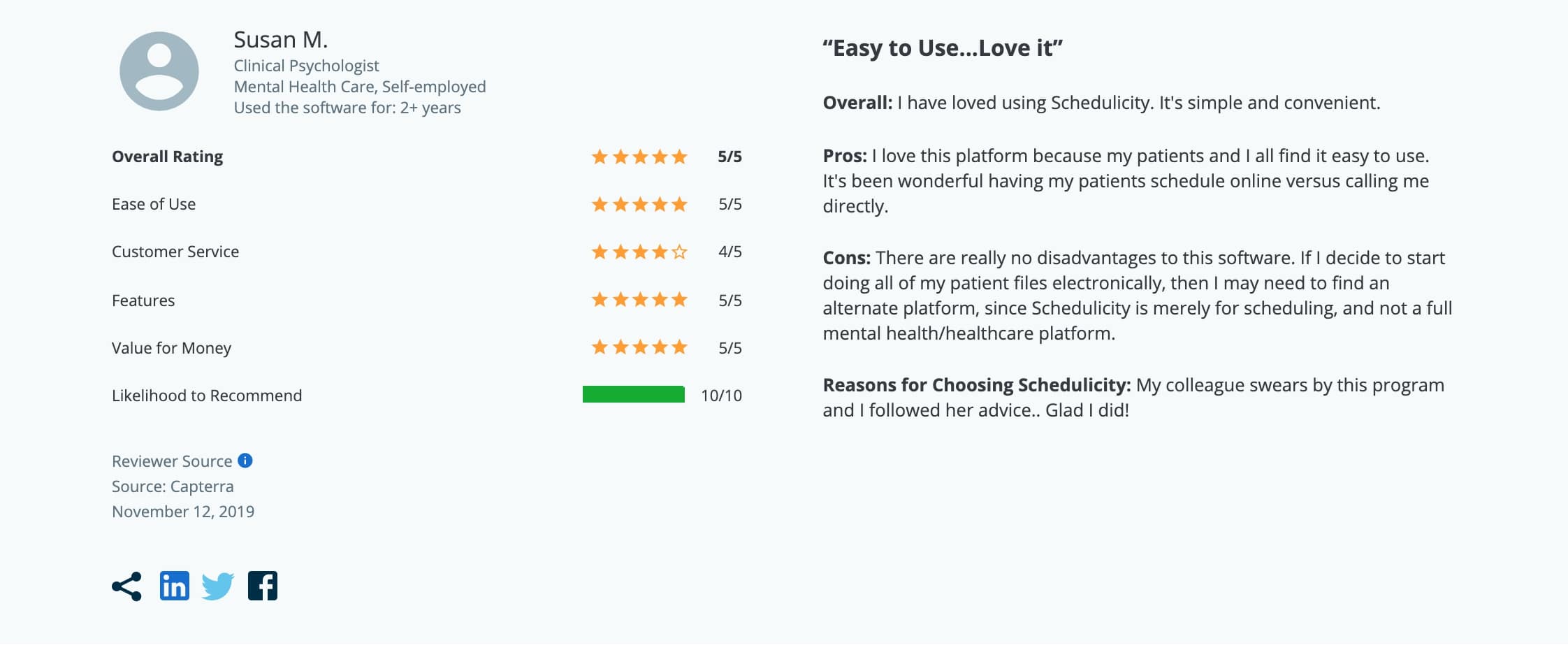 What we like
Happy customers love Schedulicity's ease of use and organized interface. "I love that Schedulicity appeals to my needy and highly organized personality, as well as my insatiable desire to categorize, color-code, and organize (or reorganize) my schedule with one click," writes one verified reviewer.
What can be improved
Many users have complained about Schedulicty's costly and complicated pricing structure. As Carly H., a sole proprietor explains, "I ended up switching away from Schedulicity because they reduced their included bookings from 10 to 5. With all the other additional services also becoming paid add-ons, it became cumbersome to keep paying for individual services as needed instead of having one paid account that included all necessary functions."
5 Best Scheduling Apps for Small Business Entrepreneurs & Business Owners on Capterra [Recap]
| | |
| --- | --- |
| Genbook | 4.7/5 |
| Vagaro | 4.7/5 |
| Booksy | 4.7/5 |
| Schedulicity | 4.4 |
| Mindbody | 4.0 |
Ready to find the best scheduling app for your small business?
We know that shopping around for a solution isn't easy. Hopefully this round up helps you in your search for the best appointment scheduling app for your small business.
And if you're considering Genbook, take a free trial today! More than just a typical client scheduling app, Genbook doesn't just enable you to manage appointments. Our platform also helps you limit distractions and allows you to provide a winning business experience.