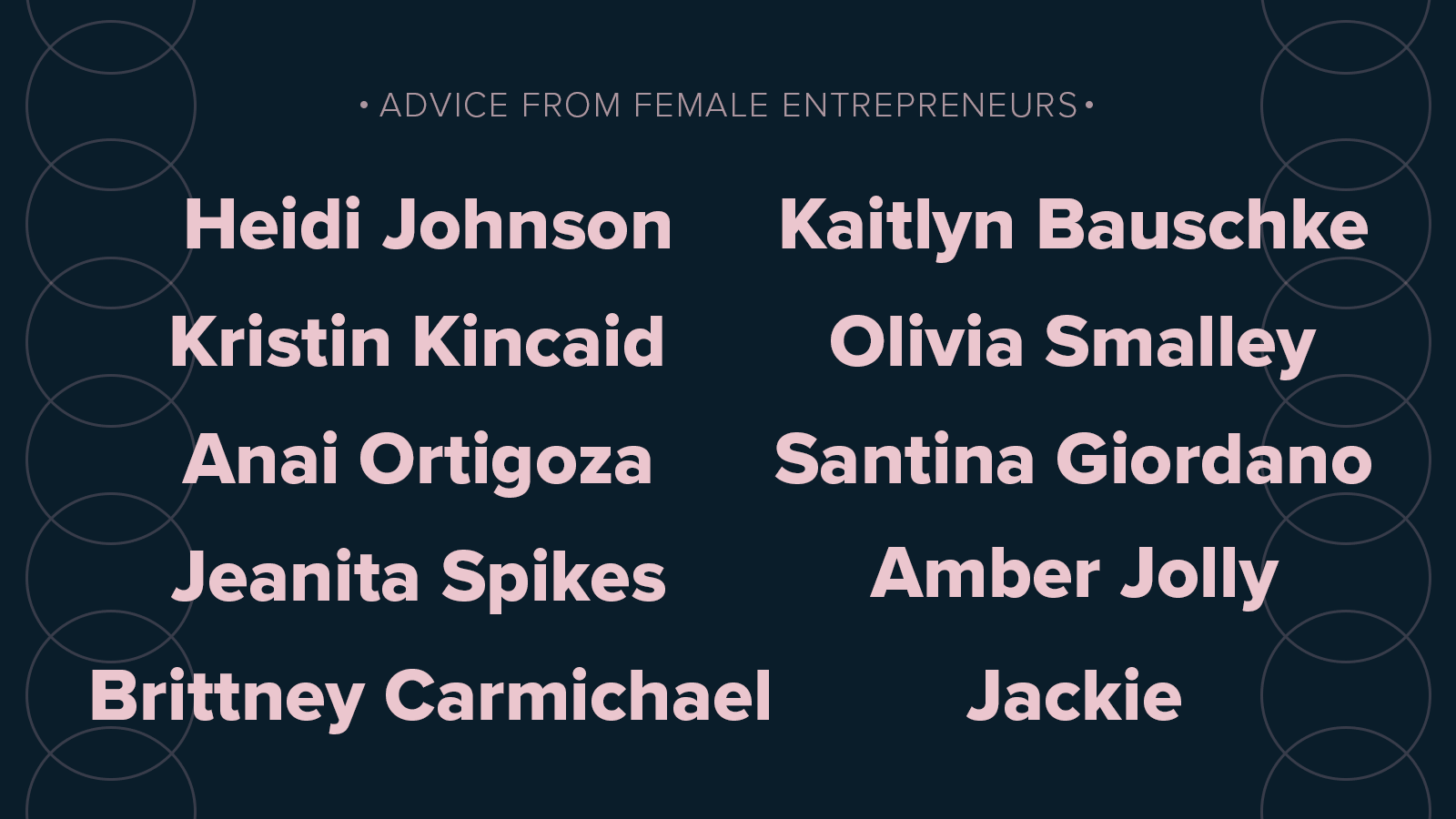 The Business Advice That No One Gives You: 10 Female Small Business Entrepreneurs Weigh In
The stats on business failure are overwhelming.
Did you know that about 20% of small businesses fail in their first year, and about 50% of small businesses fail in their fifth year?
Shocking, isn't it? Business failure is always a risk and only one in three small businesses get to the 10-year mark and live to tell the tale.
It's true—running a business is painstakingly hard, and who will know it better than us! For a company that started as a small business themselves, we truly understand the challenges and the efforts you—the small business entrepreneurs— have to put in to make it profitable.
It's not easy…we get it. They're a lot on the line and most days the odds are not in your favor.
But isn't building a business from the ground up all about determination, a healthy dose of optimism, and the ability to walk on the road less traveled?
The true nature of business is synonymous with risk, but what if you're armed with the advice from the best in the business before you set on the path? Many small business entrepreneurs consider 'business advice' as the ultimate elixir, and here we are sharing the same with you!
As an ode to International Women's Day, we reached out to ten successful female entrepreneurs (some who also happen to be Genbook users and evangelists)! We asked them to share the business advice no one gave them when they started out.
From conventional to not so conventional, this article is full of advice that is practical and will encourage you to keep slaying that dream!
Without further ado, let's look at some of the standout advice from the best female entrepreneurs in the beauty, hair, barbering and wellness space.
Business Advice for Small Business Entrepreneurs Starting Out
Believe in yourself
There's nothing more powerful than the voice inside you that says "I can do it". Self belief and assurance is key to running a successful small business. It's that one thing that makes you resilient in the hardest of times when the world is busy second-guessing your choices.
The same was true for Brittney Carmichael when she started her journey. An established hairstylist, business coach, and healer, Brittney wears many hats as a female business entrepreneur today, but the road towards entrepreneurship wasn't an easy one when she started.
It's during that tough time that Brit's strong belief in herself helped her stay focused on growing and building OMGhairstyles—a one of a kind, vegan hair salon in San Francisco.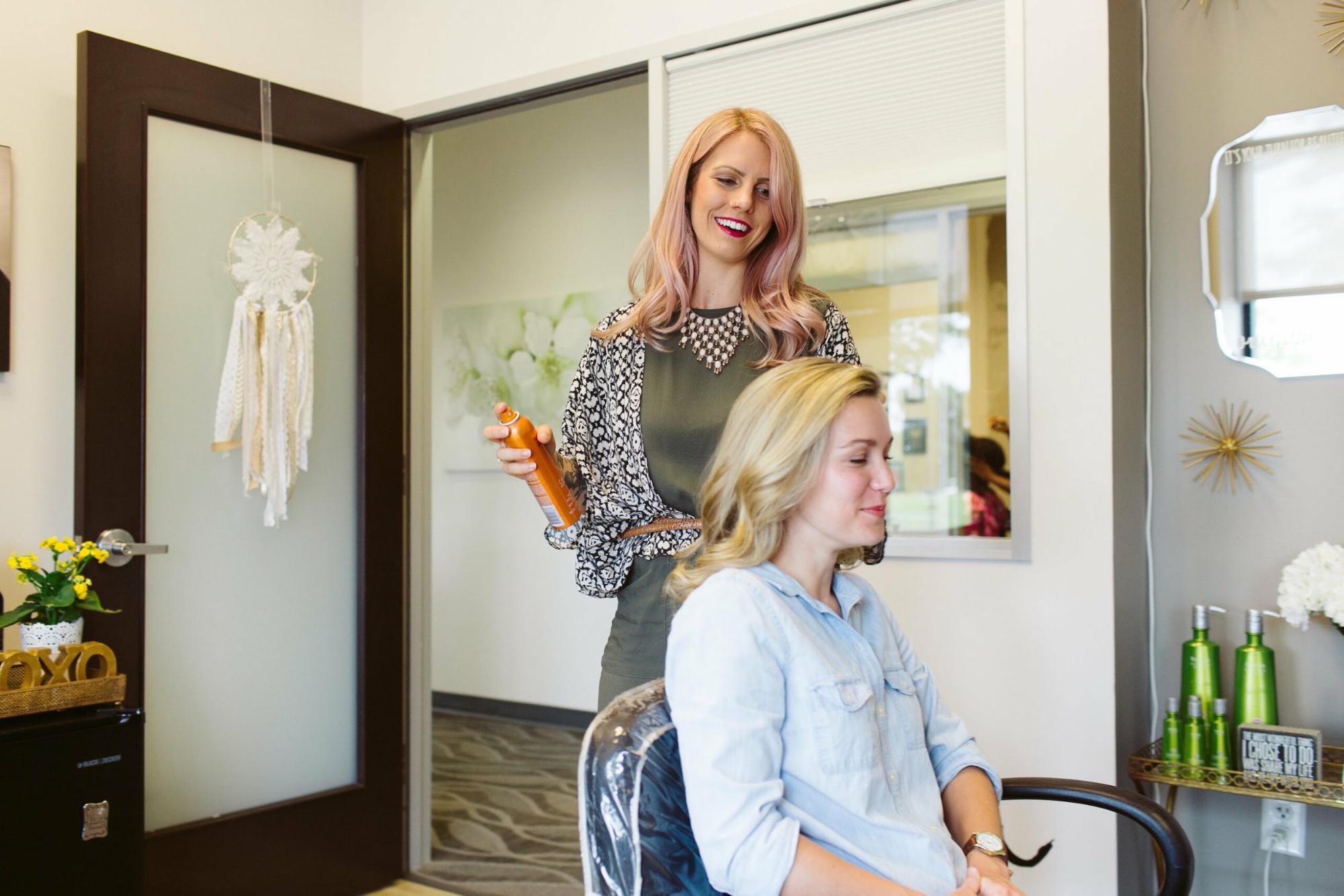 She shares her advice:
"There is no one like you and will never be anyone like you. Do it your way. Be inspired by others, but don't second guess YOUR creativity. Find what you LOVE to do and DO THAT.
Don't let anybody tell you your dreams aren't possible. Don't let a "no" defeat you just let it redirect you to something better. If they won't hire you because you have blue hair…RUN! Oh, and you can't do it ALL by yourself. Ask for help – it doesn't make you weak."
Kaitlyn Bauschke who runs Winnipeg's most desired tanning spot—Tans by Kait agrees with this advice from Brit. A successful businesswoman herself, Kat agrees on believing in yourself and not being afraid to put yourself out there when starting out.
"… don't be afraid of failure. Be true to who you are and express yourself without fear of judgment. And the most important thing is to carry a heart full of compassion and kindness for others."
It's true that pushing yourself isn't easy at times and if you're in the same spot, you need to listen to Amber Jolly's advice:
"Jump in headfirst. So what you fail, at least you gave it a try."
Yet another successful female business entrepreneur, Amber runs the Self Love LA Spa in LA, and has some amazing insights on starting a business that she shared with us recently.
"Just do it", we can't agree more with her!
Master a niche
For small business entrepreneurs, the path to success isn't an easy one, but despite it, it is filled with valuable lessons. One such lesson is 'mastering a niche'. Building a niche takes time and it may not be something that you have in mind when you startup, but it is crucial as you grow.
Having a focussed niche when you start as a service provider gives you an opportunity to leg up your business. When you offer specialized services you set yourself on the path to success early on.
Jeanita Spikes, a nail stylist, and nail educator, who runs the Painted & Polished Salon in Texas, firmly believes in the power of mastering a niche to scale.
Speaking to us, she shared a bit about why finding a niche is important and how it helped her business:
"I'd like to encourage you to find a niche & perfect a system. Meaning find one to two things to specialize in and become known for consistently being great at those things. Doing this has grown my business by leaps and bounds. When I was trying to do everything great, I was overspending and under serving my target customer.
Stick with it, you got this!"
Focus on the client
Donning multiple hats—being the receptionist, the accountant, and the service provider and more—there's a lot that you do as a small business entrepreneur.
Being successful is crucial for survival, but instead of focusing on your craft and offering a top-notch experience to your clients, you're caught up juggling multiple roles and everyday distractions.
This can be detrimental to your business growth, if not checked early on.
If you find yourself in such a spot, you need to know that making your clients' experience should be your priority— it's the only way to have a successful business.
Heidi Johnson, Owner of Thrive Massage & Bodywork has some insightful advice for entrepreneurs. Talking to us, she said:
"I've learned that building a successful business takes patience and doesn't happen overnight. The customer's first impression begins before they walk through your door with your community reputation, professional online presence, and consistent high-quality customer service."
Following her own advice, Heidi ensures that she's committed to her clients first and foremost. It's not just the healing touch, or an inviting space but also the flexibility of online booking that makes her business a favorite amongst many.
Have a positive mindset
Barbara L Fredrikson, a positive psychology researcher at University of North Carolina states that positive thinking isn't just about happiness. According to her research, a positive mindset plays a significant part in building skills and improving your work.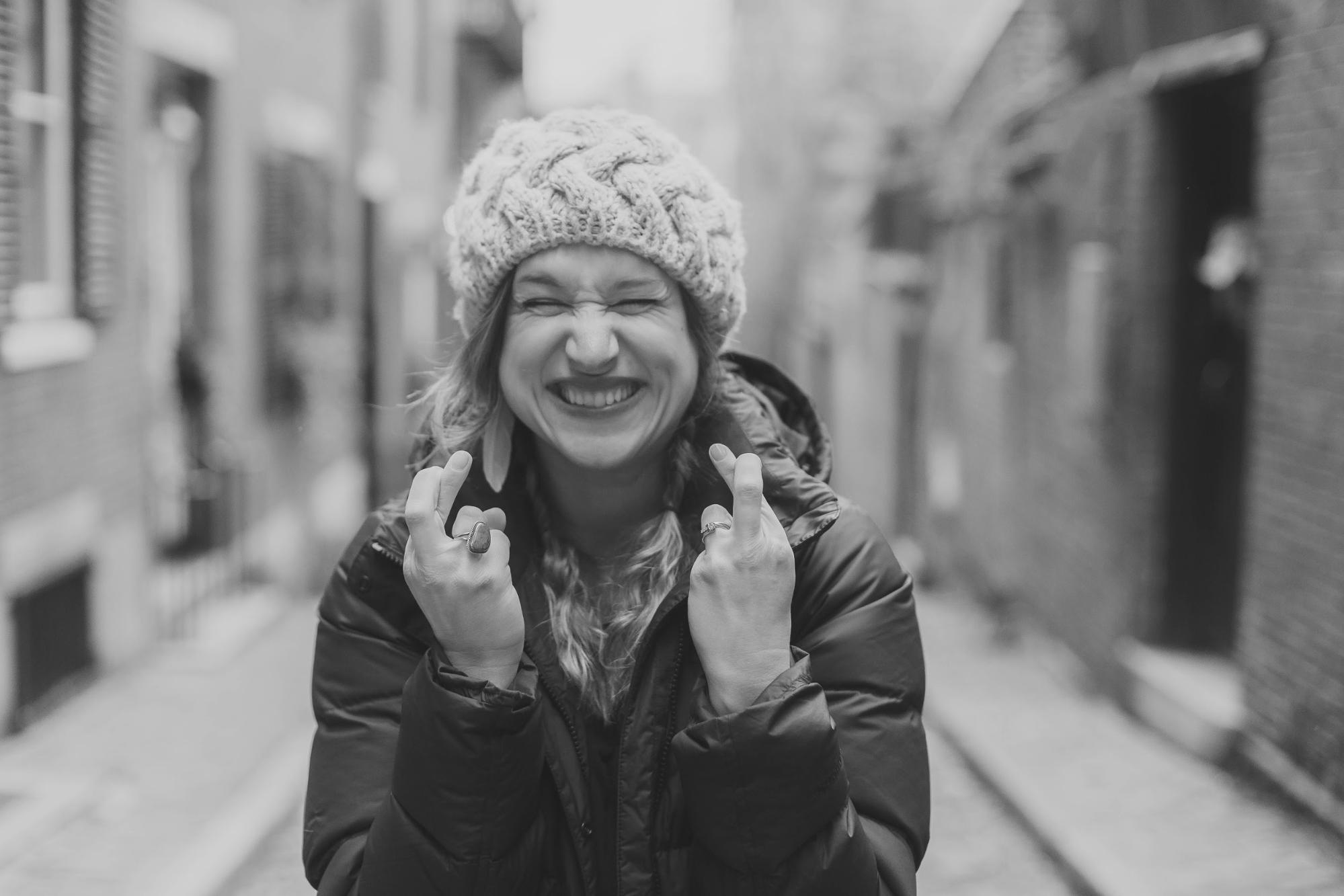 Staying positive is what helped and continues to help Anai Ortigoza—a barber, hairstylist and ultimate boss woman each day.
"The most important advice that no one gave me is to really create the right mindset before getting started with our day.. The power of manifesting and prayer every single day about having a blessed day and staying busy with happy clients.. and of course just being ready and willing to put in that work where it's needed, with a smile."
Positive thinking can manifest in different ways and it's upon you to find the path that makes it easy for you to get that balance. It could be through writing, through play or through meditation and manifestation like in Anai's case!
Work towards building a personal brand
One of the biggest challenges that small business entrepreneurs face today is "being found". With a competitive landscape, there's no doubt that you have to put a wee bit of effort to attract and engage your clients—it's an important business need.
While a lot of small business entrepreneurs realize the importance of building a brand for their business, they do not prioritize building a personal brand.
They tend to forget that they are the most important selling point of their business—clients come to them because of "who" they are!
Building a personal brand for your spa, salon, barbershop and wellness business isn't difficult. Yes, it does require some planning and effort, but it's worth every cent! It's more important than ever to embrace, utilize the available platforms and go deep with it.
Jackie—a strong business woman and a well-known barber at Manly & Sons— is proof of personal branding done right!
"I'd say the one piece of advice no one gave me as a barber was how to market and promote myself. I feel it's important and it can actually be a lot of fun. There are awesome apps to help make your posts creative and eye-catching. I feel a lot of businesses rely on walk-ins, but I have gained a lot of clientele from social media"
Olivia Smalley, a hairstylist, content creator, business coach and a brand storyteller stresses on the need for personal branding. However she does highlight the caveat.
"Communication is key! We choose people sometimes more for their ability to communicate and execute effectively than their content. " Social media is changing the way we communicate and the way we are perceived, both positively and negatively. Every time you post a photo or update your status, you are contributing to your own digital footprint and personal brand. Make it a good one."
Now that's some advice, isn't it? If you're looking to champion social media as a tool for building your personal brand, there's a ton of advice from Olivia and other successful business entrepreneurs that you can find here.
Make the client experience a priority
"People want to know people's experiences." And rightly so. Santina Giordano couldn't be more candid. A wellness facilitator, Santina emphasizes the importance of a good client experience and how it has helped her business grow.
"I try to do the best that I do, offering what I offer, and people will automatically leave reviews, which also inspires other people when they're looking."
Kristin Kincaid, also believes that a good client experience is a powerful growth tool.
"I found that if you truly have a passion for what you do and you care for your customers you will succeed. In any business it's about giving your customers an experience that they love, not just selling a product to make money. Making your customer/clients needs your top priority you will have a successful business."
Santina and Kristin's advice on prioritizing business experience is close to our heart. After all 'a better business experience' is what we strive to provide our customers through our online scheduling software.

We truly believe that a good business experience is possible, when small business entrepreneurs in the beauty, hair and wellness space are free from the shackles of distractions such as everyday bookings.
Wrapping it up!
There you have it—6 amazing tips from 10 of the most amazing female business entrepreneurs. The journey to success for all those listed have been a unique one and so is their advice. Use them and make them your own!
Which piece of business advice resonated the most with you? Share your favorite advice and tag us on Instagram to get featured. Use @Genbook to find us!
Looking for a booking partner on your amazing journey to success? Talk to us to explore how we can help.