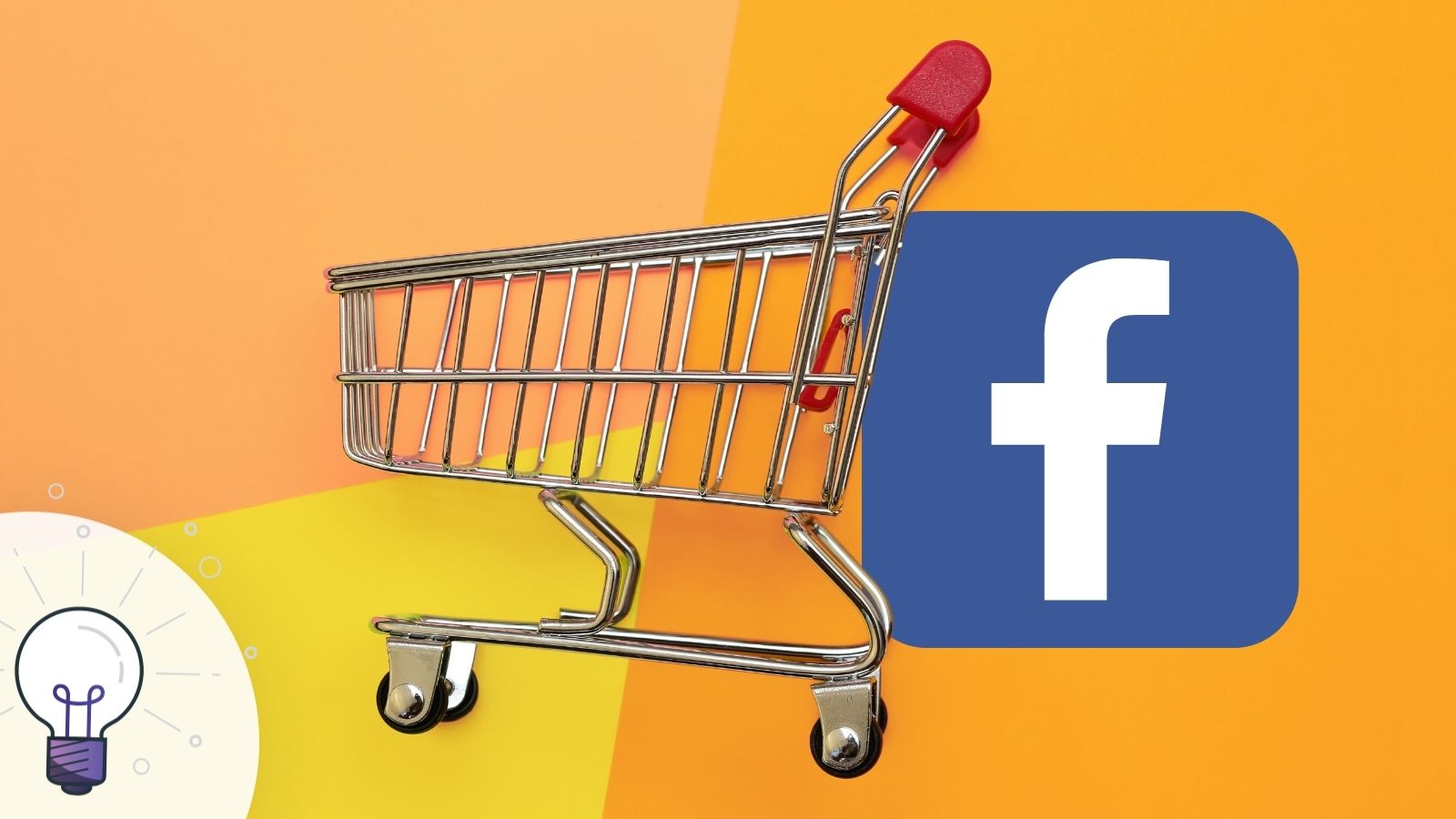 How Salons and Spas Can Boost Their Revenue Through Facebook Shops: A Quick Set-Up Guide For Hair and Beauty Businesses That Sell Products
Salon and spa retail sales have been known to significantly boost profit margins.
And by a lot…
How much do you ask?
Well as high as 50% on an average!
While actual services triumph your menu and are the bread and butter of your business, product sales, though low, are a great contributor to your bottom line according to Steve Gomez, a Salon business coach.
That's why it is crucial to double-down on this revenue stream as much as you can. So what can you do apart from selling products in person? One of the ways to do so is through Facebook Shops. It requires a bit of investment but in our opinion a great way to boost revenue for your business.
But, why Facebook Shops?
For precisely three reasons:
Being one of the biggest social media channels, Facebook offers immense reach and allows you to sell your products to a greater number of people. Who knows a few of them will circle back to your spa or salon for services too!
Your existing clients are already active on this platform and you'd end up providing them a convenient spot to shop products they love at your spa or salon at any time of the day.
Lastly, while Facebook Shops has already been around for a while, Facebook has now turned it into a complete end-to-end eCommerce system freeing you from the hassles of managing the inventory.
But there's more.
According to Facebook, "Shops is a mobile-first shopping experience where businesses can easily create an online store on Facebook and Instagram for free. Shops let you choose which of your items you want to feature, merchandise with product collections, and tell your brand story with customizable fonts and colors.
Facebook Shops, also allows you to connect with customers through WhatsApp, Messenger, or Instagram Direct to answer questions, offer support, and more."
Aside from the fact that Facebook Shops is free, it has a lot of other benefits:
You can add any number of products or services.
You can organize those products into collections and categories.
You can get your products listed on Facebook Marketplace too, giving you access to a much larger customer base.
You can talk to your customers directly through the page.
You can see the numbers on your product visits, sales, etc.
The platform also includes tools for sales, marketing, conversion, customer support, and more. Not just this. Facebook has also made a very strategic decision to continue partnering and expanding the relationships with third-party eCommerce platforms such as Shopify, BigCommerce, WooCommerce, and many more.
If increasing revenue for your spa or salon is your biggest priority this year then this post is for you. In this post, we'll help you with a step-by-step guide for setting up Facebook Shops and then empower you with tips that will help you market it in a strategic manner.
Read along:
How to set up a Facebook shop for your salon & spa?
Now that I've sold you with all the "whys", let me show you how to create a Facebook Shop.
Before we begin, here is what you need:
Yes! You don't need a website for your business to use Facebook Shops.
Apart from the above requirements, your Facebook page should also adhere to the following:
You can sell physical goods (Facebook is also coming up with a way to sell digital or downloadable products from your Facebook Shop).
You must link your shop to a valid bank account.
You have a tax identification number.
You agree with Facebook's Merchant Terms.
Note: The exact tax identification number will depend on where your business is located.
Now, let's begin.
Want to watch a video instead?
Step 1: Open your Facebook Page and configure the Shop
First, go to your Facebook business page. Here, by default, you should already have the Shop page shown when they're logged in. Your customers cannot see it, but you can.
To get started, click the Shop tab on the left side of your page.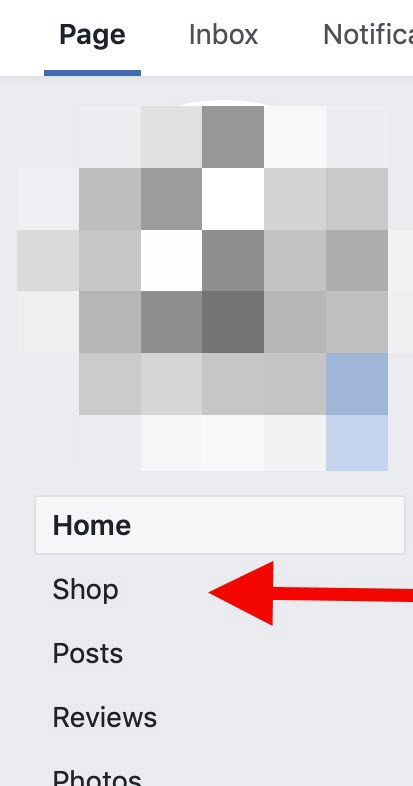 If you cannot see it, it means that you have not activated the right page template. To set up a Facebook shop, you need a template (aptly) named "Shopping".
To change the template here, go to Settings -> Templates and Tabs. In the Current Template area, click Edit.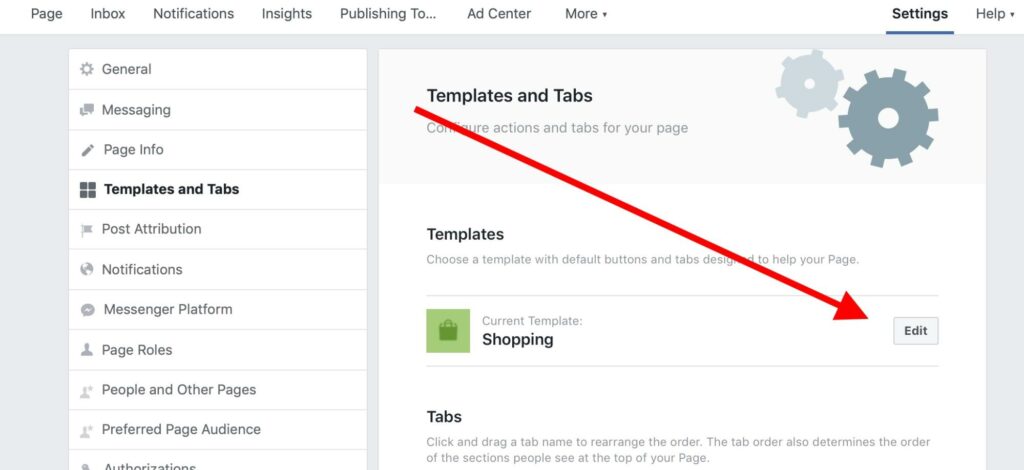 Here, apply the Shopping template. Some pages have the Shop tab as well, but the Shopping template should work nicely for most eCommerce stores. After you see the Shop tab on your page, click on it.
Step 2: Fill in your shop details
Clicking the Shop tab opens a pop-up explaining the setup you're about to walk through. You can read it and then click Get Started.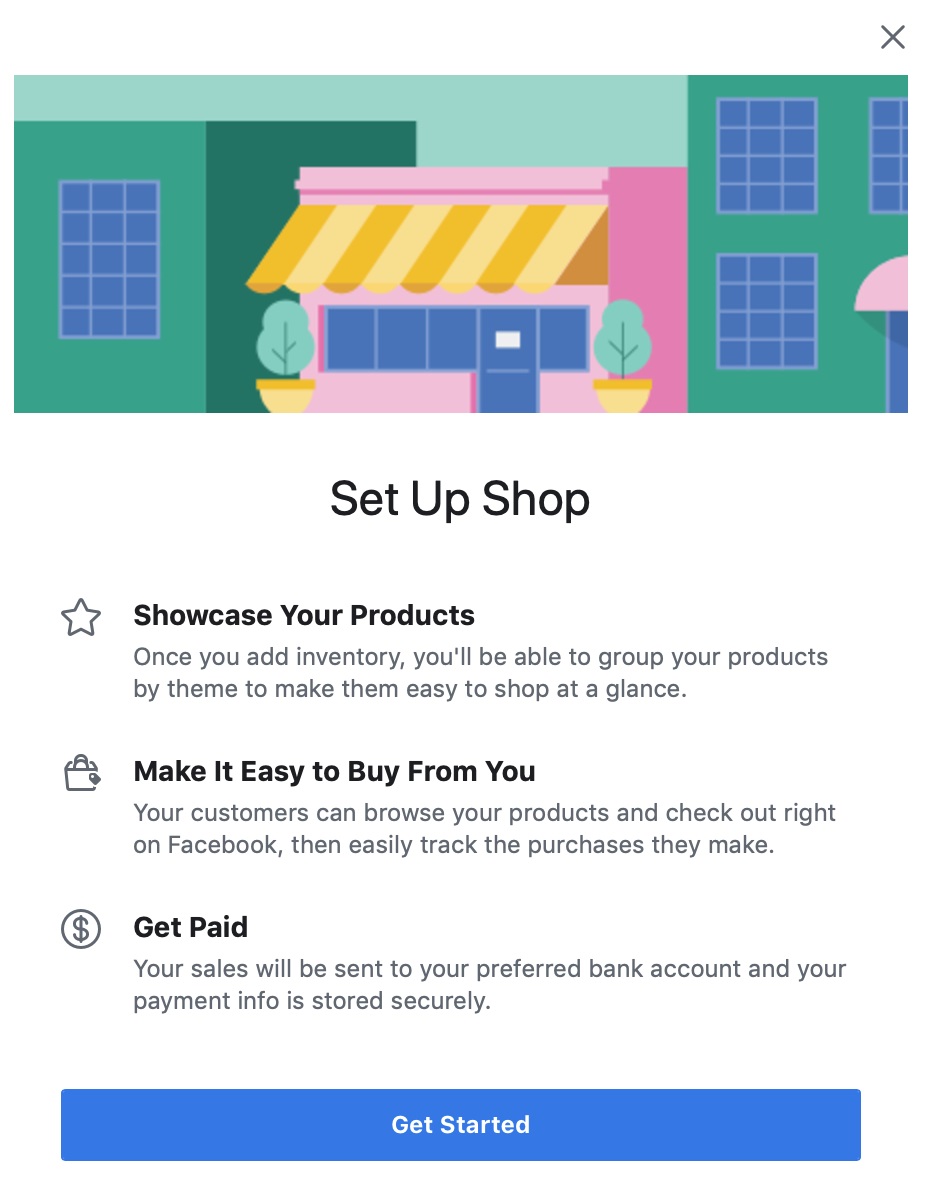 This brings up another pop-up asking about your business details. Type in the details and then, click Next.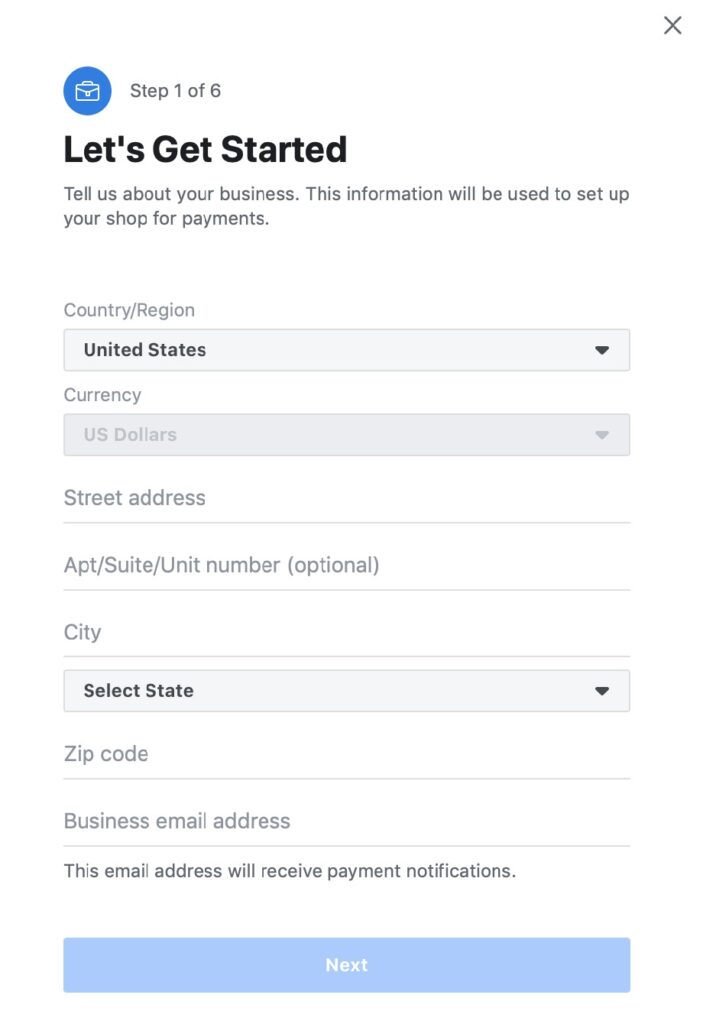 This step asks you the states in which you do business and your tax registration number. Feel free to skip this step for now, but at some point, later on, you will need to provide this information.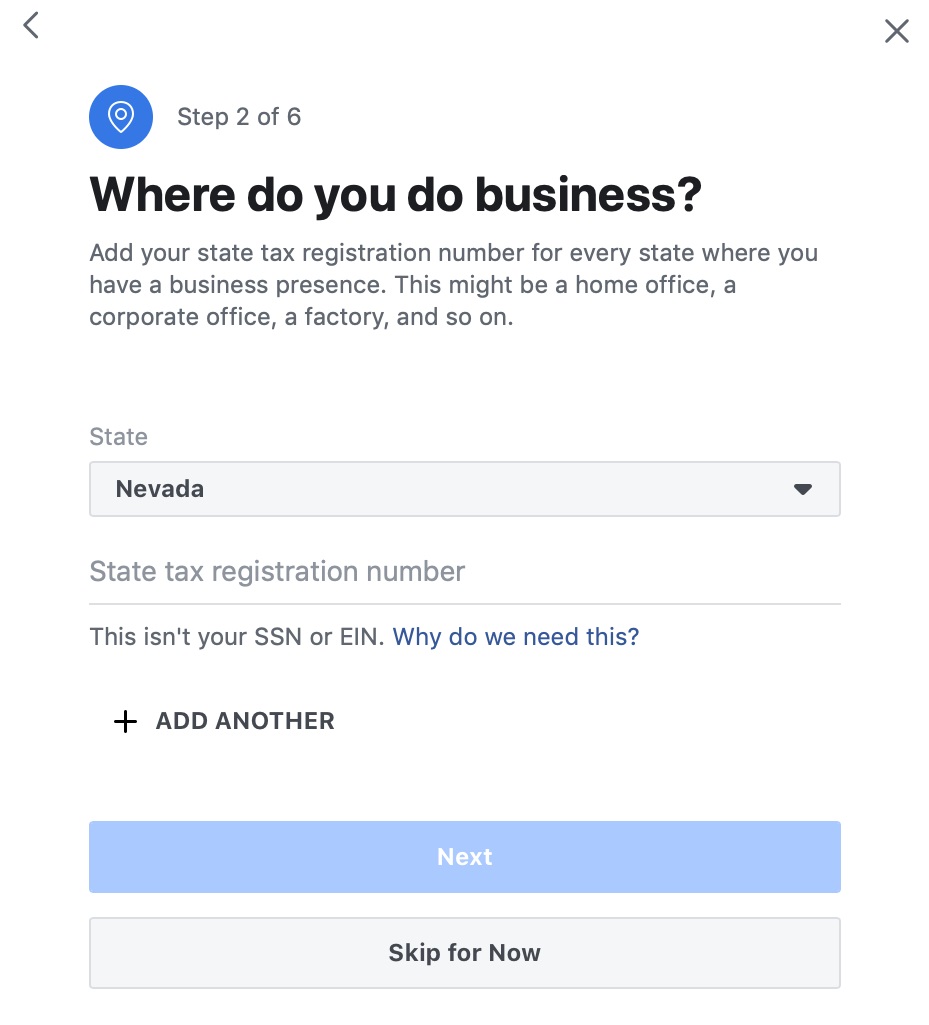 Here is where you mention the type of products you would like to sell on Facebook.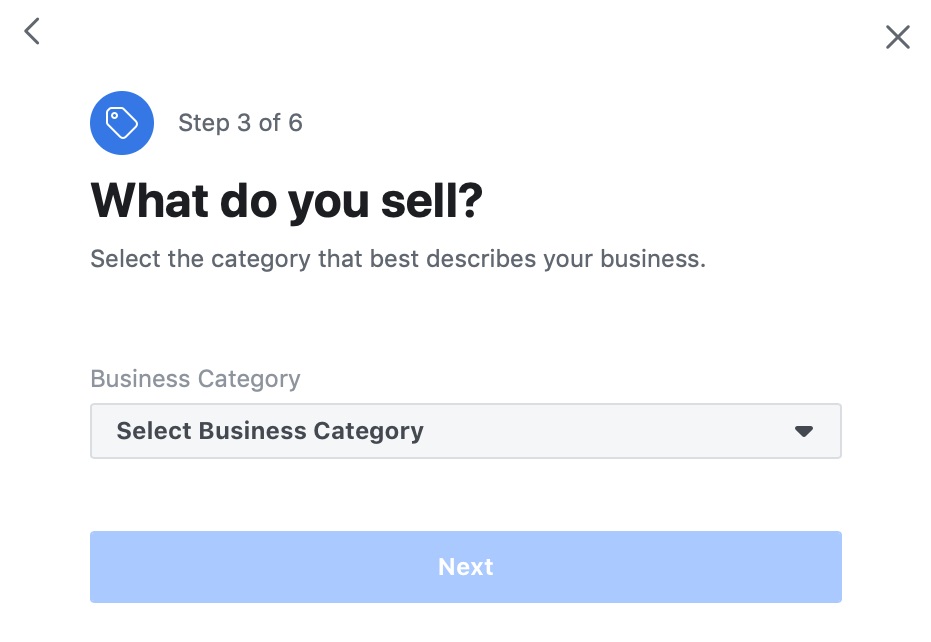 In this step, Facebook asks you about your business type and your business representative information.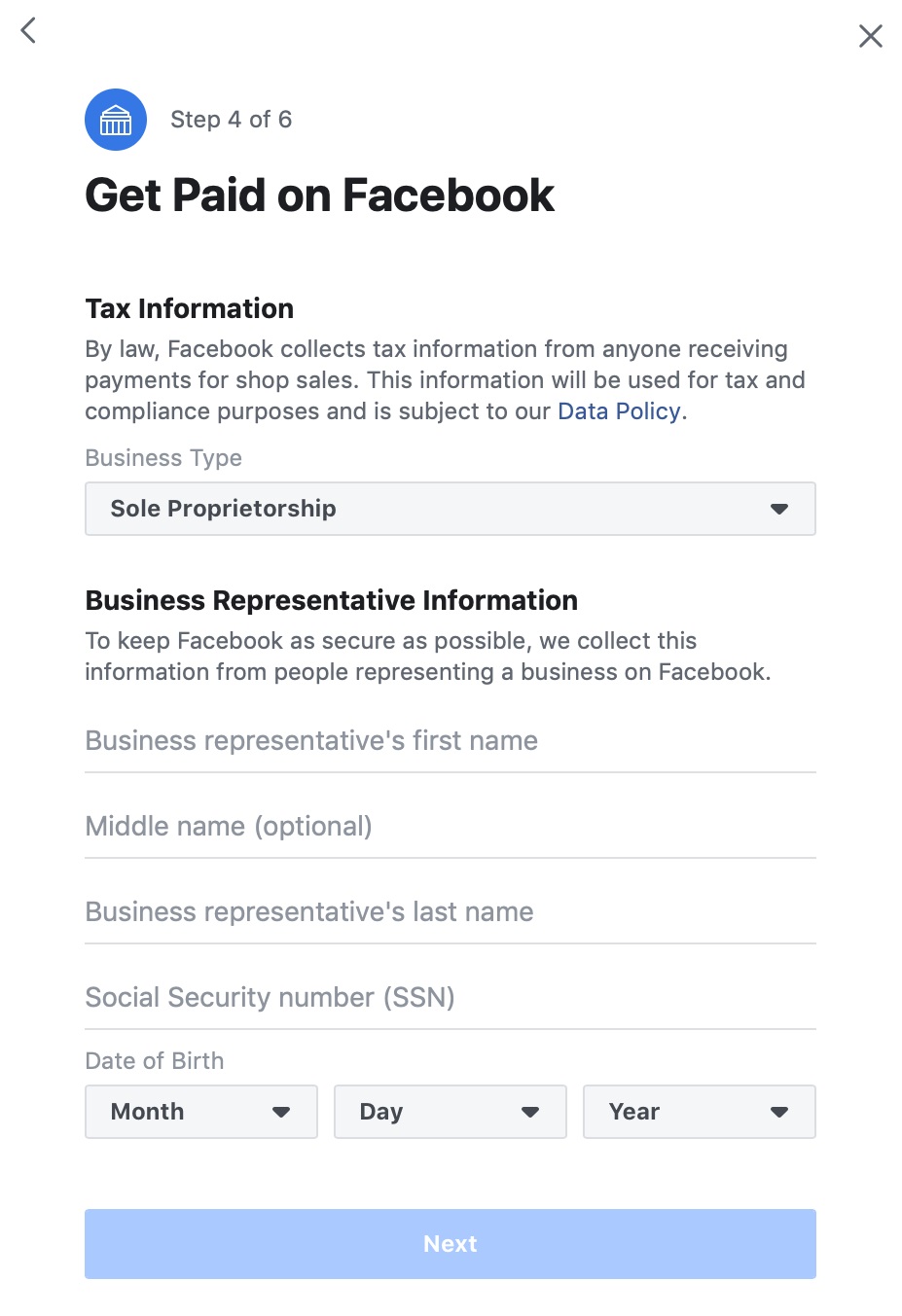 You now have the difficult stuff behind you. Now you can finalize the setup of your store. Just clarify your shipping options, return policy, and customer service email.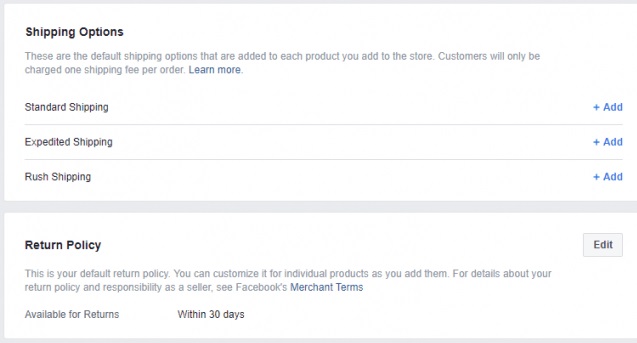 According to Facebook's rules, you must ship the package within 3 business days after you receive the order. And your customer must receive that package no more than 10 days after they made the order. You must also use shipping services that have features such as tracking and delivery confirmation.
One more important thing to note is that your customer can cancel their order within 30 minutes of purchase in case you haven't marked it as shipped yet. Moreover, Facebook doesn't let you ship internationally or sell in countries other than your own. In most cases, if a person from a different country enters your Facebook Shop, they are going to see a blank page.
Depending on your account setup and location, you might also be asked to agree to the Merchant Terms and Policies.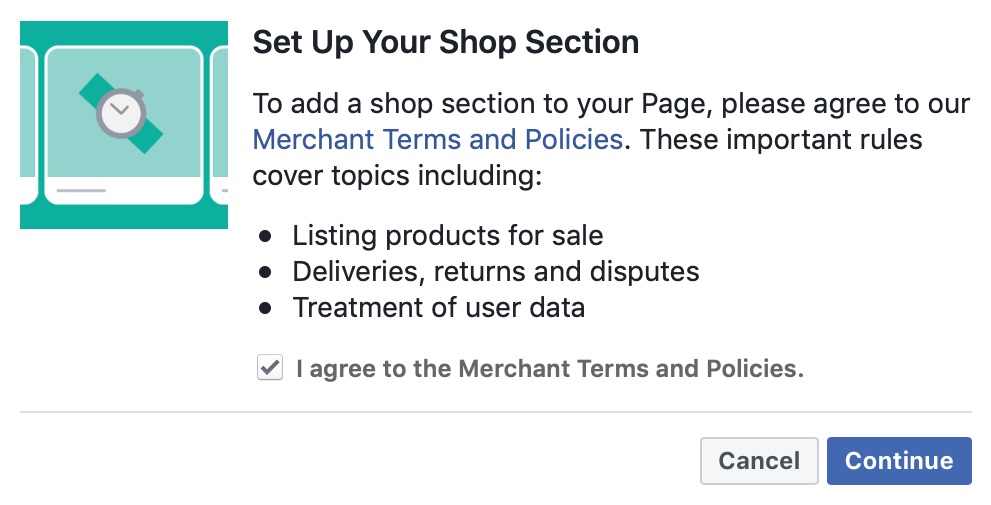 You are now done with filling up your Shop details.
Step 3: Set up your payments
Depending on the country you are doing business, the payment options appear here. If you are a US-based business, you will most likely be asked to link your bank account to have the funds (from your orders) deposited there.
For other countries, Facebook might let you set up payments via PayPal or Stripe.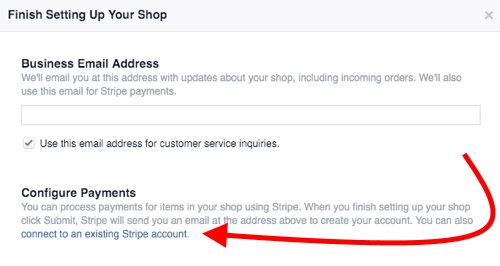 Note: If you are an EU-based user, you might not see this section at all. In that case, you can just skip to the next step.
Here, you should see a popup that asks you to set up your payments to publish your shop. Click Set Up Payments to proceed.

When you click on that, the first pop-up you see asks for your tax details. This is required. You cannot edit it later. So, make sure you enter the correct information. When you're done, click Save.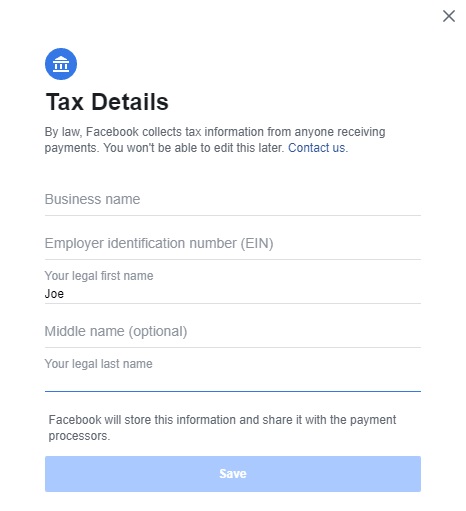 Now, link your bank to collect payments. Enter the required details and click Save.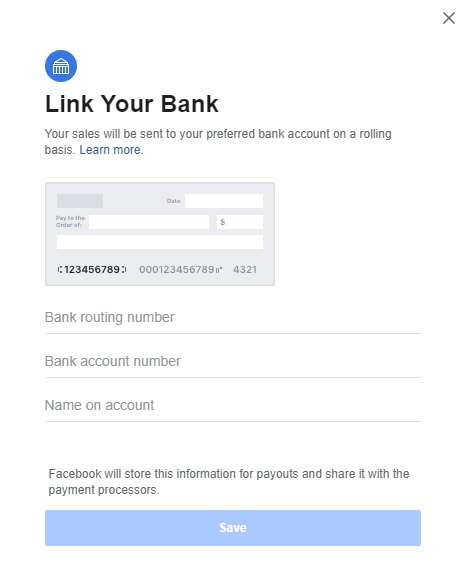 Step 4: Add products to Facebook Shop
Click on Add Product.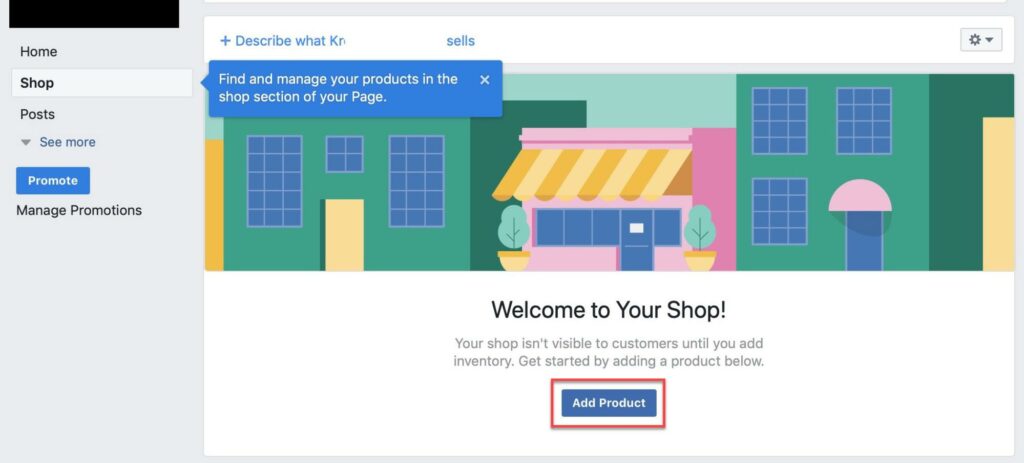 The following form appears. However, it will differ based on your country. Enter the product details—Name, Description, Price, etc. Then, add photos and videos of the product.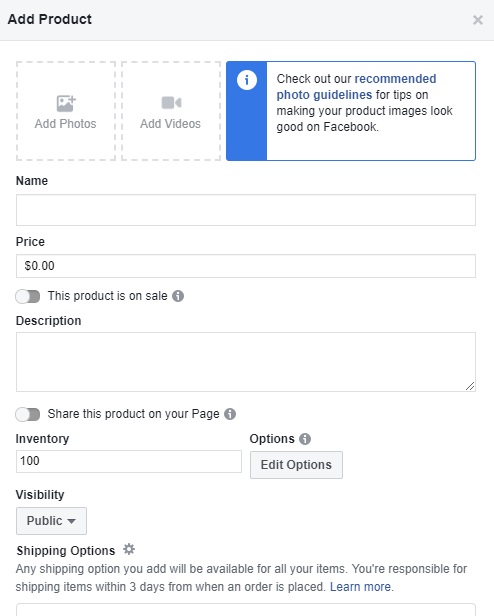 Click Save. You've just made your first product live on your Facebook Shop!
You can add more products to your store any time using the Add Product button. When you add more of them, you can start creating product collections.
If you would like to edit any product, go to Publishing Tools -> Products. Here, you can edit any product or add a new one.

There you go! You have just created your own Facebook Shop.
How to Promote your Salon or Spa's Facebook Shop?
Now that you have our salon or spa shop live on Facebook, the next step is to let people know that it exists. Because, no matter how great your products are, if your target audience do not know that you exist, you cannot sell to them.
Let us learn three simple ways to promote your products via Facebook Shops
Post engaging content consistently
Your followers want to be informed. They want to know everything there is about their stylist, the products they use, and the services they provide. Isn't that so? So, the best way to inform them is by posting valuable content consistently on your page.
You can create descriptive posts about the products you sell and the services you offer in your salon. Do this regularly, and it will build trust in your followers.
It's also a smart idea to utilize your Facebook page to inform your clients about any promotions or specials that you're currently offering. This will not only encourage your existing customers to buy from you but can also attract new ones.
And, last, but not least, post pictures or videos of your work and the process you went through when creating that new haircut.
Run contests
Running contests and sweepstakes is a highly effective way to gain exposure and make sales. For example, you can give the person who sent you the most referrals your way an extra 10% discount on that new product you just launched, especially if they bring you more than a handful of new clients.
Of course, you don't have to make the prize expensive; it can even be something smaller like a coupon that they can use during their next visit. This is just a technique to make your audience engage more with you.
Make use of Facebook ads
Everyone tries to promote their business organically. But this is not necessarily the most effective way to reach your audience, at least in the first phases of promotion. That's why you should consider using paid Facebook advertising to grow your community initially.
This will help you reach a wider audience, get more followers, and attract more people to engage with your content.
And, Facebook ads are also quite user-friendly and effective. You may choose to target only those who are interested in certain kinds of skincare products or those who only love eyelash extensions. This approach gives you invaluable insights into your clients' interests that you can later use for running focused marketing campaigns.
Keep in mind to interact with your leads after you acquire them. Simple things like sending them a personalized thank you email can warm up the relationship.
Conclusion
Growing a salon & spa business can be as demanding as it can be hair-raising (see what I did there?). However, using Facebook shops to sell your product inventory can be very beneficial for your business for all the reasons mentioned above.
So test out the platform and see your revenue soar!
And while you are exploring Facebook shops, don't miss adding the Facebook book now button to get more bookings at your spa or salon. And if you haven't already, try Genbook free for 30 day and see how you can use this feature to increase bookings!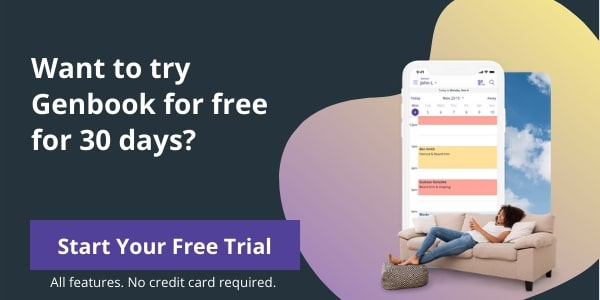 Editor's Note: This post is contributed by Archita Sharma who helps B2B SaaS businesses with marketing (with a focus on content) and is currently doing so for Automate.io. She is happiest while helping founders unleash the power of content marketing and telling stories about her weekend artistic cafe visits!