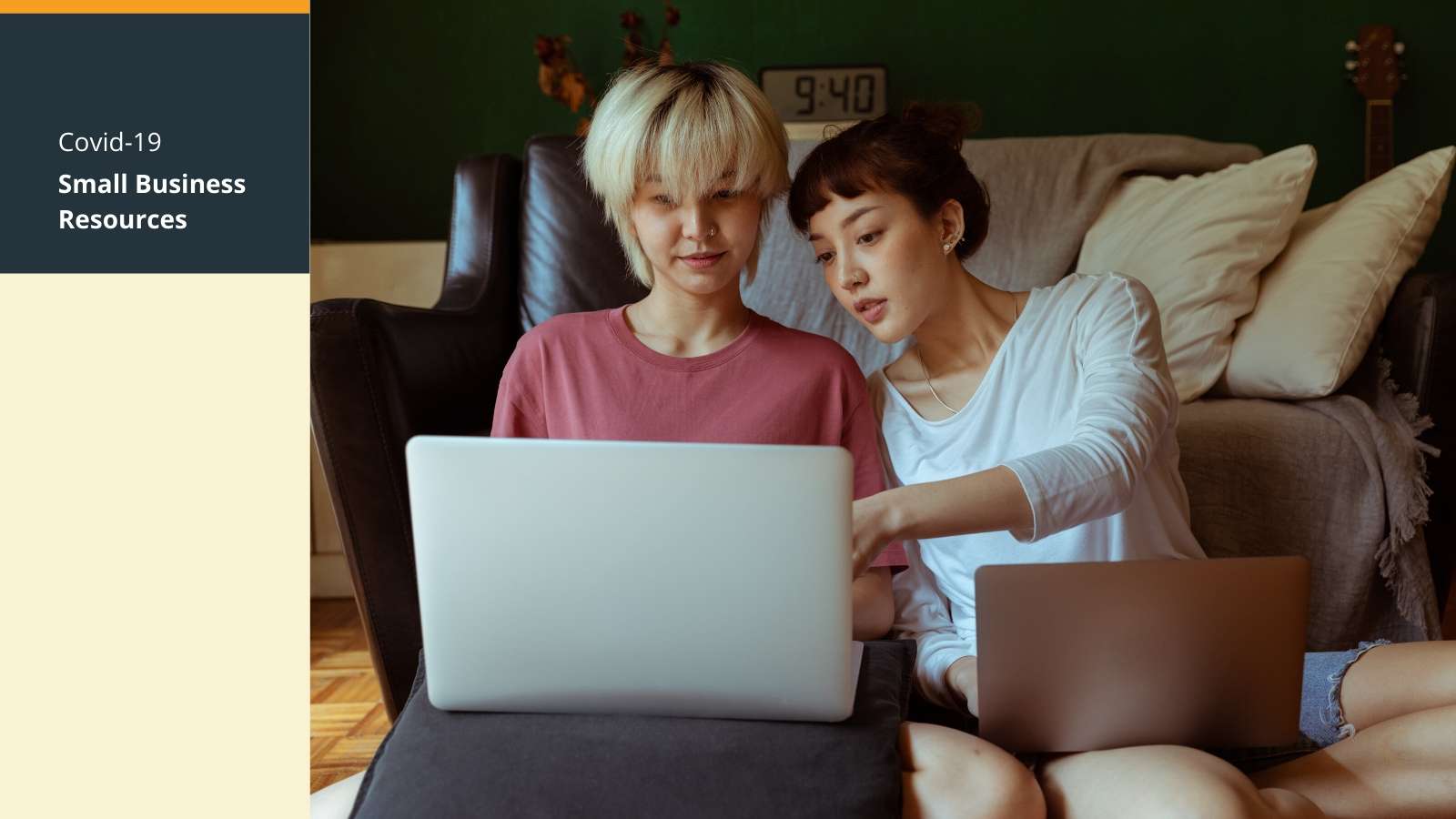 Growing Your Spa, Salon, Barbershop or Wellness Business During a Business Crisis: 5 Small Business Entrepreneurs Share Their Biggest Learnings
Growing a small business, like a spa, salon, barbershop, or wellness business, and the constant ups and downs that come along with it, aren't new to entrepreneurs like you. But you'll agree with us when we say that, this pandemic has exposed you to a novel business crisis—something that we all weren't prepared for.
With the dust settling to some degree on the pandemic and many states and provinces reopening, it's important that we reflect upon the lessons learned and prepare an action plan for the future — should a business crisis like this occur again.
And in order to do that, we reached out to a few smart and savvy entrepreneurs in hair, beauty and wellness space and asked them the following question:
"What's the biggest lesson you've learned during this pandemic?"
The answers we received are inspirational, insightful, and heartfelt and we're sure that these will resonate with you and help you better plan uncertainties of a business crisis.
Read along and arm yourself with this knowledge:
3 Key Business Crisis Lessons for Service-Based Small Businesses
# Business Crisis Lessons: Save Up
The latest research from Bankrate is proof enough that we don't save for a rainy day. Did you know that nearly 4 in 10 Americans would borrow money to cover a $1K emergency?
But little did Hana Akai realize that the age-old grandma's advice—of saving money for an emergency— is for keeps. Hana who operates Akai Hair states:
"Some of the biggest things that I learned is to make sure that I have adequate savings for when unexpected situations like this come up. Going forward after all of this I will definitely make sure that I have six months to a year minimum in savings for all of the bills."
Most small businesses especially service-based businesses are often caught in the web of debts and recurring bill payments making it difficult for them to squeeze out money and create a savings pool—we get it.
But this pandemic serves as a great reminder that saving money should be your biggest priority in 2020. In fact, saving up was what helped Edison Bastidas of Hair by Eddie stay afloat during this pandemic.
"I learned that most people do not have $10k to their name. So I started saving. My wife being a stay at home mom my income was the only one that we depended on. So I hustled hard as a banker and a barber.
I am blessed that I had savings to fall on during these crazy times."
If you haven't started saving or planning for a contingency fund, it's time to do so now. Here are a few tips for you to get started:
Identify your post-pandemic income, expenses, and ascertain a fixed sum that you can park into an emergency fund.
Keep this money liquid but in a high yield, savings account. This will prevent your principal from eroding. Look for banks that allow minimum balance as 'zero' to further save up on transaction charges. Here's a list of some banks that offer high yield savings.
Once you've accumulated enough savings, you can start investing a portion of these savings into stocks to get better returns. But in doing so, make sure you've done enough research on stocks that you want to buy and whether or not they align with your goals.
# Business Crisis Lessons: Slowing down has its benefits
It's quite understandable that as a small service-based business, you're programmed to work hard, deliver exceptional services to your clients, and while they take vacations looking fabulous, you're knee-deep in work. For better or for worse, this pandemic has changed the narrative of hustling— it made us connect with ourselves and those around us better.
Noura Obeidi, who operates Nouraesthetic—a brow and waxing salon agrees with the above statement.
"My biggest business learning during the pandemic was realizing how fast I was moving through business. Seeing over 10-15 clients a day, 5-6 x a week. Once the pandemic happened, and we were closed, I realized I wanted a quality of life.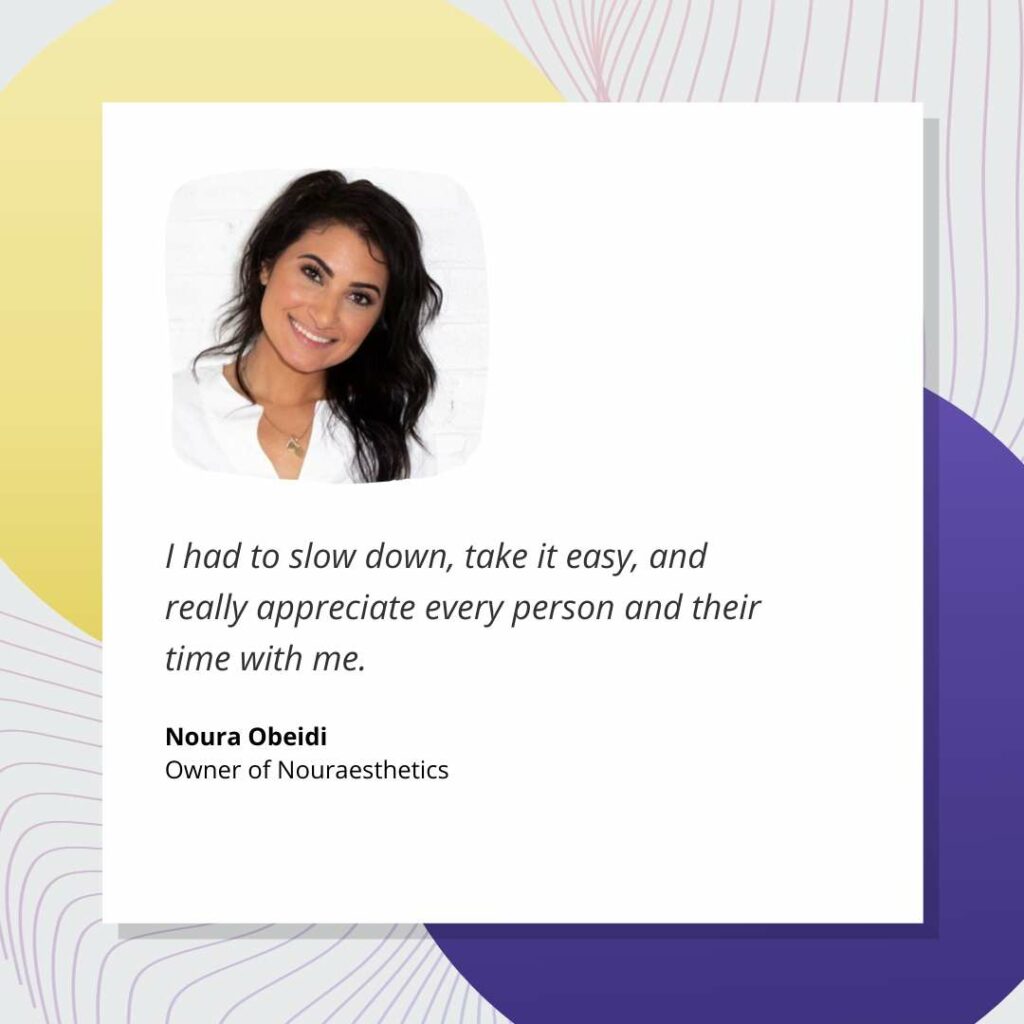 It humbled me to slow down. I started this business because I wanted to help women and I fell in love with the relationships I've built. Being at a complete standstill after 10 years reminded me of that!"
Noura isn't alone in thinking that slowing down has its benefits. Brit Carmichael, a long time Genbook user, and owner of OMGHairstyles—a Luxury Vegan Hair Salon in San Francisco believes the same.
"One of the biggest realizations I've had for my business during the quarantine is that you don't have to wait for a pandemic to finally take an extended break. In 14 years of working behind the chair, I've never allowed myself to slow down this long and take care of me FULLY. I believe in playing and taking time to be present with life, we show up better in business."
So is slowing down really bad for your business? Research states otherwise. Taking it slow allows you to listen better and get more creative. It will allow you to provide a better service experience in the new normal. Now isn't it something that you definitely need when you reopen? In our opinion, you do.
And if you aren't convinced yet, here's more proof: The Genbook Client Experience Survey 2020, states that clients visiting service providers in the beauty, hair, and wellness space appreciate positive personal experiences and friendly service and competence are key for them.
So how can you give yourself a break, without burning out and getting stressed when you reopen your business?
One way is automating tasks that will take you away from unnecessary business distractions and allow you to build a productive schedule. Genbook's all-in-one business management and online booking software fits in perfectly here.
Hana states:
Having an online booking system already in place was a true blessing because clients were already used to it before the whole pandemic. I also added the gift certificate function that was great for clients to go online and buy on their own. Now with the pandemic and needing to have clients booked in and no walk-ins. It's been very simple to have everybody easily booked through the online booking and have their credit card put in, it keeps me safe, knowing that I won't lose out if they no-show. Also it also easily sends them all the information I need them to know about their upcoming appointment and all the new protocol.
Genbook offers a list of features that will help you stay safe while generating revenue during this down-time. And while you are at it, take Hana's advice and take our COVID Business, Revenue & Safety Health Check to get access to a personalized plan to help increase revenue potential for your business while keeping yourself AND your clients safe during COVID-19.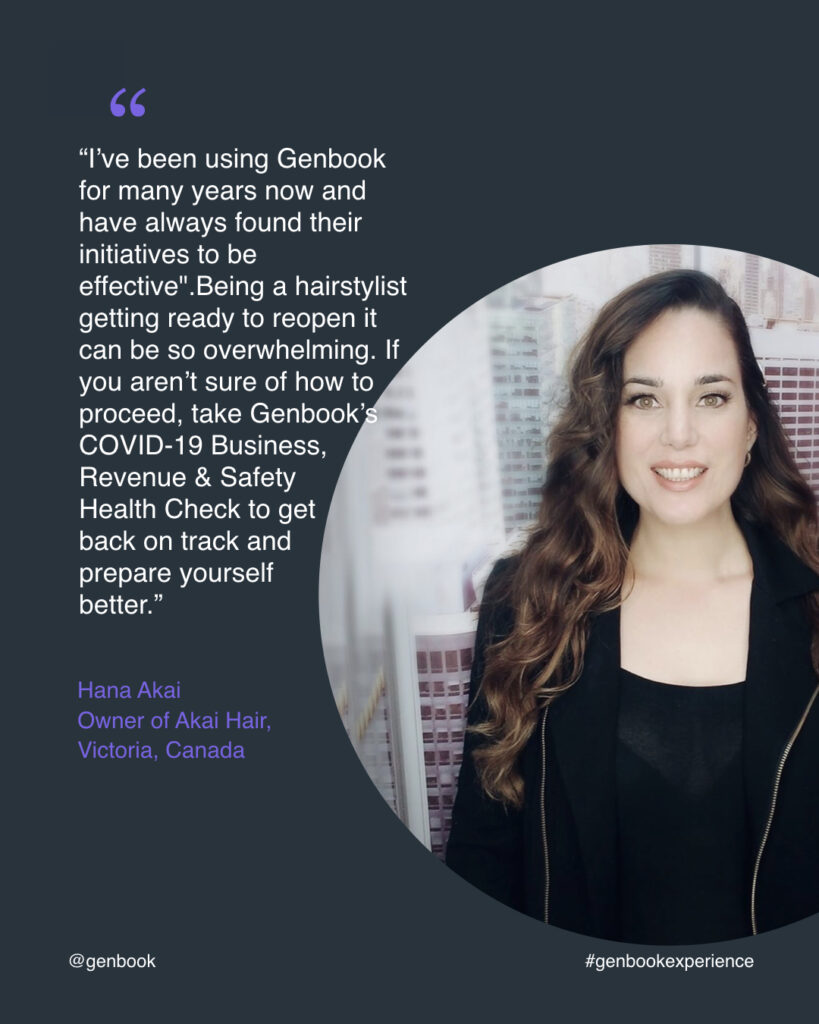 # Business Crisis Lessons: Pivoting isn't a bad thing
There was a time when pivoting was associated with failure and some also considered it as the last-ditch effort. This pandemic has successfully changed the perspective around pivoting. It has shown that a business pivot can also mean a reboot.
'Hair by Eddie' was significantly impacted by the pandemic and the team had to make quick decisions to keep the revenue stream flowing. Edison states:
In the service industry, if I can not physically work I can not make money. I learned to make our own beard oil. It has taught me that I need to push forward and continue to grow my business, even though we can not physically be there. We came up with 2 different scents and have been delivering or mailing them to clients. It is a new form of us making some type of income during these hard times.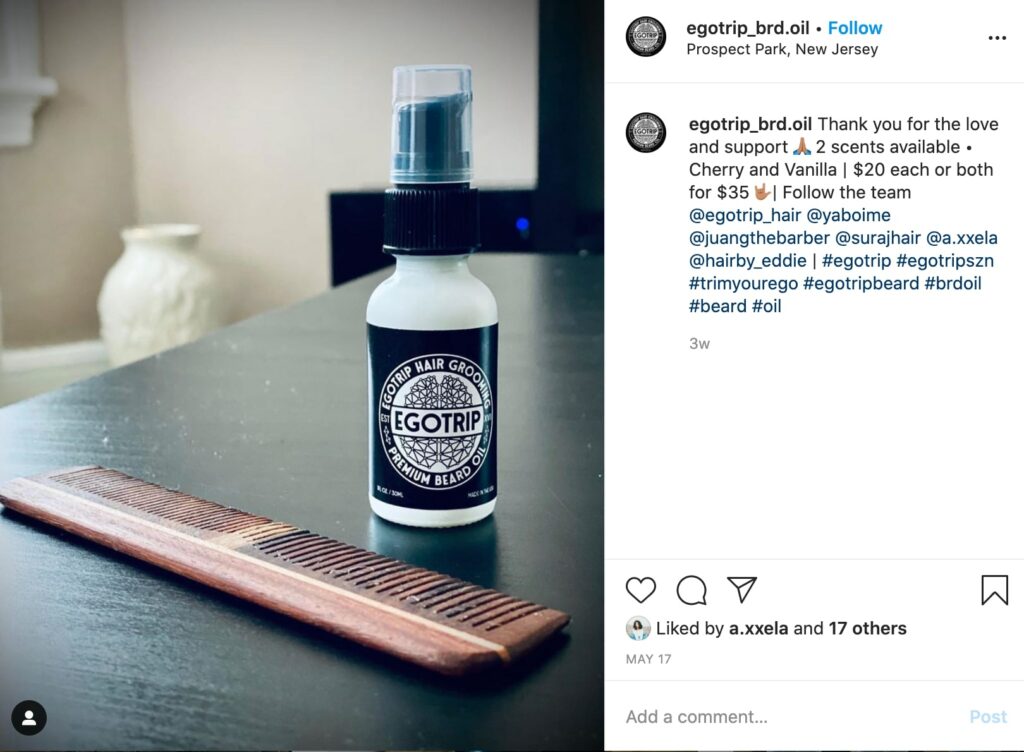 Brit who is also a business coach, shares her advice on why this could be a good strategy for business entrepreneurs in the hair, beauty, and wellness industry.
"Being forced to shut the doors to my salon encouraged me to shift my focus into other areas of my passions, pleasure, and other business opportunities. Diversify! If you can't do hair, how will you express your creativity to create an income? Think outside the box and start considering additional streams of revenue."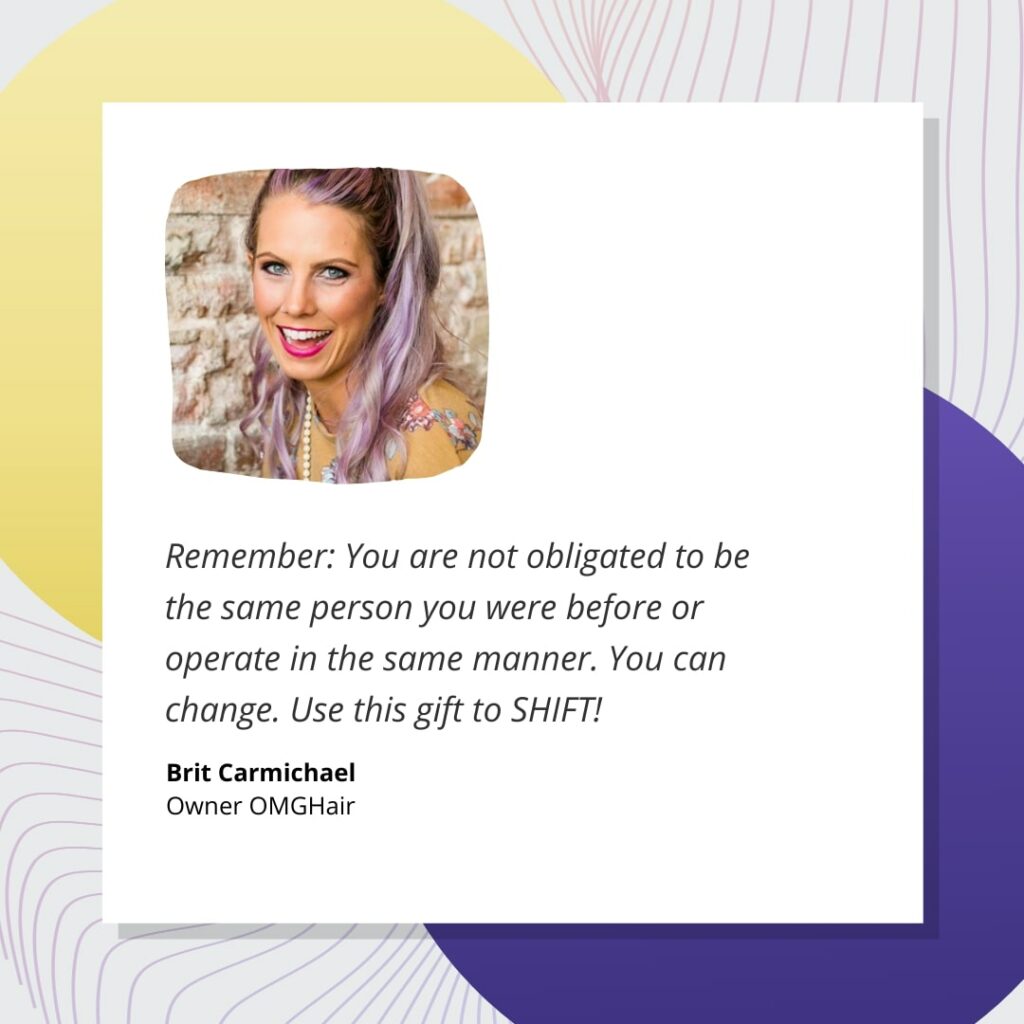 And if you're not sure where to begin, Jeanita from Painted & Polished Nail Salon can inspire you!
"Since starting in the industry I've wanted to provide 'the hand & foot care that people deserved.' In my mind I thought, I could only do so by being behind the chair. This pandemic pushed me to be creative. By providing hand & foot care kits, via touch-less pickup and shipping, I was able to reach my clients and many others. I used previously recorded videos to teach how to do the services at home, which my customers appreciated. This made me feel productive!
I also was able to see the importance of having a beauty professional support system. Voluntarily, I hosted virtual beauty pro meetups, to share resources & provide encouragement. This was a tremendous help in keeping me focused during this time. We all were on the same playing field during this time, no matter if we were new to the industry or a veteran, we all understood each other's pain, of not being able to work. While not ideal, I'm extremely grateful for all I've learned during this time."
Wrapping It Up
With the regulations easing up, here's a thought: soon it will be time to get back to business, and instead of getting stressed your best bet is to stay proactive, optimistic, and fearless.
This pandemic has taught your peers some crucial lessons in growing a business during a business crisis and it's important that you know them and learn from them.
The road to recovery will take a while but these lessons will help you look at problems from a different lens and by incorporating them in your back to business planning, you'll set yourself on a path of success, free of distractions.
Reopen with confidence and prepare yourself with a fool-proof action plan. Take our COVID Business, Revenue & Safety Health Check.