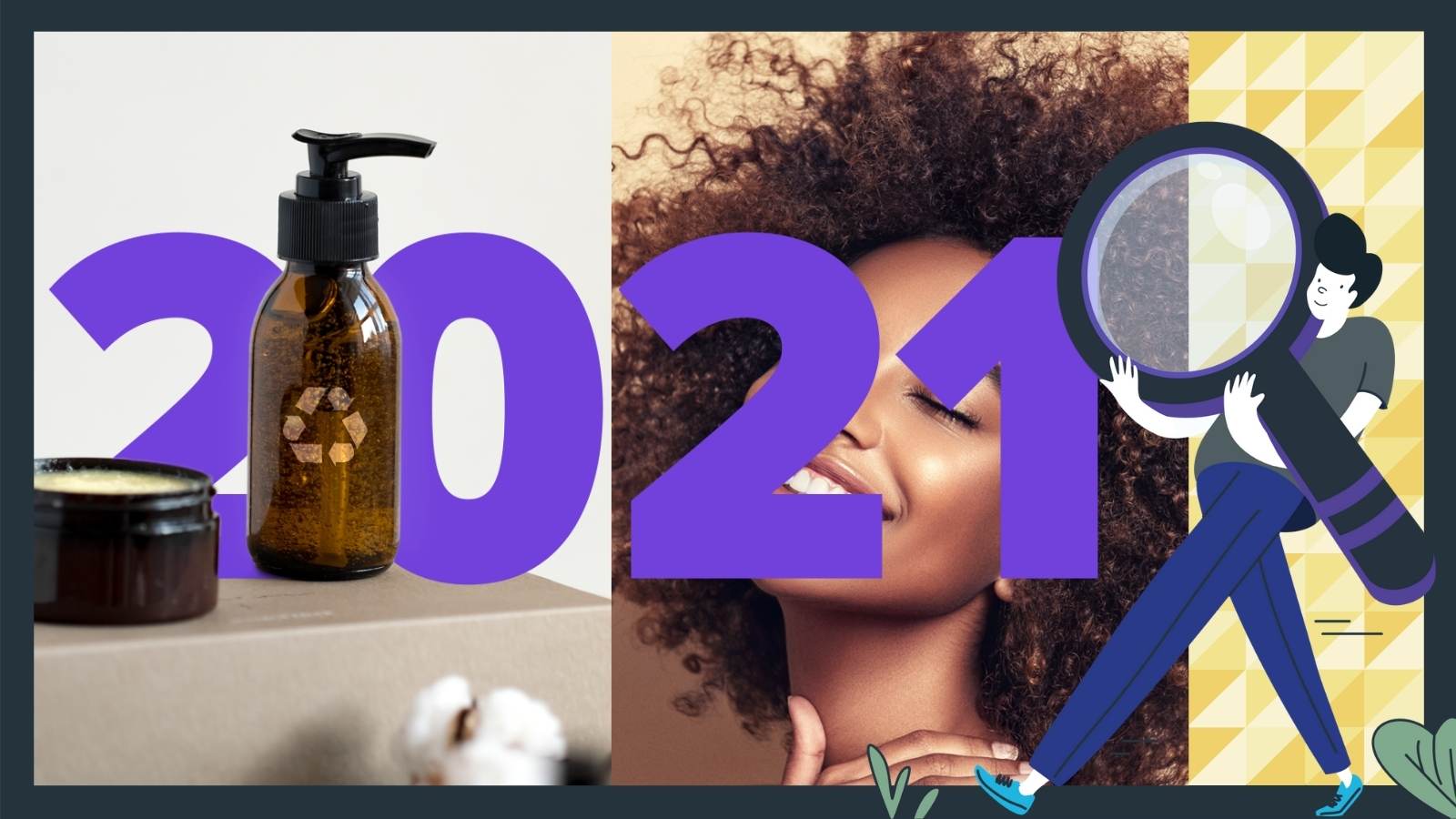 14+ Hair and Beauty Trends That Influencers Believe Will Dominate The Industry in 2021
The hair and beauty industry thrives on newness. In fact the age-old adage— change is the new constant—was probably coined for those who are part of the personal services business.
It's true. Hair and beauty entrepreneurs like you have to constantly keep a tab on what's trending whether it is a bold eye color, makeup that's for luminous skin, or a come back of the 90's style!
And why not? After all, if your business has any intention of remaining competitive in today's dynamic climate, you must adapt to these rapid changes.
With 2021 just around the corner, we caught up with several hair and beauty influencers to get you a run-down of hair and beauty trends that will dominate the industry in 2021.
What are these trends? What was trending in 2020 and what's making a come back? Let's deep-dive to know more
Hair Trends 2021 – What's Making The Cut?
Beauty Trends 2021 – What's The Look?
Hair Trends 2021 – What's Making The Cut?
Want to stay on top of what's making the cut (literally)? Read through the various trends that your clients are going to demand. (Pssst…the 90s styles are making a major come back)
Long Scissors Haircut
Due to the pandemic, clients literally took matters in their hands and we got to witness the biggest hair trends of the decade — haircutting at home.

This may be the reason that long scissor haircuts for men are getting a revival this year. While 'fades' remain to be popular with clients, 'long scissors haircut' will be in demand due to the softer look it creates.
Speaking to us, Svitlana Levchuk from LS Barbershop said:
"So my opinion is that a long scissors haircut might be a new trend. We have a lot of clients who are used to their long hair and they want to keep it long just trim it!"
This is a cut using a combination of hands, combs and scissors, and the technique guides the scissors to shape.
So if you haven't considered it yet, maybe it is time to reconsider it in your barbershop.
Shag Hairstyles
It may remind you of the rock and roll years, but today's shag hairstyle is better than ever. Karess Sydnor of Karess The Stylist believes that it is going to be the #1 trend in the hair industry in 2021. Here's why:
"History always repeats itself and when it does, there's always a slight difference, but better. People will probably add lighter blondes and tons of layers and curl definition just to add some individuality to their look."
Unlike yesteryears, where the hairstyle had a lot of flair and looked choppy, today the shag is all casual, with a lot of texture, layers and comes with a perfect fringe.
It's a manageable hairstyle and quite honestly works for every hair type. Due to its versatility, it can be worn on the side, straight or middle.
So whether you have clients looking for a refresh or even a makeover, shag hairstyle can be your go-to recommendation.
Instant Hair-Wigs
For clients who always want their hair to be on point, there's nothing better than a wig.
It's true…
Forget the bands, and scarves; hair wigs are the ultimate hair accessory today.
"I think wigs with wig grips will become more popular in 2021. It was already becoming popular but people are interested in "quick" and right now! We live in a microwave society! Wigs are an instant new style. If you add a wig grip to it, you can put it on and off yourself and you don't even have to go to the salon to get it sewn on",
Says Nadene Morris, owner of Sewphisticated Hair and winner of Genbook's first ever Excellence in Experience Awards and she's on point.
The versatility of the wigs makes it quite an appealing accessory and are perfect for the Instagram generation who live in the moment. If your hair salon caters to Gen Z clientele, it's worth having a few pieces.
In an interview with Elle-Australia, Mavournee Hazel—an actress and avid wig-wearer said,
"A wig has the power to evoke something inside you and bring out a part of yourself you want to share with the world. If you feel like there is a version of you inside yourself who has a lilac bob; buy her, wear her, bring her to life, and celebrate every version of you."
Ethnic Curls – With Geometric Shapes and Color
Donning an ethnic curl isn't easy, but if you look around you'd see that ethnic curls are having a style moment. Sonnie Garrett, of Silked by Sonnie, deals with this hair type often and believes that "ethnic curls will continue to trend, but with more geometric shapes" and she's right.
From Instagram feeds to Pinterest style boards, ethnic curls are all over the place. And in vivid colors too! And if this is where your clients draw inspiration from, you need to start providing it in your salon too.
90's Hairstyles Are Back
2021 is going to see a revival of the 90's style, many influencers believe.
"So far history has been repeating itself. I have a feeling I will see a few '90s inspired hairstyles and updos! I've been noticing the trends in fashion have been making a comeback, why not the hairstyles as well!!
Says Shay Loc Guru Founder of Dread Loc' Guru in Atlanta. But which hairstyles and 90's trends to be specific? We narrowed them down for you:
Hairstylists were left in awe when Beyonce debuted 'money piece'—a caramel-hued highlight that framed her face back in 2019. Made with the balayage technique, this trend continues to be one of the most sought-after hair trends in 2021.
Butterfly Money Pieces
It seems to be apt for 2021 for a variety of reasons, but predominantly because it has convenience written all over it.
Money piece is a great technique for clients who are looking to get in and out of the salon for a seasonal update, without committing to a full head of color or monthly visits which seems to have become a norm in the current climate. Due to the pandemic, many clients have started to opt for styles that are low in maintenance, and with a money piece, you can add a pop of color and enhance the overall look of your client quite quickly.
But not all money pieces are created equal. Olivia Smalley, a hair influencer, educator and Genbook ambassador explains:
"I feel like the money piece is a really good pick me up for someone who wants to be brighter but not commit to brightness all over. Like a quick service but also a more affordable one at that with high impact.Everyone is going to have a butterfly money piece and a chunky one at that. Money piece is more like coming to certain people but next year will be bigger and bolder."
High Contrast and Color Blocking
Another 90's look that's making a big comeback in 2021 is color blocking and high contrast techniques, believes Larisa Love, a beauty influencer and Genbook Ambassador, who transformed many clients through this technique.
There are tons of ways in which hairstylists are playing on this trend. You are going to see pastels and neon, rainbow colors on fringes, and bright color blocks with grey.
Jaymz Marsters, has been playing with this trend for a while and his Instagram feed is full of examples that are bound to inspire you!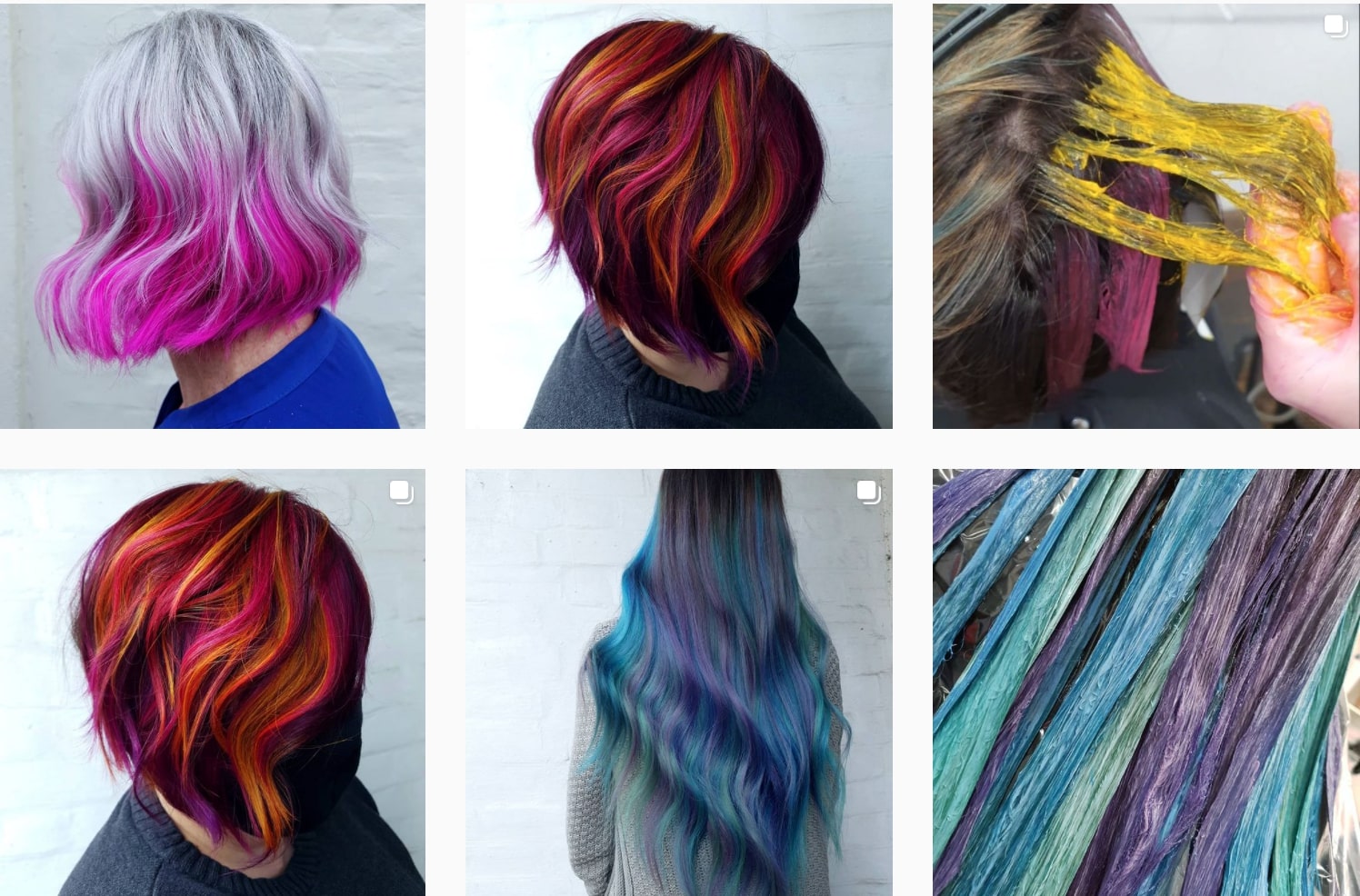 But what if your clients are not as adventurous but still need a burst of color? Enter Vivid balayage, which according to Glamour Magazine is a sophisticated take on rainbow hair.
"Vivids are more popular than ever. Time to change it up and be even more creative. 2020 wasn't the best year so 2021 will be full of fun and color!"
adds Larisa and we definitely agree with her.
Adoption of Technology
Technology in the form of online booking will become a priority in 2021. The pandemic has been an eye opener for a lot of small hair businesses and those who have been able to sustain and minimize the risk owe it to the convenience of an appointment booking software.
Online booking software like Genbook not only helped these businesses with revenue focussed options to sail through (gift certificates for example), but also ensured that hair businesses are able to take in clients in a manner that wasn't contradictory to the guidelines. Features such as Waitlist, Buffer, and deposits for future bookings came in very handy for all our clients which led to an overall boost in business experience.
Brit Carmichael—a vegan hair influencer and a long time Genbook user, and ambassador shared her two cents on why technology will be a trend.
It looks like technology will be trending with more people switching to online booking and payment options. I've been a Genbooker for almost a decade and absolutely LOVE all the added features to help run and market my business all online!
On asking her if there's any other trend she felt will make the cut in 2021, she said:
"I also see stylists specializing in more of a niche market by choosing to focus on only offering one or two services. That way artists can attract and work with their dream clients and choice of style!"
But it was what she said after that really stood out for us. Brit spoke about the often forgotten "trend"—business experience.
"My prediction for the hair industry in 2021 goes beyond the obvious low maintenance look, but involves more connection with our customers. Behind the masks are people with dreams and fears just like you and it's time to shift the conversation. One of the things I always ask my guests is "What are you passionate about?" and from that simple question sparks an intimate conversation that dives below the surface where most people sit.
After running a 6-figure salon suite for 13 years, I've learned that the experience in your chair can change people's lives. Right now, we're being called to step up as leaders in our communities and hold space for our guests to get away from the chaos of their daily life. The salon is a sanctuary so set the tone and remember how much you matter to each person you cross paths with."
We can't stress enough on business experiences. They are key to a successful business But having a deep connection with clients, and ensuring that you are able to serve them efficiently, is possible only when you are away from distractions. One of the basics of achieving this is by moving away from the pen and paper method and adopting solutions that minimize admin and help you focus on your clients.
If you haven't already, it's time to embrace an all in one online booking and scheduling software in the coming year.
Beauty Trends 2021- What's The Look?
2021's beauty trends are going to see a massive change as they are going to be influenced by not just the pandemic, but also a growing conscience. Clean and green products top the charts, but there's more that influencers believe will be all the rage in 2021.
Focus on Eyes
2020 saw people investing in stylish masks, and while it became a fad, it brought a lot of focus on the eyes—the one thing which isn't covered! It isn't surprising that many of our influencers predicted beauty trends focussed on eyes to dominate 2021.
Read along to know which specific trends will make the cut.
Well Kept Eyebrows and Lashes
Maintaining eyebrows and lashes isn't something new, but the pandemic has changed quite a few things around.
While a lot of your clients may have shifted to home-grooming and a few others may have adopted an all-natural eyebrow/lash look during the pandemic, they will come back once the restrictions are lifted. It's a perfect opportunity for you to educate them on products they should purchase and offer them the best services, just like Giana, owner of Brows by Giana does. Speaking to us she said:
"The current pandemic has brought attention and focus to the eyes when masks are a necessity. I personally don't wear face makeup anymore but I make sure my lashes and brows are on point"
Magnetic Lashes
The next big trend according to Lorena Ashmore, who's a renowned esthetician and lash artist, is going to be magnetic lashes.
And, she has her reasons. Talking to us, Lorena says:
"I predict that magnetic lashes and lash serum are just going to hit hard since most are staying home and unable to go get their lashes done. It will be a ton of home care and facial kits and just more women taking charge of their beauty routines at home!"
Just like low maintenance hair, magnetic lashes are convenient, and an apt service for clients who want to look glamorous without putting in a lot of effort.
Microblading
Another trend that highlights the eye and will be big in 2021 is lamination and microblading, says Audrey Glass, a microblading artist and influencer:
"I think brows (lamination & microblading) will still be the #1 beauty service in 2021. Since wearing a mask is our new normal, the only thing we see are lashes & brows. A lot of people have realized the importance of good brows during quarantine since they're wearing none to very minimal makeup and a face mask."
Amber Jolly, a long-time Genbook user and owner of Self-Love Spa in Los Angeles thinks the same.
"2021 trend definitely will be Microblading if it's not already. Not just because of Covid, but most women as they age lose thickness and eyebrows on the end of the brow. Microblading or micro shading give them the chance to fill in where hair is missing so the brow doesn't look bald giving them a more youthful look. Also it's very popular with cancer survivors and individuals with thyroid seem to lose their brow hair as well."
All we see now are the eyes of the person so I'm sure Botox has increased as well as eyeshadows and mascara usage" she added.
'Made to Order' Beauty
Personalization will see an uptick in 2021—not just with products but with services too. With a major part of 2020 spent indoors, people are craving deep immersive experiences that are tailor made for them.
Think of personalized facials, massages, and other treatments. So how can you hop on this trend bandwagon? It's simple—you can bring the concept of bespoke or 'made to order' beauty to your consultations (through questionnaire and quizzes) and elevate it by using products that offer customization.
If you have extensive product knowledge, this is one area for you to experiment and add personalized beauty products to your repertoire, but be mindful of the price range.
Sustainability
Sustainability is a beauty trend that's not going away anytime soon. With the climate change conversations taking a front seat, it's becoming more and more common for clients—especially Gen Z— to opt for salons that are eco-friendly.
Melanie Richards from the goGlow a tanning enterprise said:
"We think sustainability in products and packaging will be up there! People (consumers and brands alike) are finally beginning to value the contribution to global climate change that we can make in the world! Beauty and skincare is a great place to start!"
But here's the thing: many salon entrepreneurs think that adopting eco-friendly practices is only about changing the products—get rid of formaldehyde and ammonia treatments, use recyclable products or use clean-green products for services.
Here's an example of a beauty salon that follows this path and suggests sustainable products to their clients during consultations.
But that's just one of the ways…
Yes, products that are sustainable are in demand but simple tweaks like monitoring water usage, recycling products, running a laundry load when full, managing electricity usage effectively are also part of the process.
An eco-friendly salon may be a long road ahead, but it's a great one to be on—afterall we only have one planet!
Beauty with Mindfulness
From self care Sundays to religious AM/PM routines, 2020 was the year we all touched a chord with our inner self. And just like sustainability, another lifestyle trend that we all aspire to include in our schedules is #beautywithmindfulness
But what exactly is that? Beauty with mindfulness is a potent mix of inner calm+products that heal.
Kasey Boone, a beauty influencer, predicts the rise of crystals and essential oils in the treatment room and multi-layering masks—all of which tie with beauty with mindfulness.
So whether you are refreshing your salon or spa menu, or adding new services in 2021, keep this beauty trend in mind. Product companies are doubling down on it, so why wouldn't you!?
Online Education and Brand Building Through Instagram
Instagram for business is a social media platform that is constantly evolving. From sharing more about your business to booking appointments through the book now button, there's something for every kind of beauty entrepreneur to experiment with.
All you need is right content and Instagram tools, to begin with. It isn't surprising that Instagram is going to be central to one of the most unconventional beauty trends in 2021—brand building and education through Instagram.
Jamie Dana, a hair influencer and educator, shared her two cents with us on the growing phenomenon:
"I think the #1 trend we're going to see in the hair industry in 2021 is a lot more online education and more stylists building educational brands on Instagram. With everything having to go digital this past year, it gave so many people an opportunity to pivot and try something new like teaching and educating online. I think there is so much potential for new educators to build up their own brand through Instagram especially with all the new tools like Instagram Reels and Instagram Guides. I'm looking forward to seeing how people take advantage of this unique time we're in!"
Jamie is not alone in thinking that online education is going to be big in 2021. Lexi Lomax— salon business coach, feels the same.
I think the biggest trend will be online education and up-leveling ourselves as an industry will continue. I think we have learned a lot about our businesses this past year, and now know how much help our businesses need. I think we are going to take control and are going to start really working on our beauty businesses and continuing to grow in that direction, as well as still doing beautiful hair too!
With a plan for your business, you can figure anything out. If you know what the ultimate business goal is, no matter what happens you can redirect and move quickly and with less stress!! I really feel like 2021 is going to be huge for opportunities for the beauty industry!! I'm pumped.
Upskilling is in, and so is experimenting with side hustles, that add to your businesses' bottomline. So give it a try if you can.
Wrapping It Up!
There you have it—hair and beauty trends that influencers believe will dominate 2021. These trends are playful, low maintenance and borrow heavily from the new normal as well as the 90s.
Here's a recap:

Hair Beauty 2021-What's Making The Cut?
Long Hair Scissors Cut
Shag Hairstyles
Instant Hair-Wigs
Ethnic Curls- With Geometric Shapes and Color
Adoption of Technology
Butterfly Money Piece
High Contrast and Color Blocking
Beauty Trends 2021 – What's The Look?
Well Kept Eyebrows and Lashes
Magnetic Lashes
Microblading
Made to Order Beauty
Sustainability
Beauty with Mindfulness
Online Education and Brand Building Through Instagram
2021 is just around the corner. It's a year that's filled with hope, excitement but above all, it's a year that's all about celebrating you and your clients. So pick up the trends that best align with your brand and start working on them before you start seeing them everywhere.
We'll sign off with the wise words of Youssef Barber, a long-time Genbook user and ambassador
'There's a lot of change, we need to adapt, and our duty is to make people look good and feel great.'
And if adopting technology is a trend that you wish to hop on, start your free trial today and see for yourself why thousands of small business owners use Genbook to manage their time and convert more clients!