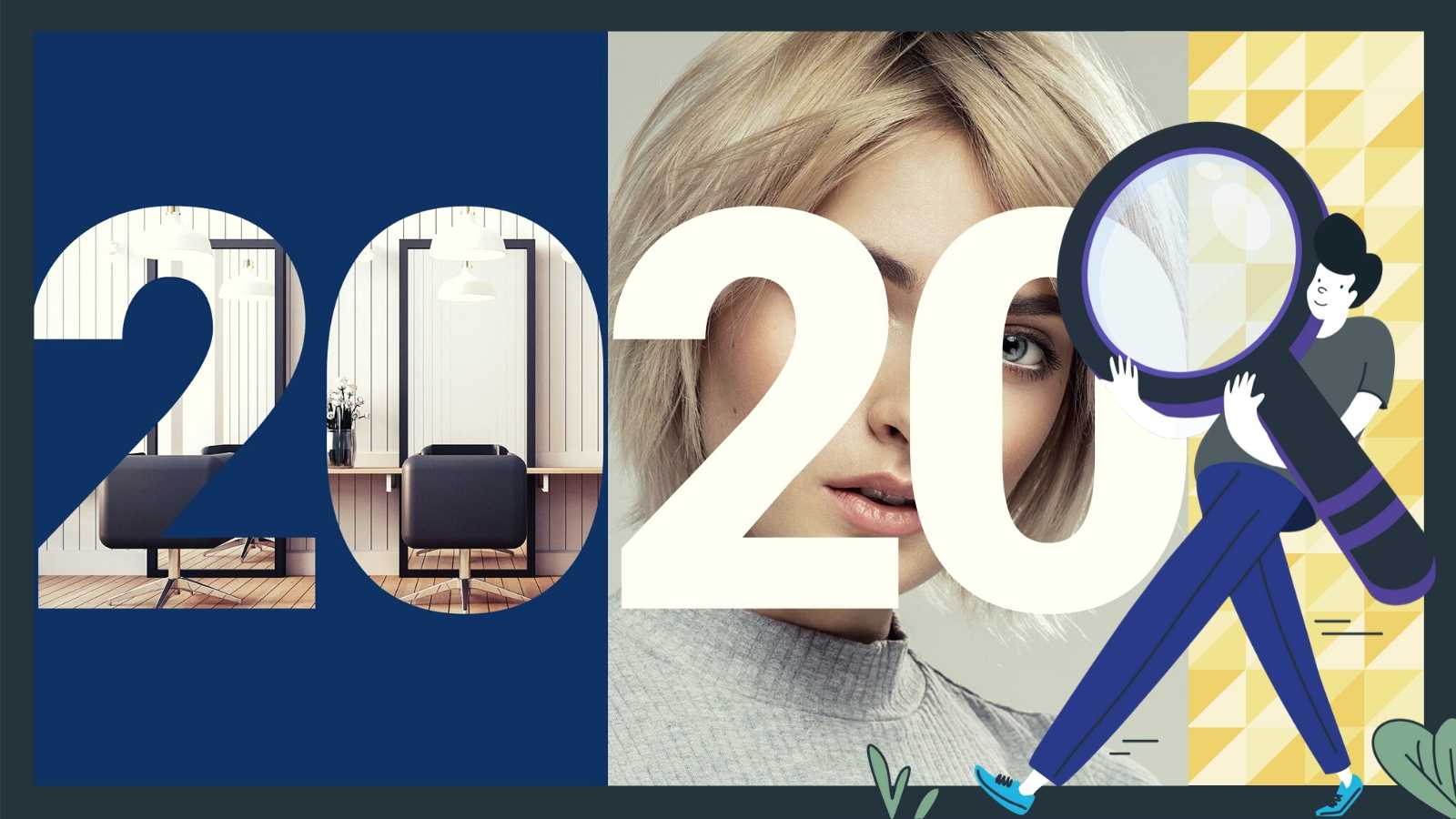 Hair Trends 2020: 6 Styles to Offer in Your Salon This Year
A huge part of running a successful salon lies in keeping up with the latest hair trends. When you know the trendiest styles out there, you'll be in a great position to recommend and create the best looks for your clients. 
And with 2020 right around the corner, we figured it's a great time to shed light on some of the top trends in the hair industry. 
We caught up with experts and looked at the cool things that some Genbookers are doing and compiled a handy list of hair trends to keep an eye on. 
Check them out below!
Hair accessories are in
Expert colorist Kristina Tabb says that when it comes to hair styling trends, she sees an "an abundance of hair accessories." 
"Don't be afraid to overlap and play with hair accessories," she says.
Stylist Jen Fassino, the founder of Nomad Haircare offers a similar insight, saying that hair accessories work well when implemented with an "effortless-chic" style. 
"My favorite look right now is a low, semi sleek bun with an accessory. I use a few drops of my own brand's (@nomadhaircare) serum, Transcend Serum, and smooth flyaways and collect the hair into a super effortless low bun. No brush needed, just the fingers," she explains. 
"The added accessory could be a simple pair of gold earrings, a classy Kitsch brand hair tie or clip/pin to add to the lower side or back."
According to Jen, "These trends are all-inclusive and easy for everyone to try out and not feel pressured to be perfect."
We can see this trend in action at Voltage Salon. Check out the styles below, where the Voltage team expertly added accessories to complete each look. 
View this post on Instagram
Keep an eye out for bold layers
"We're moving away from long bobs and one length haircuts to add more bold layers," shares Gillian Hanson, founder of Honeycomb Salon. "It's already started with the resurgence of the Shag. Jane Fonda was one of the pioneers of the shag haircut in the 70's (think of the movie Klute)."
Gillian predicts that we will see more iterations of the Shag, but in "more wearable styles."
Ryan Wenick, a stylist at Maxine Salon, echoes this and says that the Modern Shag is a trend to watch in 2020. 
"This cut has endless volume opportunity; if you're looking for volume and edge it's never been easier," he says.
"I LOVE this cut for those with naturally curly hair. Simply put in your products (heat protectant, smoothing creams, mousse for hold and volume), diffuse the back and sides and then flip upside down for the top to get ample volume!"
Of course, not all clients are ready to be bold. In these cases, Gillian advises that stylists incorporate "a low-key iteration with square layers with a heavier fringe (think Natasha Lyonne or Taylor Swift)."
View this post on Instagram
We'll be seeing more mid-length cuts
"Hair trends to be on the watch for are mid-length (collar bone) cuts with movement around the face and less texture with invisible layers," adds Kristina. "Be sure to take into consideration face shape with any shaping around the face."
Mid-length haircuts work well for different face shapes. Depending on how you style it, the collarbone haircut can lengthen a round face. Clients with heart-shaped faces will like the style because it balances out their proportions. And when combined with right layers, your long-faced clients can also pull off a mid-length cut, because it adds volume to the sides of the face. 
View this post on Instagram
Curly hair could offer an untapped opportunity
Delilah Orpi, founder and CEO of The Holistic Enchilada says that "the movement to embrace the curly girl method has really exploded "
"I think this is a huge need that can be filled," she shares.
"Many women are paying hundreds of dollars for a curly hair cut and traveling hours to find one, if there is even one stylist within hours. In my area there is one Deva and Ouidad trained stylist. When I lived in Miami there was only 1 salon offering this service even though there were so many curly-haired women in the city."
The takeaway? Don't overlook your curly-haired clients. Pay attention to the market and if you spot an opportunity to offer more curly-hair services, consider crafting an offering in your salon.
View this post on Instagram
Look out for hair tinsel
"Made popular in the 90s, hair tinsel is back in full force," shares Kelsea Jensen of Goddess Glitter Hair.
"It's not just for celebrities and people with colorful unicorn hair, hair tinsel can upgrade anyone's look. You can find a color that coordinates with your hair (gold for blondes, silver for grey, copper for red, brown for brunettes, and black for the darkest shades) or choose any shade of the rainbow to stand out."
Kelsea has a point. Celebrities like Kacey Musgraves have been spotted with glittery hair, and according to the popular style blog Who What Wear, "glitter hair trend is more about bold tinsel looks… and sheer mist of fine glitter all over."
View this post on Instagram
Bronde will continue to be popular
Bronde — the hair color that blends blonde and brown — will continue to be popular in 2020. It's a flattering shade for most clients and it sits at that sweet spot between blonde and brown, making it perfect for people who can't decide between the two colors. 
As Byron Turnbull, Co-Founder and Director of Goldie Sydney told Harper's Bazaar:
If you can't make up your mind over whether to go light or dark for summer, 'bronde' is for you. A warm and glossy look, the main benefits of this hair colour are that it's achievable and low-maintenance, keeping hair super healthy while offering light and shade for pops of colour and brightness.
To see bronde in action, check out Cirrus at Salt Salon in San Francisco, who creates flawless blonde, brown, and bronde looks.
View this post on Instagram
How to keep up with hair trends 2020
Not all trends are created equal, and not every style would work for your business and clientele. While you should certainly keep an eye on what's trending on the streets and social media, you also want to be smart about which trends to adopt. 
Here are some quick tips on how you can keep up with the right hair trends in 2020 and beyond.
Tap into local trends
Trends will vary from one area to the next, so be aware of what's going on in your city or state. 
Climate and culture play big roles in the emergence of new styles in a location, so pay attention to these factors when crafting your offerings. 
Another helpful tool? Google Trends.
Use it to figure out the right trends in your area. Google Trends lets you filter results according to different cities and states, so you can see if people in your neighborhood are searches for a particular hairstyle or cut. 
For instance, the search term "hair tinsel" has seen a growing popularity in Google over the past five years, making it a promising trend for the year ahead.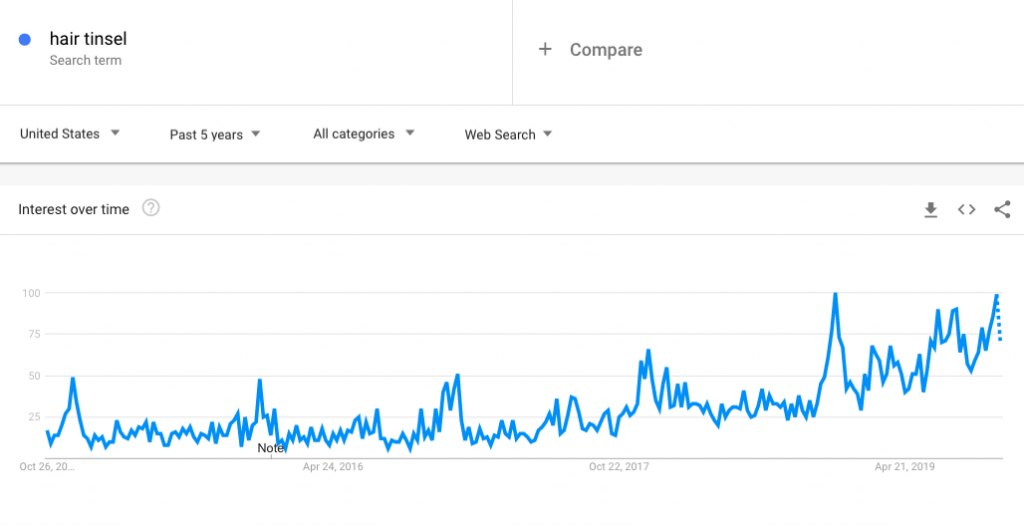 And if you dig deeper, Google Trends even shows you the regions with the most interest in hair tinsel, along with related search terms (e.g., metallic color, hair spray, etc).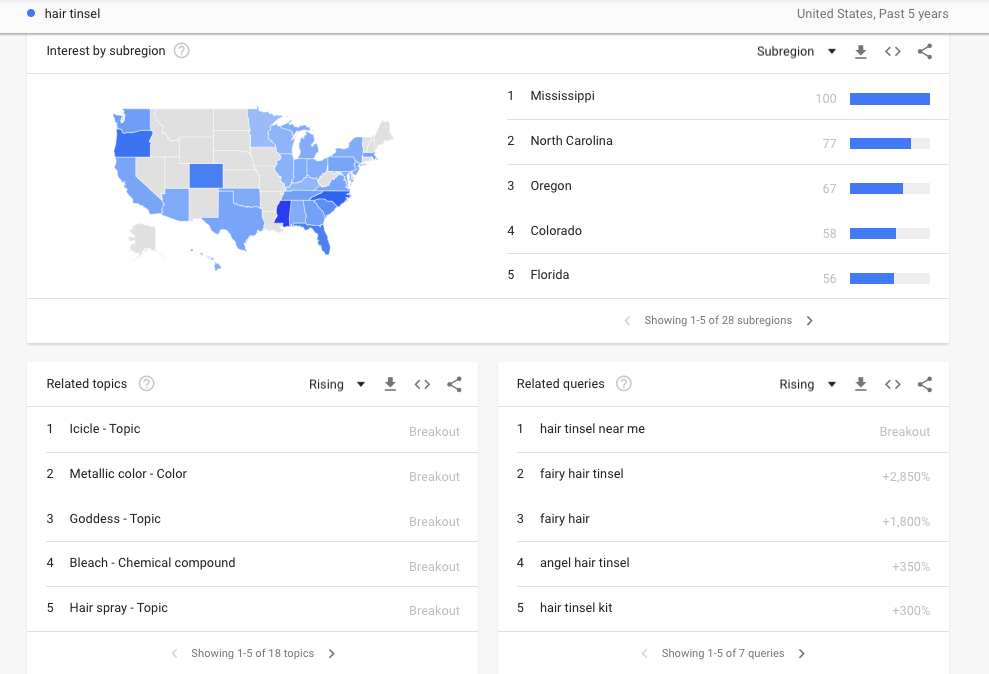 Follow this tip when you're deciding whether or not to jump into a hair trend. Look up the topic on Google Trends, see if it's popular in your region and if it makes sense for your business, test out the trend in your salon.
Don't be afraid to experiment
Found a trend that you'd like to hop on? Test it out in your salon. Start offering the service to select clients if you think it's right for them or run a limited-time promotion to see how it goes. 
From there, evaluate the following:
Client adoption
Sales
Results
Then depending on the performance of your experiment, you can decide if it's worth it to fully implement the new trend in your business. 
Don't forget about tried-and-true best practices
As we enter the final stretch of the year, we'd like to leave you with this nugget:
Hair trends can come in go, but tried-and-true best practices will never go out of style.
No matter which trends you decide to adopt, never lose sight of the classic techniques that make your salon successful. Knowing how to create attractive hairstyles and combining that with an amazing salon experience will help ensure that your business will thrive in the years to come. 
Want more? Get free actionable advice on growing your small business. Sign up for our newsletter.