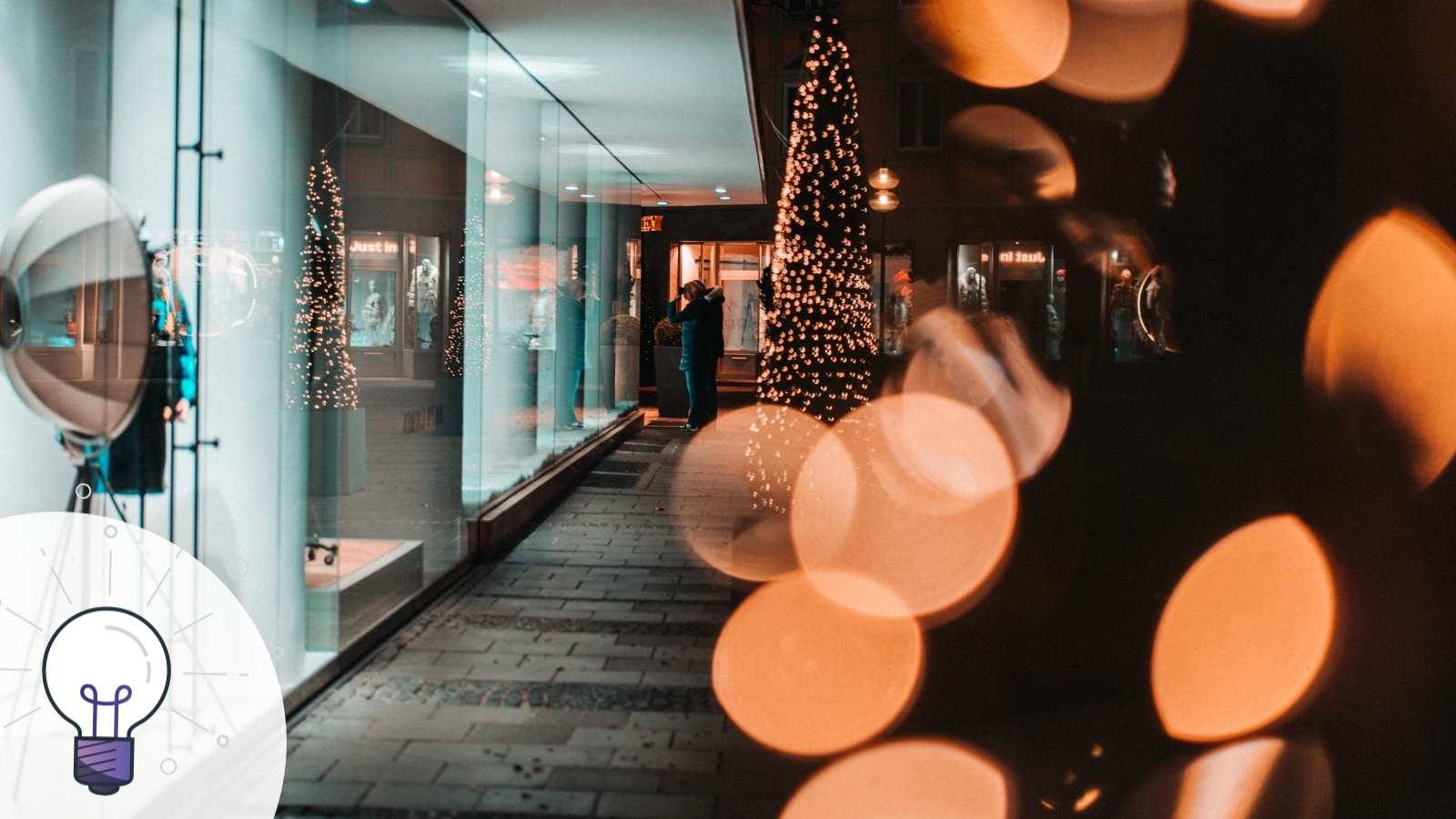 Holiday Planning: 7 Handy and Easy To Implement Tips That Will Help Your Salon & Spa Business
This has been an interesting year for small business entrepreneurs.
You've probably pivoted your business, may have seen cutting hair at home become a trend, as well been witness to umpteen closings and reopenings of your personal service business.
But here's the thing:
Even though there are several restrictions on how many people you can serve at a time, how far apart they should sit, or even if you can closely interact with them, people are still craving services.
The reality is that, despite a pandemic, our lives are still happening. With the end of year rush just weeks away, this is a great opportunity for spa and wellness business entrepreneurs like you to make the most of the last-ditch.
Wondering how to ace holiday planning and prepare your business for the end of year mayhem?
Let's dive into some time-tested tactics that you can adopt to tough out these crazy times for your spa and wellness business.
Strategies to prepare for the rush
Update your social and digital assets
Your website and social media channels are a digital gateway to your business.
And if you're expecting these platforms to work like a booking magnet, one of the first and foremost things for you to do is to get them in order.
Here are a couple of things that you can do to ensure that these channels help you book more appointments during the holiday season:
Website:
Ensure that your website/booking page has updated COVID information and protocols: This includes a pre-screening questionnaire for Covid-19 symptoms, pre-booking form for contact tracing purposes, pre-appointment rules for clients (masks, gloves, etc.), business hours, service changes, and closure notices, contact information, etc.
Make sure that your holiday offers, gift card, and updated pricing details are easy to find on your website.
Test whether your book button integration is functional, if not make sure to get it fixed: regular malfunctions in software is something we've all experienced, but this can cost you money if not fixed in time.
Take stock of visual assets such as photos and videos on your website: Make sure that the header photos on key landing pages are high resolution, responsive, and optimized for conversions.
Social:
Updated COVID information: ensure that information about hours, service changes, pickup schedules, and new Covid-19 measures is up to date on your social channels as well.
Share new offer details on social media, especially Instagram: If your business is on Instagram, make use of its various formats to share more about your offers. Here's an example:
Gather testimonials and showcase them on social media: A few of your clients might even be willing to be featured enjoying services offered by your business on your social media pages.
So, plug a request for a snazzy social media headshot as a supremely satisfied client leaves your establishment. For instance, Body Blitz Spa in Toronto gave a heads-up to their loyal clients on Instagram about their reopening plans. They made it known that they have a physical-distancing plan all-ready to welcome them back whenever they receive a go-ahead to open.
Give your packages and bundles a refresh
Packages and bundles are so important for spa and salon businesses. So why not give "repackage" the deal? Offer your clients a slew of lockdown special packages to freshen things up (albeit with safety protocols in place) in 2021.
Some fresh offers and bundles you can plan are:
Holiday-themed branded masks and gloves
Discount on booking in-home appointments
Bonus deluxe-size samples with special services
Free service with a higher-priced service
Discounts for a social media page follow/check-in/ or reviews
Gift card/certificates with extended validity
You might consider bringing into play your social media page to promote and sell these packages. That being said, it doesn't have to be a splashy Christmassy package but one that continues to attract new clients.
Promote online booking
Is the phone still the primary booking channel for your salon? Chances are that your patrons prefer to call in instead of going online to book their appointment.
A significant drawback of booking appointments this way is that you increase your chances of accidentally double-booking people. But that's not all. The pen and paper method also prevents you from having a bird-eye view of your schedule.
Slip-ups like this can cost you newer clients and damage your relationship with existing ones – however forgiving they may seem. Consequently, it impacts your client retention rate and diminishes your brand reputation
You can't factor in buffer time, or waitlist clients, or even take future bookings. You should consider investing in online scheduling software that can help you avoid similar faux pas. Genbook, for example, helps you do this and more. Much of Genbook's features smoothly integrate giving you greater control over your business and help improve client experience.
Genbook Gif
Create holiday-centric campaigns
The holiday season brings along with itself invites to work soirees, family dinners, and New Year's parties. Fluctuating rules mean that this might not be the case wherever you live.
Your spa business can spin this misfortune on its head and offer holiday-themed packages targeted towards people who will be attending these virtual parties.
Need to spruce up that long bob for after-work holiday drinks on Teams? They can avail a 15% discount if they book a blow-dry and a head massage together with a haircut.
Additionally, you can make significant profits by selling products left unused due to city-mandated shutdowns. Consider promoting holiday bundles of hair serums, matcha face masks, or lavender-scented aromatic oils perhaps on your online shop.
A customized holiday-themed landing page with carefully curated limited-edition bundles of perfect-for-sock-stuffer gifts is just the thing to get the ball rolling on your year-end campaign.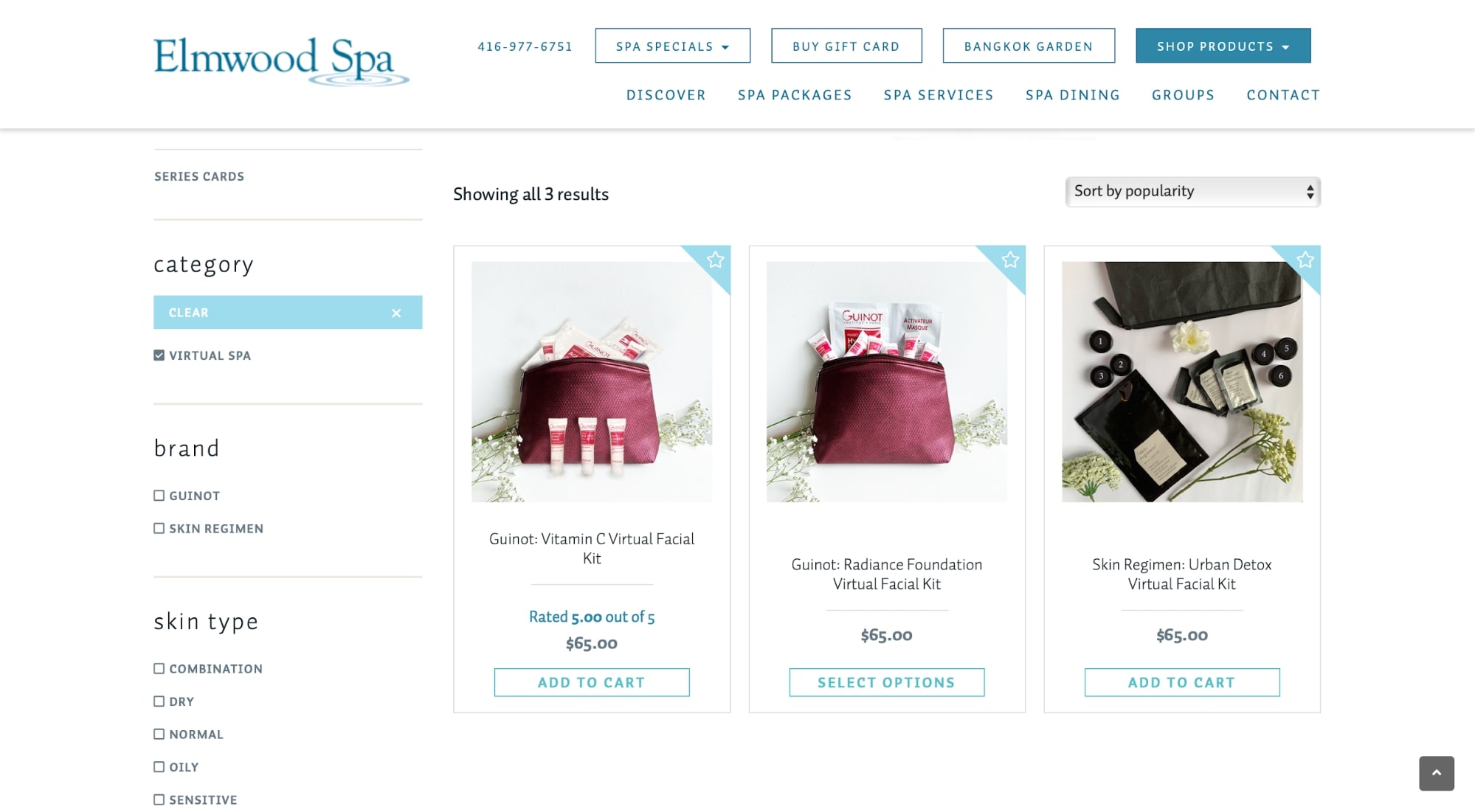 If you already offered bundles prior to the pandemic, think about if you can add a little bit of that wonderful holiday magic to it. Go one step further by rejigging your spa or salon menu to match the festivities.
Want to go further than this? How about serving a cup of hot chocolate with marshmallows or a glass of mulled wine as your clients enjoy their service.
Offer express services
As the world adapts to the new normal, people are realizing that they need to minimize the length of exposure to those outside their social bubble.
Turn this into a sales-generating prospect by offering express services where a client doesn't need to be inside the establishment longer than they need to be.
Cut to the chase by shifting payments online and offering clients the option to pre-pay. This will help reduce the time your clients spend inside your business establishment and increase the number of appointments that can be taken during curtailed business hours.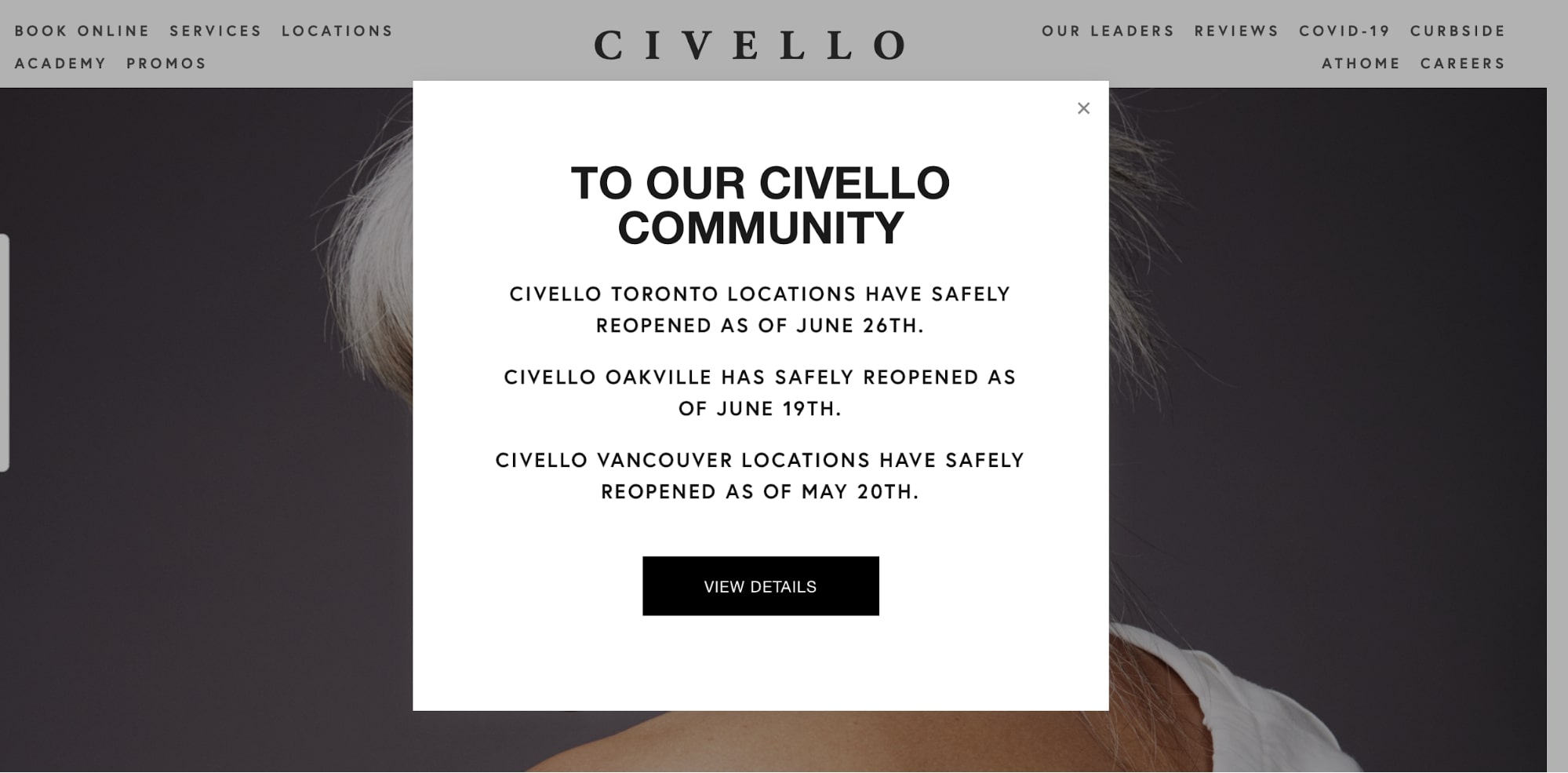 Primped.ca offers doorstep beauty services at the swipe of a finger. One can go to the website, choose the type of service they want, pick a time, and have someone at their doorstep within 12 hours of booking the appointment.
Make sure this type of promotion is prominently featured on your website's homepage as well as the booking page. Additionally, you can also consider adding pop-ups on the confirmation page to boost bookings for express services.
Pump up your team ahead of the busy period
Holiday hustle means that you will see your employees busy with multiple responsibilities at once. Someone is dealing and responding to walk-in requests, another is manning the expected cleaning and so on…
If you see your schedule booked a few weeks in advance, you may need to worry about how you're going to handle walk-ins.
Why?
A calendar booked weeks in advance is a sign of good calendar management and leaves little time for stylists and masseuses for walk-in appointments. Many businesses have implemented an appointment-only policy for the foreseeable future.
A no walk-ins policy helps keep your indoor headcount in check ensuring you are fully complying with city-mandated Covid-19 policies. Busy staff members will also find more time to sanitize, clean, and prepare for new clients.
For some wellness businesses, walk-ins comprise a sizable chunk of their clientele.
An effective way to make sure you get to pre-pandemic sales levels quickly is by prioritizing online bookings over walk-ins. Incentivize them with an add-on service or a flat discount and you could be tapping into an entirely new but digitally-savvy client base like Gen Z.
Integrating callback widgets on your website has proven to be successful in turning those "just calling in to check" requests into "appointment confirmed" green blocks in your schedule.
Along with client experience, you need to focus on improving employee satisfaction.
Many service-industry employees have reported feeling overworked and fatigued during this time of significant uncertainty. Working conditions like these could swiftly translate into poor client experience on the floor.
You can be a star manager by sharing a client service tip of the day during the pre-service huddle with your new-on-the-shift staff.
Additionally, you should also ensure that they receive enough breaks to keep them well-rested and motivated before they hit the floor.
Email your client base
If you want to stay connected with your clients—emails are probably the best way to do it. They may seem old school and salesy, but email marketing drives conversion at a much higher rate.
In fact it is a channel that can help your clients know about your holiday promotions way ahead of time.
Now I know email marketing may seem like an arduous task, but it needn't be. With proper planning, right messaging and a stellar deal, you are just steps away from new bookings.
And if you are a Genbook user, you can use the newly launched smart marketing feature which comes with in-built templates (including a blank customizable template) that can be put to use immediately.
Conclusion
Salon and spa businesses who are looking to attract more clients need to make clients the star of their post-pandemic marketing strategy. If you are a part of a group of people who are scratching their heads on how to go about getting back to pre-lockdown levels of sales, then you need to focus on the above tactics starting now!
Once restrictions ease up, you will be able to attract clients like before and perhaps even grow your client base by leaps and bounds.
Looking for ways to set your business apart? Sign up for the Genbook newsletter—We'll send you tips and tricks to stay ahead, and that will help you run your business effectively.