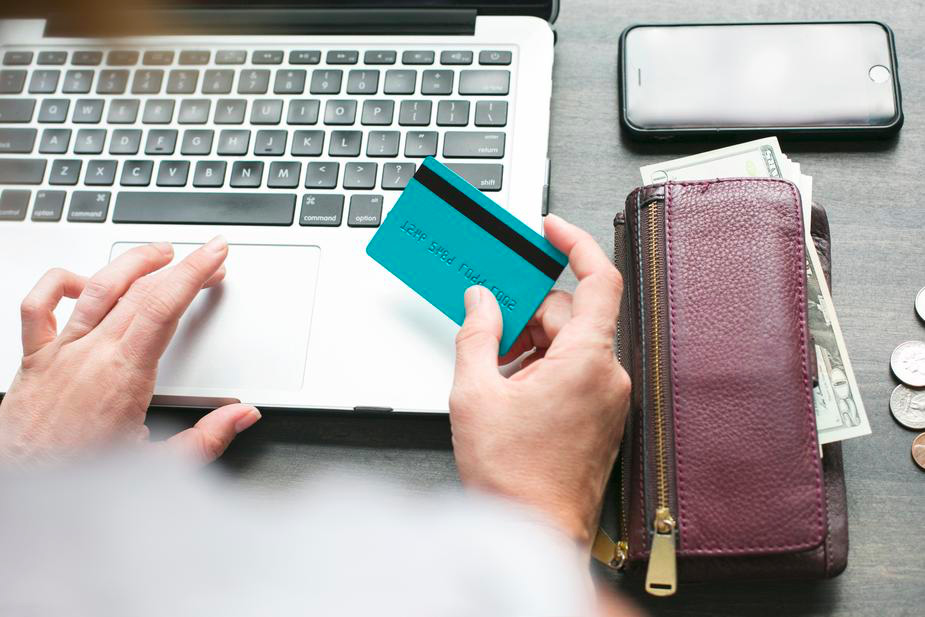 How an Appointment Scheduling Software Can Increase Revenue
There are some old-fashioned business practices that will never go out of style. Nothing beats a firm handshake, good customer service, and being able to smile and strike up a deal in person. It's been that way for centuries, and while the times might be changing, some things remain the same.

However, there are some business practices that should be left in the past, and that includes old, outmoded booking platforms.
For many companies, their trusty appointment book remains a critical part of the functioning of their business. But what if there's a better way? Given that technology has dramatically improved most of the practices of modern business management, it just makes sense to enjoy the benefits of streamlining your booking process with automation.
Not only does it enhance the customer experience, but an automated booking system can also bring extra revenue into your business. Here's how.
Improved booking flexibility for customers
How do your customers currently book their services or appointments? If you don't have an online booking system in place, they probably either book in person, by phone, or via email. While these are all viable options, they're not the most efficient. It's a time-consuming process and on top of that, they have to operate within your business hours.
By giving your clients the option to reserve online with an automated system, they have the ability to schedule an appointment when it's most convenient for them, meaning they'll be more inclined to make additional appointments in the future. They'll appreciate not being held to restrictive booking hours and reward you with their business.
Online booking also means that multiple customers can book simultaneously and from any Internet-enabled platform they have on hand — be it a tablet at midnight, a smartphone at noon, or a desktop at 5 PM on a public holiday. With customers able to book at any hour and from anywhere, this will help you to never miss a sale again.
Reduced staff workload
Traditional booking practices like making reservations over the phone or in person can still work, but they're not nearly as effective as an automated booking system. They require a large amount of maintenance to keep accurate and up to date, and there's always the risk of human error.
Not only do you have to have employee who are completely dedicated to answering and managing your phone lines and other communications channels, but you have to have staff put in the hours to update and manage your appointment book, deal with payments, make sure everything is error free, send out reminders to customers, and handle staff availability. Needless to say, that's a long list of time-consuming tasks.
By using a modern scheduling platform, the whole process is easily automated. Customers can only book dates which have spaces available, they can pay up front for their services, and automatic booking reminders can be efficiently sent out. Because your staff doesn't have to intervene, they can focus on other ways to bring more money into your business.
The ability to promote reviews
Many automated booking systems give you the ability to showcase customer testimonials on your booking website.
The Barber's Den in Edwards, CO, for instance, uses Genbook's reviews feature to show off the kind words that previous customers have said about the business.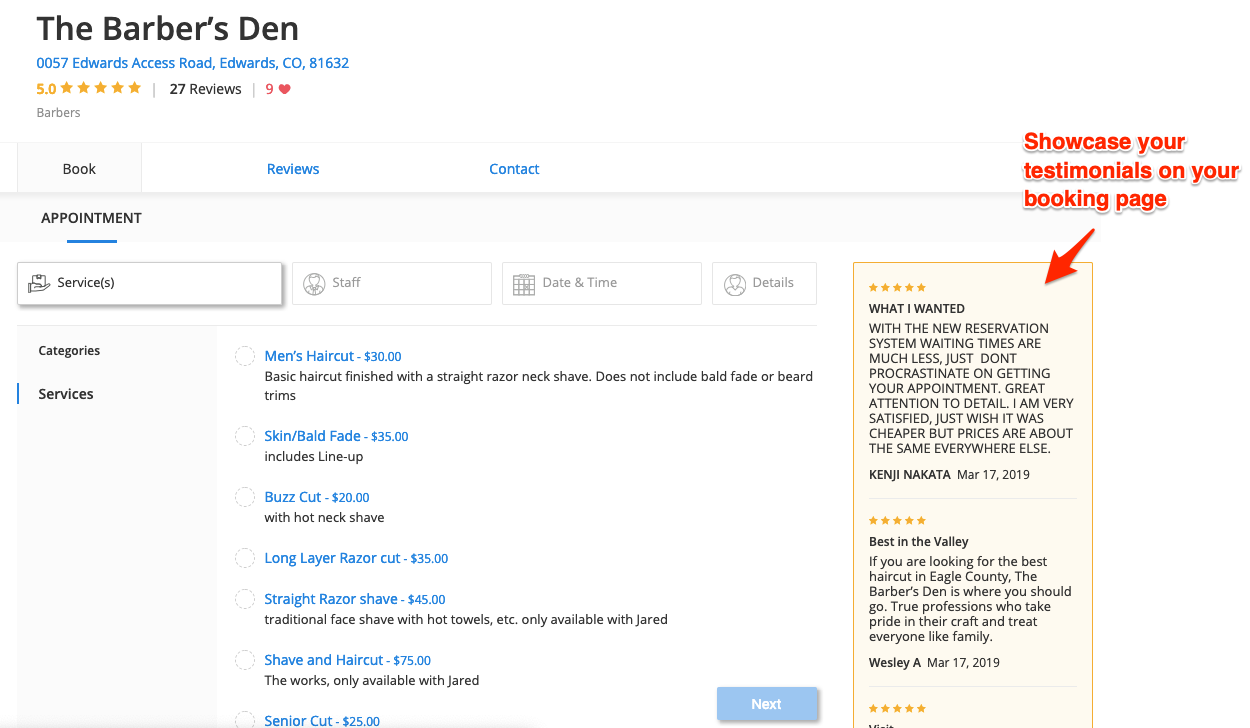 What does this have to do with increasing your revenue? Easy. Business testimonials and reviews lead to more customers. According to Testimonial Engine, 90% of consumers view reviews or testimonials before visiting a business and 72% won't take action until they read what other people have to say about a company.
Clearly, if you're not out there showcasing your positive testimonials, you could be leaving a lot of money on the table.
Reduced no-shows
No-shows can kill your revenues and profits. As Strategies.com points out:
When a salon or spa has just $300 in weekly no-shows … the totals add up to over $15,000 a year in lost revenue. With industry net profit margins in the +/-5% range, the cost of no-shows can drag profits down to zero.
Having a solid booking platform can reduce your no-shows through automated appointment reminders. Sending notifications to clients keeps their appointments top of mind, which increases the likelihood of them following through with their booking.
If something comes up, they'll likely remember to reschedule or cancel their booking, so you won't have to waste time waiting around for a no-show. Even better, if you're given enough of a heads up, you can work to immediately fill the vacant spot in your schedule with a new appointment.
More sales opportunities
A best practice with selling any service is to always entice customers with one or two extra options — in other words, strive to upsell or cross-sell. While this can be done in person or over the phone, your online scheduling platform can also do the trick.
Having a convenient booking portal that lists all the options available to your customers may encourage them to add more services to their appointment. Because your booking page showcases your business offerings, it allows your customers to discover new services that they can purchase.
Another way to cross-sell on your booking site? Use it to sell gift certificates. 640RX, a massage and alternative medicine company in Muskegon, MI, has a "Gift Certificates" tab on its scheduling site. Customers just need to enter the value of the gift certificate along with their payment details and complete the purchase on the spot.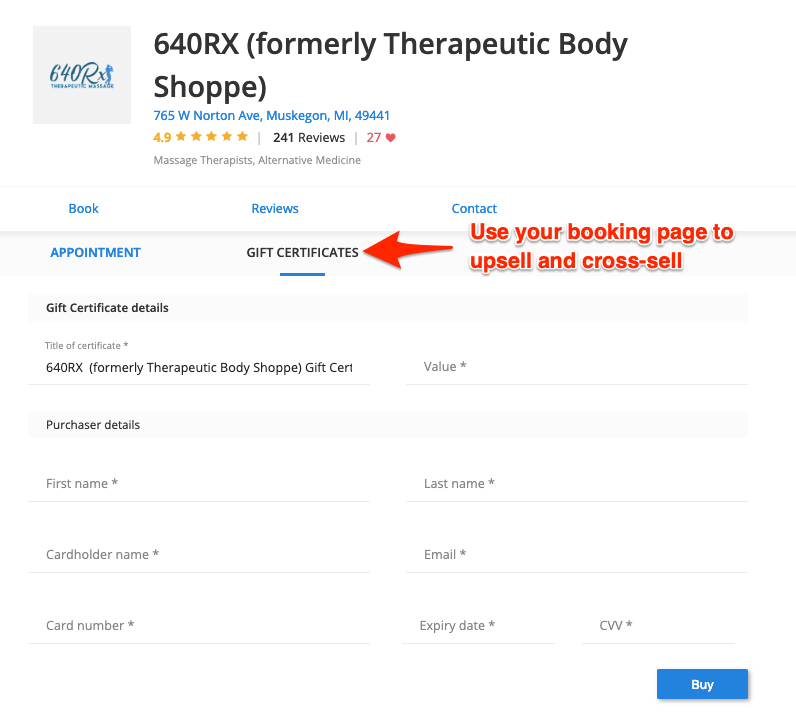 Easy social media promotion
If your company isn't on Facebook, Twitter, or Instagram, you're missing out on a goldmine for potential customers — and a way to engage with the ones you already have. Whether it's through a search or an advertisement, social media is the way many people find new businesses.
What does social media have to do with automated booking?
By offering online bookings, you no longer have to say "call us to schedule an appointment." You can create multiple locations to which you can send potential customers, and sending them to your booking form with compelling social content next to it will help to increase the number of overall bookings — and revenue.
There are even some booking systems that integrate with social networks, allowing customers to reserve directly from the social media site through live availability calendars.
An excellent example of this in action comes from TANS BY KAIT, a tanning business in Winnipeg, Manitoba. Kait has a "Book" button on her Instagram page, which takes customers to a mobile-friendly scheduling portal.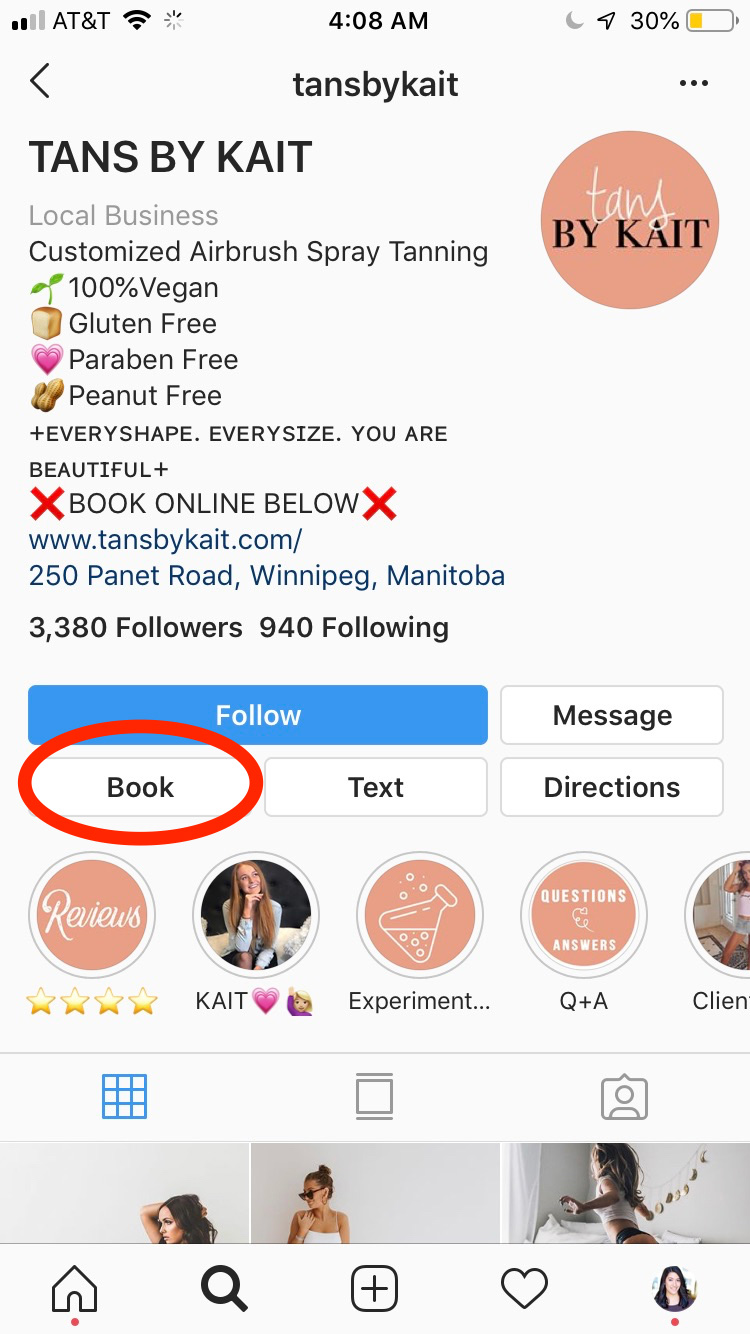 Data-backed insights
Whether you have a hotel, a spa, or a salon, customers are demanding a more personalized experience, and the easiest way to make that happen is through data collection. Without an online system like Genbook, it's hard to know where your customers are coming from, how old they are, and why they're looking to purchase your services.
With the right online booking system, you can collect all of your customers' contact details and appointment history in one place, as well as add notes. This can then be compiled into reports that you can use to tailor your marketing campaigns.
For example, if you know who your top customers are, then you can come up with VIP campaigns especially for them. On the other hand, if you're aware of who hasn't stopped by in a while, then you can create re-engagement offers to get them to come back.
Whatever the case, you need customer data to make revenue-generating decisions in your biz. And when you have an automated booking system that offers reporting and analytics, accessing client insights is a piece of cake.
An automated booking system can lead to a higher bottom line
When customers can easily schedule, reschedule, and manage their appointments online and through a system, you can maximize your bookings, increase your revenue, and keep happy customers coming back.
Ready to do all that? Learn more about how

Genbook

can streamline your appointment scheduling process.