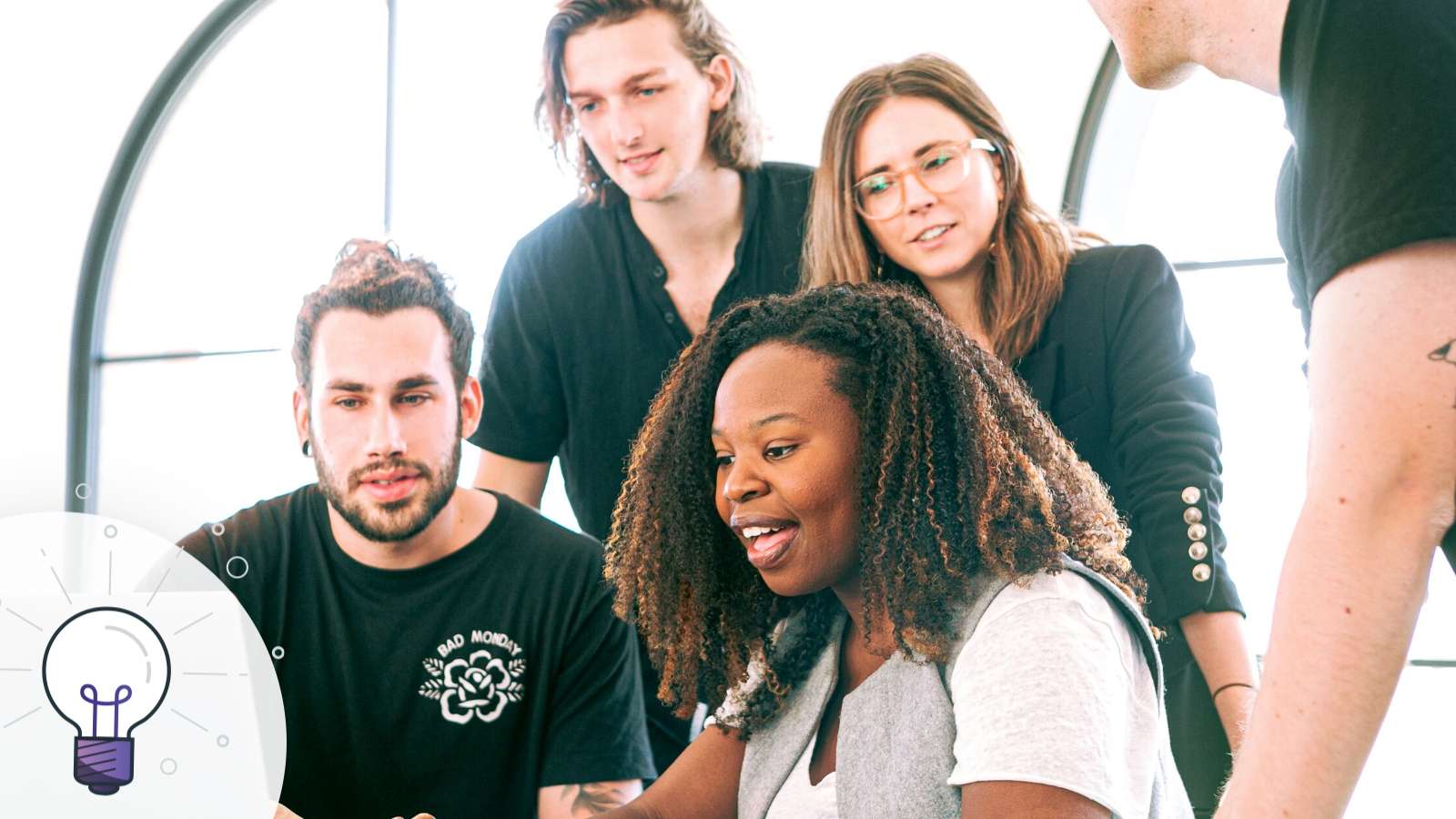 How to Build Clientele as a Hairstylist, Barber or Esthetician: 13 Steps for Success
The question of how to build clientele is one thing that pretty much every salon or barbershop owner asks at some point, and for good reason: you need a steady stream of clients to keep your business moving.
So, how exactly can you get more of them?
Every business is different, but there are a handful of general steps that work for most service providers in the beauty and grooming industry.
In this post, we'll shed light on some key strategies and tactics to help you build a clientele as a hairstylist, barber or esthetician. We'll discuss how you can lay a strong marketing foundation, and recommend tips to get your business out there.
Although you don't need to implement every strategy at once, this article will help determine the right client-hunting efforts and hopefully pave the way for a solid plan.
Let's get started.
Want to jump to a specific section? Click the quick links below:
First things first: conduct market research and analysis
Whether you're a stylist or an esthetician who wants to attract more customers or you're wondering how to build barber clientele, defining your market is a critical step. Market research will inform various decisions, including who to target, what services to sell, and how to drive awareness.
Let's look at the ways in which you can better understand your market.
Define your target audience
Before you can learn how to build clientele, you need to research your target audience. Identify their demographic group and learn what they value and find important. You should also define their geographic location, especially if you're trying to decide where to set up shop.
For example, let's say you operate (or are planning to set up) an organic hair salon in a metropolitan suburb. Your target audience could be clients who wish to have organic, non-toxic products applied to their hair. Clients can belong to multiple age groups, and they can live in any part of the metro area. The common variable is the clients' desire to have eco-friendly hair treatments.
Or, maybe you own a barbershop that's smack in the middle of several upscale housing developments. Because you're in close proximity to these communities, your target audience is likely composed of men who are happy to pay premium prices for their haircuts.
Get clear on the services they need
You can't attract clients if you don't offer the services they want and need. Part of doing market research entails identifying the types of treatments and products that your customers value.
If you're working on how to build clientele as a hairstylist, and you're after young and hip customers, then it makes sense to include new and trendy services in your menu (e.g., fusion extensions, Japanese straightening, balayage highlights, etc.). On the other hand, if you cater to an older base who are set in their ways, then your service packages would be more traditional.
Similarly, standard barbershop services include traditional-style haircuts for shorter-haired clients. Some barbers may want to enhance the experience by offering facial and neck services such as a hot lather facial shave. Larger barbershops may also offer facial treatments and hairpiece fittings.
Get to know your target clientele and figure out the right services and packages to offer in your business.
Know your USP
Whether you're located in a small town or a bigger city, potential clients have plenty of hair salons and barbershops to meet their hair care needs. Some of these businesses may even be more convenient to the client's home or workplace.
Given that scenario, they'll need a concrete reason to visit your business. In other words, you need a Unique Selling Proposition (USP) to turn these prospects into clients.
If you can demonstrate that you provide superior service or have offerings not available elsewhere, you have a good chance of standing out. If you can save the client money, that's even better.
A good example of it is Manly & Sons, operated by Tony Pin— a super barber and Genbook customer. The barbershop based out of Los Angeles has gained a reputation for not just for excellent service, but also becoming a community hotspot.
How to Build Clientele: 9 Strategies That Work
Once you have a solid handle on your target market, you can look into the more specific ways to grow your client base.
In the following paragraphs, we'll discuss some ideas on how to build clientele as a hairstylist, barber, or esthetician.
Have a look at each of these points and decide on one or two things to implement. If you attempt to execute multiple strategies at once, you may not implement any of them very well. Instead, focus on a couple of client development techniques. Tweak those efforts until they produce identifiable results.
1. Offer unparalleled services and experiences
Often, the best client-attraction strategy is to provide services and business experiences that people won't find anywhere else.
Your salon's or barbershop's high-quality services are the foundation of your business. Each client's business experience begins when they walk in the door, so keep your premises immaculately clean at all times. Treat your customers to the best treatments available, then ensure that your stylists or barbers go above and beyond to make them feel at home.
Muse Salon and Spa in Georgia is a master at this. Daniel Mason Jones, the owner of Muse, definitely knows how to build clientele through top-notch experiences.
Daniel and his team go out of their way to ensure that each guest has a fabulous time when they visit Muse Salon and Spa.
"Our salon, when you walk in, is super classy, it's super professional," shared Daniel at the 2020 International Salon + Spa Expo. Our brand smells insane. The minute you walk into the doors, it's lemongrass. There's a screen that greets you when you walk into the door… because I live in the digital age."
He continued, "guest experience coordinators will greet you; they take your information, they get you a robe, they ask you what beverage you would prefer. If it's your first time, they give you a two-minute tour of our company — what it looks like, what we do."
The business experience that Daniel and his staff provides is extraordinary, and this helps Muse stand out from the crowd.
Strive to follow the Muse team's footsteps. You don't have to copy the high-end experience they provide, if that's not your brand. Instead, think about how you can delight your customers in a way that's uniquely YOU.
Maybe you can focus on ultra-personalized experiences. Perhaps you can focus on adding value. Figure out the experience that aligns with your brand and go from there.
2. Encourage referrals
Referrals are gold because they allow you to widen your customer base with minimal effort and financial costs on your part.
That's why you should encourage your existing clients to talk up your brand and bring people in. Create an incentive program that rewards people for telling their family, friends, and colleagues about your business' terrific services. For example, under your program structure, a client could receive a free service or discount for every friend that they send your way.
Kanon Beauty Salon in Washington does just that. They have a referral program in which the client gets 15% off their services when they successfully refer someone to the salon. Even better, the person they referred also gets a 15% discount!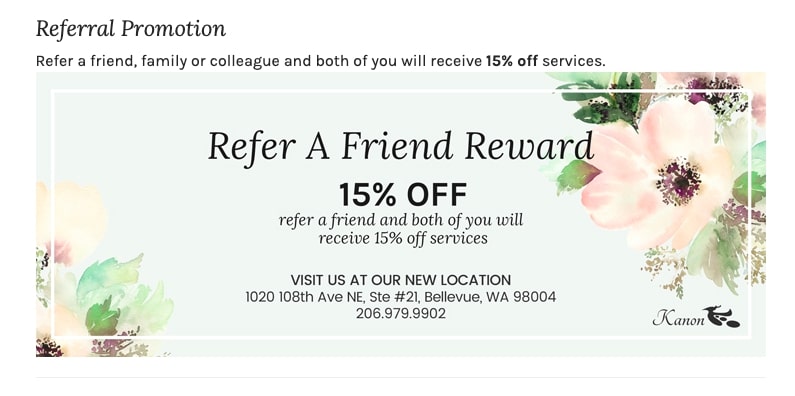 3. Run promotions
A good sales promotion effectively drives clients to your salon or barbershop. Brainstorm ways on how you can run discounts or offers without diminishing your brand or profits.
You can, for example, offer first-time client discounts or last-minute promotions to fill open slots in your barbershop or salon.
Another idea? Run seasonal promotions for a limited time. Hydra Hair Salon in Florida, for instance, recently launched a summer promotion that offers 20% off their hair botox treatment. In addition to being timely (hair tends to dry out during the summer), Hydra is driving a sense of urgency by only offering the promotion for the duration of the season.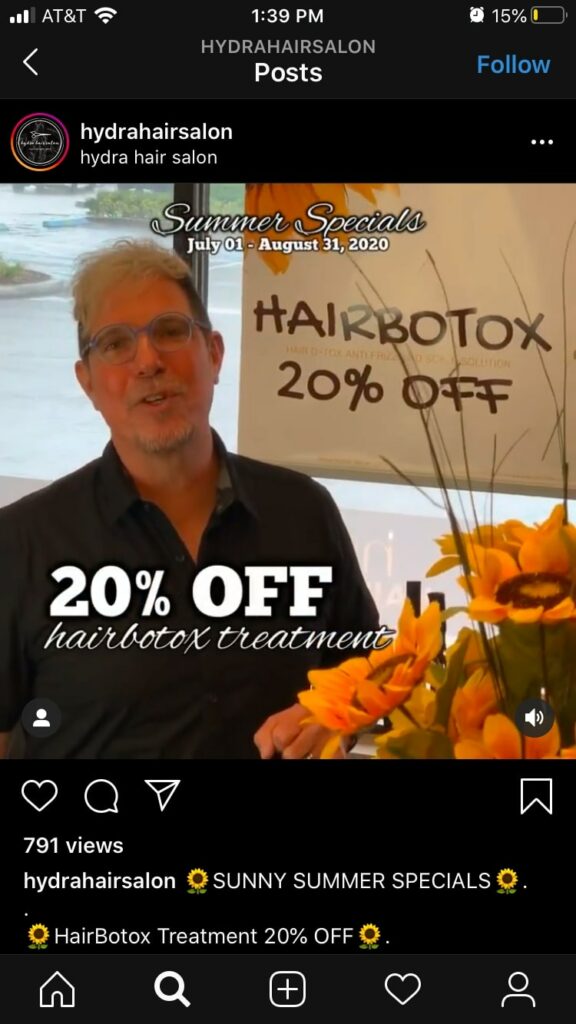 4. Increase your Google presence
When potential clients perform a Google search for a hair salon or barbershop, they'll generally click on the first available result. In fact, says Lockhartmeyer Salon Marketing, 33 percent of users click on Google's first search result, and only 18 percent of users bother to select the second result. If your business ranks lower than #2, most potential clients will never see your website at all.
To improve your search engine rankings, and make your website a booking magnet, redesign your website to be simple, attractive, and mobile-friendly. Ensure that your operating hours and price guide are easy to locate. If you have the budget for it, partner with a web designer who has previously achieved good results for businesses in your industry.
Besides the design, you'll need good content that is optimized for search. Make sure your website has great, unique content that speaks to your target clientele and incorporates relevant keywords.
Aside from optimizing your website, it's also important to beef up your Google My Business profile. You want your business listing to show up whenever someone searches for a salon or barbershop in your area. This requires you to claim your Google listing and enter as many business details as possible — i.e., contact info, operating hours, services offered, and more.
We can see these Google listings best practices in New Heights Barbershop in Connecticut. In addition to having all their important business details on their profile, New Heights has several photos and reviews on their listing, making the business a lot more attractive to potential clients.
Plus, there's a "Book online" button right on their listing so customers can immediately schedule a service without having to leave the search engine.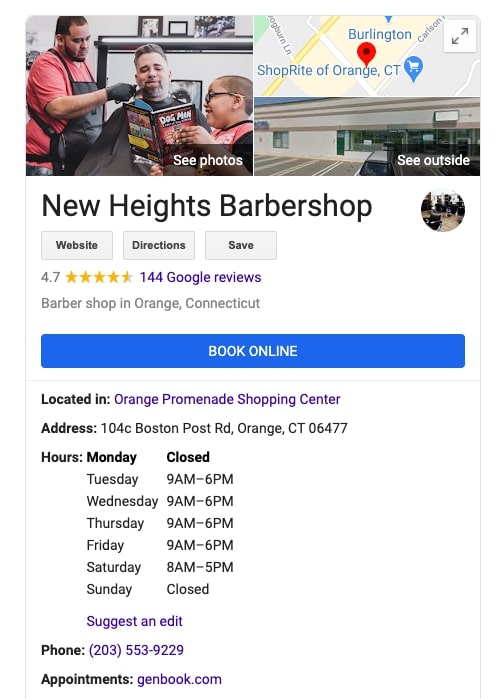 5. Market yourself on Instagram
While there are several social networks out there, Instagram is a favorite in the salon and barbershop industries mainly because it's so visual. Instagram makes it easy to showcase photos and videos of your work, PLUS it has features that pave the way for audience engagement and community building.
That's why it's worth having Instagram as part of your client-building efforts. Use the platform to spotlight your services, show off your work, and promote the offers you're running.
Make sure your profile page has a healthy mix of content and posts that put your salon or barbershop in the best possible light.
Studio Be Salon, for instance, keeps their Instagram feed fresh by having a variety of content, including client shots, feel-good posts, customer testimonials, product photos, and more.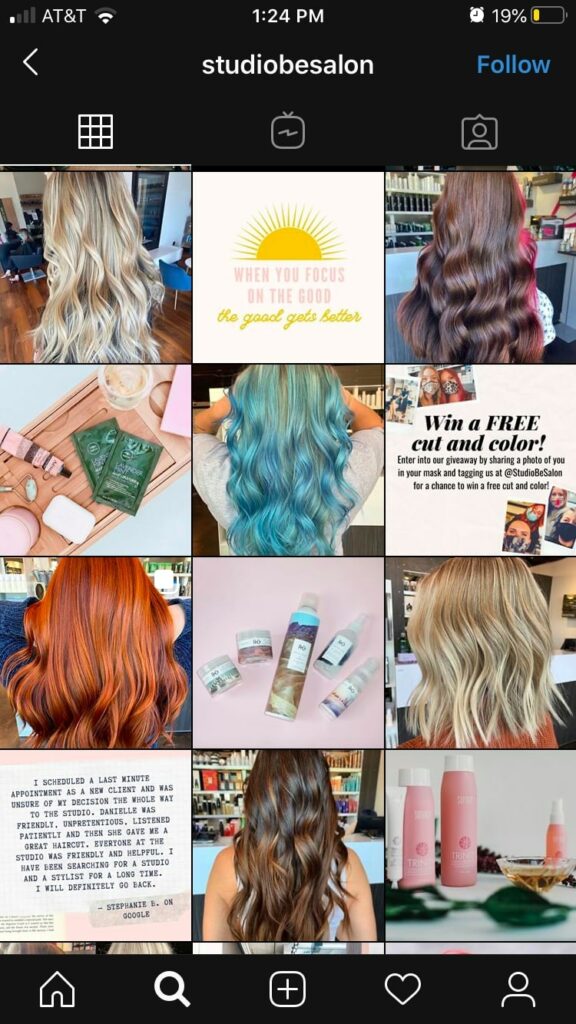 6. Invest in PR
Establish a consistent public relations program that keeps your salon in the public eye. For example, create timely press releases about new product lines. Showcase staff members who recently received certification in sought-after techniques. If your salon has made big changes in the business, be sure to announce it. Distribute a press release to local newspapers, radio stations, and regional trade magazines to increase the chances of your news getting picked up.
Consider this example from Studio on Elm, a hair salon in New Hampshire. Because of COVID-19, the salon was forced to close their doors. But once they were given the green light to open back up, The Studio on Elm immediately issued a press release announcing their re-opening.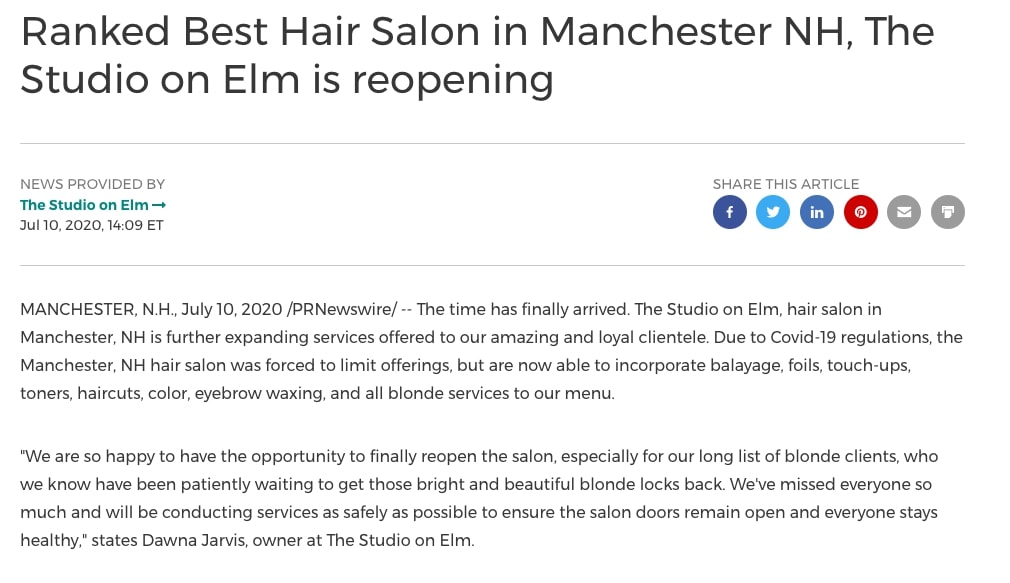 7. Use ratings and reviews to build clientele
Consumers frequently consult product and business review sites before making a purchase decision. Getting your business on Yelp and other review sites is key to drawing new clients, especially millennials.
You'll receive two notable benefits from maintaining a presence on these sites. First, you can share positive reviews with potential clients, thus increasing their conversion odds. If you receive a negative review, following up with that client demonstrates your business' concern, and can lead to higher customer retention rates.
Another way to leverage reviews in client-building is to feature your top reviews on your bookings page. Potential customers can read up on all the great things your clients are saying about you, which builds confidence in their decision to book you as their stylist or barber.
The Corner Barbershop in California, for example, has a "Reviews" tab on its booking page, which allows users to browse the barbershop's reviews. Best of all, these reviews are from verified customers, so potential clients can rest easy knowing that they're legit.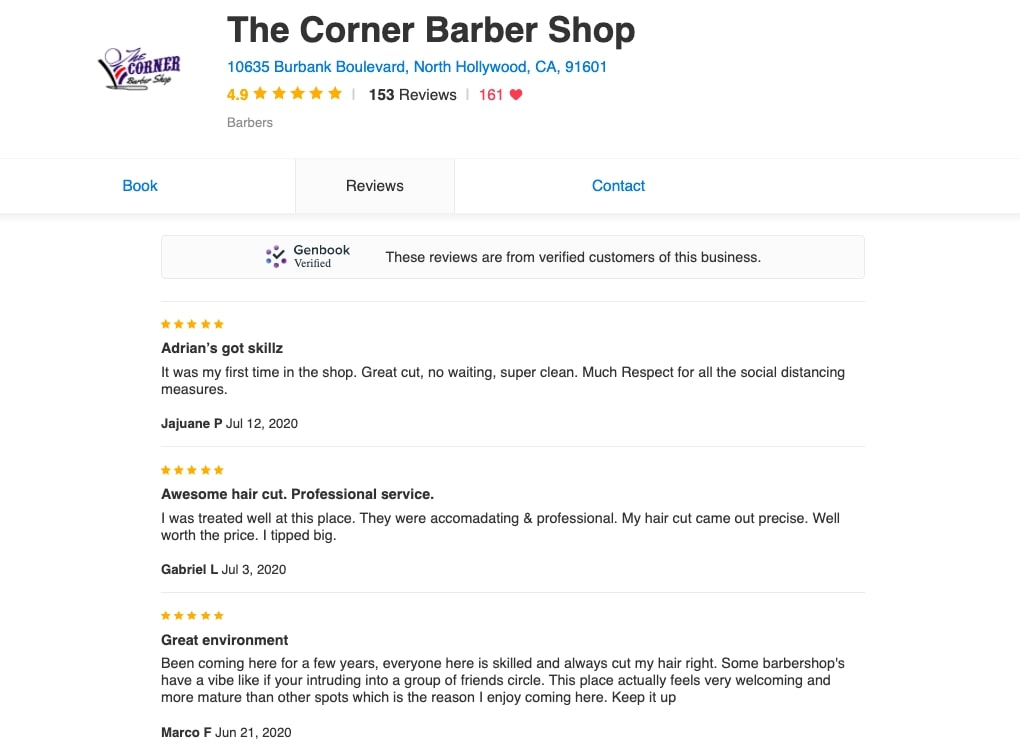 8. Establish yourself as an expert in your niche
Establish yourself as an expert. Offer to write a column for your local newspaper or get yourself quoted in reputable websites and blogs in your industry. Although these tactics will take some effort, you'll raise your credibility within the community — and ultimately attract clients.
Linet K., a Los Angeles-based hairstylist has done a great job at positioning herself as an expert. Her website incorporates compelling copy that reads (emphasis added):
Linet and her stylists are balayage experts, best known for recreating natural and perfectly blended highlights. As hair color experts, they are as versatile as they are talented.
The site also showcases media outlets in which Linet has been featured, further cementing her expert status.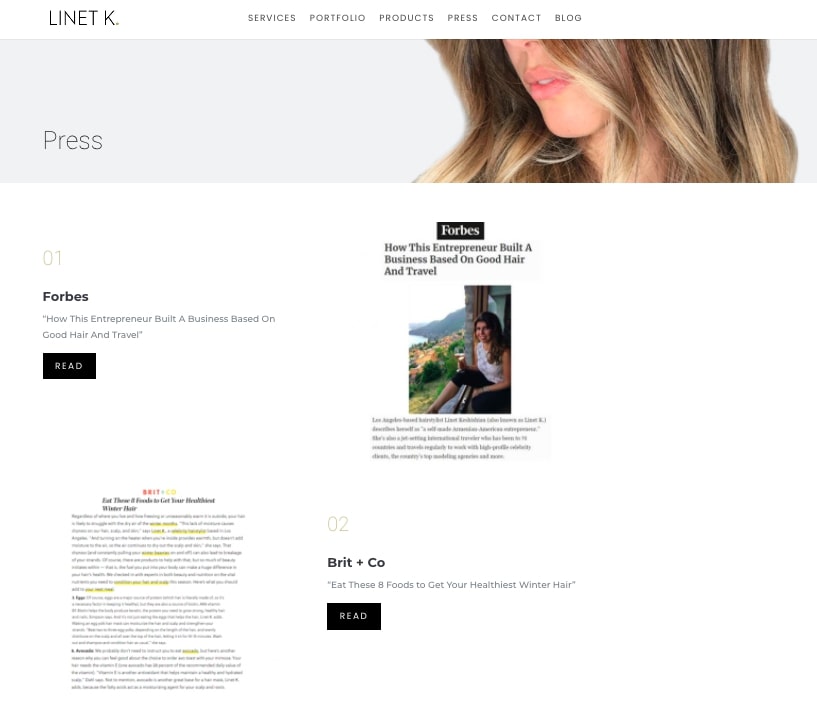 9. Accept internships
If your local community college offers a cosmetology program, talk to the director about offering an internship program to one or more high-achieving students. Your business will benefit from the extra help, and the students will gain valuable real-world exposure to their chosen field.
If the program works as intended, you'll likely have a steady supply of energetic students every semester. As an added bonus, the students will likely talk about their experiences on social media, further expanding your business' reach within the community.
Growing your business starts with the right client-building strategy
There's no one-size-fit-all answer to the question of how to build clientele as a hairstylist, esthetician or barber. Each business is unique, so you need to find the right approach for your barbershop or salon.
Do a ton of audience research, test various strategies and channels, and keep track of your results. When you do these things consistently, you'll start to better understand your market and attracting more customers will get easier. Good luck! And If you're looking for more tips to grow your customer base — and business in the process — be sure to subscribe to Genbook's newsletter, which is always packed with actionable information and inspiring stories for salons and barbershops.