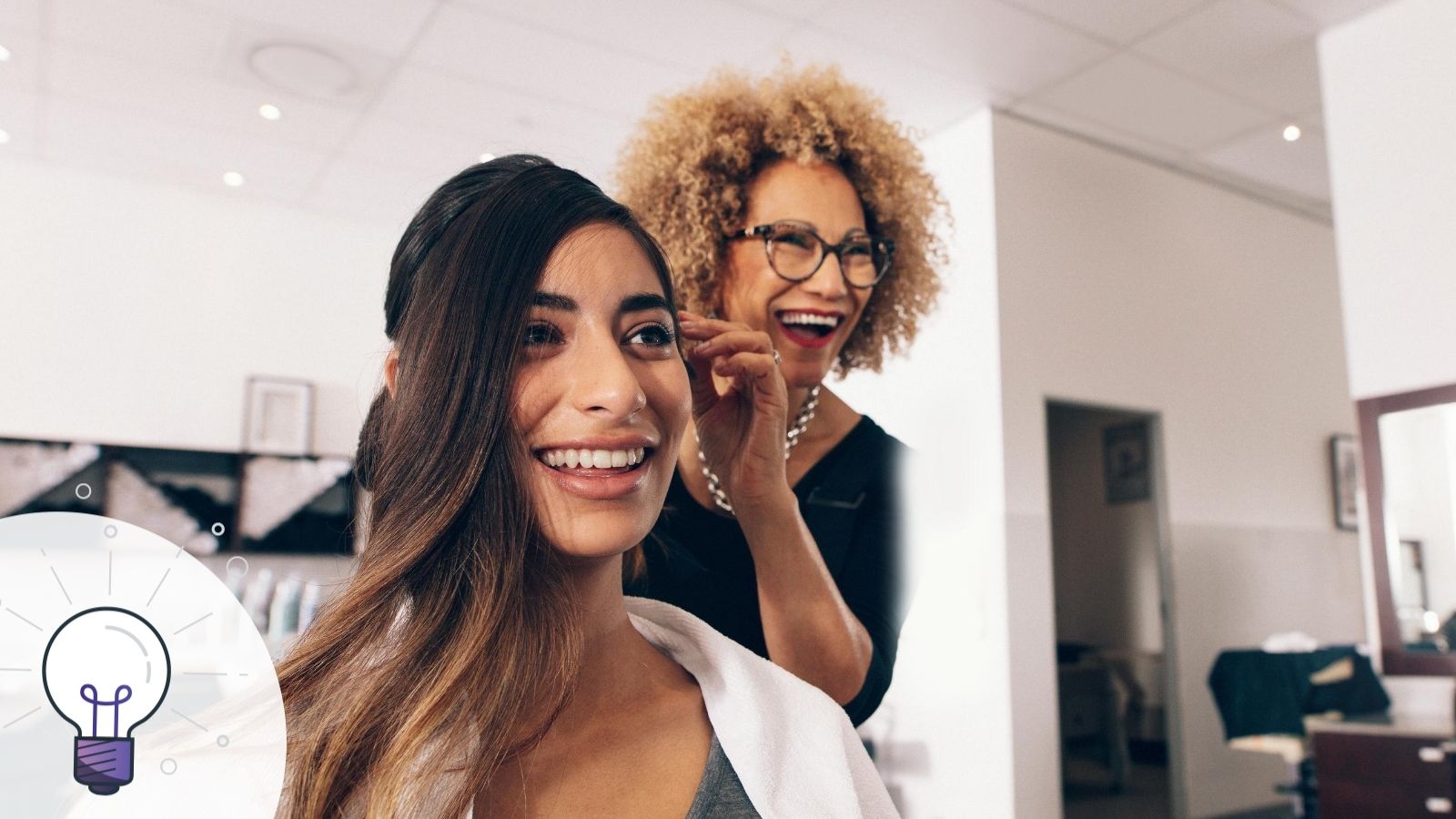 How to Make More Money as a Hairstylist: 7 Tips To Get More Value For Your Efforts
The answer to the question of how to make more money as a hairstylist isn't clear-cut (pun intended).
Increasing your income as a hairdresser or salon owner isn't just about providing great services — afterall, there's no shortage of excellent hairdressers and salons. Nor is it just about raising service prices, because the market influences your rates.
Making more money in the salon business requires a savvy combination of salon marketing, sales, great services, and business management. It's about driving business from new and existing clients while maintaining reasonable expenses, so you can turn a profit.
In this post, we'll tackle how you can do just that. We'll shed light on pointers to help increase your sales, run a more efficient business, and get more value out of your efforts, so you can boost profitability and ultimately put more money into your pocket.
Specifically, we'll talk about:
How to make more money as a hairstylist

Find ways to upsell or cross-sell
Make it easier to book services
Reduce your salon overheads
Find a niche that sets you apart from competitors
Expand your service offerings
Start a loyalty program
Sell gift certificates
What is a typical hair salon owners salary or hairdresser salary?
Since we're on the topic of how to make more money as a hairstylist, it's worth looking at the numbers in your market and finding out the usual hair salon owners salary or hairdresser salary. This will help you benchmark your income so you can determine whether you're getting paid your worth or if you need to increase your rates.
For a hairdresser salary, the nationwide average median in the United States was $26,510 in 2010. But things have changed drastically (and for the better since then).
According to Genbook's Pricing Insights tool, in 2020 the average annual revenue in New York, for a small business hairdresser is $120,000 while the typical salon owner's revenue in other cities averages $115,000. Once again, the numbers fluctuate across different states and cities.
How to Make More Money as a Hairstylist
Regardless of where you stand in the salon owner / hairdresser salary spectrum, it never hurts to find ways to earn more.
To that end, here are a handful of tips to help increase sales and profits as a hair professional.
1. Find ways to upsell or cross-sell
Upselling and cross-selling are classic techniques within the beauty industry. "Upselling" is when a stylist encourages a customer to purchase a more high-end version of a product or service, while "cross-selling" focuses on adding complementary services or products to a sale.
They're quite effective in increasing transaction sizes, but these approaches are often under-utilized due to concerns that they could annoy clients. When well-executed though, they allow salons to not only to maximize sales, but to give their clients greater value through expert recommendations and advice.
Here are some top tips for successful upselling or cross-selling in your hair salon:
Have a good knowledge of treatments and products. The key to any strong upsell/cross-sell pitch is being able to explain to a client why your recommendation fits their needs. Why should the client go for deep conditioning instead of the regular treatment? Why should they choose product ABC over product XYZ if the former is more expensive?
Answering these questions effectively requires deep service and product knowledge, so make sure you and your team brush up on the ins and outs of your offerings. Know the ins and outs of all your treatments, who they're for, the benefits they offer, and why they're worth it.
For products, it's a good idea to ask suppliers for extra information. Tap into their resources or see if they could hold a training session at your salon.
Choose the right moment. If you are going to cross-sell, the interaction needs to feel authentic. This means that timing is crucial — if your sales pitch is out of context, the client is more likely to decline.
For example, trying to upsell a client on a higher-tier service the moment they sit down isn't a good move, because those first few minutes in your salon or booth don't give you enough time to determine the client's needs.
It's best to engage in upselling or cross-selling once you've had the time to examine their hair or when you've gotten a feel of the client.
Never recommend a product or service that isn't appropriate. This will always cause more harm than good if it doesn't fit your client's needs. It gives the impression that you care more about making money than about satisfying customers. Needless to say, pushy or aggressive sales tactics are also a big no-no.
2. Make it easier to book services
It's a no-brainer that making it easier to book appointments will result in more business. When bookings can be made anytime and anywhere, you're giving your clients more flexibility (which wins you points) and you can fill up your calendar much faster.
According to Genbook's research, nearly 54% of consumers said that online booking is either 'important' or 'very important' when looking for a service provider.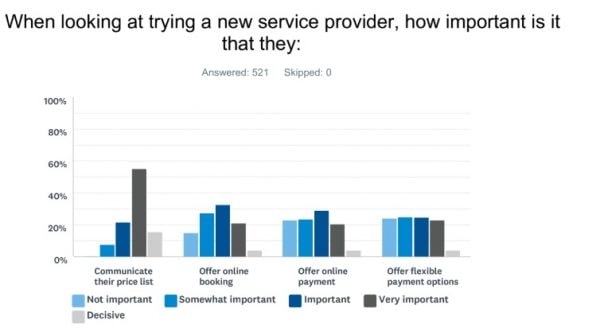 Convenient booking options clearly factor into your client's decisions to make an appointment, so it's important that you meet this need.
Ease of booking also has massive advantages for you as a stylist. Admin is a frustrating, but necessary part of the job, and an online booking system helps keep this to a minimum. Not having to dash off to answer the phone constantly creates a much better experience for clients and allows you to dedicate more time to profit-generating activities.
One example of a business that offers convenient booking options is Salon Citrus in Georgia. Salon Citrus has an online booking portal that allows clients to schedule appointments at all hours.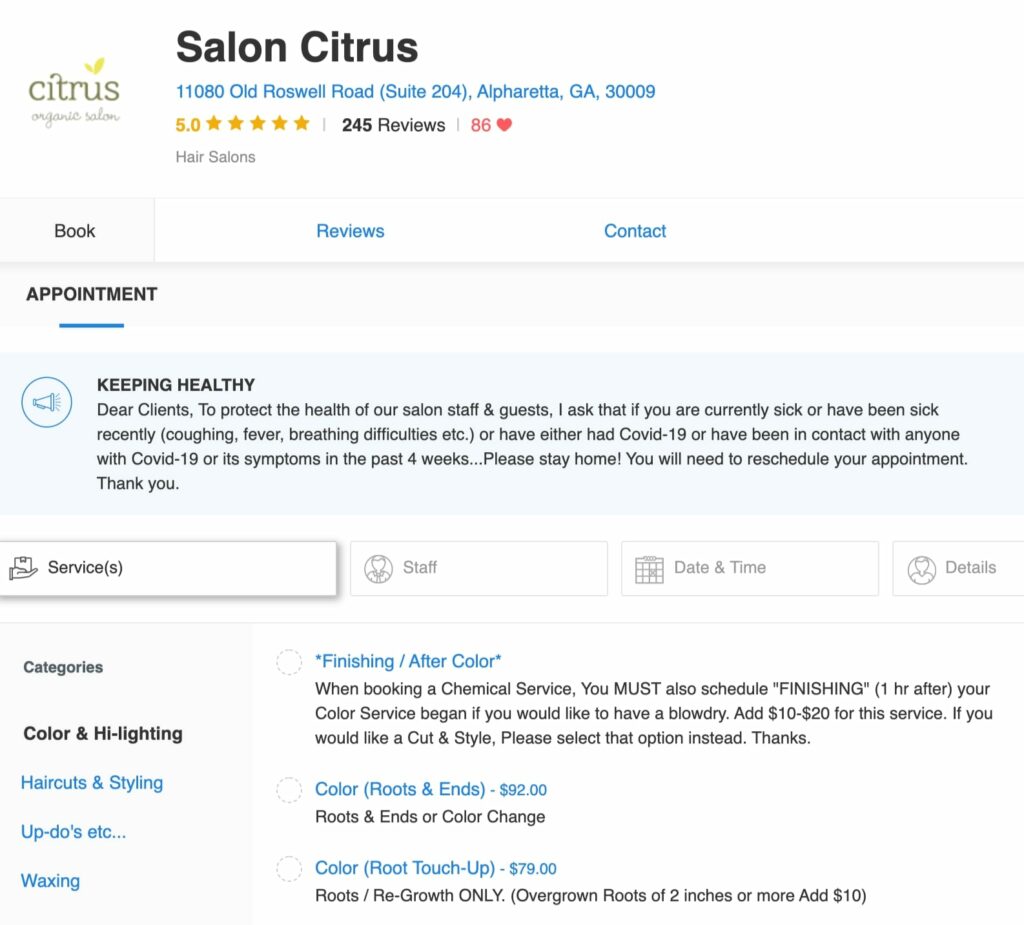 For best results, allow your clients to book appointments using the platforms that are most convenient to them. Salon Citrus, for instance, lets people book services via Google so they don't have to navigate away from the search engine to schedule appointments.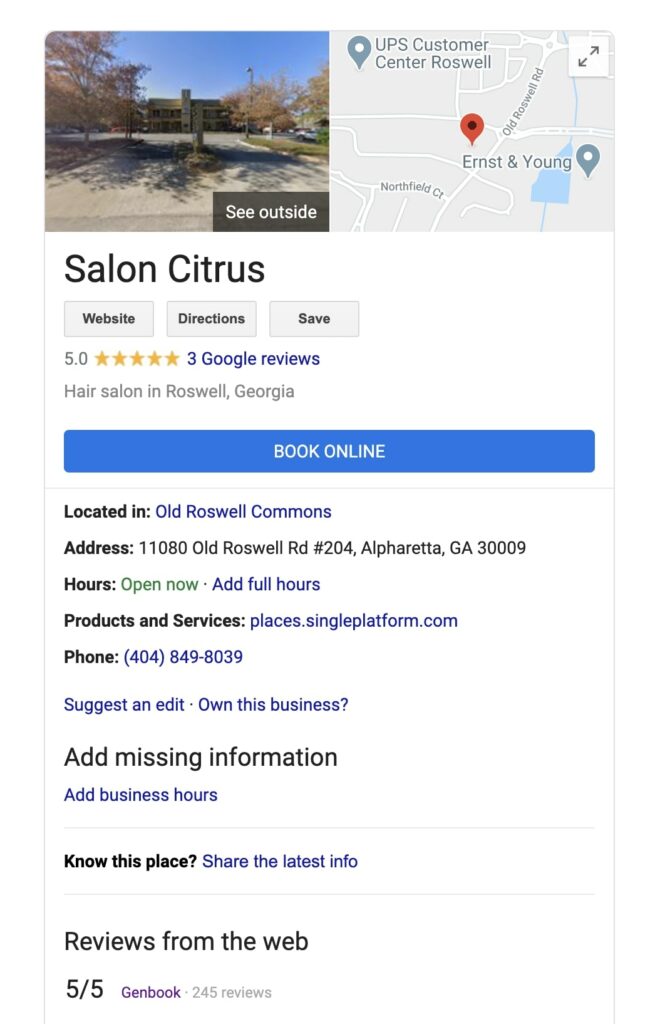 3. Reduce your salon overheads
It's no secret that salon running costs have a big impact on your bottom line. While expenses such as rent are fixed, there are other costs that you can influence. Consider the following:
Avoid overstocking inventory. Carrying a range of products is a big upfront cost for any salon. Use your sales history to track which products are the most popular so that you can place orders accordingly.
Reduce waste. Using extra foil or leaving behind excess dye might not seem like a major issue, but this adds up quickly over time. It means ordering materials more often, which increases your overheads substantially. It's always a good idea to set guidelines for your staff surrounding reasonable use.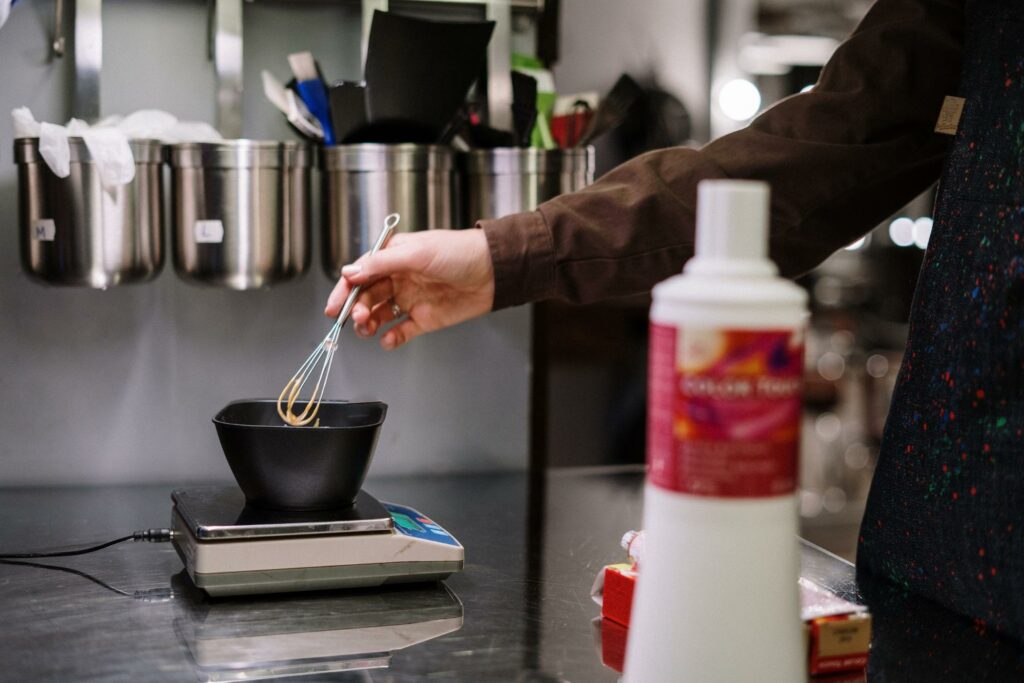 Be mindful of utility costs. Services like water, power, and internet are essential, but there are ways to keep the cost down. Small steps, like making sure that all the lights are turned off at the end of the day, will make a big difference to your bills!
Save time. The line "time is money" rings especially true for service providers like hairdressers. The more hours you have back in your day, the more time you have to serve your clients and earn more money.
To that end, always put your time to good use. Identify any tedious or time-consuming tasks and automate them (hint: appointment scheduling falls into this category). Another tip? Be aware of the tasks that make money and only YOU can do, then make sure you're spending the most of your time on those things.
4. Find a niche that sets you apart from competitors
Another way to command a higher hairdresser salary or salon owners salary? Hone in on a specific niche. People are willing to pay more for expert-level services because they're perceived as more valuable.
After all, someone who has years of experience in a specific market is in a much better position to deliver quality services compared to someone who's dabbling in multiple areas but isn't an expert in anything.
That's why if it makes sense for your business, see if you can identify a specific market segment or area of expertise that you can focus on.
Not sure how to find your niche as a stylist? According to entrepreneur and top salon owner Kate Whitledge, It's likely that you already have one:
"After your stylists have given it ample time to discover and develop their strengths, then choosing their niche comes down to what they are most passionate about."
If there is a certain service or style that you particularly enjoy, this will likely be a great niche for your business.
Emily Lynn is one example of a stylist who has found her niche. Emily focuses on bridal beauty services, and she makes this abundantly clear.
She uses the front page of her website as a space for portfolio imagery, as well as a list of wedding publications she has been featured in. This gives prospective clients confidence that she is an expert in this area and can exceed their expectations: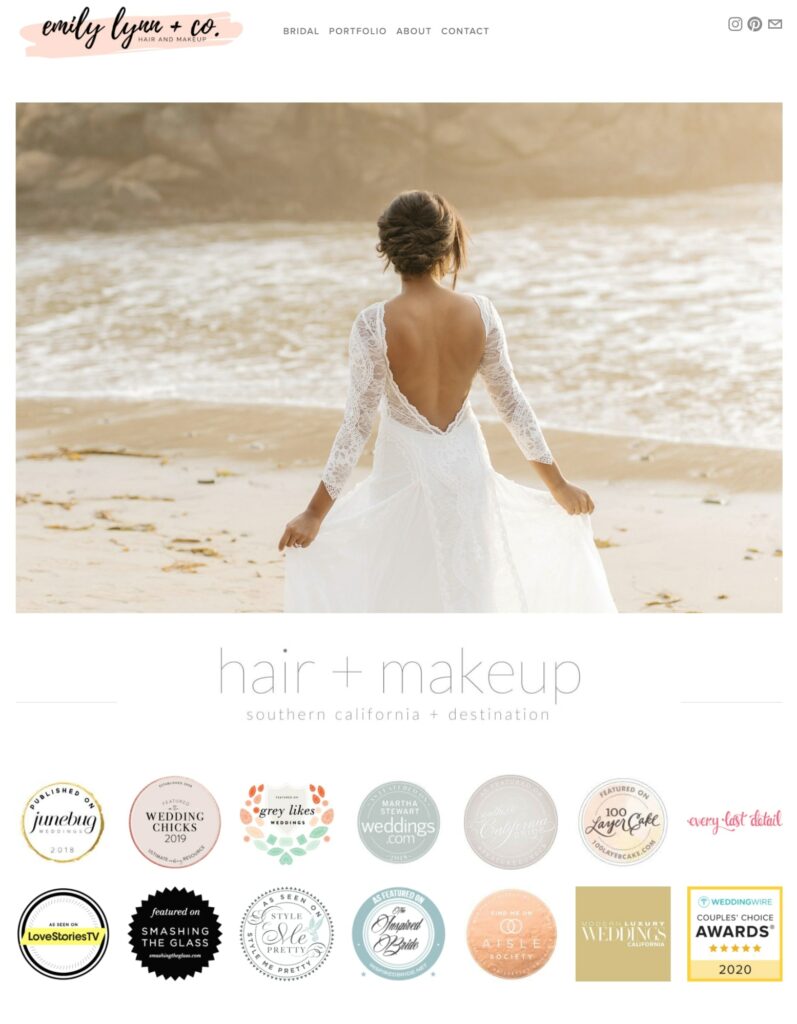 5. Expand your service offerings
As a salon owner or hairdresser, you likely already have a salon menu that contains classic or even specialty services: haircuts, blowouts, coloring treatments, etc. If you need to increase your revenue, considering expanding your offerings by tapping to seasonal or trendy services.
Hairdressing is a trend-based industry, so it's important to stay on top of the latest styles and techniques. An example is balayage hair color, which has seen a rapid rise in popularity and is now a common feature on salon menus. Vegan, organic, and sustainable products and services are also making waves.
As well as keeping your salon fresh, expanding your services is an easy way to increase your sales. By adding more offerings, you can widen the pool of prospective customers. This also creates more opportunities to cross-sell and curate service bundles.
6. Start a loyalty program
Making more money as a hairstylist hinges on your ability to generate repeat business — especially when it's around 5x more expensive to attract customers than retain them.
To that end, it may be worth setting up a loyalty program that encourages clients to come back. Here are some tips on how to do this.
Have a range of options for earning rewards. It's very limiting if clients can only earn rewards through booking services. Consider giving them recognition for the different ways they can interact with your brand. Having customers follow you on social media, leave online reviews, and refer new clients is instrumental to growing your business — so why not incentivize it? Earning rewards through these activities is low-hanging fruit, and makes participating much more appealing.
Keep it simple with a points-based system. Don't create a convoluted rewards system. If it's difficult to understand, no one will want to use it. Instead, keep it intuitive by setting a fixed number of points earned for every dollar spent.
Don't forget to promote it! It doesn't cost you anything to use your website and social media channels to spread the word about your program, so keep spreading the word.
Hairstyling icon Toni & Guy have created a simple but compelling page on their website to promote their Rewards Card, explaining both the scheme and how their clients can benefit: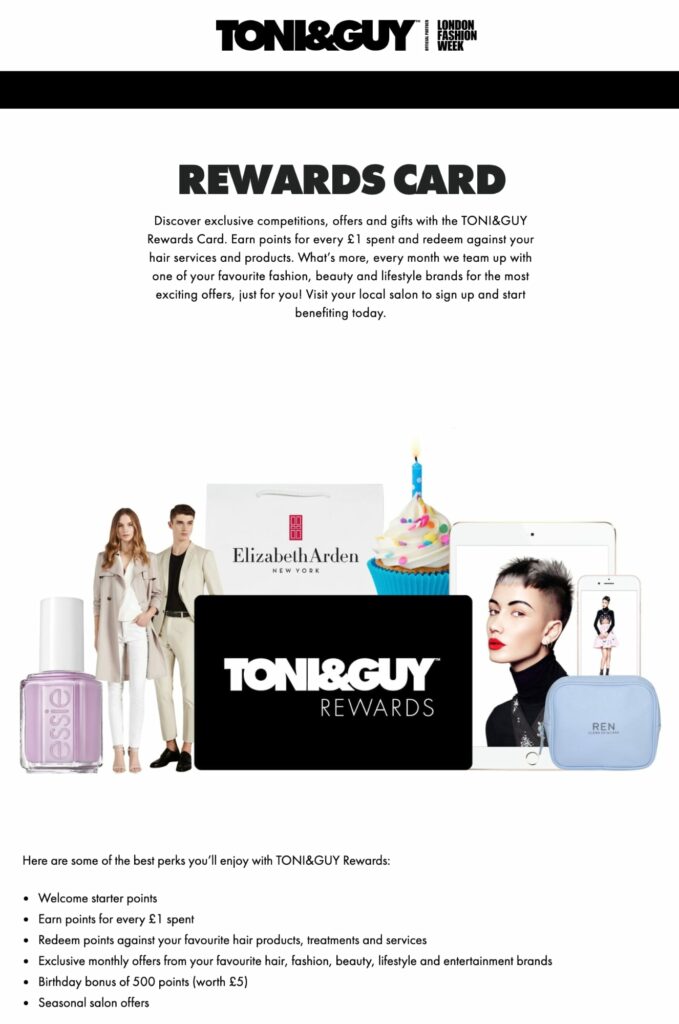 7. Sell gift certificates
Gift certificates are a great sales-generating tool. Not only do they give people a reason to head to your salon, but they often give you a revenue boost because customers tend to spend more than the allotted amount on their card. Research shows that when consumers redeem gift cards, they spend an average of $59 over the value of the certificate.
Plus, selling gift certificates allows you to earn money upfront, so your business gets immediate financial benefits.
Here are some steps you can take to successfully sell more gift cards and certificates.
Sell them digitally. Virtual gift cards and certificates are gaining a lot of popularity, and for good reason. Being able to purchase and send them directly through your website is much less effort for clients, and more difficult for recipients to misplace. If you give customers the option to redeem the card when they book an appointment, this makes for an even more frictionless experience.
Think about how to organize your cards. There are a number of ways you can manage gift cards. You can let the purchaser determine a value, use pre-set values, or dedicate cards to certain stylists or services.
For example, East End Barber allows customers to support specific stylists at their salon, as well as choose from custom or pre-set values: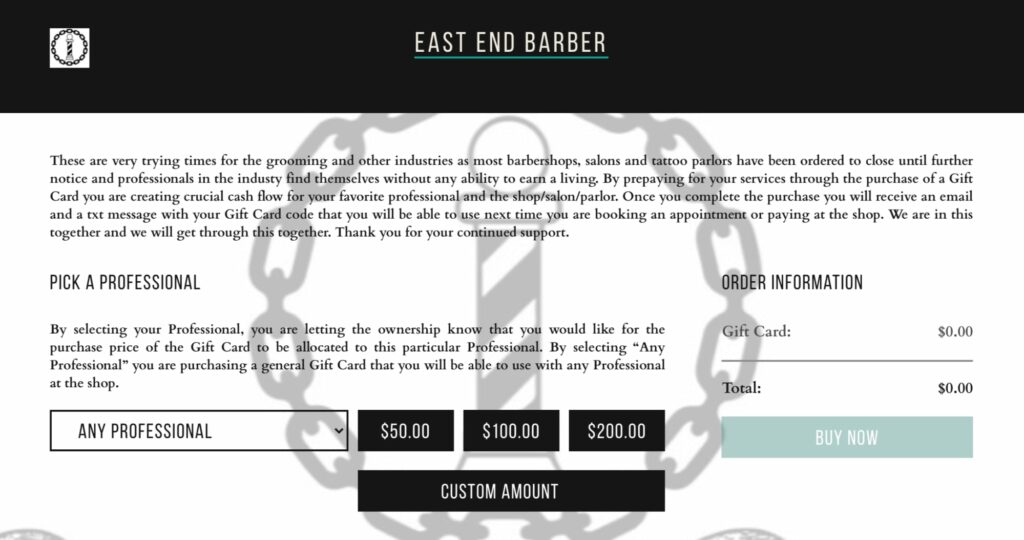 Make them visible. Setting up a gift card display or signage (for digital gift cards) at your point of sale is an easy way to draw attention. This also allows staff to actively market them to clients.
Online, you can increase the visibility of your gift cards by promoting them on social media, as well as having links to your website or booking portal.
Sa-Sah Salon in Virginia, for instance, has a "GIFT CERTIFICATES" tab on their booking portal so customers can see and purchase them online.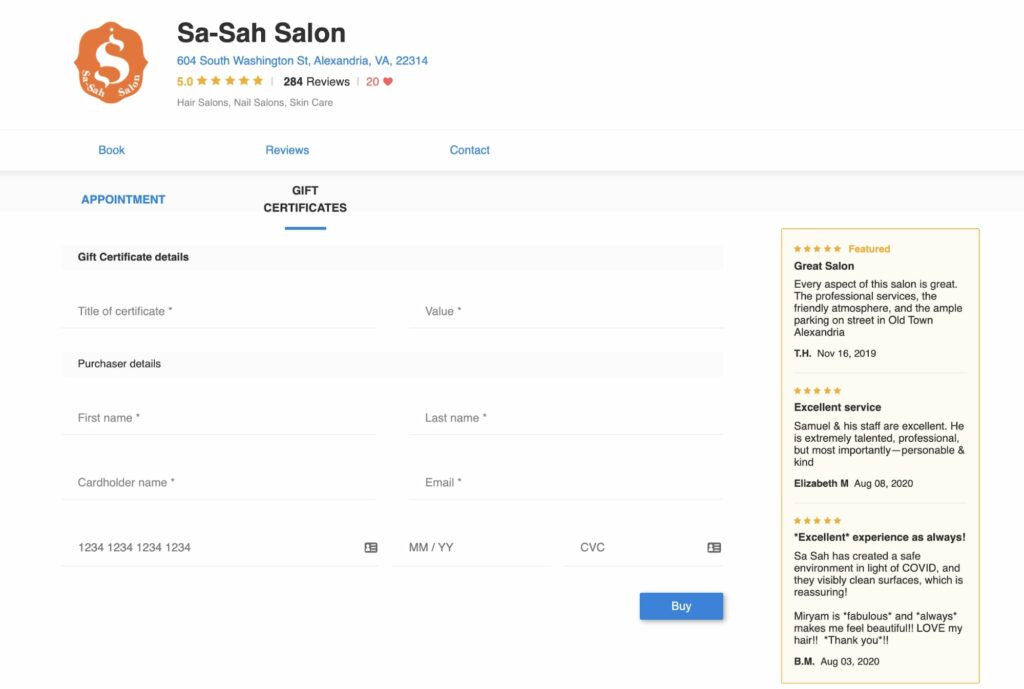 There's no one-size-fits-all answer to the question of how to make more money as a hairstylist
We hope these tips gave you some ideas on how to make more money as a hairstylist! As you know, there are several paths to increasing your revenues, and the right strategy depends on your specific business and clients.
No matter what you decide to do, remember to measure your results and performance, and always strive to improve. And if you're looking to get instant access to the average pricing of appointments, average annual revenue, and average booking value of hair salons across the US, try Pricing Insights tool by Genbook. Backed by data this tool can give you the insight and confidence to boost revenue for your business with ease.