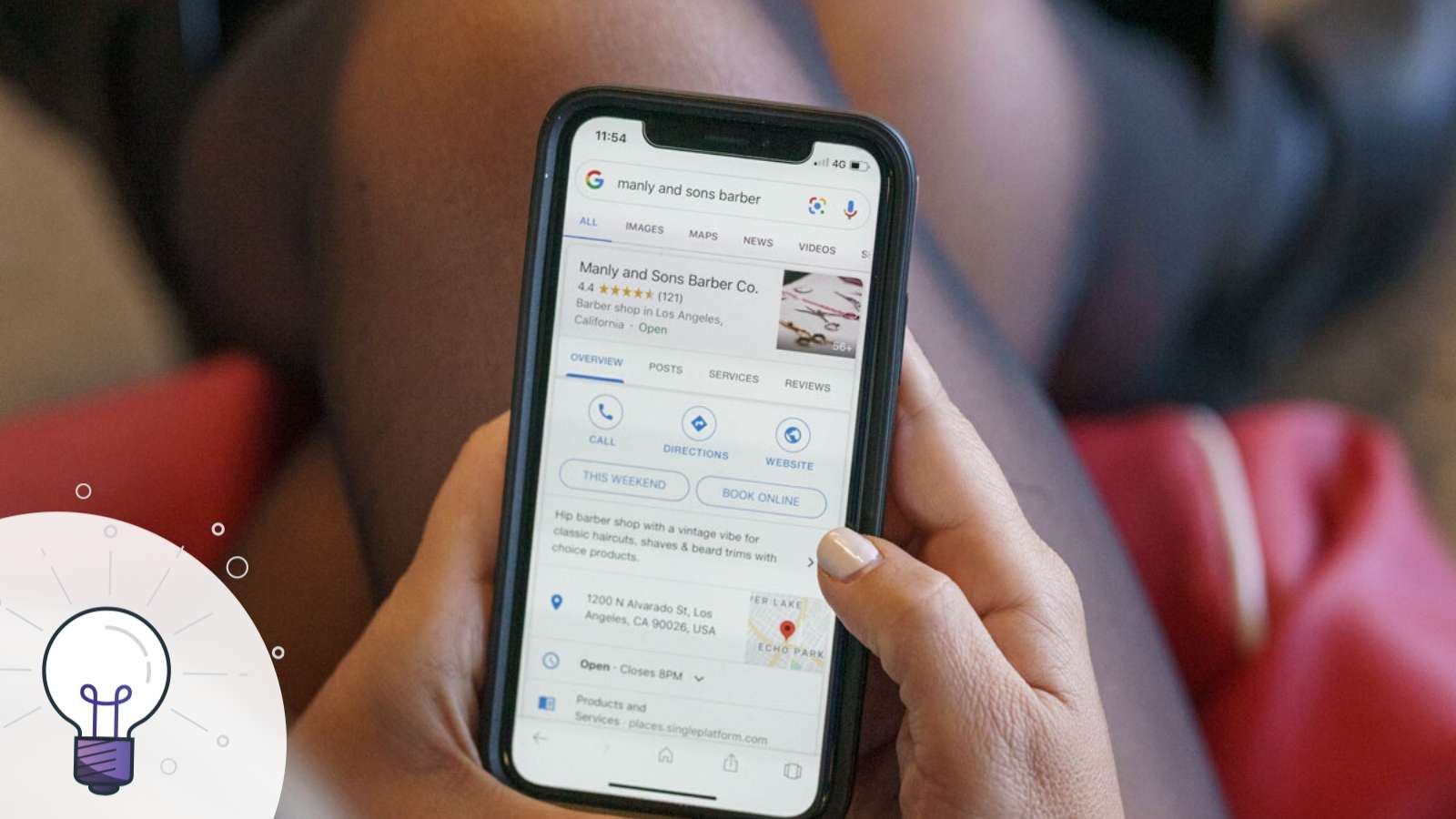 How to Optimize Google My Business to Win New Clients [Step-by-step Guide]
Let's say that you own a hair salon in Sacramento. There are many potential ways that a customer might discover your business: they might walk past your shop, see your posts on Instagram, or get a referral from a friend.
But in this day and age, it's far more likely that they turned straight to Google and discovered your business from there. Conducting a Google search requires little effort and allows people to explore multiple local options at the same time.
Google knows this, which is why it factors in the location of a business whenever someone conducts a search with a local intent (e.g., "barbershop near me").  Needless to say, you want your company to show in these search results, so more people will discover your offerings.
The best way to accomplish that is to set up and optimize your profile on Google My Business.
What is Google My Business?
Google My Business is a free tool offered by Google which helps small businesses manage how they appear on the search engine. There are two key avenues for this: the Google Search results themselves and Google Maps. When someone looks for a particular service on either platform, the first thing they will see is a series of listings for places close by.
For example, if someone searches for a business type followed by a zip code — e.g., "barbershop 95816" on Google or Google Maps, the search engine will serve up a list of barbers in the vicinity.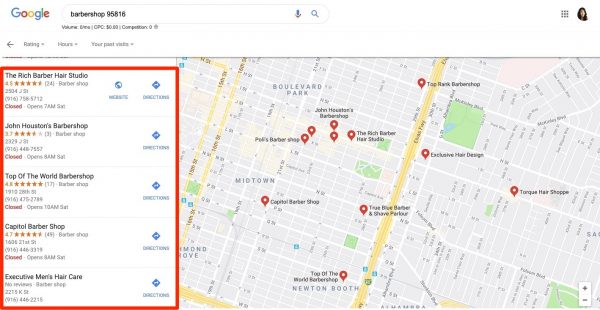 The user can click the listing, and if it is optimized, it will contain information such as the business' name, address, operating hours, and even photos of their location, products, and services. In some cases, you can even get a 3-D view of the business' facilities.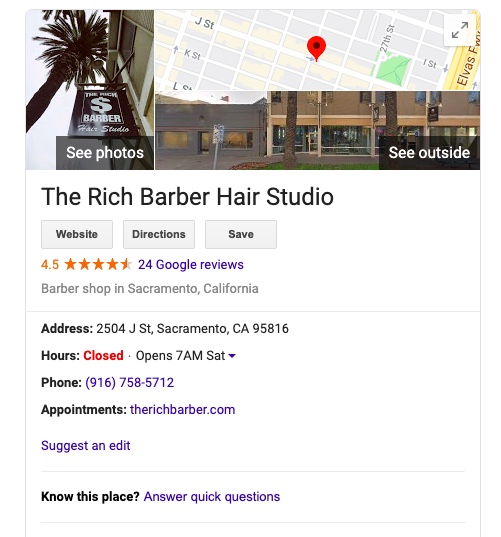 As you can see, when set up correctly, a business' Google listing will have the essential information a potential customer would need to help them decide whether they want to book an appointment.
Why is this so important? Simply put: Google can deliver more eyeballs — and ultimately traffic — to your business.
From an SEO perspective, Google My Business listings count for a lot. According to Moz, they make up as much as a quarter of local ranking signals! That is a lot of authority that you could be missing out on if you don't set up your profile properly.
That's why if you haven't done so yet, head on over to Google My Business and create your listing.
How do I set up a Google My Business profile?  
Sign in to your Google account or create an account if you don't have one. From there, go to www.google.com/business  and click "Manage Now."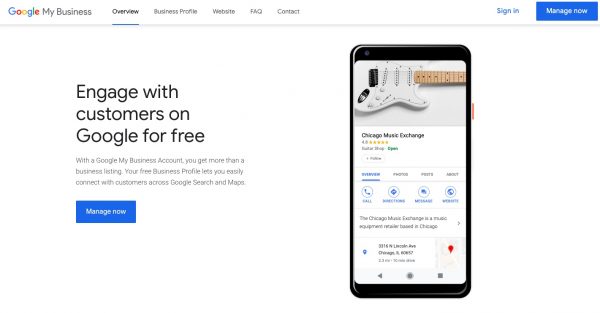 Then you need to do a search to check whether your business already has a listing. If so, you should claim it. Do not create a new one because duplicates cause a lot of SEO issues. If you don't have a listing yet, enter your business name then proceed to the next step.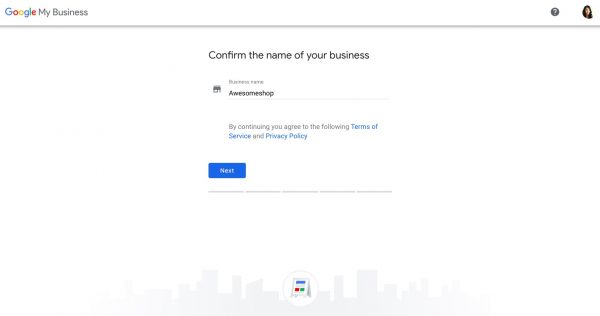 Google will ask whether you want to add a location. It's very important that you click "Yes" here, because this is what makes you visible on Google Maps or Search.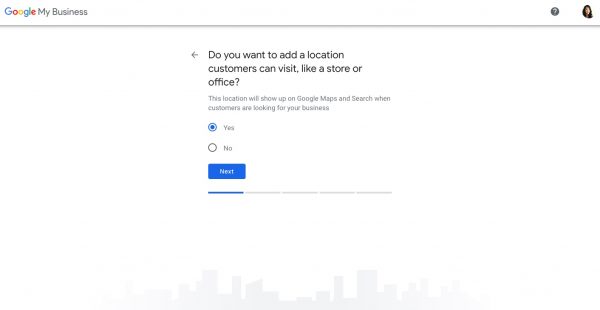 After entering your address, Google will ask whether you "serve" customer outside of this location — e.g. if you perform services in other areas.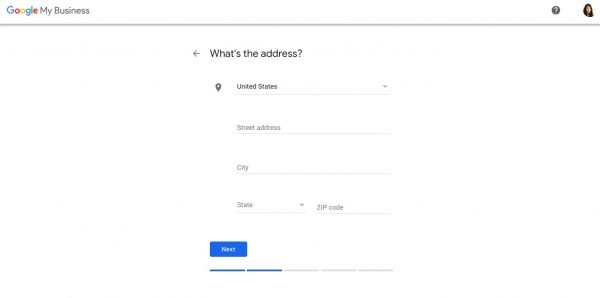 You now need to choose the appropriate category for your business, and Google gives you a pretty long list. It's important that you are as accurate as possible — this is the information that the search engine will pull out in response to a query.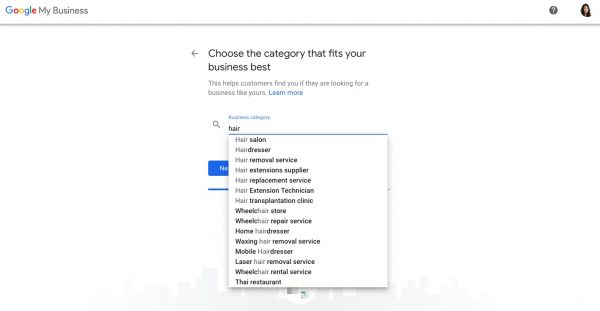 For example, if you're a waxing salon, you should pick "hair removal service" instead of "hair salon" because it's much more specific.
Finally, you'll need to enter your contact information — e.g. a contact number and website.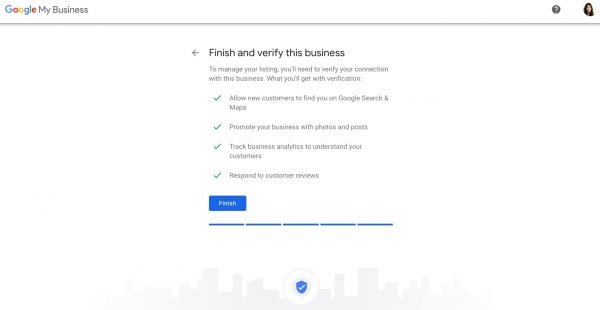 Once you've completed the signup form, Google will ask you to verify your information to prove that you are the owner of the business. Google gives you various ways of doing this, such as by post, phone or email. If you already use Google Search Console or Analytics for your business's website, you should be able to verify automatically.
How to optimize your Google My Business listing
As you can see, setting up your listing is easy, and if you've done it, then you've completed the first step to improving your local presence on Google.
That being said, you don't just want any old listing; you want a competitive profile that grabs people's attention when they see you in search results. Here are a few tips to help you do just that.
Choose high-quality photos
Would you trust a business profile with no photos, or would you skip along to the next listing? For most customers, it's the latter. According to Synup, listings with photos are two times more likely to be considered "reputable" than those without.
Google My Business allows you to designate a profile image, a cover image and preferred photos to be displayed on Search and Google Maps, and any additional images that might be beneficial.
Take advantage of these features by uploading photos that showcase the best parts of your location. This is particularly important for service-orientated businesses as imagery plays a huge role in people's perception of your brand.
Below is a great example by The Brow Babe Studio. Adding interior shots of their salon helps potential customers to get a feel for their operation, while dedicated service and product images give customers a good idea of what to expect. It looks polished and professional, and so is likely to instill confidence in potential customers.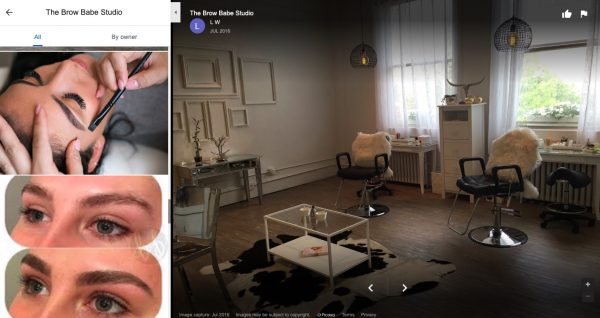 Collect and respond to online reviews  
A study by Genbook found that when considering new service providers, consumers are more likely to check Google reviews over Yelp, Facebook, or even the business' website.



Consumers evidently view Google as one of the most credible sources of reviews. So as a business owner, you should make sure that potential customers like what they see when they read up on what others have to say about your company.
For starters, encourage your happy clients to leave a review on your Google listing. Build relationships with your customers and get comfortable with requesting feedback.
Also, make it a point to address both positive and negative comments. Your clients are bound to be impressed when they see you replying to their feedback. It shows that you care and value your relationship. Meanwhile, responding to negative reviews demonstrates responsiveness and professionalism. And when done right, replying to unfavorable feedback can even turn a negative situation into a positive one.
The Brow Babe Studio, once again, excels in this area. The salon's team regularly responds to customer feedback, whether positive or negative.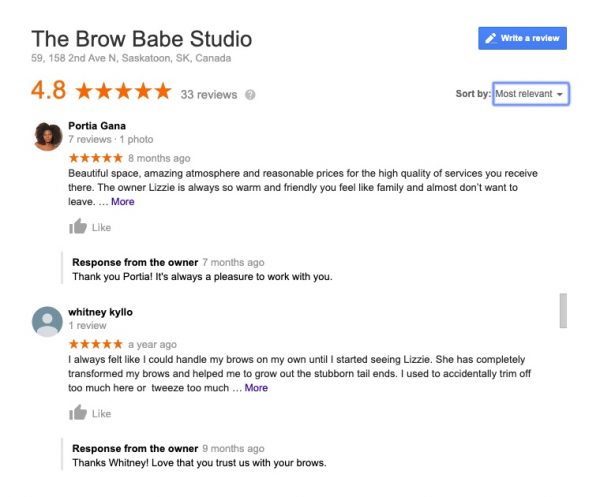 Use Reserve with Google
Reserve with Google (RwG) is a service that allows customers to book appointments directly through a Google My Business listing, without even having to visit the company's website. Businesses that have enabled Google bookings will have a "Schedule" or "Book" button on their listing, which lets users see available timeslots and reserve their appointments without leaving Google Search or Maps.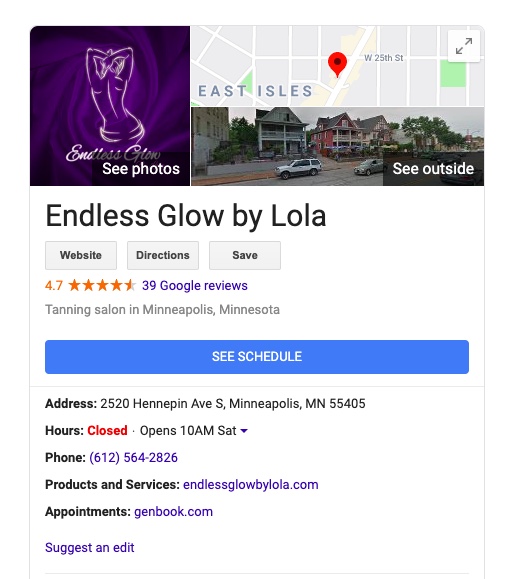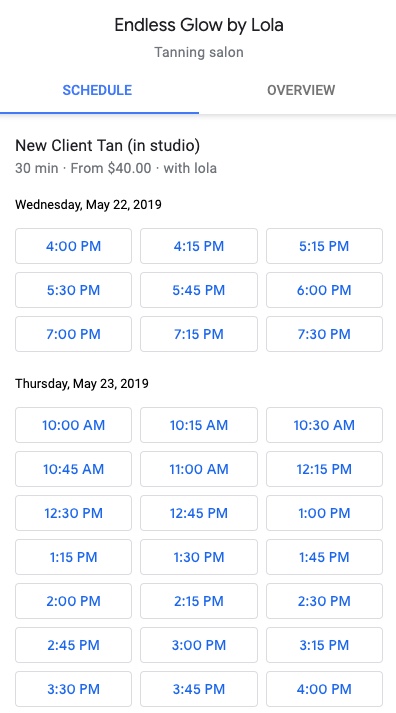 Reserve with Google can be integrated with a select group of third-party booking software (including Genbook). If you'd like to take advantage of RwG, make sure you're using an appointment scheduling program that's part of the Reserve with Google platform.
If you're a Genbook user, you can connect your account by claiming your Google listing and making sure that the information you've submitted to Google matches your business details on Genbook.
Use Google Posts
Publishing timely and relevant content is a known best practice from getting in Google's good graces. That's why many companies create blogs that they update regularly. As a small business, though, you may not always have the time to manage a blog let alone optimize it for search. Fortunately, there is an alternative — you can post directly to your Google listing.  
Through Google My Business, you can publish posts up to 300 words relating to events, promotions, service offerings, as well as company updates and announcements. You can even add photos and videos. What's great about these posts is that they appear as part of your listing and users won't have to leave Google to view your content.
Here's an example of a post from Manly & Sons Barber Co.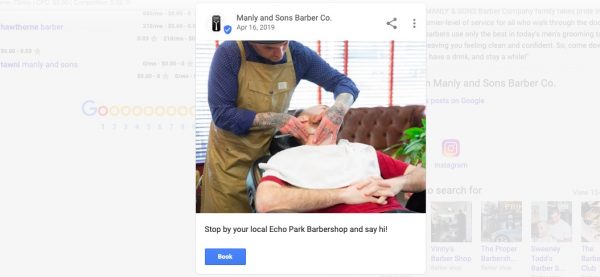 Pro tip: If you're a Hootsuite user, you can now publish posts and review responses right from your Hootsuite dashboard. If not there are plenty of Hootsuite alternatives available for you to test. If you're already using the service for your other social media activities, this is a handy feature because it lets you handle everything from one place.
Add some attributes
It used to be that businesses could input a proper description into their listing. However, Google removed this in 2016 due to issues with keyword stuffing. They have replaced it with an "attributes" function, where businesses can choose from a list of descriptors related to their business type.
Attributes can give users a better idea of what you have to offer — e.g., free WiFi, LGBTQ-friendly, pet-friendly, outdoor seating, etc. Attributes appear as badges on listings for businesses that are on Google Search and Maps.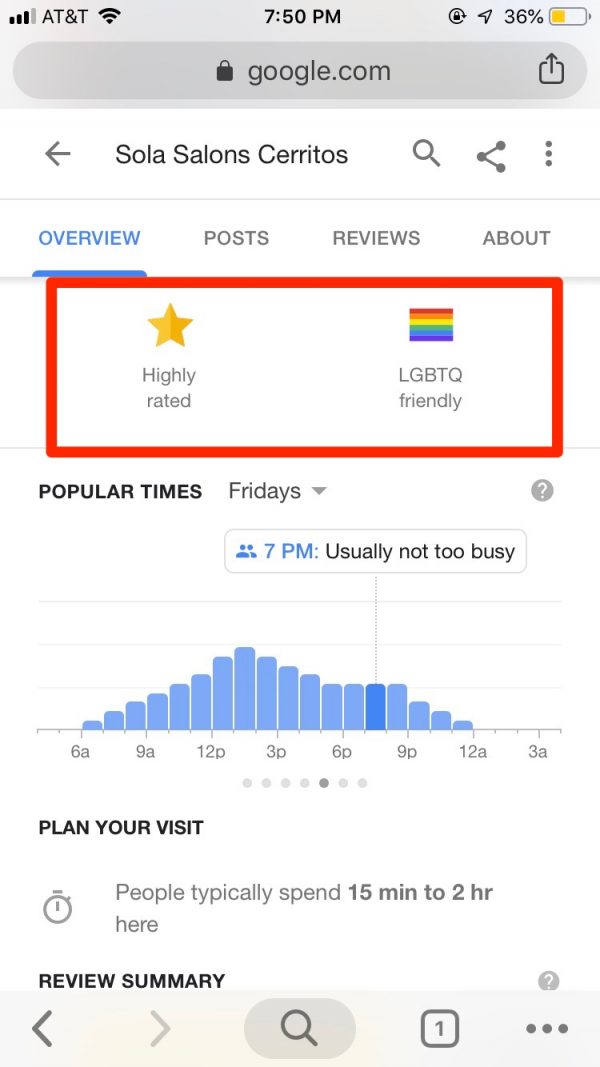 Certain attributes are automatically added by Google. If your business has a lot of positive reviews, for instance, then you might earn the "Highly rated" badge.
You can also add specific attributes yourself. To do this, sign in to your Google My Business account then select the location you want to manage. From the menu, click "Info". Find the "Attributes" link, click edit, and then search for the attributes relevant to your business.
Attributes can increase your visibility on Google because they help your business show up for specific search queries. For instance, if someone searches for "salon with WiFi near me" and you've added the WiFi attribute to your profile, Google will likely list your business on the search results page.
Time to level up your Google My Business game
Setting up a Google My Business profile isn't a massive time investment, but the rewards for your business are huge. Putting in a little extra effort into optimizing your profile can set your business apart from average or incomplete listings — and quite literally put you on the map!
Looking for ways to set your business apart? Sign up for the Genbook newsletter—We'll send you tips and tricks to stay ahead, and that will help you run your business effectively.