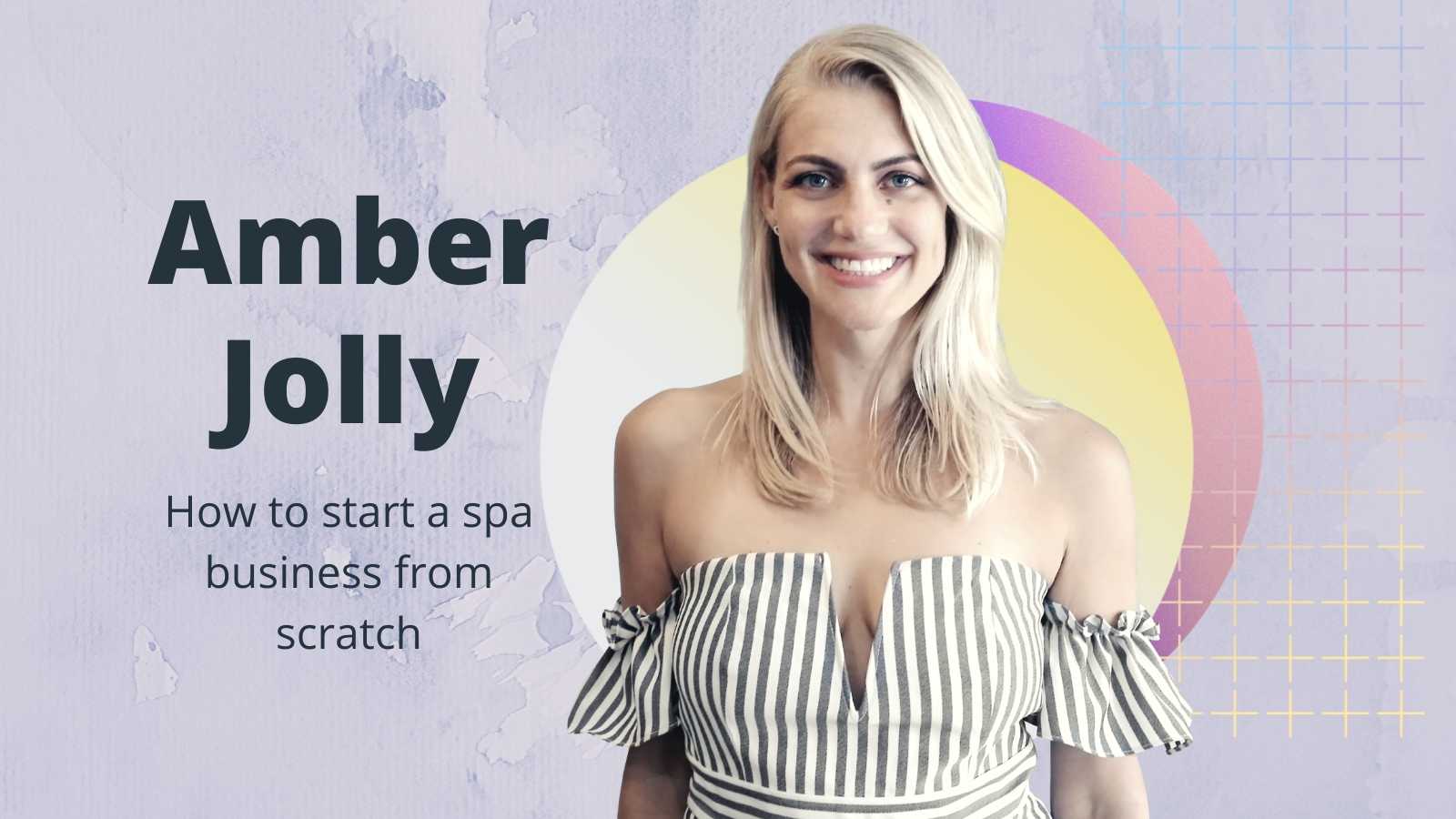 A Deep Desire For Self Love: How This Esthetician Launched a Spa Business From Scratch
Amber Jolly has been in the beauty business for over 15 years now.
Back in the day, she worked at the retail counter of Philosophy at Nordstrom. Each day, she would handle clients and see them feel indulged and confident leaving her counter.
8 years back, she decided to move to Los Angeles having enrolled herself in a beauty school while also working with a beauty brand managing their spa.
Needless to say, when it came to beauty, there was an inkling and passion, but little did she realize that her deep desire for self-love would one day lead her to launch a spa business that she could call her own.
But the process of setting up the spa business wasn't easy…
Her mind was filled with doubts and anxiety and she spent over two years journaling her thoughts.
"At some point, I felt I was working very hard and I wanted to venture out on my own, but it was very scary".
But those thoughts are behind her now.
Today, she is the proud owner of the Self Love LA Spa —— a comfortable, safe space for clients to feel pampered, loved and cared for, in Santa Monica, California.
We sat down with her a couple of months ago, where she opened up on her journey and the lessons that she's learned while starting a spa business from scratch—the ones she thinks someone had shared with her back when she was treading choppy waters as a first time entrepreneur.
A strong vision will help you stay focussed on building meaningful connections in the long-run
The world of beauty is not new for Amber, and when she first decided to test waters, there were a million things that she wasn't sure of—except for one. From the very beginning she knew she wanted to make her clients feel more confident and cared for, she wanted them to focus on self-love and self care—a long term vision which extends beyond beauty.
"The self love spa is really truly, about caring for one-self. When clients walk-in into my environment, I make them feel like they can really open-up and be vulnerable—it's almost like a free therapy session. When we're talking, it feels like we have such a connection"
It's this long term vision that separates Self Love LA Spa from other spas offering similar services. For Amber, It's not just a spa, but a sanctuary where her clients destress and unwind.
Growth is directly proportional to a good business experience
Interacting with her clients early-on, Amber learnt an essential lesson. She understood that they weren't visiting her just for the "service" but something more and that's an exceptional and satisfactory experience.
"For me, it's like opening your home to someone and I make sure that I'm giving my clients the best experience"
That's why beautiful experiences are the focal point of her business. Her clients get to experience it at various levels—through her beautiful and aesthetically appealing space, to the way she provides consultation to the way she reiterates "self-love" and confidence after a service.
"When they come in to the service, I'm able to listen to their needs and their lifestyle and I'm able to provide that service. I'm also focussed on making their life simple and stress free as it makes us happier people."
She adds:
"Self love is really talked about here…when they enter I tell them good job on self-love, and when they exit I say thank you for self-love and really acknowledging that they're taking a part in their own happiness."
Amber feels that by choosing experiences over other things, she's not only helping people live a happy joyous life, but as a result her business is growing too.
The road to success isn't an easy one
If you want to take the plunge, you will realise that the road to success isn't an easy one.
"There were so many bumps on the road and I felt like giving up so many times, but I kept on thinking that I can really put something out there that I stand behind"
Today her advice for those dreaming is to "just, do it." She talks about more of it in this video:
Choosing Genbook as a technology partner
Amber explains how she was a 'nervous nelly' around technology and how Genbook has helped her business grow. Not only has Genbook helped her with client bookings, but also with reviews that are getting her spa business the much needed visibility.
"The whole app is user friendly. It's on my phone and I can check who's coming even before I come to work. I get reminders for reviews, and all I do is take screenshots and post it on social media."
When asked what the biggest benefit of using Genbook is, she said "It just minimized my stress", while signing off.
Looking for an online scheduling tool that has tons of features for staying on top of your bookings, increasing your visibility, and boosting your reputation? Try Genbook for free.