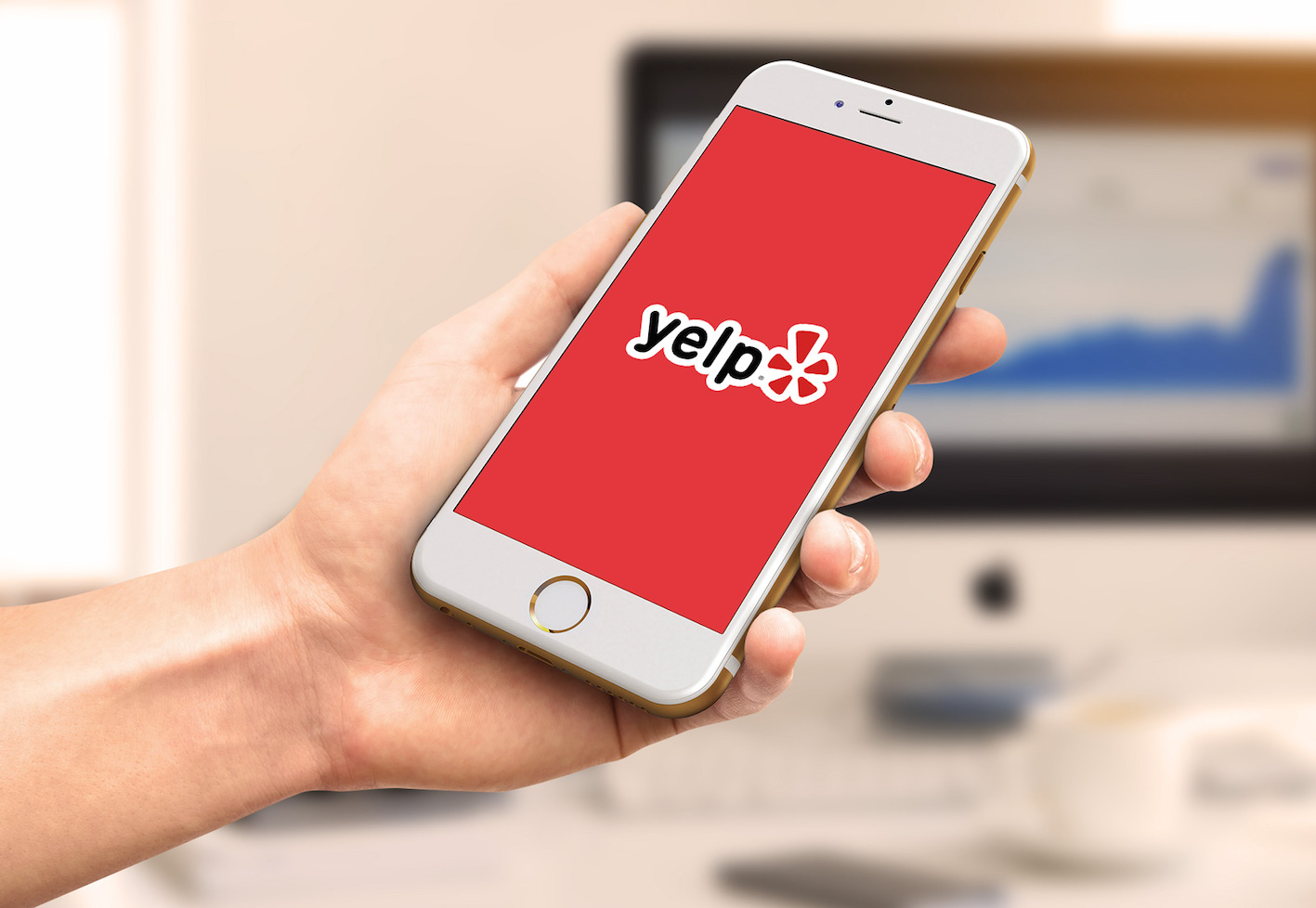 How to Use Yelp and Make Your Business Stand Out
We'll cut right to the chase: if you're a service-based business that operates a physical location, you need to be listed on directories, business listing sites and review forums. Now, if you're wondering how to use Yelp and similar platforms, keep reading. This post will offer the lowdown on Yelp and the steps you can take to boost your presence on the site. 
Yelp is one of the world's most highly-trafficked websites, and it serves as a trusted resource for people who want to learn more about businesses in their area. Research by Genbook found that 93.9% of consumers consult Yelp or Google reviews when trying new service providers. This alone should be reason enough to be on these platforms. So how to use Yelp and make your business stand out? 

Is Yelp free for businesses?
Creating a business listing on Yelp is completely free, and you can start collecting customer reviews at no cost. Yelp also a lot of features that you can use to connect with your customers. The platform allows you to publicly and privately respond to reviews, as well as participate in Q&As about your business. 
Not all its services are free, though. If you'd like to increase your visibility through ads, Yelp uses a PPC model which charges you based on the number of people who visit your listing. 
How to get on Yelp
Getting on Yelp is easy. Just go to biz.yelp.com to look up your business. If it is already on Yelp, you'll be asked to claim your listing. Otherwise, Yelp will let you fill in your business details. 
Once your business is set up and claimed, you can add more information about your company, upload photos, respond to reviews, and engage with the Yelp community.
Tips on how to use Yelp and stand out
That being said, simply setting up your Yelp profile isn't enough. With millions of businesses on the platform, you need to find ways to use Yelp to get your listing to stand out.
Let's look at some of the ways you can do that.
1. Complete your profile as much as possible
Complete your Yelp profile by adding as many business details as you can. Go beyond the basics. In addition to your contact info, consider including:
Your business hours 

The type of payments you accept

Information about where customers can park 

Accessibility information (e.g., if your location is wheelchair accessible) 

Whether you accept walk-ins or only do appointments 

If you offer WiFi
And don't forget to add photos of your location! Take pictures of the inside and outside of your shop, and include photos of your work. So, if you're a barbershop, you can share photos of your newly-styled clients. 
That's exactly what Razorfade Barber Shop is doing. Their Yelp page features a variety of images — from photos the barbershop's interior and exterior location to pictures of their happy clients.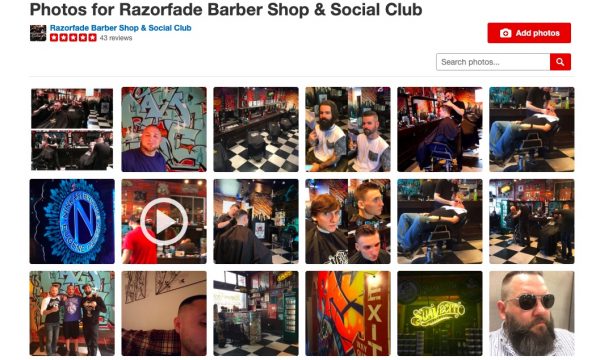 Taking the steps above will instill confidence in potential clients. One of the primary reasons consumers look up businesses online is to evaluate their credibility. By adding as many relevant details to your profile as possible, you're showing Yelp users that your business is legit — and that can be a determining factor in their decision to choose you over other companies.
Another benefit of having a complete and up-to-date profile? It can make your listing stand out. There are still many business owners on Yelp who haven't bothered to complete their profile details, or worse, haven't even claimed their listing. 
Claiming and completing your Yelp profile gives you a leg up over these businesses and puts you at the forefront of people's minds. 
2. Encourage customers to post reviews and photos
Another way to use Yelp and make your business stand out? Encourage your clients to post reviews and photos on the site. User-generated content creates social proof that can instantly boost your credibility — and sales. 
So, how do you get more Yelp reviews?  
Ask for them
The first step is to just ask! 70% of consumers will submit a review when prompted to do so. If you have a great relationship with your clients, giving them a quick reminder should do the trick. 
Before they leave your location, say something along the lines of… "I'm glad you enjoyed the service! It would be great if you leave a Yelp review when you get the chance. Feel free to post photos as well!"
Use Yelp collateral 
Having Yelp stickers and signage in your location can offer a subtle but effective reminder for your customers to check out your business on the site. If you haven't done so yet, request a "People Love Us On Yelp!" sticker from the company.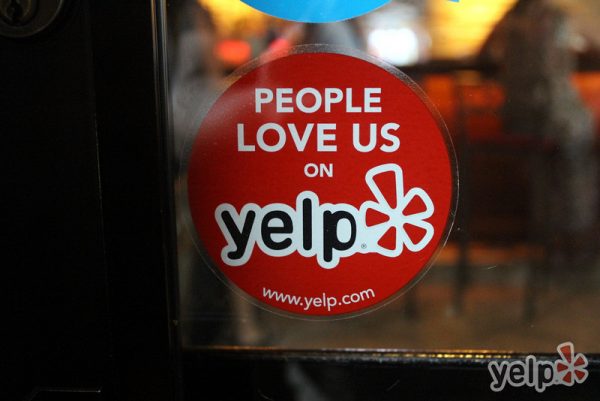 You can do so by filling out this request form. Do note that the sticker is only issued to qualifying businesses in the U.S. and Canada.
If you're unable to obtain the "People Love Us On Yelp!" sticker, you can print your own materials by downloading Yelp's digital toolkit. You can also purchase customizable business cards and signs on yelp.biz.vistaprint.com. 
3. Create offers and deals
Running discounts and promotions is a classic business tactic, and for good reason. People love scoring deals, and they've been proven to increase awareness, traffic, and conversions. 
Yelp understands this, which is why it gives businesses the ability to use its platform to run special promotions. There are two types of promos that you can run on Yelp: Check-in Offers and Yelp Deals. 
Let's start with Check-in Offers. This is a feature that lets you reward customers who "check-in" to your location on Yelp. Running Check-in Offers is easy. Simply login to your Yelp Business account, navigate to the "Check-in Offers" link on the sidebar, then click the Create button. Yelp will then ask you to specify the offer type (i.e., Percent Off, Price Off, Fixed Price, or Fee Item), and then you'll need to select the value of the offer.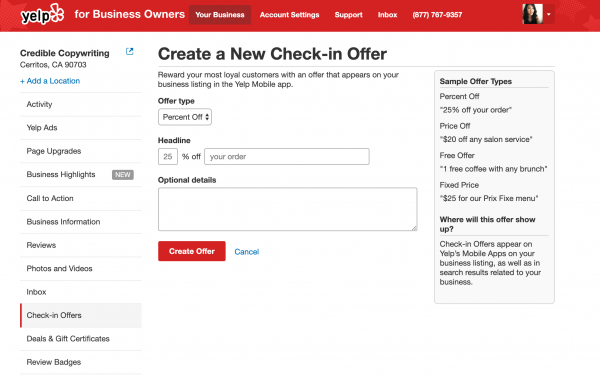 Once that's done, the offer will appear on your Yelp page, so customers know that they can score an incentive for checking in. 
Next up, we have Yelp Deals. These are special offers (e.g., "$50 for $75") that customers can avail right from Yelp. One of the best things about Yelp Deals is you get paid on the spot whenever someone decides to make a purchase on the Yelp website or app. Customers who opt for your deal can then visit your location to redeem the offers in person.
To get set up, navigate to "Deals & Gift Certificates" on the left sidebar of your Yelp dashboard. Then click "Set up Deals and Gift Certificates." Specify details like the price of the offer, the number of deals available, and any special terms. Hit "Post this Deal" and it'll show up on your profile page.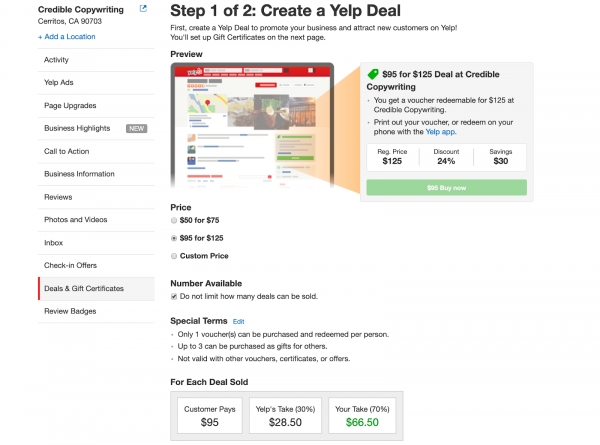 Here's what Yelp Deals look like in action. As you can see in the screenshot below, the offers show up on the top-right part of the page, making them instantly noticeable.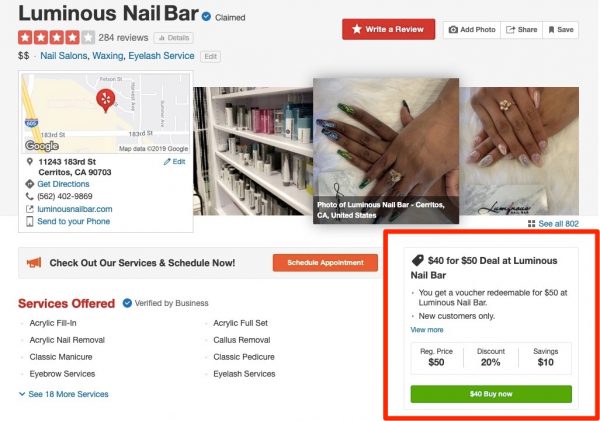 What's more, Yelp has a "Deal" filter in its search results page, so users who are specifically looking for promotions can quickly find businesses that are currently running offers. 

4. Respond to all user reviews 
How can responding to reviews help you stand out on Yelp? For starters, only a few businesses actively reply to customer comments. According to ReviewTracker, 63% of consumers said that they've never received a response from businesses that they've reviewed. By replying to customer feedback, you're immediately setting yourself apart from the majority of businesses that don't bother responding to their customers. 
Proactively replying to customer comments also helps you stand out in the eyes of your existing clients. Acknowledging customer feedback — whether positive or negative — shows them that you value their input. As such, they're more likely to support you and recommend you to their friends. 
The right way to respond to each review will depend on the feedback of your customers, but here are some quick tips for how to reply to comments on Yelp
Respond quickly

Address people by name 

Avoid canned responses 

Don't argue with people who write negative reviews — take things private!
If you need more detailed tips and examples of how to reply to feedback (particularly negative ones), check out our post on how to respond to negative reviews.
It's also important to respond to reviews in a timely manner. To make sure you don't miss anything, turn on review notifications on Yelp. You'll find this setting in the Language & Notifications section of your account.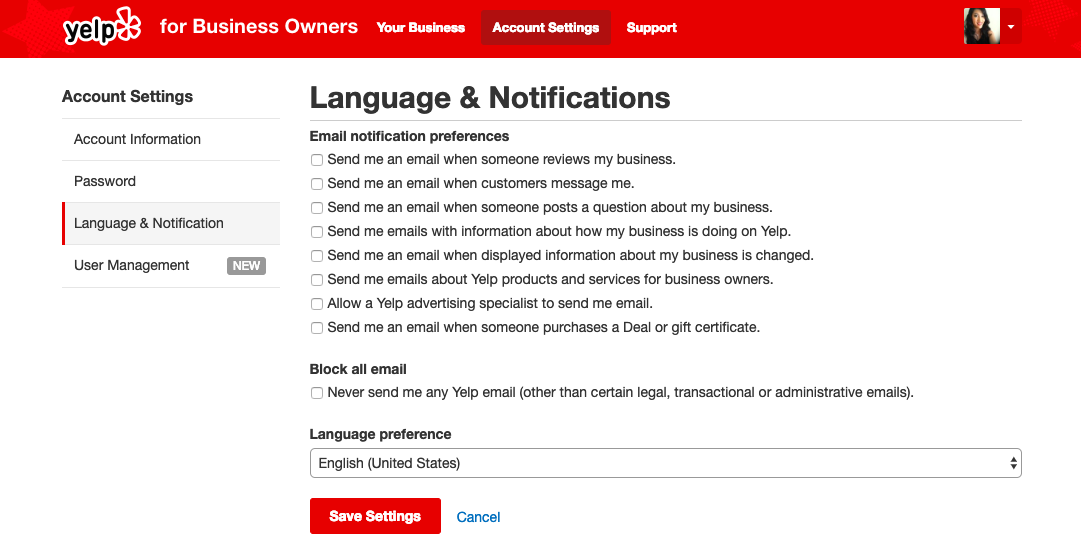 5. Consider Yelp ads
If you have the budget for it, consider advertising on the site. Yelp ads work on a PPC basis, so you only pay when users click on your listing.
Advertising on Yelp will get your listings at the top of search results for relevant queries, so users will see your business first.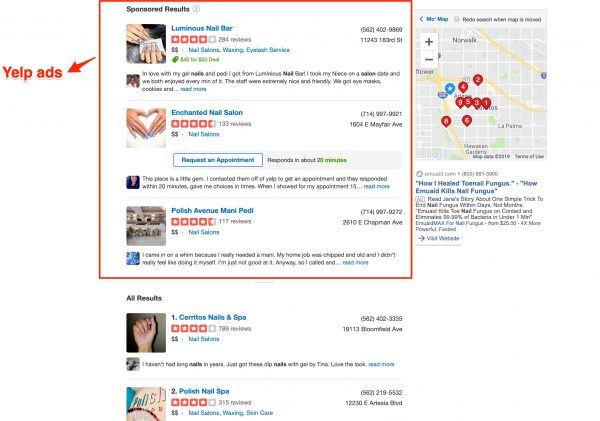 Regarding costs, you can set your own budget for how much to spend per day, though Yelp also recommends ad budgets depending on the results that you're looking for. Needless to say, the more you spend, the more clicks you can get. A budget of $10 per day or $300 a month will get you about 28 clicks per month while spending $25 per day or $750 a month will yield around 70 clicks per month.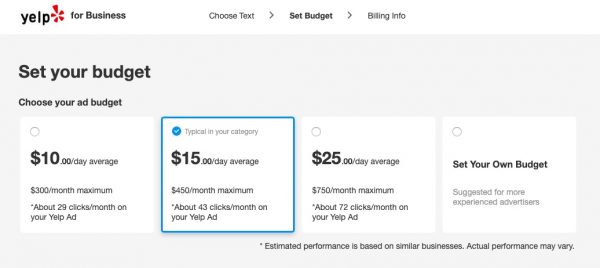 6. Answer customer questions 
Every Yelp listing has a section called "Ask the Community" which allows Yelpers to post their questions about the business. And while the majority of people who answer these are Yelp users, businesses can also get in on the fun. 
When done right, participating in "Ask the Community" is a great way to make your business stand out on Yelp. Here are a few guidelines to keep in mind:
Choose the right questions. Not all questions are appropriate for business owners. Questions like "What should I order" or "Who's the best barber in this location?" are best answered by Yelpers themselves. Stick to queries that you can answer objectively — for example, questions about your prices and hours of operation are fair game. 
Yelp allows you to have just one answer per question. If you have multiple admins for your account, you should know that Yelp only lets businesses answer a question once. So if you'd like to add your input for a question that someone in your business has already answered, you'll need to delete the previous answer before you can add your own. 
Provide helpful answers. Always offer useful information when answering questions. Get straight to the point, and avoid shamelessly plugging your business when participating in the Q&A. Yelpers can vote on the helpfulness of an answer, and collecting those upvotes will ensure that your input ends up on top. 
Below is an excellent example of Yelp Q&A done right. When a customer inquired about the salon's waxing services, the owner, Brian, responded by addressing the customer by name and providing a succinct answer. And because Brian's response was genuinely helpful, Yelpers up-voted his answer.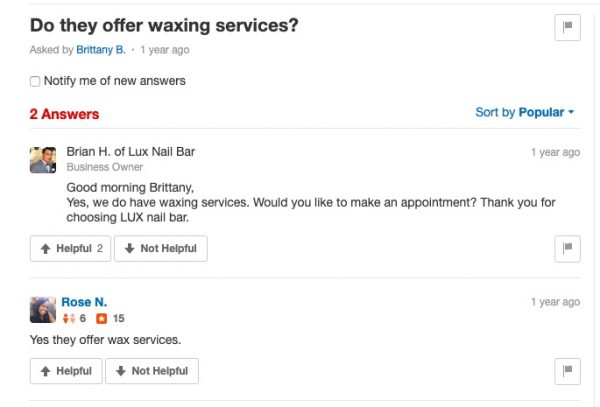 There are plenty of ways to stand out on Yelp
We hope this post taught you a thing two on how to use Yelp! Whether you're new to the site or are simply looking for more ways to gain traction, there are plenty of things you can do to get noticed on Yelp. 
By setting up your profile correctly and leveraging promotional tactics, you'll steadily increase traffic to your listing — and physical location. 
Loved what you just read? Sign up for the Genbook newsletter and get access to hundreds of articles on growing your small business.