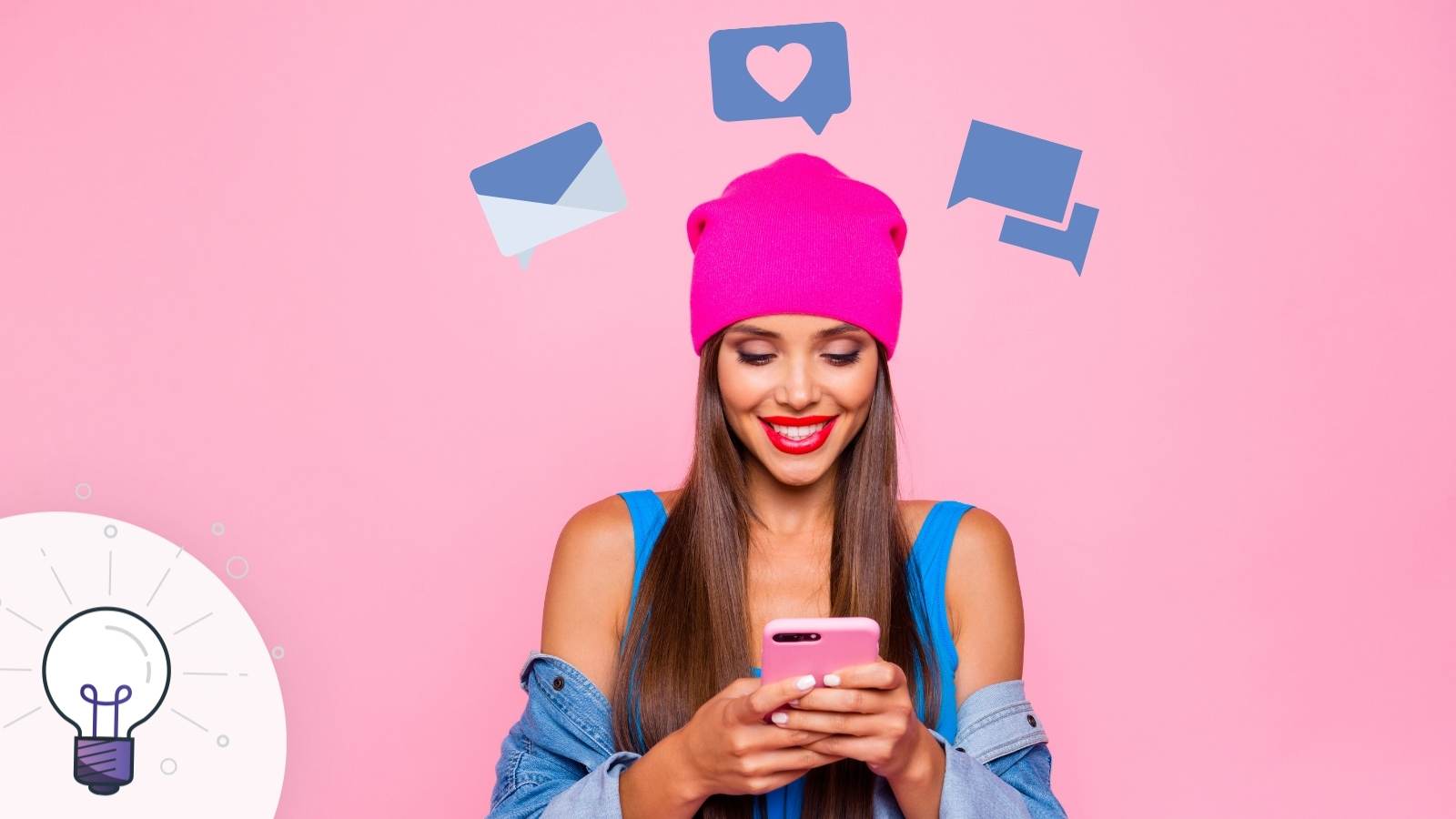 Need Inspiration? 10 Exceptional Instagram Content Ideas For Your Spa, Salon, or Barbershop That Will Attract Audiences (and Appointments!)
Having a presence on Instagram for your spa, salon or barbershop has its benefits.
We've spoken about it time and again (here's a setup guide if you're getting started on the platform)
Instagram is an ideal and minimalist channel to build brand awareness, reduce your marketing spends, as well as attract more followers to book appointments through the book now button.
All of this translates into $$$ for your business.
But in order for Instagram to work for your small business, posting regularly is key.
Except that….
Creating content on social media, especially on Instagram sounds very exciting but when you have to post something almost every day— it can get monotonous and tricky.
Fresh ideas are hard to come by—we agree— but it changes if you have readily available inspiration that you can pick and choose, play around with and make them your own.
In this post, we are sharing with you a framework to get started with content creation on Instagram with plenty of examples and reasoning on why they work.
Let's get started.
User-Generated Content – To expand your reach
The Simplest Framework For Content Creation On Instagram
Content creation on Instagram for your small businesses is all about presenting yourself in a way that makes it memorable for them.
To make the most of it, you need to make sure that you have a framework in place. Laying a strong foundation will make sure your content is going in the right direction.
This is how you can do it.
Start with an idea– think of all the things that you can "share" with your audience. Make a list and then scratch the ones that don't align with your brand.
Research the idea well-Social media is ever evolving and there are various content formats used by businesses and users nowadays. Some of them communicate the idea better than others. For example, an infographic in carousel format works better on Instagram but on LinkedIn, a long written post with all the information will engage more users.
Determine how it will help your audience- make what you share helps your audience in some ways.
Create a compelling headline– grab them with your first sentence
Tell a story- make sure that what they read is worth their time. Remember to inspire, educate and entertain!
Proofread and publish-no one wants to read posts with grammatical errors.
Now that you have a framework in place, let's look at the type of content that you can experiment with!
Types Of Content To Grab The Attention Of Your Audience on Instagram
1. Short Videos – To Communicate More Effectively
Videos are 'moving' content formats that break the static post format on the feed. They add more variety to your feed which eventually leads to accelerated engagement. In fact, according to stats, 83% of businesses say that videos provide a great rate of return.
But while video based content is great at engaging the audience you need to keep them short. You can use various native short video formats on Instagram such as Boomerang, Stories and Reels.
While IGTV is a great avenue, not everybody scrolling through Instagram will pause and invest their time on long videos. On the other hand, people don't mind if a video takes a couple of seconds. And, that why it isn't surprising that more and more businesses are producing short videos nowadays on Instagram.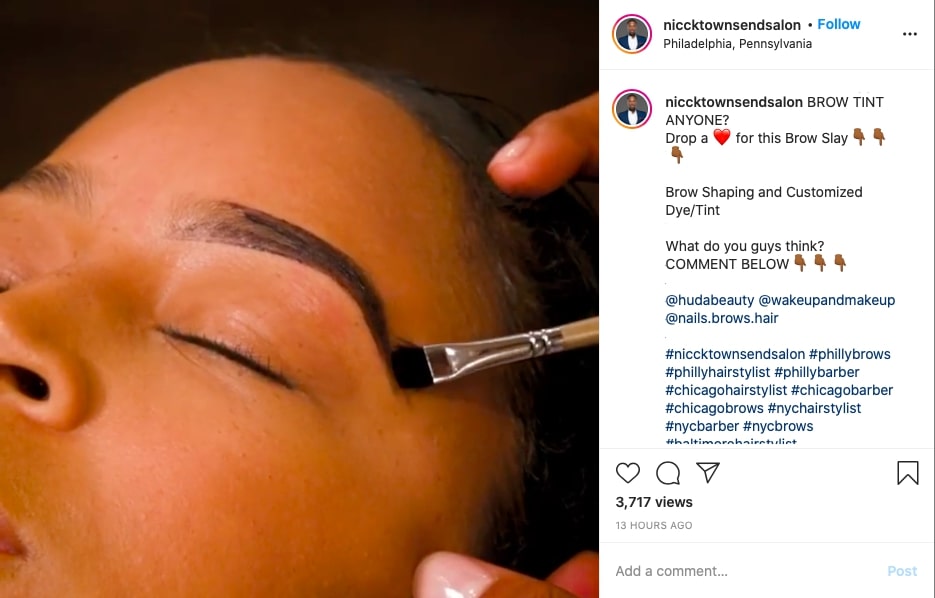 This short video by Nicck Townsend salon presents their work in just a few seconds. I am sure any scrolling user wouldn't mind giving a few seconds to have a look at this brow transformation!
2. Live Videos – To Build Trust
Live videos offer you an opportunity to present your brand in the most unedited form. This might also make your followers feel they are closely interacting with your brand. And, when a follower feels that, they start to trust your brand more.
Live videos are known to bridge the gap between your brand and your customers with authenticity.
Adding to the benefits, live videos on Instagram gather more engagement because of the live notification feature of it. Every time you go live, your followers will receive a notification that will create urgency to click on it and persuade them to watch your content. You can use the same strategy when dabbling with content on Facebook Live and Youtube Live or any other social media channel. Here are few examples of its usage:
For a product launch
To host an event
To take feedback from the audience
Tips and tricks
To show a performance
Prose, a hair brand went live on Instagram and interacted with their viewers which further increased their authenticity and made the users feel more connected. They also increased their conversion rate by sharing a link to their product page using a sticker.
3. About Your Employees – To Build a Personal Connection
Advertising your spa or salon is one side of your business, showing real faces of staff is another. This can help you build a personal connection between your Instagram followers and your brand.
You can start with featuring your new employees or even old ones. You can also use them to show 'behind the scenes' content such as team celebrations and achievements! This can add the much needed creativity kick to your feed.
Also, these are your employees and you can work along with them in so many ways. For example, you can get your product/service advertised through them or to personalize even better, you can tell employee stories.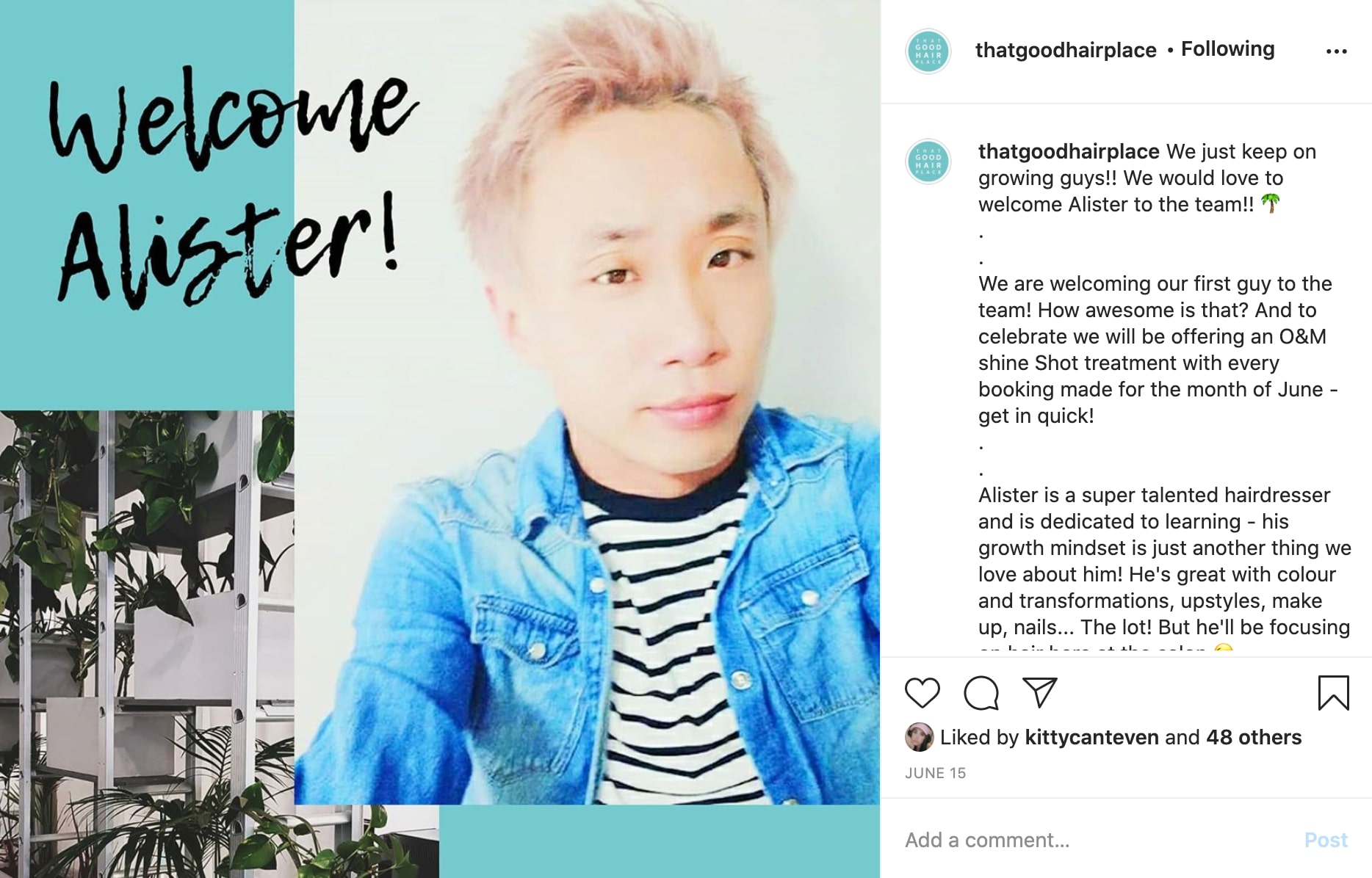 The Good Hair Place introduces its new stylist through this post. Additionally they put a face for the audience to relate allowing them to connect with each other in an authentic manner.
4. Cinemagraphs – To Break The Static Post Format
One of the content styles that's gaining popularity on Instagram is cinemagraphs.
Cinemagraphs are visually appealing as 95-97% of the post is static and only 3-5% of the elements are moving. They can be integrated into your content plan every once in a while to break the usual post format.
This content format lets you tell a story more effectively than a usual post. For instance, an image of pouring coffee in a mug v/s a cinemagraph of pouring coffee in a mug.
If you are convinced and are now wondering how to create them, let me tell you.
Cinemagraphs are easy to create for professionals as well as non-photographer or non-editors. You can just swoop in and use any of these tools to create a visually appealing cinemagraph.
Flixel
Cinemagraph Pro
Zoetropic
Fotodanz
Lumyer
5. Infographics – To Present More In Less
Infographics are never a bad choice. Being eye catchy, and concise, they also offer you to present more information in less space on your grid or when using a carousel.
In addition, the average internet user only remembers 10% of what they read, they can recall 65% of information conveyed visually. This is why you need to revise your strategy and make infographics a part of it.
In a world where people are scrolling through as quickly as they can, infographics can also help you come across and be remembered by more people. It also communicates much more than you expect in just a single image just like it did for Youssef Barber on Instagram.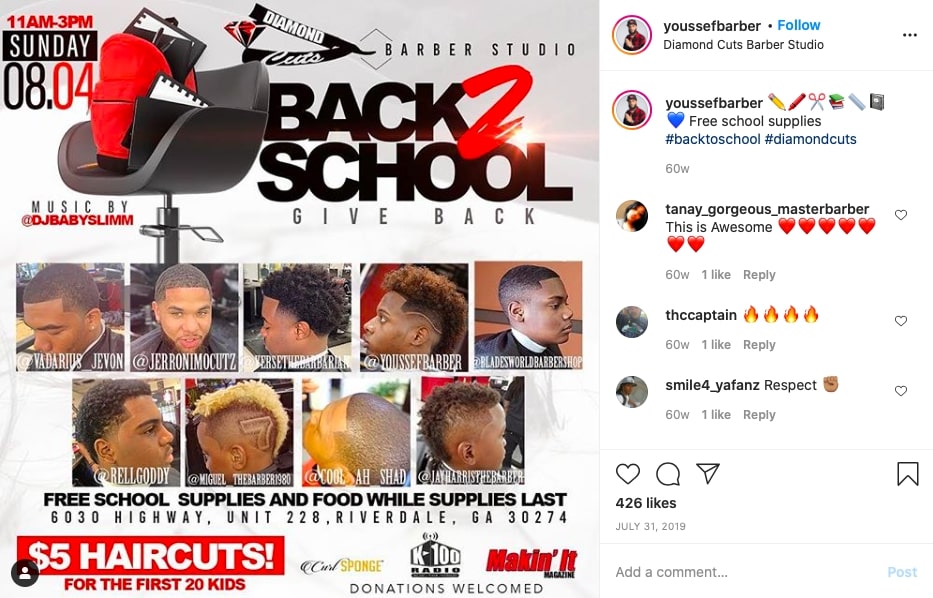 Pro Tip: It is advisable not to use the same infographic on all social media platforms.
6. Company Updates– To Keep Your Audience Updated
To draw engagement, it is necessary for your audience to feel that they know your brand inside out. That's why you need to keep feeding them company updates as and when they happen. This will help them stay on course with your own journey.
Wondering how to do that?
There are a number of ways to do that. You can start by sharing any newsworthy items—maybe you were covered by local media, maybe a company did a feature on your business or maybe your business won an award!
Keeping them in loop will help you connect with you followers more than usual.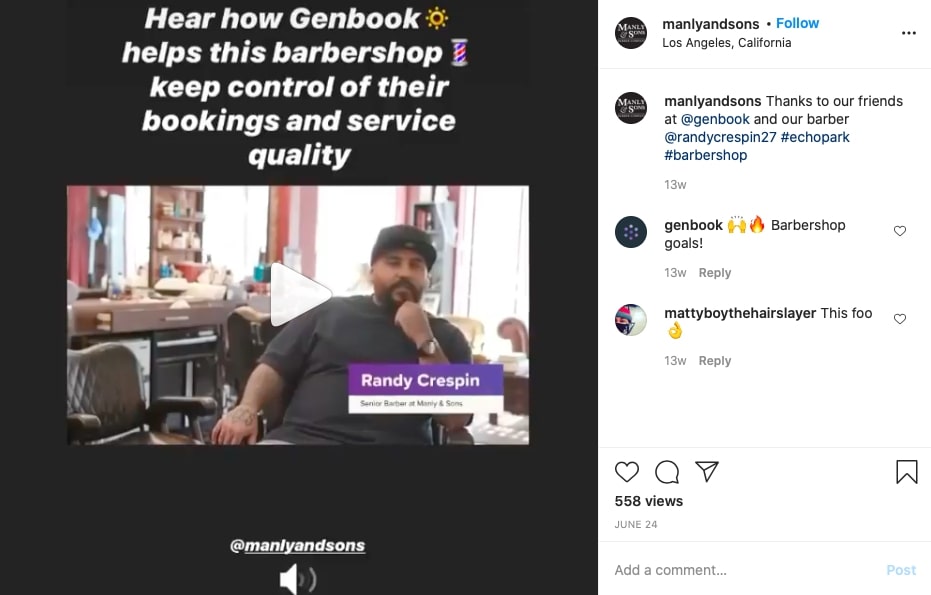 This is how Manly and Sons informed their audience about how they were benefited by using Genbook building a better business experience.
7. Articles & Blog Posts – To Engage With Readers
If your small business runs a blog, you already are one step ahead in the social media content game. To further increase the traffic on your blog/website, you need to promote them too!
All social media platforms have different ways of sharing links of any blog, website, landing page, lead magnet forms etc. For example, Instagram doesn't allow link sharing in the posts. So you can create a compelling visual with an introduction to the blog and redirect the audience to the link in your bio. And, if you have more than 10,000 followers, you should use the 'Swipe Up' feature of Instagram stories.
8. Contests & Giveaways – To Trigger Excitement
This social media content idea is in almost every marketer's bucket list. Contests and giveaways is a short road towards gaining accelerated reach and engagement as these increase the chances of your contest getting shared amongst your audience's social media community.
You can also offer rewards to users based on their certains actions i.e., commenting, sharing, following, etc. For example, you can make it compulsory to tag three people in order to participate in the contest like like the example below: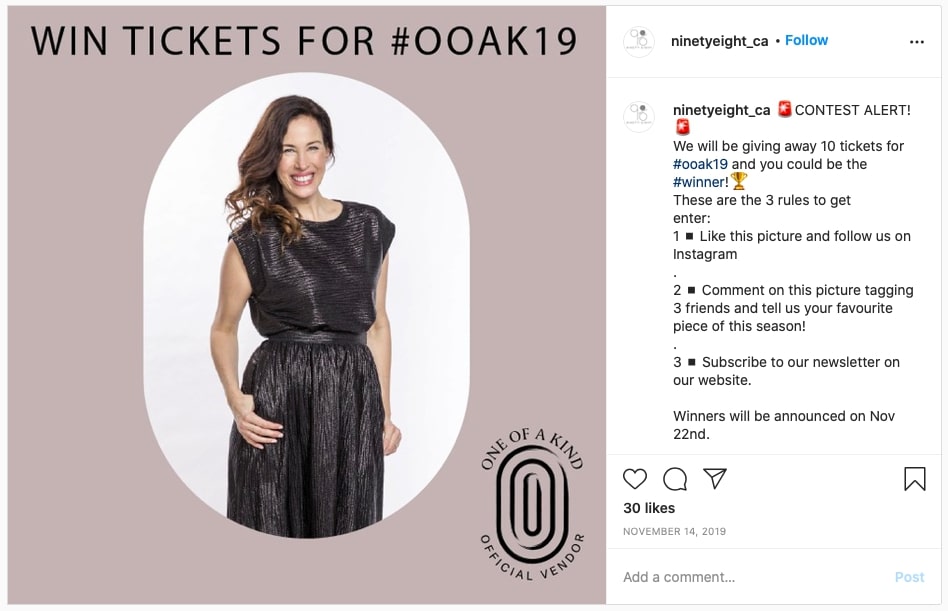 This way you can gain more from your community as well.
9. Influencer Content – To Create Social Proof
To nail this social media content idea, you need to invest time in research. Dig into the influencer market and find out local influencers. You can either choose to collaborate with them i.e., exchange products for positive feedback and recommendations or you can pay the influencers to take over your social media for any specific event, product launch, post launch recommendations, etc.
This campaign will eventually create social proof for your business. And, social proof is what people look for these days before buying any product/service from social media.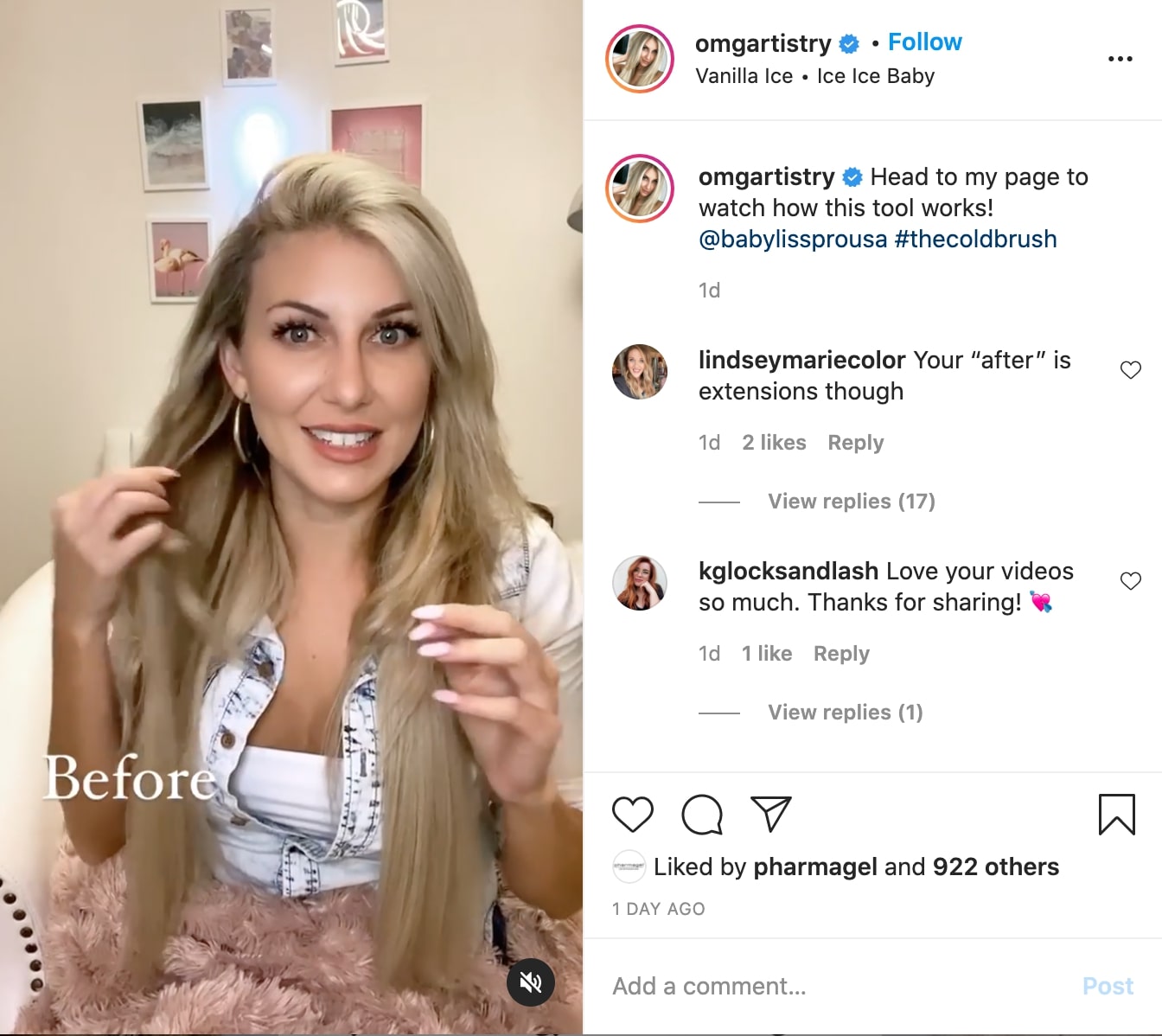 Here's an example of how a brand collaborated with Olivia Smalley –a hair influencer.
Pro Tip: For small businesses like spas, salons, etc, micro influencers can also work wonders as they have less but dedicated audience in their niche.
10. User Generated Content – To expand your reach
User generated content is the most impactful way of attracting new followers and prospective clients for your business. Not just that, it is a good way to appreciate your customers at the same time.
If the user has a private account, you can ask them to make their post public which enables you to repost it on your social media feed.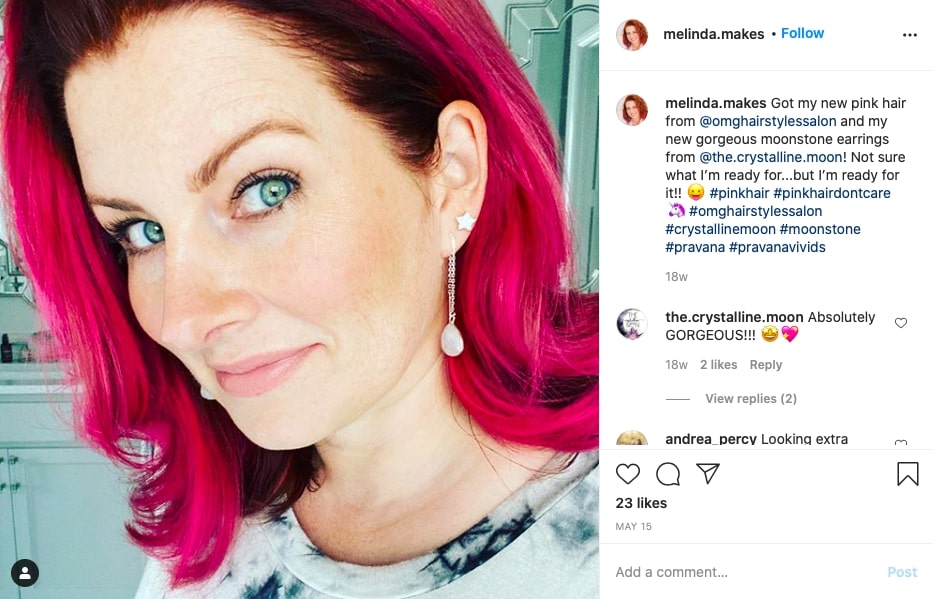 This is how Brit Carmicheal plays with user generated on her Instagram account
It's a wrap
Being an innovative content creator starts with choosing the right form of content at the right time. This might also include combining a number of formats at once depending on what brings more engagement to your small business.
Social media for small businesses is also about developing a connection with your audience. But sadly, many small businesses often fail to engage their audience because of monotonous content and irregular posting habits.
Consider using social media planning tools like Buffer to create a robust social media calendar which will help you make your posting habits regular. For small businesses or businesses on a tight budget, there are also a bunch of buffer alternatives available that might work perfectly for your business.
So get into your creative shoes and start working on your Instagram content strategy.
And if you're looking for more ways to effortlessly scale Instagram for your small business, check out our Instagram Growth Pack—that will help you double your bookings. You'll find tready to use templates, discount codes, hashtag list and more!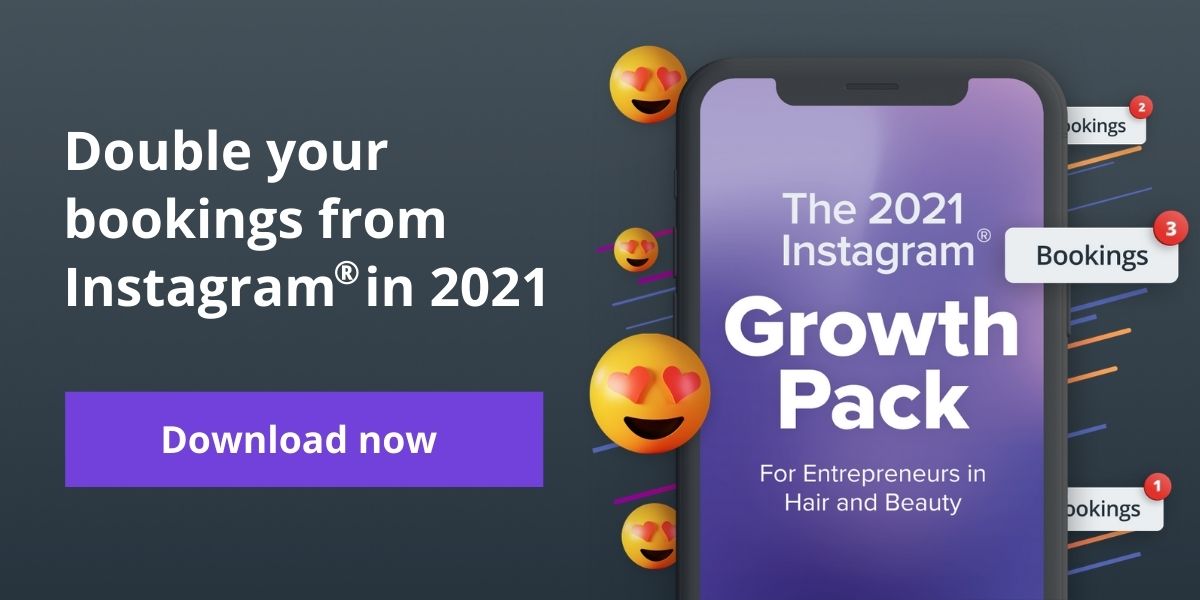 Editor's Note: This post is contributed by Surya who is an SEO Strategist at SocialPilot. He is a problem solver by nature, a mountain person to the core, and music calms the chaos in him. Feel free to connect with him on LinkedIn.