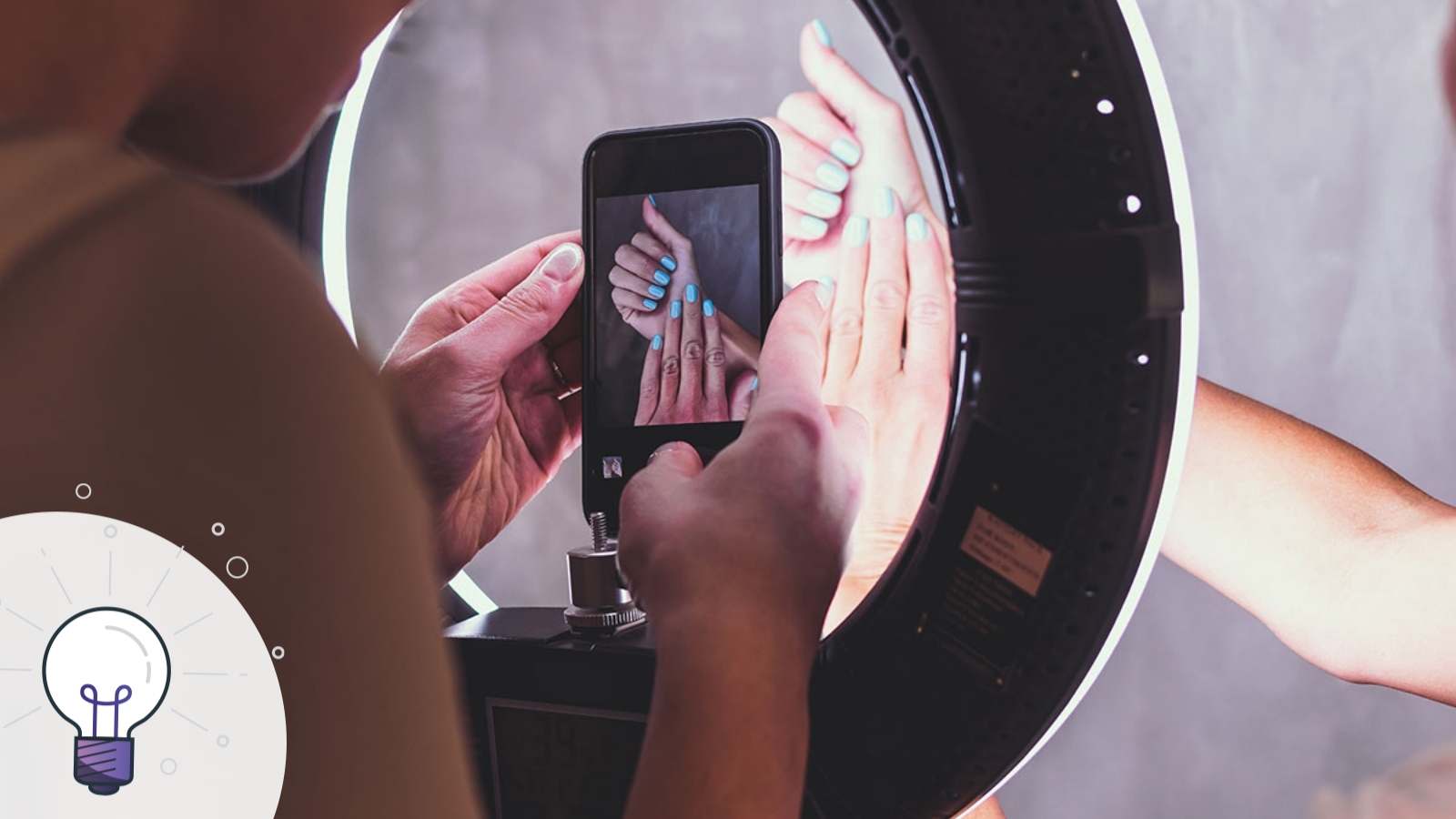 Instagram Marketing for Salons and Spas: How to Use the App to Gain Visibility and Engagement
To say that Instagram is a game-changer for businesses is a bit of an understatement, considering there are now more than 25 million business profiles on the app. According to Instagram, over 200 million people visit at least one Business Profile every day, and 60% of users say that they discover new products on social media.
These staggering figures tell us that Instagram is ripe for business opportunities. Whether you're looking to amplify your brand, engage existing clients, or drive traffic to your salon or spa, there is a good chance that Instagram can help you get there.
Have a look at the tips and strategies below, and learn how to use them to maximize your presence on Instagram.
Optimize your photo and bio
Your Instagram photo and bio are the first two things that people see when they land on your profile, so it's important to make a great impression.
Personal photo vs. business logo
Let's start with your profile photo. Is it better to use your business logo as your profile picture or should you use your own photo instead? The answer: it depends. If you're building a brand for your business as a whole and you're planning to scale your operations, it's best to use your company's logo.
Here's a great example from Tans By Kait, an airbrush spray tanning salon in Winnipeg, Manitoba:



On the other hand, if you (i.e., the business owner) have a strong personal brand and you're the face of your business, then it makes sense to use a photo of yourself.
That's what Tyler Dew, the owner of Barbersign, is doing. In addition to being a salon owner, Tyler works as a consultant and educator, so using his personal photo works for him.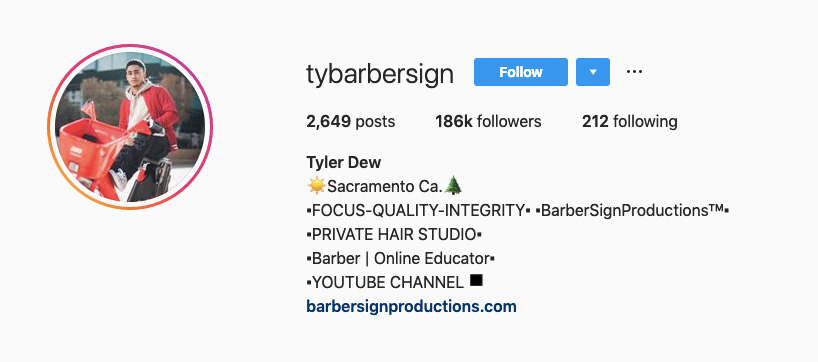 Also, note that it's totally ok to do both. If you're building your personal brand and running your salon at the same time, you could create separate accounts for yourself and your business. The British hairstylist Errol Douglas is doing just that. Errol owns the Errol Douglas salon in London but does quite a bit for traveling and speaking, so he maintains two Instagram accounts — one for himself and another for his salon.



Make your bio count
Your bio should succinctly describe your business. Put yourself in the position of your target clients, identify the keywords that would appeal most to them, and incorporate those terms in your profile description.
If you're a hairstylist for kids, then specify that in your bio. Specialize in weddings? Be sure to include it in your profile description.
Having emojis in your bio can also help. Instagram is highly visual, so in addition to sprucing up your page, emojis can also help get your message across.
You'll also want to tell people how to get in touch with you, so don't forget to include your contact detail in your bio.
A great example of a business that's doing all of this well is BB Artistry Spa, a Chicago-based spa and Genbook user that specializes in eyebrows and skincare.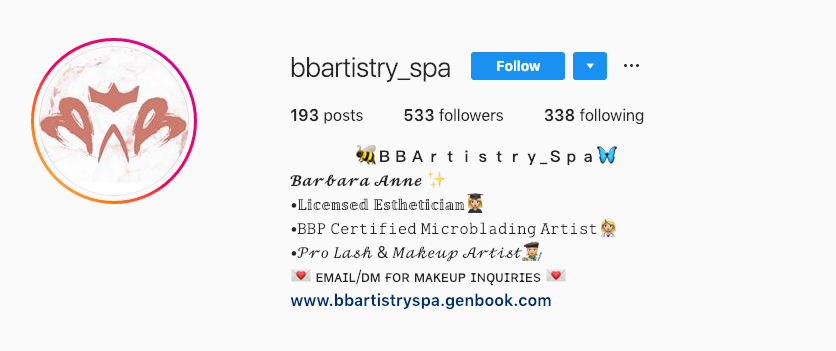 In addition to using keywords like "microblading" and "esthetician" to clearly tell people what they can expect from the business, BB Artistry makes use of creative emojis and fonts to enhance the look of their profile.
BB Artistry also includes a link to their online scheduling page, so people who land on their profile can easily book an appointment.
Use Instagram to book more clients
Speaking of appointment scheduling, did you know that you can give your customers the ability to book a service right from Instagram? If you're using an online scheduling platform like Genbook, you can add a "Book" button to your business profile under the Settings page of your account.
Here's how: Select the "Contact Options" section on your Settings page, then click "Add an action button." Select Genbook from the list of services, then add your scheduling URL. (For detailed instructions on how to do this, read our help article on adding a Genbook "Book" button to your Instagram page.)
Diamond Cuts Barber Studio offers a great example of this feature in action. When you land on their profile, you'll find a "Book" button which takes you directly to Diamond Cuts online scheduling page.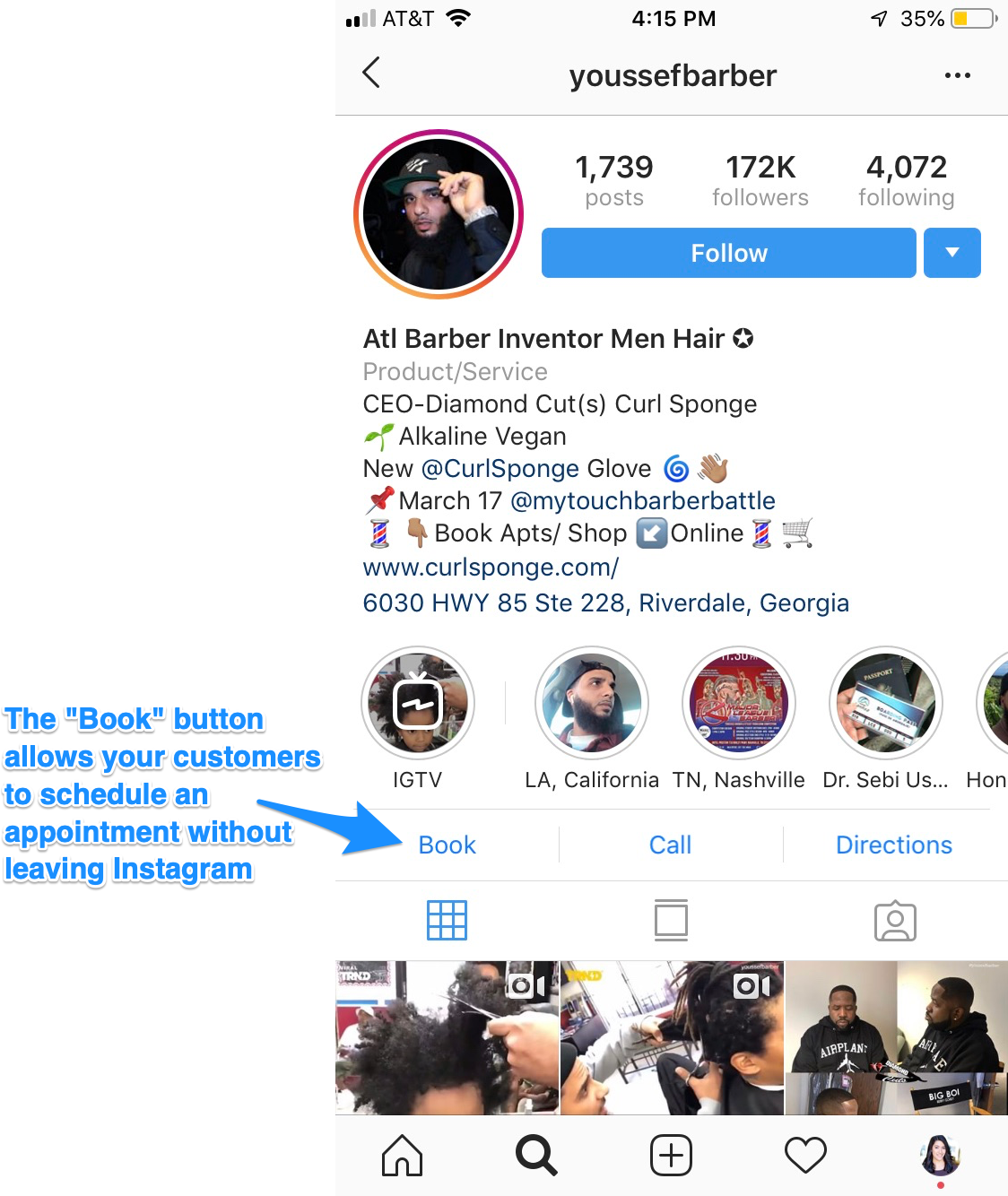 Mix up your content
Content is the lifeblood of your Instagram account, so be sure to share photos and videos on a regular basis. What exactly should you post? Here a are few ideas to get you started:
Results or "finished product" shots
Show off the results that your customers have achieved at your salon and spa by sharing before and after pictures or images that show the finished product or result of a treatment.
Here's a great share from Fade Factory, a barber in Burbank, CA.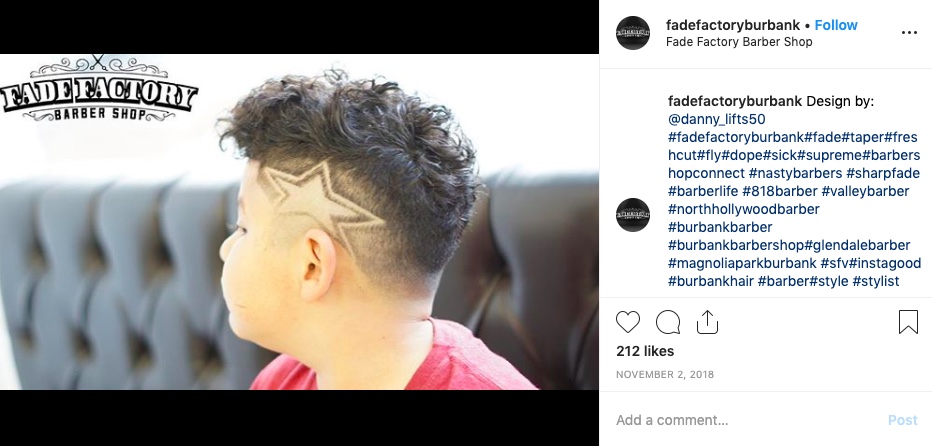 Reviews or testimonials
A whopping 92% of consumers read reviews and testimonials online, so you can bet that a good chunk of your target customers is looking up ratings and reviews when shopping around for salon and spa services.
That's why it's important to collect and take note of all the positive customer testimonials that your customers are leaving on different channels — e.g., Yelp, Facebook, SMS, or your official review page. Go through these review sites or apps then screenshot the great comments that you receive so you can share them with your followers.
Check out this post by Edison Bastidas, a licensed barber and the co-founder of Egotrip Hair (who also happens to be a Genbook user):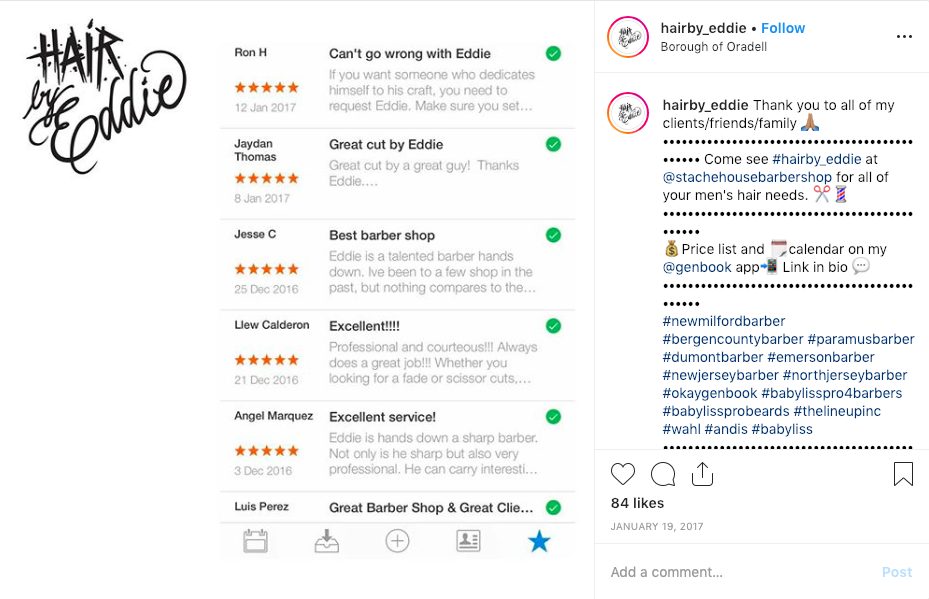 Tip: Looking to do something similar on your Instagram page? Genbook automatically collects feedback from your customers after their appointments. You can share the reviews and star ratings on social media, and link them to Google Search to boost your reputation and attract new customers.
Customer features
Put the spotlight on your best customers by featuring them on your Instagram account. You could share their story, their results, or even talk about the relationship you have with them (e.g., how they found you, how long they've been a client, etc.)
The Branded Beauty Bar (BBB), for example, has a Client of the Week series that features individual customers. It's an excellent way to show clients some love!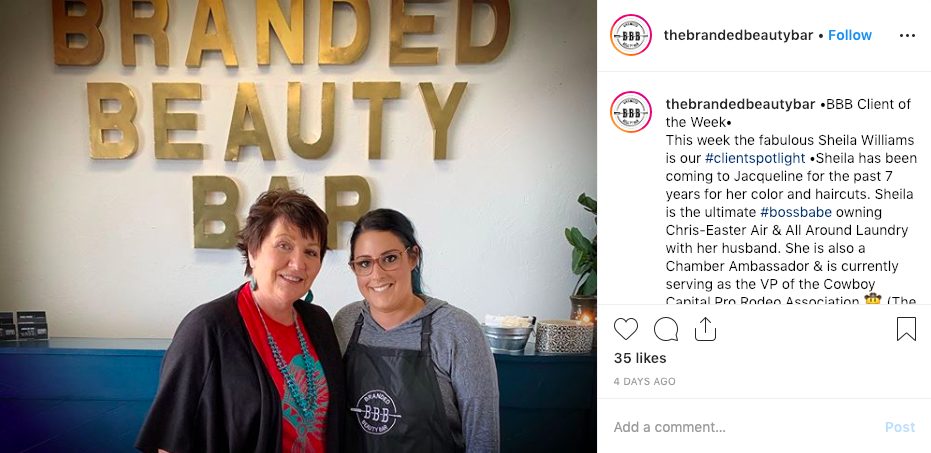 Your team in action
Show your team in action to give people a glimpse of what (and who) they can expect when they visit your salon or spa.
In addition to serving as great content, putting the spotlight on your team members allow people to see the faces behind your brand. This, in turn, can boost authenticity and strengthen the connection you have with your audience.
Check out this example from Platinum 34 Salon: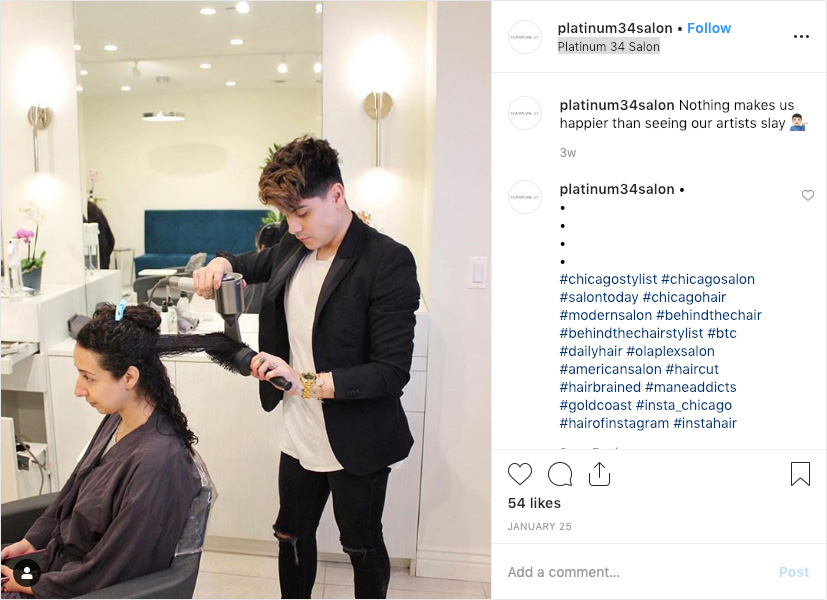 Promotional content
Running a sale or promotion? Make sure your followers know about it. Create an Instagram-able image or flyer for your promo and share away!
When TANS BY KAIT ran a giveaway in early 2019, she posted it up on Instagram, with clear instructions of how to participate.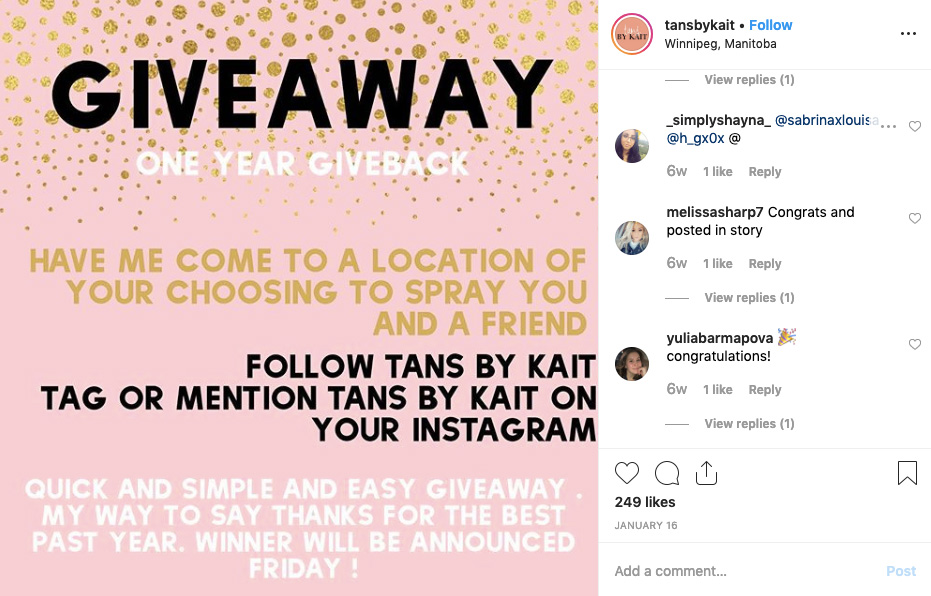 Informative content
Posting informative content is a great way to provide value to your audience while positioning yourself as an authority in your space. Consider mixing in some beauty and wellness tips and tricks into your content calendar.
TANS BY KAIT, once again, does an amazing job here. She ran a "Spray Tan Knowledge" series on Instagram, in which she shared videos of herself answering questions about tanning.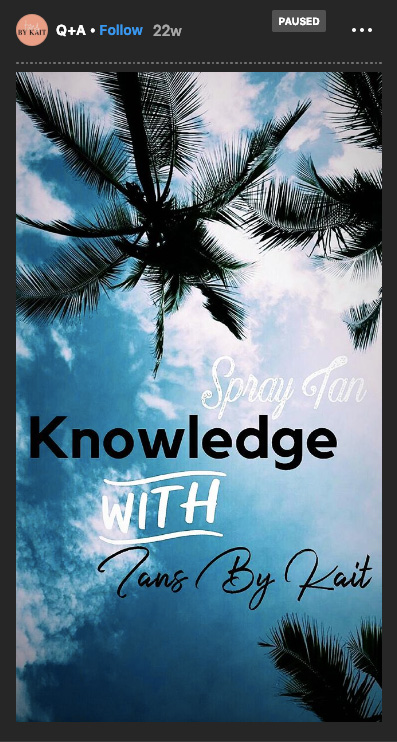 Fun stuff
Your content doesn't always have to be about serious or promotional stuff. Don't be afraid to share your sense of humor and get a laugh out of your followers. Have a look at this example from Aviary Beauty + Wellness Collective: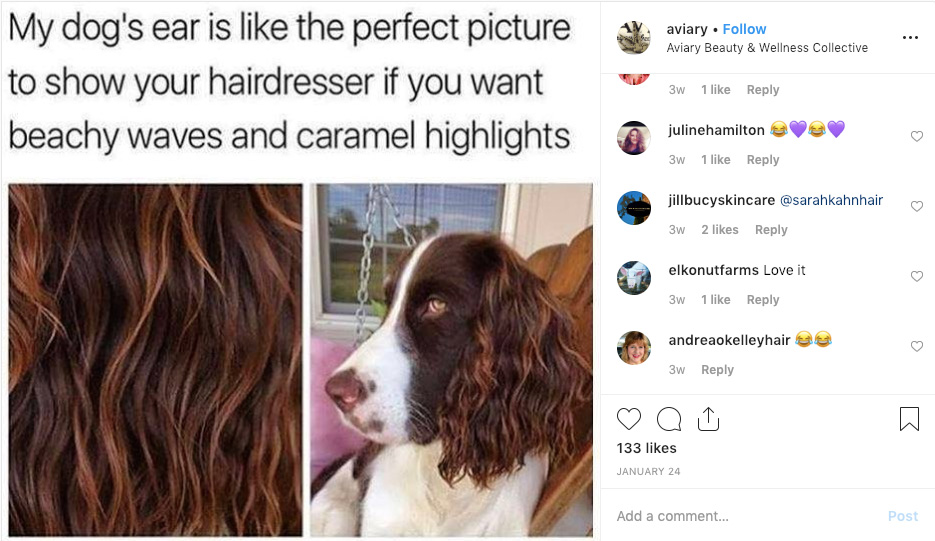 Timely or seasonal content
Stay relevant by posting timely content on your profile. Find a way to put a seasonal spin by sharing relevant tips or salon/spa specials. For instance, during the holiday season in 2018, Tyler Dew shared an Instagram post reminding his followers to book their Christmas appointments.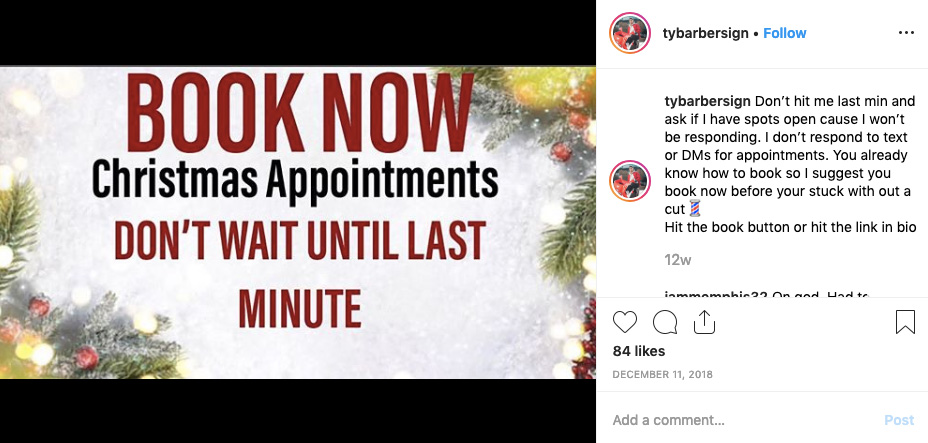 Your customers' content
People love it when businesses convey authenticity, and on social media, one of the best ways to do this is to re-share your clients' posts. Encourage your customers to tag your Instagram account or come up with a branded hashtag that they can use.
Salon Modello, in Atlanta, implements this tip by regularly re-sharing the Instagram posts and stories of their happy customers.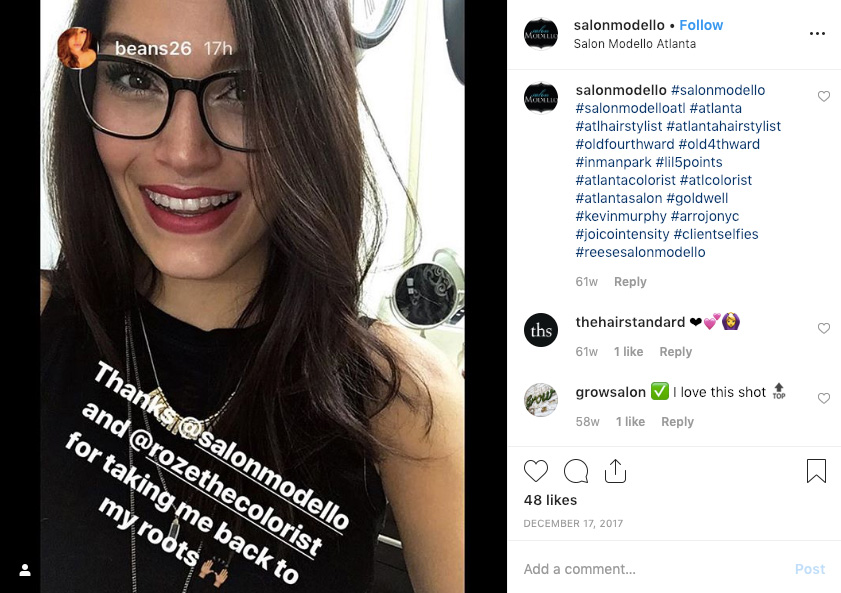 Find the right content mix
As you can see, there's no shortage of options when it comes to the content to share on Instagram. The key is figuring out the right content mix for your account. Each business is different, so the best thing to do is to experiment with various types of posts and see what performs best for your audience.
Be sure to vary things up. Sharing the same types of posts can get repetitive and won't make for an interesting Instagram feed.
Consider the Branded Beauty Bar's Instagram account and notice how they use a mix of customer posts, tips, motivational content, and more. You can achieve similar results by coming up with an IG calendar that details what types of posts to share and when.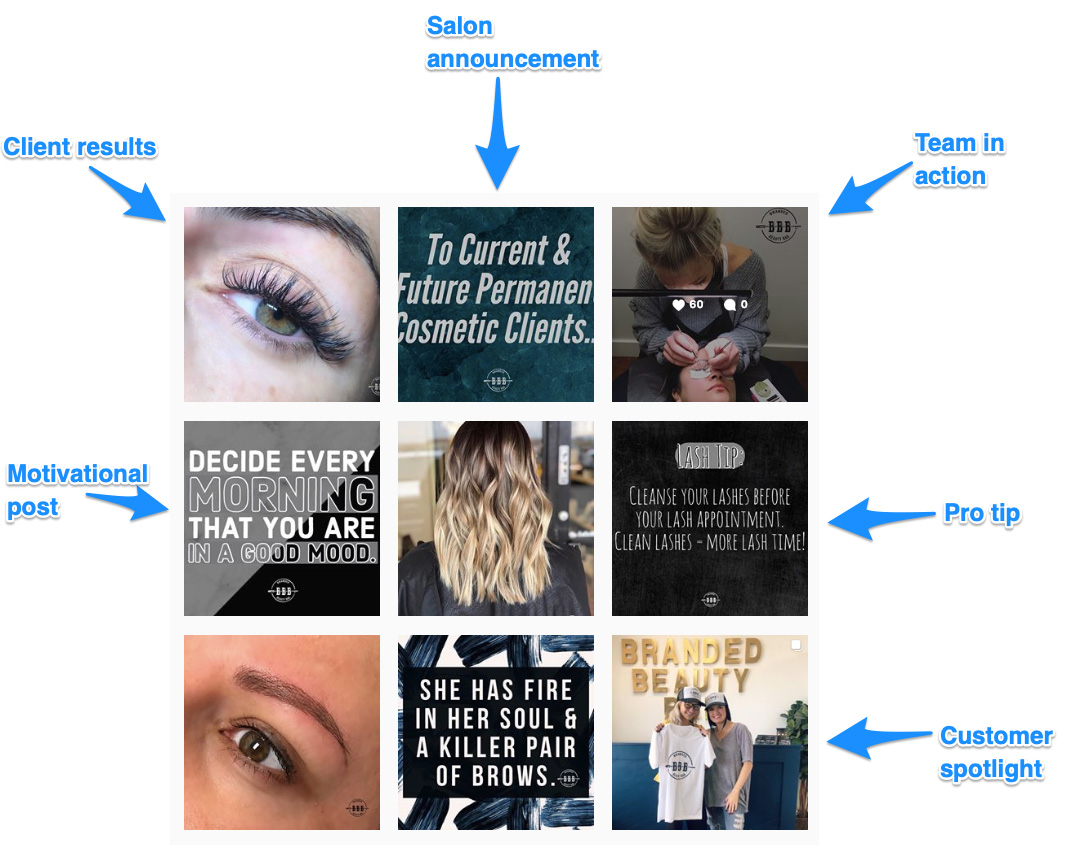 You could, for example, choose to share customer stories on Mondays, promotional content on Tuesdays, educational posts on Wednesdays, and so on. The "right" mix will depend on your business and audience, so don't be afraid to test different posting strategies to see which actions drive results.
Share lots of stories
Instagram Stories, a feature that lets users content that vanishes after 24 hours (unless you feature them on your page) have grown to become. extremely popular among Instagram's user base. According to the company, a third of the most viewed stories on Instagram are from businesses.
As a salon or spa, you can use Stories to share your day-to-day activities as well as behind the scenes content.
For example, when Instagram featured Eclipse Salon's account, they posted some "behind the chair" photos that showed the before and after results of a hair treatment.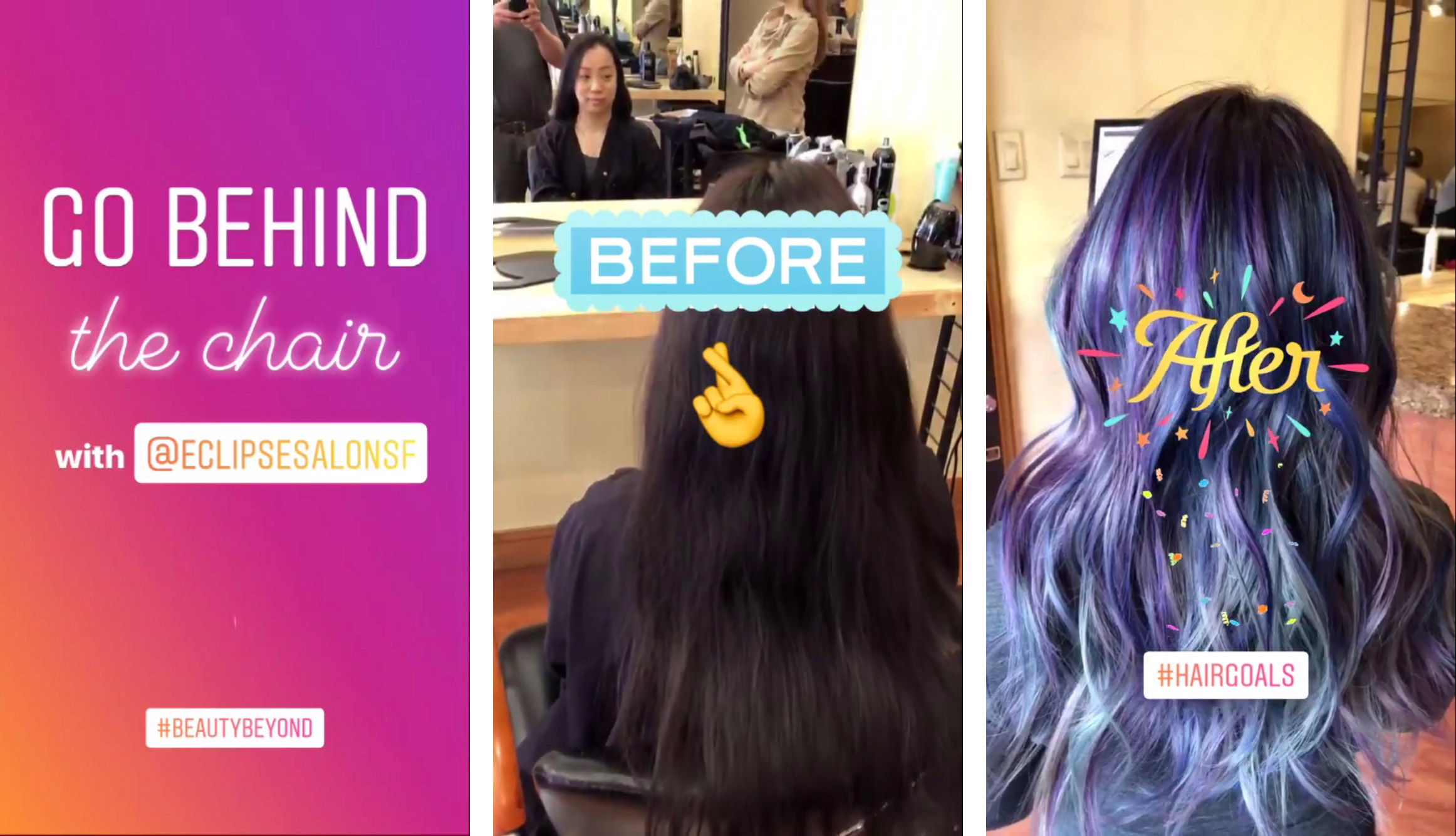 Another cool idea? Take questions from the audience. Instagram Stories has a Q&A feature that lets users type in their questions. JAX Hair & Beauty did just that recently when they invited their followers to submit questions to their Holistic Therapist.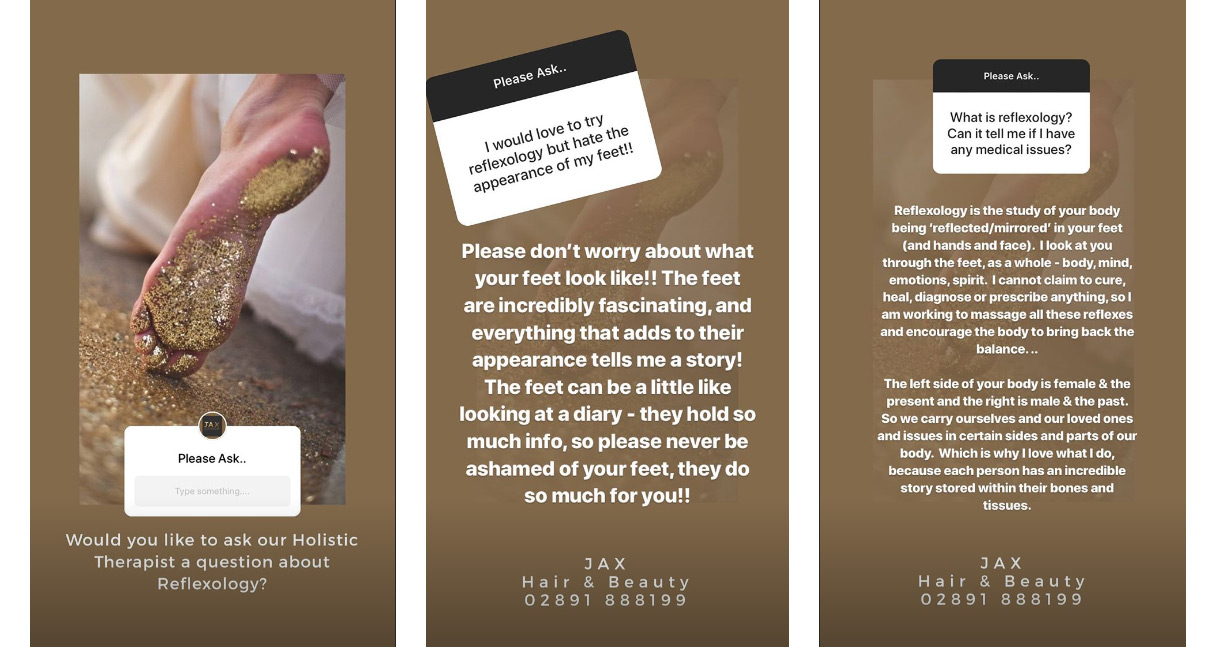 Leverage hashtags
When used correctly, hashtags can drive more eyeballs to your content. For starters, people can follow and search for hashtags on Instagram, so tagging your content with relevant terms can put you in front people of who are interested in those tags.
As for how many hashtags to include in your posts, Instagram lets you add up to 30 hashtags on a regular post and up to 10 hashtags on a story.
The key to successfully using hashtags is to figure out the best ones to use in your industry. There are a number of ways to do this:
Use Instagram's search function
The easiest way to find the best Instagram hashtags is to use the app's search feature. Enter a relevant search term and take note of Instagram's suggestions. For instance, if you're running a nail salon, you could enter the term "nail art" then see what comes up.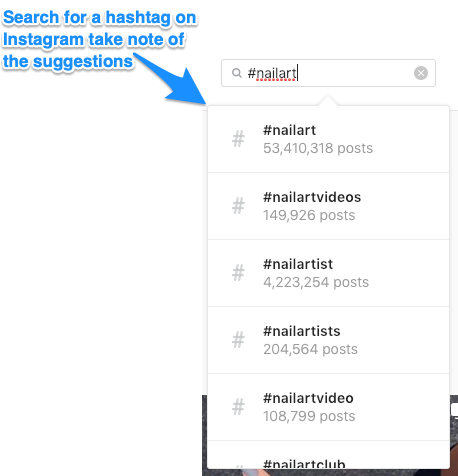 See what other salons and spas are using
You could also browse the posts of similar businesses and identify the hashtags that they're using. Let's say you're looking for the hashtags for haircuts and hairstyles. One thing you could do is visit other hair salon accounts on Instagram and pay attention to how they're tagging their posts.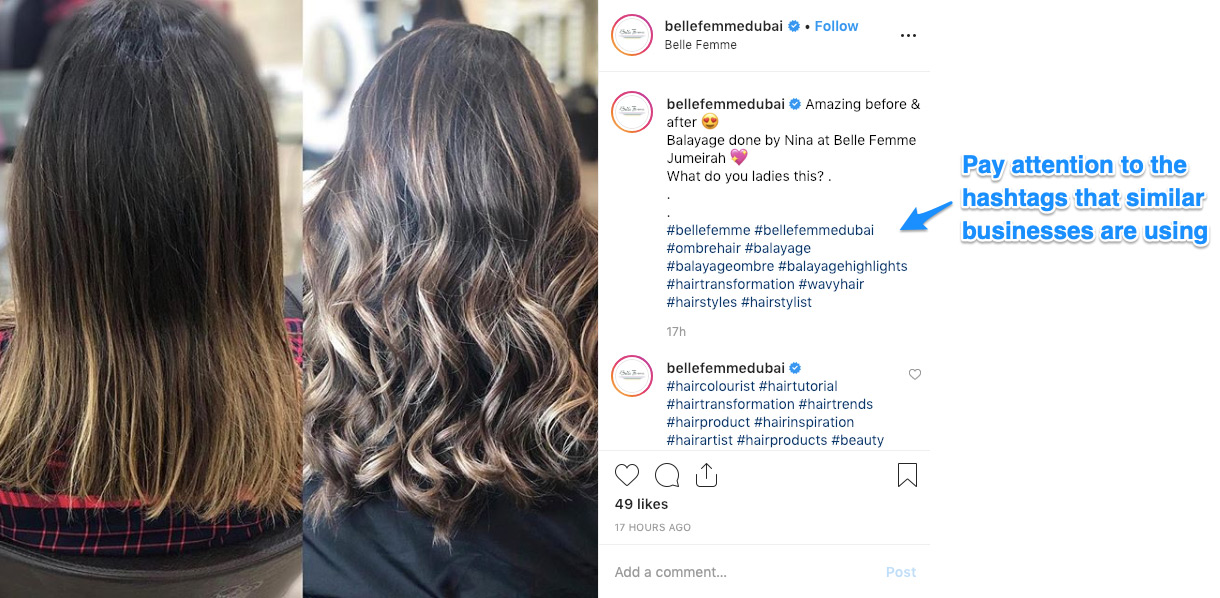 Use hashtag tools
Want to be more systematic with your hashtags? We've got your back. We've created a Hashtag handbook and picked up hashtags that will help your business immensely. Specially crafted for spas, salon and barbershop these hashtags are vetted for their reach nd engagement 
Final words
As a salon or spa, your services are highly experiential, so one of the best ways to market your business is through the use of beautiful images. And since Instagram is practically the motherland of gorgeous and aspirational visuals, the app serves as a uniquely effective platform for getting in front of  — and securing appointments with — your target customers.
Don't miss your chance to make a great impression. Learn the pointers we discussed in this guide and start taking action!
Want more ways to boost your Instagram marketing? Why not begin with our Instagram Growth Pack? Boost engagement and double bookings through optimized templates, ready to use hashtags and a lot more!