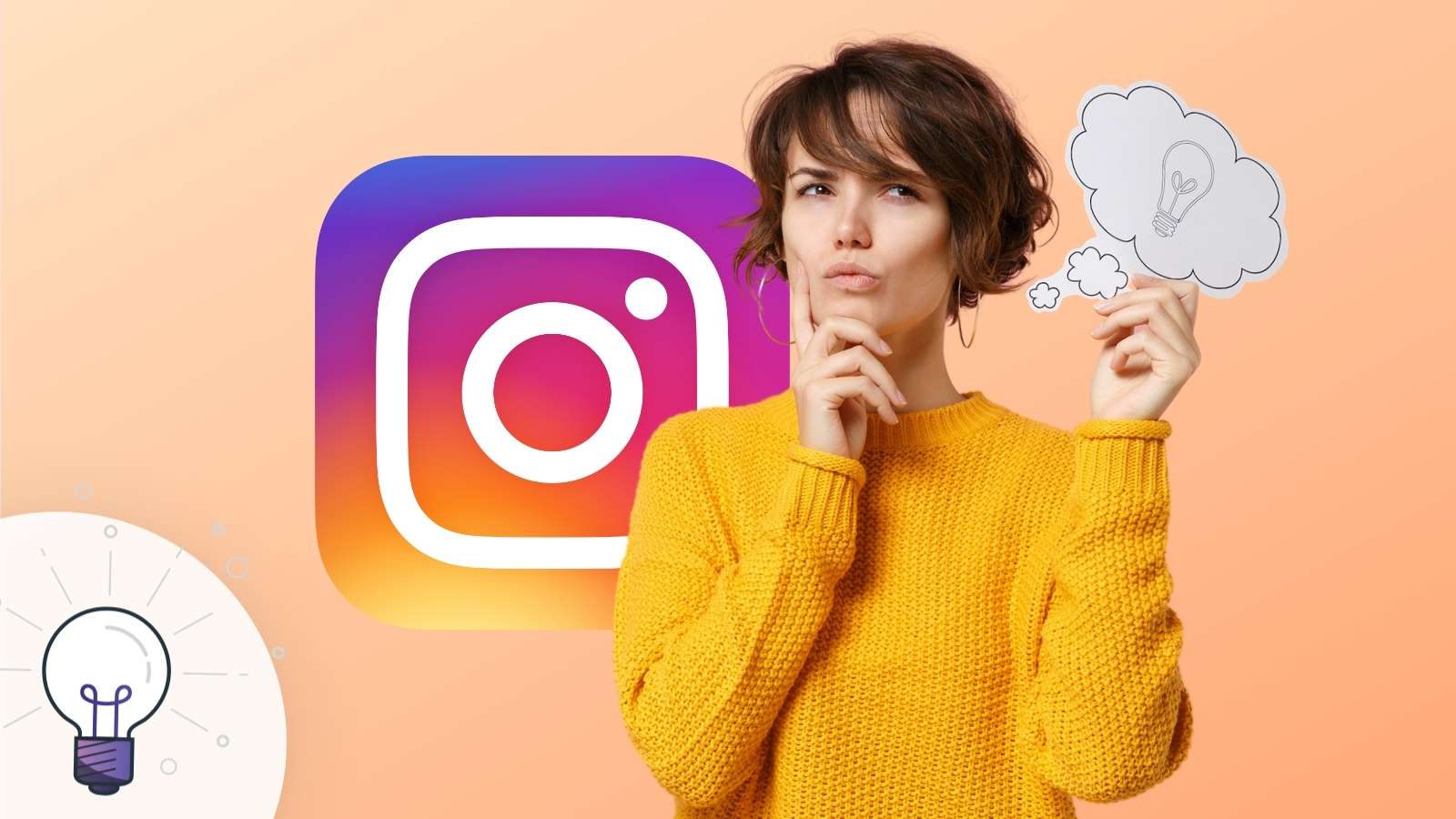 Instagram Planning: How To Master Instagram Content and Build an Exceptional Grid That Attracts Clients!
"Be where your clients are" is the age-old advice given to every business, but it's become especially relevant in the age of social media.
With more and more people spending time on social networks, building your clientele entails showing up on these platforms and websites.
And since most clients are on Instagram, the app has long been one of the hottest platforms around, especially for spas and hair salons. As a result, there's a lot of competitive pressure in the industry to maintain an Instagram presence that generates engagement and brand awareness.
The good news? You don't need fancy equipment or tons of resources to do that.
These days, you can create top-notch Instagram content armed with just a smartphone and some skilled technicians and therapists.
And that's exactly what this post is about.
The following paragraphs will shed light on how to master Instagram planning— even if you're short on time and cash.
Specifically, you'll learn:
Why personal care businesses should create content for Instagram
It's no secret that many spas and salons use Instagram as their key marketing channel — and it's easy to see why. The platform relies on compelling visual content and gives personal care businesses like salons and spas access to a huge number of potential clients.
Moreover, Instagram is a highly aspirational platform. It's designed to give consumers beautiful, compelling content that is more appealing than what is already in their lives. This makes Instagram the ideal place to spread awareness about your services and reinforce your brand proposition. So if you haven't budgeted it in your marketing spends, you should think twice.
How to craft your Instagram marketing plan
Instagram content planning can quickly get overwhelming for many businesses. If you're in charge of running a salon or spa operation, finding the time to coordinate a robust content strategy can feel next to impossible.
By following these actionable tips and easy Instagram hacks, you'll be well on your way to creating engaging and memorable Instagram content.
Decide on some core post categories
Sit down with a pen and paper and brainstorm some key topic ideas or content types that you want to explore in your Instagram marketing. You should consider ideas such as:
Curated images of your salon/spa
Close-ups of the products you stock
Photos of your team at work
Upcoming promotions or in-store events
Client testimonials
Before and after content
Fun quotes/tips to engage your audience.
Try selecting somewhere between 6-10 topics. Too few means that your content could get repetitive, while too many will prevent your feed from being cohesive.
As any social media guru will tell you, the key to great Instagram content is consistency. Deciding on some cornerstone topics will help to keep you on track (and prevent you from running out of inspiration.)
Use the right hashtags
It can be cringy to look at posts which are filled with hashtags, they do serve a very important purpose on the platform, especially for local businesses.
Selecting and using the right hashtags—the ones that drive engagement and conversions— are some of the easiest Instagram hacks out there. They make your posts visible to those who aren't already aware of your business. For example, if someone searches for #LAhairstylist, you absolutely want to be in those results as an Los Angeles-based hairdresser. Using this tag could expose your business to hundreds of potential clients!
It's important to do some research on which hashtags are most appropriate for your establishment. These will be a mixture of location, service (e.g. #blondhighlights) and general industry tags (e.g. #hairinspo) in order to reach people in your local area with an interest in specific treatments.
Without hashtags, your posts will only be seen by people who already follow you, and it will be a real struggle to grow your follower count.
Engage those who interact with your Instagram content
With many discussions about Instagram planning revolving around content creation, it's easy to forget about what happens after you post. For many businesses, it's nothing at all — and that's a big problem.
If you aren't making an effort to engage directly with your followers within your posts, you're missing a huge opportunity to foster loyalty and connection. If someone comments on your Instagram content, make it a point to respond. This allows you to develop your feed as a community where clients and enthusiasts can interact with your brand.
When to post and how to plan your content in advance
Even if you have limited time, it's important to have a clear content plan in place. Many businesses fall onto the trap of posting on the fly when they have a spare moment, which often results in an Instagram feed with a lack of clear brand direction.
Content planning is a vital part of social media strategy for salons and spas. By creating a detailed schedule for your posts, you can keep stress to a minimum and ensure that your content stays relevant and on-brand.
When to post
Like every social media platform, Instagram has certain times of day when engagement from users is higher and times where even the best-quality content may struggle to gain traction: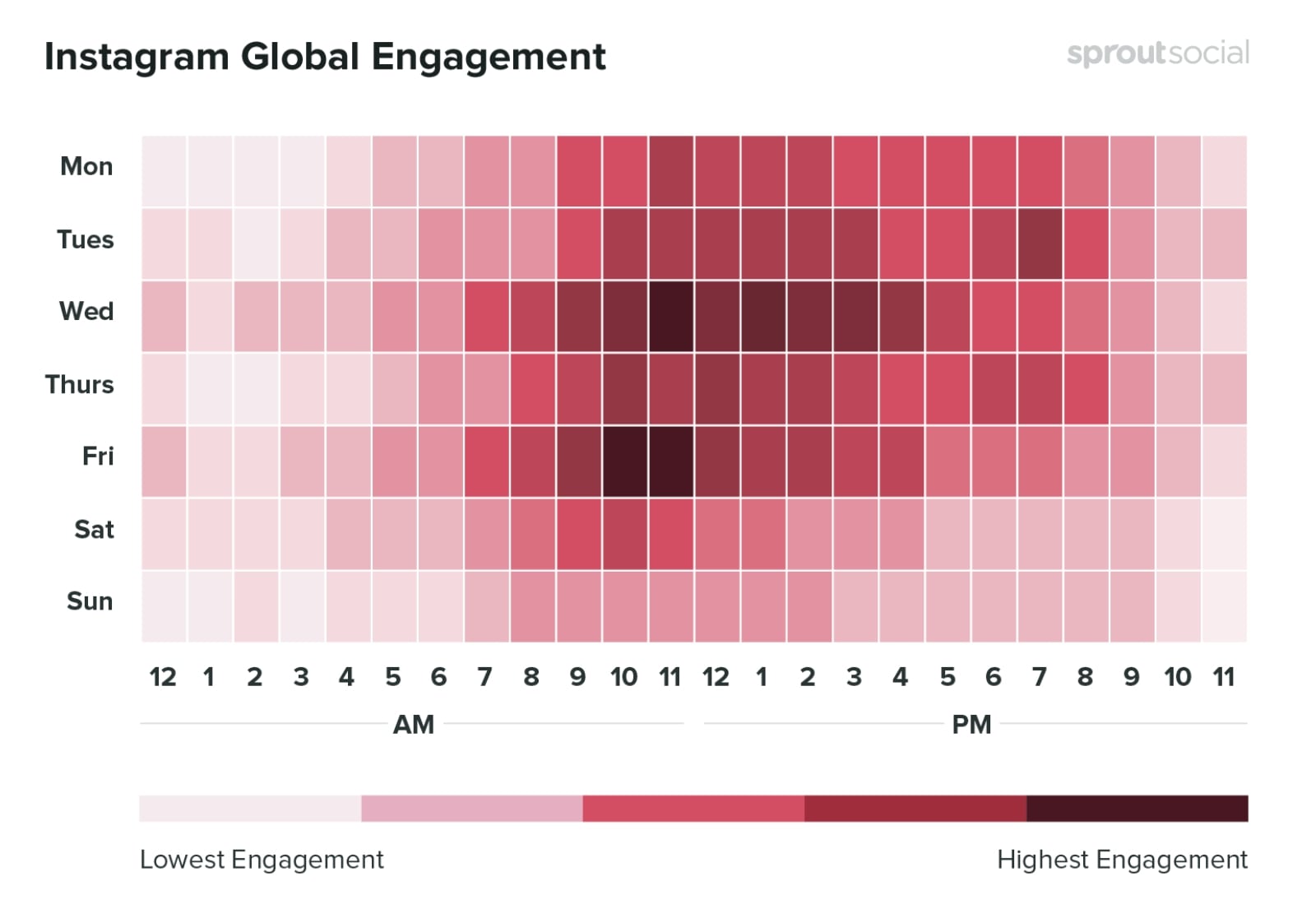 As the above grid shows, Instagram sees the highest engagement on Wednesdays and Fridays, between 10-11am, while weekend engagement is much lower.
By making the effort to post during times of higher engagement, your posts are more likely to gain traction.
You can manage this either by using Instagram tools that allow you to schedule posts to go live at specific times, or by setting reminders for yourself to post to Instagram at those peak times of day.
Setting up a content calendar
To keep things nice and organized, it's a great idea to set up a proper Instagram calendar system on your phone for what you're posting and when. That way, you always know what's coming up and what gaps you may have to fill in your schedule.
If you don't want to spend money on a proper social scheduling tool, using Apple or Google calendar is a great option. Both allow you to color-code your posts and set reminders. You can find a great guide here.
As well as setting up the images ahead of time, you can extend this to perfecting your Instagram copy and deciding what hashtags to use. That way, all you have to do is copy and paste in your text, and you're good to go!
Pro tip: While it's good to have your Instagram calendar filled up ahead of time, it's important to leave yourself a bit of room for spontaneity. After all, fun moments happen in salons on a daily basis. Make sure that someone is there with a phone ready to capture it and add to your Stories!
How to plan out your Instagram grid
The grid.
It's a core part of the Instagram aesthetic, but one which is often overlooked. If you're only considering your Instagram content on a post-by-post basis, you're losing a lot of mileage when it comes to your visual appeal.
Think about your feed as an upmarket print publication. In a magazine or catalog, nothing is left to chance. Businesses will carefully plan out the order of the content and what appears next to what.
Your Instagram feed is no different. By carefully curating your overall grid according to a specific theme or layout, your account becomes especially cohesive and pleasing — which is a powerful magnet for followers.
Here are a few clever and engaging ways that you can manage your Instagram grid:
Row by row
Because most of us naturally scan books and screens from left to right, curating your posts in sets of three creates a very pleasing effect. It's much easier for us to absorb content in this format, and we're far more likely to keep scrolling down the feed of that account.
Furthermore, posting three images together allows you to tell a much bigger story than one image can typically achieve on its own. When posts share key visual or thematic characteristics it communicates a sense of importance, meaning people are more likely to tap and read the content.
Aveda uses the row-by-row approach to draw attention to its key brand values in a compelling way. The company's feed clearly illustrates its commitment to sustainability and climate action, which is attractive to conscious consumers.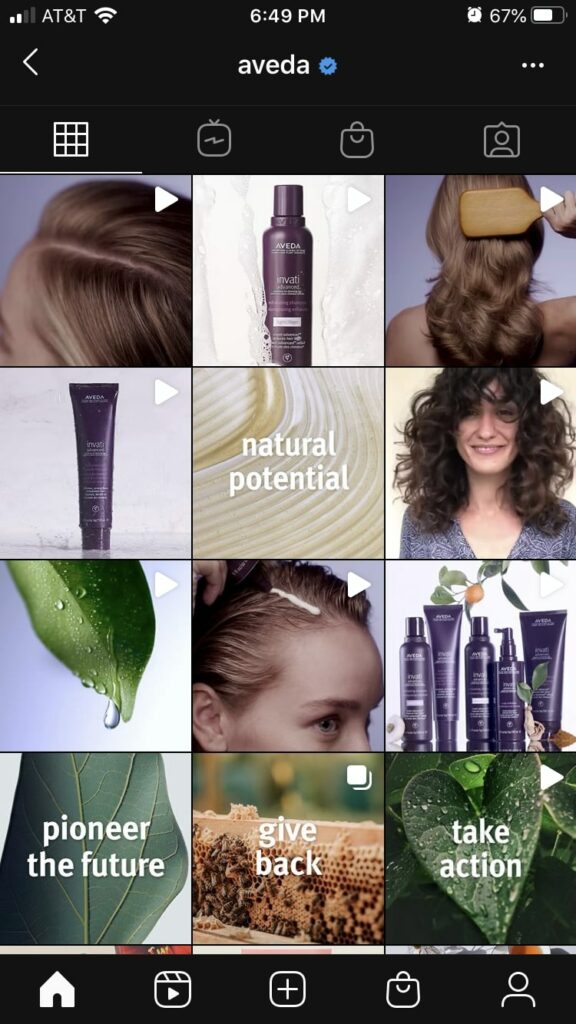 Using a recurring accent color
This is a great option for businesses that don't want to get too architectural with their feed. Even if your posts contain very different content to each other, using an accent color helps to knit images together and provide a sense of organization and calm.
As a recently-launched brand, Monday Haircare uses its signature pink throughout its Instagram feed to quickly develop recognition in consumers who've only just discovered the brand. As well as being pleasing to scroll through, this also lends a feed a sense of polish.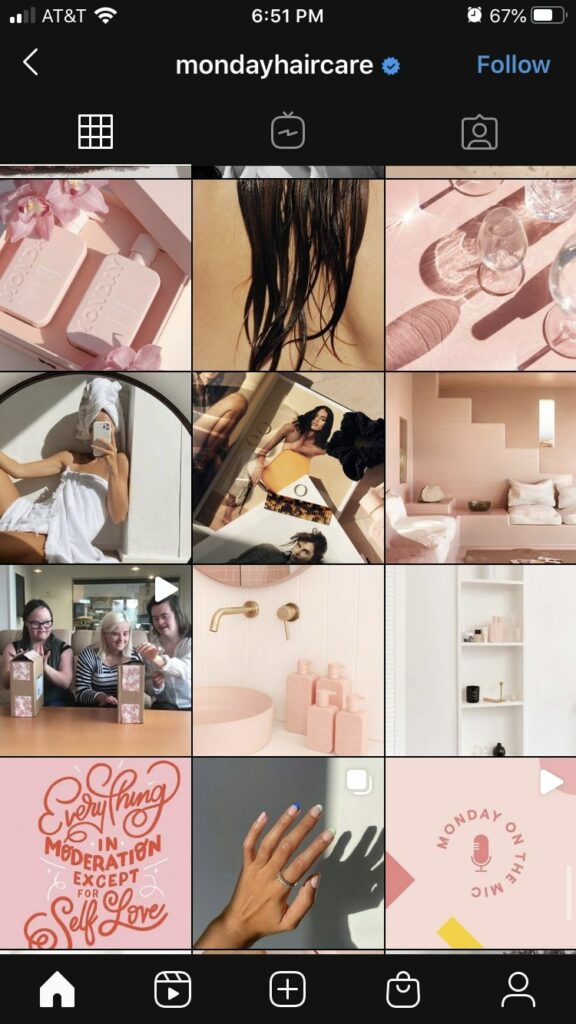 The rainbow feed
When so many hair and beauty salons use Instagram for marketing, it can take a bit more work to stand out from the crowd and gain attention. While a "rainbow" or color-changing effect does take some time to organize, it's very eye-catching and perfect for an aesthetics-obsessed platform.
The wellness company Health by Habit showcases this to great effect on its Instagram, allowing the brand to highlight the different products within its range. Moreover, sticking to this strict formula helps businesses to plan out their content more easily in advance, which is great for busy salon owners.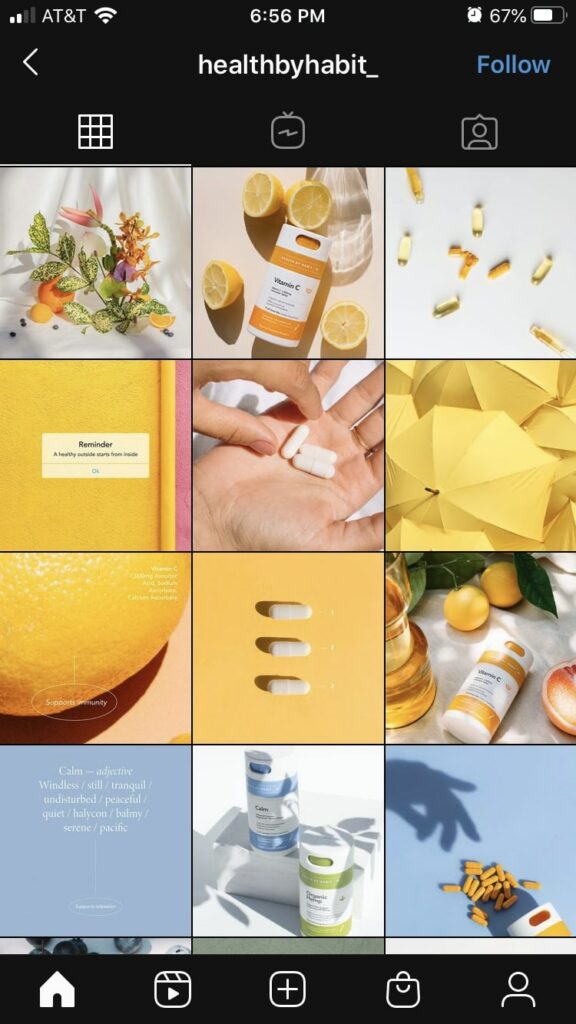 Useful tools for implementing your Instagram marketing plan
There's a wealth of Instagram tools that will help you master Instgaram planning that we recently spoke about, but these are just a few more that you should look into to supercharge Instagram content and gain an edge in the marketplace.
If you're looking to monitor the followers you've gained or lost from your Instagram content efforts, get yourself an app like Followers Pro+, which makes it easy to track everything from new followers, unfollowers, mutual friends, and more. The paid version even contains content analytics, which shed light on your most and least popular posts.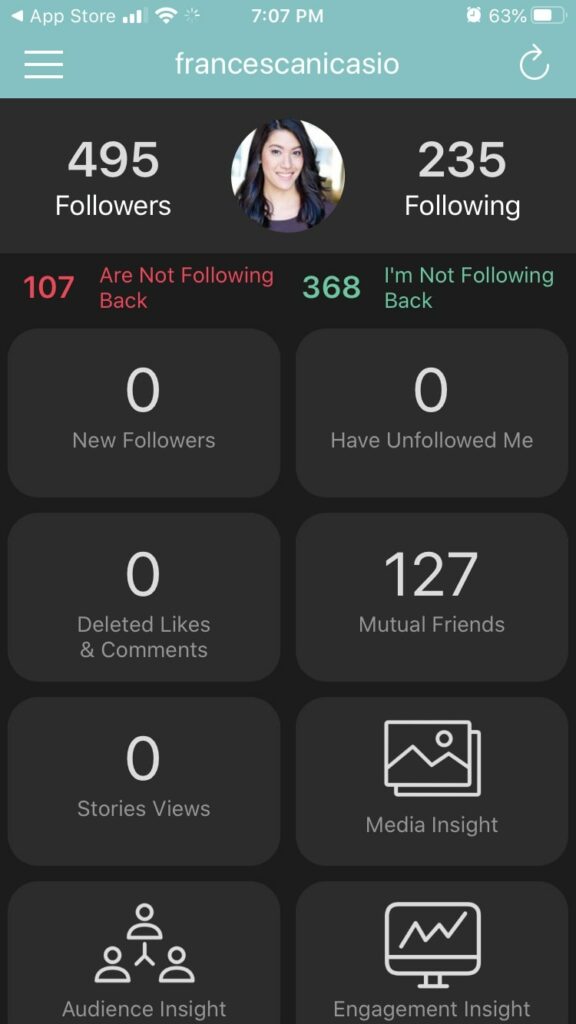 User-generated content is a goldmine when it comes to marketing — especially for salons! If your client posts a great photo to their feed of their latest haircut, you'll want an easy way to repurpose this content.
Repost to Instagram is a handy little app that allows you to do just that. The tool allows you to capture the details of any post where you have copied the URL. You can then edit this to change filters or add a new caption, and post directly to your feed.
Note: As per Instagram's guidelines, you should always get written permission to re-share or copy any content from your clients.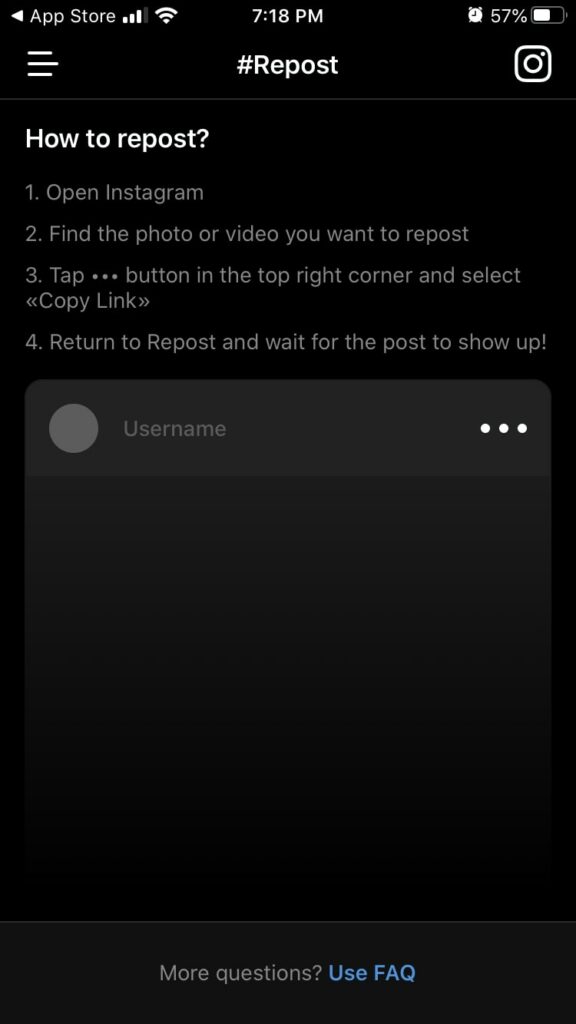 Instagram Insights
This isn't technically a separate tool, but it's well worth mentioning here. If your salon or spa is set up on Instagram as a business account, you have access to Instagram's in-app analytics functionality. This tells you (among many other things) who is interacting with your content and how, which times of day you get the best engagement, and where people found your content.
By paying attention to how your individual posts are performing, you can inform you whether your current content plan is striking a chord with your audience. When it comes to growing your business's following, this is one of the greatest tools in your arsenal.
Ready to take your Instagram planning to the next level?
Building a strong following on Instagram takes time and patience, but it's well worth it for the rewards. The platform offers practically limitless opportunities to grow your salon, inspire prospective clients, and build brand loyalty.
Best of all, you don't need a super-sized marketing budget to make this happen. By following the steps above, you can activate a cost-effective Instagram marketing strategy that gives your business a strong point of difference in the marketplace. Need help putting these pointers into action? Download Genbook's Instagram® Growth Pack and start doubling your bookings. This resource is packed with goodies like ready-to-use templates, a curated list of hashtags, and more. Check it out!