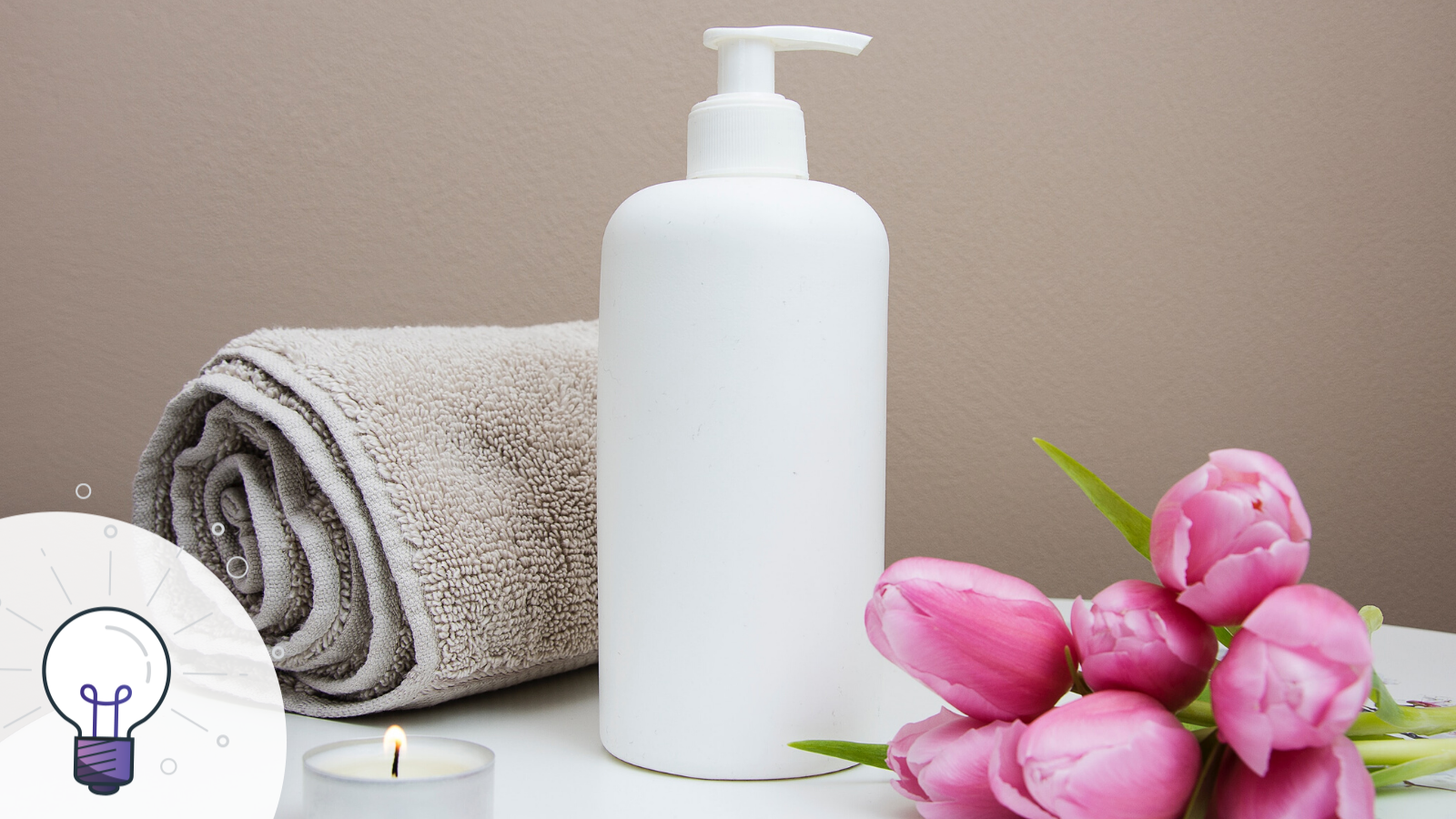 Massage Advertising and Marketing: 7 Best Practices to Help Promote Your Spa Business
If you're a massage therapist or a massage clinic owner, the good news is that you're in an industry with an excellent outlook for growth. 
Consider the following stats:
According to the

American Massage Therapy Association

(AMTA), massage therapy is currently a $16 billion industry. 

It's estimated that there are 385,000 massage therapists and massage therapy students currently in the United States, and revenue growth is projected to continue at an average rate of 4% per year through 2022.

But even with those positive numbers, it can be daunting to try and gain more clients and expand your customer base. That's why it's critical that you employ an effective massage advertising and marketing strategy. 
The right technique will not only make prospective clients aware that your services are available, but also help build loyalty to bring them back to your table again and again. 
Massage advertising is critical to set you apart from the competition, and the tips below will help you get started today. 
Our pointers include:
1. Create an Effective Website
The first thing you need to do is make sure that you have a website that tells people about your massage services and let's potential clients know why they should choose and trust you as a therapist. 
Our very own research at Genbook found that 96% of consumers look at a service provider's website before trying them out.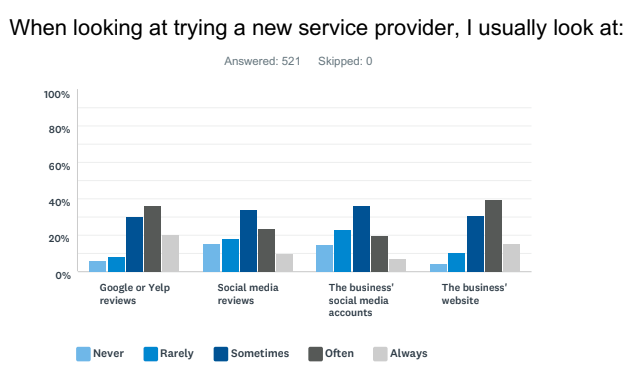 Clearly, an effective website is critical to your success, so see to it that yours stands out.
Along with listing your credentials and any organizations that you're a part of, remember to build essentials like your contact info, types of services, and location into your design. 
Include a crisp value proposition — a statement that conveys exactly what you do to solve your client's problem, what makes you unique, and why someone should choose you instead of another massage therapist.  
A Balanced Body Massage Therapy Clinic, located in Oklahoma City, offers a great example of a massage therapy business site done right. 
Take a look at its website, and you'll see that a strong value proposition, along with clear descriptions of the business' services. To top it off, A Balance Body has a big "Book Now" button on its front page inviting users to schedule an appointment.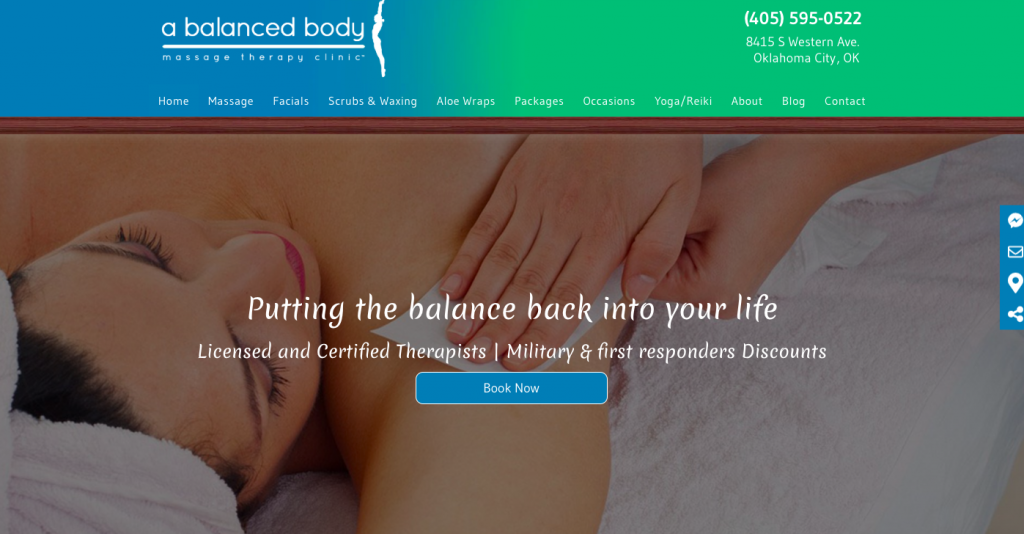 2. Get Listed In Online Directories
Long gone are the days when you could rely on advertising in a phone book to bring in new clients. To be found by potential customers, you have to modernize your listings and get listed in online directories. It's essential that any local service-based business has a strong web presence, and massage clinics are no exception. A good place to start is with the sites below. 
Given that there are 3.5 billion Google searches made every day, and the volume of Google searches grows by roughly 10% every year, it's essential that you list your spa on Google. Want to set your business apart? Give your customers reasons to choose you every time by posting photos and offers to your profile instead of only including contact information.
D.I.A Massage Studio in Bel Air, Maryland, has a great Google My Business Listing. In addition to having the company's contact info on the listing, it also contains photos and reviews.
Plus, D.I.A Massage uses Reserve with Google so clients can schedule appointments right from Google's search results page.

Yelp averages more than 178 million unique visitors every month, and around 45% of consumers say they are likely to check reviews on Yelp before visiting a business. It's critical that you develop a strong portfolio on the site so that your spa can be easily found. 
Every day 1.56 billion people use Facebook, and there are more than 2.38 billion Facebook users every month. Make sure you set up a spa business Facebook page that includes all your contact information so that local active Facebook users can find your business.
It also helps to set up Facebook appointments so potential clients can book their services right from your page. Here's an example of Facebook appointments in action, care of Kinetic Body Therapy. 
Kinetic has a "Book Now" button on its Facebook page, which then leads to its online scheduling portal.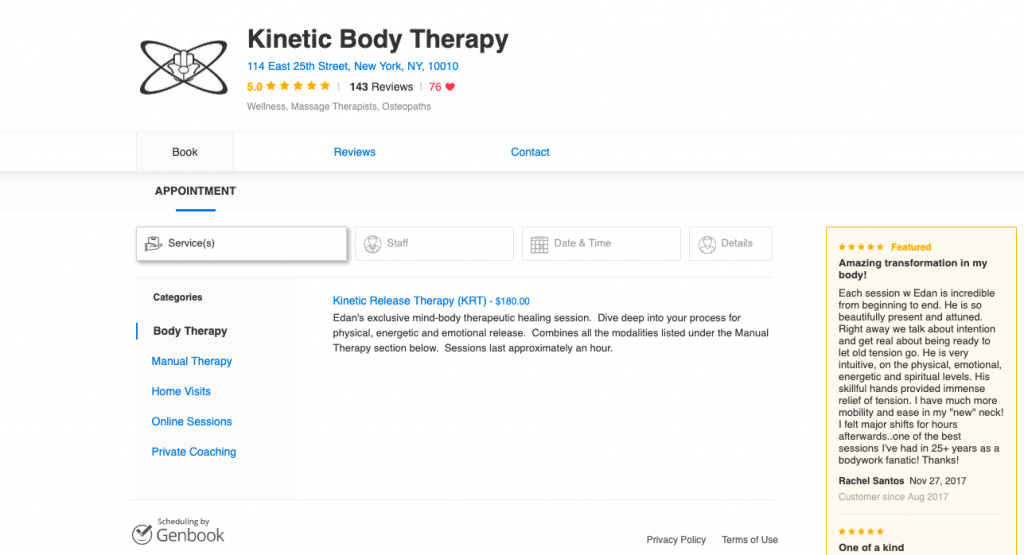 3. Optimize Your Digital Presence
Along with being listed in online directories, it's critical that you also have a strong social media presence.
The first step is to choose your platforms, such as Facebook and Instagram might be more effective for your business than Snapchat or Twitter, for example. It will all depend on your client demographics and where they fit on social media. 
Pew Research provides a lot of info about who uses which platforms the most, which can help you to hone in your efforts.
Next, decide what kind of content you're going to share. This can range from original content that you create yourself including updates about your new offerings and discounts or resources you've found online that would provide value to your followers and help to establish your brand — which is the point of social media for your massage business. Some suggestions include: 
Images

Blog articles

Industry stats

News resources

Videos

Memes

Quotes

Inspirational material

PR material
For best results, have a mix of different types of social media content. Take a look at Chrissy's Massage Studios in Texas. The company's Instagram page offers a variety of content — including promotional posts, educational content, pricing details, and "just for fun" posts.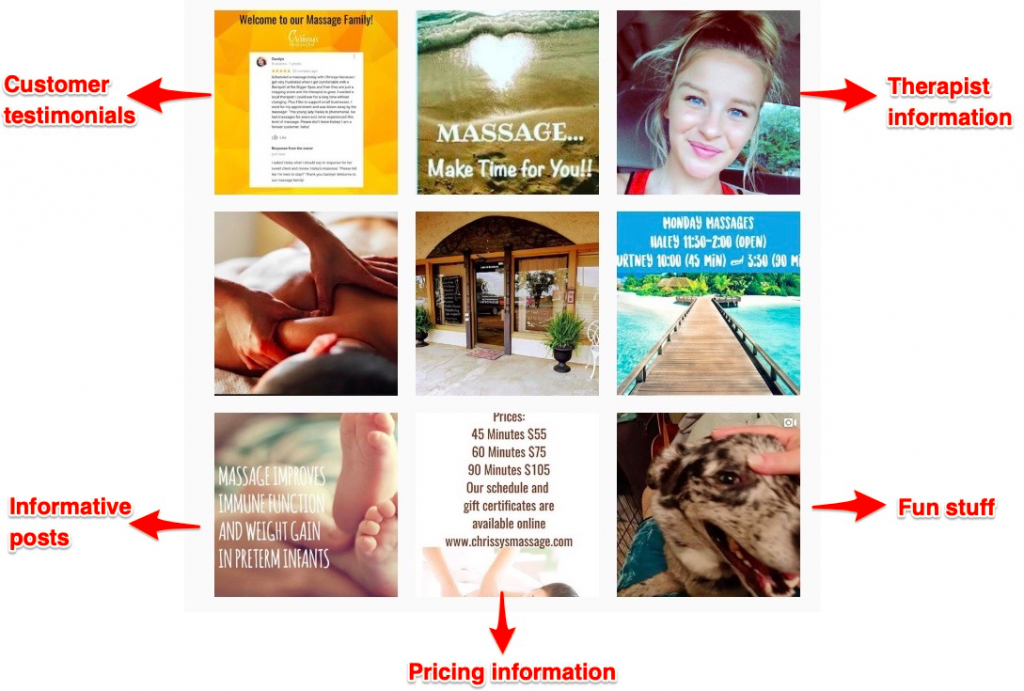 4. Consider Social Media Advertising
Given that there's a lot of competition online for people's attention if your budget permits, using paid social media advertising can help turn your content into conversions. This is especially effective when you retarget people who've already shown some interest by visiting your website or liking your page. 
Facebook, in particular, has a variety of targeting tools that let you hone in your ads so you're connecting to the right audience at the best moment. For example, you can target postpartum message to new moms or target sports massages to those who have an interest in related topics like athletics or exercise. 
5. Take Advantage of Traditional Massage Advertising
While it's important to have a strong digital presence, don't forget about traditional marketing techniques like word of mouth and a referral program. You can spend all the money in the world on advertisements, but your happy and satisfied customers are usually the best sources for marketing your massage business. 
The numbers back up the fact that customers who are visiting you from a referral are more profitable and loyal than the average customer. In fact, their lifetime value is 16% higher than other customers and they're 18% less likely to churn.
Incentivize your current customers to recommend you to friends, family, and their social media followers, and in the process, they get a reward. 
For example, maybe you offer $10 off your next visit, for both you and a friend, if you refer a friend. The key is to remember that your current customers are a great source you should never underestimate, and they can help bring in new business, all while feeling rewarded for the business they already give you.
6. Collaborate With Other Local Businesses 
As a massage therapist, you're in the unique position of being able to offer to relax and rejuvenating services that are attractive to just about everyone. Use this to your advantage and find other local businesses that are interested in swapping promotional materials and establishing exclusive promotions between your spa and their establishment.
The options are endless. Consider the following:
Health care professionals

Salons

Health food stores

Gyms

Chiropractic and medical clinics

Fitness and nutritional professionals

Psychologists 
By creating a mutually beneficial referral program where you can cross-promote each other's businesses, you're able to bring in more clientele for your spa, all while saving some money on ad space by relying on referrals, word of mouth, and shared advertising costs. 
7. Take Advantage of Video
One way to set yourself apart from the competition is to develop an education massage video that establishes you as a knowledgeable expert in the field. As an expert massage therapist, you know the different massage techniques and tools for a successful practice, so why not show them off? 
Video is a great way to market your services and convert clients given that by 2022, online videos will make up more than 82% of all consumer internet traffic — 15 times higher than it was in 2017. When it comes to YouTube, users view more than 1 billion hours of video each day, and 72% of customers prefer to learn about a product or service by way of video.
Whether it's something you do once a month or something that is a foundation on your website, a short, professionally produced video can help you connect with prospective clients and reconnect with your current client base. Some simple ideas include:
Tutorials and Tips

Live Q&A Sessions on Facebook, Instagram, or Snapchat

Short Teasers For Upcoming Events, Promotions, or Products
The goal is to establish yourself as a go-to person for those looking for expert information on the best techniques and massage therapies.
Edan Harari, the founder of Kinetic Body Therapy in New York is a master at leveraging video. When you visit his business' Instagram page, you'll see a mix of video content, including informative videos when he's speaking to the camera, as well as videos of his practice in action.

The Bottom Line on Massage Advertising and Marketing
Promoting your massage practice helps build brand awareness, increase visibility, and bring new clients into your business. 
While what works for one therapist may differ from what works for another, a solid marketing plan should include a mix of online and offline marketing efforts that build on the customer base you already have, all while bringing new faces into your spa. 
When employed consistently, these massage advertising strategies are sure to set you apart from the rest — and increase your bottom line.
And while you are at it, don't miss choosing an online booking software that will help you stay focussed on your business growth and remove business distractions. Try Genbook for free.