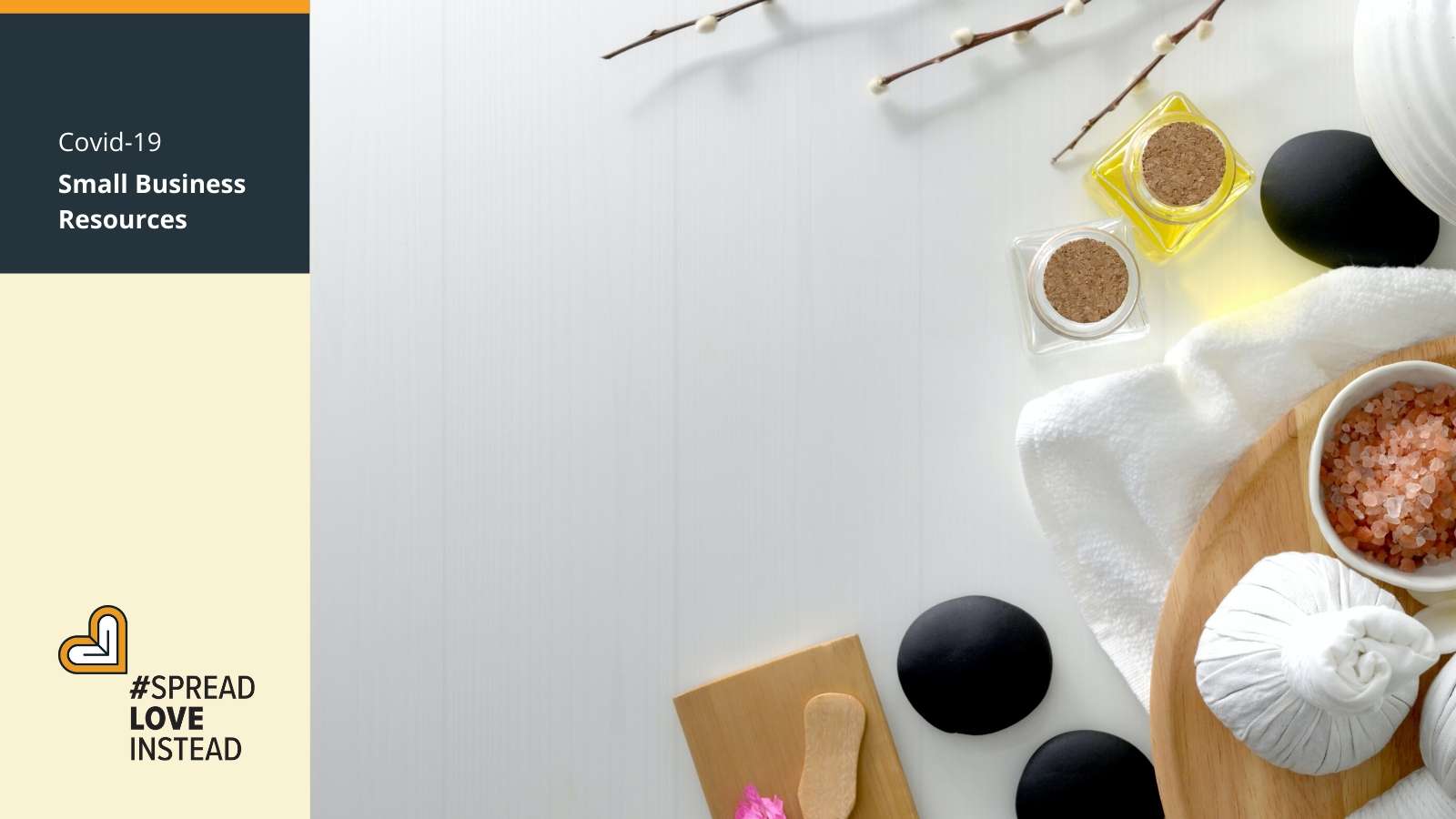 What Is Massage Therapy Software and Why Should You Prioritize It When Reopening? An Ultimate Guide
If you own, run, or work at a spa, or massage business, we know your job or business hinges on having personal contact and interactions with your clients.
Unfortunately with the current pandemic, it seems like a thing of the past with many businesses like you taking the tough decision of temporarily closing your business. It's not like you can provide physical services with Zoom integrations, right! With social distancing norms and strict hygiene and sanitization protocols, it may be awhile before you reopen.
But it's going to be soon (if you're not already open!)…and then you'll need a back to business plan to navigate this crisis and all in one massage therapy software to help you book more clients, manage appointments and minimize the spread of the virus with ease.
So how will an all in one massage therapy software help my business when I reopen?
That's a great question!
Sometimes referred to as online massage booking software or massage spa software, these solutions enable massage therapists, spa employees, and bodywork professionals to automate certain admin, marketing, and CRM tasks in the business.
While personal client interactions require face time and a human touch, other components of the business (e.g., appointment booking and calendar management) will actually run more smoothly with minimal human intervention and are a huge plus when you reopen.
In this guide, you'll learn all about how massage therapy software can benefit you, your team, and your business when you reopen your business post COVID-19.
Let's get started.
What is massage therapy software?
Massage therapy software is a program (or sometimes a group of programs) used by spa professionals or massage therapists to manage appointment scheduling, client communications, marketing, and more.
Think of it as a sidekick that helps massage therapists run their day-to-day operations, so they can keep the admin side in the background and put their clients at the forefront of their minds.
9 Reasons You Need Massage Therapy Software When You Reopen
1. Time Savings
One of the primary functions of massage therapy software is to automate appointment scheduling in the business. A good online booking system for massage therapists minimizes the need for employees to handle bookings over the phone because clients are able to do it on their own using the spa's website or in some cases, through their social media accounts and online listings.
Have you ever played phone tag with a client? Not only does all that back and forth waste time, but it can also lead to appointments not being scheduled at all.
Also, imagine the amount of time you'll save when you reopen and are ready to service your clients?
On the other hand, automated and client-led bookings can save massage therapists several hours a week because they don't have to take calls as much, nor do they need to manually handle appointment scheduling, reminders, payments and cancellations.
Instead, spa professionals can devote their precious time and energy to actually serving their clients.
2. More Bookings
It's usually much easier and faster to book appointments online or on a mobile device. This streamlined process empowers clients to schedule services themselves, ultimately leading to more bookings.
What's more, massage therapy software can let you take bookings 24/7. While phone and in-person scheduling can only happen during business hours, having an online scheduling portal enables your clients to book appointments in their own time. That way, you can fill up your spa's calendar at all hours of the day.
And since 43% of bookings happen outside of business hours, having an "always on" scheduling page means you never have to miss out on bookings.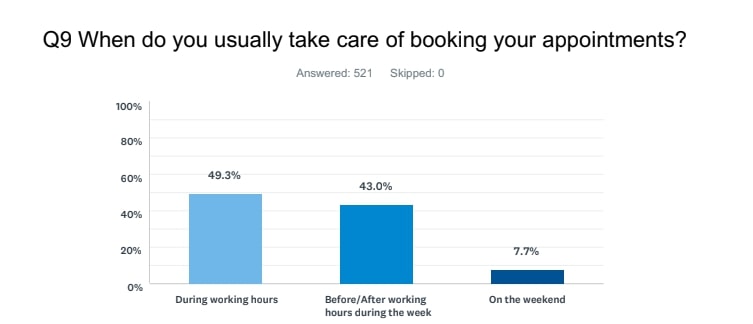 Finally, the best-in-class massage therapy software programs have built-in marketing tools that enable spas to drive awareness and traffic, which also results in additional clients. (More on this in a bit.)
3. Additional Booking Options
Without an online massage booking system, your clients' appointment scheduling options are limited to doing it in-person, over the phone, or via text.
The right platform can expand their booking options to your website, Facebook page, Instagram account, Google listing, and more.
One example of a massage therapist offering multiple booking avenues to their clients is Melanie Flynn.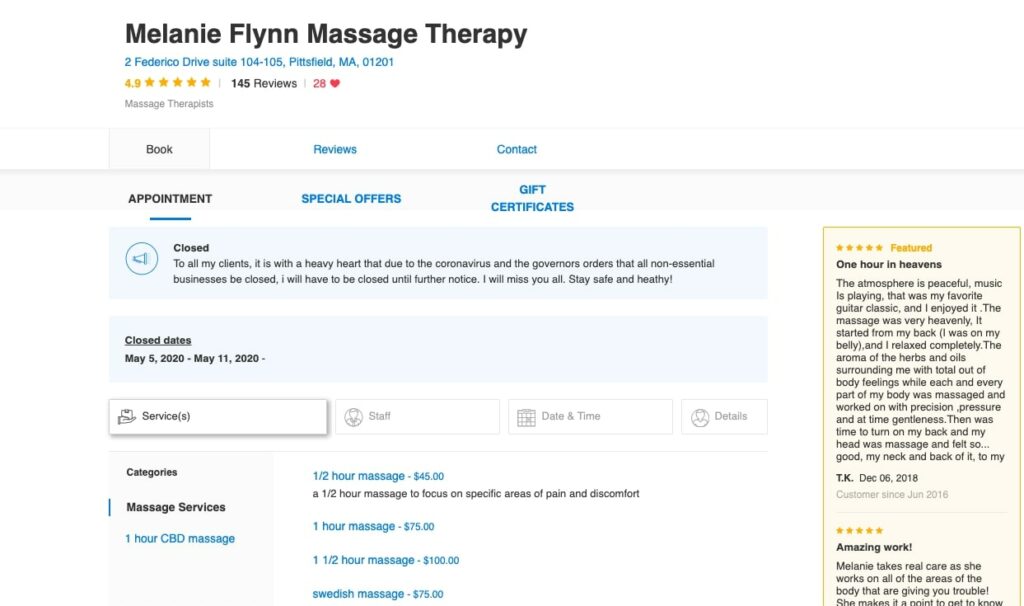 In addition to an online booking portal, Melanie lets her clients book directly from Google.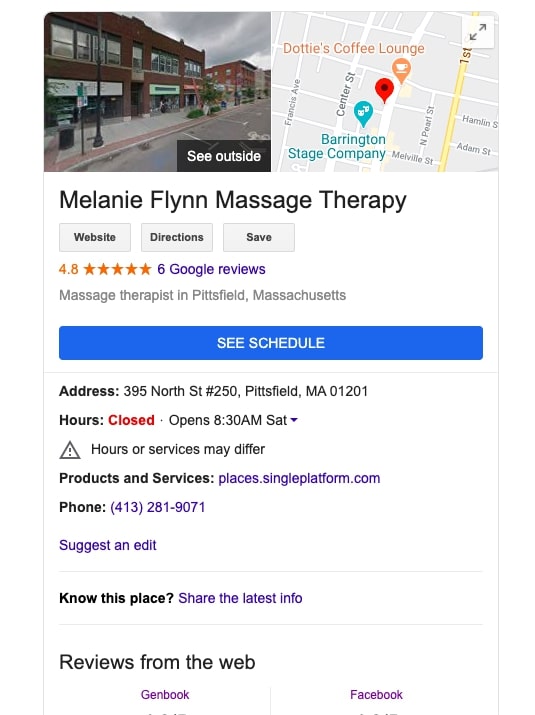 Melanie also has a booking button on her Facebook page. Clicking the 'Book Now' link takes clients to her Genbook scheduling portal, where they can book appointments.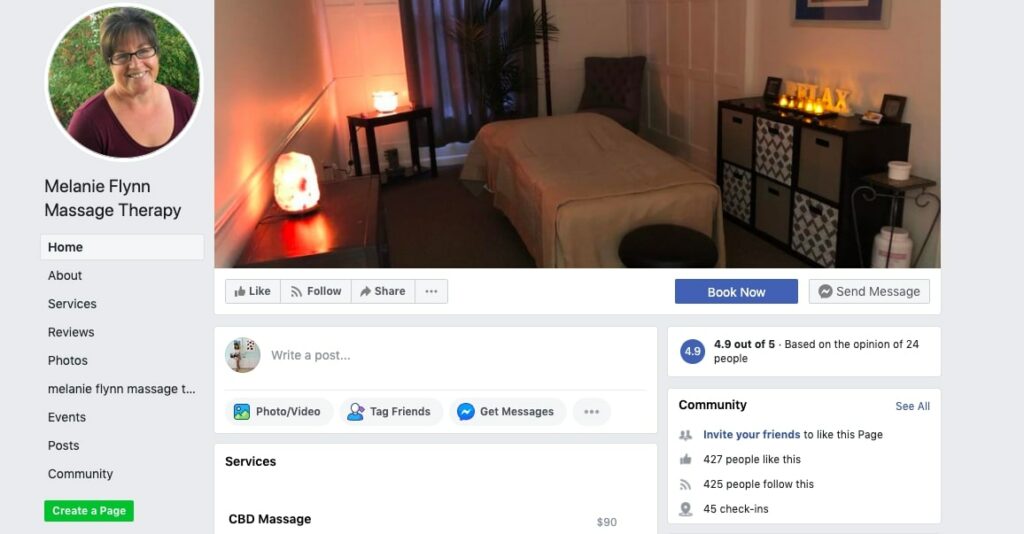 None of these scheduling options would be possible with a manual procedure, so if you want to open up more booking avenues for your massage therapy business when you reopen and you need to quickly increase revenue,, then it's important time to upgrade your system.
4. Fewer No-Shows
Do you know the #1 reason clients don't show up to their appointments?
They forgot.
That's according to a Genbook study last year, when we asked consumers about their online booking habits.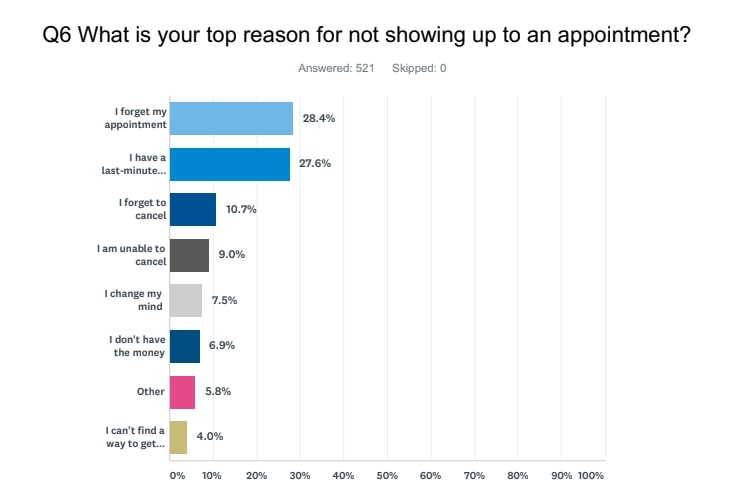 Most people are busy, and while your clients have every intention of showing up to their scheduled appointments, they often need a nudge to make sure that the booking doesn't slip through their mind?
Needless to say, appointment reminders are crucial. And while you can do it manually by picking up the phone or sending a text or email, it's not the best use of your time. Appointment reminders should be automated, so all you and your clients have to do is show up.
This is where massage therapy software comes in.
Aside from making the process more efficient, an online massage booking system can reduce no-shows by automatically reminding clients about their appointments.
5. Better Marketing
As we alluded to earlier, the right massage therapy software arms your business with marketing tools to help you increase traffic and conversions.
Some solutions, for example, allow you to run discounts and promotions so you can make your services & help make your offerings more exciting. You can also sell gift certificates, which serve as an amazing revenue generation tool.
The best solution providers even help promote your business for you. Genbook, for instance, automatically collects reviews from your clients and enables you to showcase the best feedback on your booking page so prospective clients can gain more confidence in your business.
These are all critical features that will impact your bottom line when you do reopen your massage therapy business.
Not only that, but Genbook gives you the ability to promote your services for free on the "Genbook Business Directory," which is home to thousands of Genbook clients.
6. Happier Clients
More happy customers = word of mouth = more bookings
Having an online booking system for your spa or massage therapy business can lead to higher customer satisfaction levels and will be much needed when you reopen your massage therapy business.
For starters, since you'll have more time and fewer distractions, you'll be able to give your clients your undivided attention and thus provide the best service possible.
Add in the fact that they have multiple booking options, can schedule their appointments from anywhere at any time, and be reminded about their bookings automatically… and you'll end up with lots of happier customers, compared to when you were doing everything manually.
7. Enforceable Policies
If you have policies around deposits, appointment cancellations, no-shows during this crisis, a good massage therapy booking system can help you enforce those rules.
For example, if you charge a certain amount if people cancel their appointments less than 24 hours before their scheduled service, then your booking portal should have the ability to capture your clients' payment details so you can collect the fees.
The right solution can also communicate your policies to your clients.
Beau Facial and Massage Therapy, for instance, charges a 100% cancellation fee if bookings are cancelled less than 24 hours in advance. To enforce this rule, the company displays its cancellation policy on its booking website and also collects each client's credit card details before finalizing the appointment.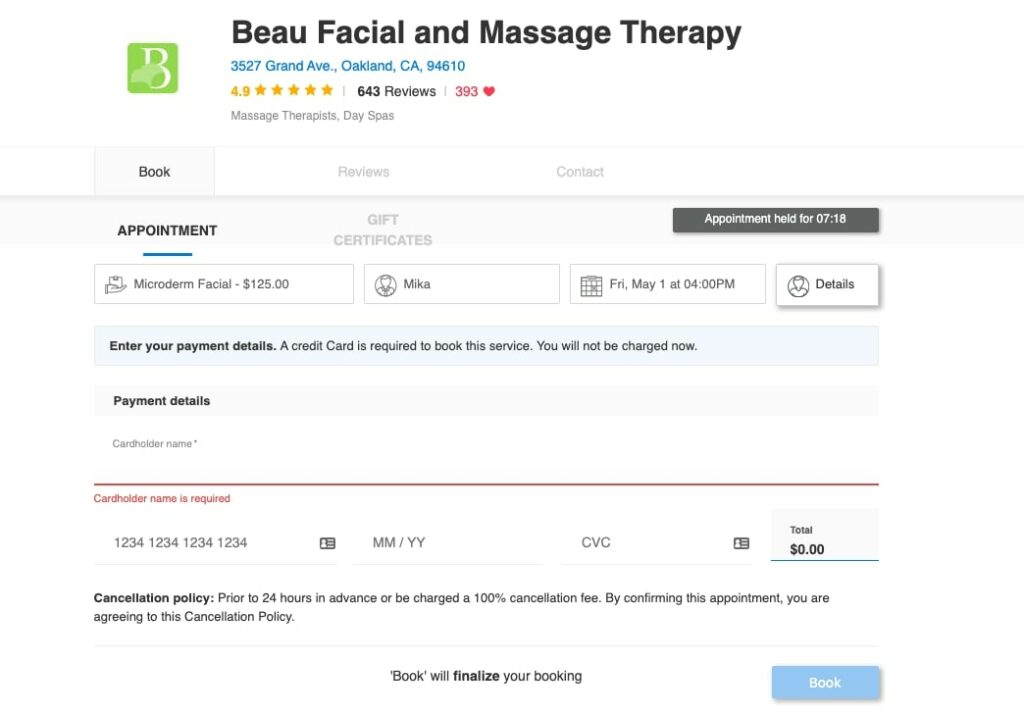 9. Valuable Business Insights
Modern massage therapy software can also offer reporting and analytics features to help you better understand your customers and business performance.
With the right solution, you'll be able to view your revenues per service, staff, booking channels, and more. All that data can help make your decisions when it comes to staff scheduling, marketing, and operations.
In a lot of cases, your platform can help you get to know your customers better. You can view their appointment history as well as add client notes, which can help you personalize their experiences.
How to Choose The Right All in One Massage Therapy Software for Your Business
Know Your Needs Beforehand
Shopping around for massage therapy software without determining your needs first is like walking into a grocery store without a shopping list. You'll feel confused, overwhelmed, and end up purchasing something you don't need.
Your search for the best online booking system for your massage therapy business will be a whole lot easier if you have a solid idea of what you require from the platform.
Make a list of the must-have and nice-to-have capabilities in your system and use that to guide your purchasing decision.
Here are some quick tips on how you can effectively determine your requirements:
Evaluate your existing procedures and policies. The solution that you adopt should fit in nicely with your existing processes (unless you're willing to change them).
For instance, if you charge a fee for cancellations made less than 12 hours before the appointment, then your massage therapy software should support that. Or, if you set aside time after each client for clean up and other tasks, then the software should be able to add a buffer between appointments.
Get input from your team. Talk to your employees about their needs. How are they currently handling appointment bookings and customer communications? Are there any tasks that they wish they could automate?
Tap into customer insights. What are the most common requests that you get from clients outside of the actual service you provide? Are they looking to purchase gift cards from you? Do they wish they can book online? The answers to these questions will allow you to determine what features to look for when evaluating your options.
Think about where you want your business to go after the pandemic? If you plan to introduce new offerings or policies, take those into account now, then set your sights on solutions that will help you implement the changes you want to make in your business.
Let's say you're not selling gift cards now, but would want to do it in the future. Or maybe you're looking to grow your Instagram following, but just haven't gotten around to it yet. Whatever case, ensure that your massage therapy software can give you the capabilities you need in the future.
Don't Make a Decision Based on Pricing Alone
It's tempting to sign up for a free solution, and while this move seems like a money-saving decision, it can actually cost more in the long run.
Here's a fact: there's no such thing as free appointment scheduling software.
So-called "free" solutions come with costs in the form of:
Hidden charges. Some software companies charge merchants a fee for each service they book. So, while their services don't come with subscription fees, these providers are taking a cut out of your revenues.
Data sales. Some apps may sell your or your customers' data. They do this by tracking your activities on the platform, gathering behavioral and demographic info, then selling them to advertisers.
Time costs. The features and customer support offerings of "free" platforms almost always pale in comparison to paid software. Not only do free apps lack powerful functionalities, but their customer service often leaves a lot to be desired. All the hassle and workarounds that you'll need to come up with will lead to a lot of wasted time. And as a service provider, time really is money so you cannot afford to squander any of it.
The bottom line: stay away from "free" software. It's important that you invest (sensibly) in a massage therapy solution. Settling for a program that doesn't quite fit your needs or provides a lackluster client experience may save you a few bucks now, but in the long run, you're not doing yourself or your clients any favors.
Get Input from Other Massage Therapists
Doing research on your own is all well and good, but seeking input from your peers is a great way to discover solutions and gain insights that you won't find on Google.
Have a chat with other massage therapists. Get in touch with your contacts in the industry or strike up conversations with other professionals online. Ask people about what solutions they're using and what they like most and least about it.
If you know any spa owners or managers in your area, consider visiting them to get a first-hand look on the software they're using.
Take a Trial or Demo
Speaking of getting a first-hand look, once you've narrowed down your choices to about one or two solutions, take a free trial or demo of the software.
Most solution providers allow potential customers to take their software for a spin for 14 or 30-days. Take advantage of these trial periods to get to know the solution. Let your employees play around with it for a few days and compare it with your existing software or procedures.
If possible, create a booking portal and schedule some test appointments to get a feel of the experience from your clients' side.
Doing all these things will give you clarity on whether or not a solution is right for you, so you can make the best decision for your business.
Final Words
You've worked hard to grow your massage therapy business, yes there's been a temporary pause, but you will bounce back and so it's important to find a tool that will work for you and help your business grow and succeed.
A good massage therapy software can do all that and more if you do your research and select the right one.
And if you are shopping around for a solution right now, we encourage you to check out Genbook. More than just an appointment scheduling platform, Genbook gives you powerful tools to help you delight your clients, boost your productivity, and grow your sales.