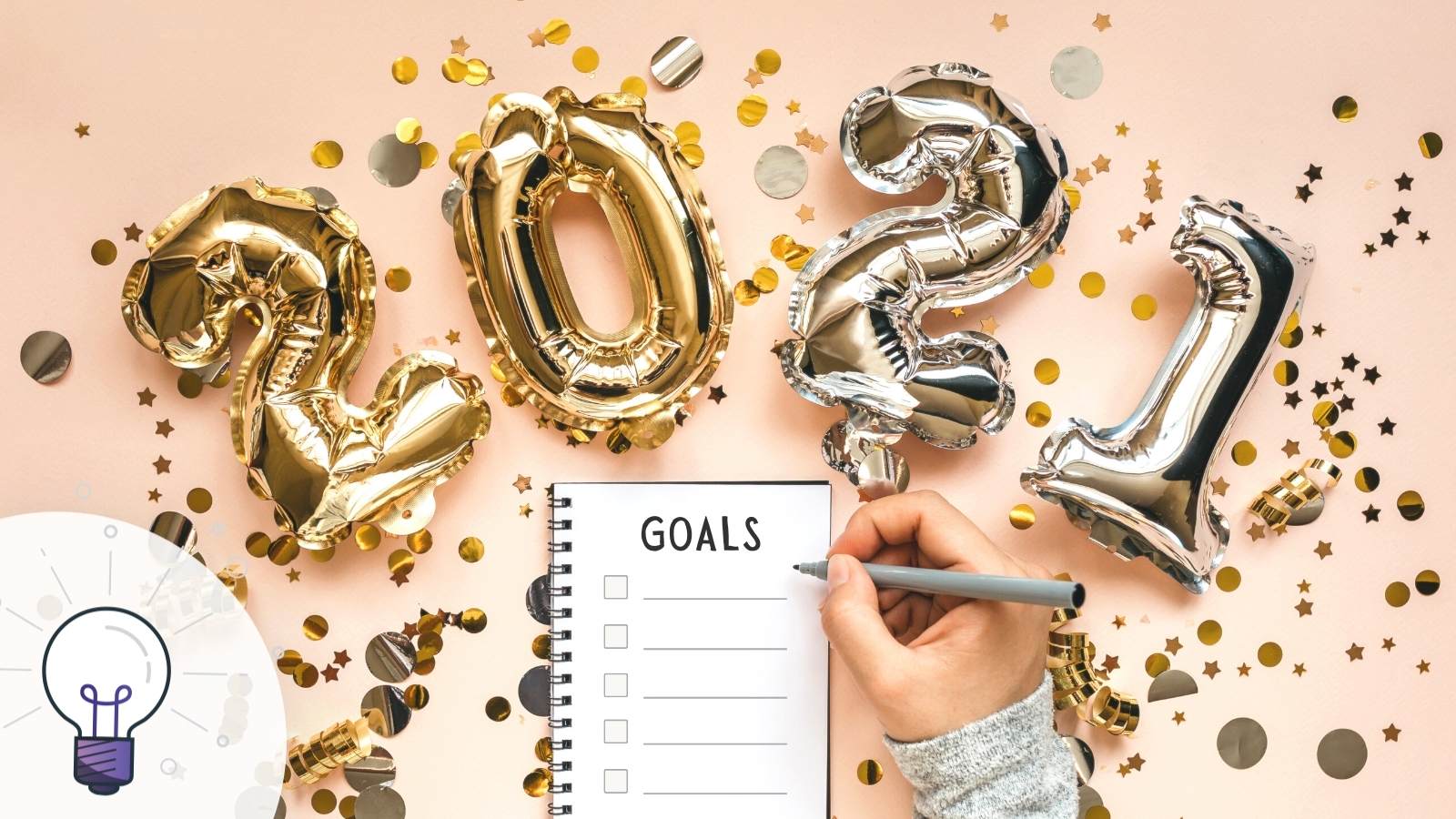 An Inspiring List of Business Goals for Hair, Beauty & Wellness Entrepreneurs: How to Conquer 2021 Without Losing Momentum
2020 has been a tumultuous year for entrepreneurs, especially in the personal care sector. You've had to adjust to lockdowns and business drying up.
You may have even had to pivot your entire business strategy overnight.
Adapting and preparing yourself to get back to business has been the name of the game this year.
The good news is that you've survived the tough times. As 2020 comes to a close, it's time to give yourself a pat on the back.
2021 is going to be a new chapter altogether.
You can make it your year and get your business buzzing with the right kind of planning and strategizing.
In this post, we'll cover how wellness and personal service-based businesses can level up their game in 2021.
You'll read about:
New Year Resolutions: How to Create SMART Business Goals For 2021
The first step towards coming up with a solid 2021 business plan is to set realistic goals. Like most New Year's resolutions, you don't want to get caught in the web of wishful thinking without taking action.
If you want to stay focused and truly grow, you need to invest time in goal setting. But the fact is that many people don't actually know what their goals are.
They often confuse wishes with goals.
Wishes are thoughts you have when you are feeling very hopeful. On the other hand, goals are more well-thought-out.
Here is an example:
Statement 1: I want to pay off my business debt.
Statement 2: I want to pay off my business debt of $100,000 in 2 years.
While the first statement reflects your intention, it isn't specific. So, it can't be classified as a goal. It's really more of a wish.
On the other hand, the second statement includes the exact amount to be paid off and the time-frame. It lists all of the details clearly. It qualifies as a goal.
While you are creating your goals, you need to make sure all of the details are precise. To get more clarity, you should aim to create SMART goals.
For the uninitiated, SMART is an acronym that stands for specific, measurable, attainable, relevant, and time-bound. From the onset, these types of goals help you answer all of the important questions like what, how, when, which, and where.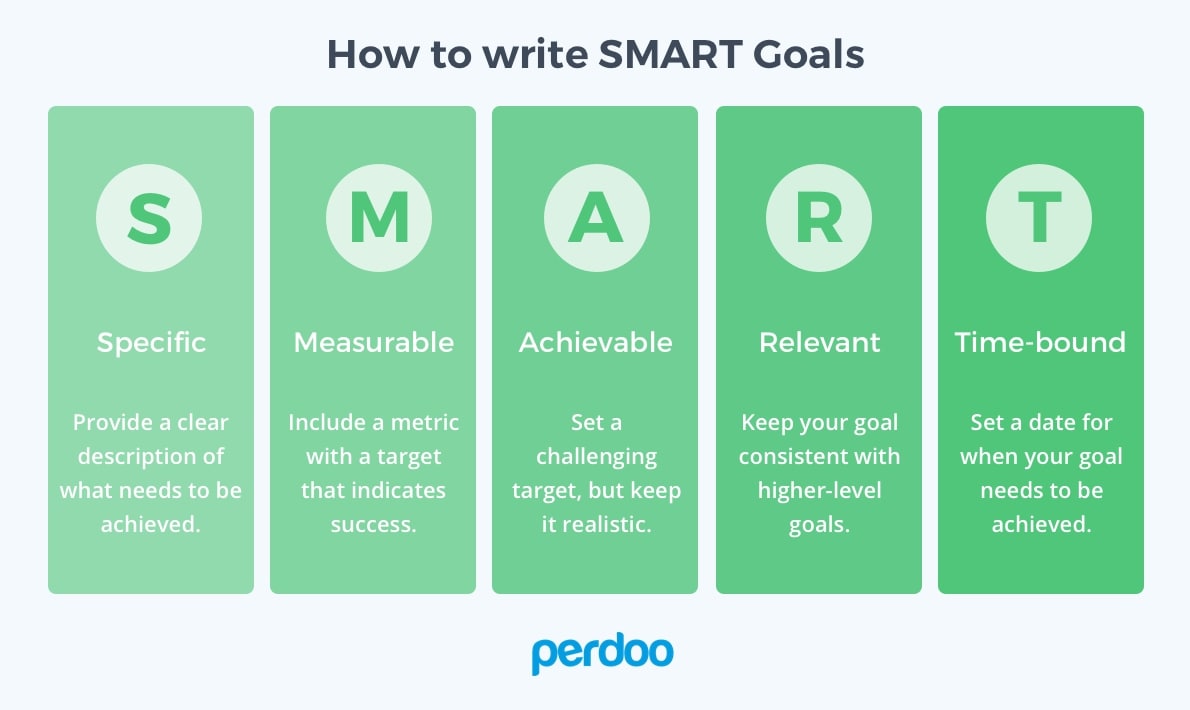 Image via Jumper Media
Before you begin working on your goals, you must be clear about what you want to achieve and how much effort you'll be required to put in.
This step is extremely important and can be a key deciding factor in whether you will achieve your goals or not.
How to Organize and Achieve Your Goals: A Quick Guide
Alright, so you have your goals for the New Year figured out. But when you are running a business, you're likely to have multiple goals at once.
To gain clarity on how to work on them simultaneously, it's important to divide them into relevant categories.
For instance, let's sort some common and generic goals into three broad categories:
Financial Goals: This category can include goals related to increasing revenue, decreasing costs, and more.
Marketing Goals: This category can include goals related to building brand awareness, boosting lead generation, improving client relationships, boosting your retention rate, and more.
Business Goals: This category can include goals related to providing better client service, improving employee training, improving efficiency, and more.
We've only included generic goals for this example, but you should make sure that your goals are SMART goals. Once you're done sorting, it's time to map out a plan of action.
Let's take a look at some strategies you can leverage to achieve the goals listed above.
Financial Goals
Great financial planning starts with knowing your numbers. As an entrepreneur, you need to understand your cash outflow, your profit margin, debt financing, and more.
If you are not confident about it, get a professional accountant to help you assess the financial health of your business.
Sample Goal 1: Increase Revenue
Even though lockdowns have opened up in most countries, many people continue to be cautious about going out.
That trend may well continue in 2021.
So, how can you increase your revenue? How about virtual consultation sessions to open up a new income stream?
Take inspiration from Stylez By Key's master classes on braiding.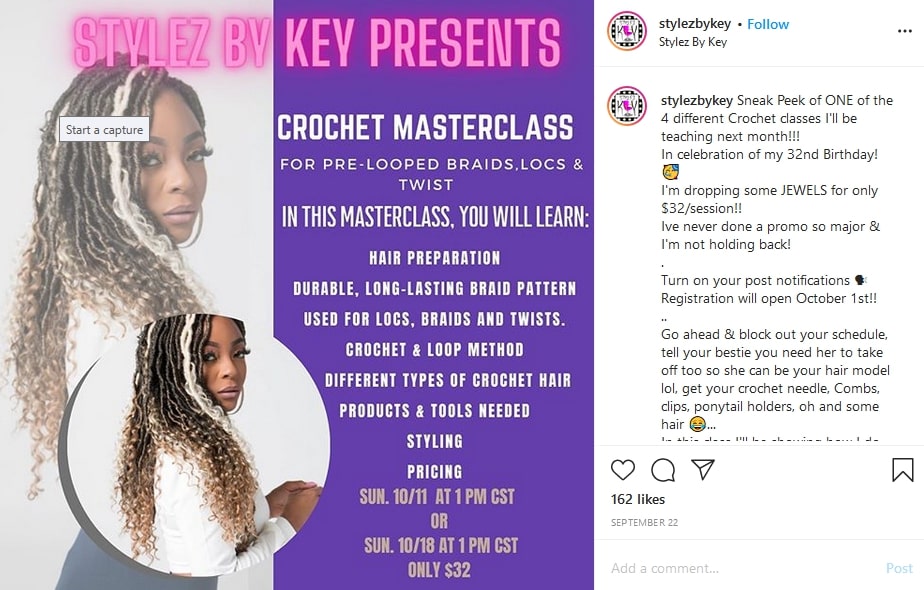 Image via Instagram
In addition to this, you can also offer "salon at home" services to make people feel safer in the post-pandemic world. To encourage people to spend more, you can also offer bundle deals by combining a few complimentary services or products in a package.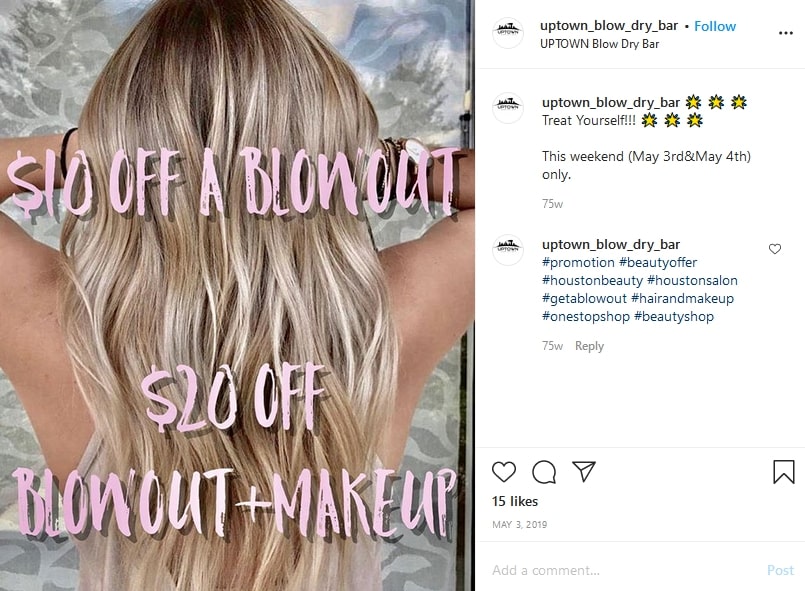 Image via Instagram
You can also join affiliate marketing programs to earn passive income.
For each sale that is made, you can earn a pre-decided commission on your products/services. Without putting in too much extra effort, it enables you to grow your income.
Sample Goal 2: Decrease Costs
Inventory management is an important part of managing a personal care business. Keep an eye on the services in demand and buy your stock accordingly. The key to reducing business costs is to invest time in market research and understanding what your clients want.
Also, discuss product usage with your employees to avoid wastage. While it may not seem like a big deal if a stylist uses more serum once in a while, it may affect your business costs when it is a regular occurrence.
Sample Goal 3: Improve Profit Margins
If you want to make more money, you should definitely work on this goal. To improve your profit margin, make your upselling game strong. That way, you can make sure you're increasing your profit.
In addition to this, you can also leverage referral programs to encourage your clients to promote your business.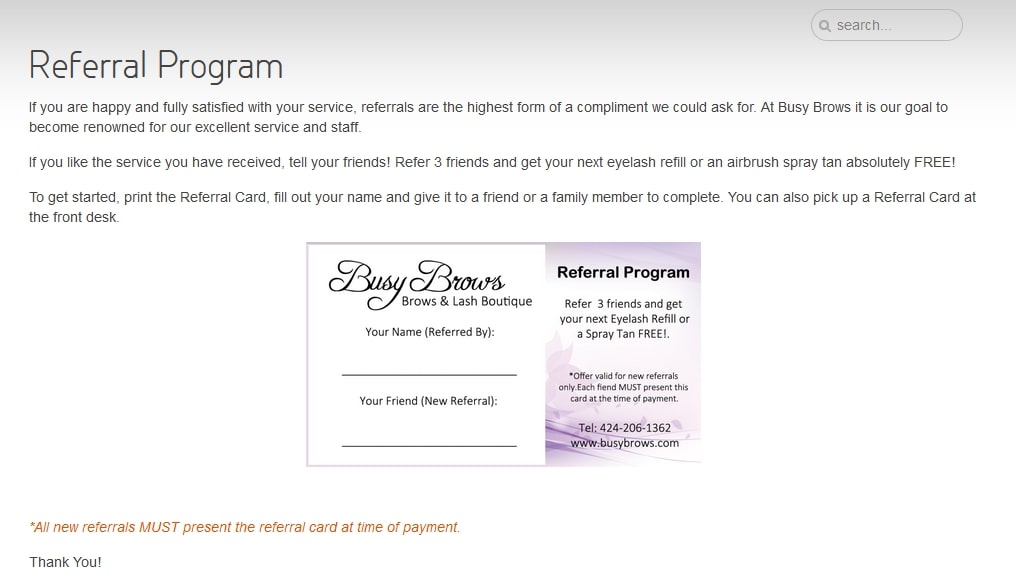 Image via Busy Brows
---
Recommended: Try out Genbook's Pricing Insight Calculator to clearly estimate your revenue, average booking value, average pricing of appointments, and more.
---
Marketing Goals
Marketing is at the center of any business growth strategy. From getting more qualified leads to boosting client loyalty, all of these goals fall under the umbrella of marketing.
Even if you don't have a huge marketing budget, there are certain strategies you can leverage to promote your business and boost visibility.
Here are the strategies you can use for some common marketing goals for your business:
Sample Goal 1: Boost Brand Awareness
Even before someone visits your business, they are likely to look up your brand online. So, it's important to make sure you have a strong online presence.
Along with dedicated social media pages, it's also a good idea to get your business listed in local directories like Yelp, Google My Business, and others.
Online reviews on these forums can go a long way in winning over a client. So, make sure you encourage satisfied clients to write reviews of your business online.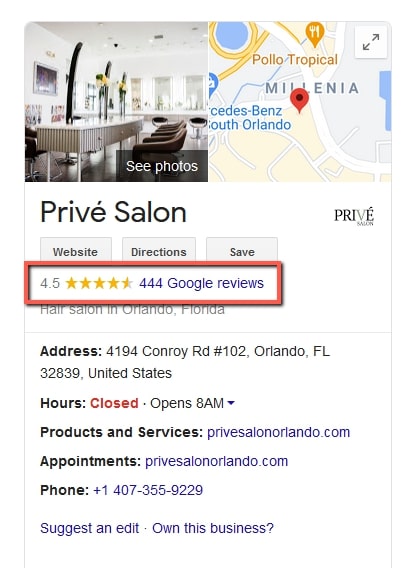 Sample Goal 2: Increase Lead Generation
Regardless of the stage your business is in, lead generation is a necessity. So, it's safe to assume that this goal will be on most entrepreneurs' New Year's goals lists.
For wellness and personal care businesses, online giveaways and contests can be a great lead generation strategy.
After all, who doesn't like a good gift to pamper themselves?
You can even collaborate with beauty and cosmetic brands, run a co-marketing campaign or even team up with influencers to put this idea into action.
Fox and Jane, a New York City-based salon partnered with haircare brand, R+Co, for their latest giveaway to promote self care.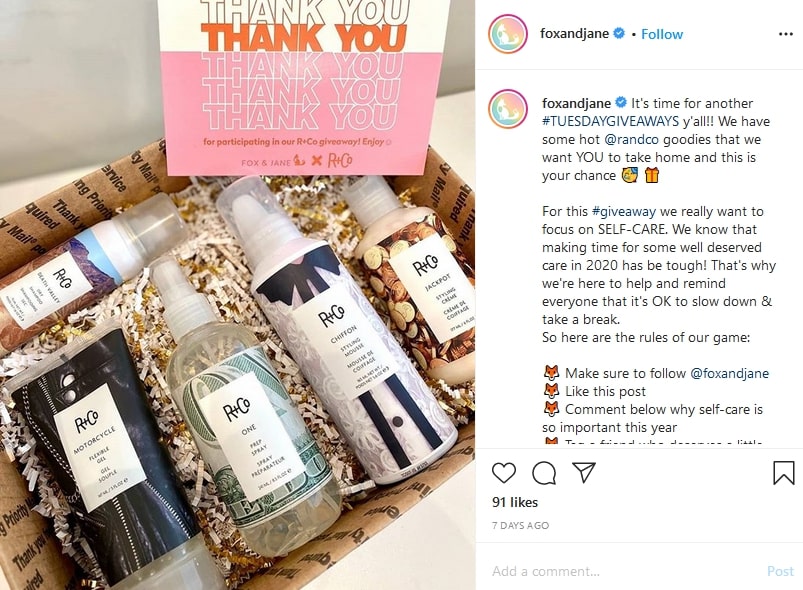 Image via Instagram
Sample Goal 3: Improve client Relationships
Nothing tells your clients that you care about them like personalization.
To improve your relationships with your clients, offer them a special discount or coupon to celebrate their birthdays, anniversaries, or other celebratory occasions.
Aveda Canada, a beauty brand that has stores and salons across Canada uses this strategy to build relationships with their clients.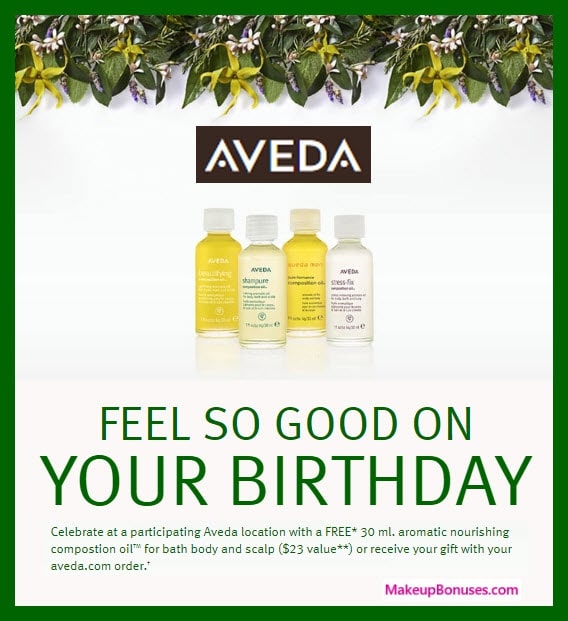 Image via Makeup Bonuses
Sample Goal 4: Boost Retention Rate
It's also cheaper and easier to retain an existing client rather than getting a new one. All good marketers know that. That's why it's important to invest in retention strategies.
For salons and spa owners, one common retention method is to run loyalty programs and offer gift coupons.
Make sure the rewards you offer are good enough to motivate your clients to spend more. Also, make it a point to list the details of your loyalty program on your website and social media profiles.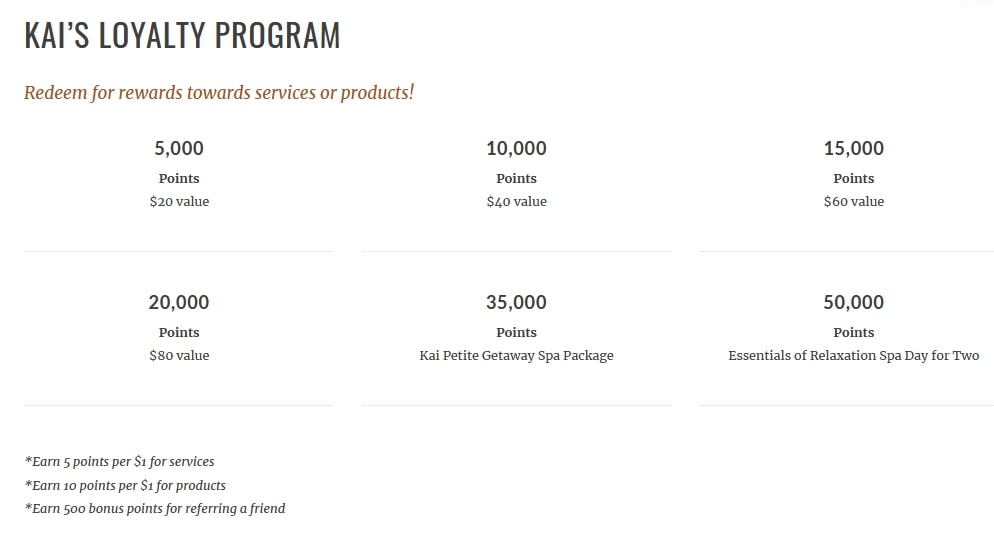 Image via Kai Salon
---
Recommended: Genbook's marketing budget template, a free spreadsheet that helps you track and manage your marketing budget with ease.
---
Business Goals
Business goals are essential to make sure that you have your priorities set right. Without them, you risk stagnation. They help you move forward and set the stage for success.
Here are some business goals that have the potential to improve the functioning of your business, listed along with the strategies you can use to achieve them:
Sample Goal 1: Improve client service
Chatbots are revolutionizing the way salons and spa owners resolve client queries. Not only are they available to clients 24/7, but they can also offer personalized recommendations.
They make it possible for you to improve your client service without having to make your staff work around the clock.
The best part is that advanced chatbot platforms also offer beauty salon chatbot templates that you can use directly for your business.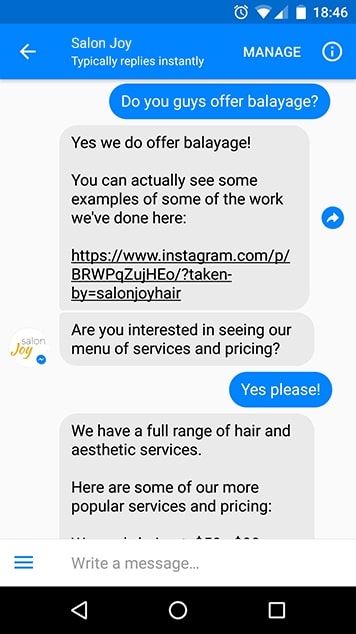 Image via SunnyStorm Marketing
Sample Goal 2: Provide Better Employee Training
If you want to maximize your productivity, you'll need to invest in training and motivating your employees.
Make sure you carve out time regularly to upskill your employees and teach the latest techniques for hair styling and makeup. Not just that, educate your employees on how to interact with clients to build strong relationships.
Furthermore, make it a point to praise your employees for a job well done. You can also showcase their work on social media to familiarize your clients with your employees.
California-based barbershop, Manly and Sons, regularly features their employees working in their shop to showcase their work.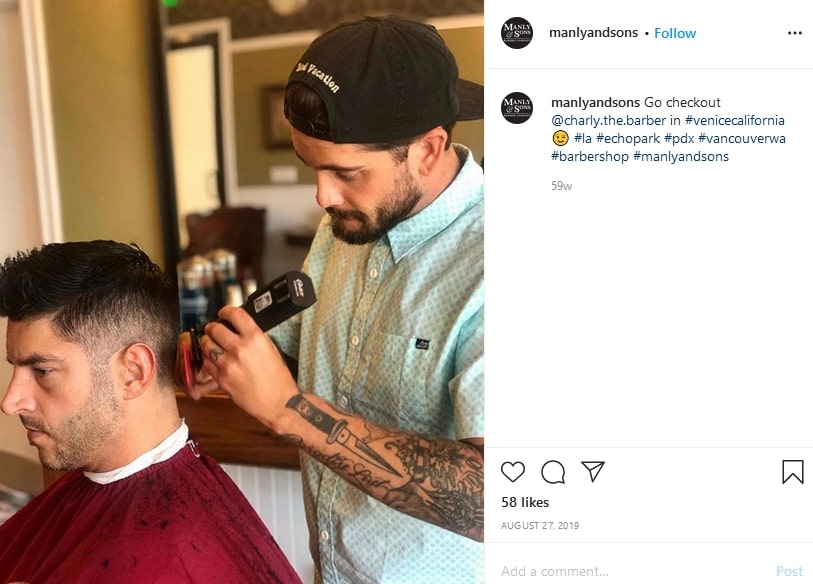 Image via Instagram
Sample Goal 3: Improve Business Efficiency
Modern salon clients don't want to waste time making phone calls to book appointments. Instead, they are looking for a quick way to do it all online.
If you want to improve your client experience, you should use an online appointment scheduling software program that lets clients book appointments from your business websites, your booking page, Google, or even the book now button on Facebook and Instagram. These advanced programs can also send reminders a few days prior to the appointment.
Take inspiration from Texas-based salon, The Full Spectrum. Their website has an entire section dedicated to online bookings. You can browse through different services and choose the ones that you want along with a preferred date. The entire process is extremely smooth.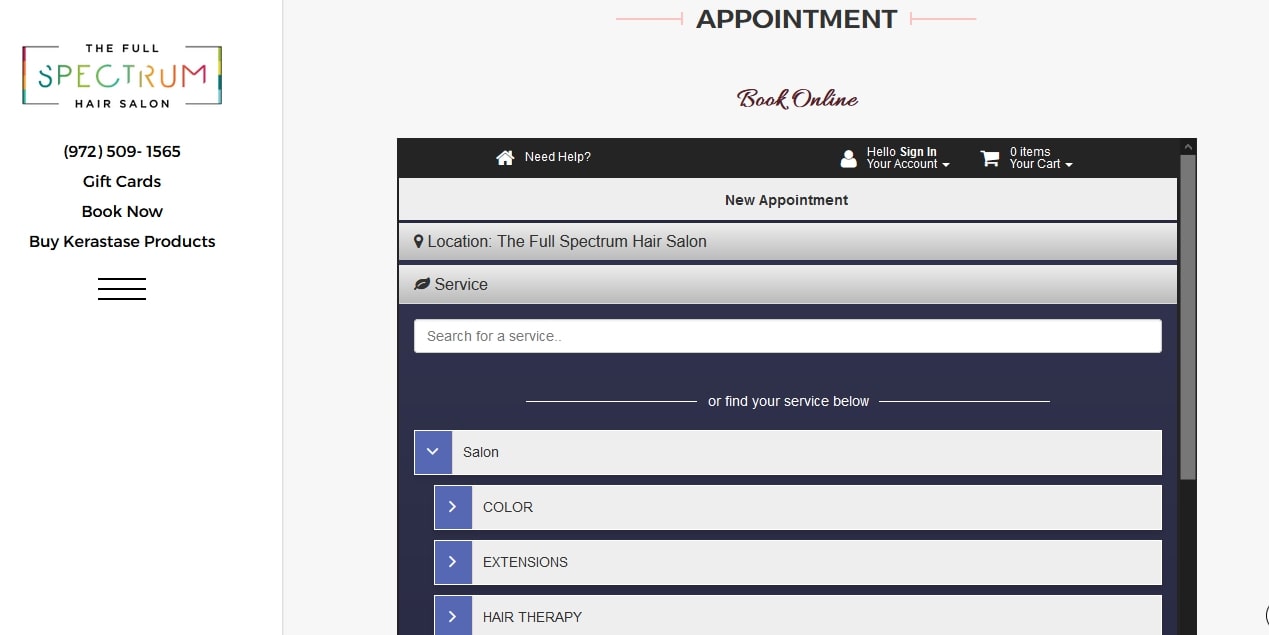 Image via The Full Spectrum
Ready to Conquer 2021?
If you want to stay ahead of the curve, it's important to start planning early. 2021 is almost here, so now is the time to jot down your New Year goals for your business.
With effective planning and strategizing, you can work towards and achieve multiple goals at once. Keep in mind that the more clarity you have regarding your goals, the easier it will be to work on the execution part.
To conquer the New Year and achieve your goals, it's time to take action! Are you ready to grow your business and win over your clients in 2021?
Ready, set, go!
And if you want to jump in to give Genbook a try, start your free trial today and see for yourself why thousands of small business owners use Genbook to manage their time and convert more clients!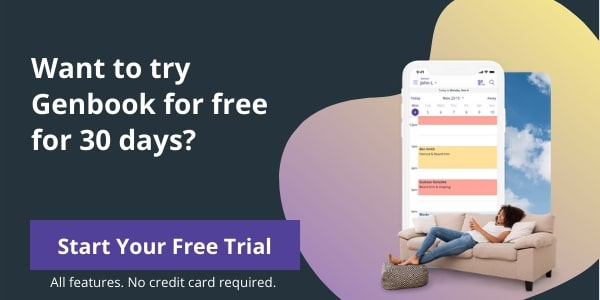 Editor's Note: This post is contributed by Shane Barker — a digital marketing consultant who specializes in influencer marketing, content marketing, and SEO. He is the co-founder of Attrock, a digital marketing agency. He has consulted with Fortune 500 companies, influencers with digital products, and a number of A-List celebrities.