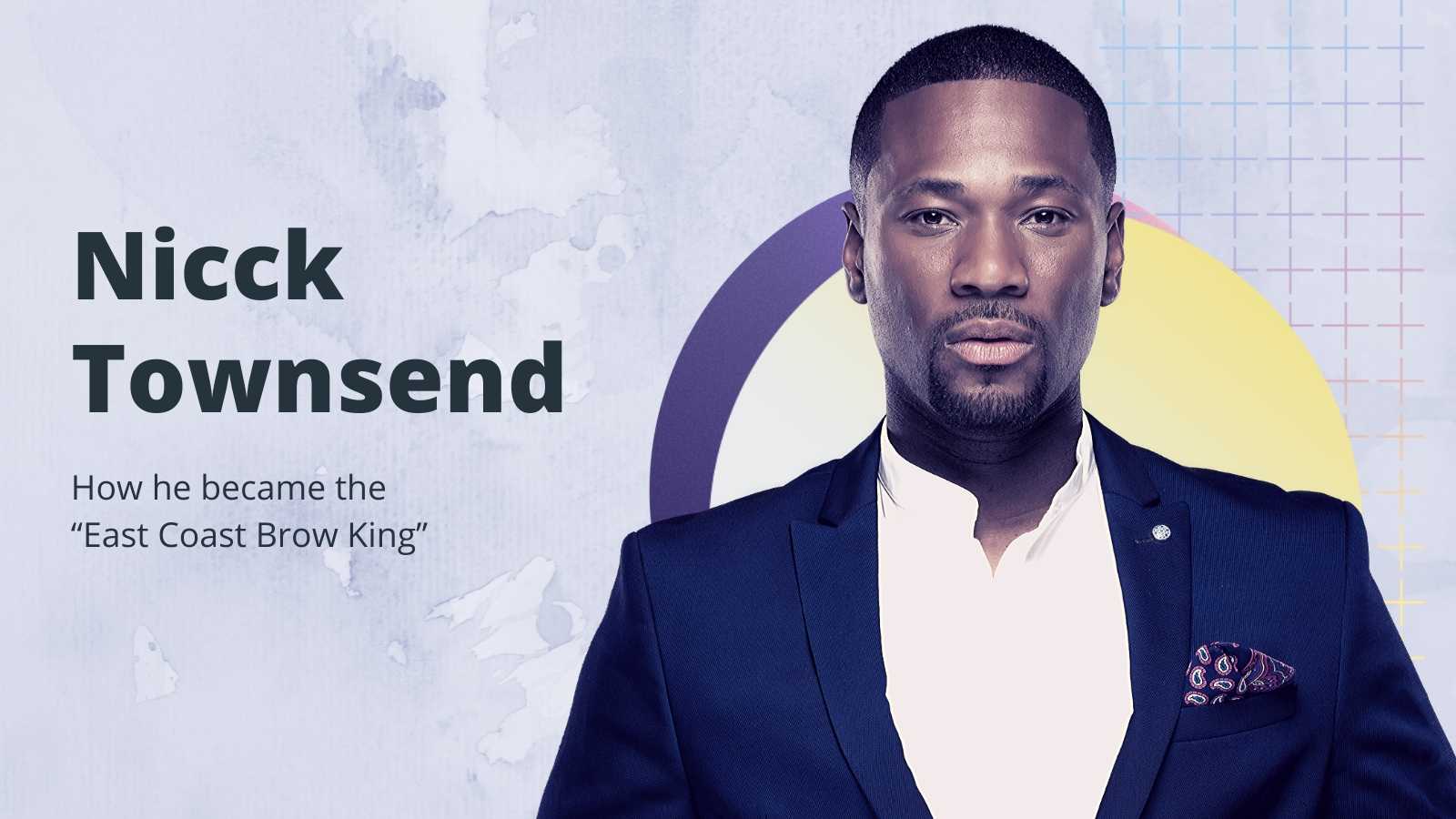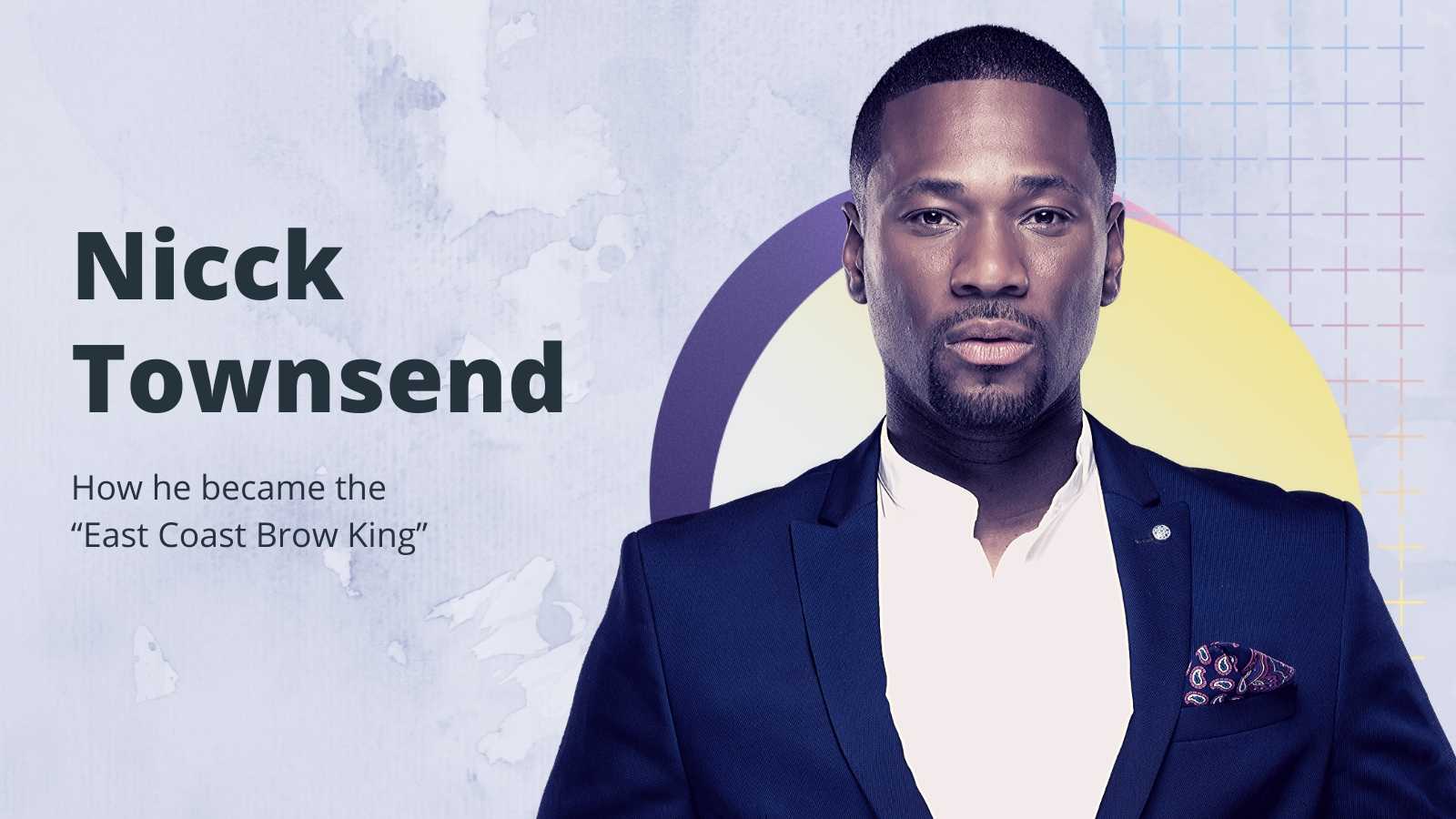 [Expert Series] How Nicck Townsend Became the "East Coast Brow King"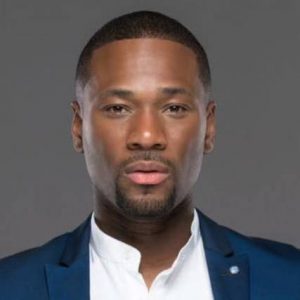 "East Coast Brow King" is a big title to live up to, but Nicck Townsend certainly rises up to the hype.
Clients from all over the world — from Atlanta to Israel — travel to his salon in Philadelphia just to get their brows done. He's a two-time winner of the "Best of Philly" accolade and has spoken at numerous events, including The International Congress of Esthetics and Spa (think of it as the Emmys for Estheticians).
Nicck, who goes by the handle @niccktownsendsalon, is also one of the top eyebrow influencers on Instagram with more than 127,000 followers.
But let's back up a bit.
How exactly did Nicck Townsend grow to become eyebrow royalty in East Coast? As it turns out, Nicck's story is anything but ordinary…
From Baltimore to Philly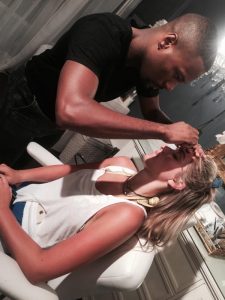 Nicck's journey started 16 years ago. Originally from Baltimore MD, Nicck intended to become an esthetician in his home city. This didn't go according to plan, though, because at that time, schools weren't keen on educating men about esthetics.
"Schools were a little wary about teaching a guy about facials, Brazillian waxing and dealing with the intimate areas of clients," Nicck recalled.
So, he packed up and moved to Philadelphia, where he finished his studies. Nicck planned on going back to Baltimore, but due to some issues with licensing, he had to stay in Philly to work. He got a job as a hair salon assistant, and not long after that, he learned the art of waxing brows. Nicck showed a lot of initiative, and he proactively asked his boss if he could start doing eyebrows.
"She promoted me, and from that point. I never stopped doing eyebrows," he shared.
Then in 2010, Nicck was recognized by Philadelphia magazine as one of the city's best estheticians for brows. People were paying attention and Nicck quickly became overbooked.
Becoming his own boss and dealing with overwhelm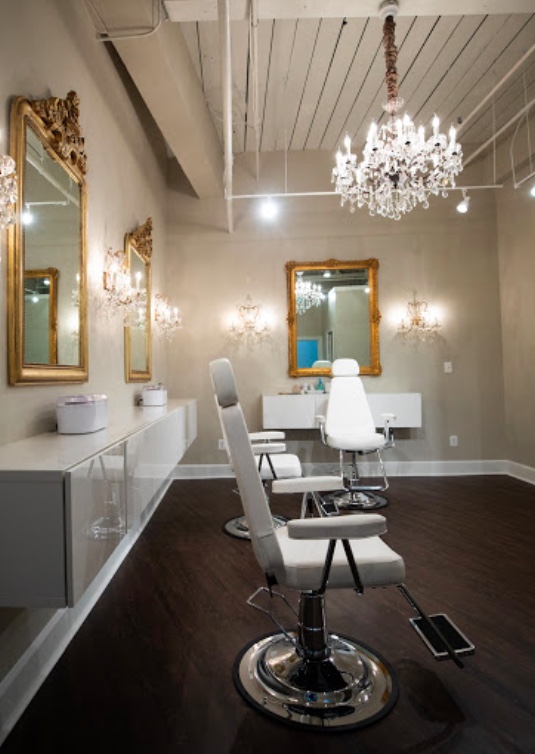 But despite his top-notch work, in 2010 Nicck was let go from his job… but not for the reasons you might think.
"I got fired not because I wasn't booked — I was actually majorly booked. But they let me go because I wasn't selling [the salon's products]. See, I wasn't one of those people who would plug other products to customers. My clients trusted me and I didn't want to just sell them stuff."
At that point, Nicck decided to start a concierge business where he would go to clients and do their eyebrows. This, according to him, was a tough and overwhelming period.
"I was going all throughout Philadelphia, New York, and Baltimore. I woke up at five o'clock in the morning to start my day and I didn't get home until probably twelve o'clock that evening. It was crazy, and I just got overwhelmed," he shared.
Nicck decided to open up his home to clients but that decision didn't' work out completely. "People didn't know me. Some were afraid to come to my house or afraid for me to come to theirs. I had to get creative."
To address his clients' concerns, Nicck started offering eyebrow services in the family bathroom of the King of Prussia Mall.
"My clients met me there and I would do their brows. But things became crazy [again] because word started to spread that there was a makeup artist around, and more people started coming to the bathroom."
Niccks' eyebrow business finally caught the attention of mall security.
"The security guard came banging on the door, asking what I was doing," he recalled. "And I said, 'Listen, I do brows. My name is Nicck Townsend, I won Best of Philly, and you can Google me if you want.'"
"The security guard — who was a woman — told me to hurry up and finish up the client."
Getting caught by mall security was a daunting experience, but it turned out to be a blessing because a few minutes later, the security guard came back and asked him to do her brows.
"She read about me, went on her break, and asked if I can shape her brows. Then she let me carry on with what I was doing."
Nicck continued to run his concierge business for a couple more years until he finally decided to establish a permanent location.
"I opened my salon in 2015, and it was the best decision I ever made because, at that point, I could become stationary."
By letting clients come to him instead of going to the mall or driving to people's houses, Nicck was able to ditch the overwhelm and focus on growing his business and brand. Soon after opening his salon, people started affectionately calling him the East Coast Brow King, and the name stuck.
Today, he has clients coming from all around the U.S. — and the world — just to see him.
"We have clients all down the East Coast. There is a young lady that travels from Atlanta every six weeks to come and get her brows done in Philadelphia. But it's also global. I have a client who travels from Japan every quarter, and I have another young lady who flies in from Israel. I can't make this stuff up."
Finding Genbook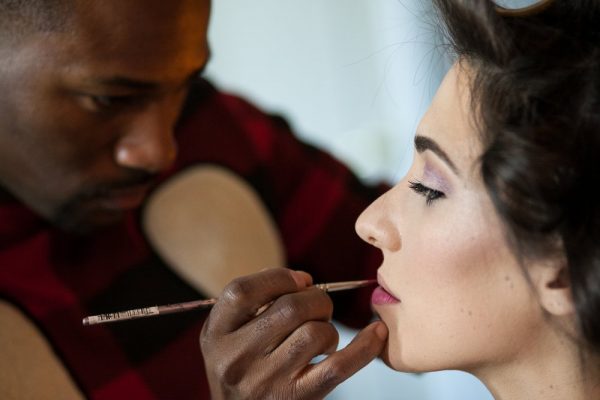 In case you can't already tell, Nicck is a busy, busy guy. Between client bookings and events, he has a lot on his plate, which is why he needs effective tools to help him run his business. Fortunately, he has Genbook.
The software, which was recommended by one of his clients, has been a godsend for Nicck.
"I love it. Clients can book online and they automatically get a confirmation email and reminders. If you're solo business owner, you don't need to hire a receptionist because Genbook does all that stuff for you."
He continues, "It's been absolutely amazing. I don't have to answer the phone when I'm with a client, and if someone wants to book an appointment, they can pay a deposit through Genbook. I also have all my policies and procedures in there, so everything is just convenient."
Attracting accolades and recognition
In addition to having a global clientele, Nicck also gets regular invites to speak, teach, and demonstrate his skills.
"A year after I opened my salon, I was invited by Neiman Marcus to teach a class. It was a big success and they loved it so much that six months later, they invited me to do the eyebrows of their top clients. "So they paid our day rate and had us do the brows of 28 female customers," he said.
"And the best part? To this day, all 28 of those people come back to Nicck Townsend Salon."
Nicck was also invited to be a keynote speaker at the International Congress of Esthetics which, as he puts it, was the Emmys of estheticians. "They asked me to do a keynote speech and open the convention that Sunday, and do a demo of brow shaping, as well as bridal make-up."
Nicck considers this as one of the highlights of his career and he's incredibly grateful for his success.
"It's been a really, really, amazing journey. My career has been a blessing."
Blowing up on Instagram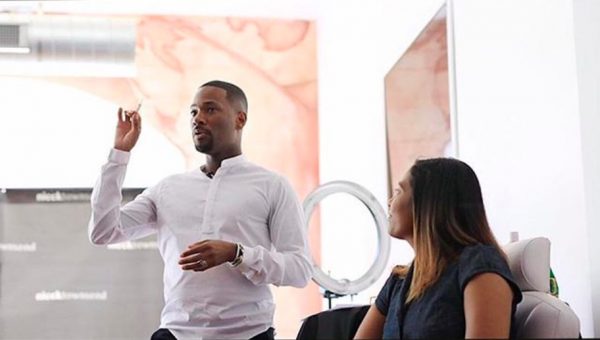 Nicck is what many would consider an influencer, with hundreds of thousands of people following him on Instagram.
How did he find so much success on the site? Three words: posting with intention.
According to Nicck, his objective early on was for people to see his work on Instagram and book an appointment.
"I don't need to post for likes, I don't need to post for people to say that I'm great or I'm not good. I'm posting for someone to be compelled to the business, and be driven to get a service from Nicck Townsend."
Nicck's focused strategy paid off, and his salon gets bookings with every post.
"Every time that I post something, we get a minimum of five to six bookings. We see about 752 people a month. I see about 400 every month. I've never had a slow day."
Genbook tip: Did you know that Genbook lets you add a "Book" button to your Instagram account and allows your clients to schedule appointments without leaving the app? Find out more.
As for growing to 127,000+ followers, Nicck said that consistently posting great content caught the attention of the top beauty accounts on Instagram, who then re-shared his content.
"In the beginning, we just posted images. Then we moved on to videos. My niece — who I hired to help me out — learned how to edit them. And before I knew it, I got reposted. I think it was @hudabeauty or @wakeupandmakeup, but at first, I didn't know what was going on. My notifications were going crazy and I went from 6,000 to 15,000 followers within twenty minutes."
With more people seeing Nicck's Instagram account, his content got re-posted again shortly after that, which led to him growing his reach to 100,000+ followers.
Brand dedication
One of Nicck's most admirable traits is his dedication to his brand. He embraces his expertise and lets clients know what he thinks is best for them.
"I listen to my clients and they can give me their options, but ultimately, I know what works for my customers."
He continues, "I won't negotiate my brand. If you want a very thin brow that's not my aesthetic. I don't mind telling a client I don't think I'm a good fit for them."
If you're like Nicck Townsend who's busy tending to clients and running a business, be sure to check out Genbook, which arms you with all the tools you need to schedule bookings and manage your calendar. Our platform lets you connect your business to the web and lets clients book appointments online, on social media, and Google. Take a free trial today!