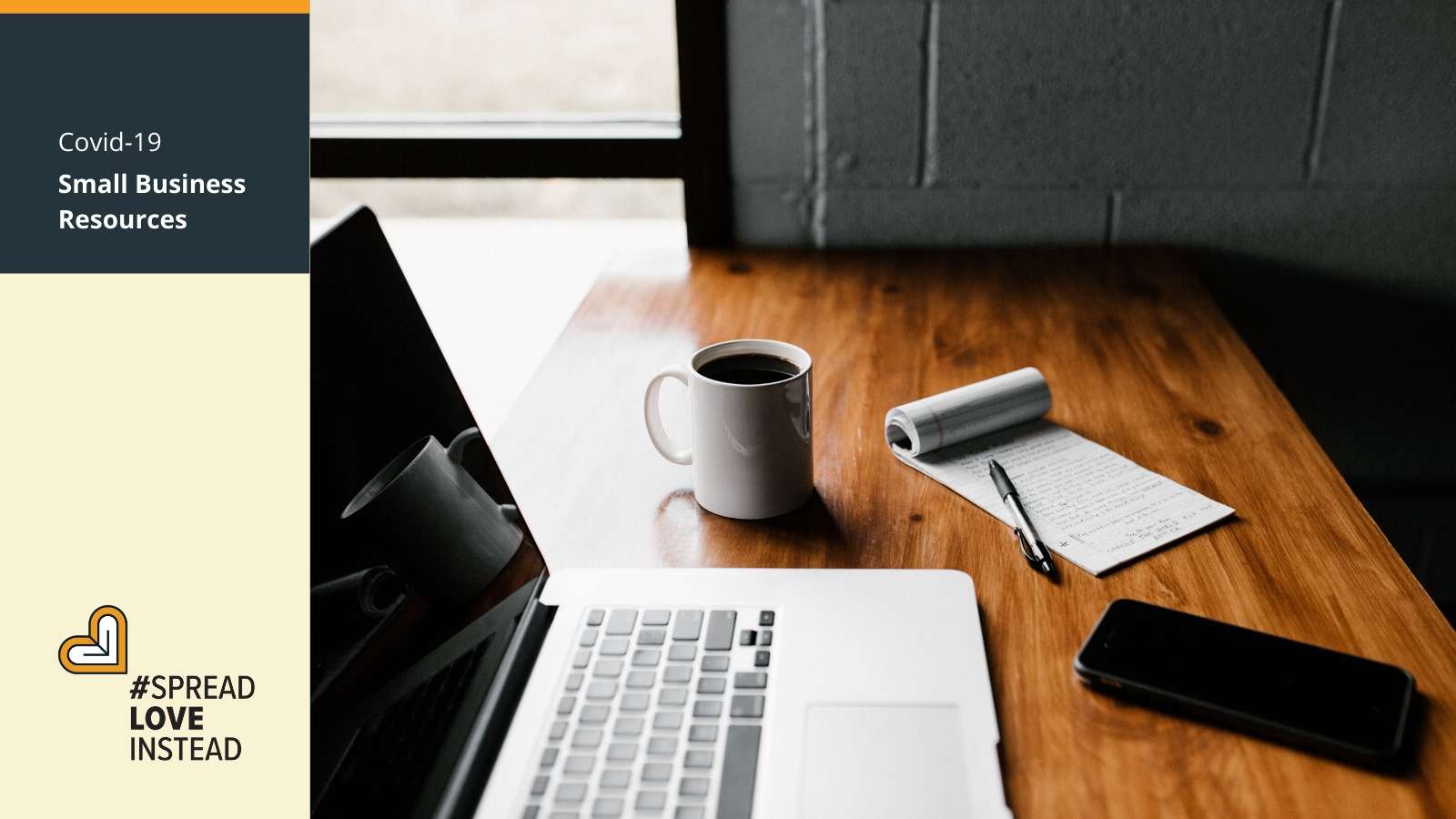 How to Use Genbook Online Booking System During COVID-19: Features and Initiatives To Help You Stay The Course
Thanks to Cornelia Oancea—longtime head of our knowledgeable and dedicated team of Customer Success experts, and Chris Fowler—Head of Product for their contribution to this post.
Until recently you had a set plan for each day of the week—you had clients who had booked appointments for a service at your spa, barbershop, salon or wellness business, you had finances and taxes to manage and you (even) had a plan for the weekends.
But it looks quite different now, doesn't it?
Clearly, this has forced many service-based small businesses to shift their business strategy, upskill themselves and think outside the box. It's not easy.
But it isn't just true for small businesses like you… it's important for us—your technology partner— to double down on innovation and think about creative ways to help you grow and succeed during this pandemic.
At Genbook our priority has always been you—our customers, and if you've missed how and what we're doing for small businesses during the COVID-19 crisis, this article is for you.
Read along to find out how you can use Genbook features and settings during this down-time. Get to know new product updates and initiatives that are designed to help you generate revenue despite COVID-19.
Section 1:How to leverage Genbook's easy online booking system during Coronavirus pandemic
With most businesses temporarily shut, it's more important than ever for them to communicate effectively with their customers. We've put together a quick guide on actions your business may need or choose to take, to meet the changing challenges and requirements of the COVID-19 crisis head-on.
Below, we'll guide you through a few settings and features that might be useful to you right now.
You can prevent clients from booking if you are closed and maximize your schedule for when you re-open. You can however, give your clients the option to book out later in the year, you can list your business as closed for a several weeks or more, using Genbook's Closed Dates feature.
Click below for step-by-step instructions:
💻 From the Genbook Website
📱 From your iPhone
📱 From your Android
You can space-out clients to ensure your business does not have more than the appropriate number of people in one spot.
If you need to alert clients of COVID-19-related policy or practice changes — additional disinfecting measures, limitations on number of people in your salon, spa, or studio, early closures, or even your online store — the General Announcement feature in Genbook has your back.
Click below for quick instructions on setting up an announcement:
💻 From the Genbook Website
📱 From your iPhone
We know face-to-face client appointments are the backbone of your business, and not being able to see clients in person means losing revenue. One way we've seen lots of businesses recoup at least some of that loss is by giving their clients the option to buy gift certificates to use later.
Genbook has a built-in feature for selling gift certificates right on your scheduling page. Here are a few fast facts:
Clients can choose any amount
They can purchase it for themselves or for someone else
Clients get an instant email with a PDF attachment of the gift certificate
You see the purchase, amount, and GC code listed in your Genbook account right away
Money gets added to your Stripe account right away
Note: You must turn on a Payments processor, before you can start selling gift certificates. Instructions for turning on Payments.
➡️ Click for full details and instructions on selling gift certificates
If you need to be certain of admission, or are seeking additional information, the confirmation message feature can help you.
Confirmation messages and attachments let you communicate additional, valuable information to your clients right in their confirmation emails they receive, and on the confirmation screen of the booking process.
You can add up to three additional custom messages. All Business-wide confirmation messages are always displayed in client email confirmations.
If generating income for the future is on your mind Genbook can help. You can take deposits on future bookings from the Genbook website easily.
To get started, set up Genbook Payments
Then, set up deposits per service
You could do this for just new clients or for all clients. Service-specific deposits
To configure Payments on a service-by-service basis, go to Settings > Services > [Service Title] > Collect Payments.
For each service, you can collect a full payment or a deposit in advance, or capture Credit Card details for later processing. (Note: if you collect a deposit from a customer, you will be able to charge an additional payment from the relevant appointment in your Calendar, as long as the deposit is less than the full listed cost of the service).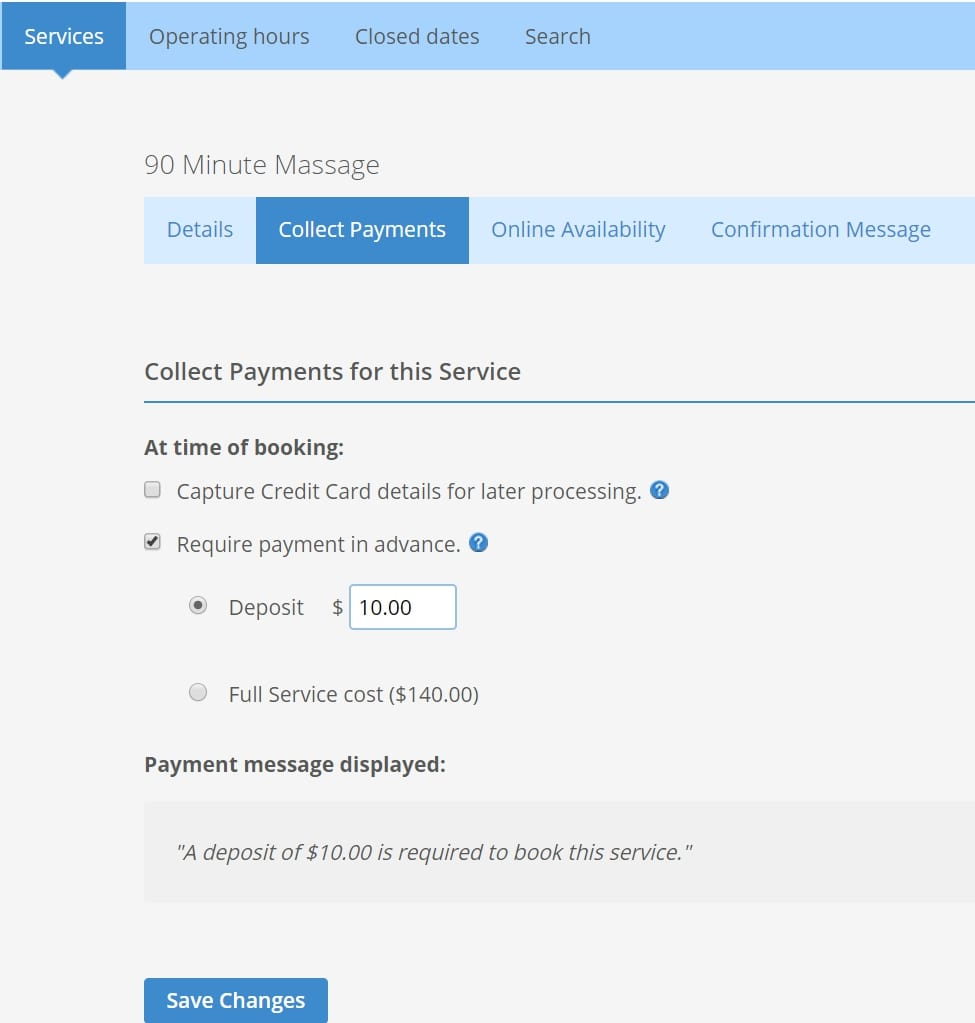 In the example above, we have chosen to require a $10 deposit on all appointments for the $140 "90 Minute Massage" service. Here's what a customer would see when he reaches the payment page: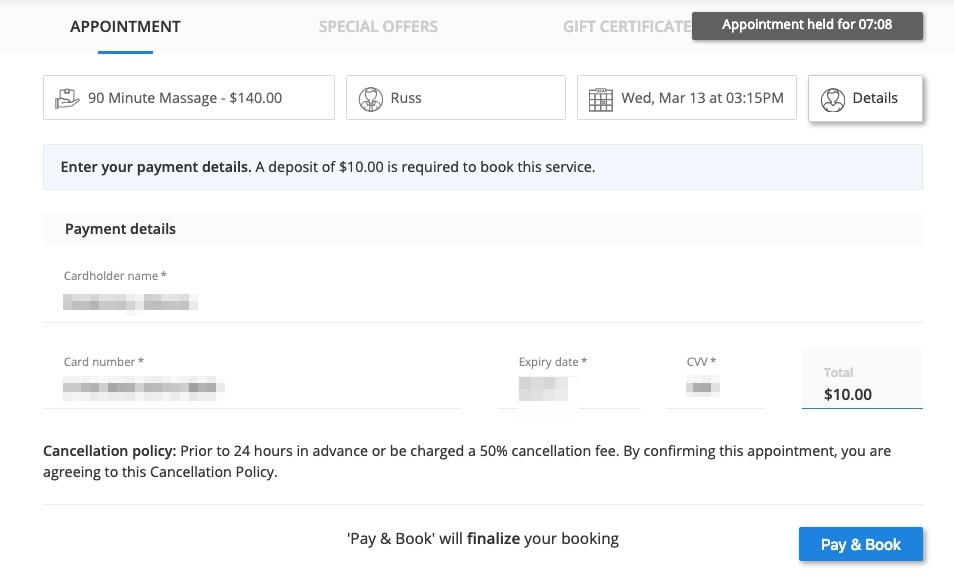 The customer will then see the payment information on the Confirmation screen, along with the other appointment details.
Enable the Waitlist feature, add your best clients to the Waitlist and as soon as you are open for that particular date, your clients will be notified.
While we don't recommend you turn off online bookings completely, as you can turn off your availability for later and maximize your schedule for after this pandemic passes, we understand you may need to switch online bookings off entirely.
If you've been thinking of using this down-time to solidify your reputation, we've got your back. Through the verified review feature you can see and manage existing reviews as well as seek new ones through social media channels.
You can also add a reviews button to the website – and 'automatically collect new ones after a purchase/service'.
Section 2: New Product features to support small businesses during COVID-19 crisis
As a small business entrepreneur, you can rely on the fact that we at Genbook will ensure that you will be able to operate without disruption long after this pandemic.
Genbook's no-hidden agenda values means we continue to invest in our product, our product infrastructure, and the wellbeing of our customer's businesses. With that in mind, we've introduced the following features to help you grow your business during this time.
General Notification feature update
Since the COVID-19 issues, small business entrepreneurs want to share more information with their clients visiting their scheduling pages. This means more space for stating things through the general notification feature. With the new update you can continue to use the General announcement feature and provide more detailed information to your clients.
If you're using creative ways to connect with your clients, you can also use this feature to add a hyperlink to a Zoom session, include a link to your online store as well as any educational content or supporting materials that you want to share with your clients.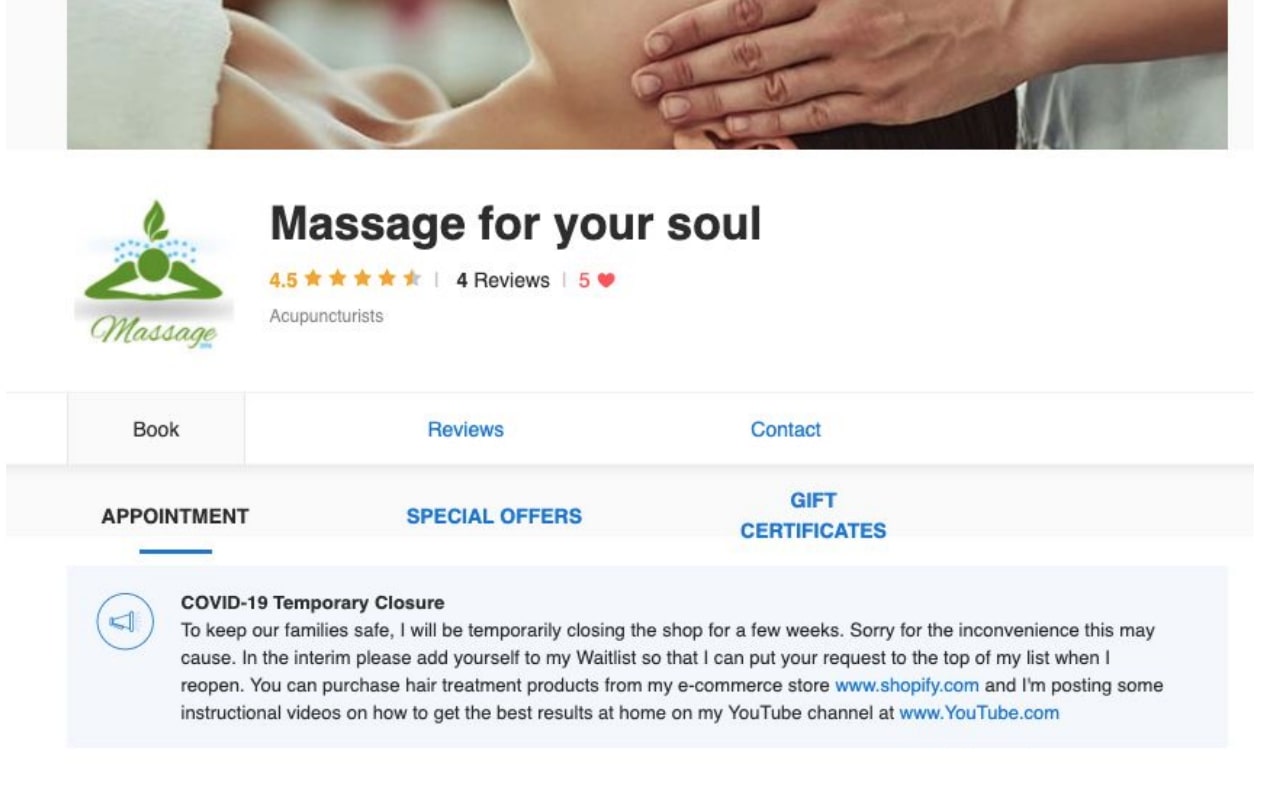 Apart from the above feature we also have a revamped Waitlist feature in works for you. Through this feature you would be able to add people to a waitlist, email their clients when availability is open and generate booking when they are ready when you re-open your business.
Section 3: Genbook initiatives to generate revenue during COVID-19
Now that you've had a look at the Genbook features that can help you during this crisis, we'd like to introduce you to initiatives that were built with one vision—to help you generate revenue during this down-time.
No doubt that small businesses are getting a lot of love from their customers and their community. But with so much happening, it may get a tad tricky to get them involved.
Through the #SpreadLoveInstead campaign we've built an easy process for you to *seek* help and support from your clients. As a small business entrepreneur all you need is to either use the video or our downloadable assets and share with clients through your social media channels.
Here's a sneak peek on how the campaign works:
Instead of them thinking of various ways of supporting your business, you can lean forward and guide them through.
We know that staying the course and generating revenue for your business during this crisis is your main priority. We also know that this needs a solid pivot in the way you operate and think. With that in mind, we've built a dedicated COVID resource hub for you to find all the actionable content, much-needed insights, product tips, and tools during the coronavirus crisis.
If you're looking for more ways to involve your clients to support you, our Give Local Campaign is here to help. With a dedicated landing page, all your clients need to do is search your business from a list that's available for all US states and provinces in Canada, and buy a gift certificate.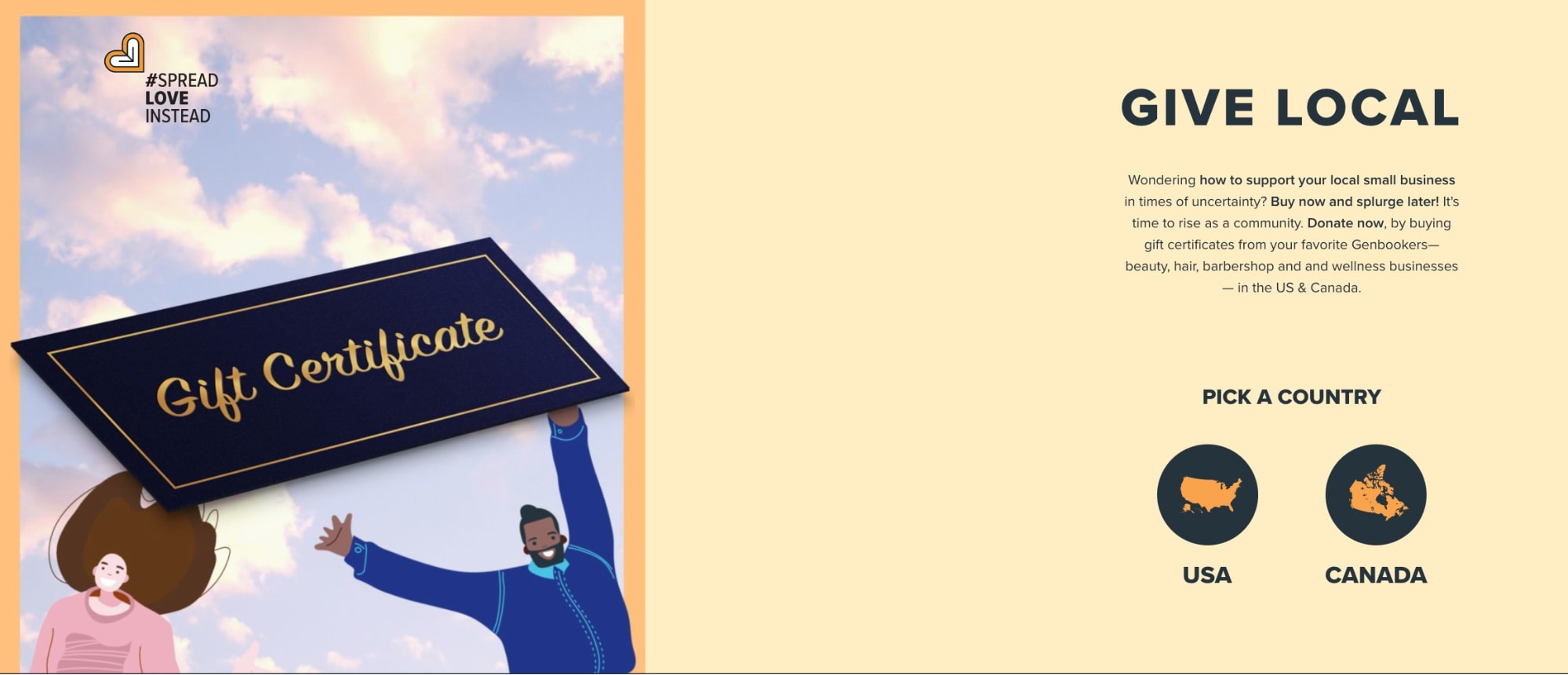 You can share more about the Give Local campaign through your social channels, through your link in bio (if you use Instagram) as well as through emails to let more and more clients know about it.
Crisis Communication Pack
It's difficult to say the right things and communicate effectively with clients when there's so much to focus on at the moment—we get it. If you've been struggling to communicate your availability to your clients, we've got you covered through this (ever-evolving) crisis communication pack. In this pack, you'll find ready to use social media posts, stories, and email templates, that communicate the message effectively in this moment of crisis.
Wrapping it up
We know this is a strange and unfamiliar time for all of us. It's hard to imagine what normalcy looks like when suddenly you can't cater to your clients —nothing about this experience is "normal" and we're all learning as we go.
That being said, we're here to help you navigate this crisis and support you in a way that's not just temporary but sustainable.
We believe that by investing in strengthening our technology and providing tangible resources will ensure we, Genbookers and Genbook, will come out the other side stronger than ever—and hopefully soon.
Get a personalized plan that will help make more money, book more clients and prepare you, your staff and your clients for re-opening without compromising their safety.
Reopen with confidence and evaluate your business health, revenue and safety.