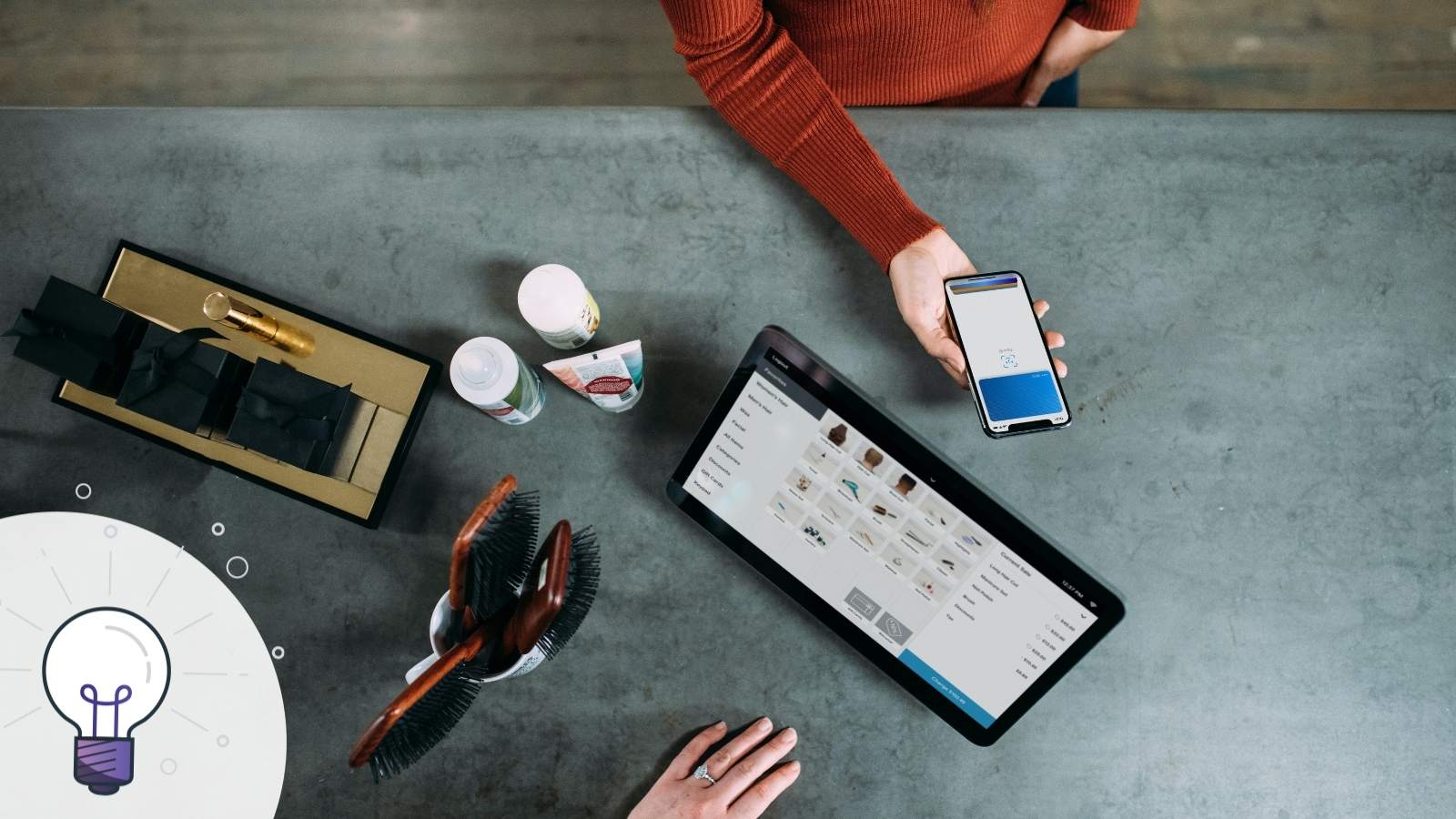 Everything You Need To Know About Payment Processing Systems: A Simple Guide For Spa, Salons & Other appointment-based Small Businesses
As a small business entrepreneur, there are tons of business challenges that could keep you awake at night—managing payments and processing efficiently, shouldn't be one of them!
And that's where payment processing systems come into play.
But here's the thing…
Choosing a payment processing system isn't easy. When operating a spa, salon, barbershop or other small business, you want to ensure that the payment processing system of your choice fully integrates and works naturally and seamlessly with your business management and appointment booking app or software.

Poor integration eventually leads to a negative client experience, which might turn into a loss of customers.
In this post, we'll share with you two payment processing systems that you can rely on and other important bits to consider when choosing one for your salon, spa, barbershop or service-based business.
In this article you'll find:
What is a payment processing system?
A payment processing system is a third-party business service that allows non cash based transactions— such as debit and credit card payments— authenticates them, and transfers the funds to the merchant after the service is complete.
What are the benefits of payment processing systems?
Now that you've understood the role of a payment processing system, let's also evaluate its top benefits.
Processes credit & debit card payments effortlessly
The first and key benefit of a payment processing system is the effortless way in which it allows processing credit and debit card transactions.
Why is it important for a small (local) business you ask? Here's why:
While cash only transactions was the norm back in the day, it isn't the same anymore. In fact a world without credit and debit card payment is practically impossible to imagine today.
60% of Americans believe the US will soon become a cashless society. In fact, research shows that 70% of the United States population carries a credit card, with 34% of Americans carrying 3 or more cards.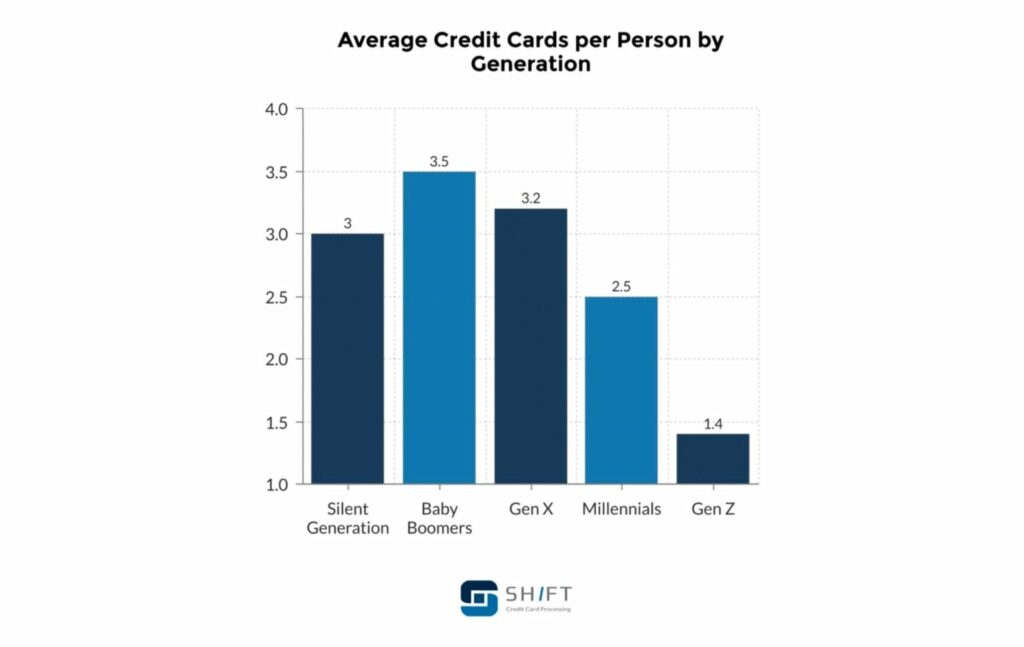 Payment processing systems ensure that your clients can pay for your services using their debit and credit card. Not to forget that it allows your business to function properly.
Offers flexibility to clients and boosts revenue for businesses
It may not seem like a feasible idea at first, but the truth is that when compared with cash-only transactions, credit/debit card transactions offer clients more flexibility, convenience and in today's time— less spread of the virus too.
Payment processing systems offer this and more to today's digital savvy customers. Apart from debit and credit card transactions, they also allow clients to transact via mobile wallets using their smartphones.
But there's more…
A study by Quickbooks found that "83% of small businesses that accepted credit cards saw an increase in sales. 52% of businesses surveyed made at least $1,000 more per month, and 18% made at least $20,000 more per month."
It's a win-win for both clients and businesses.
Allows integration and boosts business efficiency
Leading payment processors seamlessly integrate with a variety of business tools, including online booking and scheduling software, which makes taking online payments seamless and straightforward for you and your clients.
This is critical when you're trying to maintain business efficiency (and for your sanity!)
With integrations like the one above, you can easily charge clients in case of no shows. Besides this, a payment processing system helps you reduce errors and duplicate data without additional labor costs. Payment processors also ensure the security and validity of each transaction.
Key things to remember when choosing a payment processing system
Choosing the right payment processing system—the one that also integrates with your online booking or all-in-one scheduling software of choice— can be extremely daunting, especially when you know the larger role that it will play in your business growth.
When evaluating credit and debit card processors, here are a few questions that you should ask yourself:
What is the cost of initial set-up?
Most payment processors charge an initial set up fee. This may sound like a given, but as a small business owner, it's on you to see if it makes sense for you time and money-wise.
What is the usual payment processing fee structure like?
Similar to the initial set-up cost, payment processing systems charge a processing fee which is mostly deducted monthly. The fee is usually % of sale + charge per transaction.
What types of cards does it accept?
Payment processing systems may likely use all types of cards (Mastercard, Visa, Amex & Discovery) but a few may be restricted to just Visa & Mastercard.
Is there an availability of hardware?
Check whether your payment processors provide hardware that allows you to accept payments.
How secure is it and does it allow saving credit card details?
Keeping credit card details of your clients safe is more important than ever. With rampant online frauds it is important to make sure that your preferred payment processing system has a process to detect and alert you in case a fraud does occur. Make sure that it also stresses on PCI compliance.
Is there other monthly processing fees involved?
When evaluating payment processing, be mindful of any additional costs that may be involved. For example are there any chargeback fees or account fees involved?
What's the turnaround on deposits
Cash flow is the lifeblood of your business and it is critical that you are aware of the turnaround on deposits. This way you will be able to manage your finances better.
What kind of support is available to you?
Lastly, do you have support (live, phone, chat) available when you need it the most?
Now that you're convinced that a payment processing system is ideal for your appointment based small business, let's also look at a few options:
The Most Powerful and Cost Saving Payment Processing Systems For Spa, Salon, Barbershops and Wellness Businesses
There are tons of payment processing systems available in the market today. This includes Paypal, Square, Shopify, Venmo, Stripe, Payline Data and others, each catering and working uniquely well for specific business types.
But when it comes to service based small businesses like spas, salon, barbershops and wellness businesses, Stripe and Square prove themselves to be the best. Not only do they provide a robust infrastructure, they tick all the checkboxes of being the 'efficient' choice.
Let's look a bit closer at them:
Stripe
Stripe is an independent platform that helps small businesses accept and manage transactions online. Stripe streamlines these transactions and links them with third-party platforms that prevents fraud, organizes revenue, and drives business growth.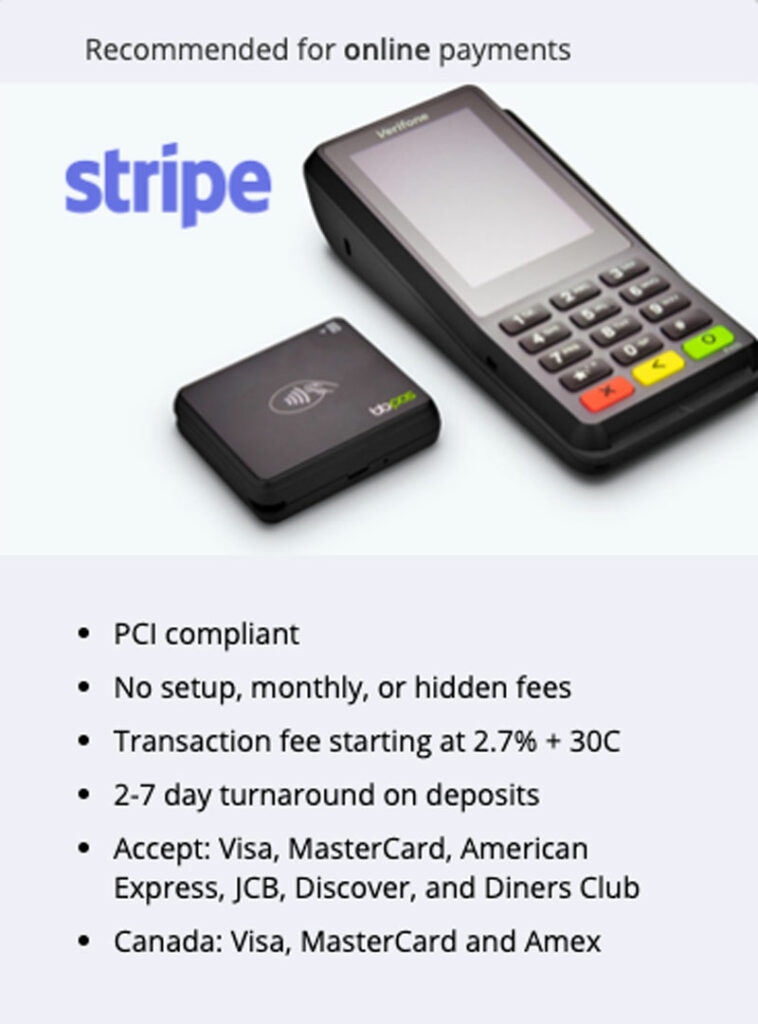 There's no contract involved and the platform does not charge any set up fee. However it does have a transaction fee starting at 2.7% + 30 cents. Stripe accepts all major credit card providers in the US but is limited to Visa, MasterCard and Amex in Canada. It is PCI compliant and offers fast dispute resolution.
Stripe integrates with Genbook and the set-up process is convenient, fast and hassle free. If you don't have a Stripe account you need to create one. The step by step guide to Stripe takes you through the set-up process allowing you to checkout your clients with zero effort involved.
Square
Similar to Stripe, Square is also an independent payment processing platform, which makes accepting payments through your online booking and scheduling software easy and convenient.
True to their motto, the transactions are fast, painless and secure and the contracts come with no lock in, allowing you greater flexibility to switch if need be. Square accepts transactions through Visa, Mastercard, Discover and American Express and the rates remain the same for all the credit card types.
Square card-present transactions are 2.5% + $0.10 (These are transactions processed using the Square reader). Online payments are processed at a rate of 2.6% + $0.10 per successful transaction.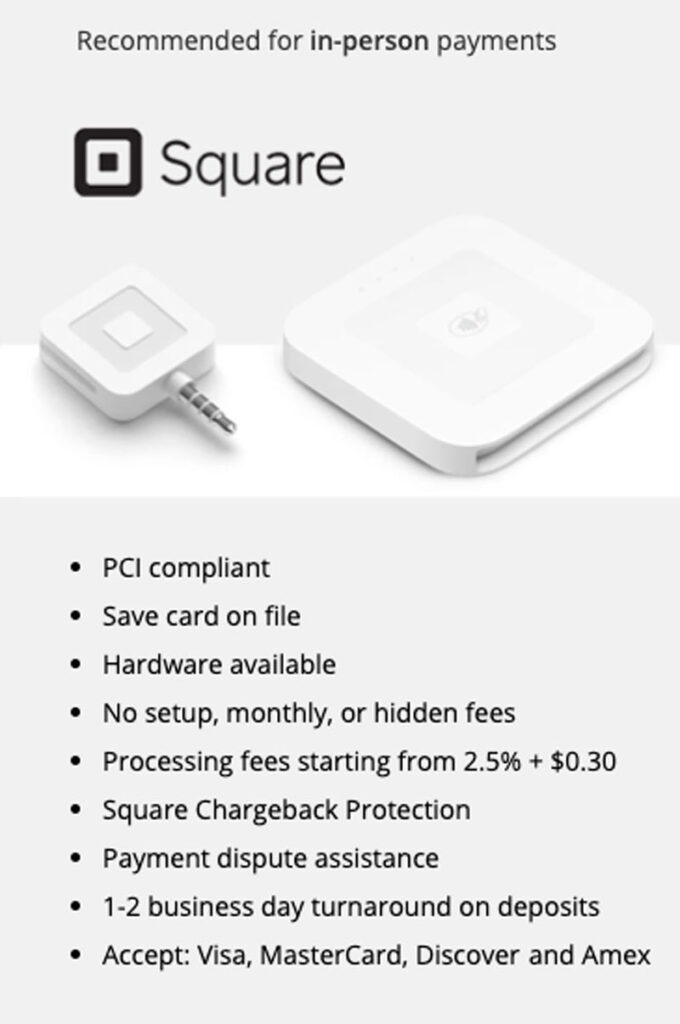 Square also integrates with Genbook, and the set-up process can be completed in no time, however, is only available to US businesses at the moment for complete integration. Square will present a solution for businesses in Canada soon.
Once you've connected your Stripe/Square account, you can set up the rest of your payment requirements by following instructions from our Getting Started with Payments article.
Side by Side Comparison of Payment Processing Systems: Stripe & Square
| | | |
| --- | --- | --- |
| Pointers | Stripe | Square |
| Set-Up Fee | No set-up fee | No set-up fee |
| Transaction Fee | 2.7% + 30 cents | 2.5%+ 30 cents |
| Hardware Charges | $59-$299 for readers | $49 for a contactless & chip reader. Magstripe reader is free. |
| Recommended for | For online payments | For in-person payments |
| Seamless Integration with Genbook | Yes | Yes (Canada only) |
Choosing the right payment processing system for appointment-based small businesses
Aside from the mentioned payment processing options, there are other varieties of options you can choose from. However, the long list of these systems makes it tricky and challenging to find the right solution for your business.
If you are looking for the best payment processing system that is flexible enough to meet all your expectations and needs, consider the two systems mentioned in this article.
For an appointment based small business, booking appointments is a key, but you should also pay attention and invest in an intuitive payment processing system that drives customer experience.
And if you want to jump in to give Genbook a try, start your free trial today and see for yourself why thousands of small business owners use Genbook to manage their time and convert more clients!