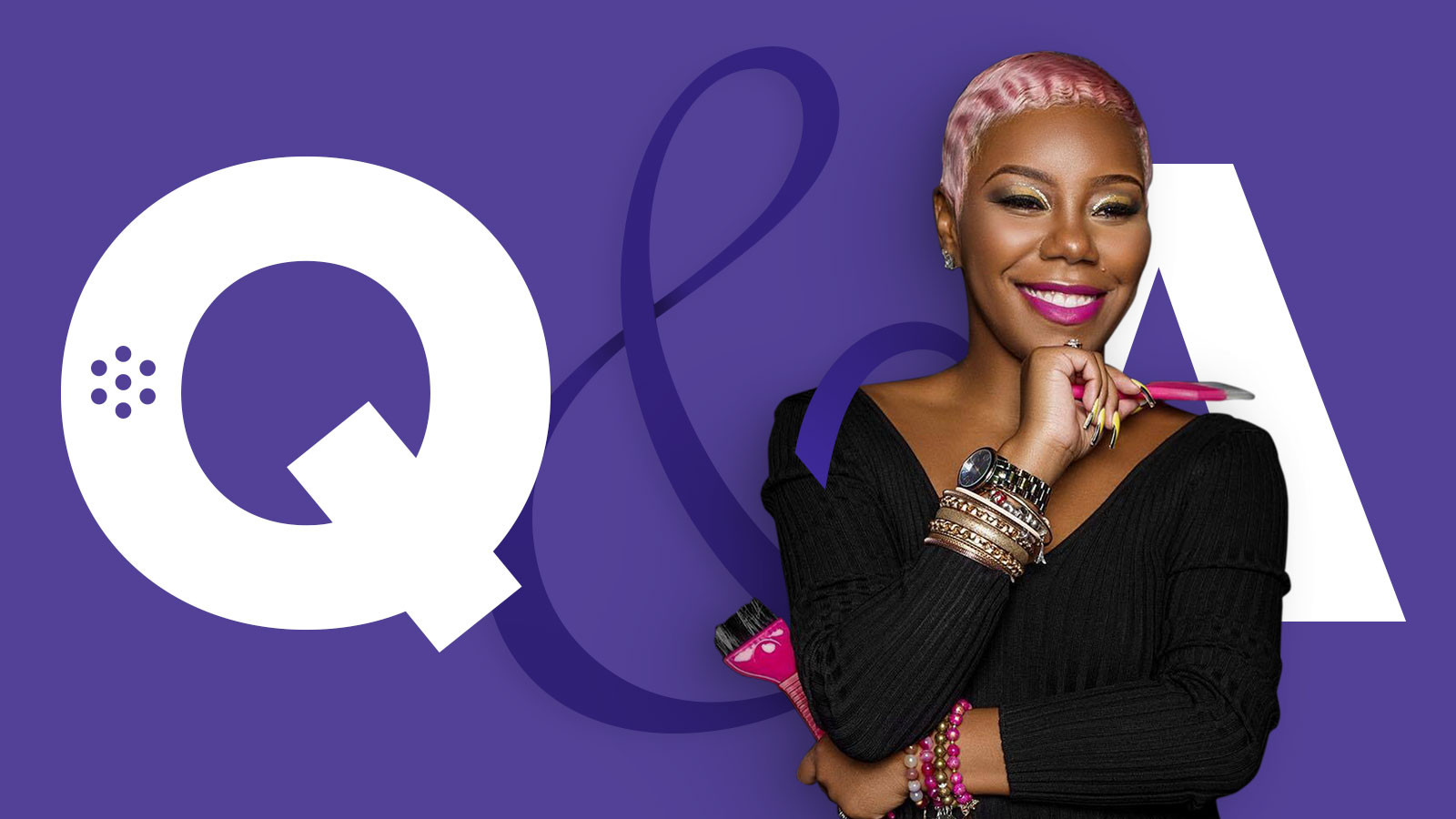 Playing To Her Strengths: How This Beauty Educator & Influencer Built a Fierce Personal Brand & Overcame Booking Challenges with Genbook
Kenniqua Jones is a woman of many talents.
Nuk—as she is fondly known by her clients and followers —always had a knack for hair. As a child, she would line her dolls up and style each and every one of them. Once done, she would start all over again.
While she enjoyed it a lot, the thought of becoming a stylist didn't cross her mind until later in life. As years passed, Nuk toyed with the idea of becoming a teacher but very quickly realized that while she loved the process of sharing information and teaching someone new, the idea of being a teacher in the conventional sense of it, didn't appeal to her.
Fast forward to today, she's nurturing her passion for hairstyling and is the owner and lead stylist at Salon 215 Elite in Conyers, Georgia.
But there's more to Nuk's accomplishments. She's not just a stylist, but a mother, an Instagram hair influencer and an educator, —all rolled into one.
We caught up with Nuk to get her take on the challenges of being an entrepreneur, how she has grown over the years, what her secret was behind building a fierce personal brand and how she overcame booking challenges with Genbook.
What were some of the challenges that you faced at the beginning of your journey to entrepreneurship? What were the rough bits?
The only challenge that I can think of in the beginning was just finding my niche, finding where I belonged in the hair world. In the past, people requested the services that I didn't really enjoy doing, or wasn't really good at, but I felt like, well, this is money and, I'm new and I need the money. So I would just do it and I would hate it and I would be unhappy and the client wouldn't come back.
So I think my challenge was just finding where I belonged, what my niche was going to be and really learning how to stay in my lane.
What's unique about your brand and in what ways has it helped to grow your business?
I think what's unique about my personal brand is just the fact that I am transparent. I show my true self to my clients, including the behind the scenes—the put-together look, the not so put together look…my journey.
I try to show the ups and the downs, and I think that's something that most people aren't really doing. They only show the highlight reel of all the amazing things that they've done, where I try to show, the good and the bad of everything I have going on. I've realized that's the way to stay authentic!
How do you keep up with all the social media planning? Is it ambitious to think that a salon entrepreneur can build a personal brand while running a busy salon?
It is difficult to keep up, but it isn't impossible. I have three separate Instagram accounts and I used to manage all of them myself. But recently, I've hired a salon manager, who helps me with them.
In my opinion, the easiest way for me is to plan the content. I try to plan mine for at least 30 days out—and it is possible, you just have to set aside the time. I've structured my calendar in a way that I just take an off day and just tackle it for the month. And sometimes it spills over into two days, because I'm planning for three accounts.
But when you want your personal brand to shine alongside your business brand, you have to stay consistent. It doesn't necessarily mean you have to post three times a day. Every account is different and you move how the audience prefers you to move or what they're used to. So on my hair page, I may post a minimum of three times a day, but on my haircare page, I only post typically on Fridays.
Posting often and building your personal brand definitely helps because people will literally be dying to get in your chair just so that they can meet you.
What's your advice for someone who wants to follow your path? Can you share your top 5 tips?
Here are my top tips:
Stop feeding your fears, start somewhere instead:
It's okay to be scared in business. Most people who are in business and even successful, are still scared because businesses are naturally scary, but my advice in life is that if you really, really want to do something, go ahead and do it.
Be prepared
In short, your next big break could be literally tomorrow or around the corner or next week. And if you're aren't prepared for that, you could possibly lose out on a major opportunity. Stay ready so you don't have to get ready and always prepare for an overflow. Don't short yourself.
Brick by brick
That's something that I've preached a lot as well doing one thing a day for your business, regardless of how insignificant it may seem, but you know, everyone wants to build their business overnight. And it's just not how it works. You can't rush the process nor do you want to overwhelm yourself with ideas and tasks and you're all over the place.
So, just like carpenters, you know, build a house—brick by brick.
Have a great mindset
A mindset is everything in business, how you see things, how you react to things, play a part in how successful you are. Greatness takes time. So adjust your mindset. Things don't happen overnight, and success requires isolation.
So change your mindset about who you spend your time with. How you think about things and how you process even problems in business, that's all directly related to your mindset. And you'll see that your business will probably grow more when you surround yourself with people with the same mindset.
Don't put all your eggs in one basket
Last but not the least. I urge business owners to diversify their knowledge and expand their brands in more than one direction.
So regardless of what you do, if you are really good at baking cakes, don't limit your business or your brand to simply baking cakes, teach courses on how to bake cakes, sell recipe books. There's so many different avenues to add other streams of income. Always diversify and have more than one thing going okay.
It does help with building your brand because people feel like they know you. And one thing that I'll always teach is people buy people. So some people are going to choose you over other hairstylists because they identify with you or they have something in common with you, or they just like you.
What has been some of the booking related challenges and what's been the most obvious advantage of using Genbook?
One of the biggest challenges for me was no shows. When you set aside hours of time for a particular service, and that client does not show up. I've dealt with other booking sites before where you were able to capture the credit card, but people smartened up. People were smart enough to use cards that didn't have any funds on them, cards that were declined, cards that were canceled. Genbook's feature to get a deposit in advance has helped me immensely.
With Genbook, when someone is willing to put down a deposit for a service in the future, that tells me that they're serious and 99% of the time they're going to actually show up for their appointment. So that was a huge upgrade from what I was used to.
It saves time and is easy to follow. It's very rare that I get a client that just completely doesn't understand the system. So most people, once you send them your booking link, they are pretty self-sufficient from there on.
I love all of its features. I love the ability to schedule certain things on certain days so that I can maximize my time and strategize my day.
Keep your eyes peeled for more Genbook customers in this Q&A series. And if you're looking for a robust online appointment scheduling software that keeps your small business challenges at bay, and makes it run smoothly, sign up for a free trial and discover why thousands of similar businesses like Nuk's use Genbook to power their appointment bookings.