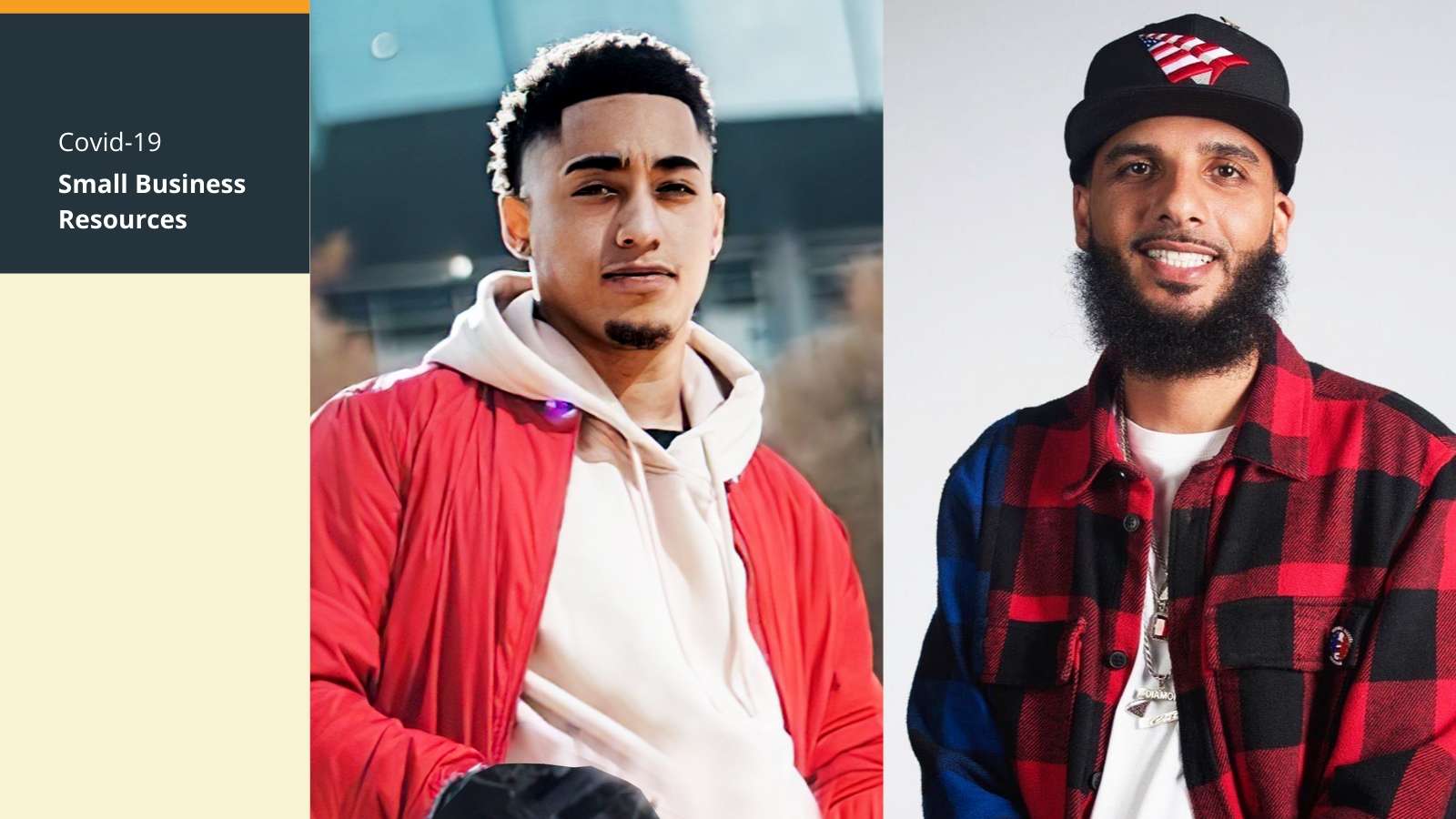 Reopening Barbershop: Influencer Barbers Youssef Barber & Tyler Dew Share Their First-hand Experiences & Actionable Reopening Plans
For many in and outside of the barbering community, this pandemic has been their first experience with collective hardship.
This pandemic has changed a lot—there's no debating it.
But with so much to think about—like pivoting & getting innovative, launching an ecommerce shop, and more—the best way we can help you (apart from providing amazing barbershop software) is arming you with information that's actionable and full of insights…something that will come in handy when you're reopening your barbershop or navigating the current climate.
With that thought in mind, we chatted with influencer barbers & savvy business entrepreneurs—Youssef Barber of Diamond Cuts Barbershop & Tyler Dew of BarberSign Productions Hair Studio. Both Youssef & Ty have been a constant inspiration through this time and were more than willing to share their first-hand experiences & their tried and tested plans on reopening their businesses.
Hopefully, you'll find some interesting nuggets in here. Click on the links and go straight to them.
How to Reopen Your Barbershop: 5 Winning Tips from Those Who've Been There
1. Don't just implement safety measures, show them to your clients
Did you know that one of the biggest search terms on the internet used to be 'barbershop near me'? But this pandemic changed the dynamics of it all. Instead of searching for 'barbershop near me', your clients were busy searching 'how to cut your hair at home'.
But now with the states reopening, more and more people are stepping out and getting ready to get their beard trimmed, shaved and their mane trimmed. That being said, there's still a bit of hesitation in the minds of those who walk-in to your barbershop. People are still worried about their safety and that's quite understandable too. That's why it's upon you to ensure that you don't just implement safety measures, but display it in a way that makes your client trust your business.
"This isn't the first virus we have encountered, and we've trained ourselves and we applied safe sanitation methods when we reopened. As a barbershop owner you are accountable" – Youssef Barber
Here are a couple of ways that you can apply & ensure that your clients can fully trust your sanitization methods:
Invest time & effort in thorough deep cleaning using industry-recommended disinfectants before you plan to reopen your barbershop. With rigorous cleaning, your stocks may get exhausted and so make sure that you don't run out of it. If you've already reopened make sure practice cleaning down the common areas periodically.
"I made sure I was stocked up on cleaning supplies, hand sanitizers, gloves. We had these supplies, but we stocked even more" says Youssef.
Tyler agrees with the approach. He adds:
"I've made sure that I have multiple capes, and supplies like masks if my clients need it. I'm also sanitizing regularly and taking breaks"
Place hand sanitizers at the point of entry and in easy reach of the client. When using tools pull them out of sanitized flaps in front of them. Disinfect chairs in front of the clients. In a nutshell, let your clients see the safety precautions you're taking.
"Be very cautious of all the tools that you use on your clients—make sure you disinfect them" – Tyler Dew
Wear masks and change them every 4 hours to prevent any spread of the virus. You can also try plastic visors to be extra safe and if you have the budget for it.
"Wearing face masks may not be mandatory in a few states, but if it helps your client feels safe, do it."- Youssef Barber
We understand that cutting hair with the client's mask on can get tricky and if that's a challenge you are bothered about, check out this hack from Olivia Smalley—another Genbook customer and hair influencer.
Train your staff on maintaining good sanitization & hygiene processes and if need be, get them to take professional certifications, just like Tyler did with his Barbicide certification.
2. Communicating with clients once, won't do much
Gone are the days when a single email or message or call to your client, notifying them about your offers, opening hours will do the trick. What this pandemic has taught us is that over-communication especially when it has to do with the safety measures you're taking is essential, since the fear of getting infected is still big on their mind.
This means that they constantly need to be reminded of the stance you've taken to ensure their safety, how you're applying these methods, and what are the dos and don'ts of it all.
It's time that you master your crisis communication strategy—pick up the phone and call them, email them if you have an email list handy, put a notification banner on your website, or use social media as a platform to show behind the scene action—something that Youssef implemented effectively.
He used Instagram posts and IGTV as a channel to share information and the protocols over a month to ensure a steady flow of clients.
Tyler in the meantime used a similar approach but with a bit of humor thrown in for good measure. The humorous content kept his clients engaged and when it was time for reopening barbershop they were quick to be back!
While the above methods are there for you, you also have another avenue to share updates with your clients if you are a Genbook customer. By using the announcement feature, you can ensure that your clients have access to your policies when they're booking services at your barbershop when you reopen for business.
Here's how you can set up the general announcement feature.
3. Leverage the power of community and rise together
Barbershops have always been more than a place to get a haircut. It is a spot where minds interact and where trust and appreciation meet you at the door. But often, this sense of community is seen between the barbershop and its clients.
But Youssef put a spin on it and used his wider barber network to gain from it collectively. He encouraged other barbers to form a group and keep each other updated on the availability of supplies and other operational roadblocks. He along with other barbers also launched the GA Barbershops Initiative.
"It's the community reaching out, as owners we uniting together and giving a PSA that we are fine and letting clients know what measures we are taking" – Youssef
This is a great strategy that you can apply to your local barbering community as it encourages the general sense of safety for your client.
4. Keep a positive customer service attitude
With the sentiment still a bit murky, it's time to stay positive and display your best customer service attitude says, Youssef.
And how do you achieve it?
The answer is through meaningful conversations. With the hot beverages and magazines out as a part of your client experience strategy, it's time to bank on the age-old art of conversing to build connections and impress your clients.
Thoughtful and meaningful conversations with your clients will help them ease a bit and get back to normal soon. So help them with it whenever you can.
Don't joke around about the pandemic, you never know what the other person is going through, be sensitive to their needs, share your thoughts and emotions, dwell in friendly banter, and if they need, pick up the phone and call them.
These small gestures will help you connect with them and they will stay loyal to your business.
5. Online appointment is helpful for your clients & your barbershop
With social distancing norms in place, your best bet is to prioritize online appointments than ever before. This not only helps you have an effective booking system but it also allows symptomatic clients to reschedule appointments with ease.
Youssef & Ty agree with the benefits of online booking software during this pandemic.
"It's the best thing that has happened to my business. With an option to control my schedule, instead of texting us in the middle of the night, they have an option to book online 24*7 and will come in handy for a lot of busy barbers." – Tyler dew
Genbook has a variety of features that can help barbers during this time. Here's a complete list of features that might be useful to you.
"I definitely like the Waitlist option, so have it enabled, take deposits, add buffer time so that you can prep your stations. If you are not a Genbook customer, I definitely recommend you to get online booking to be done with one client and be ready for another"- Youssef Barber
Reopening barbershop will be challenging, but…
Yes, that's right, reopening your barbershop will be a bit challenging, but with a plan of action at hand, you won't have to struggle. So instead of wasting time building a plan from scratch why not use this advice and focus on the most significant bits? Here are the tips at a glance once again for you:
Don't just implement safety measures, show them to your clients
Communicating with clients once, won't do much
Leverage the power of community and rise together
Keep a positive customer service attitude
Online appointment is helpful for your clients & your barbershop
And if you need more help, and want a customized plan for success, take our COVID business health check, specially designed for barbers like you.