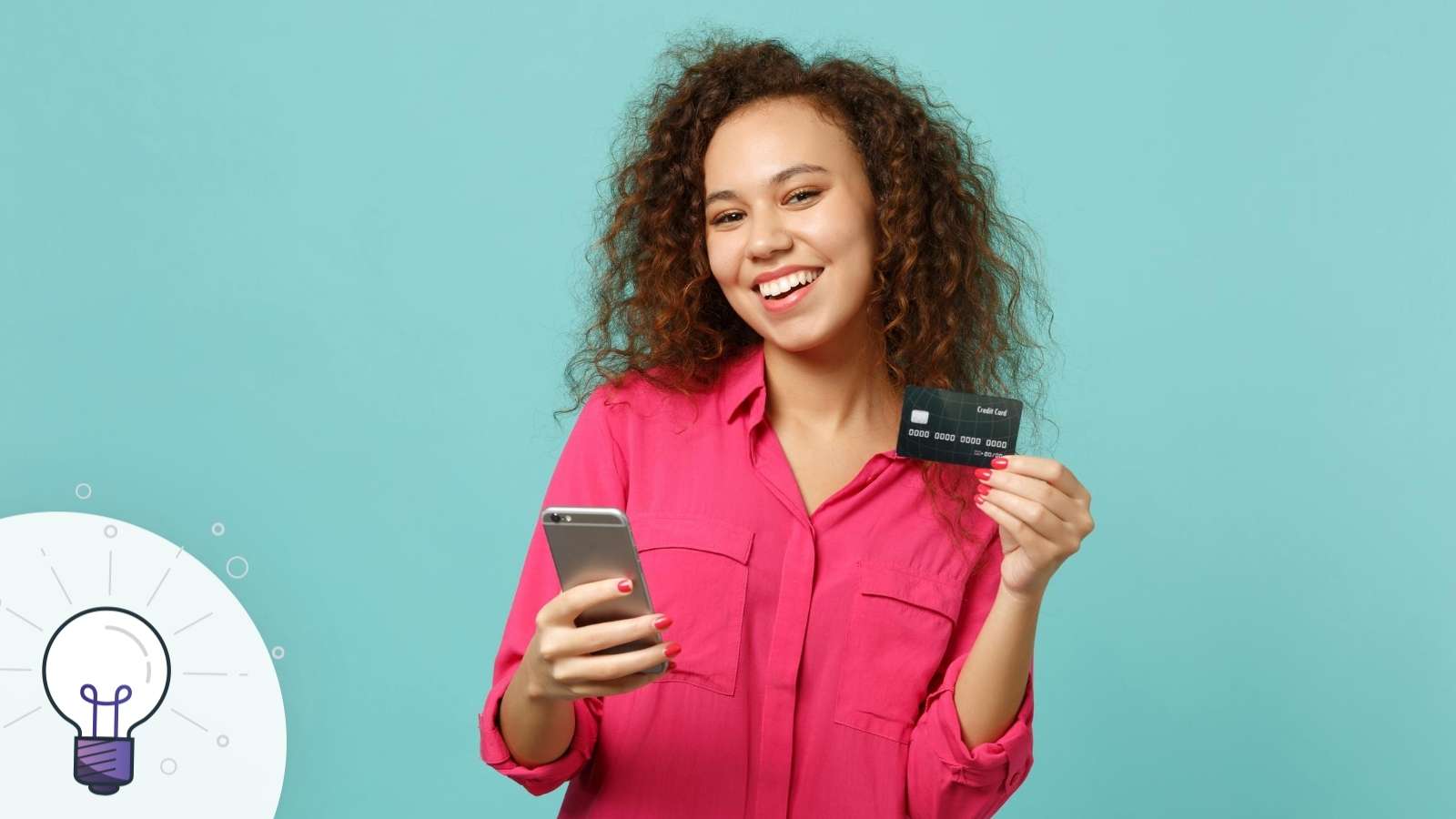 11 Unique Salon Advertising Examples That Will Get You More Clients Through The Door (Now & In Future)
As lockdowns start to lift, and you get ready to get back to business, we've got some advice for you:
You need to start engaging with your clients sooner than you think!
We know what you're thinking: my clients love us, and as soon as they know that we're open for business, they'd come.
This might have been true at one point, but not anymore. With your competitors seeing low foot counts, and their bottom line getting impacted, the only way for them to recover from the losses is through price wars…some that will be enticing for your current clients too.
Frightening isn't it?
But here's the thing: you can come out of these pricing wars and get ahead of the game, when you couple your service with an active marketing campaign—one that helps you attract more clients not just for now but in the future too!
You might be short of ideas and that's why I've curated this list of 10 salon advertising examples that will not only inspire you, but will also leave a lot to learn from!
So let's look at them
[or click on the table of contents to skip]
2. Send a salon newsletter (with beauty tips)
3. Get feedback through email or text surveys
4. Inject personality into your social media presence
5. Work with local influencers
7. Take advantage of holidays and events
9. Get your salon listed on Google My Business
10. Use Facebook Ads to target local clients
1. Set up a Facebook chatbot
A chatbot is an automated piece of software that uses artificial intelligence to promote your business through conversations. In the context of Facebook, they do this through Facebook's Messenger system.
People often assume they need to know how to code to build a chatbot, but that's not the case. Building a Facebook chatbot is simple and affordable. A chatbot can be used to promote your salon's new offerings, ask basic questions to identify your client's needs, as well as answer common client queries.
They allow you to reach your clients directly without a team member having to spend all day online, saving you time and money while allowing you to improve your customer service by responding to queries more quickly.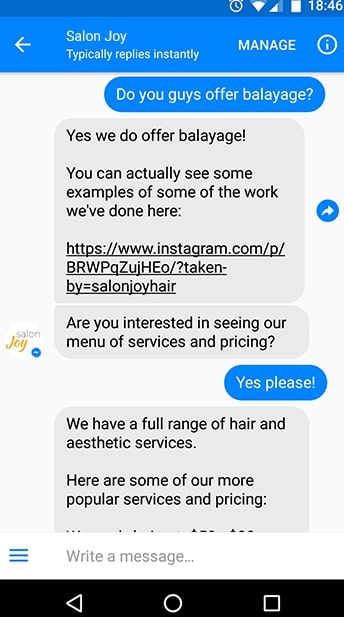 You can also connect your chatbot to a Facebook ad, engaging automatically with people who leave comments to turn those commenters into clients.
2. Send a salon newsletter (with beauty tips)
Facebook and Instagram are excellent channels for booking clients through the book now button as well as announcing your latest offers and promos but don't forget the power of email marketing. Email is still the most cost-effective digital promotional tool. If you don't have an email newsletter, you're missing out.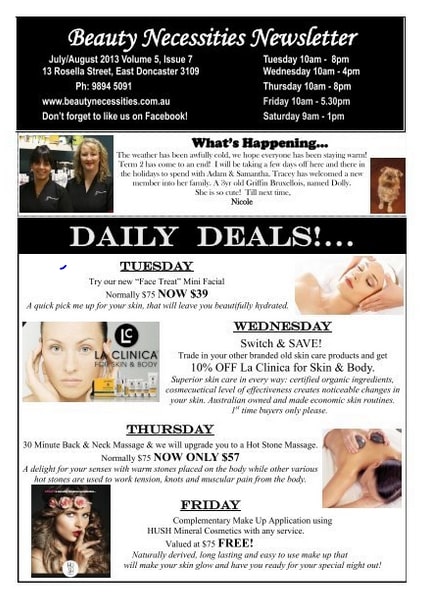 Your newsletter will let your clients know about sales and promotions, loyalty programs, and new products donning your salon retail display. But don't stop there! Why not use your email newsletter to share useful beauty and wellness tips? This will help you build thought leadership in your space and show your expertise.
Keep your content fresh, relevant, and timely. Seasonal tips are sure to be a hit, whether you're telling clients how to keep their lips from cracking in the cold or how to get glowing skin for summer. Your email newsletter content should provide valuable advice that aligns with the needs of your customer persona. Basically, things your readers can use even outside of the salon.
3. Get feedback through email or text surveys
A lot has changed post this pandemic and this includes your clients needs, wants and expectations. But if you continue to service them without taking into account these changes, you aren't serving them right.
Therefore, consider running a survey by text or email. You can use the information to determine the direction of your business and your next marketing campaign.

What should you ask your clients? Consider the following questions:
How much are they willing to pay for a service?
Are they happy with DIY services post pandemic?
Which products they can't do without?
Would they be interested in multi-service or single services?
The easiest way to create your survey is via a platform like Survey Monkey. You can email the link to your newsletter subscribers and also post it on your social media channels.
4. Inject personality into your social media presence
The beauty industry is a people-first business, and if you want to see a steady stream of clients walk through your door, you need to invest time in building a brand and rapport with your clients. As an owner-operator, injecting your personality into your social media presence will help your clients feel closer to you, and you'll see them returning again and again.
Here's an example of Kait from TansbyKait a Genbook customer, who routinely shares informative content with her clients through Instagram –
The next in line are your employees.
Getting your employees involved in marketing efforts via social media is also good for staff engagement and morale. How about running a "takeover" series where each staff member gets a chance to be in charge of your Instagram stories for a day, sharing details of their day and their top beauty tips?
Thrive Massage Ann Arbor seem to be mastering it on Instagram –
Sharing pictures is an excellent way to keep them feeling connected and engaged. By the time you reopen, you might be so in-demand that you'll need to upgrade your online scheduling system!
5. Work with local influencers
Influencer marketing is tremendously powerful, which is why we included it in this list of salon advertising examples. You may not have the reach – or the budget – to be featured on a major influencer's Instagram account. But have you thought about engaging with a local influencer? They might not have quite the prestige of nationally or internationally known influencers, but they might have significant clout in your town or city.
Unless you're running a chain business, salons are, by definition, local businesses. The local credibility you can get from working with the right influencer is invaluable.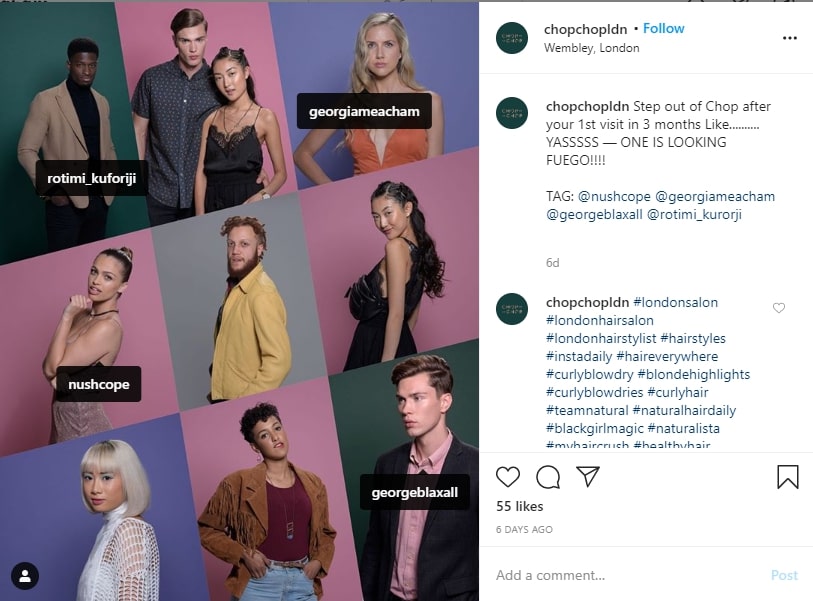 ChopChop London (above) collaborated with London-based influencers to promote their upcoming salon reopening. The four influencers tagged in the photo have over 100K followers between them. If even 0.1% of those people decide to check out your salon as a result, you'll have a strong pool of new clients to work with.
Take the time to study an influencer's channels and get a good sense of them before you reach out. And be patient! They're busy and might take time to get back to you. Pro tip: using an email verification service can help ensure you've got the right contact information.
6. Run a contest
Holding a contest on social media is a great way to attract new clients and engage existing ones. If you're reopening soon, use a giveaway to build excitement. Your prize could be a gift card, a pamper day at your salon or a selection of luxury products.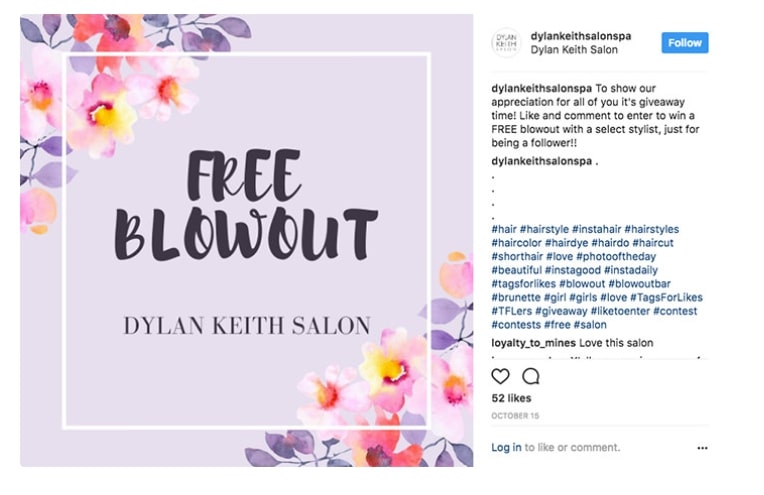 Ask clients to share your post, like it, comment on it, and tag their friends to earn additional entries. If you want to collect leads, you can use an online competition tool, to encourage submissions and try to gain that traction that can help make the competition go viral.
7. Take advantage of holidays and events
Have you noticed that businesses ramp up their marketing around Christmas, Thanksgiving, Valentine's Day, and Mother's Day? That's because seasonal marketing works. Ideally, you should plan your seasonal promotions 6-12 months in advance to ensure you don't miss any opportunities.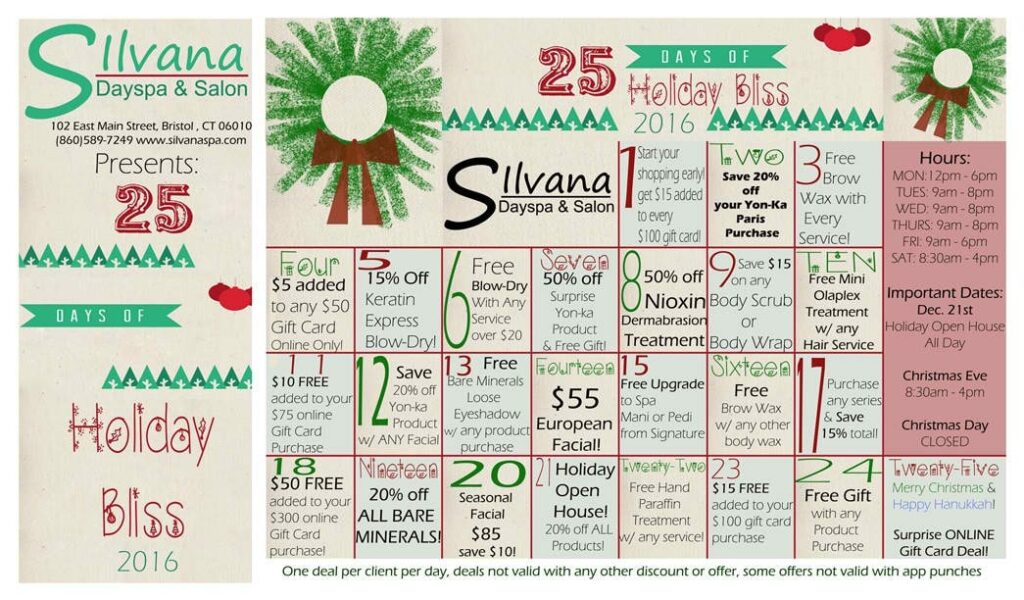 The salon pictured above took seasonal marketing one step further, creating an "Advent calendar" of offers lasting from 1 – 25 December. Don't be afraid to get creative and think outside the box!
8. Offer a loyalty program
The average consumer is a member of 14 different loyalty programs, but only active in around half of them. Studies show that repeat clients spend 67% more than new ones, and the cost to retain them is six times smaller than the amount you need to spend on attracting new clients. Therefore, a well-run loyalty program will undoubtedly pay off.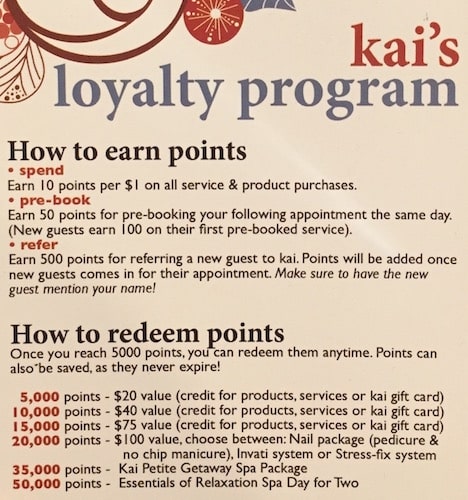 How you run your loyalty program is up to you. You could run it on a points system, like the salon pictured above. You could offer a VIP membership program with Bronze, Silver, Gold, and Platinum reward tiers. Another option is to use stamp cards; each visit earns a stamp, and when the customer has collected ten, they get their next treatment free (or half-price.)
The key to a good loyalty program is making your clients feel special. They want to feel like they're part of an exclusive club.
9. Get your salon listed on Google My Business
If you haven't claimed your Google My Business page, you're missing out on a lot of potential traffic. According to Google, 46% of all business searches have a local intention.
Setting up your Google My Business account is easy and free. It's also one of the best ways to get your business to feature prominently in local search results.
Ensure your business information (such as your phone number, business hours, and location) is up to date and ask satisfied clients to submit Google reviews. You should also take the time to read up on local SEO techniques that can help your business.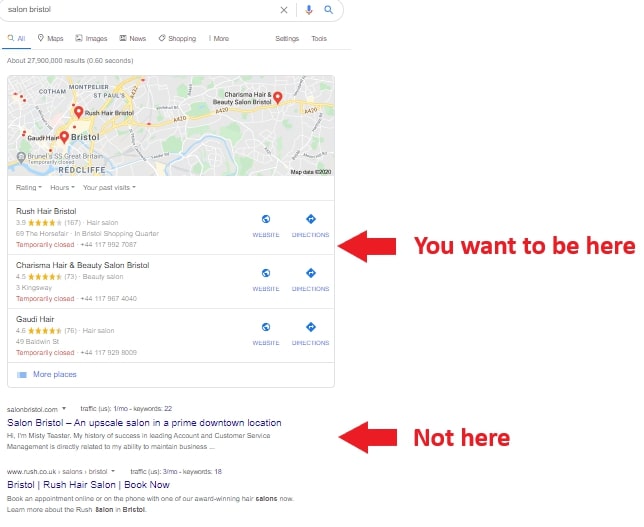 You can see in the example above that the top three listings are temporarily closed due to COVID-19. When you reopen, don't forget to update your business hours so your salon can rank in searches for "salons open now."
10. Use Facebook Ads to target local clients
Facebook advertising works differently to pay-per-click (PPC) advertising. This is because Facebook ads are a passive form of promotion – specifically, clients who see your Facebook ad weren't actively searching for a business like yours. Therefore, your ad's job is to get their attention, get them to engage, and ideally get them to "like" your page.
Set your Facebook ad parameters carefully. Target people in your local area who are interested in hair, beauty, and wellbeing. You might also target a particular gender or age group, depending on the services you offer. Here's an example of a great salon ad directed towards local young moms: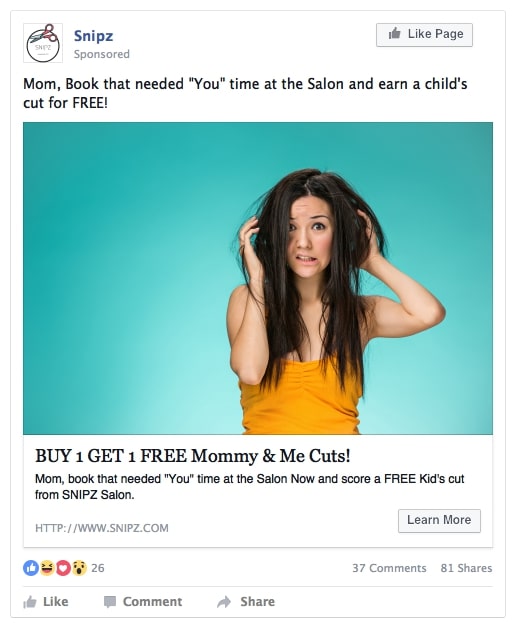 The trick is to provide value, such as discounts on bookings made from Facebook, and a compelling call to action (CTA). Creating a sense of urgency through a limited-time offer is also effective.
11. Upsell Gift Certificates
One of the ways to advertise your salon business is through gift certificates. It's a popular channel and works extremely well for salon clients, who often purchase them for friends and family.
Gift certificates enable you to reach clients that you'd typically not reach—the recipient is usually eager and motivated to use it making it an efficient method of spreading your services to others.
If you are a Genbook user you can activate the gift card feature right on your booking page, and sell gift certificates easily.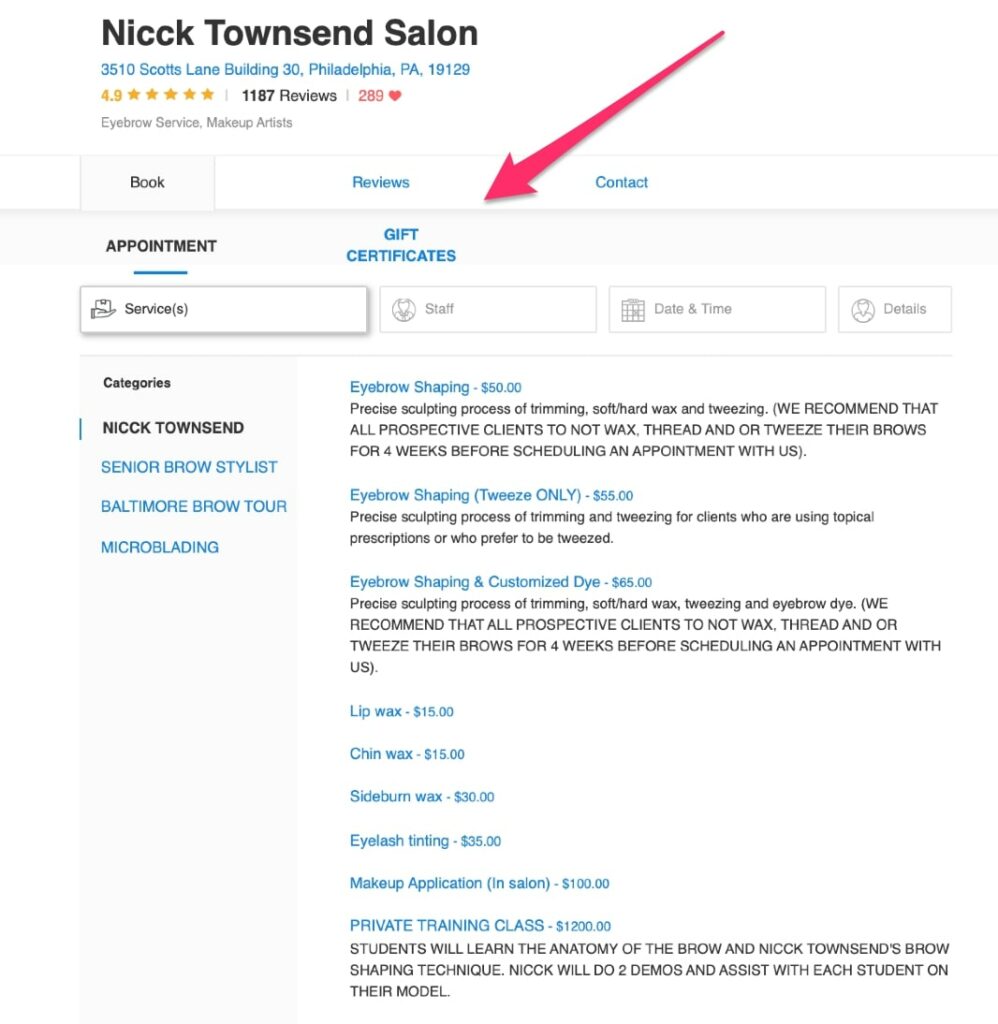 Promoting your salon as you prepare to reopen
Your regular clients miss getting their hair, makeup, and nails done by your team. It's important to remind them that you're still going strong and looking forward to welcoming them back when your doors reopen. In this guide, I shared some salon advertising examples that I hope will inspire you.
Even though many businesses are now reopening, life will not be "normal" for some time. It's essential to make the most of digital marketing methods at this time. Claim and update your Google My Business account, create a killer e-newsletter, and use Facebook and Instagram effectively to target new clients and engage existing ones.
Your salon exists to help clients look their best and feel great about themselves. Your digital advertising should do the same for your salon.
And if you're shopping for a beauty salon software or have questions on how to choose the right one for your salon business why not try Genbook's free 30-day trial. Genbook's powerful features will help you navigate the day to day challenges of your spa business effectively.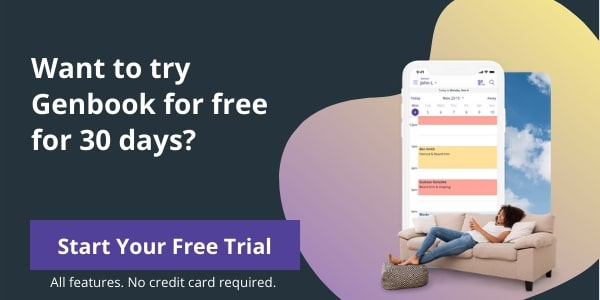 Editor's Note: This post is written by Owen Baker who is a content marketer for Voila Norbert, an online verification tool for email addresses. He has spent most of the last decade working online for a range of marketing companies. When he's not busy writing, you can find him in the kitchen mastering new dishes.