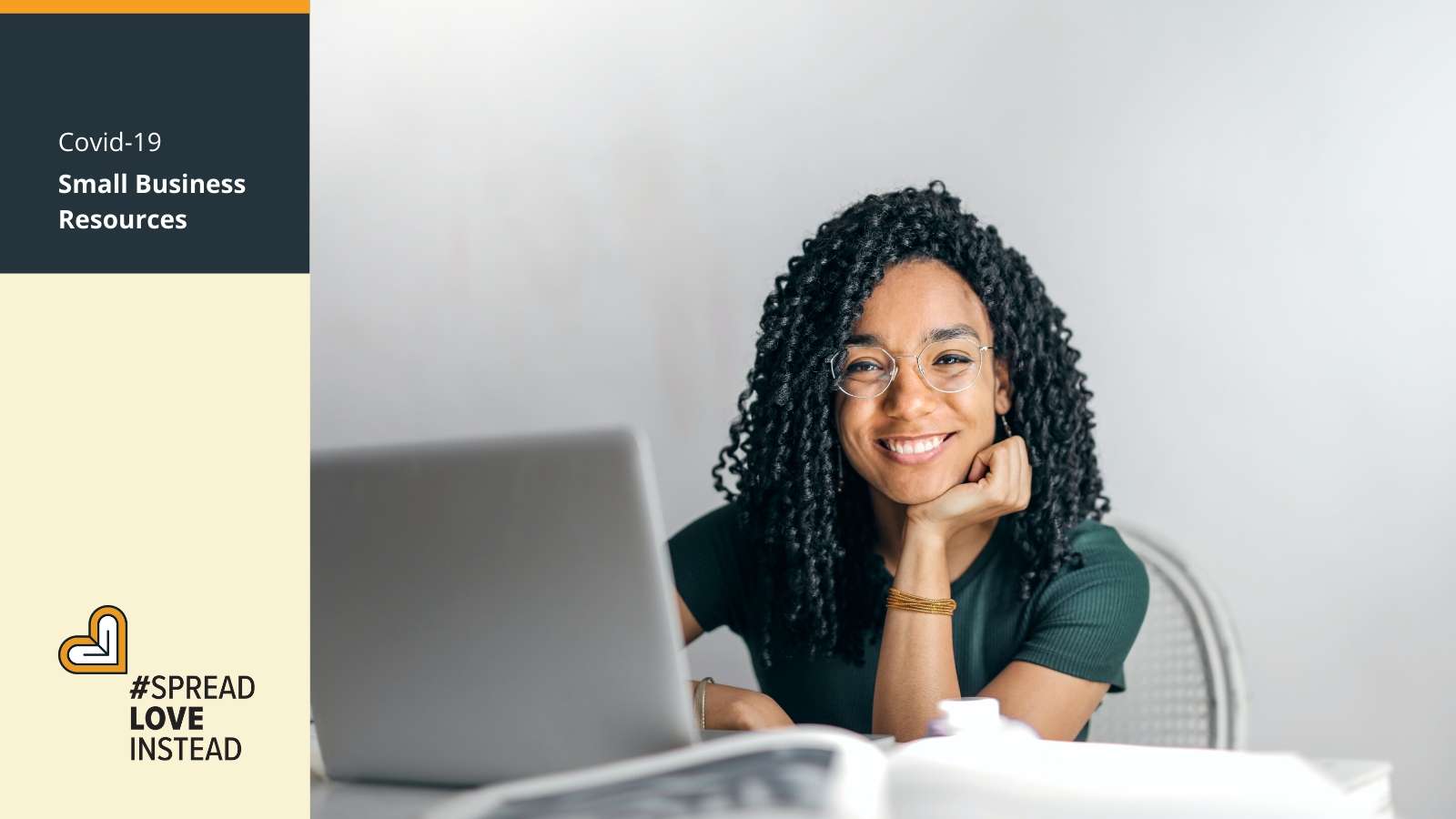 How To Set Up a Shopify Store and Retail With Ease: A No-Stress Guide for Barbers, Beauty, Hair & Wellness Entrepreneurs
The impact of COVID-19 is widespread. Irrespective of whether you operate a barbershop, spa, salon or wellness business, you're definitely experiencing a slowdown in your sales and business growth.
Considering how service-based businesses are seeing the preferences of their clients change, the whole conversation comes down to one question…
Is there a way you can still generate revenue for your brick and mortar business?
One way to do this by selling your inventory online! Yes, the stuff that on a regular day sits in your retail display can fetch you money while your business is under lockdown.
That's where an online store comes into play!
In this article, we're sharing why setting up an online store is a great business opportunity and how to set up and sell products online without any stress.
Why should you consider taking your business online?
1. Your clients are choosing to buy products online
People are turning to eCommerce in the light of COVID-19 anxiety—there's no debating it. No one wants to take the risk of stepping out even for basic necessities if given an option.
According to data from Adobe, most businesses are seeing a surge in their traffic and purchases being made online. Another report by WWD states that beauty product sales has started to trend upwards of 47%.
2. Your business needs to survive the noise around COVID
There's too much happening around us. The chances of your business getting lost in the chaos are now more than ever!
With the footfall into brick and mortar stores decreasing, businesses are trying to make the most out of their digital presence. The competition gets worse with more and more brands taking their products and services online.
You can no longer have a face-to-face conversation with your clients. An online store is like a digital representation of your retail display that clients see at your salon, barbershop, or wellness business, which improves your brand's recall. So when you step out of the lockdown, your clients will be more likely to remember you.
3. Your brand needs to stay in touch with clients
You were able to recommend products or services to those who stepped into your brick and mortar store. But you can no longer do that. Nor can you offer them on-the-spot discounts to make their experience with your business remarkable!
With an online store, you can do all of it without physically being present next to your clients.
You can educate them about your products and services, make recommendations based on their preferences and previous purchases, offer on-the-spot discounts, and more.
Simply put, an online store simplifies staying in touch with your customers and clients. But more importantly, it still gives you an opportunity to showcase your products and services without being too pushy.
And the good thing is, that setting up an online store isn't so difficult with platforms like Shopify.
How to set up a Shopify store to take your business online
With platforms available for businesses to set up their virtual storefront, it's easier to sell online these days. Shopify is an eCommerce platform that is built with all the features, themes, and plug-ins you need to set up and grow your online store.
Here are the 6 steps you need to take to set up your business online and start selling during this time:
1. Sign up and set up your store online. You can sign up for a 90-day free trial so that you can test out the platform and try out different functionalities before picking your plan.
2. Choose a Shopify plan. There are multiple plans you can choose from, starting from $29 per month, based on the kind of features you need. You'll only be charged after the first 90 days so you can easily switch your plan.
3. Pick your store theme. Shopify's Theme Store has many free themes you can choose from and customize to your liking. So whether you're selling special cream formulations and potions or beard oil, there's a theme that will compliment your online store.

Shopify's store theme editor is easy to use so you can do this yourself. If you want, you can also hire a Shopify expert to help you set up your custom design quickly.
4. Set up payment methods. On the Shopify dashboard, you can choose the payment methods you provide to shoppers buying from you. We recommend adding as many payment methods, especially the ones popular in your location. During this time, disable cash-on-delivery and card-on-delivery to keep with the social distancing guidelines.
5. Set up no-contact delivery and order pickup. You can provide options for shoppers to choose no-contact delivery to minimize their worries. Many shoppers may also prefer order pickup and you can provide order pickup. Ensure that you've specified a window of time during each day that this is available and set up measures for the same.
6. Accept orders on your store. Once an order comes in, you can view them in your 'Orders' page on the Shopify dashboard, verify the payment, and accept the order so that your inventory management team can prepare it for delivery/pickup.
With these 6 steps, you'll be well-prepared to get your business up online and start selling. To power your store, you can also set up Shopify apps that will help you solve specific requirements you have like collecting reviews, sending emails, building loyalty programs, etc.
For a more detailed guide on how to set up a Shopify store, read here.
How to set up a Shopify store for sureshot success
Surviving in the times of COVID-19 is going to take more than just setting a shop online. You need to let your customers and clients know about your move and how you're adapting what you offer to the current times.
Here are a few strategies you need to put in place once your online store is up and running:
1. Promote your online store
Your customers and clients are used to seeing you offline and booking your services through your website. Once your store is set up, you need to let them know about it.
The first thing you need to do is update all your social media profiles. Add a link to your store and make sure that you share a few posts to announce the launch of your new site. Use these posts to tell your customers and clients how they can continue interacting with your brand even now.
The next on your list should be notifying your existing customers about your online store. You already have this data at hand from your in-store interactions!
Email them about the new launch, the products that are available for purchase, or even recommendations using apps like Spently.
Send out a text marketing campaign to announce the launch of your store and the offer you're running using apps like SMSBump.
Start a conversation on Facebook Messenger to let your followers know about your online store using apps like Recart.
If you are a Genbook user, you can use the announcements features to share the link to your Shopify store with your clients.
If you are a Genbook user, you can use the announcements features to share the link to your Shopify store with your clients.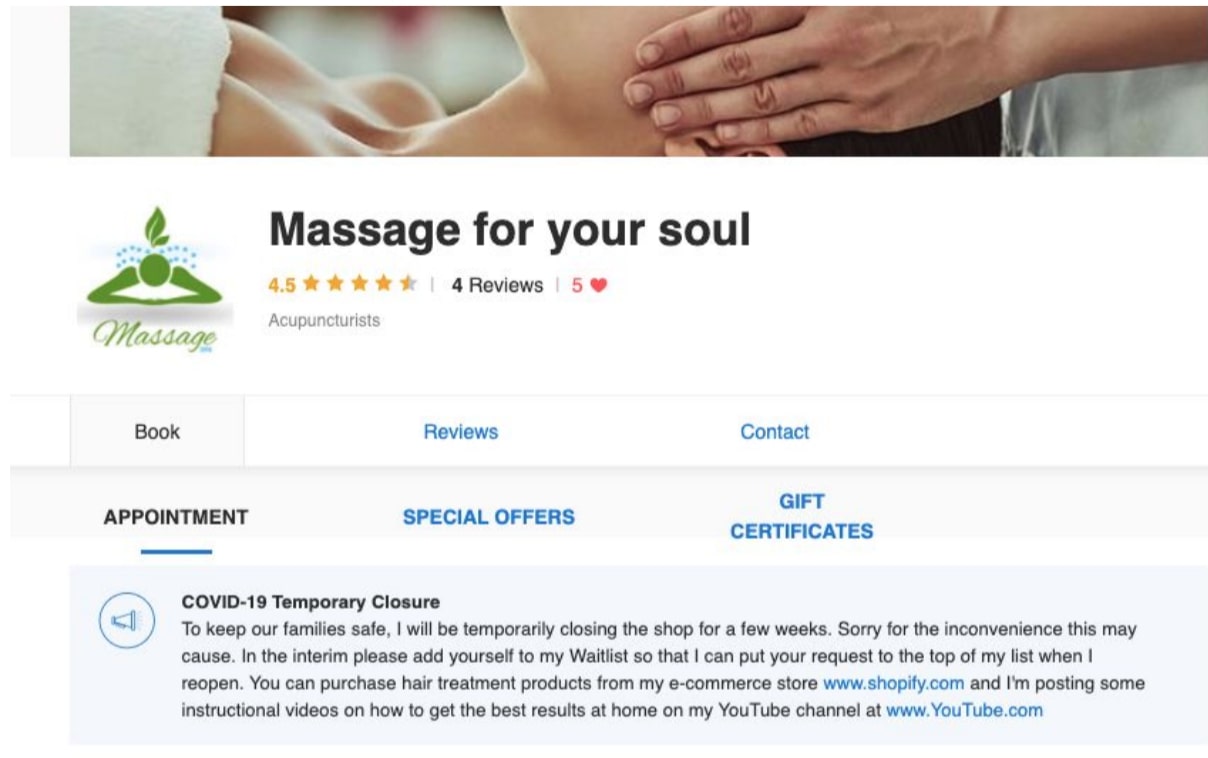 Another effective way to promote your online store is to set up ads on social media targeting people who are already following you. Since this is an audience that knows about your brand and what you offer, the cost of driving them to your online store and nudging to make a purchase or book an appointment is way lesser.
To get more out of the ad spend you're comfortable with, make sure you highlight any offers/ deals you want to run during this period.
Just like you, your clients are also wanting to save on the resources available to them.
If you've never run ads before to promote your products or services, or need help setting them up so that you don't overspend on campaigns, you can reach out to RevTap. The Shopify marketing experts are offering FREE ad consultation along with their app.
2. Boost repeat purchases with a loyalty program
As more stores are going online, you need to be able to make customers choose your business over others. What's more, you need to be able to get your customers to come back for a repeat purchase. One way to effectively keep your customers engaged with your store is with a loyalty program.
In fact, 36% of customers that are loyal to a brand spend more on that brand and 59% refer the brand to their friends and family.
With a loyalty program, shoppers who land on your store will be enticed to shop from you, seeing that you are providing rewards that can be redeemed on another order. They will then come back for a second purchase, using the rewards they received in their first order. They will continue to choose your store because of the benefits you provide them.
Shopify apps like Flits set up a delightful loyalty experience for your shoppers. With Flits, you can set up a customer account page where shoppers can track their rewards. You can customize the reward tiers and send automated messages to your shoppers to bring them back to earn more rewards and use their rewards.
Get started with a 60 day free trial with Flits right now and set up a loyalty program that turns your shoppers into repeat customers.
Conclusion
The COVID-19 crisis has been an eye-opener for everyone.
It will and is changing the online habits of clients.
The only way to sustain through these trying times is to invest in taking your business online and offering a consistent online experience to clients—whether it is the ability to book a service or purchase a product online.
The right nudge at the right time can help you get them to purchase your products in the coming time.
But the trick here is to not stop at simply taking your brand online. Stay up-to-date with how the needs of your clients are changing and tailor your offerings accordingly. Using data that is explicitly available to you, make sure you have their interest hooked at all times.
Because it's not just you who's going to take their business online!
Not sure if setting up an online store is good for your business or need help taking your small business online? Reach out to us and we'll introduce you to experts who can guide you through this transition.
And if you're looking for a personalized plan to help you sail through, try our COVID Business Health, Revenue & Safety Health Check.
Reopen with confidence and evaluate your business health, revenue and safety.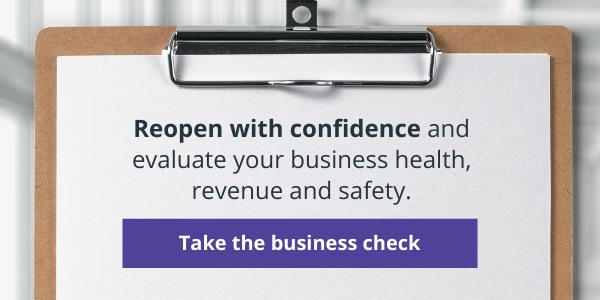 Editor's Note: This is a guest post by Vanhishikha Bhargava— Founder of Contensify, a Shopify growth agency that works with app partners to enable retailers and online merchants to grow their business. Connect with her on LinkedIn