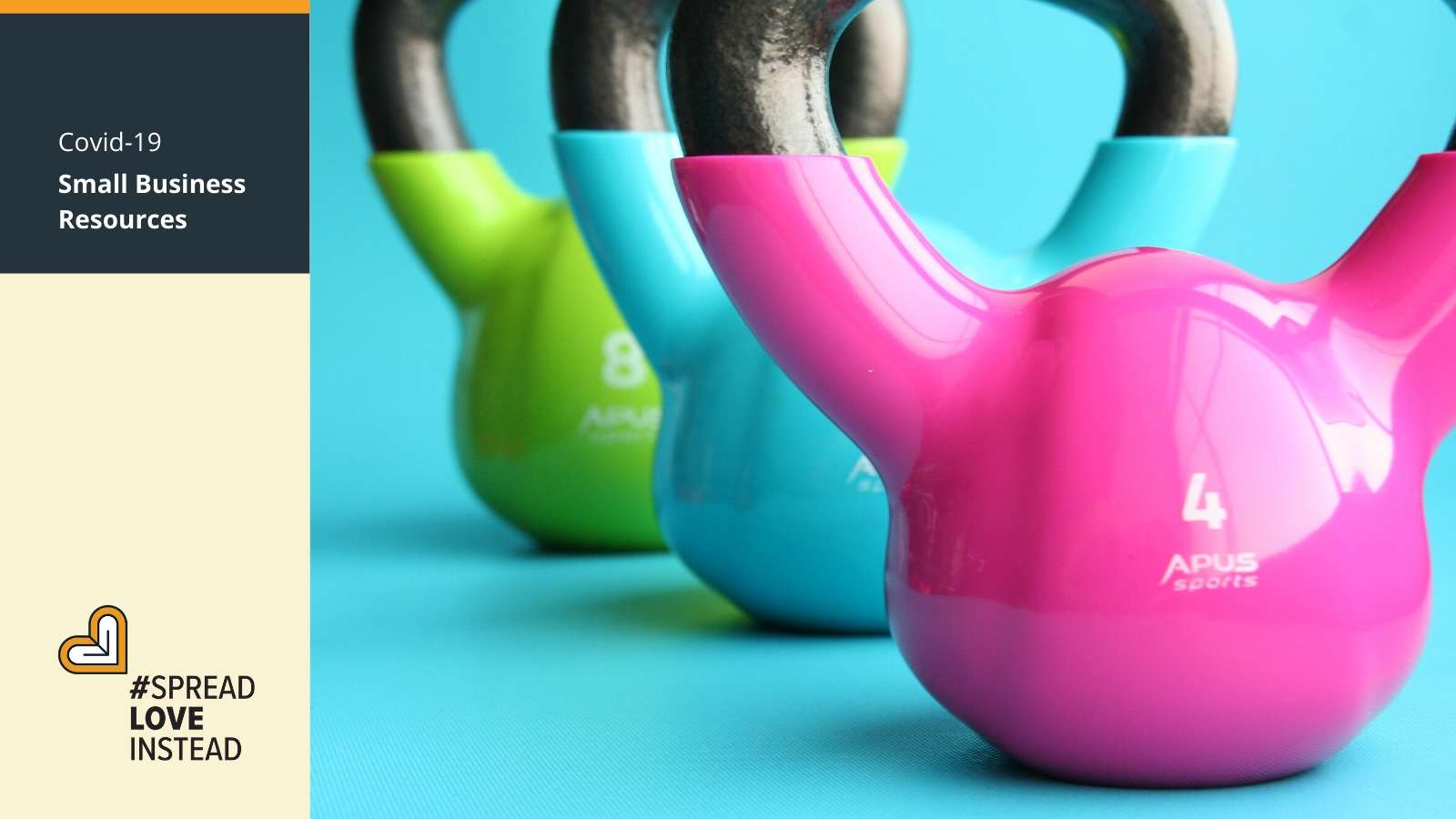 Business Branding: 5 Powerful Strategies to Keep Your Brand Strong During Uncertain Times
Who'd imagine?

Everything is under lockdown and your business has to stay alone for an uncertain period of time.

This isn't how we expected the new decade to be. You probably had some plans to expand your business location, include new services, or change your approach.

Whatever the case, you need to pivot accordingly. Instead of putting your head down and feel sorry for yourself. Now's the time to put more work on adapting to the crisis.

So in this article, I'm going to focus on a simple but powerful strategy: Business Branding.

After all, small businesses with a strong relationship will survive and keep their client no matter what the crisis.

So let's dive in and see the best ways to strengthen your brand despite the crisis at hand.
Covid-19 and How Service-Based Brands Can Thrive During this crisis
First, you need to understand the problem.

Depending on your business, it's highly likely that people can't visit your business for a service.

So the obvious problem is you'll obviously lose business.

The not-so-obvious problem, however, is that your clients aren't doing these things by themselves or on purpose.

Doing their own haircuts, doing their own makeup, finding ways to self-relax, and even tattooing their own body!

But doing everything in solo-mode brings another problem to solve. Which is learning to do it well.

And that's good news! Your business can actually benefit and grow from this situation — if done properly.

Because if you find ways to help people solve their problems (either physically or digitally) you can position your brand as an authority in your field and even expand your brand recognition when offering other kinds of services.

And here's where we're going to focus.

So to cover this, I'm going to share with you 5 anti-pandemic strategies to keep your service-based brand strong.

Let's dive into it.
Business Branding Strategy #1: Adapt Your Offering and Overdeliver
The fact you can't physically deliver your service is hurtful, but it doesn't mean that you can't deliver anything.

When you've built an audience that's engaged with your brand. It sets the stage for having multiple sources of income, which comes really great for your service-based brand in these hard times.

But how is it possible for small business owners to adapt and expand from their main offer? Well, here are some options you can tackle to deliver a service without touching your customers:

Create info products: Whether it is a virtual session or a YouTube video on even an online course, info products work splendidly when you want to get your teachings to the next level. This works great if you're already publishing content about how to cut your hair, give yourself a manicure, etc. And to position your brand as a source of expertise (and to expand brand awareness).
A good example of it in action is Tyler Dew—an influencer barber and Genbook customer who has built a strong brand based on great content. Despite the pandemic, he has taken that extra step to note only educate his clients but also humor them.

Offer online consultation or workshops: You can exchange 1 hour of your time to give some classes or even 1-on-1 consultation. You can also book consults online just as if it were in person, or just schedule the event and announce it to your audience for them to register. Do what fits best with your business.
Here's an example from another Genbook user Brit Carmicheal using this time for her workshop announcements.

Build a premium community: If you want to get your community to the next level, you can create a premium space for the most exclusive type of content. Build a space where people can come in and learn from your barbering experience, or discuss the later trends in the style industry. These premium communities can help you strengthen your brand's relationship with your audience and keep them loyal to you.
Sell products and bundles: You can expand your business and start offering products in bundles like "self-haircutting bundle" or "skincare complete package" with delivery included (To do this, learn how to implement an online delivery service and get started). A top benefit from this is that your brand will start expanding their horizons for new demands, and be recognized for a more variety of services instead of just "the local salon".
Affiliate marketing: Selling other people's products like hair clippers, makeup powders, or even books can help you get some financial relief in your business. This option is really easy to implement and it doesn't require you to build your own product. Just avoid being spammy at all cost or it will hurt your brand image a lot. And remember that to run a successful campaign, always use proper instruments such as a native advertising platform so that all your business runs smoothly.
Regardless of how you adapt your business, you need to over deliver and provide top business experience.

Now more than before, people want to make good use of their money. And if you end up delivering more than what your customers are expecting, your brand will get a strong boost in awareness and recognition.

This is true as at least 91% of shoppers think that customer experience is one of the most important factors to buy.

So, let's illustrate this practice with what the NYC hair salon James Corbett Studio has been doing to overcome the situation.

They announced some changes in their business for the pandemic situation. These changes included a limited number of clients in their salon, increasing sanitation practices, a new location in the Hamptons, etc…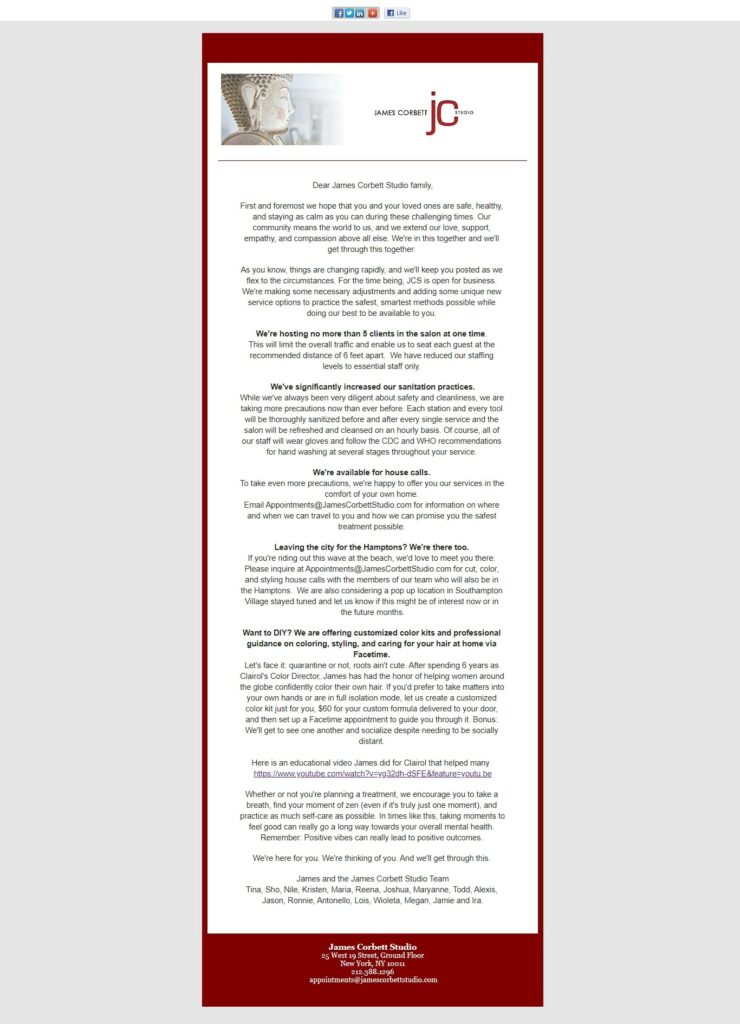 The interesting part? They're now offering customized color kits with delivery service for $60, plus a video call consultation via Facetime to help you apply it to yourself.

If you ask me, this is a great way to adapt to the situation.

They're mixing two of the options I explained before, and to make it even more valuable, they're delivering more than a delivery service (no pun intended). They truly want their buyers to get the results they want — and not just the money.

That's the key to survive as a service-based brand in times of crisis.

Now, here's a disclaimer:

If you're going to expand your services, don't expect to get instant results today. If you're in a situation where you need to get cashflow now, you should consider applying for some quick funding to alleviate the problem ASAP.
Business Branding Strategy #2: Digitize Your Brand Presence As Much As You Can
Everyone today is spending more time on the internet than ever. And if you haven't capitalized on that, now it's the best time.

Embracing digital transformation is something almost every brick-and-mortar business should be doing right now — especially during these times.

As a service-based business, there are many digital spaces from which you can establish your brand. Here are some of the most popular channels and how you should approach them:
#1: Social media:
It's easy to create an account for your brand. What's not so easy, is to create and follow a social media strategy. This involves planning and posting content on a regular basis.

But social media content is quite different from standard content, so you'll have to repurpose and create infographics, craft engaging videos, include call-to-actions effectively, and reach people in your location… In short, you need to invest a decent amount of time to build your ideal audience.
#2: Build (or optimize) your website:
Your website is the (digital) home of your brand. So if you haven't started, get starting now!

Today, there's several ways to create a website without having to break the bank. Here's a simple way to set-up your service based site:

I recommend checking out Genbooks guide to small business websites for ideas on how to create your own. The guide is more focused for Salons, but it's great for ideas for barbers, wellness and other small service-based businesses too.

Even as a service-based brand, you need to digitize and automate as many processes as possible if you want to survive.

And when it comes to expanding your service-based brand in the digital space, targeting a local audience is key for getting real results.

This means you should be optimizing your digital assets for local SEO, use local hashtags in social media, get Yelp reviews, and so on…

Just like this Instagram example, where the Instagram business account has set a location so all its posts can show it below the username:

Marketing online doesn't mean you'll become a cloud ghost. If your business is local, make it easy for people to know your location.

And if the whole digital transformation process seems to be daunting as hell, don't take it all at once. It is a big project, so you need to plan and execute correctly with proper anticipation and clear goals.
Business Branding Strategy #3: Create Content relevant to the crisis
Building up on empathy and digitalization, creating content relevant to the crisis is a sure-fire to success.

Now, there's many strategies to create content, but to keep it simple, focus on creating content that's actually valuable to your audience.

If you're a stylist, you can teach how to do makeup. If you're a barber, you can teach how to cut your own head. Something as simple as publishing some tutorials will position your brand as a source of expertise and build trust.

In these uncertain times, your customers are spending much of their time online. And they'll appreciate and remember your brand if you create content to educate them about your service (think: DIY tutorials, etc).

But, it's important to add that your content has to fit all the pandemic context — or it won't resonate.

You can't just keep posting the same regular posts as if nothing is happening around you, because people won't trust you (basically, a communication problem).

To overcome this, change your content routine. Take a step back to research and see what's happening around you. You can start doing a bi-weekly Livestream, some webinars, a regular newsletter, or anything that both fits your brand and can help you communicate with your audience regularly.

In short: the more relevant content, the better.

Here's a simple example of how TracHouse, a hair salon, is managing the situation.

TracHouse first had to communicate their unfortunate truth in order to give a relevant message to their audience.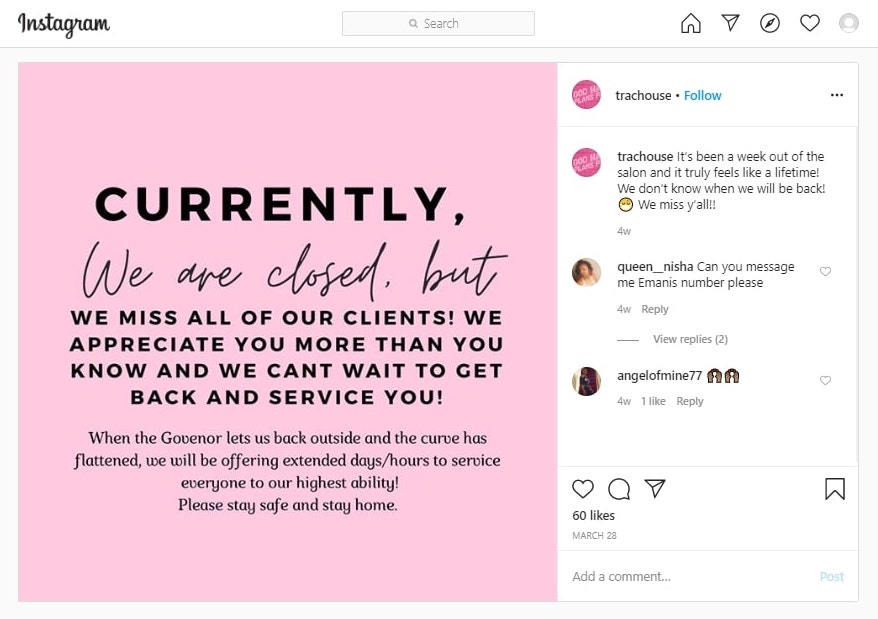 Of course, this doesn't mean they'll all go to their houses and feel sorry for their situation. They are now doing regular live streams to attract people and increase their following.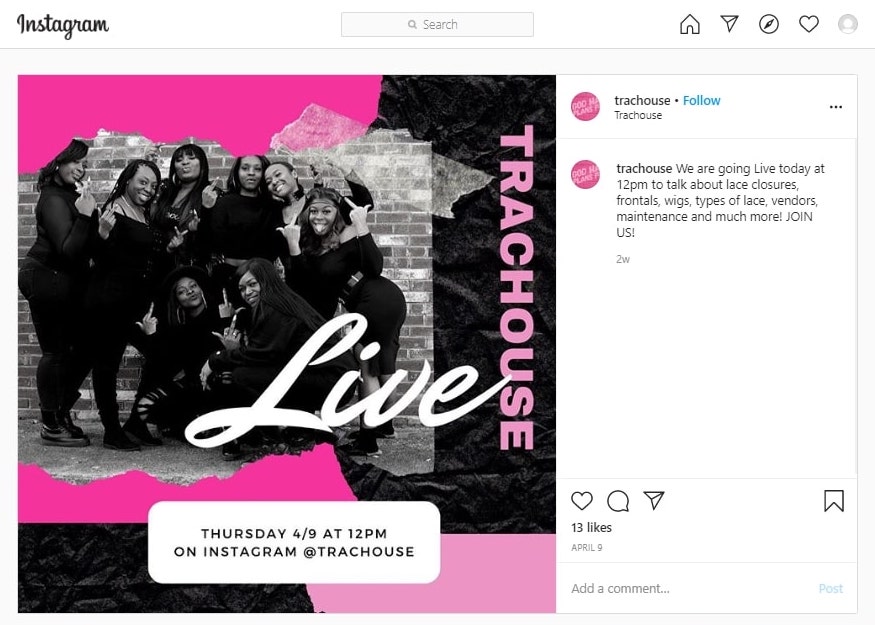 Bottom line? Create relevant content, and consistently take your audience on a journey through this crisis. On a similar note, I recommend checking out my colleagues guide to storytelling to learn more on the same.
Business Branding Strategy #4: Build a Supportive Brand Community
When you spend some time building an online audience with email, website or social media marketing, you'll have the opportunity to build a community.

Something as easy as creating a Facebook group will open many opportunities for your local business. Especially in times of crisis.

You'll see many benefits from building a community, like:

Understand your target audience in a deeper way.
Automatically add value to your new members via the community, without them having to see your content.
You'll improve customer retention. So people who have booked your services before will do it more often, for a longer period of time.
Some best practices to build a community include: starting small with people you can currently manage; putting some rules in the place; adding some exclusivity so not any random person can enter; and the most important, asking for feedback.

When doing this on a regular basis, you'll be getting more and more traction over time as you grow your business.

If you want to see how this is relevant to the crisis. Then think about how you could get some great help with crowdfunding. Since now more than ever, people are willing to spend money to support their beloved local businesses.

When having a big and engaged community, the support you'd get from them would be huge.

Business Branding Strategy #6: Communicate with empathy
Brand communication is key to develop a healthy relationship with your audience.

When it comes to a crisis like this pandemic we're facing, it is crucial to keep people informed about how you're dealing with the situation. As well as giving away some valuable information that can help your followers to overcome the stress.

Here are some few ways to communicate with your audience:
#1: Support anti-pandemic initiatives:
Your brand should be aware of the current situation, and demonstrate it with the right message. Some ideas could be spreading the word about any anti-pandemic initiatives like Genbook's SpreadLoveInsteadCampaign, or sharing relevant information about how to prevent the virus while visiting the supermarket, etc… The goal here is to put your grain of sand for the cause (even if it's not monetary support).
#2: Share your plans:
Explain what you're planning to do once your business is up and running again. Maybe you're going to implement new offers, services, or discounts; or maybe you're going to implement a new online booking solution. The importance of this message is to keep your most loyal customers updated about your business, so they don't have to worry about you.
#3: Reach out to customers:
Talk with your customer base and ask them how they're feeling about the pandemic. Hear what they have to say and be supportive and empathic when giving your message. Remember that this is a sensitive topic, so try to be as positive as possible. This practice helps you learn more about your ideal client, and keep them in touch with your brand during uncertain times.
#4: Audit all your content across all channels:
Put your eyes on all your current channels and messages to make sure that what you're saying isn't tone-deaf to the current situation. Being aware of your messages will help you ensure that your brand is fitting the context and communicating the right brand values. Whenever you find a tweet or an Instagram post that doesn't sound appropriate, feel free to delete it or edit it if possible.
A good communication example is how Tans by Kait published a warm message to all of their followers. Encouraging people to stay safe at home.
And that's exactly the kind of connection you need to make with your audience — especially now.

So don't be agnostic of the situation, and give your message!
Wrapping it Up!

So if you're thinking of surviving this crisis, you have to think about your client's needs and how you can help them the most. Bottom line? Brands that care the most about people are the ones who survive — believe it or not.

Now, if your business is in a critical situation, it's understandable. But don't lose hope, instead, look at this as a way to get better. And make sure to take good care of yourself and not get sucked up in the entrepreneurial hustle.

And that means stay healthy, both physically and mentally, which means learn to rest and get enough sleep when needed. After all, if you want to beat this crisis, you'll need to be in the best shape.

At all times use a problem solving approach to get over hurdles.

The important thing here is to support each other and persevere. Because during a problem that remains out of our control, the only thing left to do is focusing on what's under our control.

So stay safe!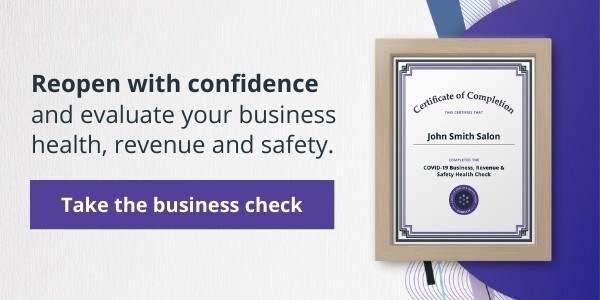 Editor's Note:This is a guest post by Mark Xavier Quadros—who is a marketer and helps brands create and distribute rad content. On the personal front, Mark is a Digital Nomad who's been traveling the world since 2018. Learn more about Mark here.