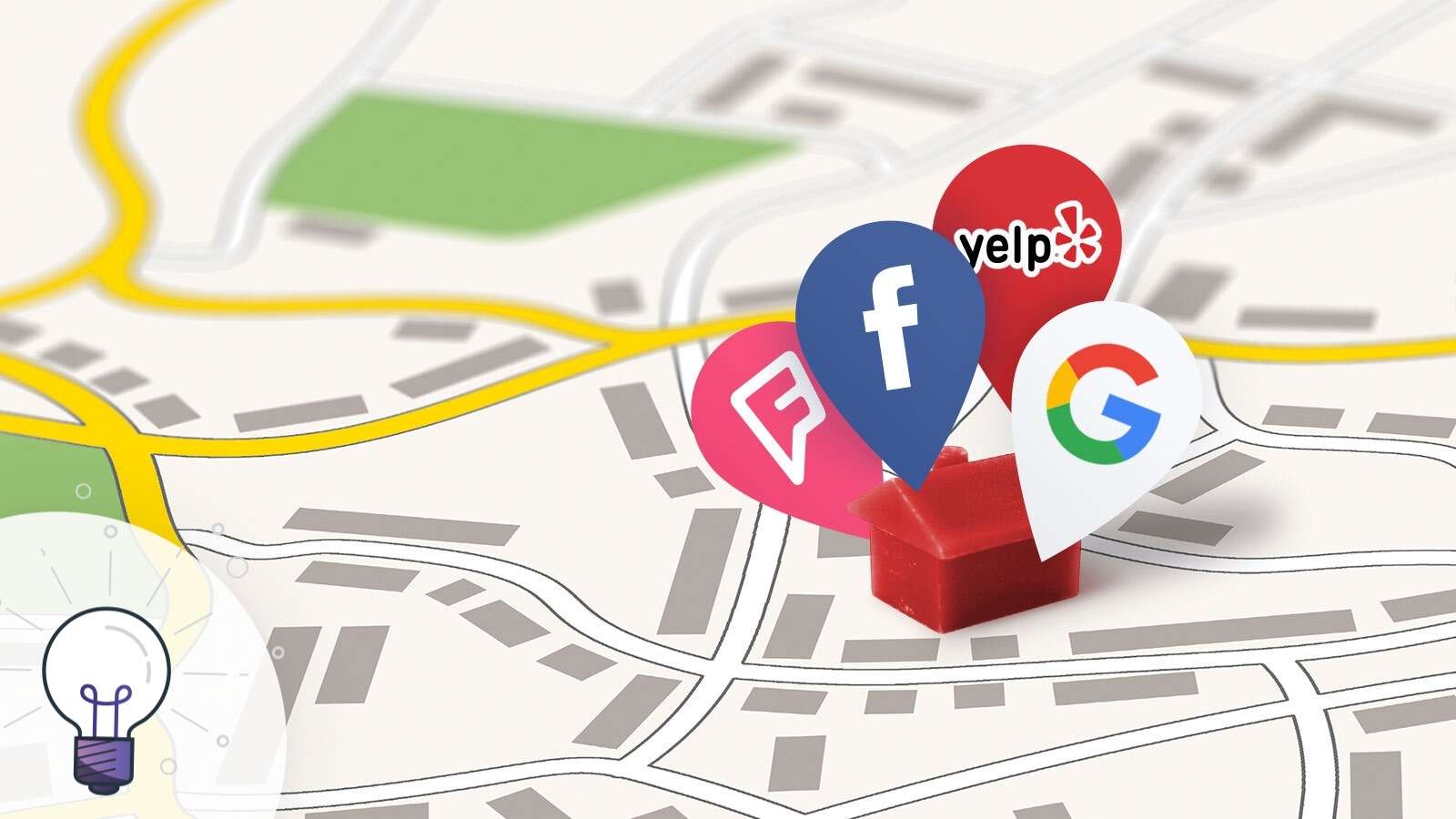 The Ultimate Guide To Getting Your Salon, Spa or Barbershop Business Listed on Local Business Directories [20+ Directories to Evaluate]
If you own a small business (e.g., a local salon, spa, or barbershop), you may be well… small, but that doesn't mean you can't create a massive presence in your community.
With the right spa or salon marketing strategies, you can get in front of the right people and reel in more clients.
The key to doing that is increasing your local visibility.
The good news is that doing that is fairly easy and cost-effective, thanks to small business directories like Yelp, Google, and Facebook.
If you're not on these sites yet, it's high time to claim and optimize your local business listings.
Which is exactly what we'll discuss in this post.
This guide will give you the run-down on how to list in top local business directories. We will go over the pros and cons of listing, share the platforms you should check out, and include step-by-step guides for the most popular ones.
Let's get started!
Table of contents
What are local business directories?
The pros and cons of online business directories
Top 25 online business directories to consider
Step-by-step guides for getting listed on the top local business directories

How to get listed on Google My Business
How to get listed on Yelp
How to get listed on Facebook

Additional tips for setting up and optimizing your listings on local business directories
What are local business directories?
A "local business directory" is exactly what it sounds like: it's an online resource that lists businesses in specific areas, helping consumers find companies or service providers that fit their needs. These directories contain important business info, including the company's address, phone number, operating hours, and more.
Think of local business directories as the digital version of physical yellow pages. Only, rather than manually leafing through numerous pages to find a business, users can just search for the business (or their category) directly.
These directories can also be referred to as "small business directories," "online business directories," or "local business list".
The pros and cons of online local business directories
Just like any marketing strategy, small business directories carry both benefits and drawbacks. Before you get started, it's important to know these things, so you can use these directories properly.
The pros
Increased visibility. You can't get new clients if people don't know you exist. Small business directories put your business on the radar of consumers, thus boosting brand awareness. Even better, online business directories put you in front of people who are actively looking for your services, which means you're more likely to get bookings.
Community engagement. Some online directories offer community engagement tools such as Q&As and reviews. These features enable you to connect with existing and potential customers. You can answer their questions and respond to feedback all from the directory's interface.
Easy to use. Online business directories are quite easy to use. There's no technical knowledge required, and you don't need to hire a designer or a developer to set everything up. For the most part, you can establish your listing by filling out a bunch of online forms and taking some steps to verify business ownership.
The cons
Not everything is free. Although most online business directories are technically free to use, there can still be extra charges. Yelp, for example, operates a pricing system for "page upgrades" such as adding call to action buttons, while Google and Facebook charge for "boosting" listings higher in the search results.
Ongoing maintenance. Before you start listing your business in every available local business directory, be aware that this is not a one-off activity. Making sure that all your listings are up-to-date is an ongoing commitment. So, if you introduce a new pricing structure or change your contact details, it's your job to update this in all platforms. This can be a time-consuming process, especially if you are running multiple locations or have listings on several small business directories.
A lack of control over reviews. Negative reviews are part of the territory, and while some of them come from legit customers who truly felt dissatisfied, you may also get reviews that are false or unfair. In any case, it takes work to manage these reviews, so make sure you're on top of them.
Failing to do so could result in reduced sales — according to ThriveHive, a negative review of your business will cause 86% of potential customers to look elsewhere.
Top 25 online local business directories to consider
Now that you know the basics of local business directories, here's a quick rundown of the most popular ones on the web.
1. Google My Business – Google My Business is the search giant's business directory. Listing your business here enables your site to show up on Google Search and Maps.
2. Yelp – One of the most popular and active online directories, getting your business listed on Yelp is a no-brainer. The site gets 142 million unique visitors per month and is trusted by consumers everywhere, thanks to its rich business profiles, which include company details, photos, reviews, Q&As, and more.
3. Facebook – A good chunk of consumers still turn to Facebook to find companies and service providers. As such, it's worth creating a listing on the social network.
4. Local – Local.com lets consumers find businesses and events in their city. The site is pretty straightforward: users enter a business name or keyword in the search box, specify their location, and hit search. You can claim your listing by creating an account, which takes minutes.
5. Foursquare – On the consumer side, the Foursquare app lets customers find and check-in to business locations, and those activities are seen by other people in their network. So having a presence on the Foursquare platform not only helps you get found, it can also allow you to get in front of more customers.
6. Better Business Bureau – The BBB helps consumers the United States, Mexico, and Canada find trusted businesses. Aside from listing your information, the BBB also displays the rating of your business — A+ being the highest and F being the lowest.
7. CitySearch – CitySearch is an online city guide that helps people find restaurants, nightlife, shopping, and beauty/wellness destinations. People can browse various categories, though they can also look for businesses using the site's search functionality.
8. Bing's Places for Business – This is Bing's counterpart to Google My Business. Like GMB, when you list your business on Bing, it'll show up on Bing's search results when someone in the area looks for your business or services.
9. SuperPages – Dubbed as "THE local business directory," Superpages has a no-frills online search tool that users can use to find businesses in their area. Superpages also owns the Yellow Pages app, which allows mobile users to find and browse businesses on the go.
10. AllOneSearch – This is a USA Yellow Pages search site that enables users to quickly search small businesses in their area.
11. EZlocal – EZlocal has everything you'd expect from an online business directory: it has a search functionality that people can use to find businesses, along with categories that they can browse. In addition, the company also offers services to increase your local presence, including business listing management, web design, reputation management, and more.
12. Whitepages – Whitepages lets people conduct business searches simply by entering relevant keywords along with their city, state, or zip code. Whitepages then displays listings with the business' phone number, store hours, address, menus, and nearby attractions.
13. Angie's List – For over 20 years, Angie's List has served as a solid resource for consumers looking for service providers. While the site is mostly focused on home services like cleaners, plumbers, etc., it has a growing database of salons, barbershops, and salons. It may be worth exploring and seeing if you can get listed on the site.
14. Manta – Manta is an online biz directory that focuses on small businesses. Getting listed is easy — you can claim an existing listing or set one up yourself in minutes.
15. MapQuest – MapQuest started as an online service for generating maps and directions, but later pivoted its focus to helping consumers find businesses in any given location. You can get your business listed on the site by submitting a request to the MapQuest team.
16. Yellowbook – Yellowbook is another no-frills local business directory. It has a simple search feature that lets consumers locate businesses in their area. Each listing contains basic contact details, and Yellowbook also makes recommendations for similar businesses.
17. Localworks (by Yahoo!) – Yahoo! may not be the top dog in the search engine realm anymore, but Localworks, the company's small business listing service, can still put you in front of millions of people. The service "puts you in control of your business across 70+ online local listings" helping you get found online.
18. LinkedIn – LinkedIn is geared towards a B2B audience, but it doesn't hurt to have a business profile on the site. It's a great way to promote yourself to a more professional audience and increases your web visibility.
19. InsiderPages – InsiderPages is an online business directory powered by the internet services company IAC. It's home to numerous business listings and has over 600,000 reviews of local merchants in the US.
20. ShowMeLocal – ShowMeLocal serves as a digital yellow pages and small business directory, that lets people find phone numbers, addresses, maps, and driving directions. Aside from letting you create a business listing, it has additional features to enhance your presence — including coupons, ads, promos, and more.
21. TripAdvisor – This is mainly a site for travelers looking for hotels and attractions, but TripAdvisor also has a lot of business listings in the health and beauty space. This is a great platform to use when you want to reach tourists visiting your area.
22. MerchantCircle – Having a listing on MerchantCircle allows you to get found on the site as well as MC's partner networks. In addition to listings, MerchantCircle also offers marketing and advertising services.
23. YellowBot – Like other local business directories, YellowBot has an easy to use search feature where customers can enter the type of business they're looking for along with their location. The listings on the site contain the usual business details, plus star ratings and reviews collected from the web.
24. Chamber of Commerce – Chamber of Commerce has over 2 million community members and helps you tap into 25 million customers searching on the site. The site also facilitates "connectivity between local businesses and more than 7,000 area Chambers of Commerce worldwide."
25. Thumbtack – Thumbtack is a site that connects customers with local service providers. You can create a profile on the site then add your prices, services, and contact details. Thumbtack will then put your profile in front of people in the area who are looking for what you have to offer.
Step-by-step guides for getting listed on the top local business directories
Now that we've discussed what online business directories are and some of the top ones out there, let's talk about how you can list your business. The process of getting listed varies from one directory to another, so one of the first things you should do is identify the sites on which you want to get listed and learn about how to get your business on their platforms.
Our advice? Start with the Big 3: Google, Yelp, and Facebook.
Below are step-by-step instructions on how to get your business on these 3 important local business directories.
How to get listed on Google My Business
Small businesses like salons, spas, and barbershops can list themselves on Google without too much effort. If you don't currently have a Google account you will need to set one up, which you can do here.
Step 1: Go to www.google.com/business and click "Manage Now."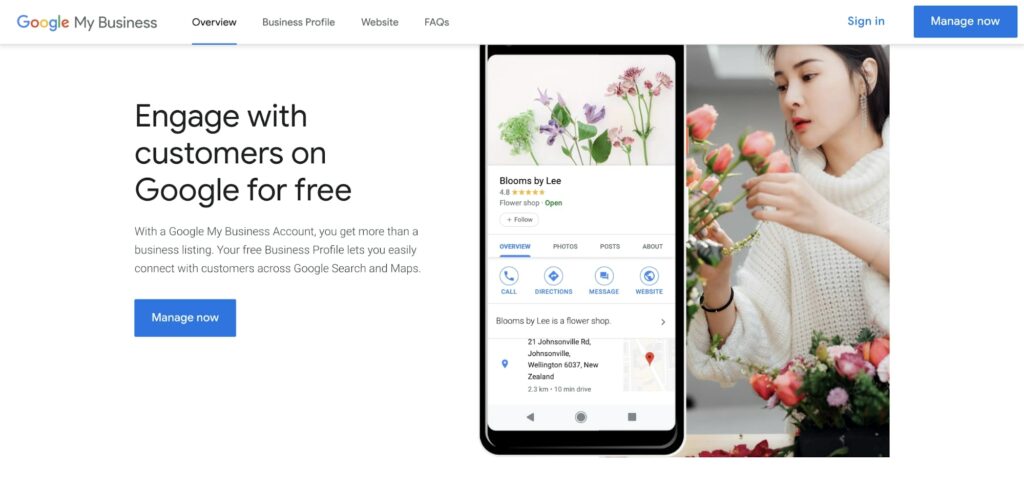 Step 2: Before you get started, it's important to check whether your business is already listed to avoid duplications. You can do this under "find and manage your business". If there is no listing, click "add your business to Google."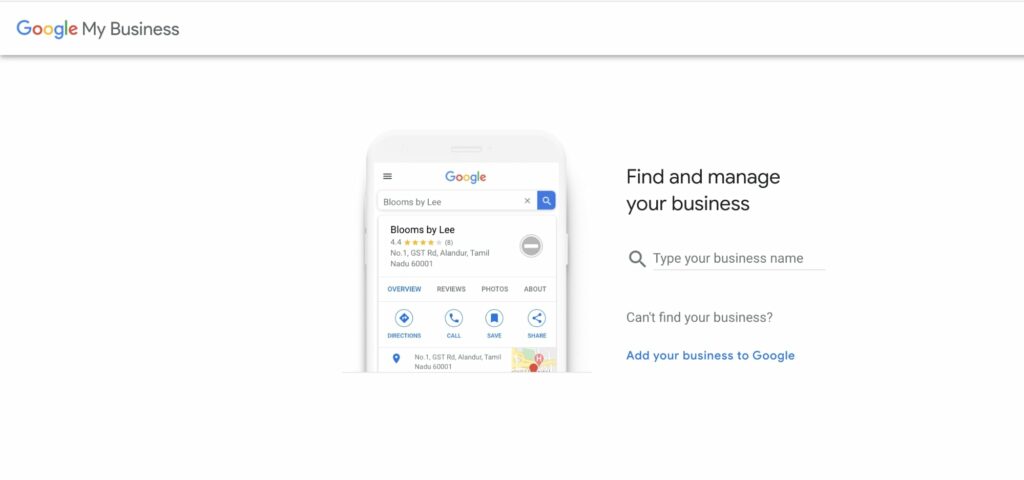 Step 3: This next step will take you through a series of fields that ask you to input your business's name, category, address, and contact information: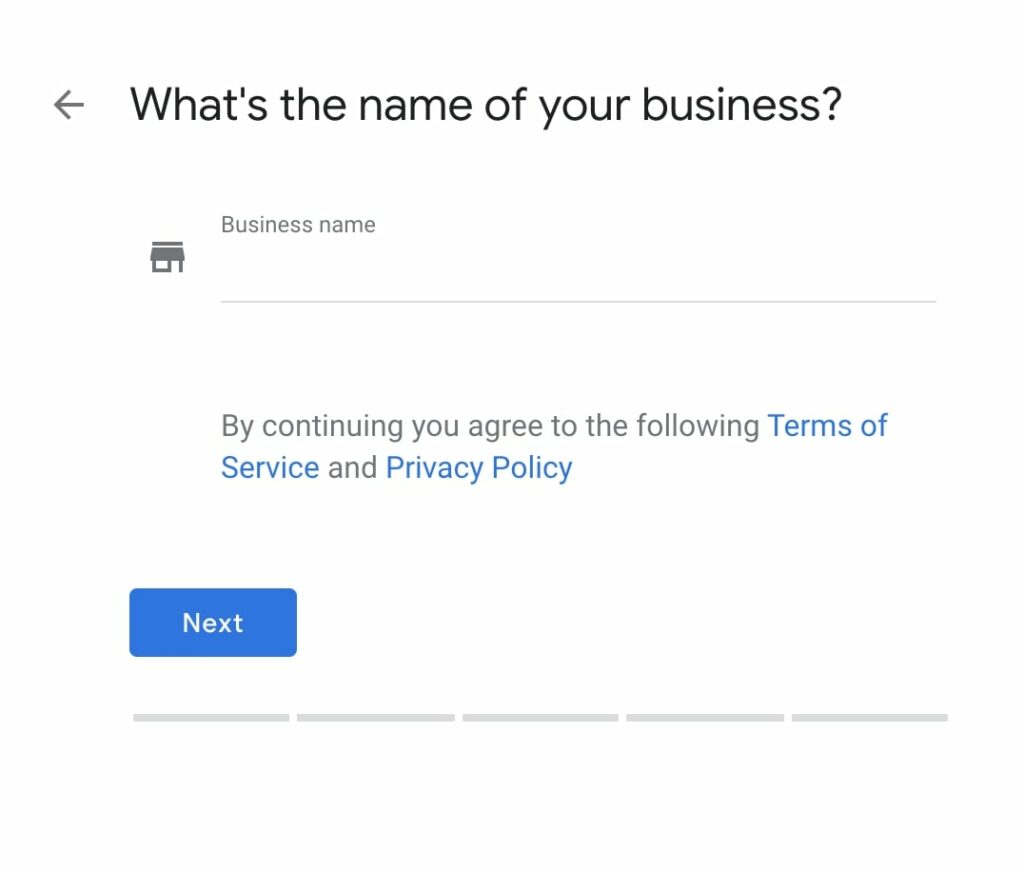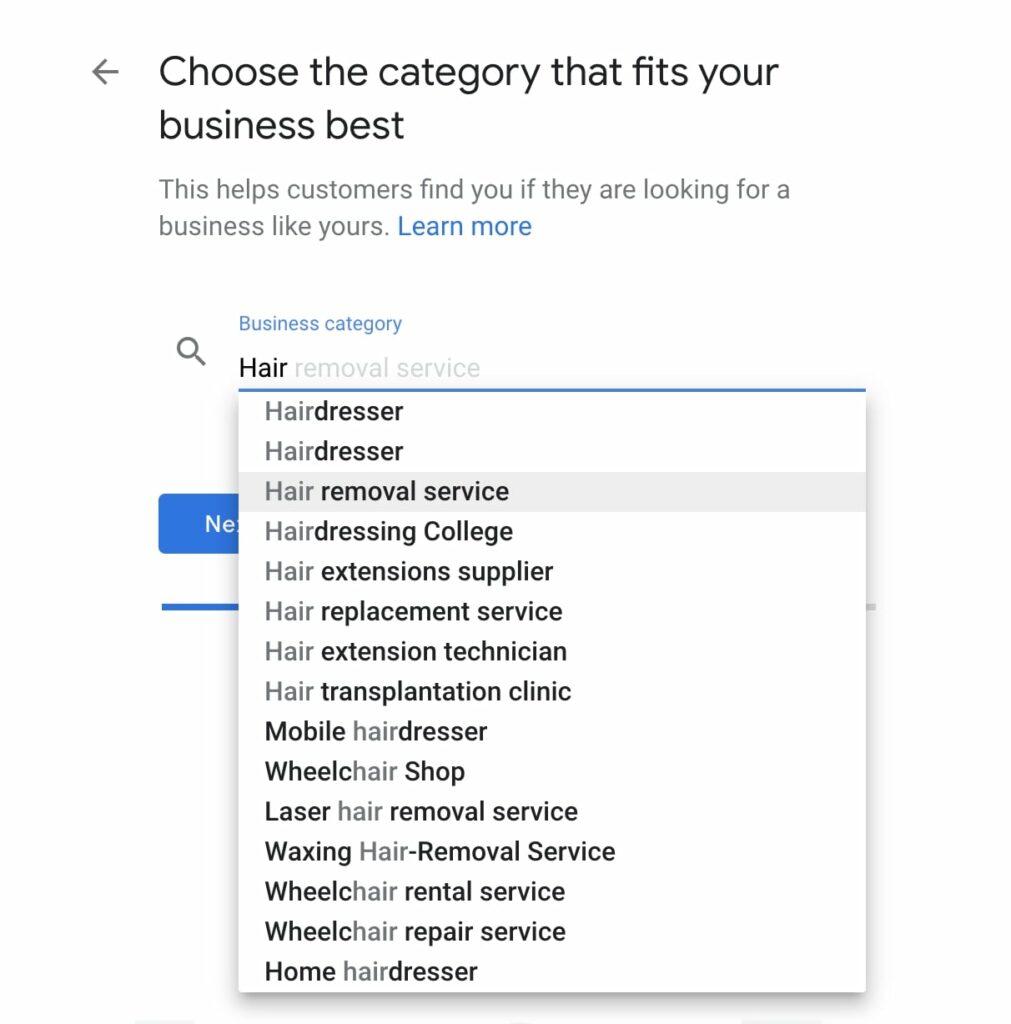 Note: When choosing a business category, you should aim to be as specific as possible to match what your target customer is likely to be searching for. Google helps by giving you a wide range of more focused options. Entering "Hair", as shown above, allows you to differentiate between a mobile hairdresser, an at-home hairdresser, and more specialized services like hair extensions.
At this stage it's best to figure out what your specialty is or what you want to be known for, then categorize your business accordingly. For example, if your spa offers hair removal services and your bread and butter is waxing, then consider opting for "Waxing Hair-Removal Service" instead of the general "Hair removal service." On the other hand, if you're a generalist and offer a variety of services for removing hair, then pick the latter.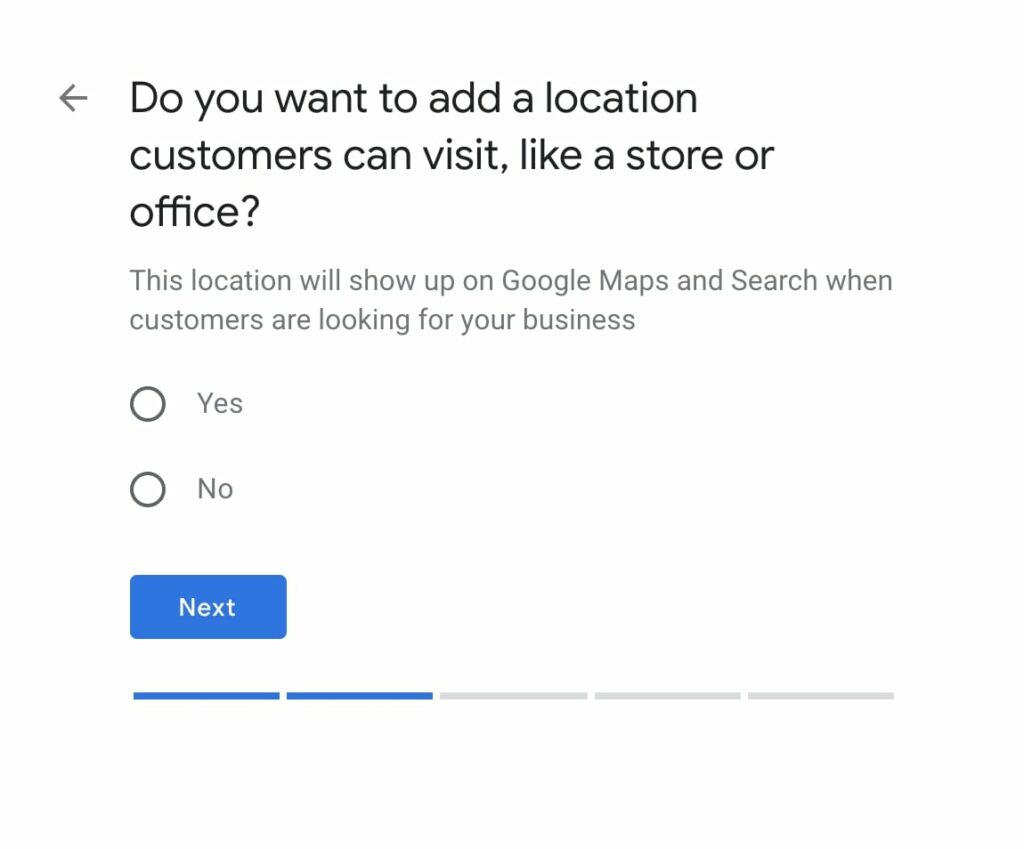 Step 4: It's important that you add the correct physical address — this will be the location that shows up on Google Maps. If you are a mobile personal care provider such as a hairdresser, it will prompt you to provide the area that your business operates in.
Step 5: If you have a physical location, you will be asked to position the marker on Maps: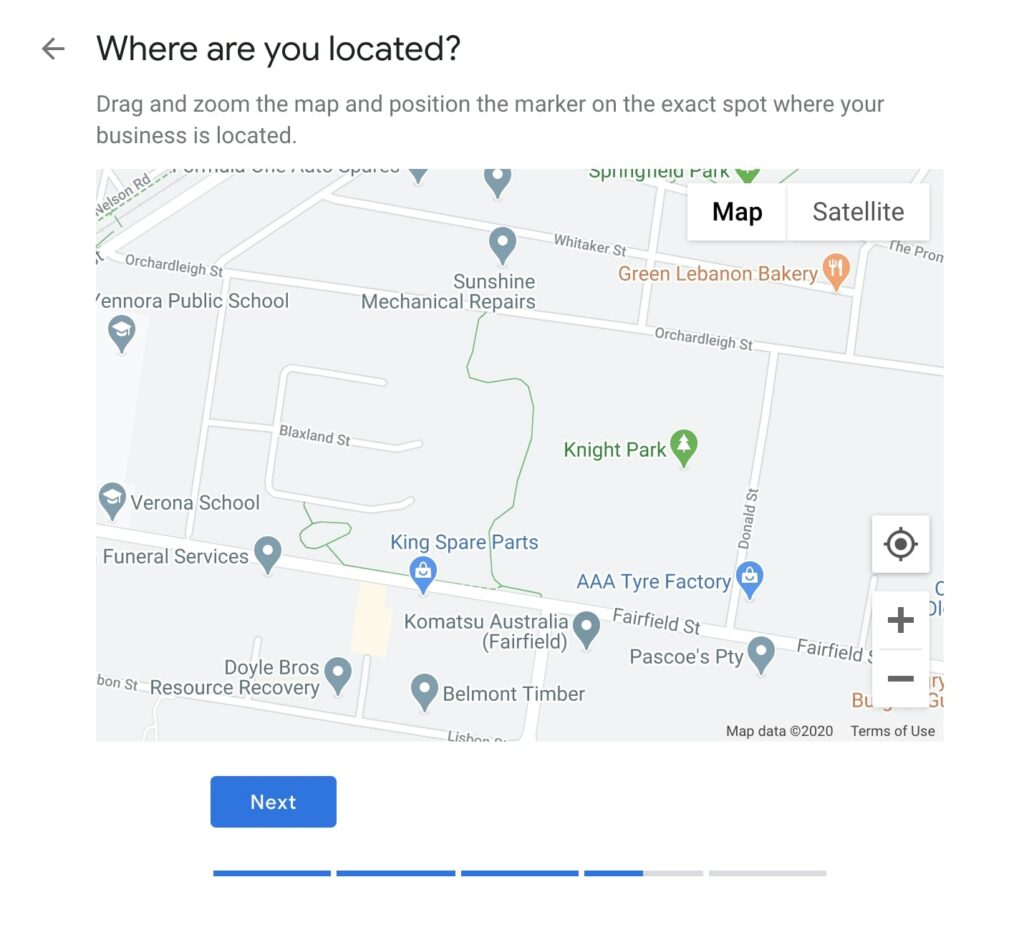 Step 6: Here, you need to provide a set of contact details: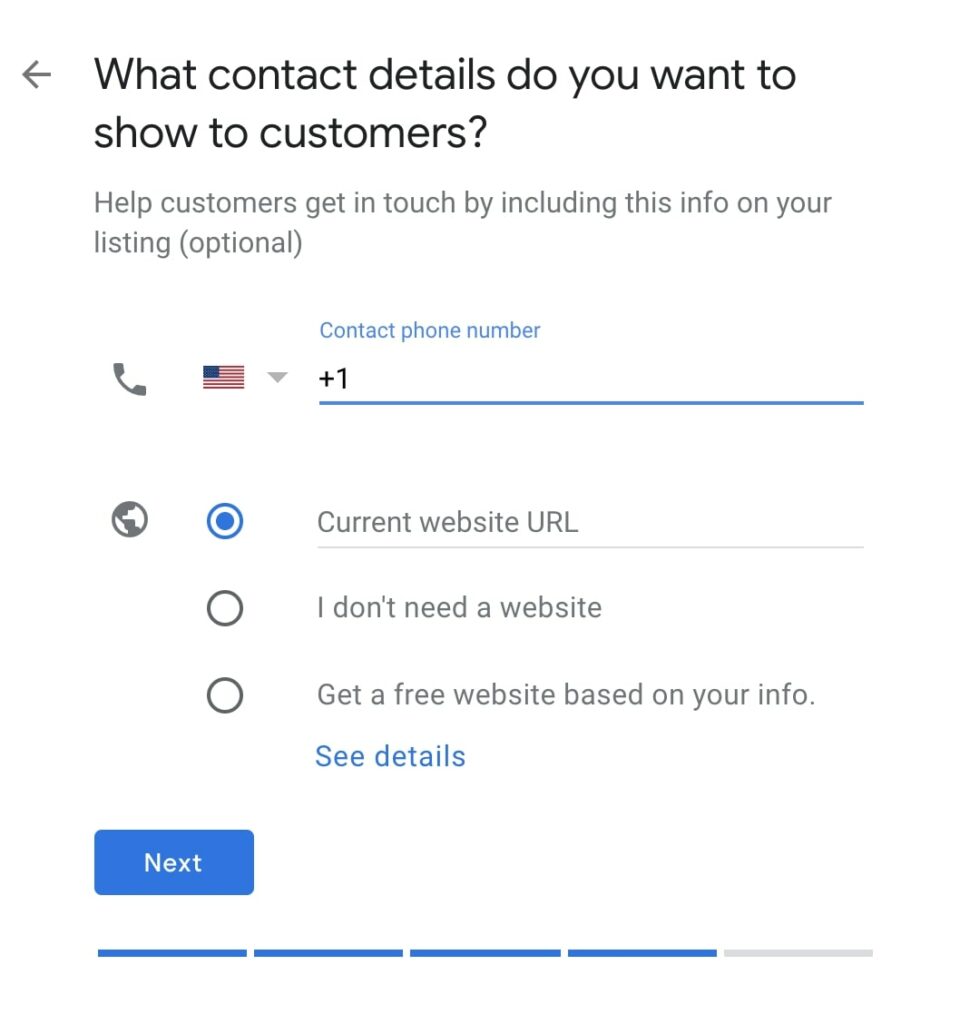 Step 7: Once all the steps have been completed, you need to verify the listing via phone or email. Once verified, you can optimize your listing with photos, attributes, posts, and plug-ins.
As we mentioned in our guide to optimizing your Google My Business listing, having a compelling profile captures people's attention and helps drive bookings at your salon, spa, or barbershop.
Speaking of which, once you have your Google business profile set up, be sure to use Reserve with Google, a feature that enables clients to schedule appointments right on your listing. That way, they won't have to navigate away from Google Search or Maps to book a service — they can do everything on your profile with just a few taps.
Inner Circle Barbershop in California, has a strong Google Business listing. It has all the important info that people need to know, plus a "Book Online" button that enables clients to schedule a service without having to navigate away from Google.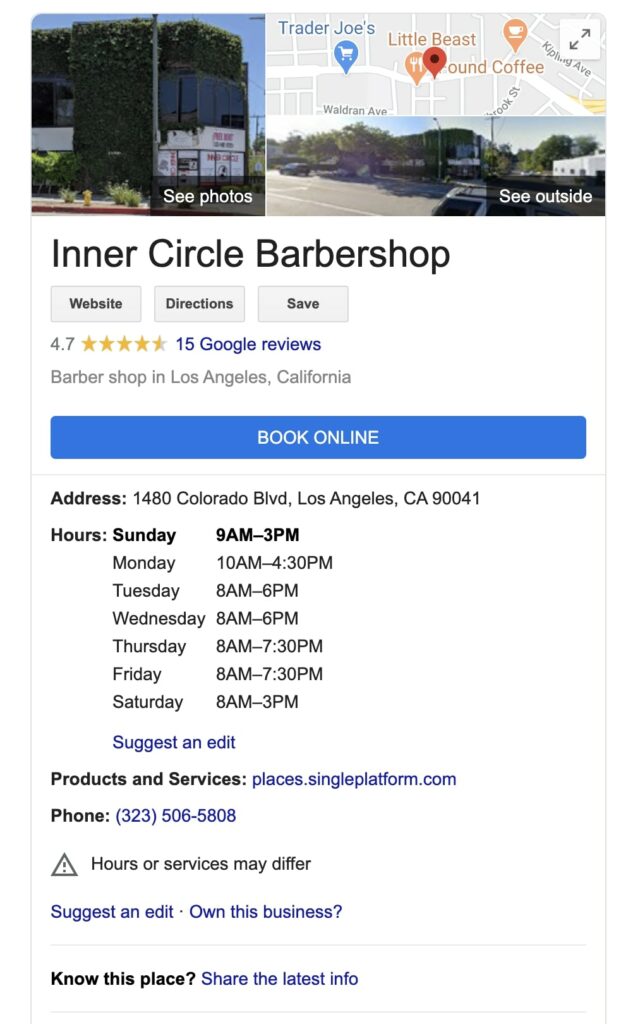 How to get listed on Yelp
Yelp is a great directory because it has a strong social element. Yelp customer reviews appear on Apple Maps as well as on-site, meaning that positive feedback reaches a much larger audience. Basic listings are free, but there are also paid options such as advertising.
Step 1: First, go to https://biz.yelp.com and click "manage my free listing". Like Google My Business, you'll be prompted to enter your Business name to see if it already exists. If not, you can create a new listing.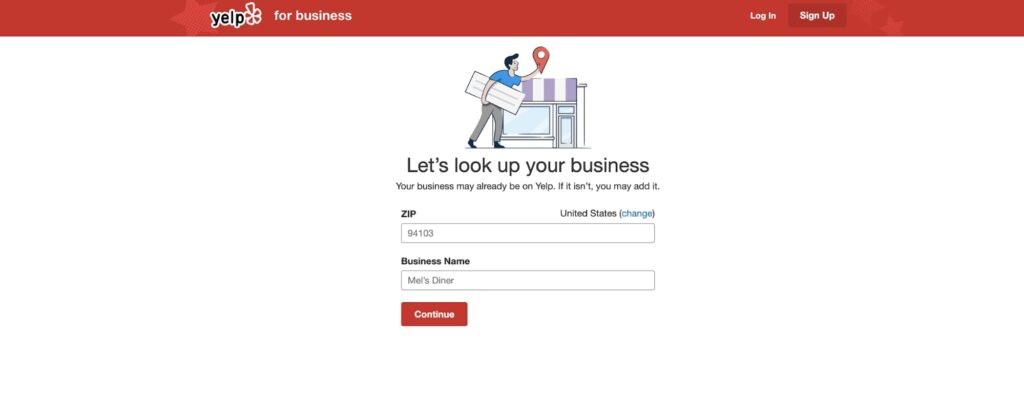 Step 2: Next, you'll be prompted to sign up for a Yelp account. Once you have done this, you need to fill out your NAP (Name, Address, Phone Number) details: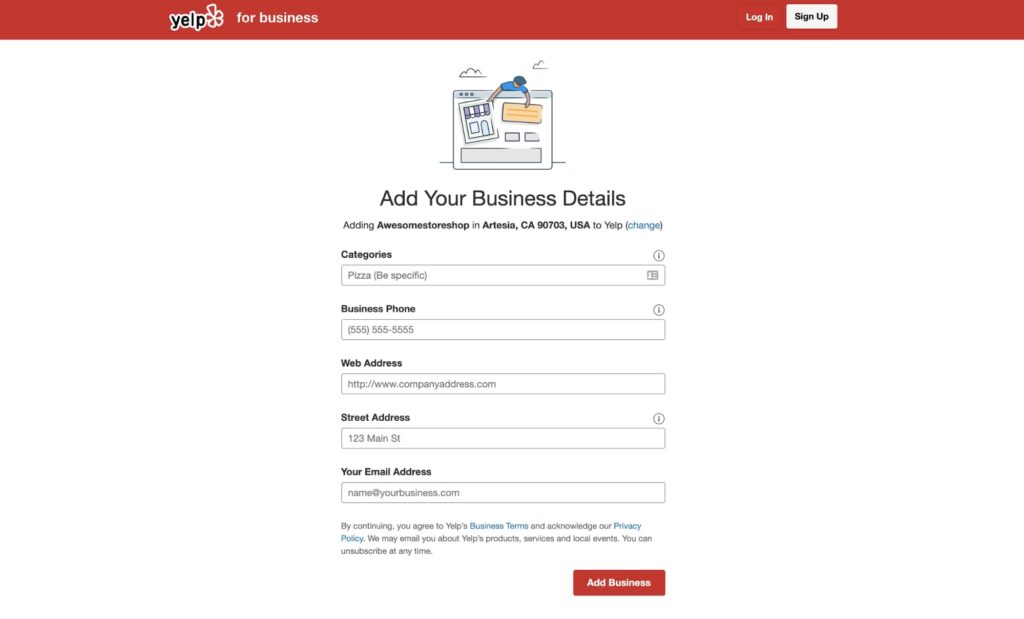 Step 3: Yelp will send you an email confirming it has received your listing. However, it will take a further 24-48 hours for Yelp to approve your listing and set it to live.
Step 4: You will receive an email confirmation when your business listing has been approved. This also provides a link for you to make further edits to your page.
Pro tip: Yelp offers businesses an array of customization options for their listing. To set your spa or barbershop apart from competitors, you have the option to list a variety of amenities.
As shown below, Tiffany's Salon & Spa took the time to list amenities like "Good for Kids," "Private Parking Lot," and "Bike Parking". When consumers are struggling to choose from a variety of similar providers, extra features like being kid-friendly or easy parking can make a big difference.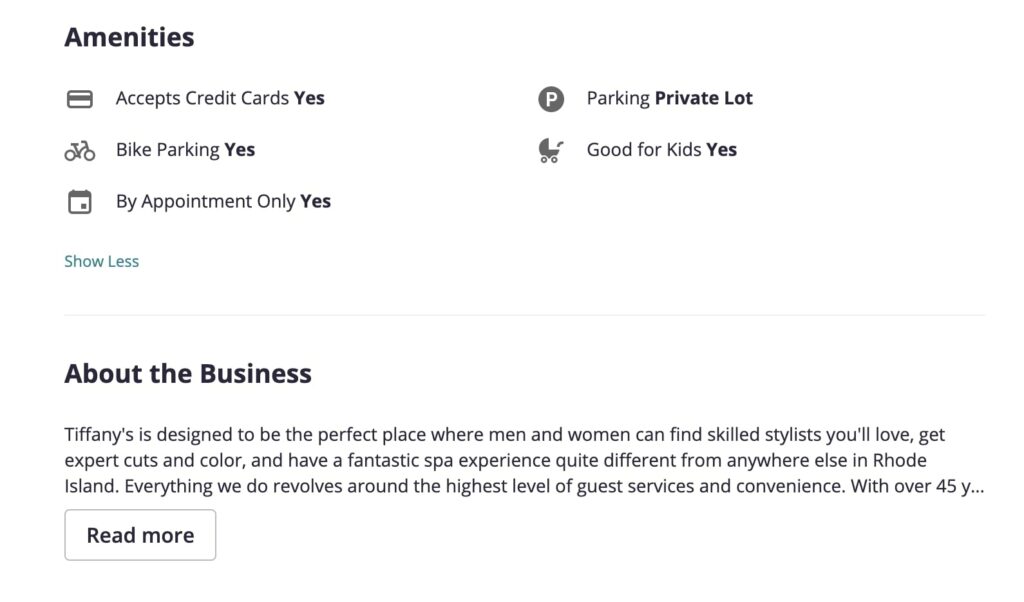 And if you want even more Yelp tips, check out our detailed guide on how to create a Yelp profile that stands out. You'll learn how to:
Beef up your listing
Encourage customers to submit photos and reviews
Create offers and deals
Manage user reviews
Use Yelp ads
Engage your community through Q&A
How to get listed on Facebook
Although it isn't usually thought of as a business directory, Facebook remains one of the most common places that businesses choose to have a presence. With 79% of online adults actively using Facebook, listing here gives your business a massive reach.
With a business page, you can also choose to take advantage of the platform's powerful advertising capabilities. While this will cost extra, other important page features such as Call to Action buttons will not.
Step 1: To set up a business Facebook page, go to https://www.facebook.com/pages/create and select "Business or brand".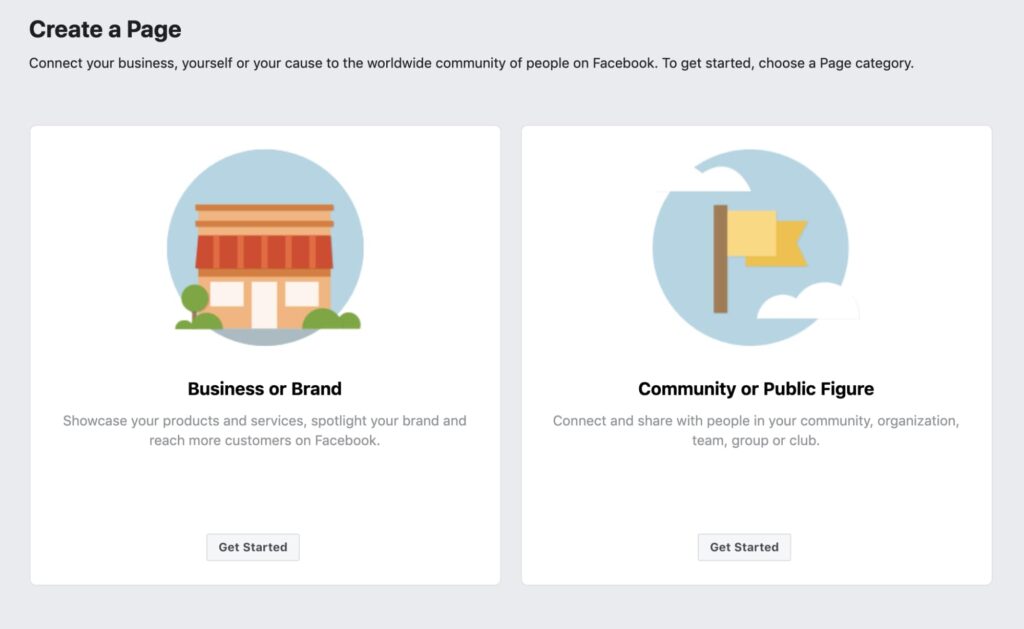 Step 2: You'll be prompted to input your business's name and category, and NAP info and category.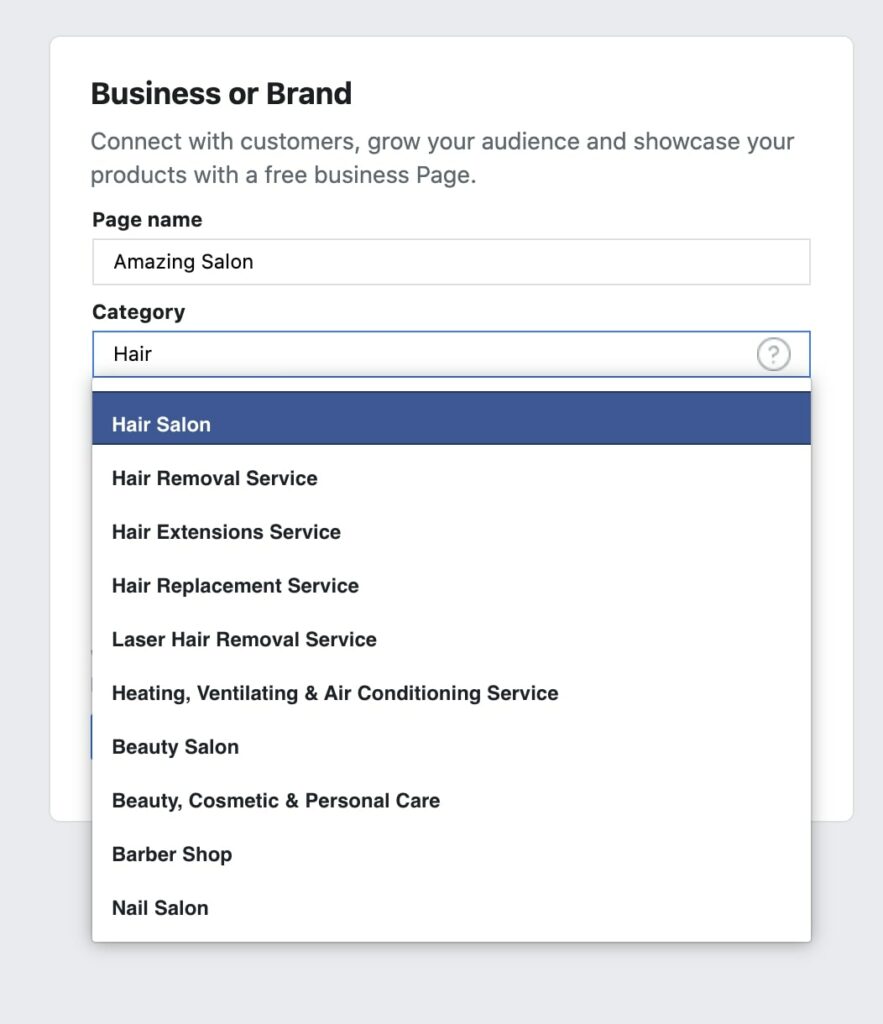 Step 3: Next, you'll need to choose a cover photo and a profile picture for your business. You'll need to consider which photos will be most suitable for each. A logo, for example, is a great fit for the square format of the profile picture, while shots of your salon or spa can work extremely well as cover photos.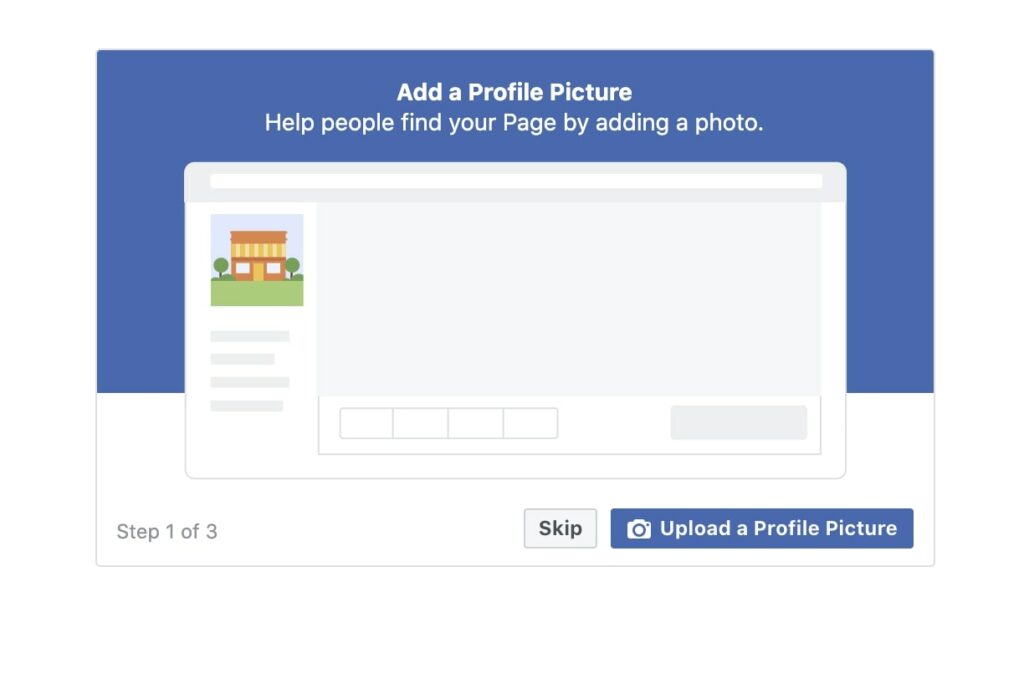 Step 4: After you've filled out the basics, add a "Book Now" button on your Facebook page, so people can schedule appointments on the site. We talked about how to implement this on our Facebook booking guide, so check out that post for detailed instructions.
One example of a business with a killer Facebook profile is GG Brow and Beauty. In addition to having a complete business profile with several photos, GG's online business listing on Facebook has a "Book Now" button so clients can easily access her scheduling portal.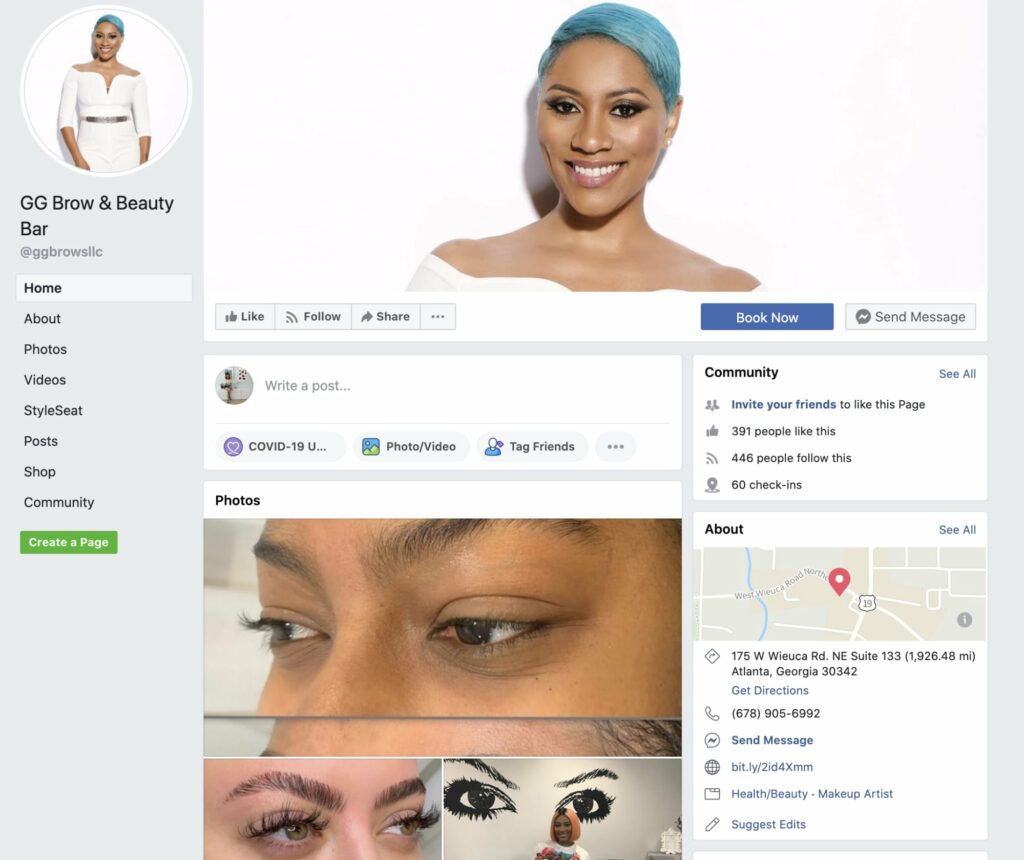 Additional tips for setting up and optimizing your listings on local business directories
Ready to set up your presence on small business directories? Here are a few more best practices to ensure that your listing gets the attention it deserves.
Try to get listed on as many (quality) directories possible
Covering your bases with Google, Facebook, and Yelp will certainly help your business capture eyeballs and customers, but if you want to uplevel your efforts, consider going beyond these big directories and get your business listed on other sites (like the 22 remaining directories we listed above).
It's a good idea to check which online directories your competitors are using. If a customer is searching or "spas" or "barbershops", you want to make sure that your business is coming up alongside theirs.
Of course, submitting your business info and maintaining all those profiles can take a lot of work, so it may be worth hiring a digital marketing agency to do this for you or using tools like Yext or Moz Local, which allow you to manage your listings and ensure consistency across multiple platforms.
Fill out all the fields
We talked about the importance of entering as many business details as possible, but it's worth repeating.
As you know, most online business directories have few mandatory fields other than NAP data. However, filling out only these fields isn't going to help your marketing efforts — they tell consumers nothing about why they should choose your services. Supplementary information like pricing lists, amenities, and social media profiles is where you can show off elements that make your business unique.
Upload high-quality imagery
When browsing listings, prospective customers want a good sense of what experience a service provider can offer them. This is why businesses that use photos in their listings receive a 35% higher click-through rate to their website than those that don't. Well-composed, quality images are even more likely to pull customers in because they help create a higher perception of value.
Encourage customer reviews
Online business reviews are key to getting ongoing clients through directories. Our research at Genbook found that the vast majority of customers — 93.9% to be exact — check out Yelp or Google reviews before trying new service providers.
Reviews build credibility, which leads to more bookings. So make it a point to ask people to submit them, especially on high-traffic online directories.

Local business directories are a must for any salon, spa, or barbershop!
Listing in a small business directory does require an ongoing commitment on behalf of your spa, barbershop, or salon — but there can be massive rewards for service providers who put in the effort. Small business directories put you right in front of an audience that is actively looking to purchase, which leads to more eyeballs and bookings.
Speaking of which, if you're looking for an online booking software that helps you get onto local business directories with ease, give Genbook a try. Our integrations will prominent local business directories will make the process a delight for you.