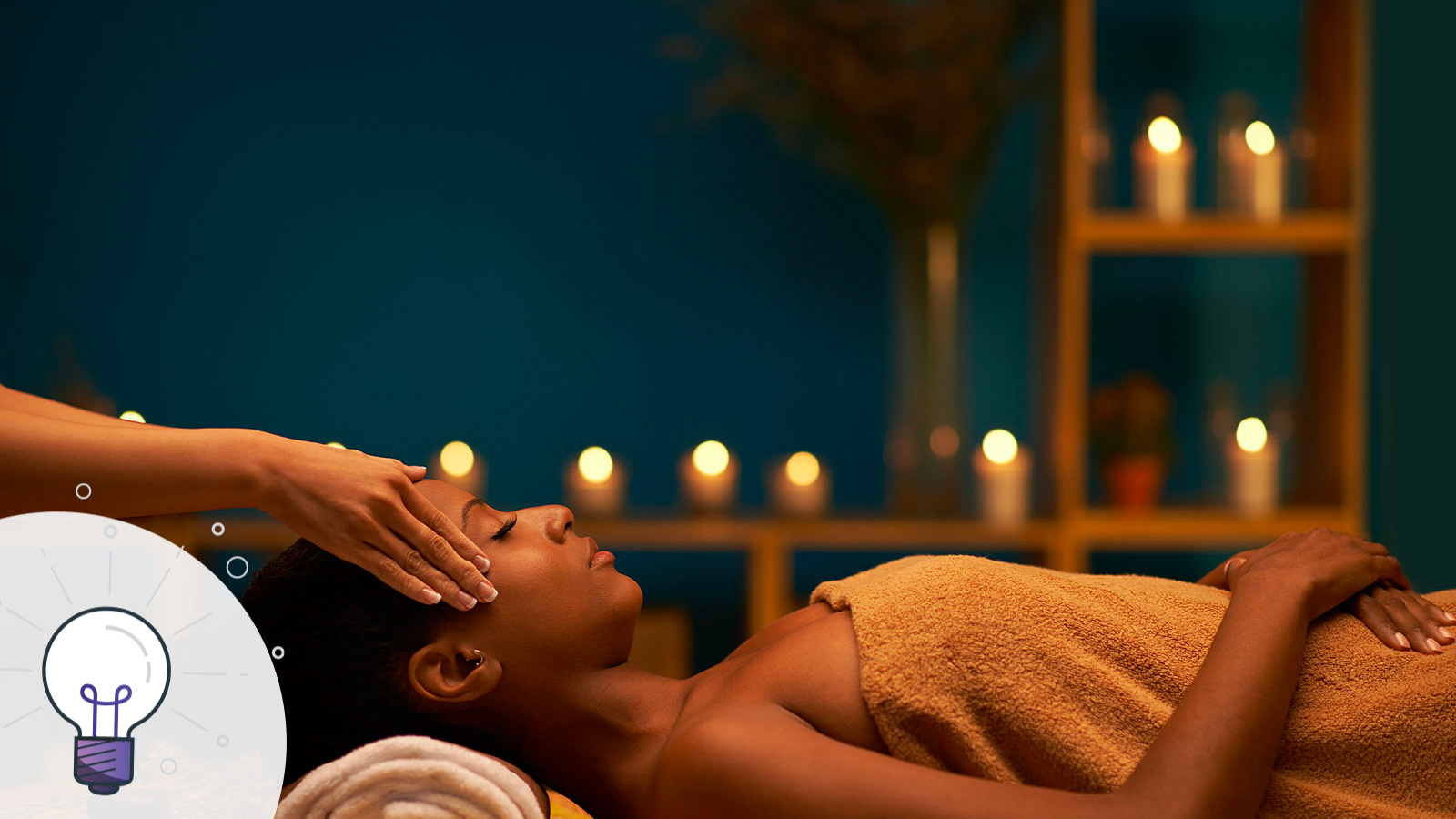 10 Spa Promotion Ideas to Drive More Bookings in Your Business
According to IBIS World, in 2019 there are 23,395 health and wellness spas in the United States alone, with a predicted revenue of more than $19 billion.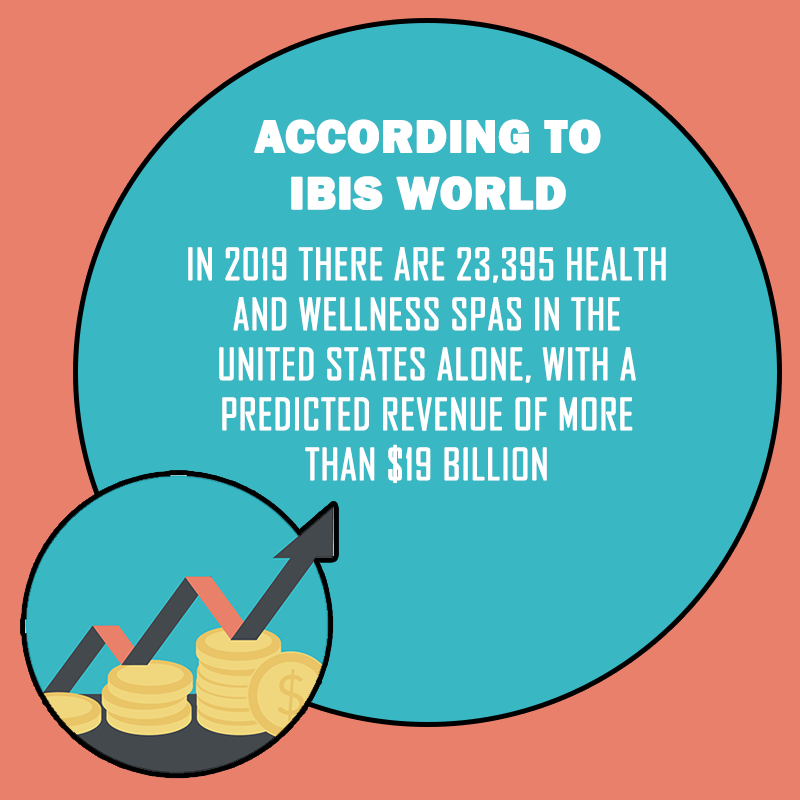 While it's great that the industry is thriving as a whole, that also means that spa owners have to find a way to differentiate themselves and stand out from the crowd. 
Whether that's solidifying your online presence, partnering with local businesses, or holding a class or event, here are 10 ideas to help get you started. 
Create a First-Time Visit Special
Everyone remembers their first time, so make that new client's first visit special — from start to finish. Saving money on a product or service is hard to resist, so create a special "first-time visit" promotion that will get people into your spa. 
It can be as simple as offering new clients $10 off their first visit or 20% on their first product purchase. All you have to do is make sure you're providing any potential, new clients with a little extra motivation to visit your spa. These incentives give those who might have been slightly unsure about whether or not to book an appointment additional motivation for giving your spa a try.
You can see this tip in action over at Peaceful Escape, a spa in Dallas, Texas. The company offers a "New Client Wellness" voucher which gives new customers 15% off their purchase over $60.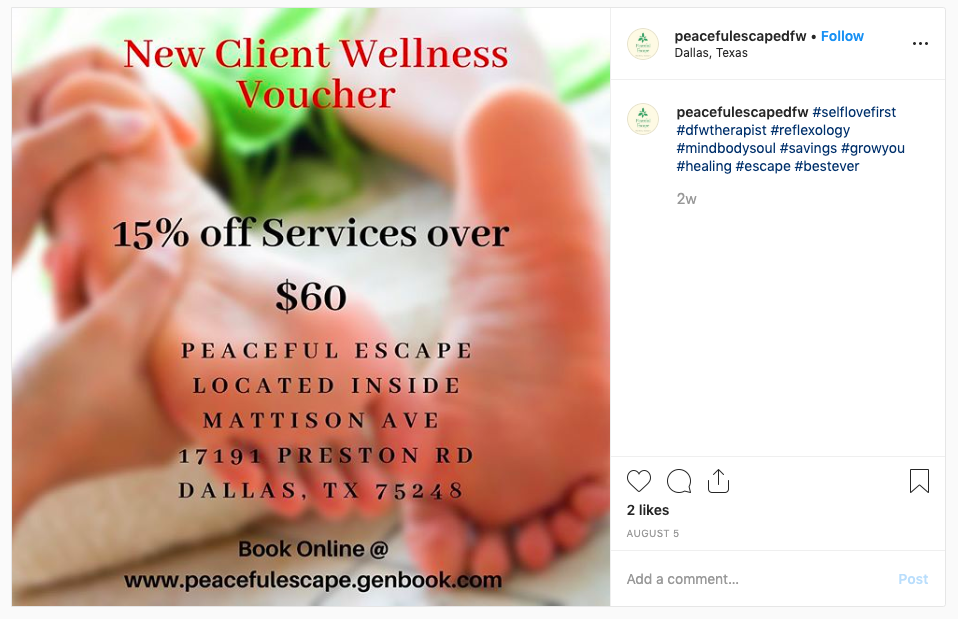 Source: https://www.instagram.com/p/B0zWRFKhNxB/
Use Scheduling Software
Scheduling software that automates the booking process at your spa is one of the most effective ways to streamline your business, leaving you more time to focus on more relevant tasks. First of all, this gives your clients the option to make appointments online, and unsurprisingly, 75% of people want the option to do it themselves.
Scheduling software also reduces no-shows and sends out rebooking reminders to clients who are due to make another appointment. Not only does this make it easier for you and your staff, but both of these things help to keep your spa full. 
And here's the kicker: the best-in-class scheduling solutions in the market have built-in marketing features. Genbook, for instance, automatically collects customer reviews and displays them on your scheduling page. 
This allows you to provide social proof to potential clients who want to learn more about other people's experiences with your brand. Our research found that 93.9 of people consult reviews before booking a service, so you can bet that having comments from happy customers will go a long way in increasing your bookings. 
Missy Moran Studios, which offers facials, massages, and hair removal services, has mastered the art of leveraging reviews. Not only does Missy prominently feature customer testimonials in her booking portal, but she also posts screenshots of those reviews on her social media accounts.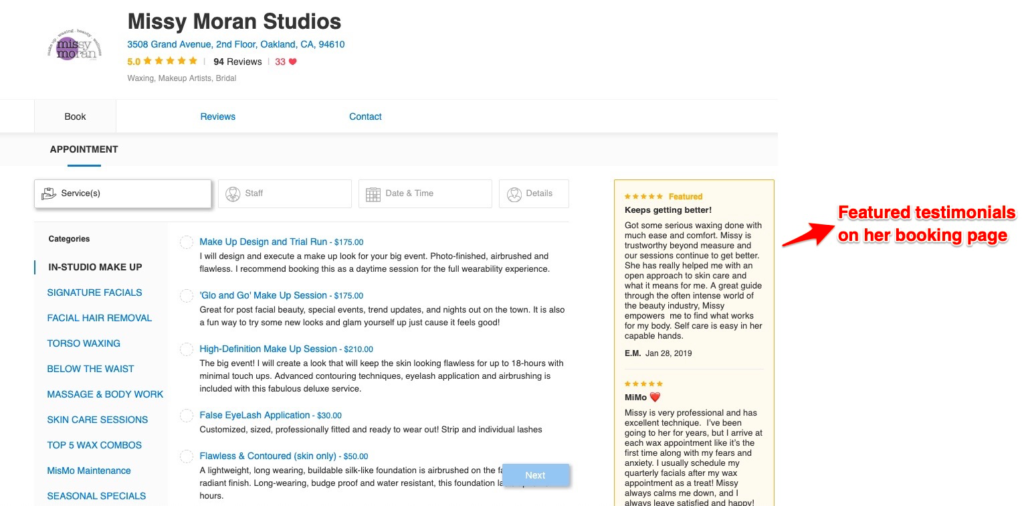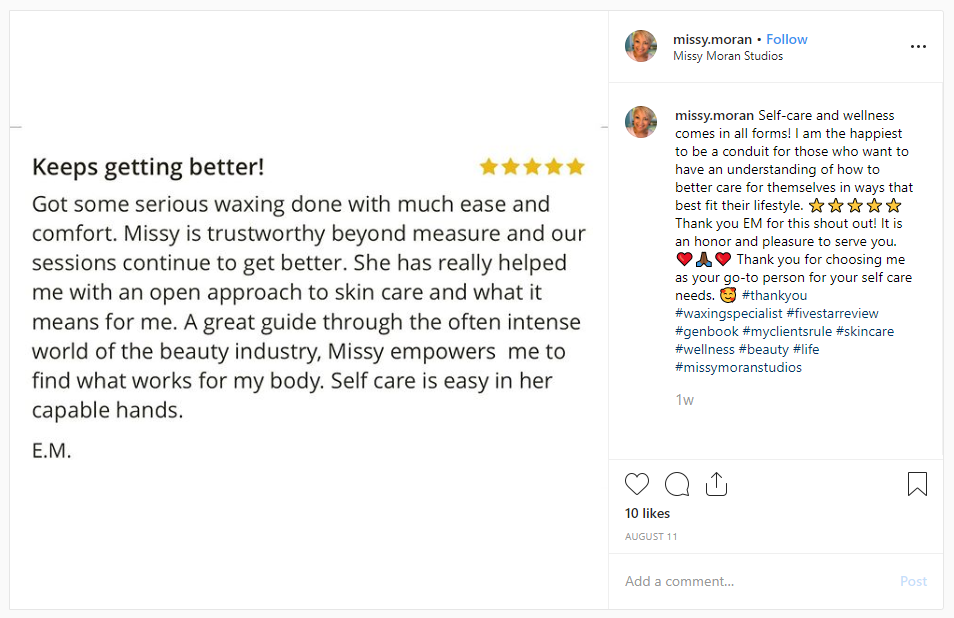 Source: https://www.instagram.com/p/B0_npvmn90b/
Offer Convenient Booking Methods
Managing calls and emails from clients wanting to book appointments can be complicated and take up a lot of your time, not to mention that it can be inconvenient for clients. If making an appointment is a hassle, they'll simply go somewhere else where convenience is king. Making a phone call might be the preferred method for some, but yet others are busy during the day at work and can't breakaway. The key is to give them options — online and off. 
Offer them the option to book an appointment on your website, your online listing profiles, and your social media pages when it's most convenient for them, and it only takes them a second to do it. With the right online booking system, clients have the ability to book an appointment in a way that will leave them feeling the best return on their time and that you value their time and their business. 
Peaceful Escape does this really well. The spa uses multiple booking channels including:
Online booking. You can easily schedule a spa appointment at Peaceful Escape by heading to their Genbook page, www.peacefulescape.genbook.com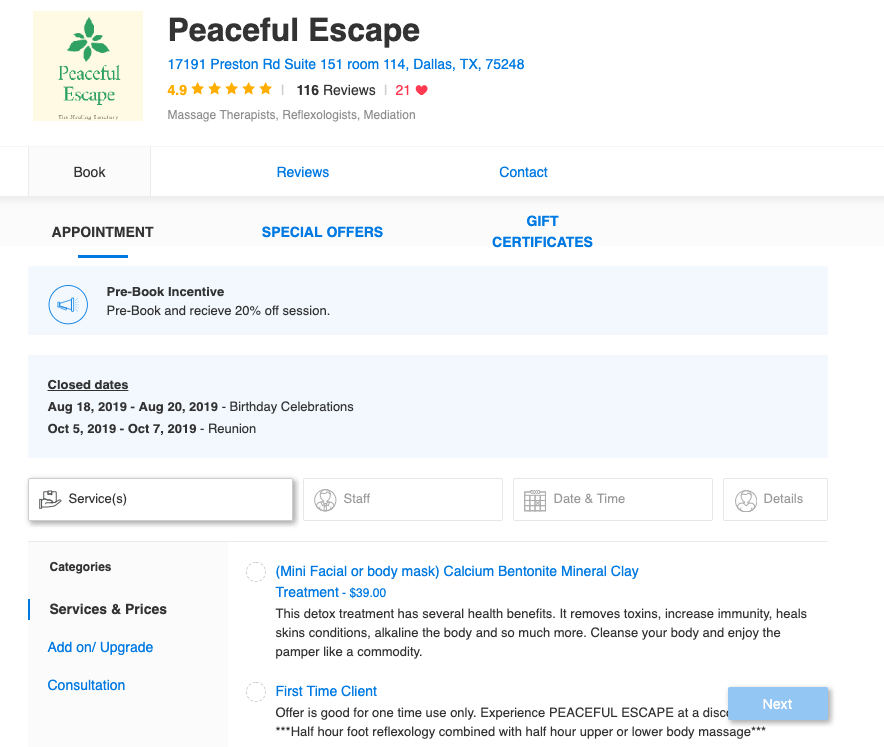 Reserve with Google. The spa also has its Google base covered, thanks to Reserve with Google. If someone comes across Peaceful Escape's Google listing, they can easily book an appointment without leaving the page.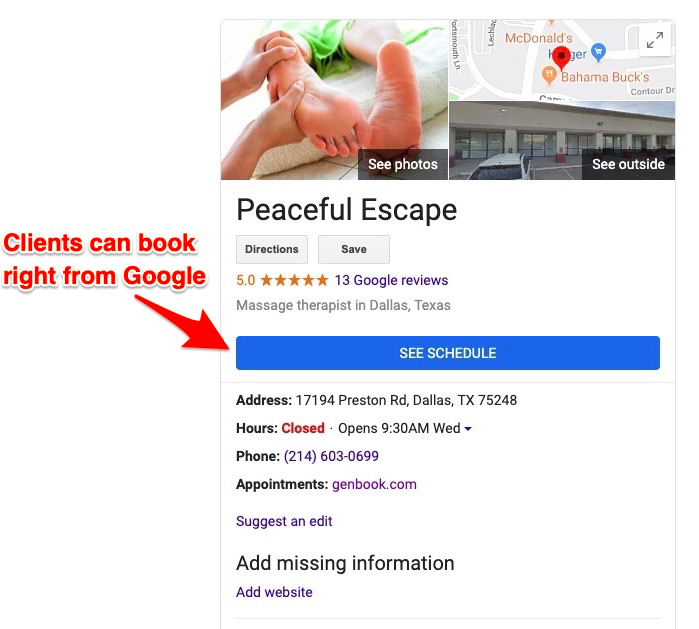 Facebook. As for Facebook, Peaceful Escape leverages Facebook Appointments by adding a "Book Now" button to its Facebook page.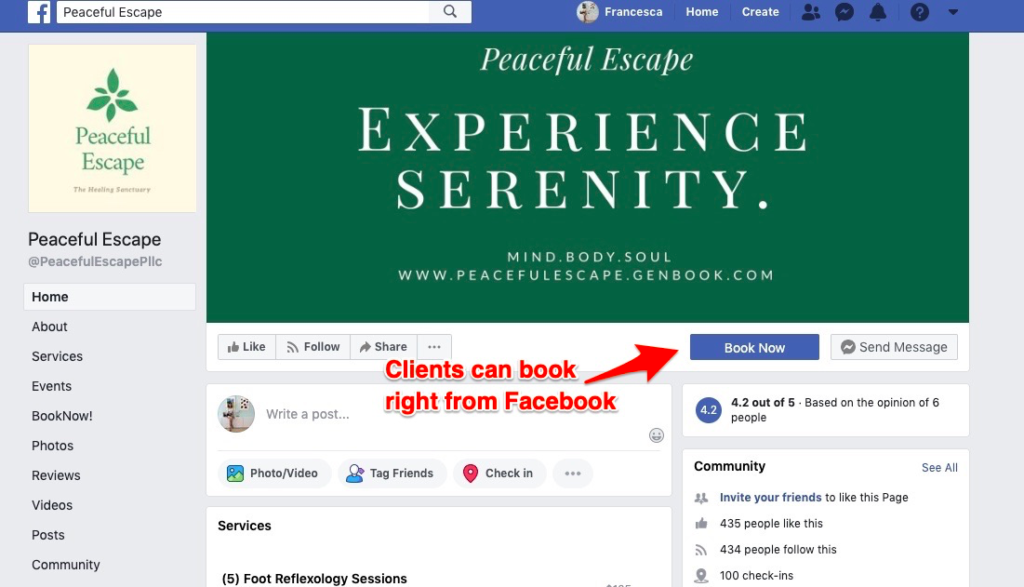 Go Beyond Traditional Services
Offering something more than just your services — education, a unique experience, etc. — helps build brand awareness and customer loyalty. Spas that sell massages are a dime a dozen, but if you can find a way to offer something more, you'll set yourself apart. 
Whether it's hosting events, providing entertainment, or even just serving food and drinks, you can attract — and keep — more clients by adding more oomph to traditional spa offerings. 
A great example of a business implementing this is Tomoko Spa. Tomoko offers a range of massage packages, but its most popular one its Couple Spa Experience which includes an indulgent foot detox, full body massage, private shower… and to top it all off, a meal consisting of sushi, organic teas, and Japanese sweet delicacies.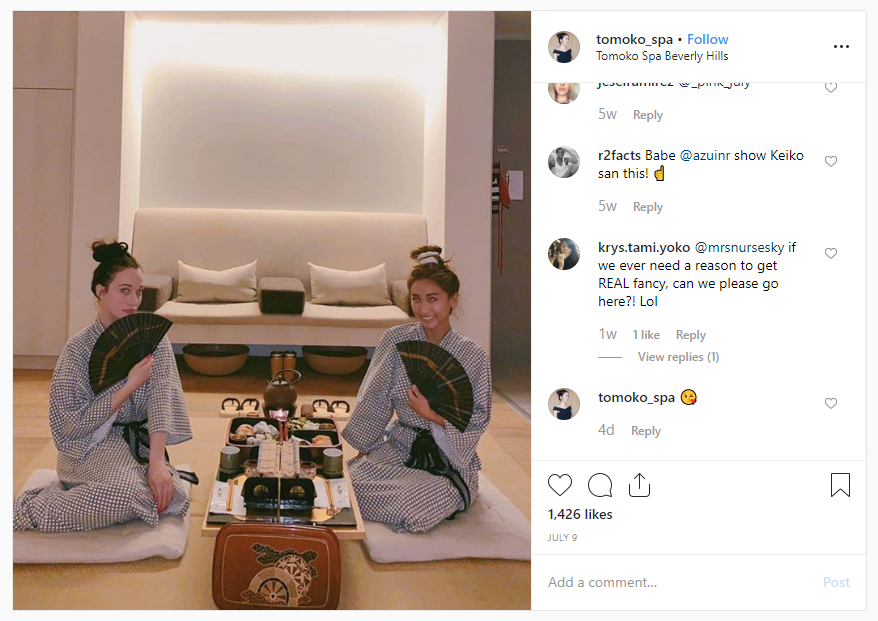 Source: https://www.instagram.com/p/Bzrhm59HjKL/
The experience at Tomoko is unparalleled and it's one of the reasons why people keep coming back. 
Form Partnerships with Other Local Businesses
As a spa, you're in the unique position of being able to offer to relax and rejuvenating services that are a desire to pretty much everyone. Use this to your advantage and find other local businesses that are interested in swapping promotional materials establishing exclusive promotions between your spa and their establishment. 
The options are endless for spas. You can partner with hair salons, health food stores, local tourist destinations, hotels, wedding vendors, and local gyms — just to name a few. Create a mutually beneficial referral program where you can cross-promote each other's businesses, bringing in more clientele for your spa, all while saving some money on ad space by advertising together.
Share Video of Your Spa In Action
Short, professionally produced videos help you connect with prospective clients before they even walk through your doors. Some simple ideas include:
Tutorials and Tips

Product Demos

Live Q&A Sessions on Facebook, Instagram, or Snapchat

Customer-Generated Content

Short Teasers For Upcoming Events, Promotions, or Products
Check out Kinetic Body Therapy in New York. Edan Harari, the founder of the business, regularly publishes videos of himself in action.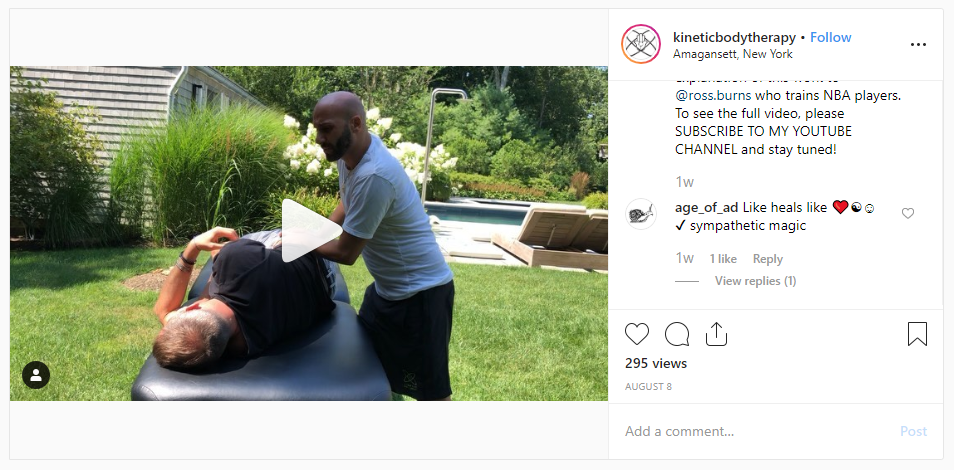 Source: https://www.instagram.com/p/B04jnAuHnrp/
Offer Spa Package Deals
If you're looking to sell a higher volume of services and products to your customer base, package deals are a great way to go.
Consider packaging three massages as a slightly discounted rate, or bundling relevant products together with a service, like face creams and serums when they book a facial. Or create combination packages, such as a facial and a manicure, or a head-to-toe facial, massage, and mani-pedi. Selling services in a package of five, or 10, at a corresponding discount, keeps the customer coming back to get the treatments. As a bonus, you get the money upfront. 
This is effective for a couple of reasons. First, you're working off your current base of customers, and it's easier to sell to the customer you already have as opposed to netting a new client. Second, packages are perceived as more valuable than single services. This encourages customers to buy more, which increases your volume of sales, all while introducing those customers to services and products they might have tried otherwise. 
Sell Gift Certificates
People like to give (and receive) the gift of relaxation, which makes gift certificates extremely popular in the realm of spas and salons. That's why if you're not selling them yet, you're leaving a lot of money on the table. 
So start creating those certificates right away. For best results, offer the option to purchase gifts online, so your customers can buy and book their spa services without having to call or visit your location. 
That's what Chrissy's Massage Studios in Texas is doing. Chrissy has a "Gift Certificates" tab on her scheduling page, which allows clients to purchase a gift for a loved one.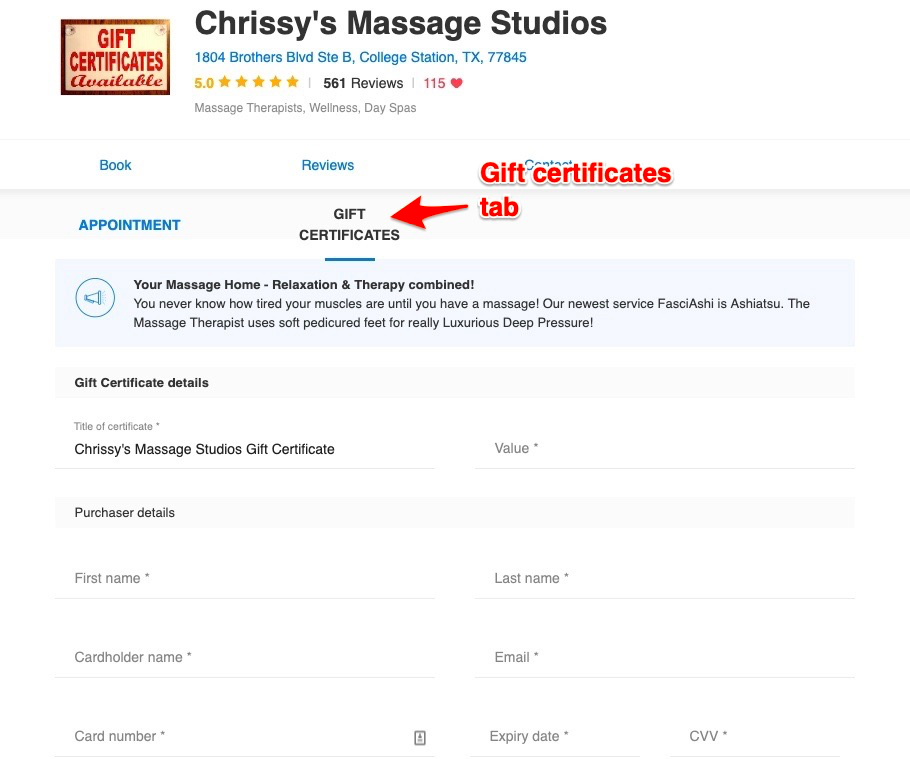 Start a Referral Program 
Word of mouth is the most cost-effective promotional idea for any business, so reward those loyal customers who tell their friends and family about your spa and services. The numbers show that customers who are visiting you from a referral are more profitable and loyal than the average customer. In fact, their lifetime value is 16% higher than other customers and they're 18% less likely to churn.
Incentivize your current customers to recommend you to friends, family, and their social media followers, and in the process, they get a reward. For example, maybe you offer $10 off your next visit, for both you and a friend, if you refer a friend. The bottom line is that your current customers are a great source you should never underestimate, and they can help bring in new business, all while feeling rewarded for the business they already give you. 
Ready To Implement These Spa Promotions? 
Promoting your spa helps build brand awareness, increase visibility, and brings new clients into your business. There are many ways to do this, but it should include a mix of online and offline marketing efforts that build on the customer base you already have, all while bringing new faces into your spa. When employed consistently, these spa strategies are sure to set you apart from the rest — and increase your bottom line.
And if you are shopping for a spa management software, why not try Genbook's free 30-day trial. Genbook's powerful features will help you navigate the day to day challenges of your spa business effectively.