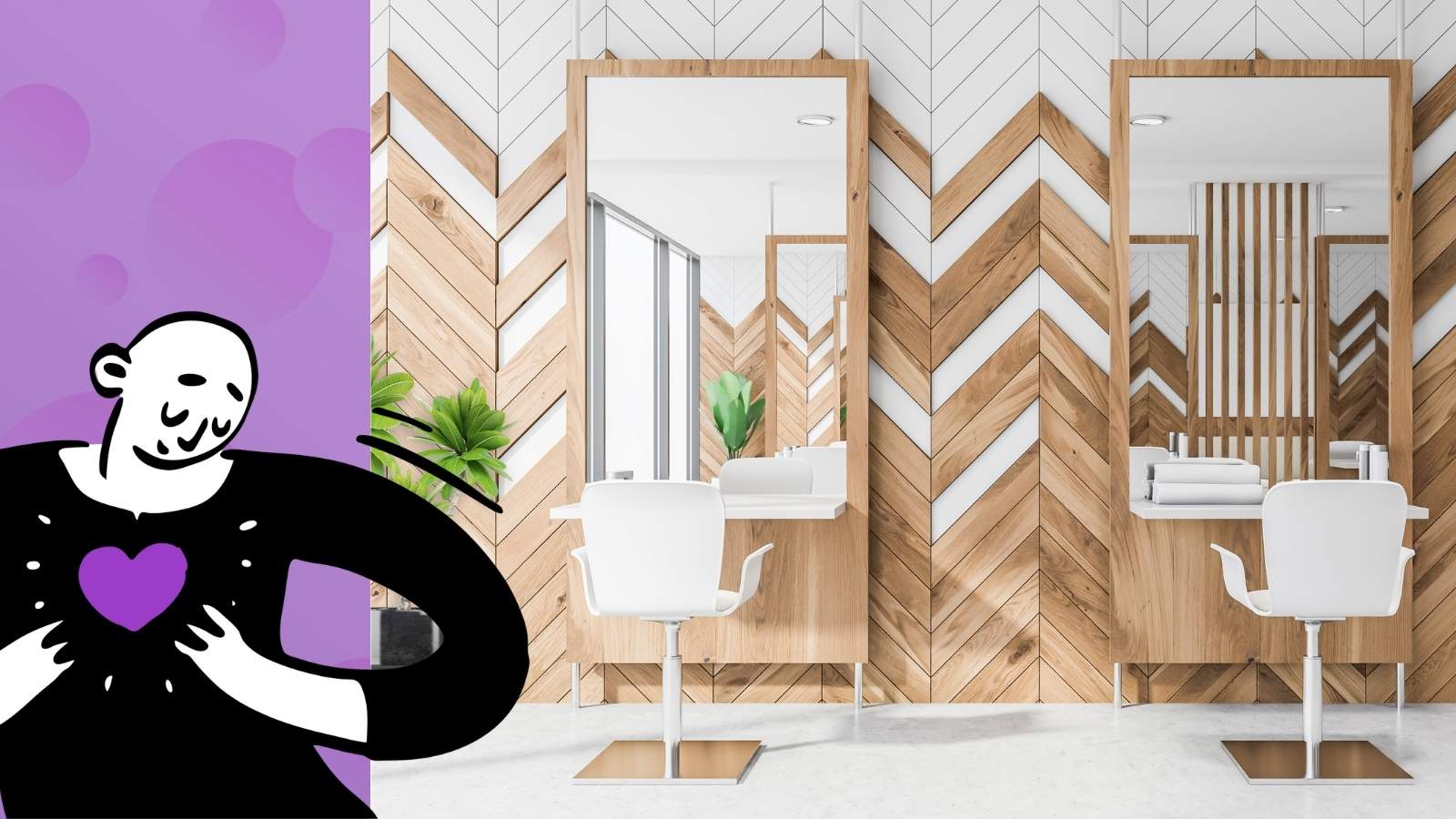 New Year, New Look: 11 Spa and Hair Salon Design Tips to Consider for 2021 and Beyond
Having an inviting spa design or hair salon design benefits your clients and your business in a number of ways.
For starters, a well-executed beauty salon or spa interior design can communicate and reinforce your brand message.
Plus, your shop's appearance can significantly influence the mood and disposition of your clients, paving the way for a more enjoyable business experience. 
In some cases, clients are more inclined to share and spread the word about great-looking spaces on social media, thus helping put your business out there.
For these reasons, it's essential to beef up your spa or beauty salon design. You need to periodically think about the look and feel of your space, then make improvements when necessary.
Maybe you've had the same color scheme and décor for several years, and it's beginning to feel a little dated. Perhaps you've thought about a complete renovation, but didn't know where to begin.
If these thoughts are running through your mind, fret not. We've put together a handful of spa interior design tips and small salon design ideas to inspire your efforts. A lot of these ideas are budget-friendly and will allow you to execute strong spa or salon visuals without breaking the bank.
Visual inspiration is free, and it can help to get your creative juices flowing. So have a look at the images and guidelines for your spa or salon makeover, and check out our tips to ensure that your efforts are successful.
Table of contents
How To Create a Stunning Spa Design or Hair Salon Design in 2021
Start with a vision and budget in mind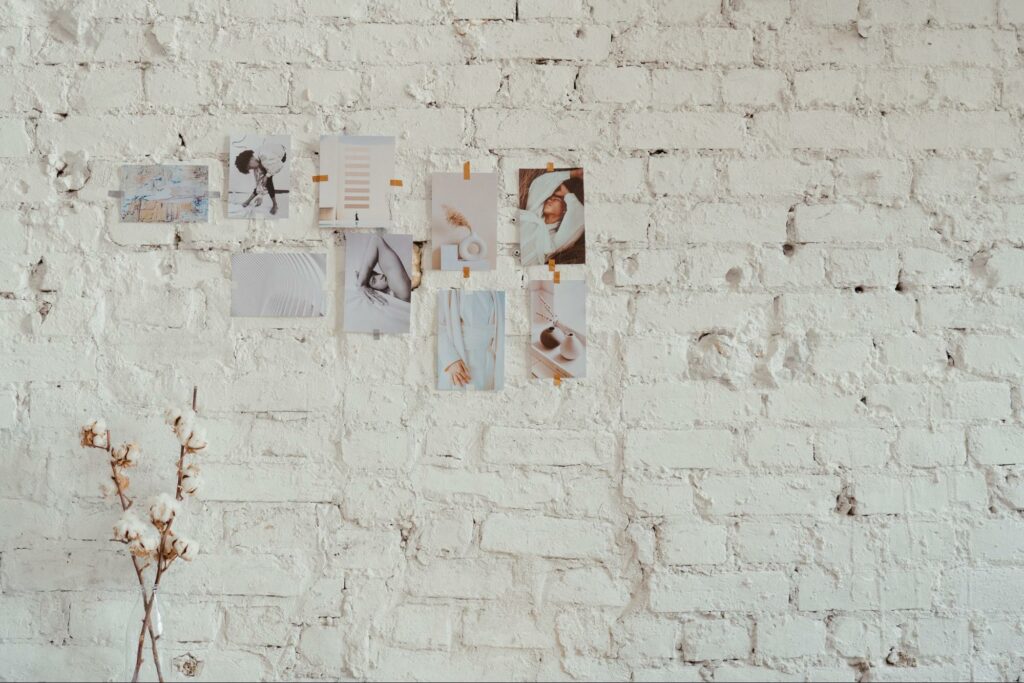 Planning is key to ensuring that your new spa or salon design is executed successfully and within budget. In the same way that you would plan your marketing budget and initiatives, make it a point to plan and budget for your shop's new design. 
Go through your finances and determine how much you can spend on your visual initiatives. Run the numbers to make sure that this is an investment you can truly afford.
Starting the new year in debt because of cost overruns isn't the best move.
Once you've settled on the numbers, visualize your spa's or salon's revamped appearance, including the general themes and color schemes that you carry throughout the facility. Keep your business' brand in mind throughout this process. 
Steps like creating mood boards can help you visualize and execute the look you want to create. 
There are several free mood board tools and templates out there that can be helpful at this step. All you have to do is select a theme and determine your core colors, then add pictures that can give you design inspiration and direction. 
Revamp or leverage the existing structural elements of your location
You can make a big impact by giving your existing structural elements a fresh look. Repainting or texturing the walls is an inexpensive way to make a bold statement. To make your space look larger, paint the walls in a white tone.
Have a look at this photo of Flutter Lash and Beauty studio, which uses white for its walls and ceiling to make the space appear bigger. 
Concrete floors also represent a blank canvas that will accept a variety of striking finishes. Coatings include a water-based stain, acid stain, acrylic sealer, and several different epoxy finishes.
Another way to make a bold design statement without spending too much money is to use the existing structural elements of your space.
If your spa or salon is located in an antique or vintage building, you could be blessed with intricate-looking metal ceilings. Incorporate them into your spa or salon décor, giving a pleasing blend of the old and the new.
Or, if you're located in a brownstone or brick building, incorporate the sturdy walls and ceilings of your space into your overall design by using matching fixtures to create a warm, sturdy atmosphere.
Check out this example from Mane Alley Color & Extension Bar in New Albany, IN. The salon, which is located in a brick building, uses chairs and lighting that match the location's brickwork. The result? A warm looking space that feels comfy and cohesive. 
Refresh your waiting area décor
When clients step into your spa or salon, the waiting area likely provides their first exposure to your brand. Breathe new life into that space with new furniture and accent pieces that harmonize with your salon or spa's interior design. If your budget doesn't allow for new furniture, visit upscale furniture consignment shops or furniture stores for great-condition pieces at attractive prices.
Stores like Bob's Discount Furniture and Ashley Homestore, for example, sell high-quality accent chairs for a few hundred dollars or less.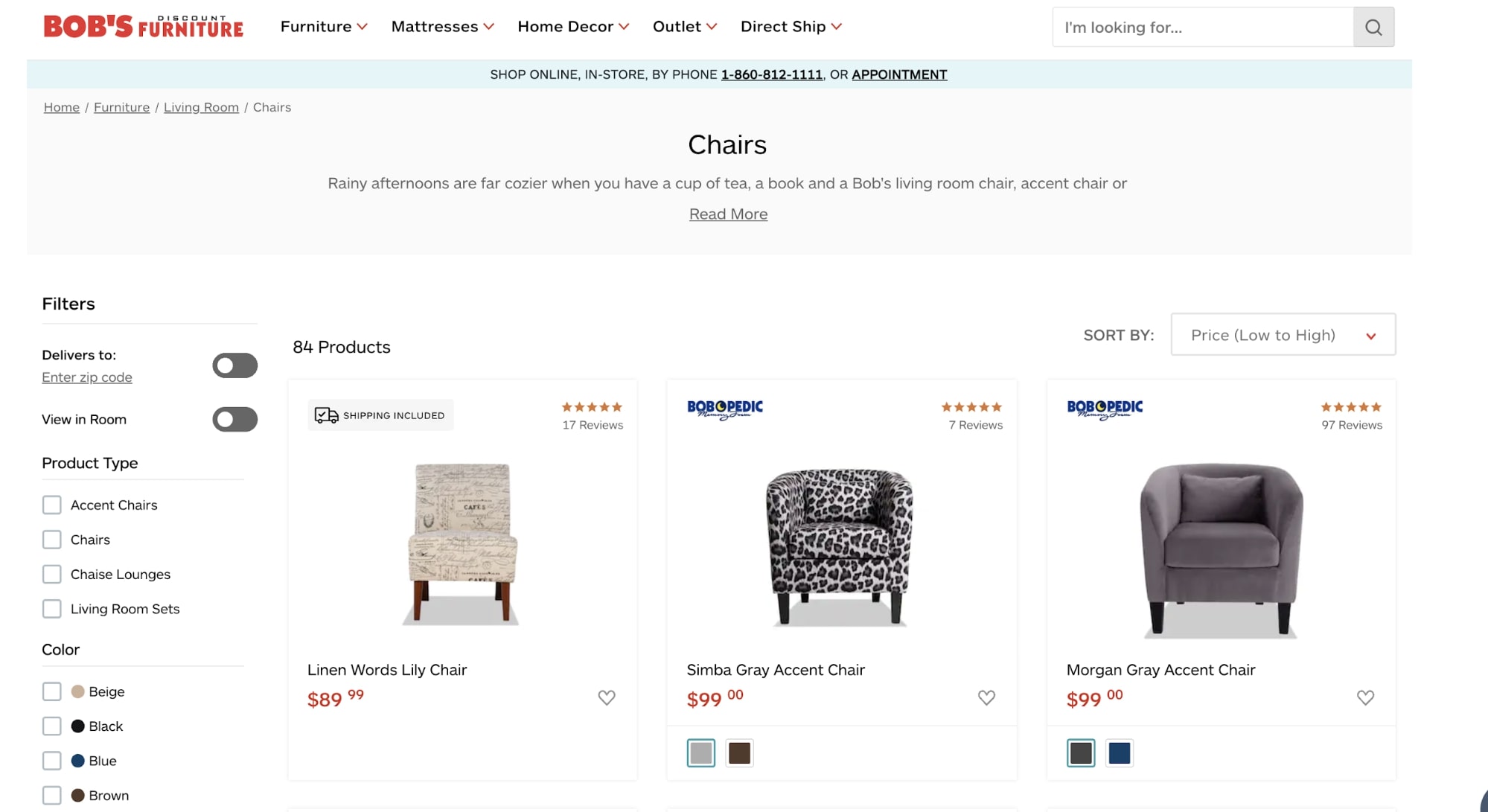 Invest in an accent wall
Another idea? Use bold accent walls. If you don't have the budget to repaint your entire location or waiting room, pick a side to use as an accent wall.
In addition to giving your location a new look, it gives your clients a chance to take photos in front of the wall to share on social media.
DIY Murals can be a great way to build an accent wall. Here's an example from Apartment Therapy that explains it:

Another example is this lovely wall from Glamour House Studio, which features a leafy design along with the company's logo in the middle. The two chairs in front of the wall ensure that clients can stay comfortable while waiting.
Glamour House also puts the wall to good use by letting clients pose in front of it to show off their hair. 
Revamp your lighting
The right lighting not only illuminates your space, it can also make a strong design statement. Look at your current lighting fixtures and see if it makes sense to replace them with more modern and functional alternatives.
Many businesses have started replacing spotlights and downlights with softer concealed lighting fixtures to save space and create a modern yet pleasant ambiance.
The spa photo below perfectly illustrates this. Notice how the concealed lighting creates a relaxing and subdued atmosphere without being too dark. 
Use calming color palettes
To help your clients feel more at ease, use lighter colors that don't overpower the room. By using varied shades of the same color family, your clients perceive the space to be even larger.
Taking this approach even further, some salons and spas use color therapy to promote their clients' relaxation. As you may know, different colors are associated with certain attributes and energy qualities. For example, soft green, blue, and violet tones encourage tranquility.
Take a look at this treatment room at Linnean Living, a hybrid salon, spa, and restaurant. This particular room, which sports a refreshing and nature-centric design, is inspired by Swedish botanist Carl Linneaus.
Use water to your advantage
Trickling, bubbling, or cascading water often produces a relaxing or calming effect. Adding portable fountains or other water features to your salon or spa's treatment rooms could enhance your clients' business experiences.
These portable fountains are surprisingly affordable. A quick Google search reveals that their prices start at just $40.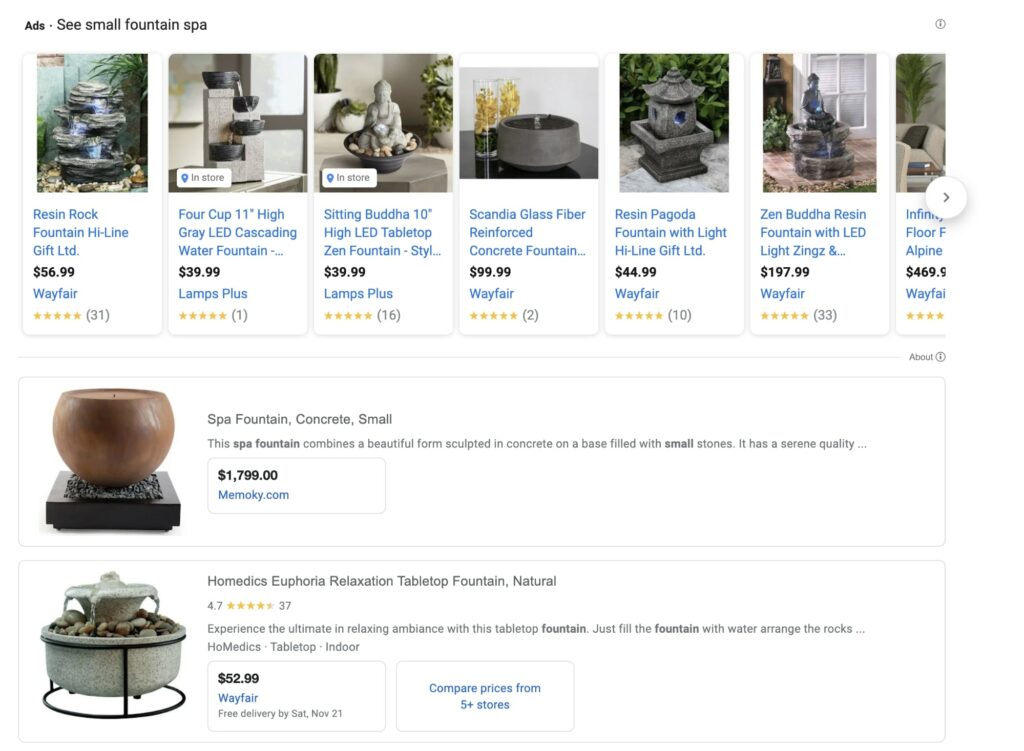 Upgrade your workstations
Look at your workstations and treatment rooms and find areas to improve. Maybe your salon's workstations are looking a bit worn, and you'd like to replace the styling chairs and cabinetry. Maybe your massage tables could use an upgrade.
Whatever, the case, replacing dated elements of your workstation will not only spruce up your location, but it will also help you and your team work better.
Understandably, replacing all your fixtures can get expensive, so if your budget doesn't allow you to spring for high-end equipment, there are some less-expensive options to consider.
Check out wholesale salon equipment providers' offerings. Websites like AGS BEAUTY, Salon Equipment Center, and Pretty Salon offer wholesale and clearance options, with financing available.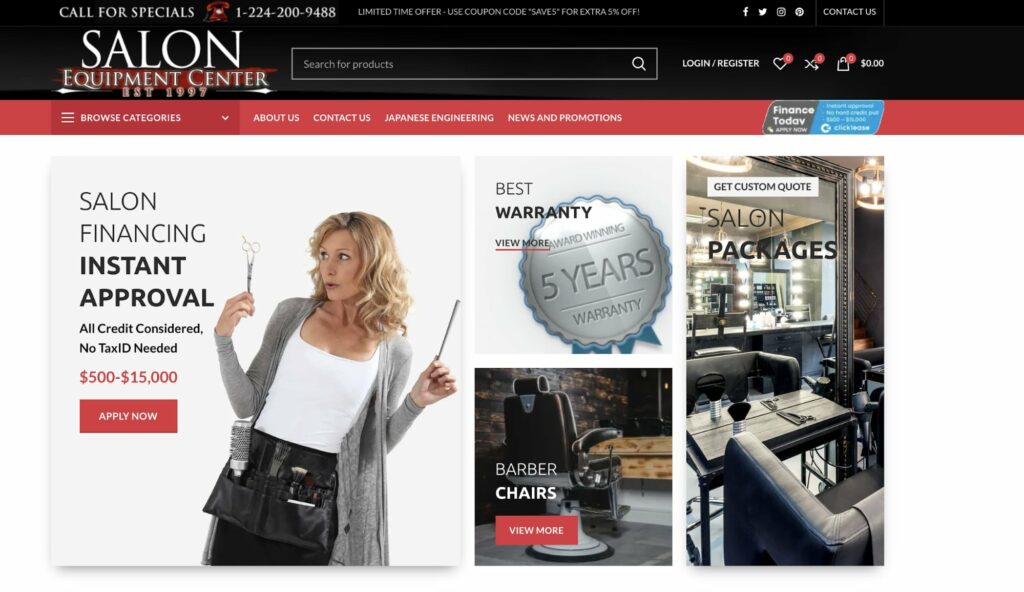 You could also use your professional network to learn about salons that are closing and liquidating their workstations and other equipment. Even if you have to re-cover the styling chair seats to match your salon's color scheme, the collective savings could be worth it.
Install specially selected mirrors
Mirrors are an important design and functional element, particularly for hair and beauty salons. Properly sized (and placed) mirrors are an important part of each salon workstation. Consider upgrading your salon's mirrors to match your new décor.
Depending on your salon, you can choose single-station mirrors for an intimate feel or opt for larger multi-station mirrors that create the sensation of having more open space. Frameless mirrors will have a sleek, modern effect while framed mirrors offer a homelike appearance.
Mist Salon at Tempe, AZ is one example of a salon using framed mirrors. As you can see, these mirrors create a more classic and cozy look
Meanwhile, Moxie & Co. salon uses frameless mirrors, and this creates a minimalist and modern appearance. 
Both salons look gorgeous, of course. Each theme has its merits and the right way to go depends on the look and feel that you'd like to project.
Add plants
Adding plants to your spa environment will bring a sense of calm and wellbeing.
Plants also supply oxygen and clean the air, and they add subtle touches of color without making too bold a statement.
Another potential bonus? Plants can help your team be more productive. Research from Exeter University found that employees increased their productivity by 15% when their workspace had plants. 
One salon that's putting this pointer to good use is Mane Hair Company. The salon's space is punctuated with a number of plants. Clients and employees can enjoy the soothing and refreshing effects of the green foliage while sitting at different workstations or browsing the salon's retail products.
Keep everything cohesive
If you made it this far, then you know that there are a lot of elements that go into spa and salon design. To effectively pull off a new look, numerous details must come together to create a unified whole. Your color scheme, workstations, equipment, lighting, and fixtures should all complement each other. Your staff's attire, the product display fixtures, and background music must all be in harmony with your brand aesthetic.
Asha SalonSpa, for example, sports a black and white aesthetic. All the elements in the room — from the lighting and walls to the chairs and curtains — follow the same theme. The technician in the photo is wearing black, which perfectly complements the overall look of the space. 
Spread the word about your new salon or spa design
Once you've brought your new ideas to life, make it a point to promote the new look of your salon or spa. Use all available communication channels to get the word out. Email your client base, send them text messages, and promote your new spa or beauty salon design on social media.
Give your clients and followers a virtual tour by taking lots of videos and photos then publishing them online. (Pro tip: use a camera that lets you take 3D or panoramic photos to give clients the full effect.)
And don't forget to update your online business listings (i.e., Yelp, Google, Facebook, etc.) with the new photos. 
If possible, post an announcement on your booking portal to talk up your location's brand new design. Mention the new features and other cool aspects that you clients can enjoy. This helps build excitement and anticipation as clients book services on your scheduling page.
Genbook makes this step super easy. Use our software's "General Announcements" feature to post important updates and info at the top of your booking page. It's a great functionality to leverage if you want to ensure that your clients don't miss any updates from your business, especially when it comes to the client experience. 
Speaking of which, if you're looking for more ways to elevate the business experience of your clients, check out Genbook's Client Experience Report, a free resource that sheds light on what people *really* want from salons and spas. Based on a survey of more than 2 million clients, this report answers your top questions when it comes to attracting and retaining clients. 
Download it today — it's free!