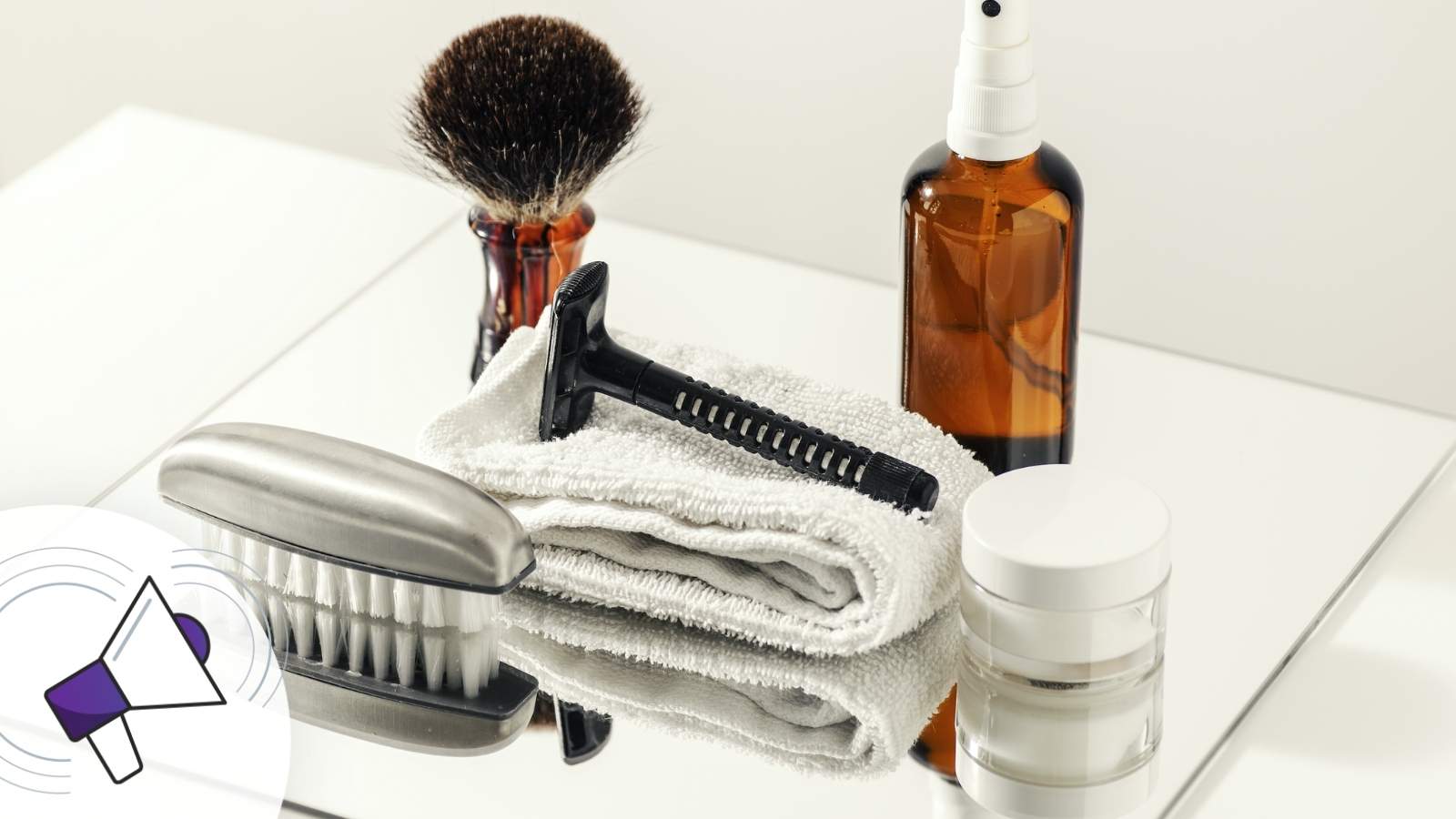 How To Clear Product Inventory at Your Salon, Spa, Or Barbershop (Before It Expires and Is Worthless): 7 Stock Management Tips
The longer your inventory sits on the shelves in your salon, studio, or barbershop, the more money you lose. Stagnant stock prevents you from filling shelves with better selling items and wastes the money you spent to acquire them. At a certain point, products can expire, requiring you to virtually throw money away.
Keeping stock flying off the shelves is an art form retailers have long been trying to master. Salon, spa, and barbershop inventory management can borrow some best practices from merchants to make sure your stock management practices aren't losing your money.
This post looks at the ways that you can do just that. Specifically you'll learn how to:
1. Teach your team how to sell products throughout the service
Your most powerful sales tool are your stylists, estheticians, barbers, and technicians. As they go through the service, technicians should be explaining which of your products they're using and why. Think of it the way beauty YouTubers explain the products they use as they create a look.
If you want to see a world-class example of how your team can sell products in an educational way, check out this video from beauty influencer Jaclyn Hill back at the start of her career.
As you can see from Hill's demonstration, education about products can be highly persuasive without ever breaking out in a sales pitch. Rather, it's about explaining to the client how they can recreate or maintain the look at home.
More than that, your team members should also take the time to escort clients to the register, where they can point out which maintenance products a client should take home. A walk-through of the salon retail display saves the customer from becoming overwhelmed by the options and their lack of knowledge about them.
But if you're still worried and want to learn how to do it without damaging client relationships, check out this video by the team at Apothecary87—a premium grooming brand for men.
If you're a Genbook user, you can sell products right through the Genbook account, during the same checkout process that charges clients for their appointments, making it extremely convenient for both you and your clients.
A well-trained stylist will have clients eating out of the palm of their hands at the chance to be able to recreate their look at home in between appointments.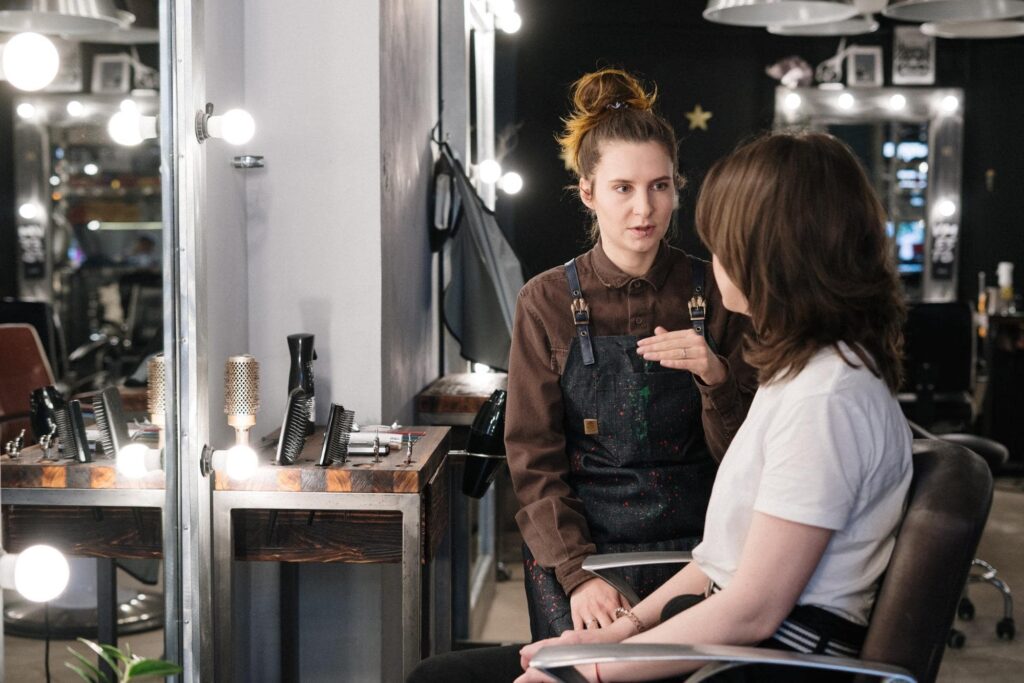 When it comes to a slow-moving product specifically, you can make sure that technicians providing services related to that product are consciously pushing it.
2. Discount the product
A classic go-to strategy for selling slow inventory is to discount it, much like what you do with discounting services. Slashing prices has proven to drive sales. Research from BigCommerce found that when promotions were implemented, conversion rates in the beauty industry grew from 2.65% to 6.60% — that's a 149% increase.
People clearly buy more when there are discounts involved, so depending on your brand, it may make sense to implement them.
You just have to be smart about how you run sales.
For starters, pay attention to how often you offer discounts. Slashing your prices too frequently can result in you training buyers to expect discounts, where they only purchase from you when there's a sale.
Additionally, being too generous with price cuts could result in you losing money on your products. You can prevent this by determining your profit margins for the products, and making sure that your discount rate effectively allows you to (at least) break even.
So, if you're making $50 off a product that you're selling for $100 regular price, then the maximum discount you can have for that product is $50%.
Another tactic is to offer conditional promotions, in which clients can only unlock discounts if they purchase a specific product, spend a certain amount, or be part of your loyalty program. Consider the following:
Spend $50 and get 10% off / Spend $100 and get 25% off
Buy 2 get 1 free
Get $10% off on all XYZ branded products
Offer exclusive to loyalty program members
3. Give the product away free with services
Another method of moving inventory is quite literally giving it away. You can offer slow-moving items as a free gift with the purchase of a particular service. This method is a win-win-win. It helps you promote one of your services, gets rid of old inventory, and makes your customers feel special.
This is a tactic that top retailers like Nordstrom regularly implement. Check out the promotion below, in which Nordstrom offers beauty and fragrance gifts when shoppers buy select items.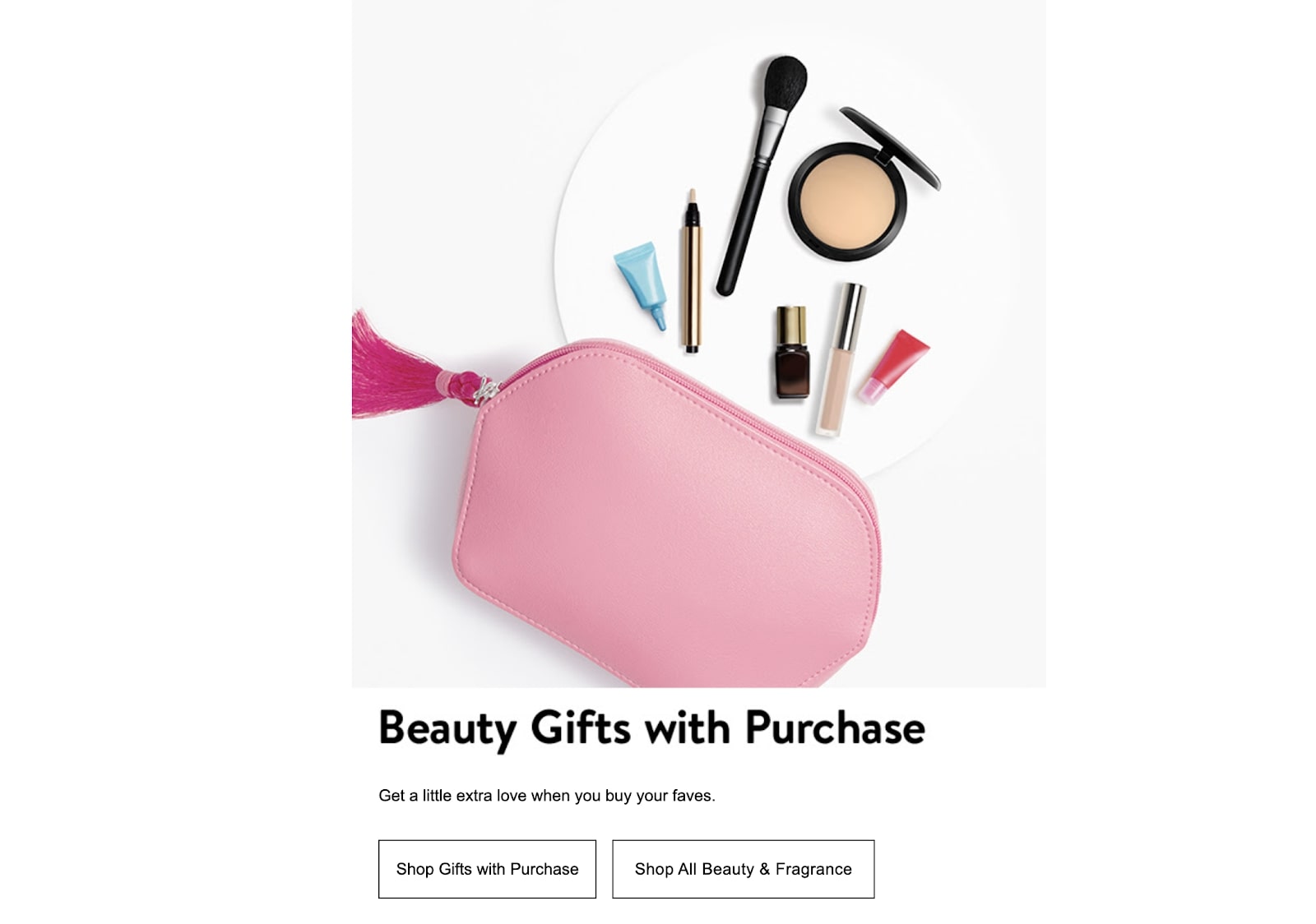 Try to do something similar, but with your services. The trick to offering a free product with a service is choosing a service that makes more money in its gross margin than the product's total cost. So, pair a product that costs $12 with a service that makes you $23 in profit. The result is that you've sold both a product and a service at a discount of $11 to you.
4. Bundle products together
Product bundling is another way to attract interest to a product. By creating a bundle with a slow moving product in it, you've essentially turned that slow mover into a new product.
Bundles require offering a discount of some form so that a customer perceives a deal. Even though they're actually spending more, they see the discount on buying two (or more) products instead of just one.
For salons, studios, and barbershops, a particularly clever way to bundle items is by usage. For example, skincare products typically come in lines. There's a cleanser, a toner, a serum, and a moisturizer. The toner on its own might sell poorly, but if you include it as a part of a "complete skincare" bundle, it will sell much better.
Regardless of what your business sells, you can put together these bundles that represent a complete experience of some form.
Belif offers a great example of how to bundle products. This bundle is a toner and moisturizer formulated to hydrate dry skin. They've (prominently) provided a $16 discount on the products when bundled together, making it seem like a really good deal to someone who was only going to buy one of the products. Instead of spending $30 on just one item, they'll spend $50 to "save" money.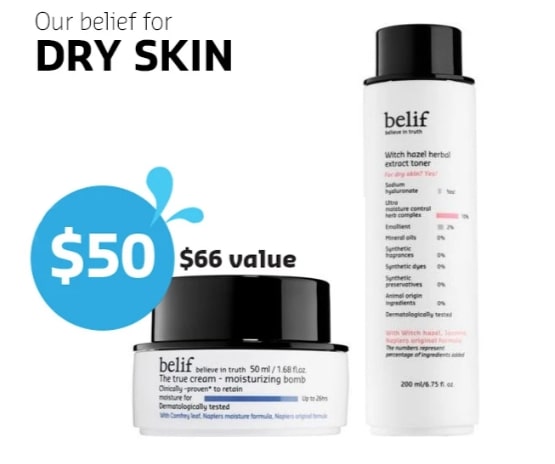 5. Run a flash sale
Flash sales are time-limited discounts on only a few of your products. Flash sales are different from a regular promotion in that the time on a flash sale is extremely short (usually 24 hours or less) while the discounts are the absolute steepest the company will ever offer.
Flash sales encourage impulse buying, and therefore are often very effective tools to get rid of stagnant inventory quickly.
To make the most of a flash sale with the intention of moving your old inventory follow these tips:
First, determine how close to the maximum discount you want to get. If the products are near sales expiration, you may want to sell them at your landed cost just to break even.
Choose a time period to run the sale. It's best to pick a day where you expect to have a lot of foot traffic.
Get the word out. Set up a display by the register and make sure your cashier mentions the sale during check out. Send out an email to your customers announcing the sale. Post on your social media accounts, as well.
6. Leverage email marketing
Your studio, salon, or barbershop only sees a small percentage of your clients in a single day, perhaps even in a full week. So if you want to expose a product to your entire client base, you need to go to them, rather than waiting for them to come to you.
An easy way to do that is to send a marketing email to your contacts. (Genbook's Smart Marketing emails make this super easy to do. Just open a blank template and get writing.)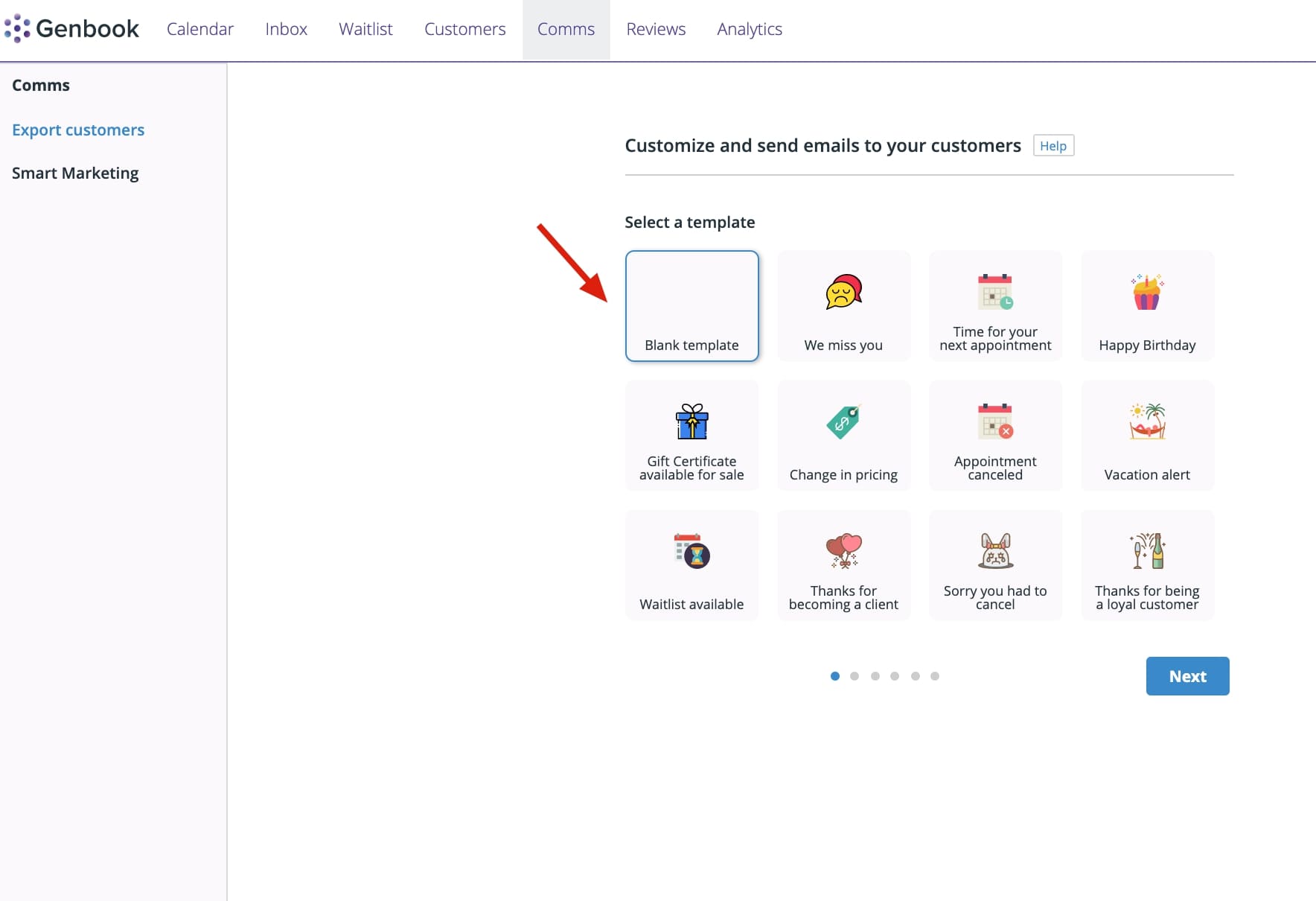 In your email, include an image of the product and talk about its benefits. Does it strengthen nail beds? Increase hair shine? Promote relaxation through smell?
Additionally, try to include some information on how to actually use the product. Historically, a huge barrier to sales that the personal care and beauty products spaces have suffered from is a lack of consumer knowledge on what a product's for and how to use it.
Finally, be sure to include a clear call-to-action (CTA). Usually, this would be a button linked to the product page on your website. However, if you don't sell your products online, say something like "Drop in the studio today" and make sure your hours and address are prominently displayed.
Here's an example email from indie beauty brand Sigma sharing its own promo to get rid of excess stock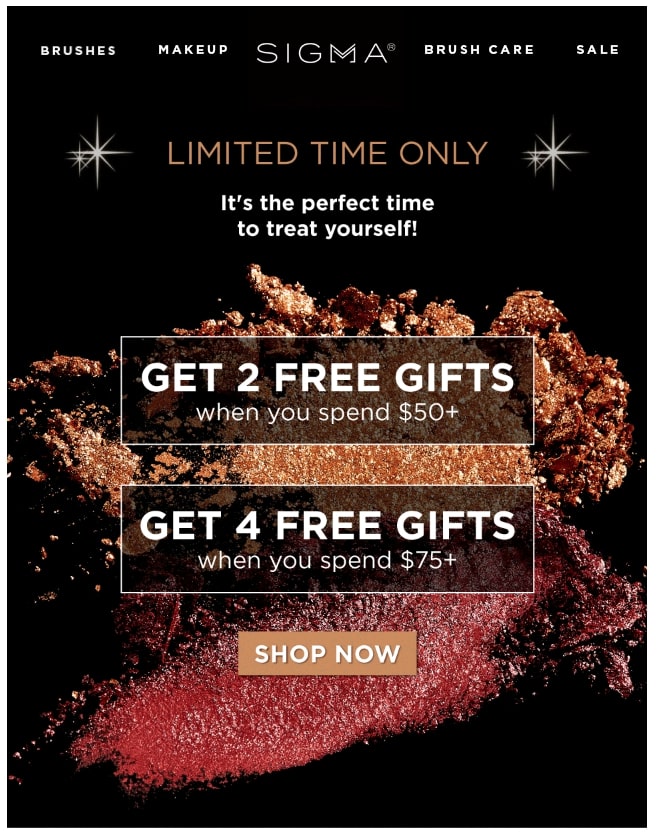 Note that an email can be used in addition to any of the other ideas on this post. If you've discounted a product, share the good news with more than just your foot traffic.
7. Run ads on social media
If you feel that you need to expand beyond your current clientele in order to sell off a certain product and you sell products online, running social media ads is an excellent way to reach a broader audience. (And again, social media ads can be run in addition to the other ideas in this post.)
It should be noted that social media ads (and shipping) get expensive quickly. It's important to begin with a clear budget that will prevent you from overspending and losing money on this product.
There are a number of keys to running a successful social media ad. We'll go over the high-level information here, but for an in-depth tutorial, check out these guides to advertising on Facebook, Instagram, and Pinterest.
First and foremost in any marketing endeavor, you need to know who you're talking to. With social media advertising, that means you select an audience in their audience builder tool. You'll want to be as specific as possible. For example, rather than targeting all men in the United States, target:
Men
Who live in the US
Aged 25-45
Located in urban areas
And "like" a skincare brand's page
Your ad will be much more successful if it's only shown to those who are interested in your product.
Next, you have to put together the creative. Generally, this refers to:
Some type of imagery or video to display. If you have the means, it's strongly recommended that you use video. Video is a stellar way to demonstrate both the benefits of the product and how to use it.
Ad copy. These are the words used as a headline and/or description of the ad. When it comes to the copy, simple is better. Use the main offer as the headline (Get 10% off this product!), and then the top benefit as the description (This product will [blank].).
A call to action (CTA). More often than not, the ad network has a few pre-made CTAs to choose from like, "Buy Now," or "Read More." The key here is that you link this button directly to the product page. Do not link to your home page. It will lower your conversion rate.
Bonus: Stay organized with an all-in-one booking tool with built-in, inventory management
In general, it's important to use a tool that can help you manage your inventory. Keeping this kind of track of your inventory on paper is basically a full-time job, so it's a task salon and studio owners as well as barbers often shelve, pun intended.
Do your business a favor by digitizing your stock management practices. Rather than keeping records of inventory by hand, use a tool that not just helps you book appointments but also keep track of your inventory. Genbook offers robust features that allow you to sell and manage products with ease. Simply create a product and add it to the customer's checkout process.
Try Genbook for free and see how our platform helps you stay on top of your appointments, services, and products from one convenient system.