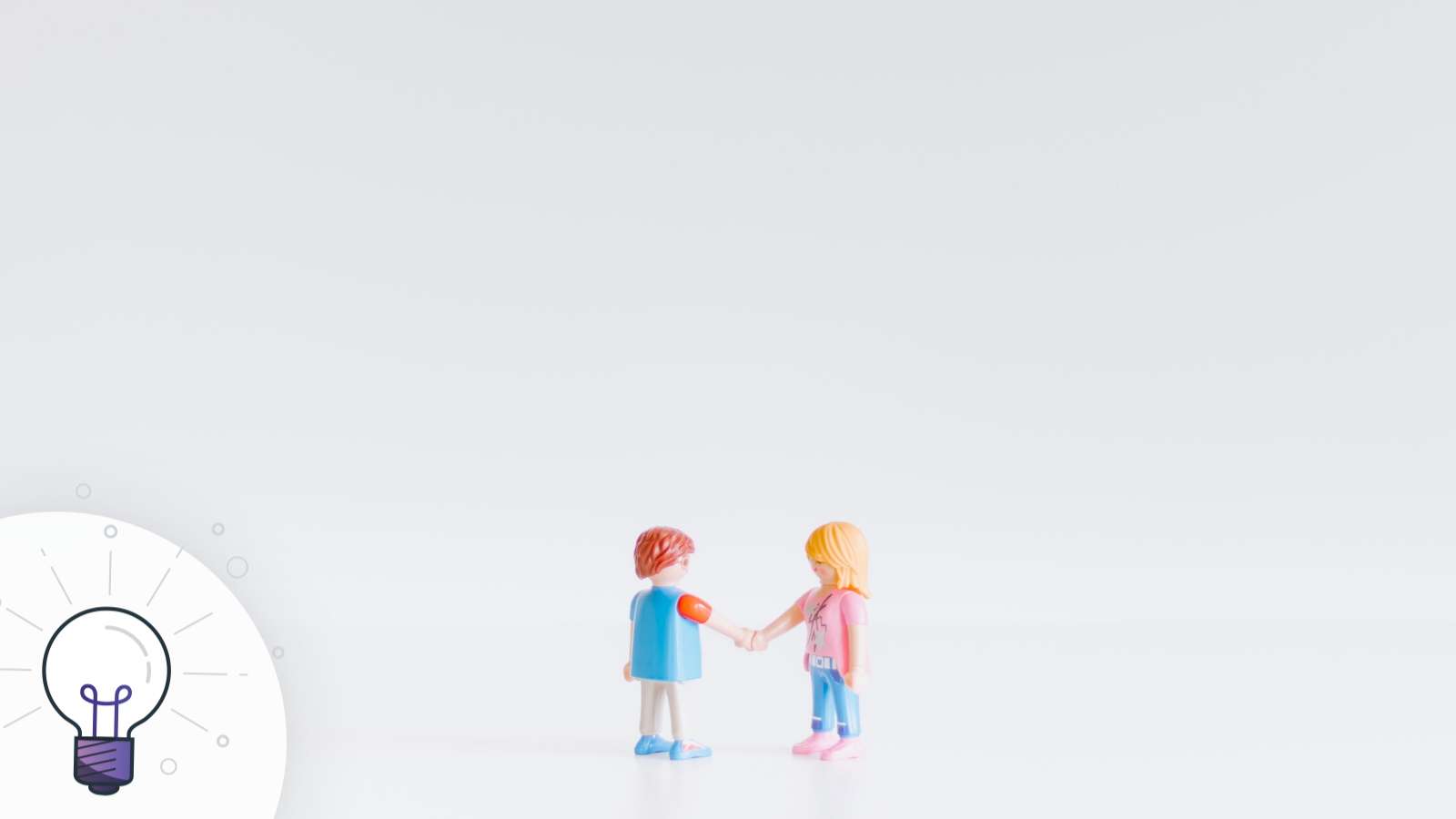 4 Powerful Ways to Build Trust with your Current and Future Clients That Will Accelerate Demand For Your Hair, Beauty or Wellness Business
Building a trustworthy business isn't easy. It takes years' of hard work to be successful, to work on your brand reputation, and get loyalists through the door.
As a hair, beauty, or wellness business entrepreneur, you know this better than us. And while you have an upper hand to build human connections and have trust-based selling, all of it will be meaningless if your clients cannot trust you.
So how can you ensure that your clients—both current and future—trust you and continue to do business with you? In the current climate, it means one thing and that's ensuring the safety of your clients.
In a nutshell safety = trust.
In this post, we'll share with you 4 powerful ways to build trust of your salon, spa, barbershop, or service-based business (while prioritizing safety) with your clients, not just for now but for the future too.
Let's look at them
[or skip below….]
Use third-party validation to build credibility
Update policies & share them extensively
Share authentic content on social media
Seek reviews from clients automatically and encourage them to share it publicly
Use third-party validation to build credibility
Third-party validations are a great way to build credibility and trust in the mind of your clients, and rightly so. When you are a business owner, you are highly likely to speak positively about your own services and the results your clients have achieved.
But when you back it up with third-party validation you provide a neutral route for your clients to assess what you preach. It also provides current clients the much-needed confidence and future clients the right precursor to trust your business.
So what's the ideal third-party validation tool for spa, salon, or barbershop business owners?
The answer is certification.
Displaying certifications at brick and mortar businesses has long been a strategy, but not many businesses tie it with trust. But the truth is it is low-hanging fruit and is rather impactful.
Think about it…
When you see a Doctor's qualification up a wall, you know they are specialized in what the certificate states. That's because what we see serves as proof of what exists and avoids any room for misinterpretation.
Now there are plenty of examples of evergreen certifications that you can display as a service-based small business entrepreneur.
Here are a few below:
a course certification that you've taken from a reputed institution
licenses (if any)
your degree certificates
certification of advanced workshops that you've attended to upskill yourself
But while the certifications mentioned above are evergreen in nature, the current pandemic demands something specific. In other words, a certification that is specifically designed for safety and trust and 'shows' your clients that you've done enough and more to keep them safe.
Let's talk two such certifications
Barbicide certification
As a spa, salon, or barbershop owner you've worked with barbicide (or its associated brands) forever now. The blue-colored disinfectant has been sitting in cabinets and on shelves. To ensure that service-based professionals are well equipped and adept in maintaining safety and hygiene standards once they reopen, the company launched a Barbicide certification.
This free certification is filled with information and insights and one that your business should not shy away from. On completion, you can instantly print your portfolio-ready certificate. Here's an example of it from Tyler Dew—a Genbook customer and the owner of BarberSign Productions Hair Studio, who took this certification when reopening his barbershop.
COVID Business Health Check
Genbook recently launched its Business Health Check which aims at helping service-based business entrepreneurs like you to access your business's revenue, and overall health during this pandemic, but most importantly takes you through a series of safety specific questions and in the end arms you with a personalized action plan.
The best bit? You get a certificate of completion that you can display on your walls and on social media!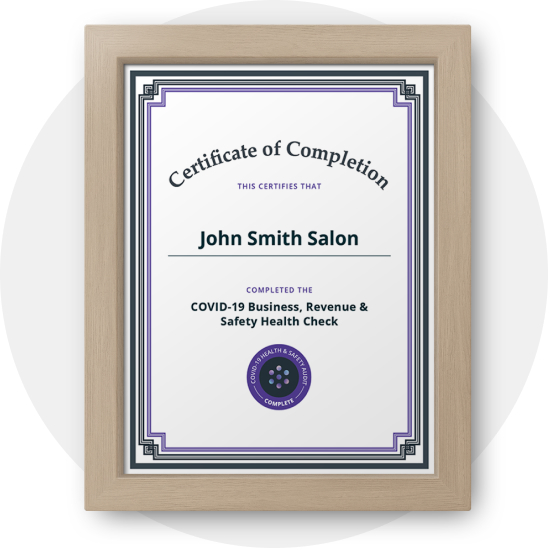 ---
Worried about reopening your business with confidence. Arm yourself with complete back to business plans.
⭐ Back To Business: The Ultimate Guide To Reopening Your Salon, Spa, Barbershop Or Service-Based Business After COVID-19 (With Scenarios & Plan Of Action)
⭐ Barbicide Back to Work Plan (a Thorough Sanitization Checklist)
---
Update policies & share them extensively
Many service-based small businesses have got internal processes and policies, but in most cases, these aren't documented.
You may think that you don't need them, but the truth is that you do. Documented policies have tremendous benefits—they provide structure and they set you up for success. Written policies are official, but the most important benefit of a documented policy is its ability to educate your clients about where you stand and letting them know that these policies are for everyone.
So whether it is a no show policy or a cancellation policy, a documented policy helps your clients know what's accepted and what's not.
This is another way to build trust.
But here's the thing…
Documenting a policy is one thing, sharing them with your clients in another.
Your clients want to see your safety measures in action to believe it. That's what will build trust in their minds and that's what will influence them to continue booking appointments with you.
And there are a few different ways to relay your policies:
Print your policies, get them laminated, and display it on your reception or waiting lounge
Your reception or waiting lounge is where your clients wait for their receipts, a quick chat, or product purchase, making it an ideal place for them to look at your policies. So make use of that spot!
Share your updated policies regularly with your followers on social media
Not sure what to post on social media? Well, how about sharing your policies on Instagram or Facebook from time to time?
Share your policies on your booking page
If you are a Genbook user you can do this easily through the general announcements feature. Here's an example of it in use by Stylez by Key.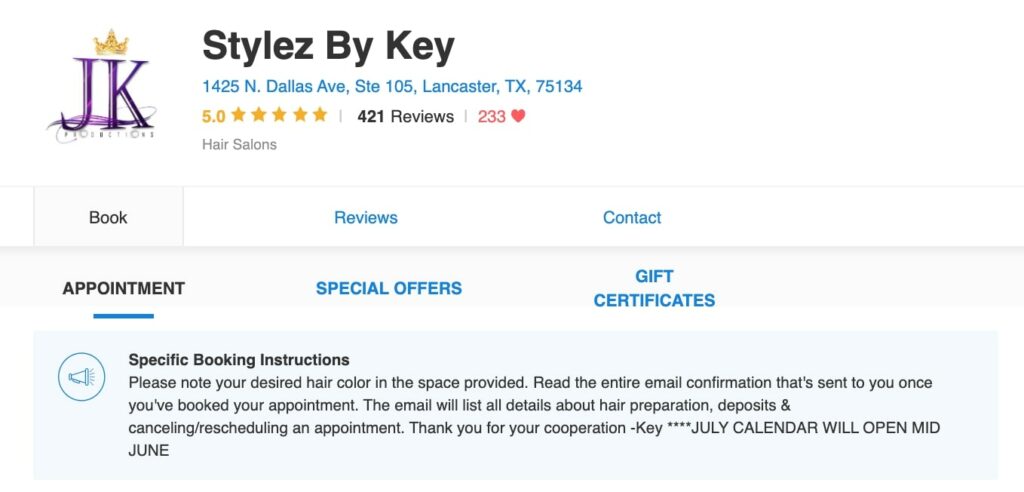 When it comes to policies, you need to reinforce them multiple times and through multiple channels, to make it trustworthy and effective.
Share authentic content on social media
When you're in the grooming or beauty business, you well know the power of social media. With billions of users hooked on these social media channels, having a presence on these channels will not only help you tremendously in showcasing your work and building your personal brand but also in booking clients directly from Instagram book now button and Facebook book now button.
But to be able to succeed on social media, you need to feed them content that's authentic and identifiable.
This is another way to reach your clients and build trust through the visual medium.
Successful Genbook users and Instagram influencers such as Nicck Townsend, Tyler Dew, and Youssef Barber know the value and power of authentic content and routinely take their audience behind the scenes to show the ins and outs of their business, what they do to boost business experiences and the steps they are taking to keep their clients safe in today's environment.
Here's an example of Olivia Smalley, another Genbooker and a hair influencer using Instagram as a platform during the current pandemic to 'speak' to her clients.
See how this content evokes trust?
Having a conversation with your clients when they visit you isn't enough, you need to ensure that you are building trust with them each day.
Seek reviews from clients automatically and encourage them to share it publicly
When was the last time you tried a restaurant or bought from an online shopping portal without checking a review or rating? The chances are negligible. According to BIA/Kelsey and ConStat 97% of people read reviews for local businesses to shop locally.
The same is true for your clients as well. When booking an appointment at your spa, salon or barbershop for the first time, they are bound to scan your business online as well as look at reviews of it on various local business sites such as Yelp and Google, to name a few.
And while reviews build social proof for your business, they make it easy for your clients to trust your business. That's why it is important for you to encourage your clients to share reviews, more so during this pandemic to show how safe they felt in your barbershop, spa, or salon.
Here's an example:

Getting authentic reviews can be a challenge, but not when you're using Genbook. Through Genbook you can get online business reviews and display them on your booking page with ease.
All Genbook reviews are verified. You can review them before publishing and even have the option to feature the best feature or favorite review on your booking page, as a featured review on your app as well as on the dedicated reviews page.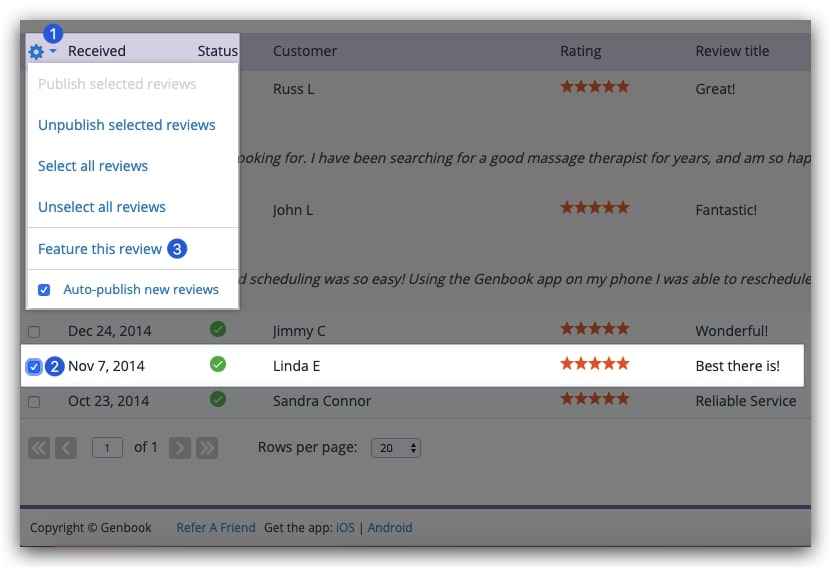 And if you have a website, you can also use the read Verified Customer Reviews button on your website.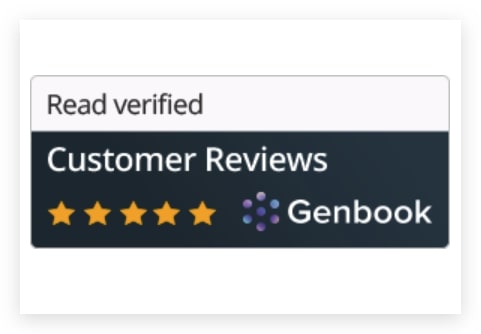 Reviews are a great channel to build trust in your client's mind and that's what will influence them to continue booking appointments with you.
Wrapping it up
There you have it! 4 powerful ways to build trust and accelerate demand for your hair, beauty or wellness business—not just for your current clients but also for your future ones.
Here they are once again:
Use third-party validation to build credibility
Update policies & share them extensively
Share authentic content on social media
Seek reviews from clients automatically and encourage them to share it publicly
So which one are you going to give a try and which ones are you already implementing?
Looking for more ways to boost your business and growth tips at your disposal? Sign up for Genbook's newsletter.