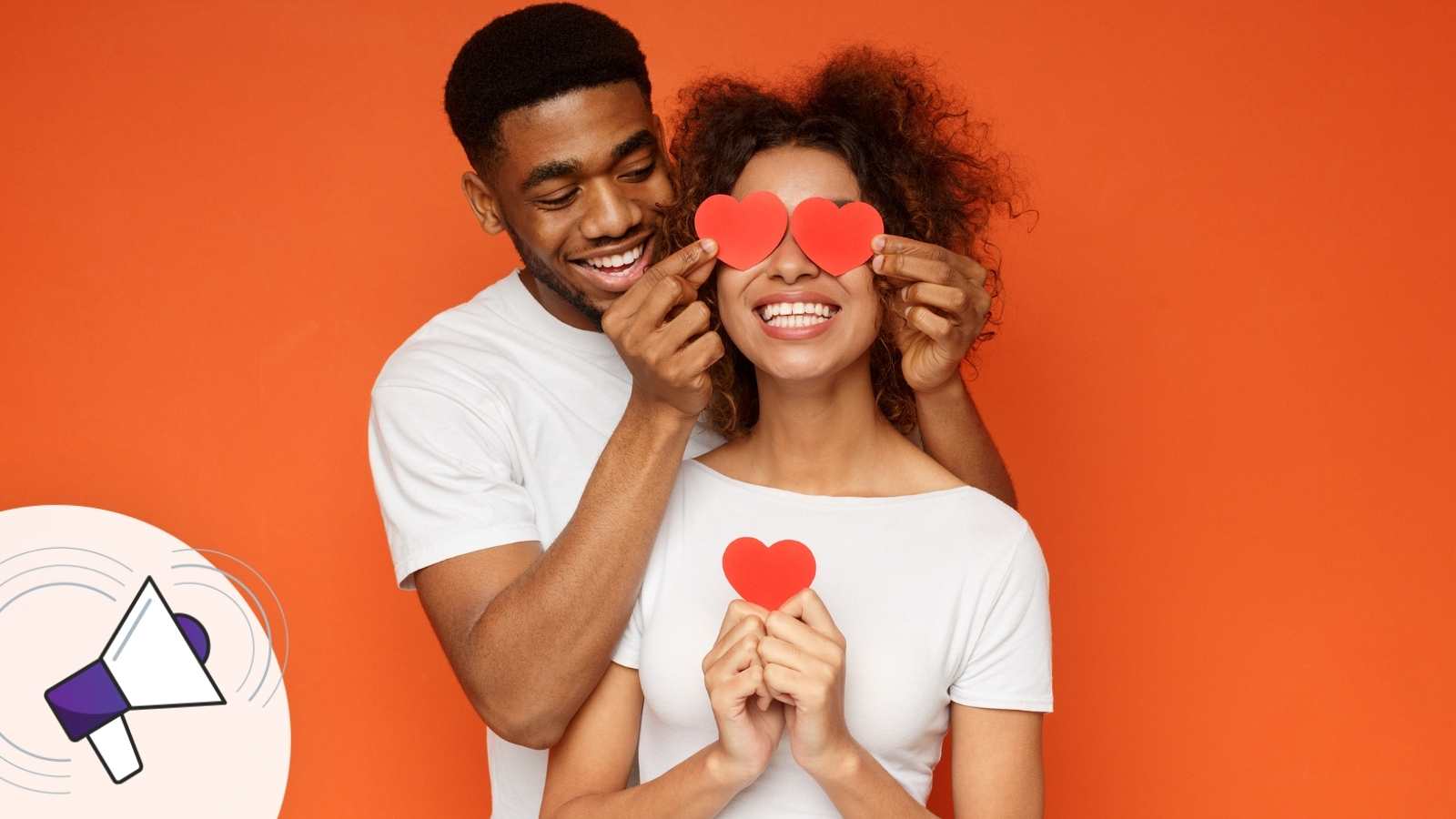 15 Valentine's Day Marketing Ideas to Maximize Bookings and Sales at Your Salon, Spa, or Barbershop
Valentine's Day.
This is a holiday that conjures up a range of emotions and opinions. While a lot of folks look forward to February 14th, others may feel that the day has become too commercialized. And while some people are eager to spend it with their special someone, others prefer to spend it with their friends or to use Valentine's Day as an opportunity to treat themselves.
Regardless of how you feel about it though, there's no question that Valentine's Day is one of the biggest consumer events of the year. According to the National Retail Federation, spending around this holiday is expected to hit $21.8 billion in 2021.
And a growing trend around Valentine's Day is the preference for experiences over "stuff." A study cited by Entrepreneur found that 39% of people prefer "the gift of experience."
This is great news for service-based businesses like salons, spas, and barbershops because you specialize in offering experiences that make people feel good about themselves.
That's why with February 14th just around the corner, it's high time to cook up Valentine's Day promotion ideas for your business.
To help you do just that, here are 15 tips and ideas you can implement around Valentine's Day.
Table of contents
Valentine's Day Marketing Ideas to Consider for Your Business
1. Implement a "couples" special
Couple-centric offerings are a classic in the wellness and grooming realm. Couple's massage services, for example, are a staple at spas. So if you're offering such services, now is the perfect time to highlight and promote them. Consider putting together a package that two people can enjoy, then bundle up Valentine's Day extras like strawberries, champagne, etc.
Also, remember that couple-centric initiatives don't always have to involve romantic partners. Make sure you offer packages that any two people can enjoy.
Tomoko Japanese Spa in Beverly Hills, for example, offers a luxurious couple's massage complete with a scrumptious sushi meal for two. What's cool about the package is that it's offered to all types of couples, so clients can enjoy the experience whether they're with a romantic partner or one of their girlfriends.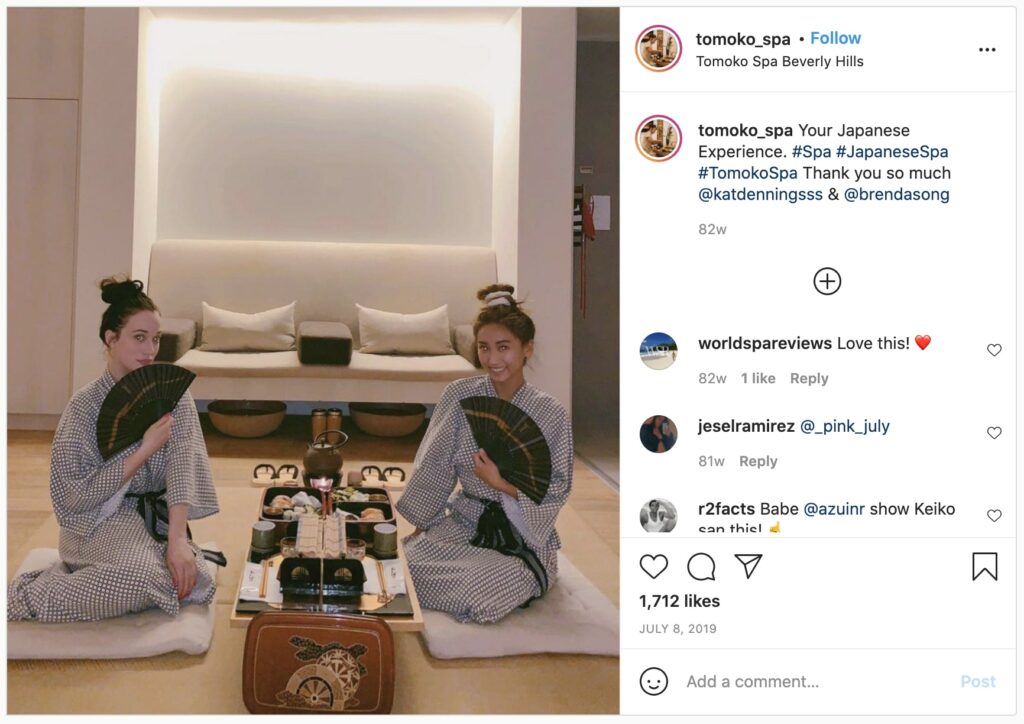 2. Consider a Galentine's Day angle
Galentine's Day — which falls on February 13 — is a day dedicated to gal pals. Popularized in 2010 by the show Parks and Recreation, Galentine's Day is all about "ladies celebrating ladies." And while it started out as a fake holiday in a sitcom, people and brands alike have embraced the holiday, and it continues to grow in popularity.
If you have a lot of female clients, Galentine's Day presents a great marketing opportunity. See if you can put together an event encouraging your lady clients to get together at your salon or spa.
Perhaps you could set aside time slots in which a group of friends can all come in to get their hair or nails done. Maybe you could set up a hairstyling party where guests can get soothing treatments.
The key is to create a fun event that encourages people to bond.
Have a look at what TReSs Apothecary + Salon did in 2019. The salon held a Galentine's Day pop-up that featured a host of activities that clients can enjoy, including lipstick readings, wine tastings, and more.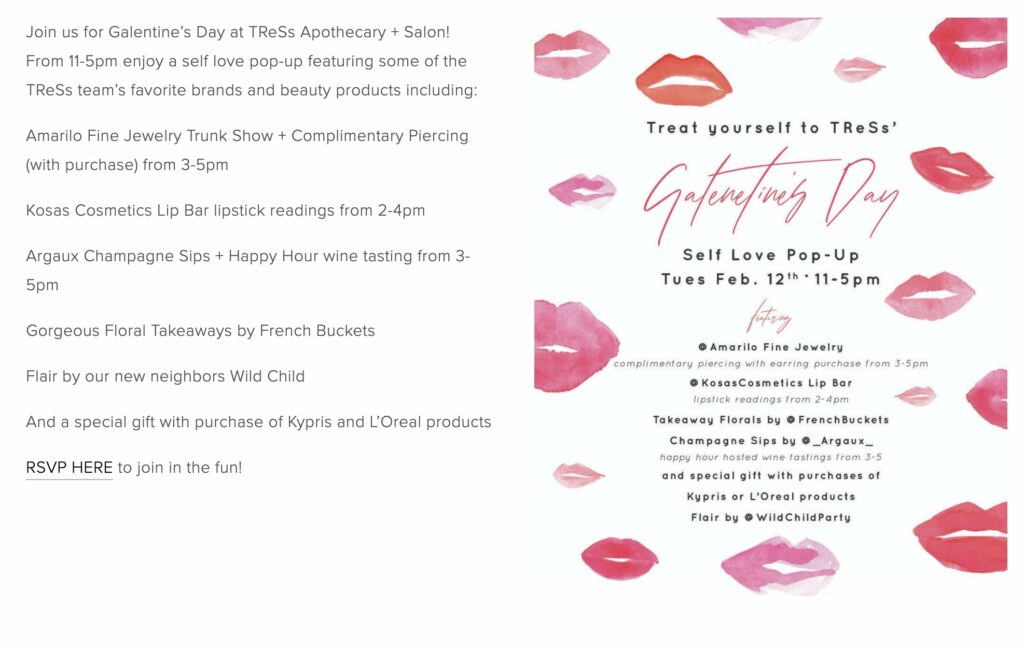 3. Encourage self-love
Another angle that you can leverage around Valentine's Day is the notion of self-love. Now is the perfect time to remind clients to treat themselves.
Birchbox is doing just that. The beauty company is encouraging people to "be your own secret admirer this V-Day." Birchbox recently sent an email talking about how customers should make some moves feel good about themselves. (And as a bonus, the company even threw in a discount on its subscriptions.)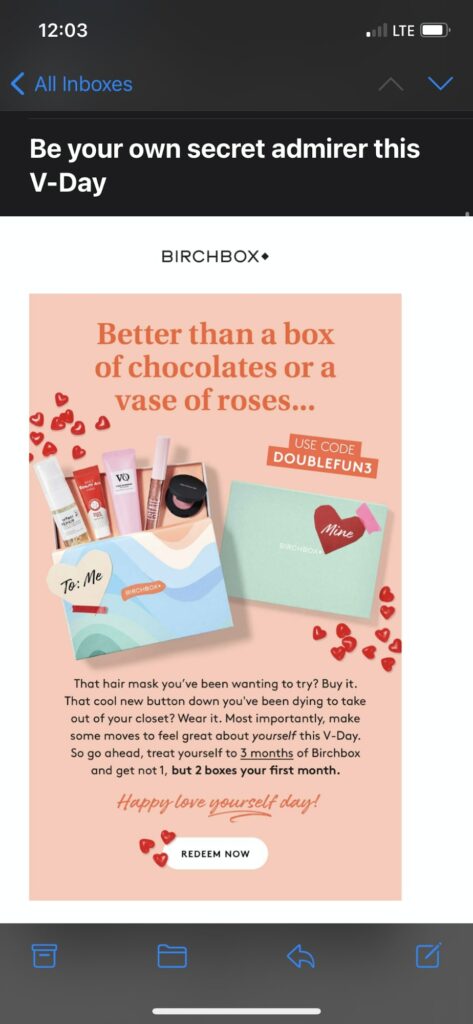 The same angle could work for your salon, spa, or barbershop. Depending on your business, you could create a self-love offer or bundle consisting of products and services that encourage clients to spoil themselves on Valentine's Day. You could do a more general promotion like a fixed discount on all your services or a freebie when they purchase certain self-care items.
4. Don't forget about your male clients
There may not be a day specifically for "bros" but that doesn't mean that your male clients won't appreciate Valentine's Day offers. If it makes sense for your business, craft messaging that speaks directly to your male consumers.
There are a number of ways to approach this. One idea is to talk about why men should treat themselves too (and why your services or products are a great way to do it.). If you are a Genbook user you can use one of the blank email templates (using the Smart marketing feature) in your account to relay this message.
Another angle is to speak to men shopping for Valentine's Day gifts for the women in their lives. In this case, you can position your products and services as the perfect V-day present for their partner, mom, daughter, etc.
5. Create a limited-edition Valentine's Day special
Get creative and come up with a special V-day service that's only available for a limited time. You could take one of your signature services and infuse it with Valentine-centric ingredients or components.
One of the keys to making this work is to instill a sense of urgency or scarcity. By limiting the availability of the service to certain days, you'll encourage people to book ASAP.
We can see this in action in the following promotion from Larchmont Sanctuary Spa. The offer, which is only available on February 12, 13, and 14, comes with a 90-minute couples massage with chocolate covered strawberries and champagne.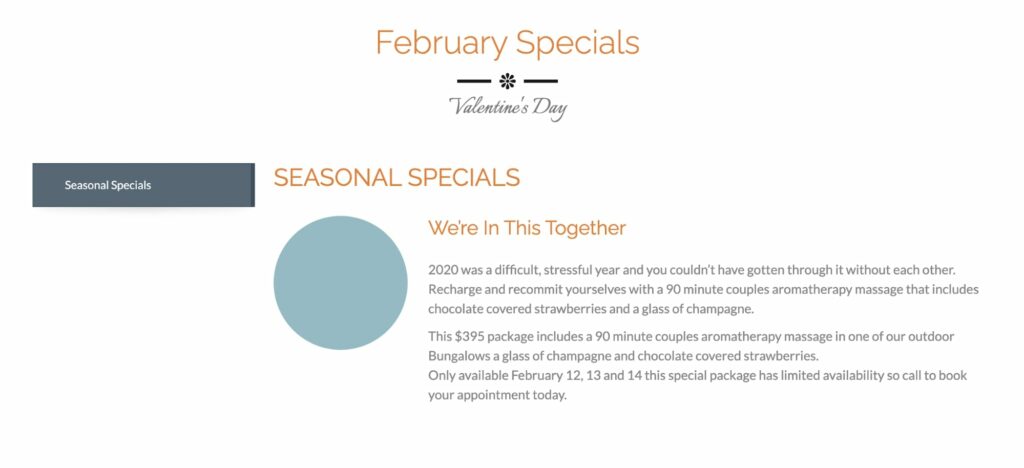 6. Offer something people can enjoy at home
If your business is dealing with COVID-19 restrictions, you'll need to get creative and offer a Valentine's Day special that clients can enjoy at home. Some of the ideas presented above (Galentine's Day, self-care, etc.) can be repackaged as home treatments.
You could, for instance, put together a literal self-care package that includes products that clients can use to pamper themselves. Use your booking page to share the link to your online store, where your clients can buy these products easily.
7. Figure out the right Valentine's Day promotion
There are numerous types of promotions you could implement around Valentine's Day, and the right offer depends on your objectives. If you're trying to decide on the best angle, discount, or initiative to run, take a look at your current business goals and find a promotion that's in line with what you want to achieve.
For example, if you're looking to move slow-selling stock, then perhaps a V-day-centric BOGO (buy one, get one) offer is the best option. Are you trying to get existing patrons to come back and boost client loyalty? Then run a promotion specifically geared towards people who've booked with you in the past.
Remember, seasonal initiatives like Valentine's Day promos can be extremely effective in driving appointments and sales — but only if you implement the right type of offer.
So, instead of offering a discount "just because" it's Valentine's Day, ensure that you hash out your marketing objectives and iron out the right promotional strategy.
8. Design a love-ly salon or spa environment
If your business is doing something for Valentine's Day, make sure the environment of your spa, salon, or barbershop is in on the program. Purchase some V-day decorations such as flowers or balloons and display them in your shop.
Consider creating a Valentine's Day playlist to set the right mood. This is especially important for offers that have a lovey-dovey theme. If you're doing a couple's massage for romantic partners, for example, having sweet or loving music can enhance your clients' experience.
9. Market your gift certificates
While you should be marketing your gift certificates all year round, Valentine's Day gives you a compelling reason to promote them even more. As one of the top gift-giving days of the year, now is an excellent time to remind clients that you sell gift cards, and that giftees can enjoy your services on Valentine's Day and beyond.
If you sell physical gift cards, use a V-Day themed-design or place them in nice-looking boxes that are appropriate for the holiday.
10. Create Valentine's Day-centric social media content
Take some time to compose Valentine's Day content for social media. (And no, we're not just referring to V-Day promo content, as this should be a given.)
Craft content that celebrates Valentine's Day. Perhaps you could come up with a post reminding people to express their love. Or, you could grab this opportunity to thank your clients for the love that they've shown your business. Whatever the case, make sure it comes from the heart.
Last year, the hair salon Fox & Jane shared a handful of lovely messages from clients, along with a beautiful Valentine's Day message reminding people to take care of themselves.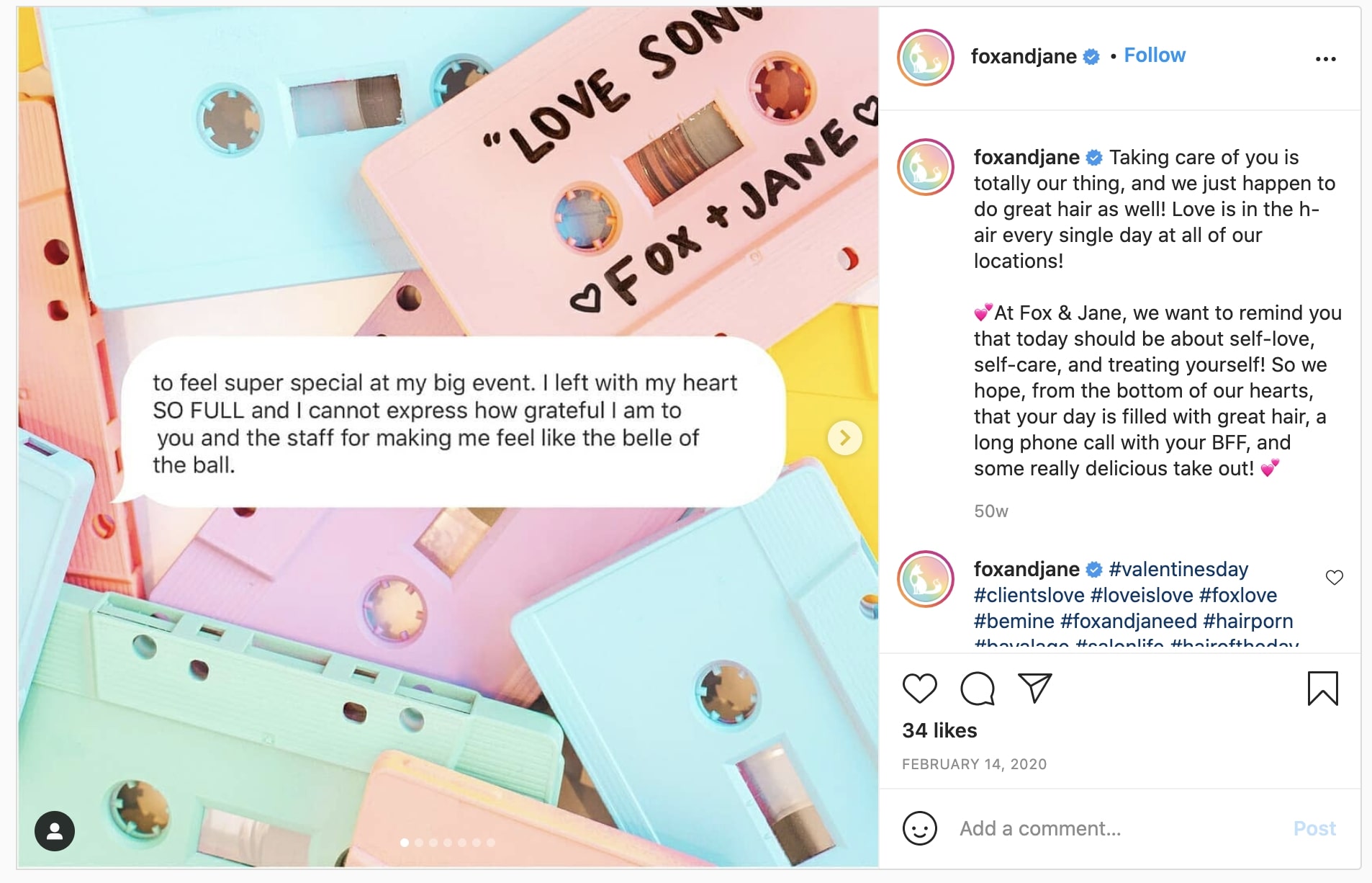 11. Make sure all your client communication channels are covered
Once you've come up with the right Valentine's Day angle and promotion, get the word out to your clients. This could mean sending them emails, SMS messages, phone calls or all of the above.
The key is to cover the relevant platforms on which your clients want to communicate. So, if you have clients who are subscribed to your emails, make sure to send them a V-Day-themed message. Do some people prefer SMS? Drop them a line via text.
One example of a brand that covers all its communication bases is Paper Source. This year, the company used both email and SMS to market its V-Day offerings.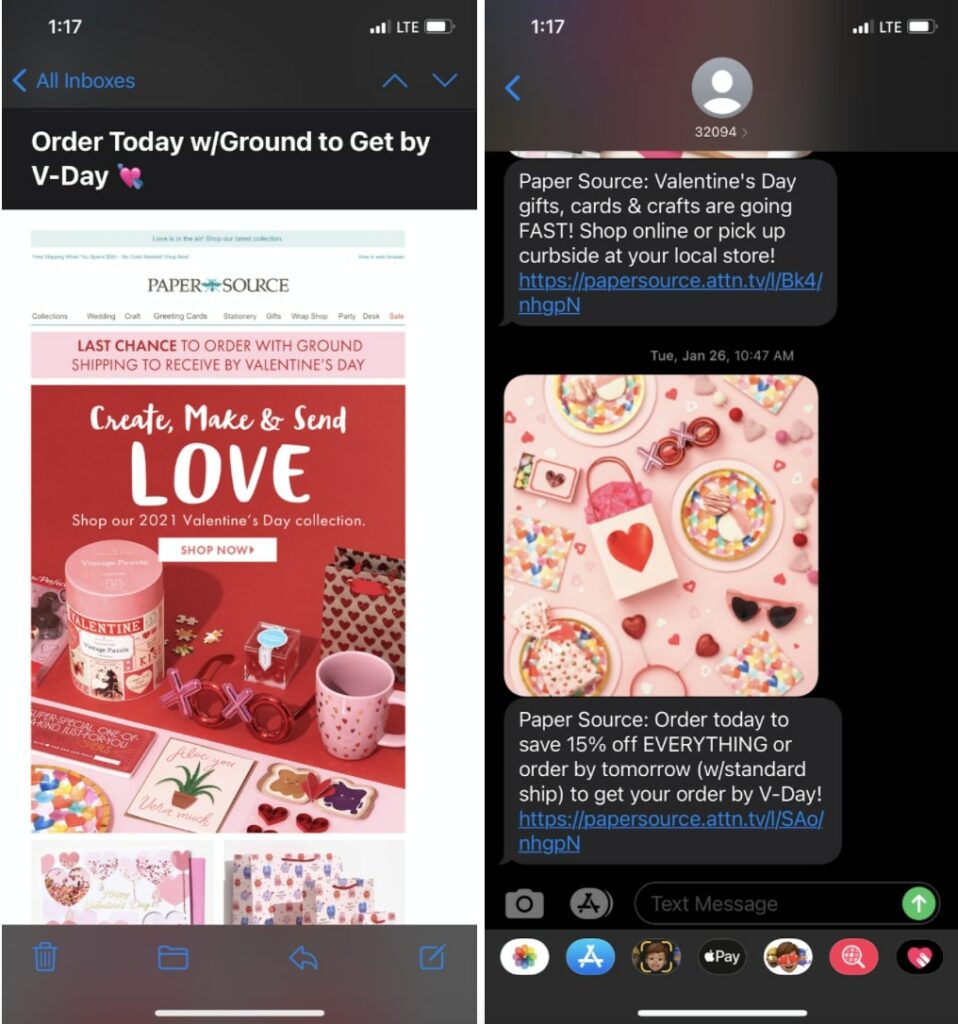 12. Have your team members talk up your V-Day initiatives
If you're running Valentine's Day offers, keep your team members in the loop, so they can then keep your clients informed. It's best to encourage your employees — technicians, stylists, aestheticians, and even your receptionist — to talk up your Valentine's Day promotions.
While a stylist is administering the service, they could ask clients what their plans are on Valentine's Day, then mention the things that the salon is doing. Or a receptionist might be able to mention the packages that you're offering or even book the client for a Valentine's Day service right before they leave.
There are plenty of opportunities to talk about Valentine's Day during a client's visit, so make sure your team knows about your initiatives so they can bring them up at the right time.
13. Share educational content
Your clients already see you as a beauty and wellness expert, so leverage your influence by sharing educational content around Valentine's Day. Topics could range from V-Day makeup tips to self-pampering ideas.
You want to make the content useful and informative, though it doesn't hurt to subtly mention your services. Just don't overdo it and see to it that you're educating them in the process.
Gain some inspiration from this Valentine's Day makeup tutorial by Stephanie M. Ledda. In the video, she takes the time to walk viewers through each step of her makeup process and she shares a lot of useful details about the products that she's using.
14. Make people laugh
Laughter is a great gift to give on Valentine's Day, so why not give your audience just that? Don't be afraid to poke fun at the holiday. Share memes, create humorous posts, or even film funny Valentine-themed content. This could be a great way to get your V-day messaging to stand out.
Check out this Valentine humor post from Aviva Kamander, a licensed clinical social worker who promotes self-development for adults.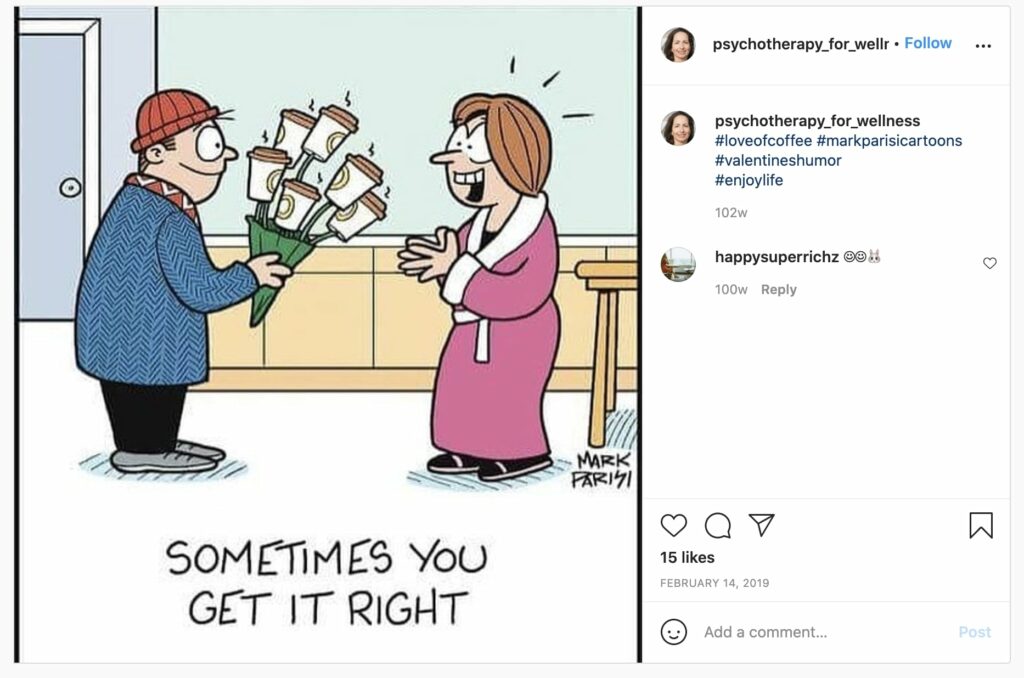 15. Use your booking portal to spread the word
If you let your clients schedule appointments online (which you totally should), display a message on your booking page announcing your Valentine's Day initiatives. This is an effective way to spread the word and inform clients about your offers right as they're about to book.
Pro tip: Did you know Genbook offers a bulletin-style Announcement feature for your booking page? You can easily add or edit your announcements by going to the "Settings" section of the software. Be sure to utilize this on Valentine's Day and beyond to ensure that your clients never miss your updates and promos.
Take your salon, spa, and barbershop marketing to the next level
Valentine's Day is just one of the many marketing opportunities you can leverage throughout the year. At Genbook, we want to help you get in front of more people so you can attract clients and sales.
One tool that can help you do just is our Instagram Growth Pack, a free resource that can help you double your Instagram appointment bookings, engage clients, and grow your following. Download it today.