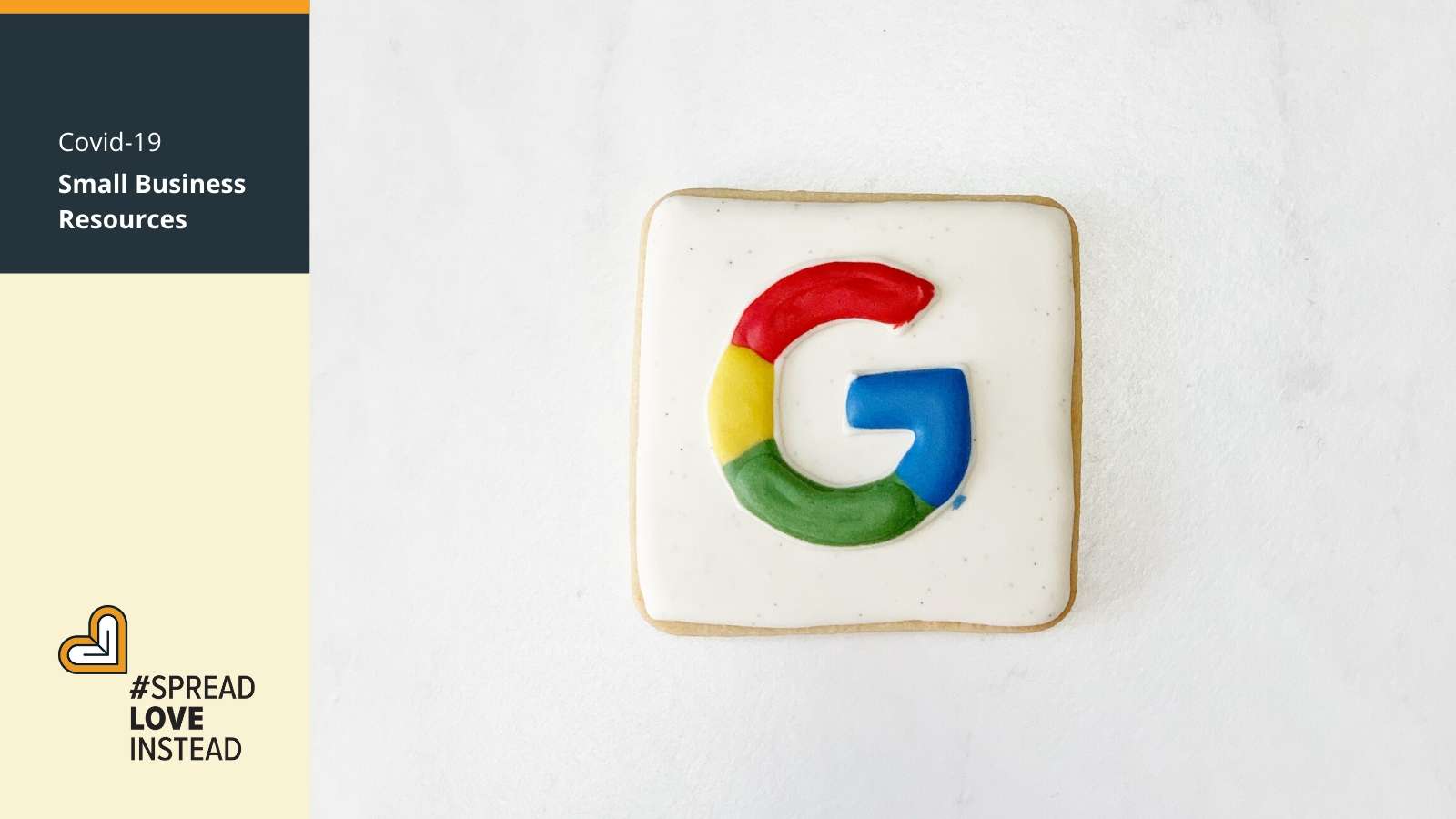 What is Local SEO and How Barbers, Spa, Salon & Wellness Businesses Can Use it to Boost Visibility During COVID-19?
Small, local businesses like you are the ones taking the most severe hit during COVID-19—there's no debating it.

That's why it is more important than ever to use this time and work on areas in your business that don't get much attention. Local SEO is an example.

So, what is local search and why's it important, you ask?

Whether you operate a barbershop , spa or salon , ranking high in local search is crucial— afterall 97% of consumers use search to find a local business online and 46% of Google's searches are local.

Yet, 56% of small businesses haven't optimized their local search. This is where they are leaving money on the table.
If your business isn't optimized for hyperlocal search, you are shooting yourself in the foot. Not only will your new potential customers have issues finding you, but your existing ones will be confused as to how your business operates during the coronavirus crisis.

This is why investing in local SEO should become an important part of your strategy, no matter where in the world you are, literally.

In this post, we'll lay out everything about local SEO—What it is, why it's important and tips that you can apply to now, during the pandemic, to help your small business stay afloat and eventually thrive.

Let's dive in.
What is Local SEO?
Have you noticed:

When you're searching for "barber shop", Google autocompletes it to "barbershop near me"?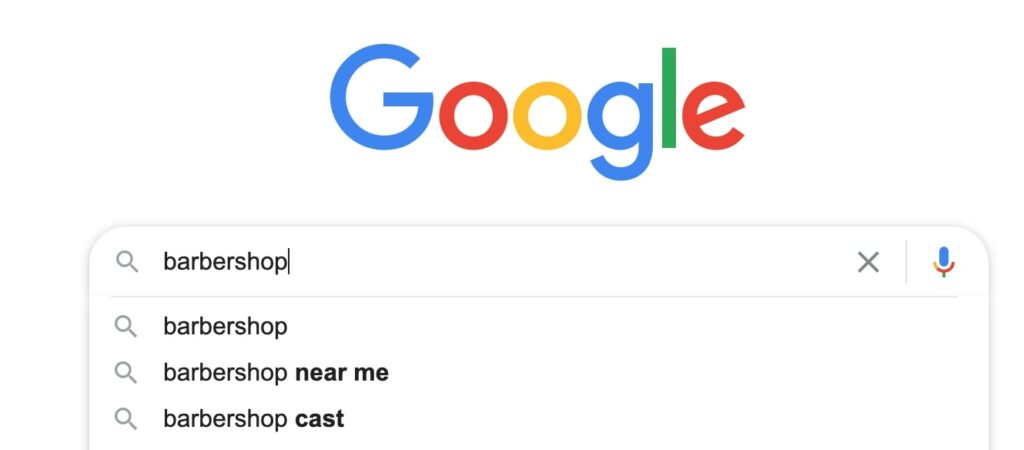 Local SEO refers to promoting the visibility of your spa, salon, wellness center, or barbershop on location-based searches.
These searches are not limited to Google alone but can be anything from Bing to Apple Maps.
The three main factors used by Google to rank pages are proximity specified by the searcher, relevance of your business to the search term, and prominence of your business page ranking.
Why is local SEO important for your salon, spa, wellness center or barbershop?
Small business owners can benefit greatly from local SEO and now, in the times of COVID-19 crisis and lockdowns, it's what can help them survive and come out of it stronger.

Here are the top three advantages of having your small business optimized for local SEO.

Visibility

Local SEO helps potential clients discover your business organically.

When optimized right for local SEO, your business appears in the first three results that pop in a box is called "local 3 pack" (also referred to as Snack Pack by Google).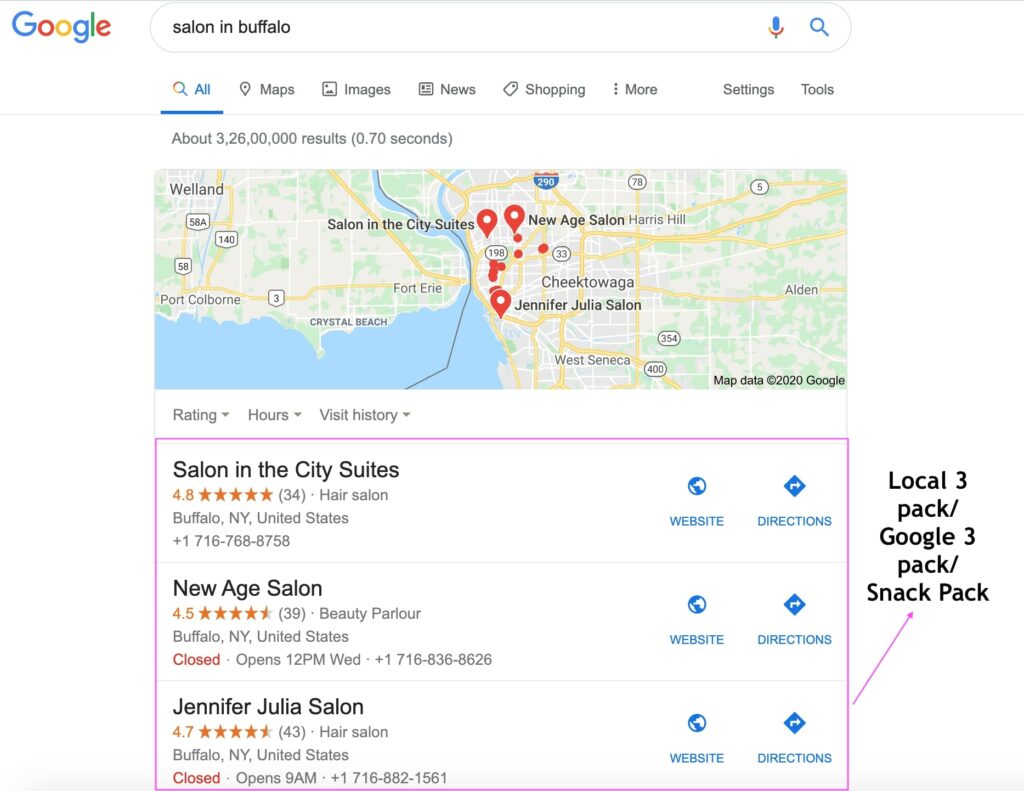 About 93% of the time, the Snack Pack results is one of the first things a searcher sees when they're looking up a service such as a spa or wellness center online.

A Snack Pack ranking involves all the three factors—proximity, relevance, and prominence — mentioned before.

Your business can still appear in the Snack Pack even if you don't have a website, provided it is well-optimized.

For example, nowadays, there are plenty of clients searching for home-based hair cut options. With so many of them in quarantine, barbershops ranking higher in Google stands a chance of attracting new customers who cannot leave the house and have to rely on home-based services.

The results are also geo-targeted so depending on how close the person searching for a local venue is, the higher the chance that these nearby places will pop-up in Google.

Also, take a look at the upward trend for the term curbside pick-up —an option offered by many small businesses selling retail inventory after implementing the regulations related to limited numbers of people in public places.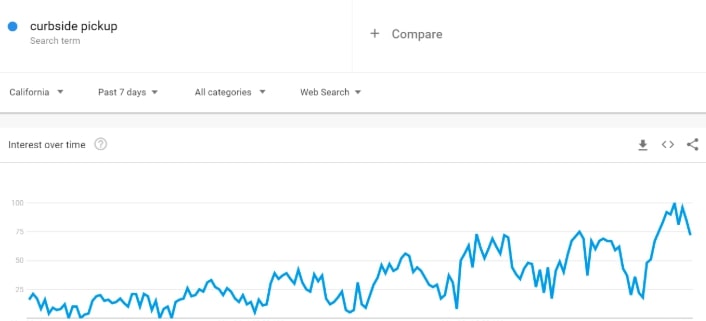 As you can see, the opportunity seems to be waiting just around the corner. Use it well.

Trustworthiness

When your business shows up on the first page or the 3 pack local SEO, it is deemed trustworthy and credible without a doubt.

75% of consumers never go beyond the first page of search engines. You know what they say about hiding a dead body in the second page of Google, right?

This is why it is so crucial to collect positive reviews from your customers (I write more about it later). Thanks to them, it's easier for your potential customers to make a decision to purchase from you. Some businesses go as far as giving away free stuff in exchange for a client's review.

Economical

Local SEO ensures you do not have to pay extra for advertising costs to promote your small business.

Turns out small businesses spend up to $50,000 in advertising costs annually.

For example, thanks to ranking on the first page of Google, you save yourself the time and money otherwise spent on having to use social media or advertising to reach your customers with all updates related to covid-19.

Google allows you to inform about the changes in a form of a COVID-19 update.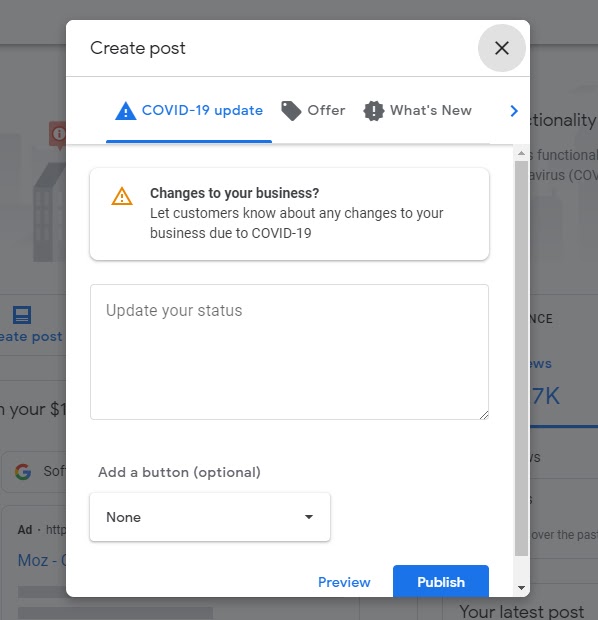 The best part is that with all the effort you invest into improving your SEO strategy now will also be paying off in the future. Compared to running ads, local SEO is more effective in helping you to get your business up in the local search results.

Now, let's see how you can leverage its power for your business advantage during this time of global crisis.
Local SEO tips that you can apply right away during COVID-19 pandemic
I've put together a short list of steps you can take in order to get your local business ranking higher in Google and react to the COVID-19 situation in the most effective way. Let's get started with the basics.
1. Register, claim or update Google My Business profile
If you haven't done it yet, now it's the time to act. Go and get your business listed on Google My Business. GMB is a free tool from Google that helps small businesses like yours manage how customers find you on Google search results and Maps.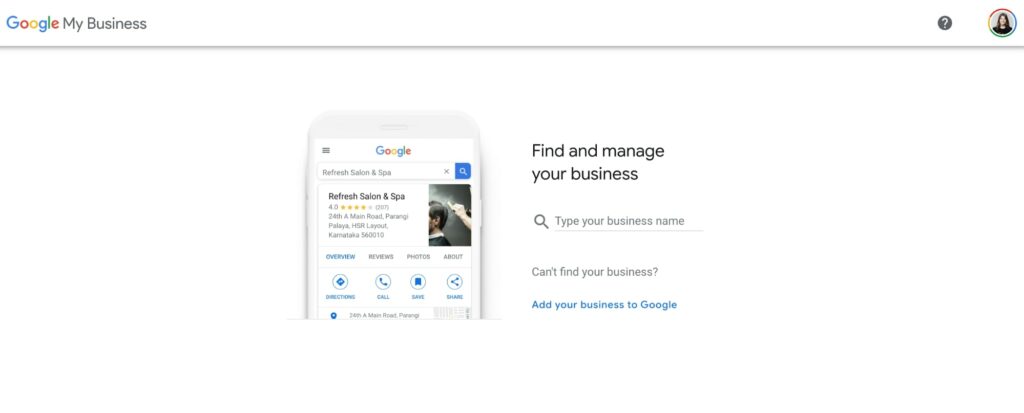 When set up and optimized properly, GMB generates more traffic, leads and, eventually, sales for your business.

If you do not have a GMB page, here's how you can create one. If your small business is listed already, you must claim it immediately to avoid duplicates and confuse SEO.

You can also use Google Posts on your GMB to promote events, coupons, sales, etc. These are like posting a status on social media—short and temporary.

Now, this is also a good place to inform your customers' about how your business operates during the pandemic – whether you are open and which days you are operating and so on.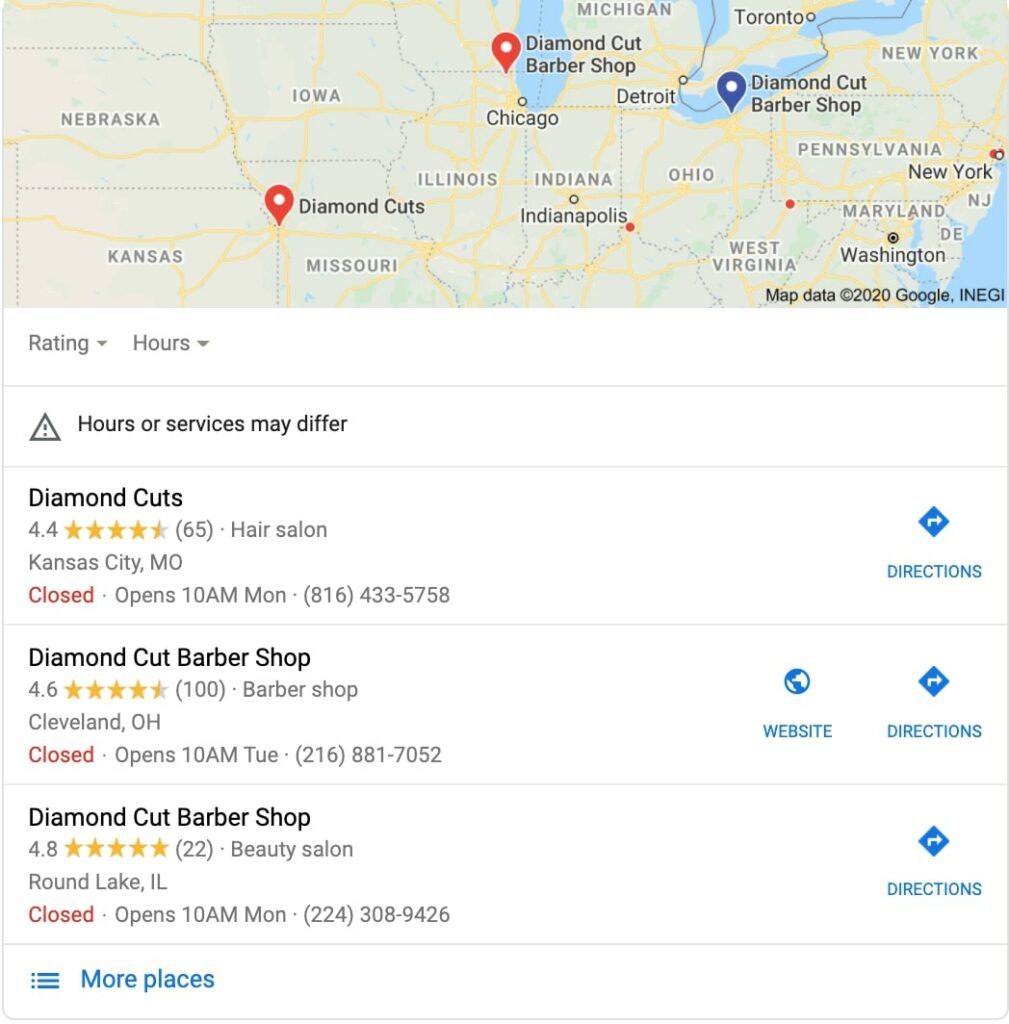 Here's a great video with a practical guide to updating GMB profiles for COVID-19.

2. Review Name, Address, Phone Number (NAP)
We saw in the earlier section that one of the factors Google uses for local SEO is the proximity of the search, which is why updating NAP on your website, GMB, social media profiles, and local directories becomes extremely important.

Here's what you should pay attention to during the COVID-19 pandemic.

Name

Now, Google also allows businesses to edit their business name field – informing customers of the kind of service you provide – takeout, pick up or delivery. For example, if your name was "Pizzeria Pecorino", you can now temporarily change it to "Pizzeria Pecorino – Delivery Available"

Phone number

Depending on how your business is operating at the moment, you should update your phone number in order for your customers to be able to reach out to you. Make sure to also update it in all footers, headers or sidebars on your website.

During the COVID-19 crisis, Google recommends you to download the Google My Business app and turn on messaging. It's a way to help your customers reach you. Messaging can help customers get the support they need when they try to contact you outside your business hours.

Hours of operations details

Lastly, make sure to update your hours of operations if they have changed. If you are not sure, how exactly will your opening hours look like, you can take advantage of Google's "special hours setup". This allows you to schedule business hours for the times when your business might not operate as usual.

Moreover, Google had recently rolled out the "temporarily closed" button in the "Info" tab on the dashboard. It was clarified by Danny Sullivan that using this button should not impact your Google rankings.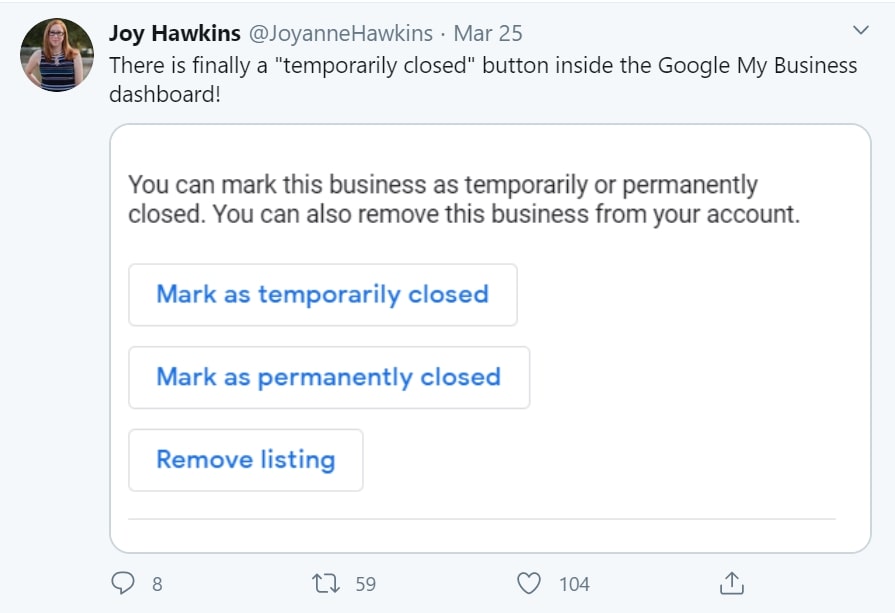 3. Get listed in online directories and inform about COVID-19
Online business directories like Yelp, TripAdvisor, Foursquare, Yellowpages, etc. are useful for finding new clients for your business. Isn't that the ultimate intention of local SEO for small businesses?

They also send indirect signals to Google that your small business is a local authority (proximity) within the category it is listed in (relevancy), and they will help garner more positive reviews (prominence). Since all the three factors are covered, Google ranks your small business page higher.

For COVID-19, make sure that your listings are updated, especially on Yelp. There are various tools that you could use to manage local listings instead of spending hours on doing that manually.

Yelp has introduced the "temporarily closed" field that you can use for the coronavirus crisis. You have to indicate the estimated end date for the status to disappear. Moreover, it's possible to add special opening hours.

Note that Yelp suggests that "businesses that are still offering online, should not mark themselves as temporarily closed." Instead, they should use the specially designed COVID-19 banner to inform about any changes.

Here's how it looks: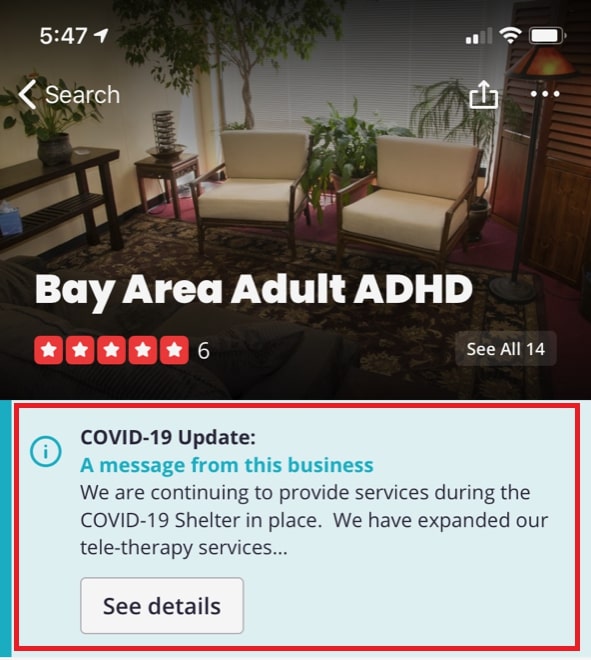 4. Optimize for Google Maps
Google Maps is an important factor for local SEO.

If your spa business has multiple locations, create a different page for each location.
When adding your business to Google Maps, don't forget to mention operating hours, add an appointment scheduling link, and keep it as accurate with all details as needed.

If you are a Genbook user, you can easily connect your scheduling page to the Google Business pages and Maps listings, allowing clients to see your schedule and book appointments right from Google.

In short, this integration allows your customers to book their appointments right from your business's listing in Google Search on both Desktop and Mobile devices. Your listing will also be displayed in relevant Google searches for your services and business type in your local area.
Customers can select a service category, service, and even a staff member, directly from Google. Booking your services only takes a couple of clicks!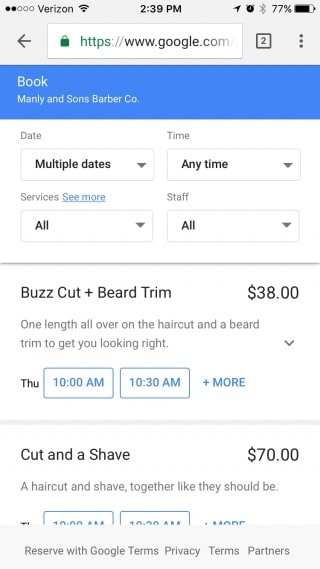 5. Encourage customers to leave reviews
At the beginning of COVID-19 outbreak, Google temporarily disabled the reviews on 20th of March. They wanted to delay their publication in order to moderate them better and wait until things are back to normal.

However, on the 7th of April they announced that the review response has been restored for older opinions. Google's update was meant to help pages with limited functionalities due to COVID-19. Over the coming weeks, new user reviews, photos, and Q&A will be available and expanding. And we've already noticed some of them appearing for a few listings.

Truth is, a small business thrives on reviews. Reviews are also strong signals for search engines—they project that your business is trustworthy and an authority in your industry.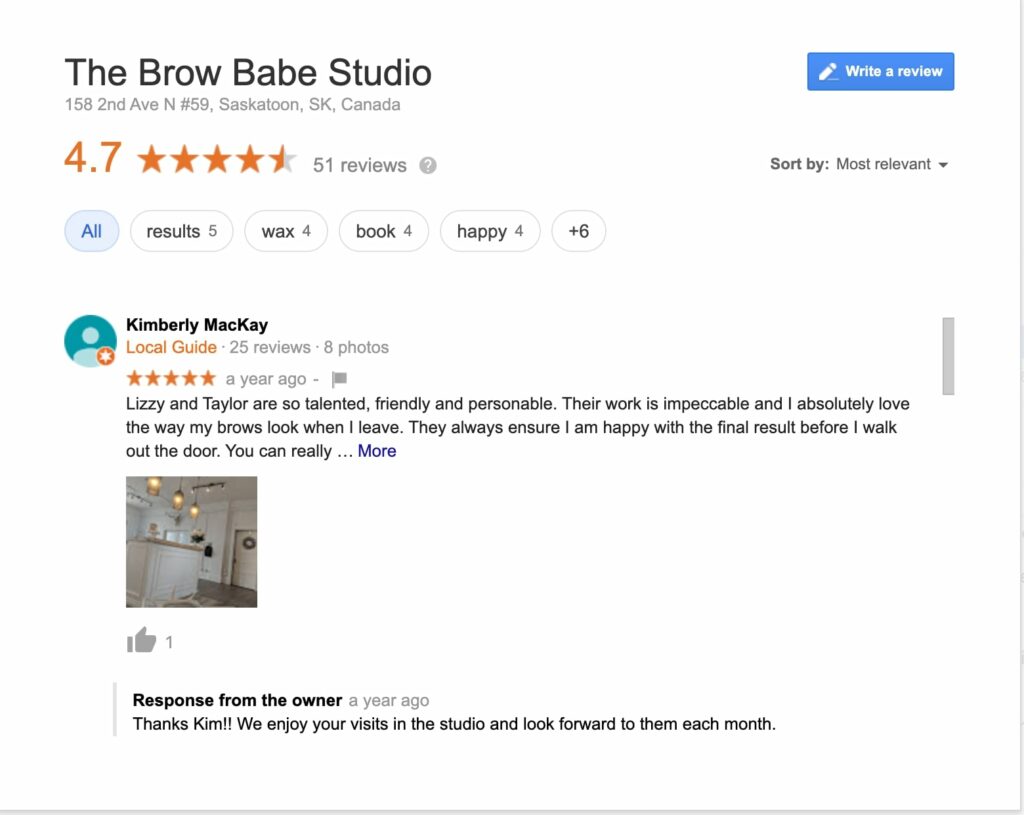 Ask your customers (in a nice way) to leave reviews and always reply to them sincerely, even when a review has a negative connotation.
Request for reviews wherever your business is listed—like Apple Maps, Yelp, Facebook, etc. because Google collects and displays some of these reviews on the GMB profile.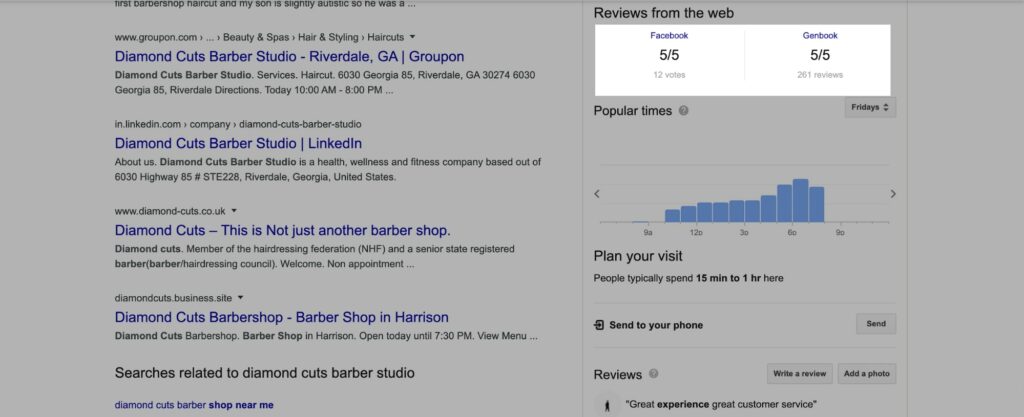 The reviews submitted now will probably soon appear on your profile and allow your business to grow even faster.

If you are a Genbook user you can easily collect reviews through your booking sites which automatically integrate with Google.

New clients have read through the customer reviews from Genbook that are linked to my Google business page. You can't buy that kind of publicity!

Robb Seal – Premier Bodywork, IL. USA
Also, a good idea, especially now when everyone is on social media, is to set up a referral program. This is a great way to boost your brand's awareness and get more people to talk about your business.
6. Add a FAQ page on your website
Google (and searchers) love Frequently Asked Questions (FAQ) pages because they're rich content-wise. This is also especially important now, when your customers might be looking for information about your business' operation during the coronavirus crisis.

Make sure to include the announcement or add a FAQ about the COVID-19 situation as soon as possible. In fact, Google has mentioned that it will index the special announcement schema type for COVID-19 announcements, but it will be initially limited to government and healthcare sites.

FAQ pages not just answer the possible questions your clients or potential clients may have, but also show up in the featured snippets section, which is a boost to the local SEO.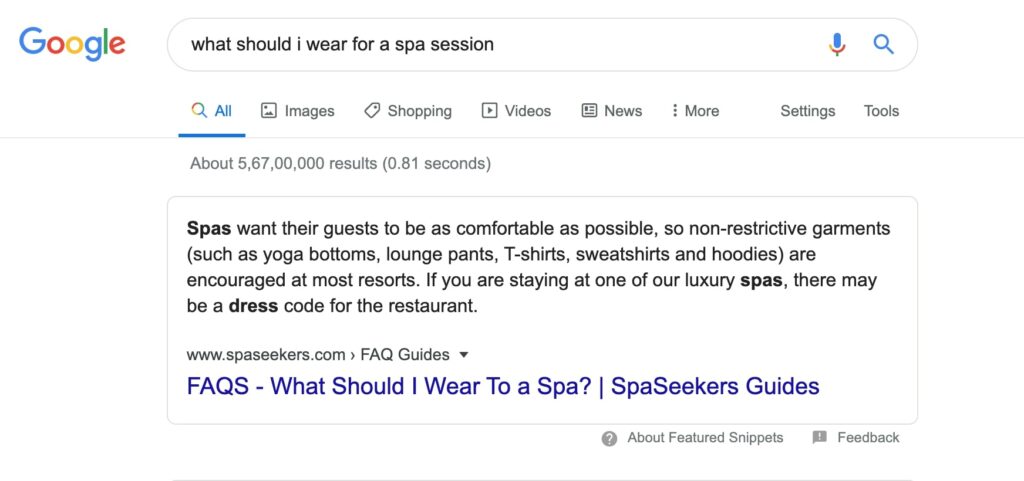 One way to make it more interactive is to make a chatbot for your homepage that will be answering FAQ about both – your business and the COVID-19 situations. There are plenty of local companies which chose that option.

Do thorough research on the questions. Use sites like Quora and Reddit to understand what kind of questions your audience wants answers for.
7. Social media pages
While social media doesn't directly contribute to SEO, Google picks up content from your social media and displays it on the search page; thereby validating your business as the authority in your industry.

Social media platforms are also a great place to share updates and interact with your audience. Here's an example of how Dennis J's Barbershop a Genbook customer updated their clients about changes in their operations with regards to the coronavirus situation.

Truth is, there's a new social platform every year. That said, you will have to choose a couple of them based on where your clients (existing and prospective) are likely to be and post updates consistently. Luckily for you, there are plenty of social media tools that can help you manage your accounts efficiently.

That apart, Facebook has its own directory listings. Instagram hashtags are used to discover new businesses, especially service-based businesses like spa, salon, and barbershops.

People on social media are their real selves and write for other people, which is acknowledged by Google from an SEO perspective and contribute to the rankings.
8. Update your blog regularly
You're probably thinking:

"As a small business owner, I don't have the time to ideate and create content".

Content creation doesn't nearly take as much time once you have an idea you can write about. Feel free to use this list of ideas to boost your blog visibility and local SEO.

Case studies or client testimonials
Your journey as a small business entrepreneur
Lesser-known secrets about your business
9. Consistency across platforms
Finally, ensure the consistency across all platforms you are using.

Consistency means providing the same or closely similar information about your business in every listing as well as sticking to the same formatting and spelling rules.

For example, phone numbers written in the xxx-xxx-xxxx format in GMB cannot be xxx.xxx.xxxx elsewhere.

When search engines come across information about your business that is inconsistent, they are uncertain what the right information is.

As a result, they stop trusting your listing and this will have a damaging impact on your local SEO rankings.
Wrapping up
Local SEO plays an important role to help your clients find your small business online—with ease It's even more important now – when the outbreak of COVID-19 is changing the way people are interacting with local businesses.

Right now, it's no longer about the foot traffic in your store, but rather the volume of Google search traffic that matters. If your business is still operating, even in a limited way, it's crucial that you take advantage of local SEO and bring people to your website and your booking pages who you can convert into clients .

Many small business entrepreneurs make the mistake of considering local SEO as an afterthought, but when 97% of people are using the search functionality to find a local business, local SEO should be integrated into your business.

Now it's time to get down and implement these tips to see a visible change in how customers perceive your small business.

If you're looking for a personalized plan to help you sail through, try our COVID Business Health, Revenue & Safety Health Check. You get a personalized plan that will help make more money, book more clients and prepare you, your staff and your clients for re-opening without compromising their safety.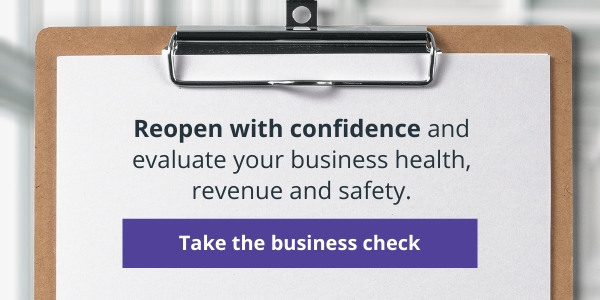 Editor's Note: This is a guest post by Alexandra Tachalova. She's a frequent speaker and founder of the digital marketing conference, DigitalOlympus.net. She also helps clients with digital PR, content marketing, and link building. Besides that, she regularly contributes to leading digital marketing blogs, including Moz, SEJ, Salesforce, SMExaminer, and many others.